I was on my way to the old country for the usual summer vacation on August 17th. I chose KLM over TK since I have flown with their 772s before and I really like their AVOD system. On the other hand 3-3-3 layout is terrible and the seat pitch is, well, the usual.
After booking my trip on yahoo.com, I called the airline and made sure that I get the E,F seats for me and my wife since D has the giant video box that cuts the legroom in half. I was happy to book them for both legs, but I was surprised to learn that AMS-IST seats can only be determined at the check-in on the day of the flight. This is right after the London arrests so the airline suggested that we get there 3 hours earlier. It took us only 25 min. to get from the taxi drop off to the gate. As you might imagine we head to the bar.
View Large
View Medium


Photo © Royal S King
KL642 JFK-AMS was full, and it was ontime. Our 772 Machu Picchu was clean, FA's professional, Captain with perfect English. The flight was just over 6 hours, smooth. One huge drawback; I had some kind of a break in my audio to the headset so I had to constantly play with the plug-in to get the audio. I finally gave up. So there goes my AVOD idea. I asked the Purser if I could visit the cockpit. She said she would check with the pilot but didn't think so. Few minutes later she came back and offered me to visit the cockpit after landing. Fair enough.
We landed so smoothly that my wife questioned me if we were actually on the ground. Then I head for the cockpit. This was my first time visiting the 777s cockpit. I remember the days when I used to live in Seattle when test flights were taking place.
The FO "J.J." was really nice, turned some lights on for me, answered some questions. Then it was time to go.
I had one final look at our plane from the beautiful portholes on the walkways.
AMS is a really nice airport. So easy to transfer, very nice stores, lounge chairs to take a nap, hotel, casino, and the museum.
On to our next flight I found the 738 at gate D47.
AMS-IST on KLM 1615 on 8.18.2006
Our plane is 738 "Avocet" PH-BXM, our load around 60%.
Scheduled leave 9:30am, Actual push-back 9:28am
View Large
View Medium


Photo © Frans Zwart - DutchOps
Inside the plane it feels old, a bit aged. I end up at the very last row: Seat 30A, which means no recline. I was told to wait till after we takeoff to change seats. There were no video screens, so the safety briefing was done in person by the FA's. Also I could smell the bathrooms right behind me. To my surprise I later found out that one of the bathrooms was out of order, and the others' door didn't lock.
We took off to the East at 9:40am for this 2:50 hr. flight. After my wife moved to another seat, I had the whole row to myself and tried to sleep a bit.
Our breakfast was OK, with some yogurt and fruit at the bottom, some bread with jam, and cheese, breakfast bar, juice and coffee. Later they gave us some candy bars as a snack.
Before landing over the Marmara Sea.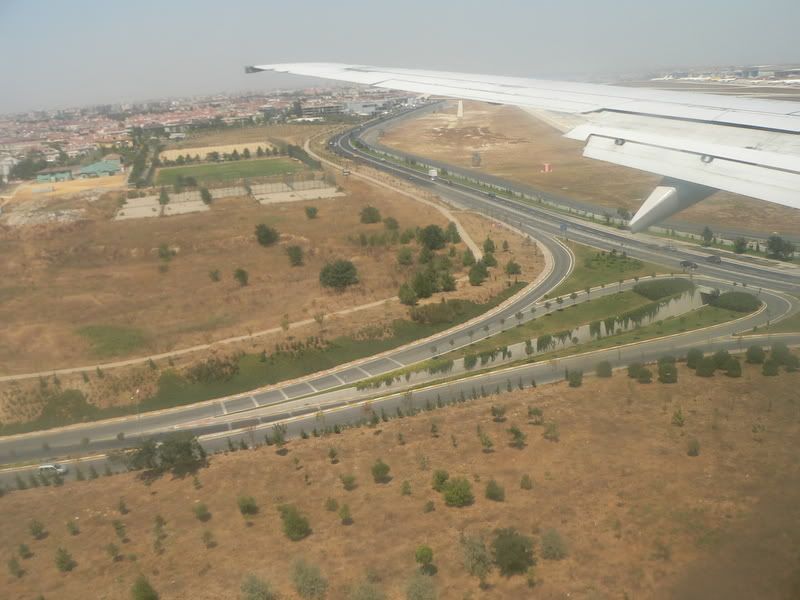 Finally we landed on runway 06, and were at the gate at 1:30pm.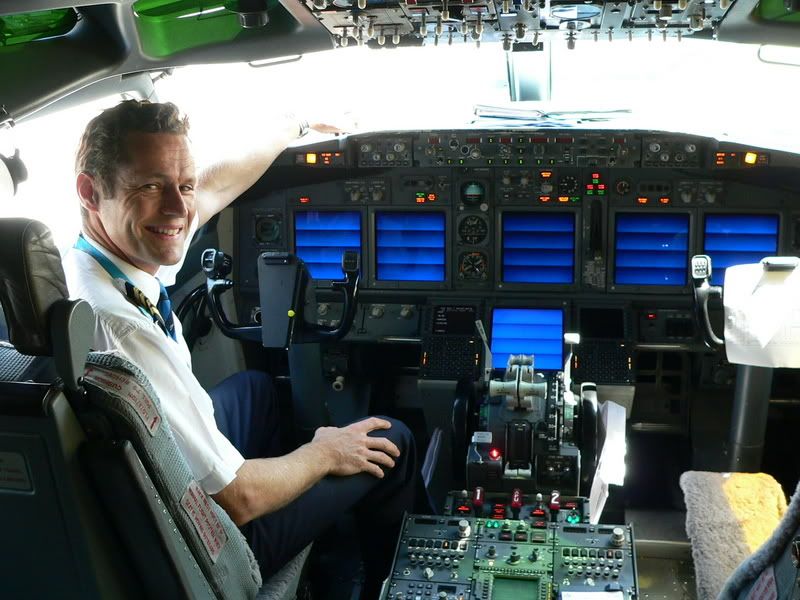 Again I visited the cockpit. The Captain "Van Dongen" was really nice, he turned on the the KLM blue screens on for me on the displays, and gave me his card. We had a good conversation. Funny he thought I was French.
I was the last one out of the plane. IST seemed a bit empty. We made our way to the Visa line. There is a sign about the visa rates for different countries. Most are around $15-20, but surprised to see that Canada was $60.
Even Milla Jovovich seems to be shocked!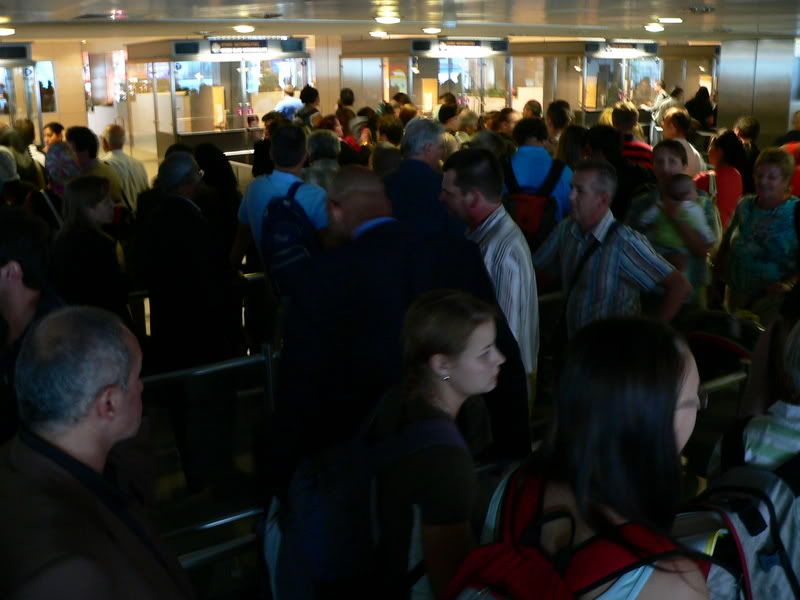 After paying the fees and getting a stamp affixed to the passports, we head for the passport control. The usual two lines; one for the Turkish citizens and one for everyone else. Since there were less Turks around, the lines on that side were really short. "The others" line waited patiently for about half hour while being served by only 3 agents. Finally an officer came and told everyone to go ahead and use the "Turks Only" lanes also. Makes sense, since they are the paying customers. To keep things fair, the passport control issues were similar when I travelled to the Dominican Republic, and South Africa last year.
After picking up our luggage and a few bottles of refreshments from the Duty Free, we headed for the bar for some beer. In Turkey when you ask for beer they bring you "Efes". I love that.
Then we pushed our stuff to the Domestic terminal for the last leg of our long trip. TK crew was doing an open buffet with snacks and soft drinks at the check-in area. Apparently they do this every Friday evening. Looks like the domestic competition is paying off for the locals. My sister joined us to fly down south with us.
Galatasaray soccer team was there to fly to their weekend match.
Cameroon international and Galatasaray defender Rigobert Song and my sister.
The domestic terminal in IST seems old, outdated, some Eastern Bloc era like, but working. We head for our gate 104.
IST-DLM on TK218 on 8.18.2006
Our plane is a 313 "Goksu" TC-JDB, with a load of 100%
Scheduled: 17:20, Actual: 17:28
Seat: 21A
View Large
View Medium


Photo © Balazs Pinter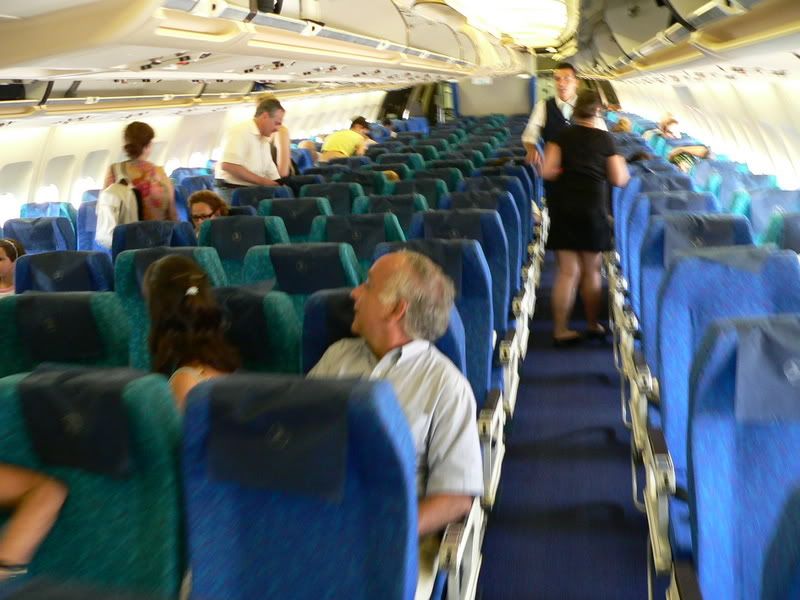 For this short trip of 55 minutes to get the big bird is awesome. I can't wait for the takeoff. This workhorse has seen many days and it shows. I still like the 2-4-2 seating, or even 2-5-2, to the 3-3-3.
We take off with such power to the North and turn left, and onto our cruising altitude of 31,000 feet.
The food service consisted of a small sandwich, a chocolate cookie, and soft drinks, and the usual moist toilette. Again FA's and the Captain's English is very hard to understand for English speakers. On the other hand I really liked their new outfits. I questioned the male FA's if they feel less macho wearing pink ties, they laughed and said they like the pink ties.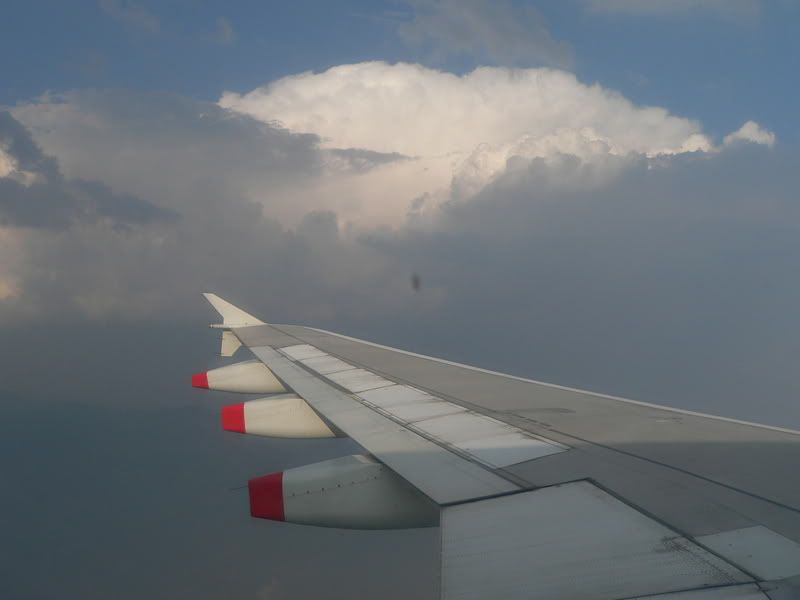 Shortly after that we started our descend. There are some nasty looking clouds to our left.
This was my first landing at DLM coming over the water. I thought we would hit some serious turbulence, but no worries.. a smooth landing.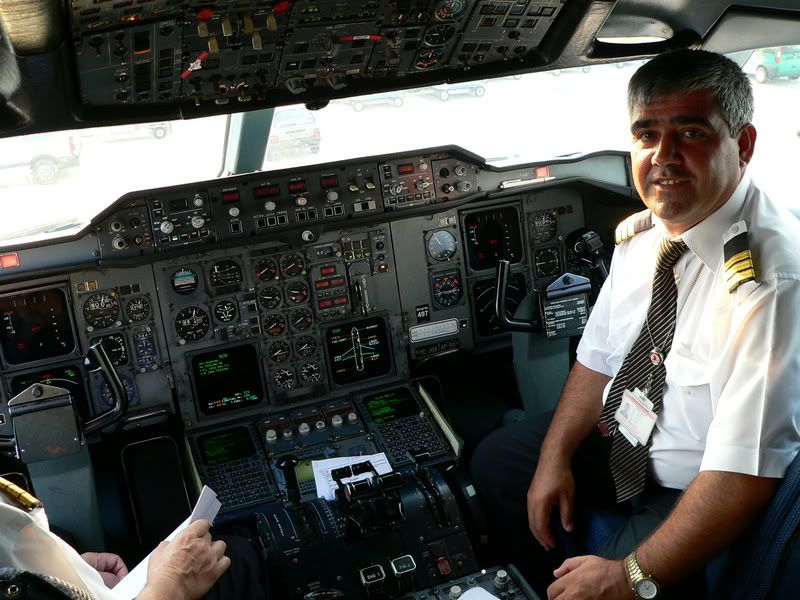 By now I am used to it, so I do my usual charm and get into the cockpit. I have a very short chat with the pilots "Suha" and "Nevzat" since I have to climb down the stairs to catch the bus to the terminal.
This was a long day for me. Door to door over 24 hours. But well worth it when you smell the fresh Mediterranean air, taste the salty waters and meet some old friends and family.
Hope you enjoyed the report.
Coming up soon; "The Turkish Trio". IST-DLM with Turkish Airlines, Atlasjet and Pegasus.