Feedback always appreciated.
Trip Report: 003
Flight Category: Y-DMR (See Report End)
Date: 05-Sep-06
Dep.Arr.Time: 1815/1838/01:23hrs
Flight: WEST JET, WS 243, 428 miles
Routing: YYC-YVR
Aircraft: 73G
Seat: Economy, 12F (EXIT)
I > Background:
Part of a Labour Day escapade. Routing was ALB-YYZ-YVR:: YYC-YVR-YYC-YYZ-ALB. This focuses on the WS segment from YYC to YVR. Trip reports besides this on this trip will be ALB-YYZ and YYZ-YVR.
II > Pre-Flight:
a) Before Airport:
Booking was easy using FL's online site at
www.westjet.com.
However, the site does not give seat selection abilities which is usually a major downer for me.
b) At Airport:
Checkin at YYC was pretty straightforward using WS's kiosk. I quickly logged on using my credit card, selected a seat, and chose 1 checked bag to drop off. Since the exit row seats appeared taken, I walked to the check-in desk to ask if they indeed were. (Un)surprisingly, none of the exit row seats were claimed, and I was assigned to 12F. Now, in the 73Gs, 12F is seat with nothing in front … so plenty of legroom. The check-in agent was very friendly and joked and smiled about my travels in Canada. YYC security was brisk and soon I found myself at the D gates. In between, I had a café @ Starbucks and also took some pictures of the long lines for AC's international flights. The lines were HUGE – nothing I had seen in regular ops for a long time. They crawled from the check-in desk, around the food court, to the check-in desk, then to another hallway (full of stores) and back again. Those familiar with YYC can understand the extent of these queues. I don't understand why as the LHR flight was apparently on time.
Boarding was organized and I decided to wait until everyone had boarded.
Upon entering the plane, I was greeted by 2 friendly WS agents. The plane looked clean and the WS agent came by to give me a briefing on exit row procedures. She was also in good spirits; and this was reflected also on cabin announcements, etc.
Check-In:
(Calgary Airport Outside)
Airport: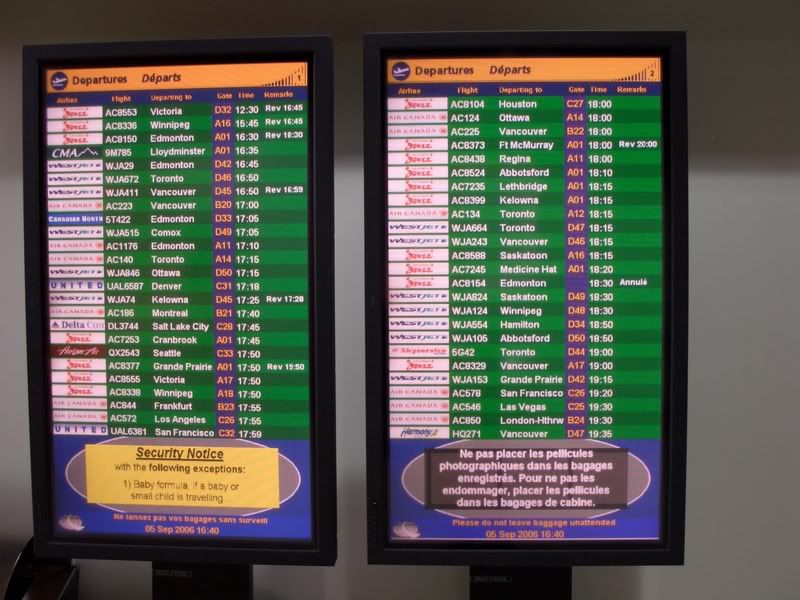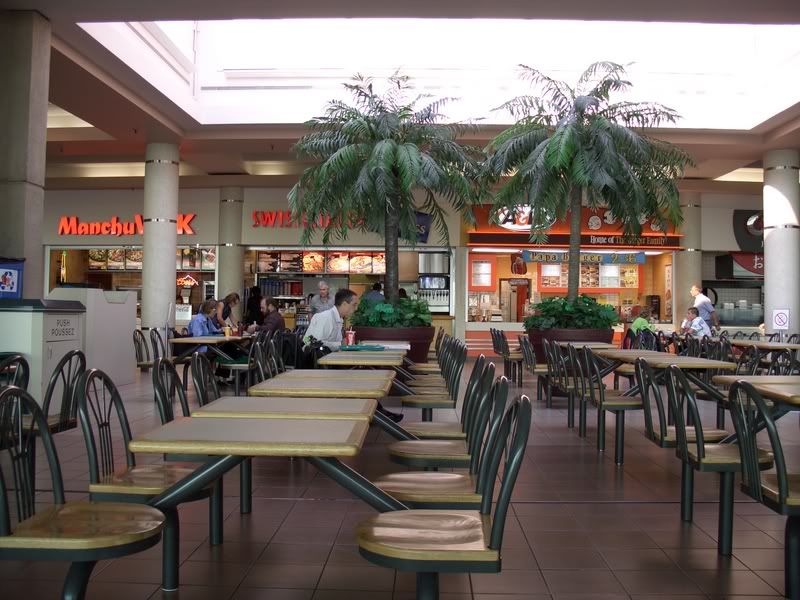 (Note the Air Canada check-in line I was talking about)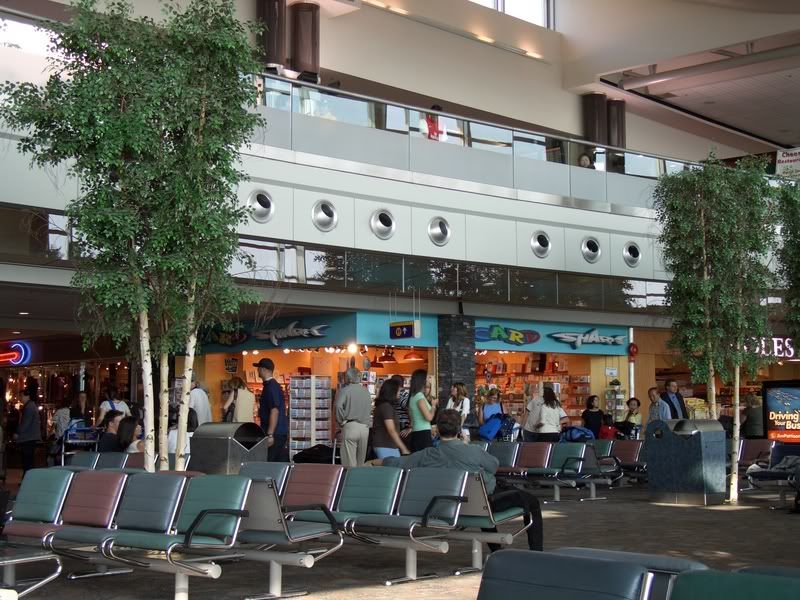 (Why does every Canadian have the damn flag on the backpack .. hehe .. )
Scenes from the tarmac: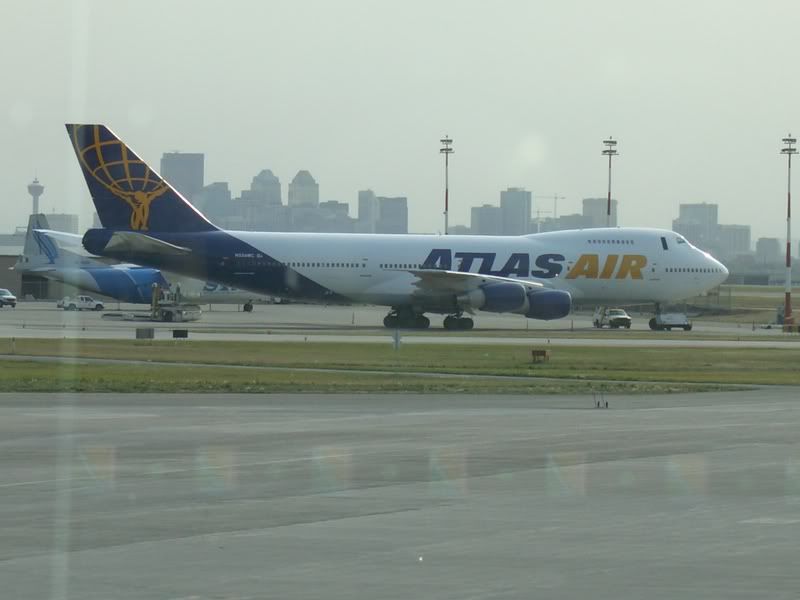 Boarding: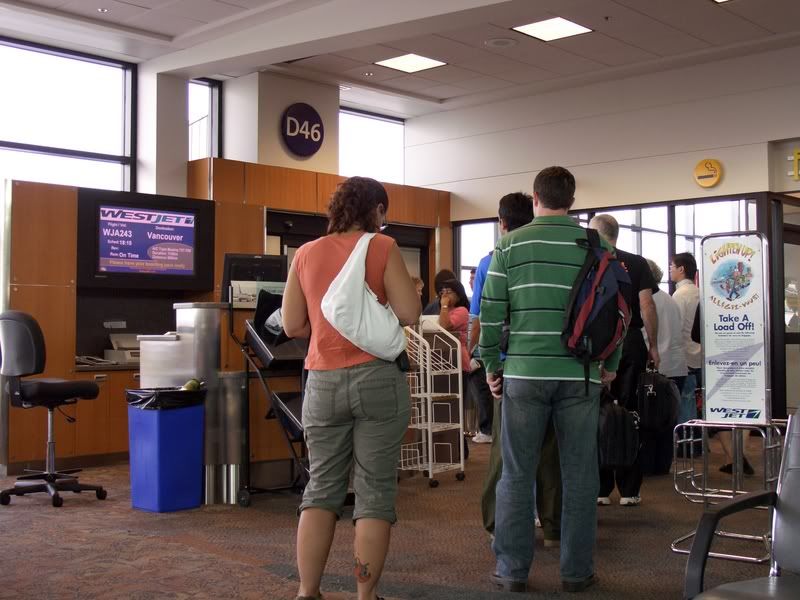 III> In-Flight:
a) Service Schedule + Impressions:
Push back was on time, and soon we were on to YVR. There was no ATC delay and the safety demonstration was rushed as a process … the videos had started late. Upon reaching cruising altitude, the 16 channel Live TV was switched on (you can even get movie channels on 3+ hour flights using your credit card at CAD 5.00 per movie.) There were some difficulty with the system and it took 3 system reboots. Soon thereafter, crew came to distribute headphones – CAD 1.00 for normal ones, and CAD 3.00 for super-duper ones. This was probably the first time I had got options on head-phone purchase. Of course, you could use your own head-phones as well. Crew came soon afterwards taking drink orders (no trolley) and distributing a snack or a cookie. Since I apparently looked "hungry", I was given both … followed shortly by my request for orange juice.
b) Aircraft + Seats:
West Jet's 73Gs were clean and the green/blue interiors were soothing to the eye. The leather seats were comfortable and non-exit row legroom was average. Recline was slightly below average. If seated on 12A or 12F, you will have difficulty seeing the TV screen.
Aircraft:
Views from Aircraft: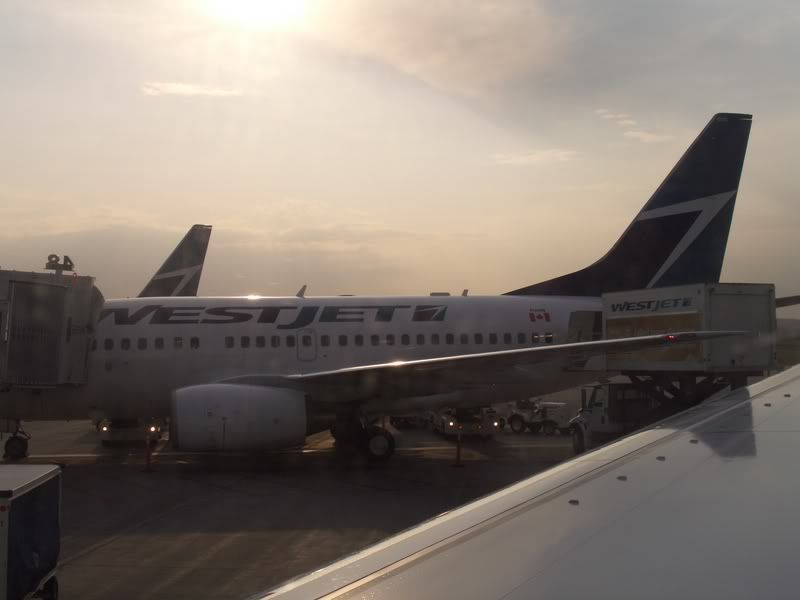 (Maybe its me … but the winglets appeared huge!)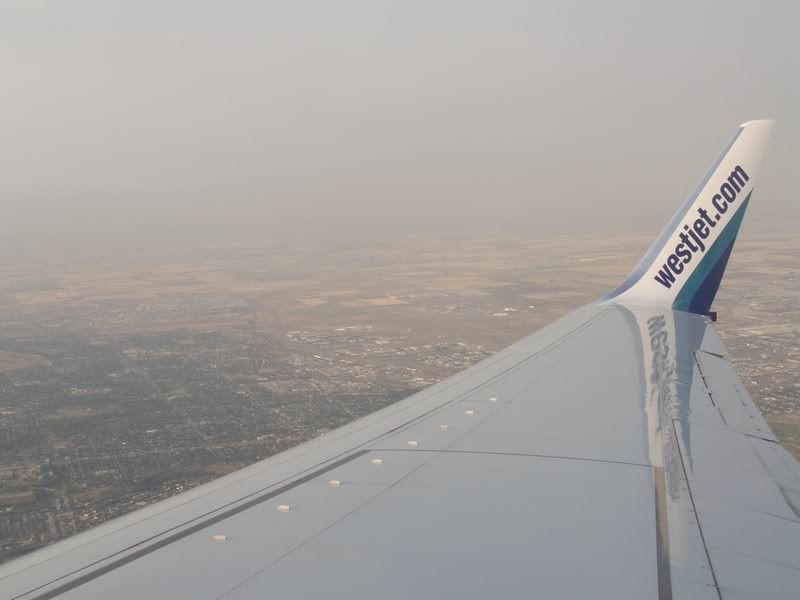 Seat Leg-Room:
Seat Recline + Angle View: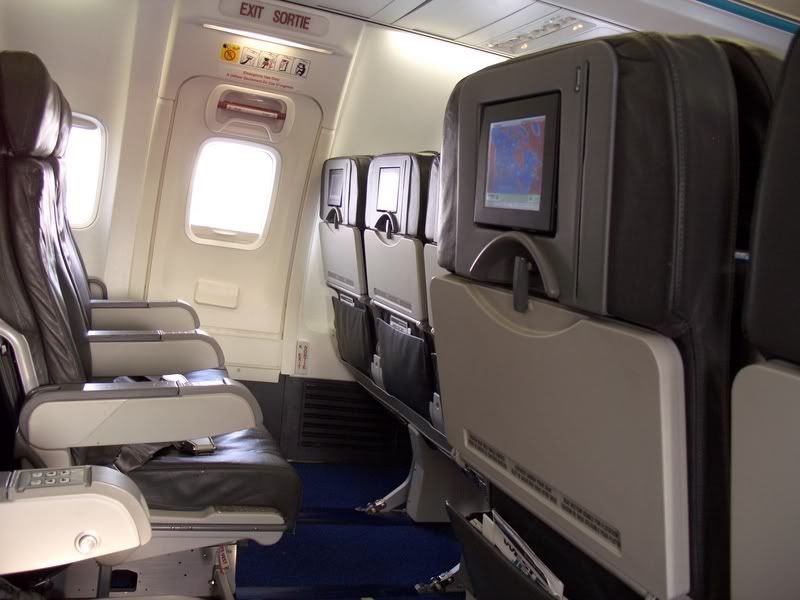 Cabin:
c) Meal:
It's a domestic Canadian flight, so no real meal presentation.
d) Inflight Entertainment:
The 73Gs are equipped with Live TV and the choice of 16 channels was sufficient. Sound using my own earbuds was above average. West Jet's inflight magazine (UP!) is more lifestyle/entertainment oriented and does not provide as much as travel information or destination reporting when compared to industry norm.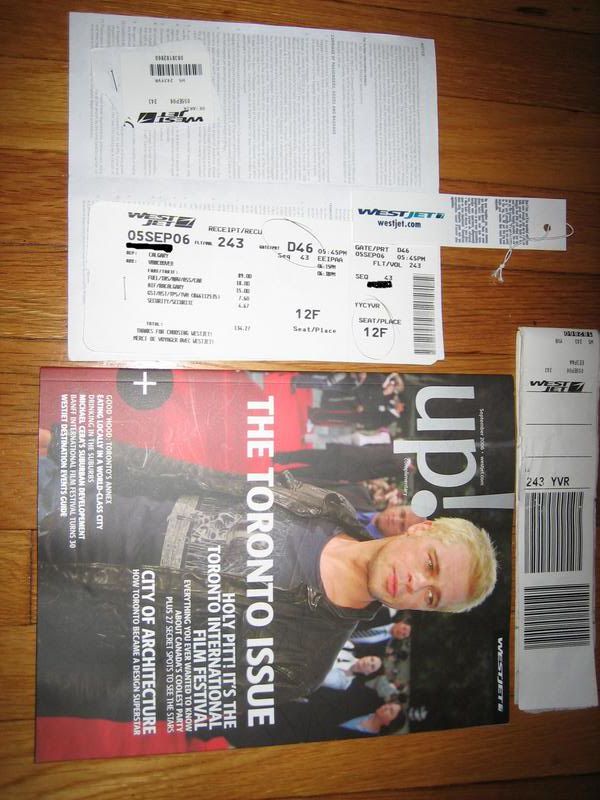 e) Crew:
WS's crew truly left me impressed. They were all smiles and joked with the passengers and seem to genuinely be happy doing their job.
IV> Post-Flight:
Vancouver continues to be convenient. On the down-side was being parked off at a far-off gate, and baggage taking over 30 minutes to arrive.
Vancouver Airport: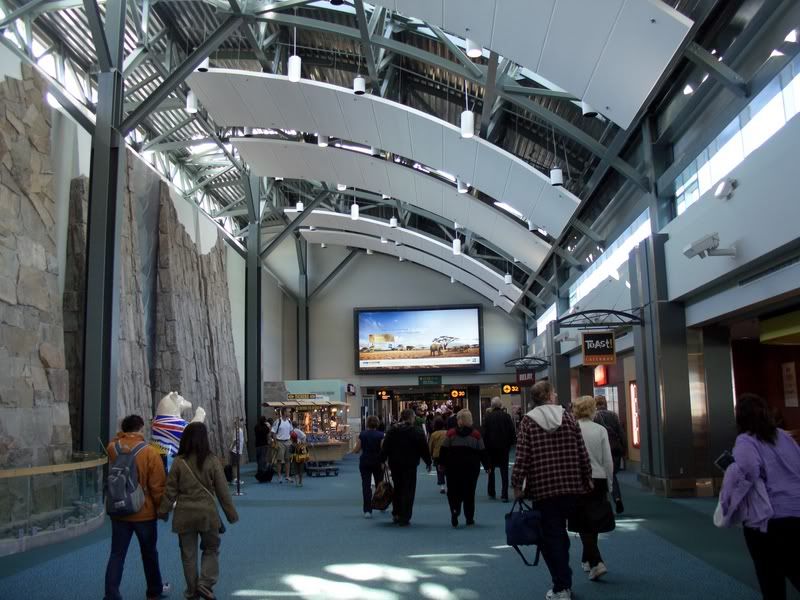 V> Impressions + Scores:
West Jet is a worthy competitor to Air Canada. I sincerely wish them well – AC needs to be kicked on the back-side sometimes. Service is done with smiles and the crew (ground and air) seems to genuinely treat their "guests" with respect and care. Along with punctual service, it satisfied my need to be transported from point A to B without stress. I don't anticipate any need for changing current work practices; they are in line with being a low-cost provider. I would fly them again without hesitation.
Reservation: 8.0
Check-In: 7.0
Lounge: N/A
Boarding: 8.0
Seat: 7.0
IFE: 7.5
Crew Service: 9.0
Food: 5.0 (standard default score, when served only peanuts)
Beverages: 5.0 (standard default score, when served only beverage)
Amenity Kits + Others Freebies: 5.0 (standard default score)
Disembarkation: 7.0
On-Time Record: 10.0
OVERALL IMPRESSION: 7.14
(Scores are based on comparison with other airlines in THAT class of service – No comparison of Y vs. F for example)
VI> Other Trip Reports:
1/
Avianca: BOG-LIM: 07/06/06: 7.09pts: Y-IMR
2/
Air Tran: EWR-MDW: 08/02/06: 6.73pts: Y-DMR
(Note on Codes: Y – Economy, J – Business, F – First :: I/D – International/Domestic :: SR/MR/LR – Short/Medium/Long Haul :: I have designed these codes so people don't believe my scores are comparing apples and oranges)
VII> Other Non-Trip Pictures:
NONE
[Edited 2006-09-13 02:38:14]
[Edited 2006-09-13 02:40:32]
[Edited 2006-09-13 02:46:04]