Several Wanderings To & From Menorca, Summer 2006
PLH-NQY-LGW-MAH-BCN-LHR-LGW-MAH-GLA-BRS
Airlines In Order Of Flying:
Air Southwest
Air Nostrum
British Airways
ThomsonFly
FlyGlobespan
EasyJet
No, its not a mirage, I have finally written a trip report! I seem to fly endlessly, but have not written one for over a year, so I hope I'm not out of practice
Also, apologies if this is longer than your average essay, I like to write a lot
The lack of pictures for the first part is due to the ban on handluggage for flights leaving Britain, so pretty much out of my control! Let the trip report begin:
After returning from the A.net 78 degrees North meet very late on the Friday (trip report coming soon) I had quite a frantic Saturday getting things together and cases packed, I was supposed to be helping some friends exhibit a large model railway at an exhibition, but instead had to devote the time to getting ready instead. This holiday had been planned for many weeks, and was supposed to include my grandparents, but they had to pull out to travel elsewhere in the UK. I always enjoy going to Menorca, and after the cold weather in Svalbard, I was rather looking forward to a bit of Mediterranean sun!
Because it was just a few days after the security scare and subsequent hand baggage ban we thought it best to get to the terminal over an hour before the flight left, now this might seem unusual to those of you who are used to the larger airports, but at Plymouth check in doesn't open until an hour before departure. As it was there were very few others there, and we were first in line for check in, getting seats 2A for me, and 2B for my mother. As we still had loads of time to kill we went and had a coffee, and I had a flapjack which was home made and very nice, the coffee also helped me wake up after less than an hours sleep the night before….darn msn, lol! Security was noticeably tighter, but still quick and boarding was called 15 mins before departure as normal. Strolling across the tarmac towards the Dash 8, G-WOWE I felt really strange, everybody we spoke to felt the same, almost naked without the presence of a bag either in hand or on your back. Because of the ban all of my camera gear was very safely packed well inside my case, so no pictures for the outbound trip, but I'll do my best to describe it for you.
PLH-NQY-LGW
Airline: Air Southwest
Flight: WOW102
Aircraft: DHC8-311
Registration: G-WOWE
Seat: 2A/2B
Estimated Departure Time: 06:45
Actual Departure Time: 06:48
Estimated Arrival Time: 08:30
Actual Arrival Time: 08:52
View Large
View Medium


Photo © Jenny Coffey
Right on time we left our stand, turned tightly and headed for the active runway, backtracking down it and then turning at the end. Interestingly we didn't line up anywhere near the centre line before stopping for max power to be applied, this is done occasionally at Plymouth to save using more of the short airstrip positioning the aircraft. Engines powered up and after a few seconds of being vibrated around in our seats by the non Q Dash, the brakes were released and once more we shot off down the runway, straight away there was a correction to take us down the centreline, rotating after about 800 meters and climbing up into the misty morning sky. This sector is one of the shortest flights in the country, so after just 12 minutes of whizzing across Cornwall at a few thousand feet, we were on final approach to Newquay to pick up the rest of the passengers. The landing was rather firm and a long rollout followed until we got to the terminal and parked up. Newquay airport seemed to be having some problems with screening all of its passengers and it took 40 minutes to get everybody onboard, normally this takes just 10! Once all 50 or so people were aboard the engines roared back into life, and we made a swift taxi towards the runway, taking off over the Atlantic and then banking around to the right and heading for London. The flight up was smooth, but incredibly cold, it seems they had the air conditioning on full, and despite having long trousers on I was freezing, and so was my mother, we were both very glad to get into the warmth of Gatwick North terminal. I'd slept most of the way up so didn't buy anything from the onboard bar service and the only thing visible outside the window was bank after bank of cloud. Once inside the North Terminal we had a long walk to the baggage reclaim area, by which time the luggage had appeared so we promptly headed to the train that would take us to the South Terminal. This was packed as normal but at least they were both running today. Upon entering the check in area we were greeted by a sea of people, it was impossible to make any quick progress so we had to slowly nudge our way closer to Zone H, which meant traversing a huge line of passengers queuing up for check in with Northwest and Virgin, then going around the Thompson Fly queue and arriving at our desk, second in line. We thought we were just in time, as we had arrived three hours before departure, but the check in staff had other ideas, taking over another hour and a half to arrive, by which time there were a lot of annoyed passengers waiting. Frustratingly one of the check-in staff arrived, and then sat at the desk in front of us doing nothing for 20 mins until her colleague arrived next to her.
I was very worried about my camera and all the thousands of pounds worth of lenses being put through in the hold, so I asked the lady checking us in if it could have a fragile label on it, and told her what was in it, as my insurance company had advised me to do. She then got really shirty, and very rudely told me that I shouldn't even bother because "it was going to get kicked around by the handlers and smashed in regardless of weather it had fragile on it or not". Still, I asked if I could have one and send that particular bag through the fragile and outside belt, she gave me a very obnoxious look and said that she didn't know why I was bothering and virtually threw our passports and boarding cards back at us before dismissing us and calling 'next'. At this stage my mum was shocked, and I was highly annoyed at her arrogance and rudeness, so after sending the bag through the outside luggage belt I proceeded to make an official complaint about her conduct to the handling company she worked for. I understand that she was likely to be stressed due to the security situation, but if she's unable to be polite in such circumstances then she is in the wrong job.
Next up, it was time to join the line waiting to go through security, although this looked ominously huge it only took about 10 minutes from start to finish, like Plymouth they required everyone to take their shoes off and to have an individual body search, better safe than sorry though. Because of the delay waiting to check in our gate was already showing as boarding, so we headed down to the gate area, gate 3, which seems to be the standard gate for the Air Nostrum flight to Mahon. As we were ushered into the seating area the Iberia/Air Nostrum representative checked our boarding passes and then asked me about what happened at check in, informing me that my bag had been carefully loaded separately into the aircraft and then apologised on behalf of Iberia and Air Nostrum for the conduct of her colleague, adding her own displeasure at her actions. I accepted the apology and we found a seat in the waiting area, but after just a few moments it was announced that the aircraft was ready to board and we all made our way through the covered walkway out to the awaiting plane, an Air Nostrum CRJ200ER as expected although I was rather hoping that it might have been subbed for one of their new 900 versions.
LGW-MAH
Airline: Air Nostrum
Flight: IB8233
Aircraft: CRJ200ER
Registration: EC-IAA
Seat: 2A/2B
Estimated Departure Time: 12:15
Actual Departure Time: 12:28
Estimated Arrival Time: 15:20
Actual Arrival Time: 15:25
View Large
View Medium


Photo © Javier Guerrero - AirTeamImages
With only about 20 passengers it took no time at all to get everybody in and seated, then as the short safety briefing was given the aircraft pushed back from the stand, engines sauntered into life and we were off. We didn't get very far though, like last time I had taken this flight, we had missed our departure slot and this meant that we had to wait for all the other 'big boys' to have their moment of glory on Gatwick's single runway, but after around 20 mins holding, we got the clearance and pulled onto the runway; as soon as the previous aircraft landing had vacated that active, then the CRJ's engines spooled up and produced a powerful and rapid takeoff. Quickly we were emerging above the grey cloud and out into sunshine as we banked hard to the left and headed out over the coast for France and onwards to Spain.
Iberia has a terrible reputation at the moment, not entirely justified either, for having work shy cabin crew and dirty aircraft, well, they certainly do have the latter I suppose! But, I have never been able to find a fault anywhere in their regional subsidiary Air Nostrum, it's simply the best airline I have ever flown with. After take off the two crew members started preparing the meal service in the galley, unlike last time there was no glass of wine before the meal began, and they came straight around with the main courses, the fairly standard choice of fish or lamb. They both looked delicious (the meal, not just the cabin crew
), but as I had the fish last time I went for the lamb on this occasion, my mum having the fish. A basket of various breads was offered to us as well, so I went for a large crispy roll. Next came the drinks, my throat was feeling a little dry as I was unable to carry onboard a bottle of water as normal, so I went for an orange juice which slipped down nicely and cured the throat. After this the stewardesses brought around a selection of the sweets we could have, I can't remember exactly what it was I had, but it was certainly very nice, I seem to remember it being slightly apply in taste. After a short while the other stewardess offered us a selection of cheeses, I spotted one of my favourites, Edam, so helped myself to a large slice of this which went well with the bread I had saved. The lamb in my main course was truly delicious, to coin a phrase it 'melted in your mouth' and was accompanied on the plate by some tasty potatoes and vegetables in a spicy sauce. Once of the nicest thing about the meal service is that you are trusted with metal cutlery along with ceramic dishes and porcelain cups, no tacky plastic tat here. As my mother commentated, after all the heightened security at Gatwick it made quite a mockery that there were 20 passengers with metal knives, and 2 stewardesses who on several occasions were both at the back of the plane, while down at the front the cockpit door wide open with just a dark blue curtain screening it from the cabin. Still I'm not complaining, it's very refreshing to see that not everyone is paranoid these days about terrorism.
By the time the meal service had been cleared away the flight had just about 100 miles left to go, the Pyrenees had just slipped past beneath us as we banked left and were soon descending down towards Menorca. This is where I really wished my camera was in hand, at first I thought that we were making an approach from the North into Mahon, instead though we flew parallel to the runway, passing at just a few thousand feet right past our house, in the last 15 years this was the first time I had such a clear view of it, Murphy's law strikes again! Following the high speed low pass came a very tight left hand bank and then a steep dive down onto the runway where we made a smooth landing although there were a few screams from the back of the cabin, obviously emanating from somebody not used to Spanish (AKA Fighter Pilot) style approaches. De-boarding took no time at all and we were soon on the bus o the terminal, at immigration I asked for a stamp in my passport, but yet again, I was refused, better luck next time I thought to myself. The bags were just dropping onto the carrousel once we were in the reclaim hall, so I plucked them off and headed for a seat so I could sit down and examine what state my camera and lenses were in. To my great relief they were all ok, but I took a test shot with each of the lenses just to make sure before I left the airport… as you can imagine I did get some very funny looks for taking so many pictures of a white wall, but I needed to be sure it had all survived intact. Feeling much better for knowing that all was ok we headed out through the arrivals doors to have the pleasant surprise of being greeted by our friends who had very kindly driven up to the airport to fetch us. 20 minutes later we'd arrived at the villa and could finally relax!
For a very extensive gallery of image taken whilst I was in Menorca please look here:
http://www.globetrotter2006.fotopic.net/c1073032.html
After a very enjoyable holiday, with several other families who we know, it was all too soon time for them to return, and also time for me to try and find my mum a return flight to the UK, as I already had one but she travelled out on a one way. This proved to be more than a little difficult, after ringing round the various charter agencies we found that all flights to the UK were pretty much full, and scheduled flights were incredibly expensive. There was a flight into Exeter on the Monday, but neither of us really wanted to leave that early, so we kept on looking. Then I struck on an idea, the flights were full because all of the British schools were going back, but the Scottish ones had gone back two weeks previously…. so in theory flights there should now be cheap. Well the theory worked, and I got us flights to Glasgow with Fly Globespan (who's B737-300 G-OLGT I am currently writing this from, at 39,000ft over France) for just 78 euros for both of us on the Saturday, giving us 5 extra days in Menorca. This flight tied in nicely with an Easyjet flight to Bristol, and the total cost worked out at around about £180 for both of us, not bad and a massive saving over flying directly to England. This sadly meant that I would have to miss my return flight as my mum did not want to go back on her own, but then *cue Baldric (Black Adder) style accent* I had cunning another plan! Outbound flights to Menorca were stupidly cheap at this time of year, so after just a couple of minutes searching on the web I had booked myself on a ThomsonFly flight from the UK to Menorca, meaning I could take my return flights after all and have a bit of fun flying as well! My airfare was £1.01, a bargain, and then taxes at over £40, not a bargain, but it was still not bad at such short notice.
So, the morning of my 'faux-return' home dawned, my mum wanted to go shopping in Mahon, the capital on Menorca so on the way we called in at the airport for me to check in for the Air Nostrum flight later in the afternoon, thus saving me the hassle of queuing up later and also guaranteeing me a window seat. This accomplished we headed into the city, I was puzzled though over my seat for the MAH-BCN sector, I was allocated seat 18F, having checked through all of the seating plans in the Iberia timetable I could only presume that I was going to be aboard an MD mainstream Iberia aircraft, not the planned CRJ200 of Air Nostrum, yet my ticket clearly said operated by Air Nostrum? Still, after a leisurely dip in the pool, and with just an hour to go before departure I headed back to the airport and was dropped off, heading straight through to the internal departure lounge. My flight was showing as gate three, and 10 mins late so I sat down and waited. When I glanced back up again I saw that it was now an hour late, and this got me worried as I had a connection in Barcelona which would now be fairly tight. Quicker than expected boarding commenced and all the passengers were boarded onto a bus ready for the aircraft to become available, I thought to myself that if it was an MD then it was a very light load, just 35 or so people onboard. But, as we pulled out onto the tarmac and headed for the stands I saw waiting for me a brand new Air Nostrum CRJ-900, now I was very glad that I had not missed my return flights! I was surprised at just how long this thing was inside, I was seated towards the back, but moved further back again to the third last row once boarding was completed so that another party of travellers could sit together in one row. Because we were late the captain got the doors closed ASAP and the cabin crew literally gabbled their way through the safety demo, finishing as we turned onto the runway. Despite passing it three times the stewardess had not seen on of the bins was still open, so just as the engines spooled up she did a theatre/action movie like dive for this bin, slammed it shut, and then scrambled back to her seat just as we shot down the runway!
MAH-BCN
Airline: Air Nostrum
Flight: IB8131
Aircraft: CRJ900
Registration: EC-JNB
Seat: 18F
Estimated Departure Time: 16:25
Actual Departure Time: 17:22
Estimated Arrival Time: 17:10
Actual Arrival Time: 17:50
I was impressed with the power of the takeoff, and likewise with the climb rate, soon I was once again drifting through the light clouds and towards Barcelona. The flight was short, but there was still a brief service which consisted of a bag of hazelnuts and a glass of orange juice, must say I'm more of a peanuts or mini-pretzels guy myself, but hey they were still nice! A slow descent towards BCN began, and we seemed to hold for ages before turning onto the glide path and heading for runway 25L, making a very gracious landing and pulling up in time to take an express taxiway straight towards the terminal.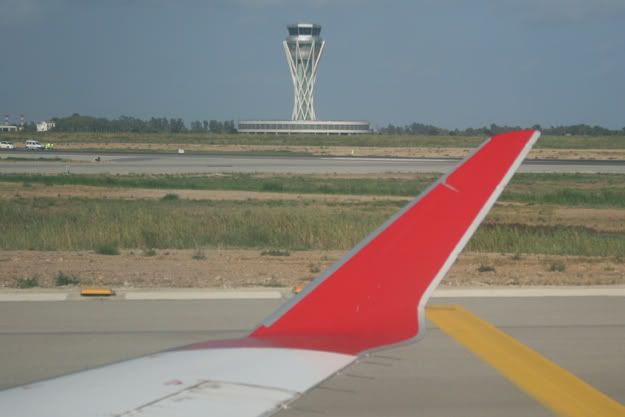 Almost all Air nostrum flights use the North apron, and I was highly surprised to see it deserted today, just one other aircraft present. The bus was ready to meet us at the door, but it was still looking tight for me to make my connection, it was 17:55 and in just 35 mins my next flight was due to leave for London. To make matters worse, after the bus dropped me off I had to go back through security, one of the Guardia decided he wanted to choose me for a random bag search, but I explained to him that I was very late and that I had to get to the other end of the airport (not an easy thing to do quickly in Barcelona). Very kindly he not only let me go straight away (after checking my reservation and story with the ground staff and Iberia) but he also phoned the gate and told them to hold the flight till I arrived. Most grateful, I thanked him and began to walk/run to the M4 area of the airport, from the regional terminal at the other end, about 10 minutes later I arrived, quite flustered, only to see that boarding was still taking place and that I was not even last, so after checking that there was no chance to bump I boarded the aircraft and took up my seat, 17A.
BCN-LHR
Flight: BA481
Aircraft: B757-236ER
Registration: G-BPEK
Seat: 17A
Estimated Departure Time: 18:30
Actual Departure Time: 19:15
Estimated Arrival Time: 20:05
Actual Arrival Time: 20:23
As it was, there was quite a delay getting all of the baggage aboard, so we sat on the tarmac for almost an hour before we pushed back. The flight was 100% full, and after a short hold I was treated to a powerful 757 takeoff.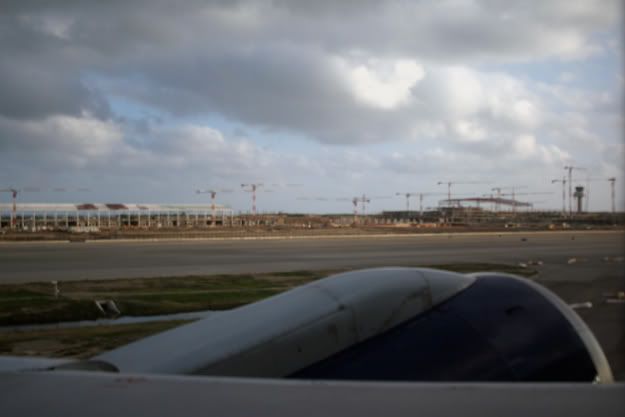 Annoyingly my camera decided that it was going to focus on nothing in particular, so the shot of rotation is a little poor I'm afraid.
The mountains were covered in a ghostly layer of misty cloud which made them look rather spectacular, but I had to interrupt gazing down at them to receive the little all day deli box. I've always found in the past that they are average but nothing too special, however on this occasion the sandwich was delicious; ham and a kind of coleslaw in a white bap, I could have eaten a dozen of them! After running through the Terminal I felt quite dehydrated, so I just had a glass of water to accompany the food which also included a jelly type cakey thing (best way of describing it) and this too was very nice.
As we approached the South coast the sky was a golden colour as our captain informed us that we may have missed our slot into LHR, so we might have to circle for a while, and after three trips around the evening skies over London during which the sky looked beautiful, we headed for the ground, and landed with a bang.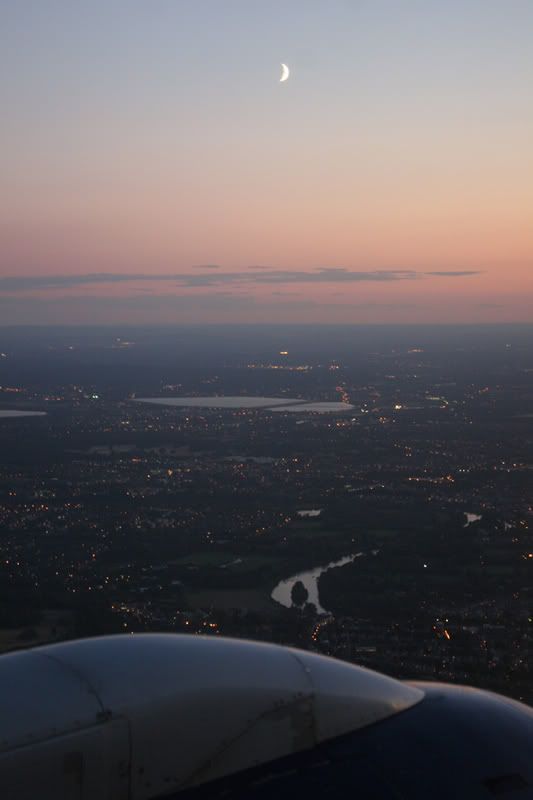 After what seemed like a very graceful flare the Boeing rose a little and then slammed down very hard onto the runway shaking the entire cabin violently. Rollout was short, and didn't seem to take much stopping, so I'd say from an educated guess that we came in slowly and the flare made gravity all the more happy to grab the plane back onto terra firma. The taxi to stand at Terminal 1 was fairly short, and we left by the middle door. To my great surprise as I entered the terminal I saw that several other people waiting for departing flights actually had hand baggage with them, and sure enough I saw big signs telling you that small items were now allowed. This relieved me as I didn't fancy my camera's chances going through in the hold twice.
Getting out of T1 was easy, I had no hold baggage so walked directly across to the central bus station and got my ticket for the National Express coach to Gatwick, the agent said I could take any I wanted, so after a brief wander around I found a pizza restaurant in T3 and had a bit of much needed dinner. There was nothing else to do, and with the extra security I didn't fancy being hauled in by the police for taking pictures from the T2 short stay car park, so I went back to the coach station and waited in line for the next shuttle around the M25.
Shuttle
being the operative word! We first went to Terminal 4, and the moment we got on the motorway the driver floored it. I thought drivers were regulated by a tachometer, but this guy seemed to be doing his best to overtake everything in sight, after accelerating up a large hill he kept the power on and by the bottom we were really moving! Certainly, it was a lot faster than my taxi ride from Cardiff to Bristol, and we were doing 80 then. 35 minutes after leaving T4 we arrived at LGW South Terminal which was my call to get off.
I quickly found where I would be checking in, and looking at my watch I saw that I still had 4 hours to go, so took a little wonder around, finding a McDonalds and so I got a quarter pounder burger, not the greatest I must say, but it kept the wolf from the door for a little longer so to speak. Still nothing to do, so I went back to check in zone H, the same as my outgoing Air Nostrum flights, I hoped to myself that I wouldn't have the same miserable woman checking me in! Just opposite, by the outsized luggage there were some large capacity baggage trolleys, one of these looked quite comfortable so I got inside it and went to sleep for a bit, again I probably attracted some very strange looks from the chavs wondering up and down in their shell suits, but there were loads of other people sleeping on the floor around me so I felt safe.
Un-surprisingly enough, I was first in line for check in, but let an elderly couple go ahead of me so that they could get on their way. When I booked the flight I had no idea what aircraft I would be flying on, but I was happy with any of the ex Britannia machines. Obviously I enquired at check in and was told that it was a B757-200, so I requested a window seat on the right hand side, simple enough, no bags to check, got my boarding pass and went straight through into the security line for the departure lounge. I was a little nervous as to weather they would let my rucksack through; I had put loads of bubble wrap and soft stuff in it which really made it bulky as when I left Menorca I still thought that I'd be putting my camera inside it in the hold, thankfully though they didn't say anything, and again the screening process was thorough but quick. I found it was really annoying not being able to see which gate I was leaving from until it actually started boarding, but before hand I had a wonder down and was pretty sure that I'd be headed the way of a couple of Thompson Fly 757s, I was therefore a little surprised when called for boarding to Gate 17. First into the lounge I walked towards the seats and glanced out of the window at the aircraft, and did a double-take. That's a funny looking 757 I thought to myself, looks more like a 762! So I went back and asked one of the ThomsonFly guys if it was a 762 operating my flight, and if so could I change my seat, currently F, for a window seat. "Sorry, we can't do that here" came the reply, "but there might be some free seats onboard". Great I thought, my first 762 and no guaranteed window seat!
The actual boarding process was a complete and utter shambles, one of the agents opened the double doors leading to the air bridge and then disappeared up to the other end of the lounge, then there were several announcements, "Would passengers with small children please board now, and those passengers requiring extra assistance…" Nobody moved, then a second announcement the same, but again nobody moved. It seemed that because there was nobody standing at the door to usher the relevant pax through that they were all to shy/ nervous to make the jump themselves. Finally a general boarding announcement was made for people to board through the far door, so I got up and lead the way down to the aircraft, although as it was, the crew onboard were not ready yet! My seat was in the rear of the cabin, so I walked up to it, looked at it, and thought oh my god! After a couple of minutes stood in the aisle assessing the upcoming challenge of getting my legs into the provided seat pitch and working out a plan of action I just about managed to squeeze into it. Now I'm not at all fat, but I am fairly tall and was being pinned in by the arm-wrests on both sides of my seat, whilst my knees and legs were being pushed back to somewhere around my ear lobes by the seat in front of me. I just thought to myself, how can anyone bear to fly in this thing long haul???? Don't do it people is my advice (wish I'd taken some pics of it)! I'd already asked on the way into the cabin if I could be moved to a window, and once boarding was completed the cabin crew agreed, I must have smiled sweetly as they even put me in the extra legroom emergency exit window seat! Phew, I could breathe again without giving myself a hernia!
For some reason which confused me the crew began moving loads of other people around as well, who were quite happily seated and were not best pleased. They just seemed to randomly move people around the cabin, I really didn't get this, and nor did the people being moved. Then some more confusion, one stewardess told me to put my bag under the seat in front of me, I pointed out that this was illegal now (or so I have been told it is to have luggage on the floor by emergency exits during take off and landing), still she said it was ok, which was preferable really for me, but then another stewardess came round and told me that it would need to go in the overheads. I pointed out what I had previously been told, and she said just to leave it beside me for a moment while she checked, anyway, it was still there at the end of the flight and nobody bothered to check up on it!
LGW-MAH
Airline: ThomsonFly
Flight: TOM4141
Aircraft: Boeing B767-204ER
Registration: G-BRIG
Seat: 20F (actual occupied seat was 18H)
Estimated Departure Time: 07:20
Actual Departure Time: 07:38
Estimated Arrival Time: 10:35
Actual Arrival Time: 10:16
Despite all the fussing about by cabin crew who were very efficient if a little confusing in their actions, we pushed back on time, surprisingly for this time in the morning, there was only a very short line for takeoff. Another 762, of Excel pulled up beside us, but we were soon away ourselves; as a BA A319 turned off after making a successful return to earth it was our turn to go, and I was hoping for a powerful take off. What I got to start with was a series of short spluttery sounds from the engines, but then a loud and very meaningful drone of power reverberated from the two hungry power-plants on each side of me, which began to drag the aircraft, seemingly kicking, screaming and bucking its way down the runway over the bumps before we pulled back and headed into the sky, with a hefty dose of vibration as the gear retracted (causing many screams and cries of "we're going to crash")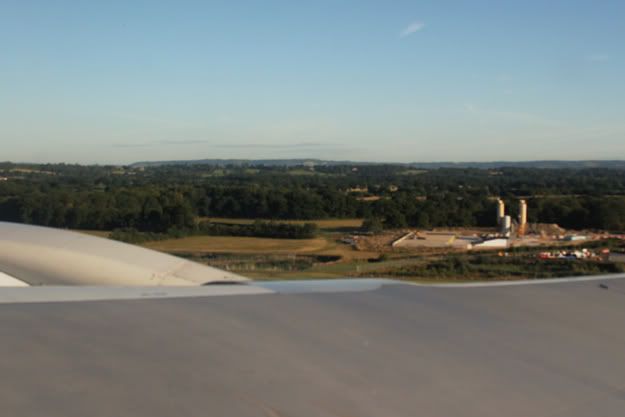 It was sunny today over the South of England, but I was too tied to really take it in, and fell into a light sleep just after take off, no doubt assisted by the reduced air pressure inside of the cabin, I stirred a couple of times and caught a few quick glimpses of what was outside my window before slipping back away again. I didn't wake up properly until somewhere over the South of France, when blurry eyed I looked out and saw that we had close company, in the form of Monarch and Thomas Cook 757s.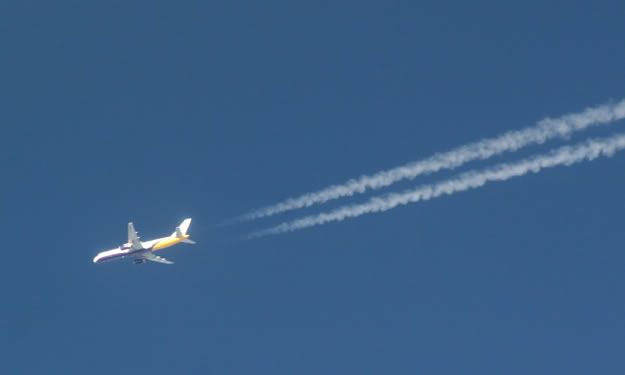 They were flying just a little bit higher than we were at 39,000ft also trying to maximise the tremendous tail wind that had hampered last nights flight up from Barcelona, so it was the perfect opportunity to grab a few in flight shots of them. Both of these aircraft were headed for Southern Spain or beyond, so just as we were crossed the Pyrenees we made a left hand bank, heading me once again back to Menorca and turning the company into distant dots on the horizon before they were swallowed up by the haze altogether.
The descent down to Mahon came quite late, we first flew over the island, and then eventually turned (after what seemed like flying half way to Mallorca) and came back in to land at Mahon from the South.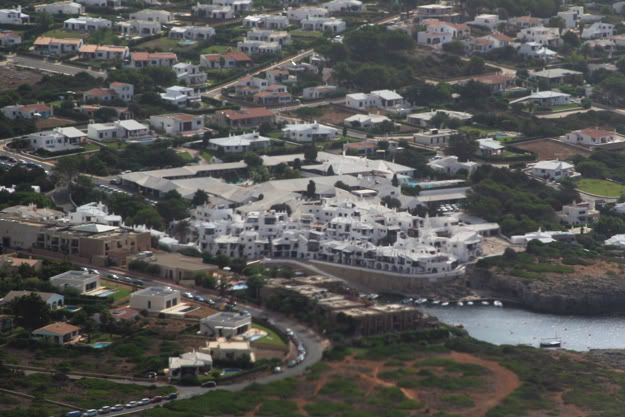 Binibecer Vell
The approach was steep and fast, I've never had a smooth landing in the 767, and this was not going to be the exception, making contact with Mahon's tarmac with an almighty smack that shook the cabin and probably broke the bones of those tall people unlucky enough to be jammed into the appallingly small seats. We arrived onto the stand next to another Thomson 767, this time a 300 series, and then as we were being bussed to the terminal another one touched down.
Mahon's new Terminal under construction
I hung around until the first bus load of pax had cleared through passport control, and then gingerly asked the man if I could get a stamp, 'see, see', he said very jovially, 'uno momento', he turned to stamp the passport of an American lady and then with a tremendous smile gave me one, persistence is the key I must say! I felt quite smug as I strolled past the droves of tourists waiting for their luggage at the carousel and proceeded out through the doors to where my mum was waiting to pick me up.
After travelling, and no decent sleep I was feeling sleepy, when she reminded me that we had friends coming around, and that I would have to stay awake while they were here. I soon forgot about the tiredness though, and it didn't fully catch up with me until later in the evening, nothing though that a good 14 hours of sleep can't cure! The remaining days were spent getting the house ready to leave, I now know that I'll be travelling back out in a couple of days time to see my grandparents, but just in case nobody was going to be there for a month or so we had to make sure that all the gas, and electrical appliances were turned off, and that the place was tidy to leave. By chance we had met our taxi driver in a petrol station, so we booked the cab for 7am on Saturday morning.
As normal, I never really sleep the night before travelling, this time though it wasn't msn and the lures of A.net keeping me up, but a particularly corny film titled 'Air Force One', it certainly shifted a little too much wallpaper and before I realised it the time had slipped past! Right on time, a few hours later, the taxi drew up outside the gates at 7am, and whilst my mum locked the doors I helped the lady load the bags into the boot and we were off, good bye Cala en Porter, for a bit. The airport was heaving; they are currently in the process of expanding Mahon's terminal with a massive new departure lounge, and 4 air bridges, certainly on days like this you can see why they need more space although during the winter it will be overkill to say the least. Most of the queues were focussed on TUI flights departing to Gatwick, Tees Side and several other UK destinations, but there was also an unusually large tailback coming from the Iberia desks, being the end of the August holiday there were some 30+ flights to the mainland today, ready for Spain to get back to work on the Monday. I was pleased to see that our desks had just one couple waiting, and once check in began we were soon in possession of the boarding passes for our flight to Glasgow.
There was still much time left that I had a wonder downstairs to Arrivals, and noted that the inbound flight was running some 30 min early, perhaps the tailwind was still there from earlier in the week! After that we went and had a light snack in place of breakfast before proceeding through security and into the departure lounge. It was just as I got into the departure lounge that I remembered I had forgotten to post my cards, I'm always doing this, but I couldn't be bothered to go back through, so they will get posted in the UK instead, or I could just save them for my next trip!
MAH-GLA
Airline: FlyGlobespan
Flight: GSM454
Aircraft: Boeing B737-300
Registration: G-OTDA
Seat: 3A/3B
Estimated Departure Time: 09:45
Actual Departure Time: 09:39
Estimated Arrival Time: 11:45
Actual Arrival Time: 11:51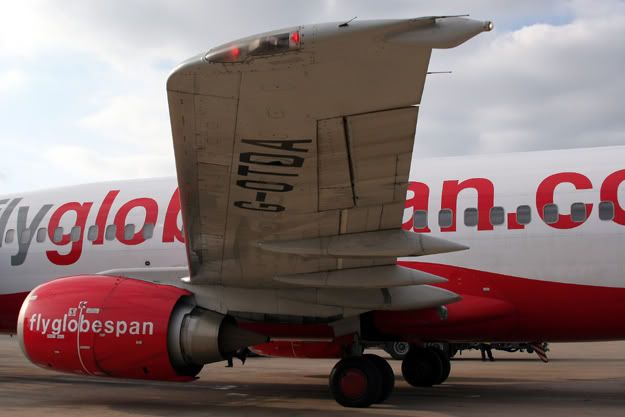 The flight was called right on time and we were bussed out to the awaiting aircraft, I was really hoping for a -600 series 737, but in the end it was just a -300, boooo, boring! Lol. The seats were comfy but the interior and some of the fittings were looking very tatty and not at all clean, I was also surprised that the flight was quite full, considering just how little we had paid for it and how late we had booked. Push back was 10 minutes ahead of schedule, and we took off to the South several minutes ahead of the scheduled departure time,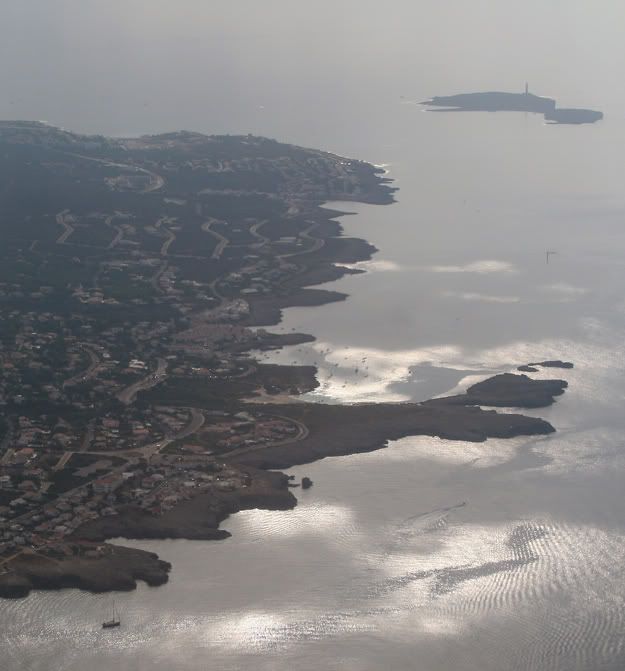 making a large bank around to the left over Mahon city and then climbing up into the cloud as Menorca slipped by below us and into the haze.
It was about this time that I put down the camera and picked up the laptop to write this trip report, (which I am incidentally now picking up again aboard a virgin train heading for Plymouth). The flight up to Glasgow was fairly smooth, encountering just a few bumpy patches along the way, the stewardesses did several rounds with the trolley, but I was far too busy typing and listening to music to really notice, and anyway, the baguette I had in Mahon's terminal for breakfast had filled me up nicely. The captain came over the intercom to announce that we were flying into a very strong headwind of about 140 knots and that there was an equally strong crosswind as well, which meant not only were we flying slower, but we were flying at a slight angle which didn't help the speed either. After writing for the entire flight I felt the descent begin so it was time to turn off the laptop for landing; it was a very gradual descent down through the clouds, and when Glasgow broke out from beneath them you could see that we were once again back in wet, soggy old England...er, I mean Scotland of course
After a very good view of the city, we turned onto final approach and lowered the gear before making a firm if slightly hard landing and using lots of reverse thrust to slow up on the very wet runway. No air bridge unfortunately, we arrived on a remote stand next to the BA maintenance hangers, so dodging the raindrops as we got off the aircraft and headed for the bus to take us into the terminal. Despite taking off early, we had landed late as a result of the headwind, after a total flying time of over three hours.
As soon as we got the luggage from the Mahon flight we had to get over to terminal 2 as quickly as possible to check in for the next flight down to Bristol, and as this was with Easyjet there was more urgency so that we got in sequence A or B. I found Easyjet's check in at Glasgow annoying and not at all user friendly, you have to wait looking at the screen until the applicable check in desk for the flight is displayed, and then there is a mad rush to be at the front of the queue, I really don't understand why they can't operate a kind of rolling check in like they do at Bristol, so that all desks are open for all flights and that there is just one queue for everything. Still, we were near to the front of the queue, but the agent did not like the look of my hand luggage, I had my camera bag, and strapped to the top of it was my lens bag which together easily fitted within the new maximum hand baggage dimensions. Still, this was not good enough, it was classed as two pieces and I would have to do something about it. Simple, I got my large rucksack out of the case, put everything into the rucksack, and then showed that it still fitted into the dimensions box. I understand that they have to obey the regulations, but I think the check in agents need to be given more power to use their own discretion regarding what is and isn't allowed, as in essence I had three pieces of hand luggage. As there was nothing much to do in Terminal 2 at Glasgow airport, we headed through security to wait at the gate, spotting this little gem along the way, only in Scotland, of course!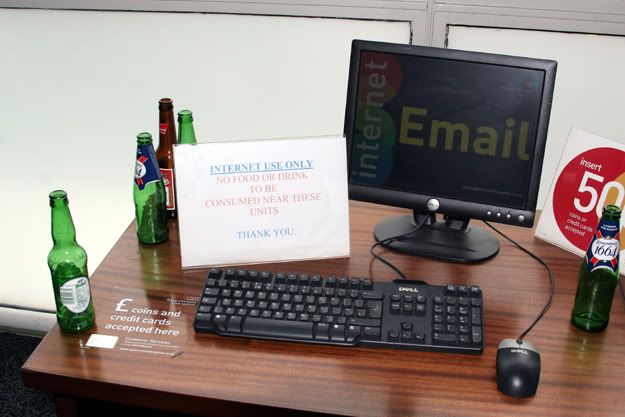 Somebody mention units? Of alcohol, naturally
We hadn't been sat down long when they announced that there would be a 50 minute delay due to the late arrival of the inbound aircraft from Bristol, not a major problem, but still annoying as the waiting area down there was pretty chilly, especially as we were used to a Mediterranean climate. After half an hour I saw the aircraft landing and sure enough, a short while later it taxied into the stand adjacent to the gate. Boarding was called very rapidly, despite all the hassle at check in we had managed to get sequence numbers 8 and 9, so were comfortably in boarding group A. It took a while to get all the tickets checked which the ground staff did before allowing anybody on the plane, and then they commenced priority boarding, followed by our group. The aircraft was an Airbus A319 and we took up seats in row 8, E and F, no prizes for guessing who got the window seat!
GLA-BRS
Airline: EasyJet
Flight: EZY412
Aircraft: Airbus A319-100
Registration: G-EZIR
Seat: 8E/8F
Estimated Departure Time: 14:20
Actual Departure Time: 15:40
Estimated Arrival Time: 15:35
Actual Arrival Time: 16:30
Once everybody had boarded, nearly a full flight today, the captain came across and apologised for some bad news, due to an air traffic control blockade, we would not be able to start the engines for another 55 mins, at that the air was loudly filled with the noise of many exasperated groans and sighing which he attempted to dispel by quickly adding that headquarters at Luton were on the case and badgering ATC for an earlier push back and departure time. The safety briefing was then given and luckily just 10 minutes later that he came back over the address system to announce that engines would be started shortly with our departure following promptly. True to his word, a few minutes later we pushed back and made for the active, following a Zoom B767-300 and Thomas Cook B757-200 back up into the rainy Glaswegian skies. The take off roll was very long, using most of the runway, although the climb out was fairly steep, pushing up through the clouds and out emerging out into sunlight once again.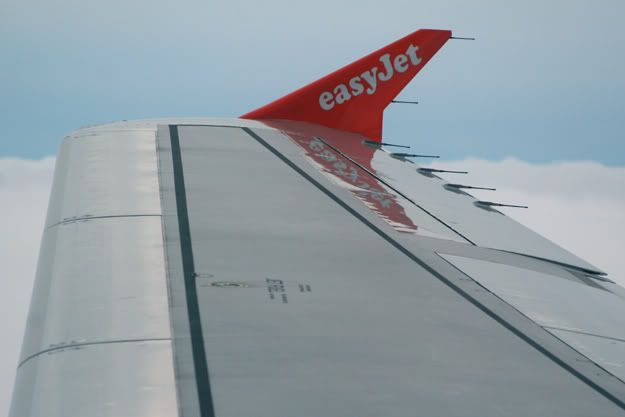 The route today took us down over Blackpool and then on to Merseyside before following the Welsh – English border down to the river Severn and Bristol. Because of the very dense cloud cover you could see nothing of the ground below, although I did get a glimpse of the Irish Sea for a bit. Another captains' announcement informed us that we had made up 15 minutes of lost time and that we would very shortly be landing at Bristol despite still being in cruise, so what followed was some quite sudden altitude loss, several long drops which quickly took us down towards the ominous layer of grey cloud which you could see hanging above the West Country for as far as the eye could see.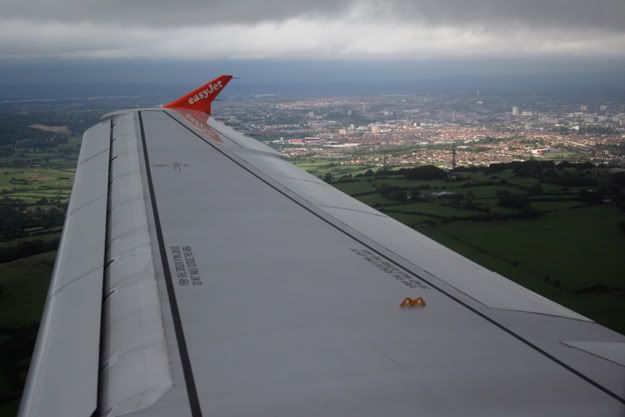 As we descended into it things got a bit livelier, turning to establish our final approach brought some turbulence which threw us all over the place, and I think I was alone in finding this quite fun! The landing was very hard according to my mum, but I thought considering the unfavourable circumstances that it was quite good, using the whole of the runway to roll out before turning back to taxi in to the terminal.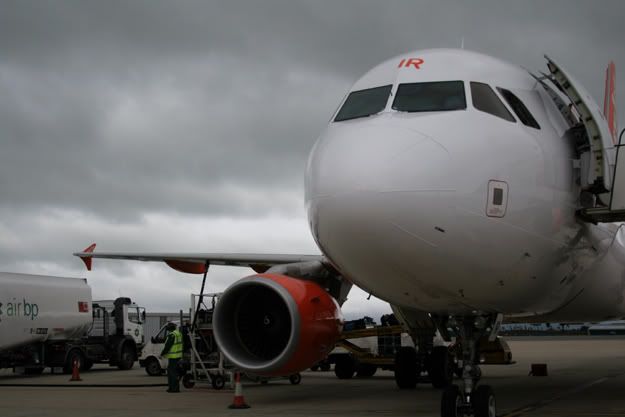 After getting off we had to wait forever to retrieve our luggage, which I find is pretty standard at Bristol, it eventually slid around on the carousel and we headed out to find the coach that would take us into the city and to the Train station. The first one was full, and we waited for the next, which took half an hour to arrive, once onboard though it whisked us to Temple Meads in no time at all. The final major leg of the journey was to get the train back to Plymouth; sadly there was no Saturday evening flight to Plymouth with Air Southwest so train or coach was our only option. Although we didn't know it, my Nan, who had booked the tickets from England to save an expensive phone call to national rail enquiries from abroad, had put us in first class, so this made the journey back home the more bearable.
Thanks for reading, I hope you have enjoyed my first trip report for a while, hopefully if I continue to get my act together it shall be followed by many more. There are also some more general pictures of Menorca on another site I run:
http://www.menorca.photos.gb.net/
Dan