Feedback always appreciated.
Trip Report: 004
Flight Category: Y-DLR (See Report End)
Date: 02-Sep-06
Dep.Arr.Time: 0800/0957/04:57hrs
Flight:
AIR CANADA, AC 131
, 2085 miles
Routing: YYZ-YVR
Aircraft: 763
Seat: Economy, 31F
I > Background:
Part of a Labour Day escapade. Routing was ALB-YYZ-YVR:: YYC-YVR-YYC-YYZ-ALB. This focuses on the AC segment from YYZ to YVR. Trip reports besides this on this trip will be ALB-YYZ and YYC-YVR.
II > Pre-Flight:
a) Before Airport:
Although Air Canada's clean booking engine online at
www.aircanada.com
gave me several of the flight combinations I wanted, when I went to book the actual flights, I got an error each time. This ensured a call to the AC phone lines and a subsequent CAD 30.00 (I believe) charge – which was frustrating given that it was not my fault. Moreover, Star Gold status on 4 airlines meant jack in terms of waiving this fee OR getting a nice exit row seat pre-assigned. (Yes, I am *G with AC as well.) So the phone agent ended up giving me window seats as per request for all the flights.
b) At Airport:
I could not use AC's kiosks and had to check in at the separate EXECUTIVE class check-in. The line was short … however, my seat had been given away and the only option (because of cancelled earlier flight) was an aisle at the middle of the aircraft. Of course, the exit row seats were claimed. Oh well. Security was quick and soon I found myself at the AC Maple Lounge. I must say I was impressed by AC's Maple Lounge – it FAR exceeds anything south of the border by an U.S. carrier. Since I had time, I took a quick shower, and checked my email at one of the many free internet terminals. There were also options for toast, cereal, fruits, and of course free alcoholic and non-alcoholic beverages.
Ok, I almost missed my flight due to AC's lame-ass computers. Prior to leaving a lounge, I always confirm gate assignments and this flight was no different. The agent at the counter confirmed the gate as my boarding pass indicated … and I was off. I should have been warned by the lack of my flight being listed on the departure screens, but upon reaching my gate, there was no flight and no agent to be seen. I asked a guy working the computer who snapped, "Sir, cant you see I am flight crew?." Not being in the mood to argue, I walked to another agent who kindly told me that the gate had changed. Hmmm … shouldn't they have updated the boards or made an announcement? Anyways, when I reached the new gate, I informed the boarding agent that he should make an announcement. His response, "Sir, I am busy. If you have a problem, find a customer service agent." ANYWAYS. Gotta love the attitude. By the way, it was strange that he wanted my boarding pass back to reprint one with the new gate number. Of course, the departure of the flight was delayed as ground crew scrambled to get passengers. Seriously, AC ground crew do not have the ability to use their brains. Boarding was fairly organized … though there were no separate calls for Executive or Elite members … this I found weird on a packed 763 flight.
Upon entering the plane, I was greeted by the head steward, Mr. Meghji (whom I will come back to again.) The plane looked tired, but thankfully the AC crew was in good spirits. Soon thereafter there was drama as they had assigned the exit rows to an infant, a teen, and a couple in their 70s and the cabin crew scrambled to rectify the situation. I mean, why the hell can they not be like a normal Star airline and assign it to their best customers. Obviously, "we have to see you at the airport" did not work here!
Check-In:
(Toronto-Pearson Airport Outside)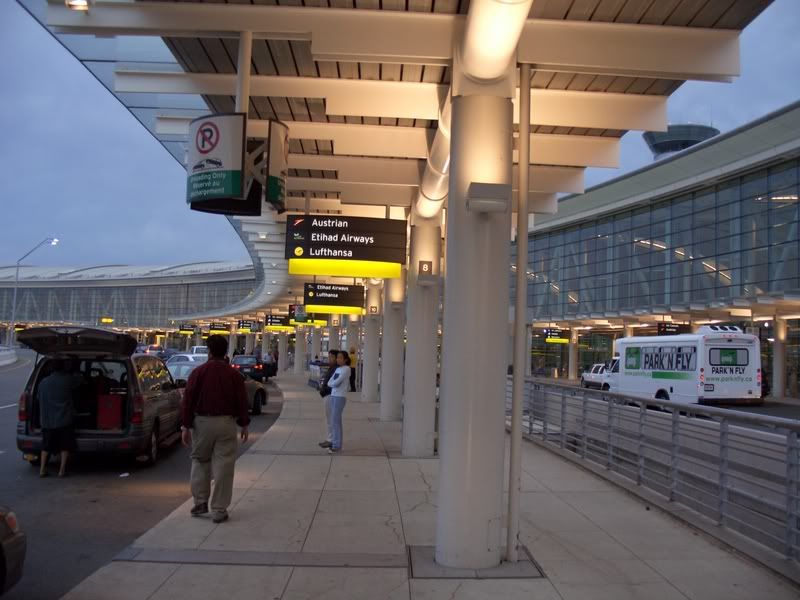 Airport: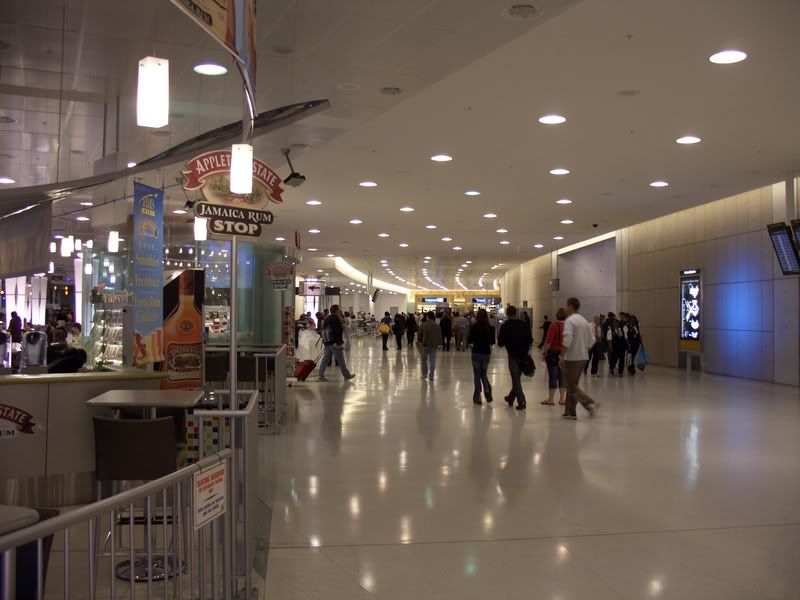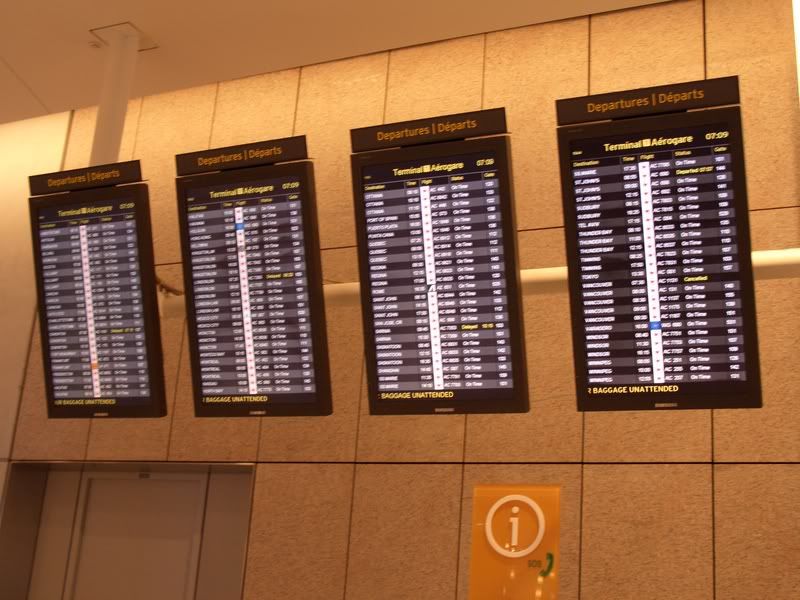 Scenes from the tarmac: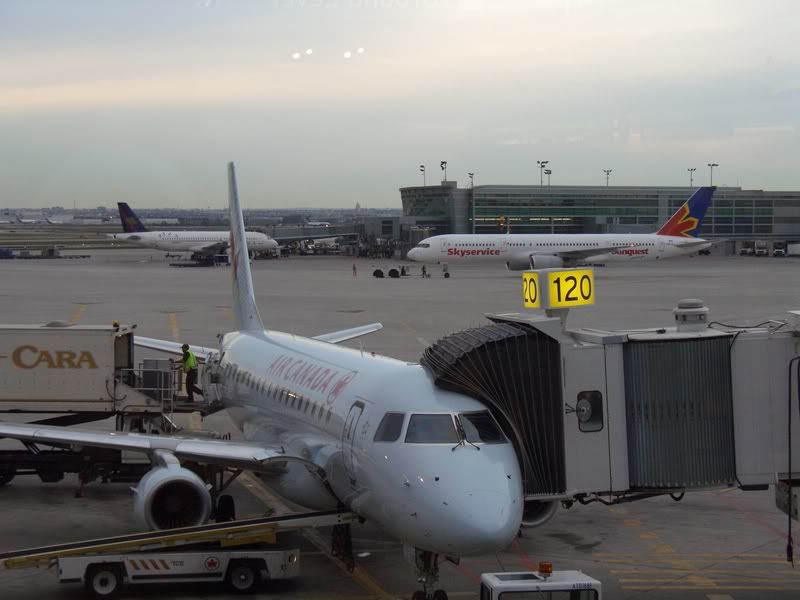 (Is that really a Volga-Dneiper at YYZ? Is this a regular?)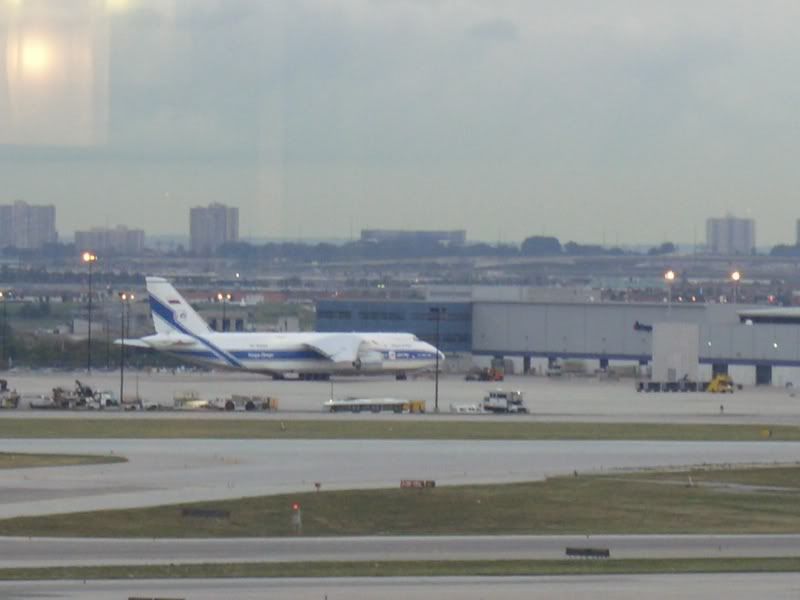 Lounge – Air Canada Maple Leaf/Star Gold: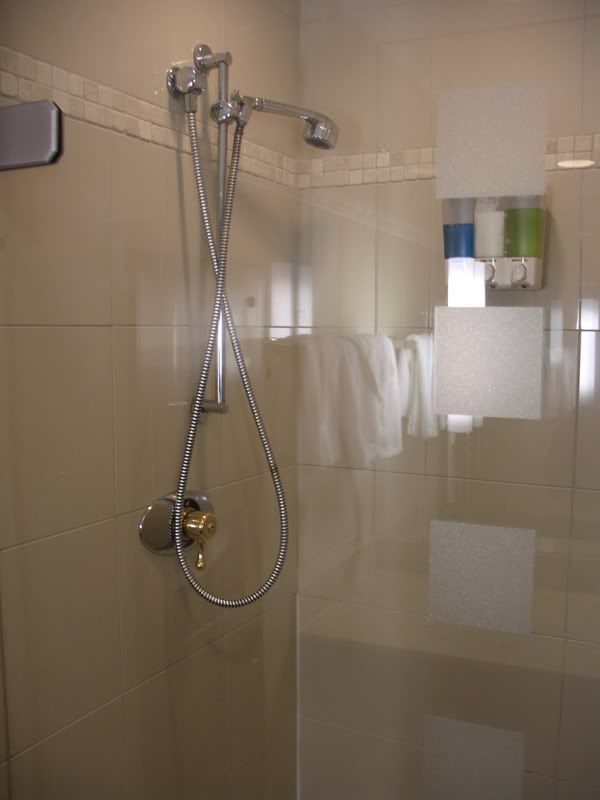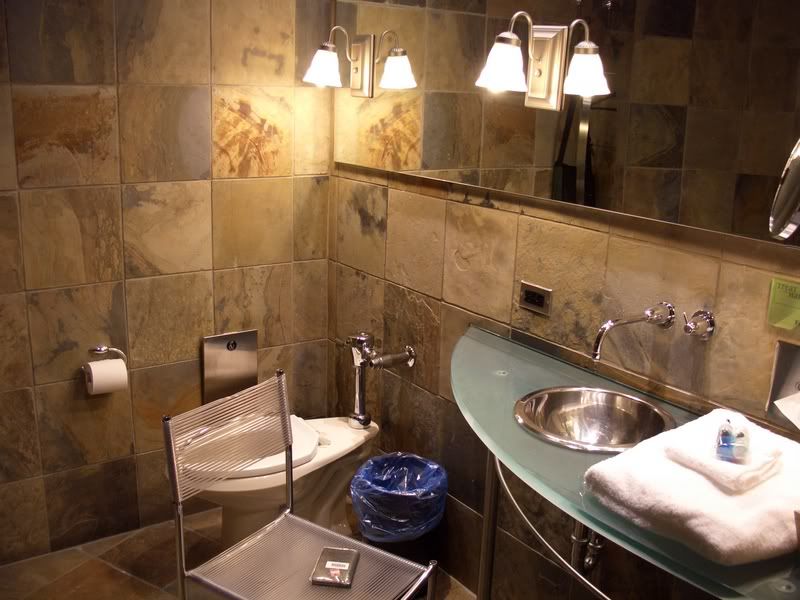 Boarding:
III> In-Flight:
a) Service Schedule + Impressions:
As mentioned, push back was delayed due to many passengers caught unaware by the change of gate. After 30 minutes, we were on our way. Of course, a padded schedule always ensures we arrive on time these days. After safety demonstrations, we taxied for take-off. Upon reaching cruising altitude, crew came by with complimentary AC head-phones to take home. I dozed off soon thereafter and woke up somewhere near Calgary (with an 1:30hrs flying time left.) While I had gone to dreamland, I was told that a complimentary beverage service and a "buy-food-onboard" cart had passed by. Given I was thirsty, I went to the back of the plane, where to my astonishment, Mr. Meghji said, "Mr. Manzilla, can I get something for you?"! The only airline where cabin crew remembers your name in Y cabin is on Jet Airways, India. Pleasantly stunned, I returned to my seat and soon came another surprise. I was hungry and when the second buy-food-cart came, the stewardess smiled and said, "Mr. Manzilla … I checked our flight manifest and it seems the kind of ticket you have entitles you to CAD 7.00 of free food." This was my lucky day! Anyways, does anyone know why this happened? Ok, the rest of the flight was fairly uneventful and I made chit-chat with the passengers next to me on how racist France was. Random indeed.
b) Aircraft + Seats:
While I like Air Canada's new livery on its 763, the aircraft was clearly showing its age. The seats, lavs, general cabin was not clean and looked extremely tired. Worse, the seats are not comfortable, and legroom is VERY tight. Recline is at par with industry average.
Aircraft:
Views from Aircraft:
NONE
Seat Leg-Room:
Seat Recline + Angle View: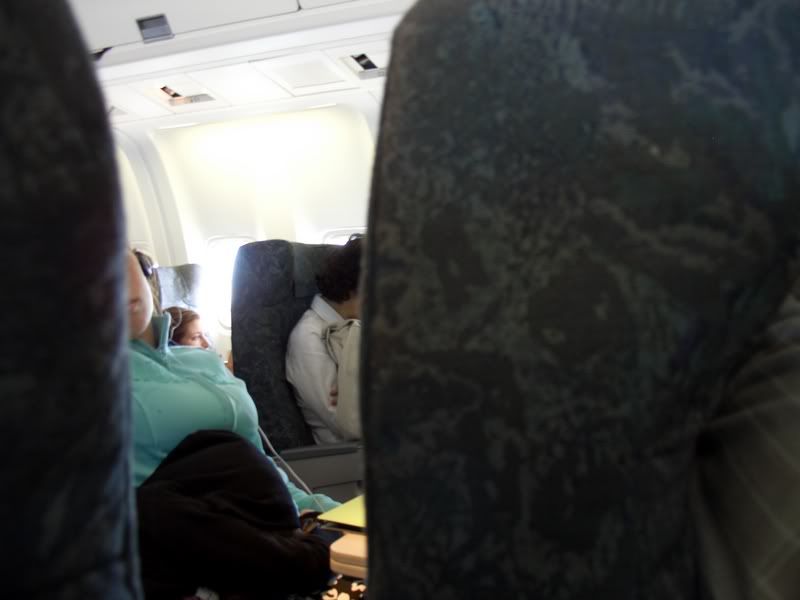 Cabin:
c) Meal:
Food consisted of food-for-purchase. I was surprised that a 4:30hrs flight did not even give you a bag of pretzel or chips or something! The buy menu was rather generic and many of the items on sale were actually not available. I "bought" a chicken sandwich which was dry and not very appetizing. However, hunger my friend has made me eat stranger things …
d) Inflight Entertainment:
763s of AC has no PTVs. The movie shown on the main screen was PURELY horrible … Nac(h)o Libre. Just pure crap. The AC magazine (enRoute) had some interesting articles and the usual back section filled with AC news.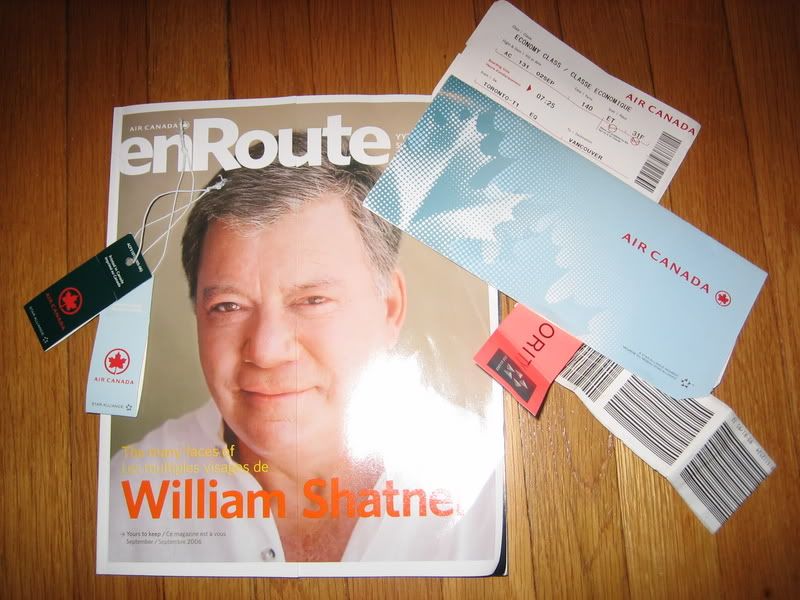 e) Crew:
AC's crew was its saving grace. It was very apparent that Mr. Meghji truly liked his job and I sincerely appreciated his efforts to make the best out of the minimal goodies at his disposal. He reinforced my belief that even if there is NO service items (food, IFE, etc.), a positive engaging attitude can make a whole lot of difference. Moreover, his leadership was obvious as the crew liked working with him. Besides, he lead by example and was always responding to crew calls, doing water runs, etc.
IV> Post-Flight:
Vancouver continues to be convenient. Baggage was slow to arrive, despite the PRIORITY tag.
Vancouver Airport: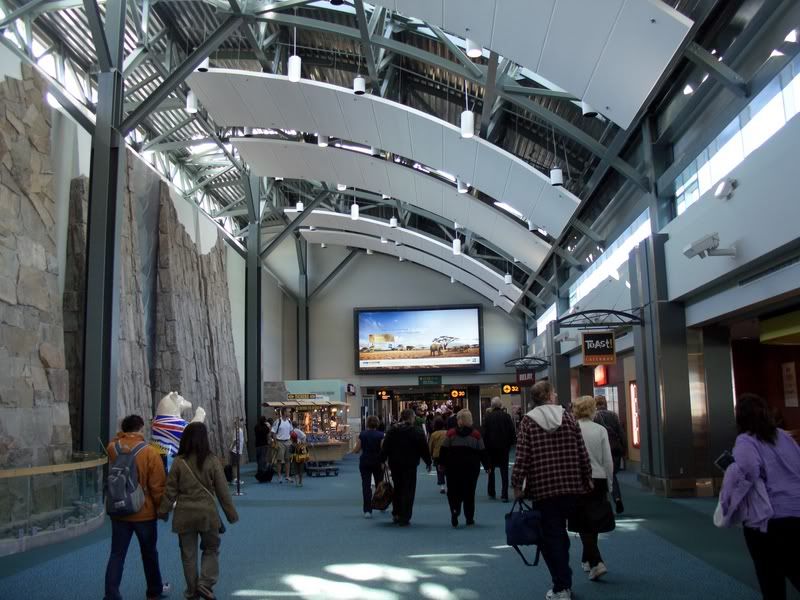 V> Impressions + Scores:
Air Canada is an extremely stingy airline. While I can overlook eliminating free blankets, pillows, etc., would it hurt to serve a small bag of complimentary snack on a trans-con flight? While its cabin crew on this flight led by Mr. Meghji was truly outstanding, ground crew and phone support left much to be desired. They need an attitude adjustment and hopefully continued competition from WS may do just that. The wild-card surprise was the really good (for North American standards) AC lounge both at YYZ and YVR. I would definitely fly AC again … however, given other options, I would not find it challenging to chose another carrier in a heart-beat.
Reservation: 4.0
Check-In: 4.5
Lounge: 8.0
Boarding: 2.0
Seat: 5.0
IFE: 6.0
Crew Service: 9.0
Food: 6.0 (based on my "purchased" food)
Beverages: 5.0 (standard default score, when served only beverage)
Amenity Kits + Others Freebies: 5.0 (standard default score)
Disembarkation: 7.5
On-Time Record: 9.0
OVERALL IMPRESSION: 5.92
(Scores are based on comparison with other airlines in THAT class of service – No comparison of Y vs. F for example)
VI> Other Trip Reports:
1/
Avianca: BOG-LIM: 07/06/06: 7.09pts: Y-IMR
2/
Air Tran: EWR-MDW: 08/02/06: 6.73pts: Y-DMR
3/
West Jet: YYC-YVR: 09/05/06: 7.14pts: Y-DLR
(Note on Codes: Y – Economy, J – Business, F – First :: I/D – International/Domestic :: SR/MR/LR – Short/Medium/Long Haul :: I have designed these codes so people don't believe my scores are comparing apples and oranges)
VII> Other Non-Trip Pictures:
(Different Shades of Air Canada's Maple Leaf @ YVR)
(BA 744 on YVR-LHR routing as seen from YVR AC lounge)
(Signage @ YVR Maple Leaf Lounge)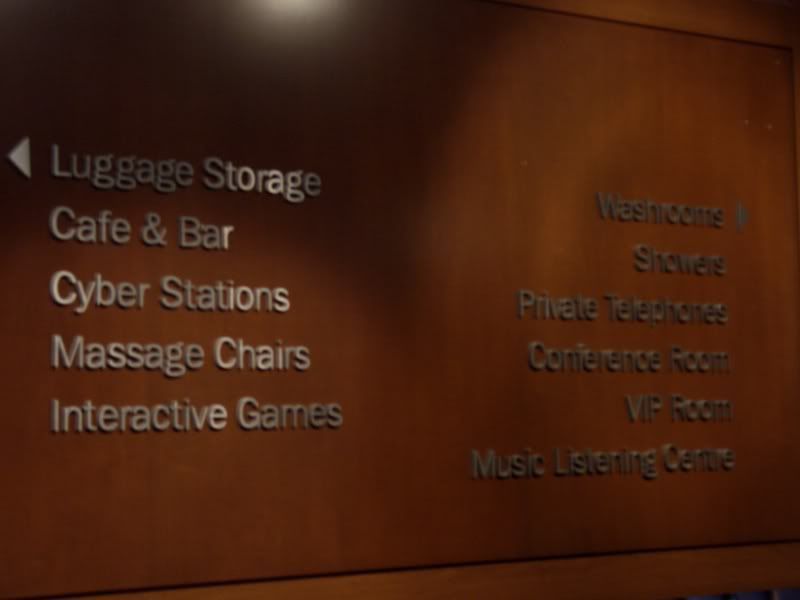 [Edited 2006-09-13 06:49:36]