Hey guys,
this is my first trip report so I give my best and hope you'll appreciate it.
It is a long one and I added some pics. Please forgive me for the bad quality of some pictures.
I'm working at the Frankfurt Airport and we had a hard summer season this year. I worked almost every day for 6 – 10 hours and decided for myself that it's to time to relax, because I was very exhausted. I asked my boss for a 20day-leave and he permitted that.
Now I thought about it where to spend my holiday and decided to visit my parents in Turkey for a week and after that make an all-inclusive holiday with my girlfriend somewhere at the beach. So my searches began…
Thanks to a friend of mine working for an airline at the airport as well I was able to book a return flight to Istanbul with LH just for 98 EURO. In comparison to other airlines and in consideration of the fact of the high summer fares this offer wasn't unbeatable. Normally I fly to Izmir at the Aegean cost because the way to the summer residence of my parents is shorter than from IST, but the fares to Izmir were definitely too high. So with the chose of IST I have to take the coach from IST to get to Ayvalik (my destination) and this ride would take approximately 9hours.
I searched for other opportunities and find a very good one. Atlasjet (KK) offers a four-time weekly flight from IST to EDO (Edremit) at the summer season. EDO is a regional airport 25 minutes away from Ayvalik where I wanted to go. The KK flight was scheduled for 7.10pm which would mean a layover at IST for approximately 6hours. I booked a one-way ticket online for 55 EURO which seems ok for me due to the very low fare of the FRA-IST-FRA ticket and I could live with the 6hours stay in IST.
On the return I couldn't take KK from EDO to IST again because of the schedule of the flight I would miss my connecting to FRA. So at first I make no decision for the return flight.
My schedule for the 29.Aug. as follows:
LH 3340 FRA-IST STD 0905 STA 1250
KK 4107 IST-EDO STD 1910 STA 1955
FLIGHT LH 3340
ROUTING FRA – IST
AIRCRAFT AIRBUS A320-200
REG. D-AIPF
SEAT 10A / EXIT ROW
DEP. GATE B58
LOAD 80-90%
STD 0905 STA 1250
ETD 0920 ETA 1305
ATD 0955 ATA 1306
OFFBLOCK 0951
POSITION V178 (A)
DEP. RUNWAY 18
ONBLOCK 1311
POSITION 204 (G)
ARR. RUNWAY 24
FLIGHTTIME 0211
BLOCKTIME 0221
View Large
View Medium


Photo © Tom Mousel - Luxembourg Aviation Photography
On the 28th I was on duty. I packed my suitcases and took them along with me to the airport with the hope to find free 30min in the evening. I wanted to check-in in the evening before the flight so I don't have to stand in the long morning queue and could sleep a few more hours. Lufthansa offers this service and they have in Terminal 1 plenty of check-in automats where you can check yourself in. Luckily I had the time to go there when I was on duty to give up my luggages and pick up my boarding pass. Next to these self-check-in desks there is a help-desk. I had to contact them because my suitcases weight 22kilos and the automat make no tolerance
Giving up my second suitcase at the helpdesk I asked for an emergency exit row seat and the agent changed it for me.
In the morning I arrived at the airport 50 minutes prior to departure. I made my way directly to the controls. After security check and passport control I took a look at the boards and saw that my flight is delayed for 15min. "Nice" I said and went to the duty free. After 15min. shopping (just bought a perfume) I went to the gate. It was B58 – a bus gate. Scheduled time was 09.05, the new estimated time 09.20, but the minutes passed and we waited and waited and waited for boarding. Around 09.20 the first bus and than the second bus was boarded. I was at the last bus and took my seat next to a man. For some minutes I cogitated who this man is, because I knew him from somewhere. Finally it occurred to me. I was seating next to Fatih Tekke, a very famous Turkish soccer player playing now for Zenit St. Petersburg and the Turkish National Soccer Team. Due to the long way to our aircraft I had the possibility to chat with him.
I boarded the aircraft at least and took my seat at the window. It seems that the flight was almost full. Just a plenty of seats, luckily one in my row, were left. With a delay of 35 minutes we were finally off block and taxied to runway 18. The captain apologized for the delay and reasoned it with the late inbound from BUD. Nevertheless he was going to took advantage of the tailwinds and just estimated a 15minutes delay in IST.
After reaching our cruising altitude the breakfast service began. A very delicious breakfast, something like an omelet with potatoes, cheese, tomatoes, spinach and red pepper, was offered. After breakfast and drinks I chatted a while with my neighbor who seemed to be very tired. He arrived that morning from MIA. The rest of the flight was uneventful.
Our decent went over IST heading to runway 24. Because of that we got a very nice view of one of the most beautiful city of the world. The landing itself was very hard and the wheels of the aircraft hit the ground two times. After a short taxi we arrived at the gate (204) with a delay of 20 minutes. I took my stuff and promenaded for a while in the transit area. After that I made my way to the passport control and was very shocked. There was no queue! Every time I landed in IST I had to wait for minimum 30 minutes. This time I passed it faster than I never pass a control before.
I claimed my suitcases and went to the domestic terminal. It is a long way but I had time so I made no stress. Arrived at the terminal I queued up at the KK – desks and asked if it is possible to give up my luggages for the evening EDO-flight. The agent affirmed and asked for my seat preference. With the boarding pass in my pocket I went back to the international terminal because there are more opportunities like bars and restaurants. I went to my favorite bar, the Greenfields Sports Bar, in the arrival level. There you can find very tasty salads and I would commend it to everyone. I took a salad with chicken and watched the world championship match in basketball between Turkey and Argentina. Turkey lost this match but this was predictable due to the strength of the Argentinean team.
After the match I decided to take a taxi to Florya, the district next to the airport. Irfan Caliskan, an a.netter as well and a very good photographer, commended me to go to Florya. There is a shopping mall named Flyinn with a cafeteria on the top with a very good and clear view at the runways and the complete terminal area. I went there and was very impressed of the view. The departing aircraft passes you just 100 meters ahead. Very nice place and a lot of thanks to Irfan for this tip!
Here two pictures taken from the cafeteria.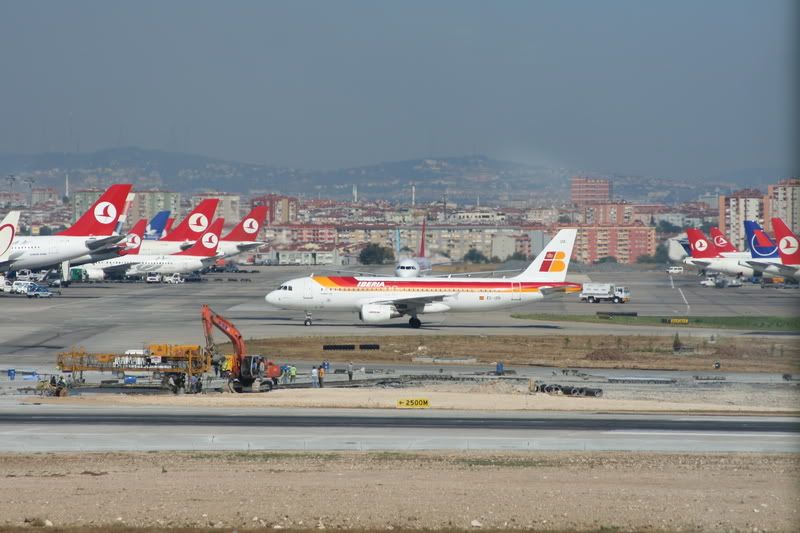 FLIGHT KK4107
DATE 29AUG 06
ROUTING IST - EDO
AIRCRAFT CANADAIR CRJ-900
REG. TC-ETB
SEAT 6F
DEP.GATE 404
LOAD 100%
STD 1910 STA 1955
ETD 1910 ETA 2005
ATD 1939 ATA 2012
OFFBLOCK 1919
POSITION 122 (A)
DEP. RUNWAY 18R
ONBLOCK 2015
POSITION PARKING 1 (A)
ARR. RUNWAY 5
FLIGHTTIME 0033
BLOCKTIME 0056
View Large
View Medium


Photo © Turker Hasimoglu
Around 5pm I went back to the airport. Arrived at the airport I saw a big crowd in front of the entrance to the terminal. They were supporter of the soccer team Fenerbahce Istanbul and they waited for their new player Deivid de Souza. I am not a fan of Fenerbahce or better say I hate Fenerbahce so I went into the terminal building, made my way to the domestic terminal and wait there. Normally it is prohibited to take photos at airports in Turkey but I took out my cam and took some pics of the evening traffic. The best picture I could take was this one showing TK's brand new B737-800 with the registration TC-JGU and the special livery "100. aircraft for TK". This picture is also showing my aircraft, a Canadair CRJ-900 TC-ETB, for the flight to Edremit.
After that shot I went to the departure gate 404 and saw that they are already boarding although it is 45min. before departure. I was very tensely because this was the first time for me to fly with a CRJ. From the outside while boarding the aircraft over the aircraft steps it looks very nice, just like a rocket or something like that. The interior with leather seats was very clean and you could see that this aircraft is brand new. The stewardess welcomed us with a warm smile and I took my seat in the 6th row. It seems that the flight wasn't that much loaded, but after 10-15 minutes wait my neighbour asked the stewardess for the reason we are waiting. She answered that 2 passengers are missing and that the last bus is waiting for them. The minutes passed, the scheduled departure time came closer and we waited. Finally the last bus arrived, not only with 2 passengers but also with 20 more. That meant that the flight was completely full. 9 minutes behind the schedule we leave the position and were welcomed by the very friendly female cabin manager on Turkish and English as well. After that while taxiing to the runway the captain spoke up and welcomed us as well. About one thing I was positive surprised. The English of the cabin manager and the captain was very good and easily understandable. This is nothing regular with Turkish airlines including TK aswell. Our taxi to the runway took around 20 minutes and we were number 7 for take-off due to the heavy evening traffic. We departed from runway 18R heading to the south over the Marmara Sea. I never experienced such a rocket-like start. Very impressive! Luckily my window seat was on the right side of the aircraft so I had the best view over Istanbul in the sunset.
We reached our cruising altitude very rapidly and were cruising to the south. Then the stewardess offered everyone a bag. I was surprised for the second time. The bag included a big cheese sandwich, an orange juice, a cake and a chocolate bar. When you take the duration of this flight of just 45 minutes into account than you wouldn't expect something to eat. Very nice and a big plus point for Atlasjet. After 20 – 25 minutes flight the descend to Edremit began. We circled over the airport to landed at runway 05. The captain made a smooth landing and the aircraft stopped at the end of the runway where it turned to the parking area and stopped at the apron with a delay of 20 minutes. Edremit is a very small airport with place for just 2 or 3 aircrafts of that type.
I enjoyed this flight very much. Nice and new aircraft, very friendly cabin crew and in-flight service over the standard.
This was also the reason why I decided to book an one-way flight from Izmir (ADB) to IST on the return leg. I searched for it in the web and find one with a good fare and good time. Just 40 EURO I paid for this flight.
My return schedule for the 04.Sep. as follows:
KK 0025 ADB-IST STD 1340 STA 1440
LH 3343 IST-FRA STD 1830 STA 2030
FLIGHT KK0025
DATE 04SEP 06
ROUTING ADB - IST
AIRCRAFT AIRBUS A320-200
REG. TC-OGO
SEAT 29A / LAST ROW
DEP.GATE 9
LOAD 100%
STD 1340 STA 1440
ETD 1340 ETA 1440
ATD 1401 ATA 1449
OFFBLOCK 1351
POSITION 14 (A)
DEP. RUNWAY 34
ONBLOCK 1454
POSITION 125 (A)
ARR. RUNWAY 24
FLIGHTTIME 0048
BLOCKTIME 0103
View Large
View Medium


Photo © Globalpics
Due to the traffic on the way to ADB I arrived just one hour before departure at the airport. It seemed that almost everyone had already checked-in because the desks were empty. I gave up my suitcases and asked for a window seat in the very last row. Something special to me: the ground stuff boarded the busses according to the seatrow which meant that all passengers with seats in row 1-10 took the 1st bus, all between 11-20 the 2nd and the ones in row 21-30 the last bus. Again we were welcomed with a smile by the cabin attendance. We were off block 11 minutes behind the schedule taxied to runway 34. Before boarding I was able to take some pics. Here you are..
One of TK's newest Airbus. Delivered in December 2005.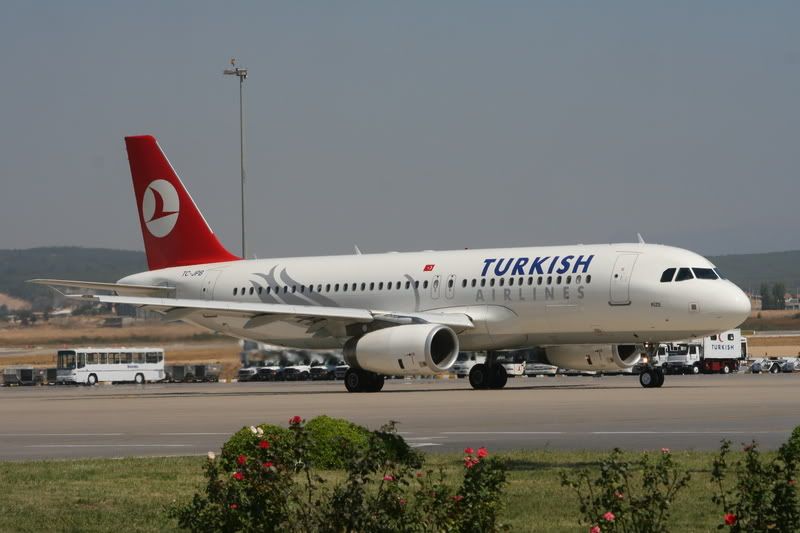 The brand new International Terminal of ADB. I heard that they already opened it now. Looks very nice.
Our A320-200 TC-OGO. Looks clean…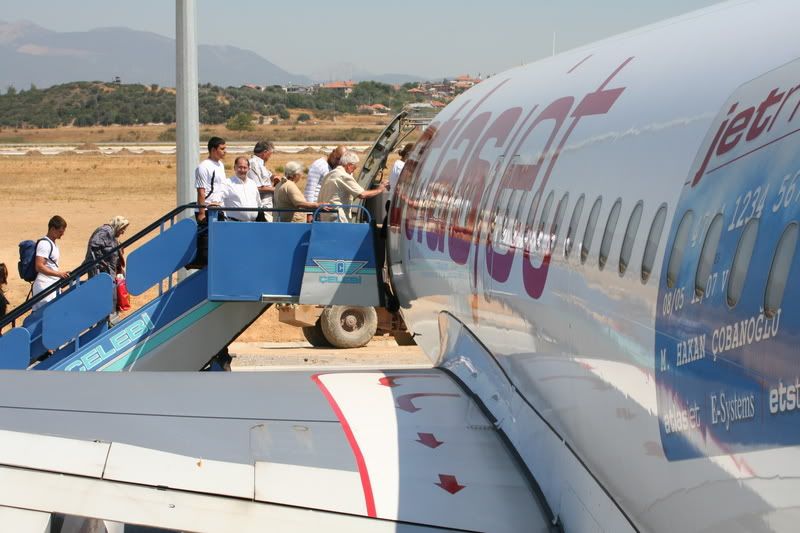 One of the the two A319 of KK.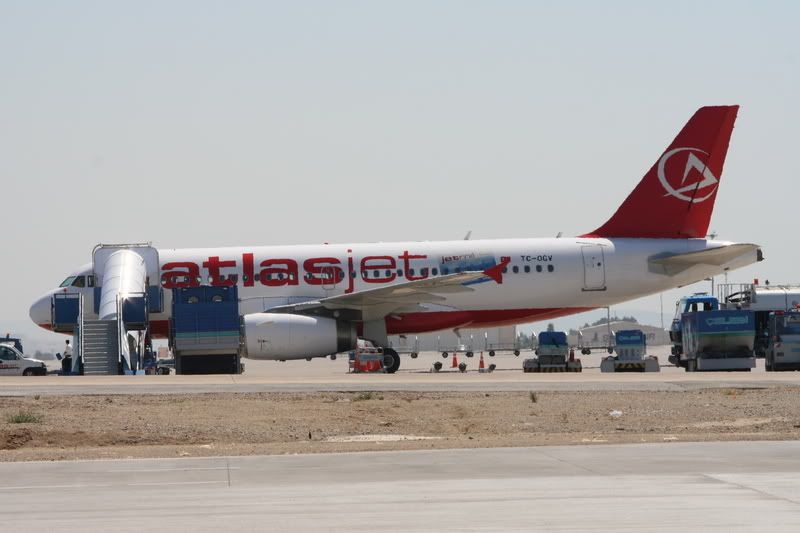 Finally we took off and headed to the north. Again the new terminal.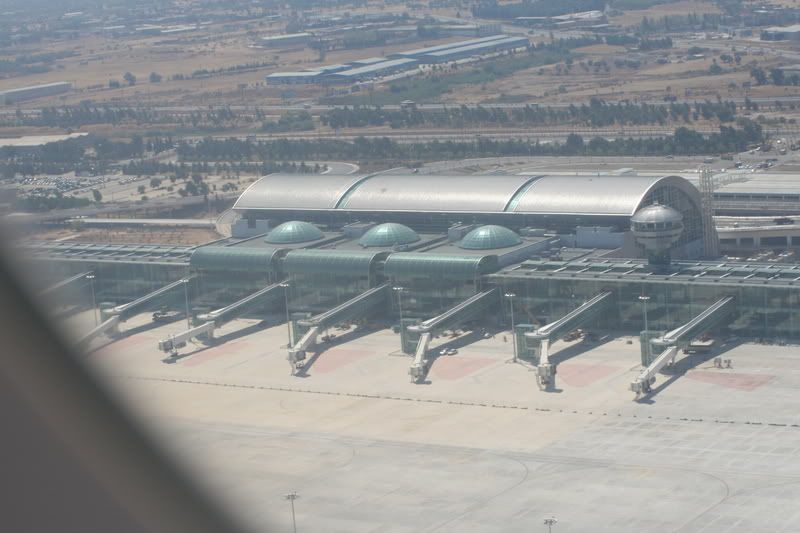 It was a 100% full flight with the same quality of service like the EDO-flight. The cabin attendances were very polite and professional, the aircraft very clean with black leather seats and the sandwiches tasty. Here are some shots during the entire flight.
Just minutes after take-off the two military airfields of Izmir: Cigli (LTBL) and Kaklic (LTFA).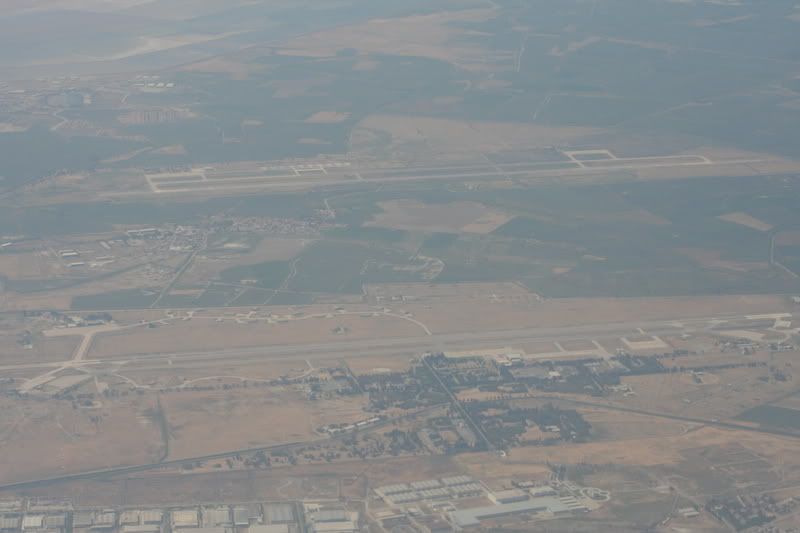 The regional airport of Edremit EDO (LTFD)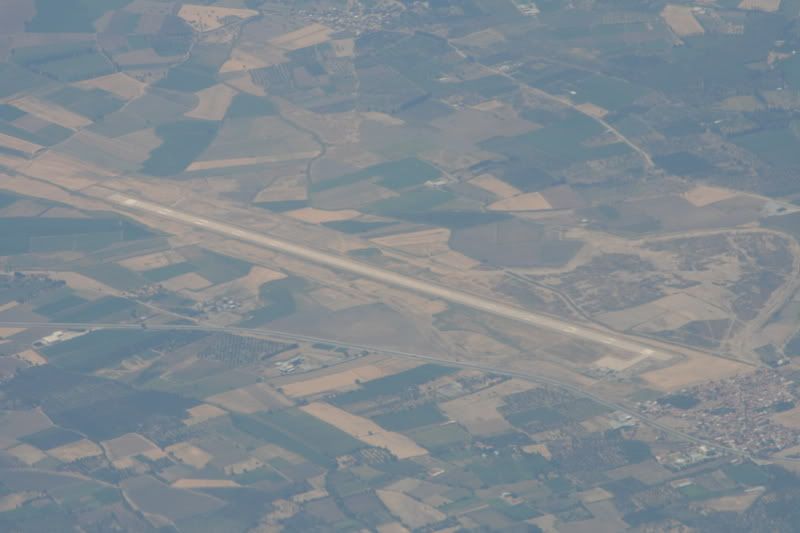 On approach to IST another aircraft in the sky. Seemes like a TK jet.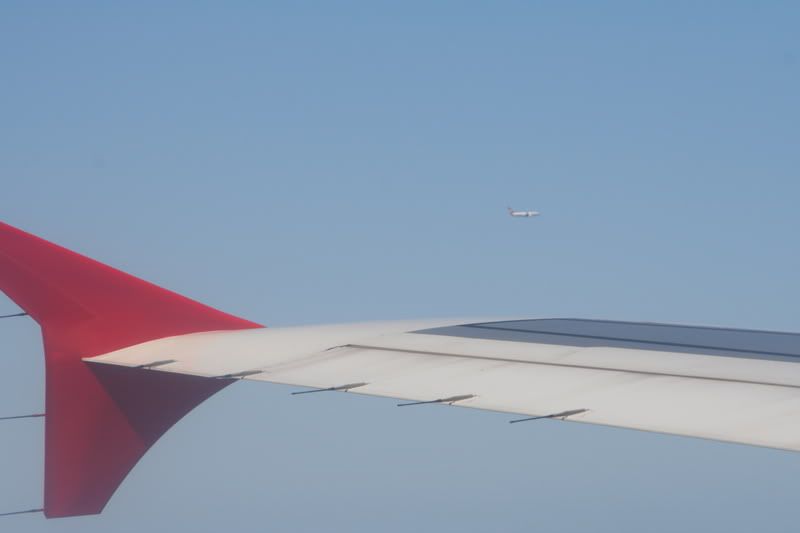 The connection between Europe and Asia…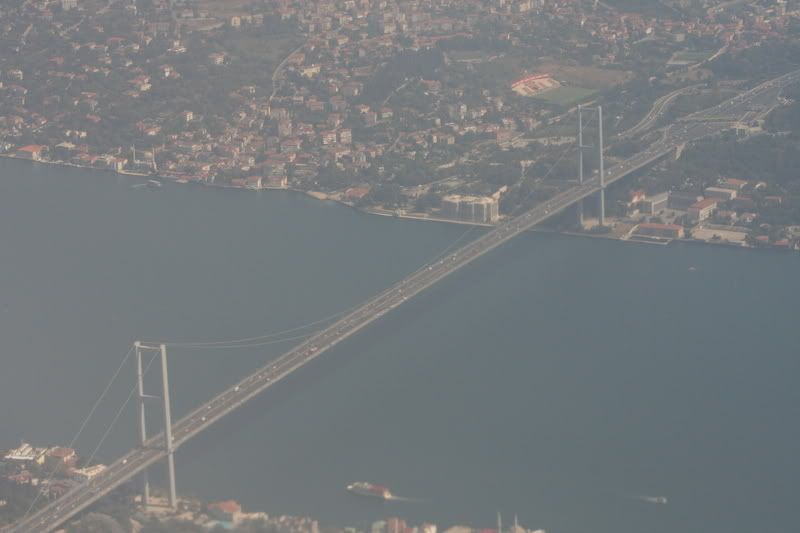 In this photo you can see the above mentioned cafeteria Flyinn. On the left site of this KLM jet you can find a sign with MNG written on it. This is the shopping mall.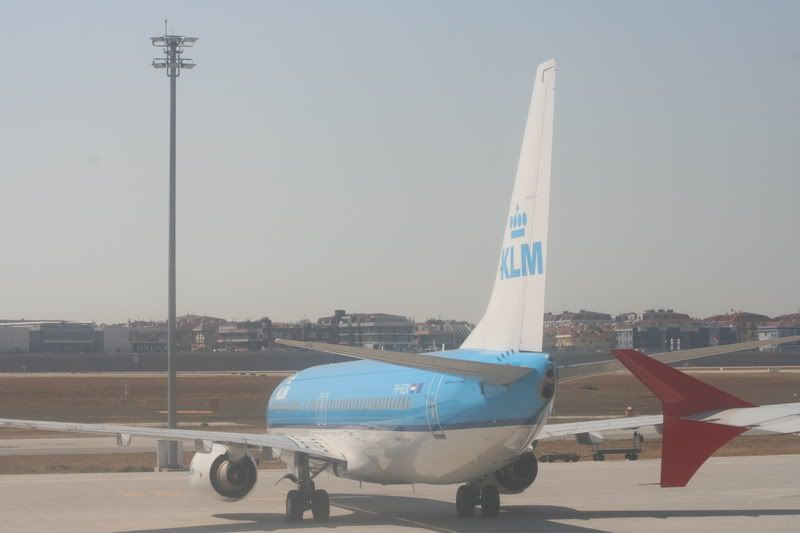 We landed at runway 24, taxied to stand 125 and finally were onblocks with a delay around 15 minutes.
At the airport I claimed my lugguages and made my way to the international terminal.
FLIGHT LH3343
DATE 04SEP 06
ROUTING IST - FRA
AIRCRAFT AIRBUS A300-600
REG. D-AIAM
SEAT 44A
DEP.GATE 216
LOAD 100%
STD 1830 STA 2030
ETD 1830 ETA 2030
ATD 1841 ATA 2024
OFFBLOCK 1826
POSITION 216 (G)
DEP. RUNWAY 18R
ONBLOCK 2028
POSITION A17 (G)
ARR. RUNWAY 26R
FLIGHTTIME 0243
BLOCKTIME 0302
View Large
View Medium


Photo © Frank Kuehne
Again I was very lucky. In front of the Lufthansa desks there weren't any queues. They just ended the check-in for the MUC flight. I asked the agent if I it is possible to check-in for the FRA flight even though it is more than 3 hours prior to departure. The agent didn't say no and checked me in. I asked for the aircraft type, it was an A300-600. I was very happy about that, because I like this 'bus. I took my boarding pass and went to the Burger King.
I like IST airport much and everytime I enjoy my stay here. I had 2 hours left so I hang around in the gate area with the thought to take some photos out of the windows.
We boarded the aircraft very early, but it looked like a full flight and indeed it was completely full. I took my seat in the back of the aircraft and saw a couple rushing to the end. They said "hi" to the F/A and added that they were jumpseater. We left the position on time end taxied to runway 18R. There was just 2 aircrafts in front of waiting for the take-off clearance. Finally we took off. Here are some pictures.
Overview of IST (I count 21 a/c on this picture). On the left bottom side you can see two KK CRJ's. The right one is TC-ETD and the left one TC-ETB which flow me to EDO last week.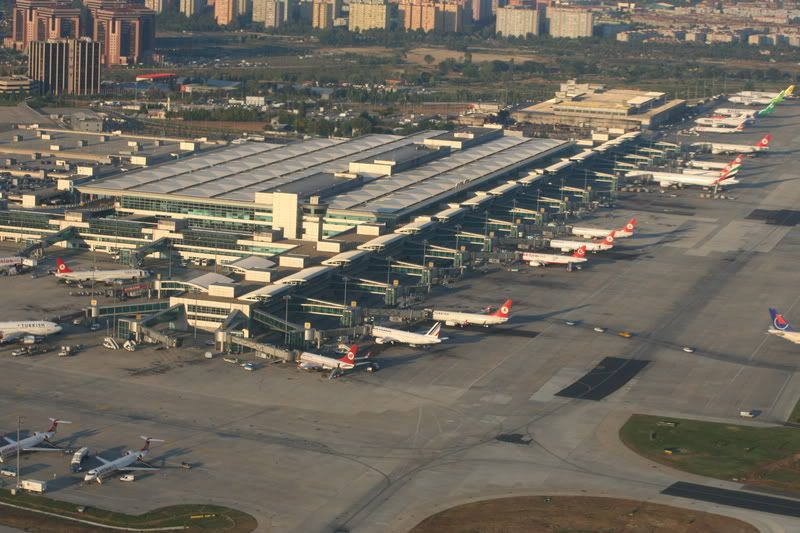 The Marmara coast of IST seconds after take-off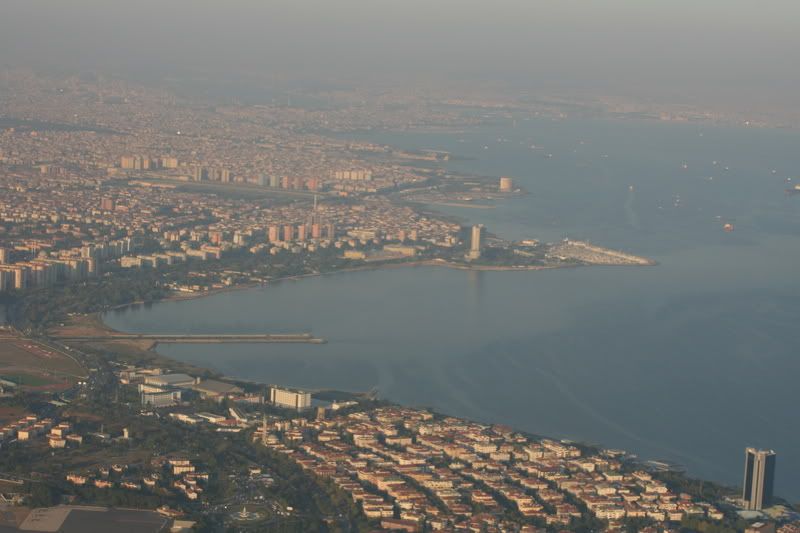 I am not sure but I guess that is MUC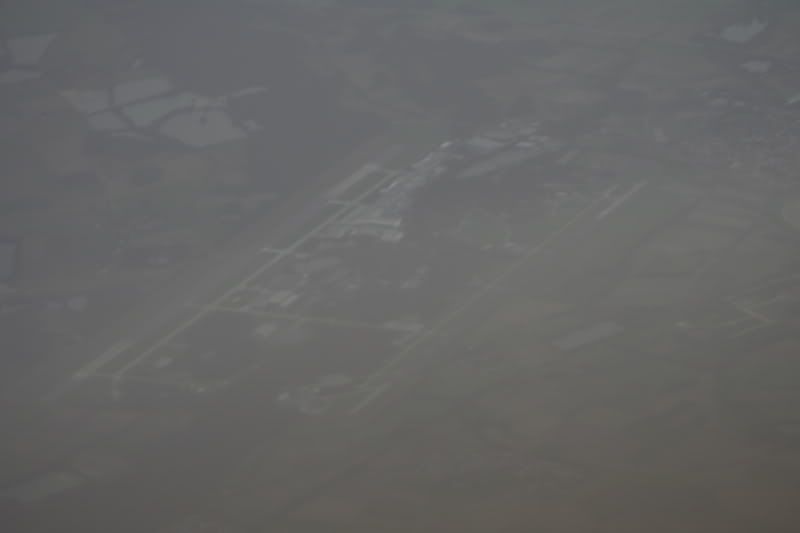 And finally the sunset over Germany with some clouds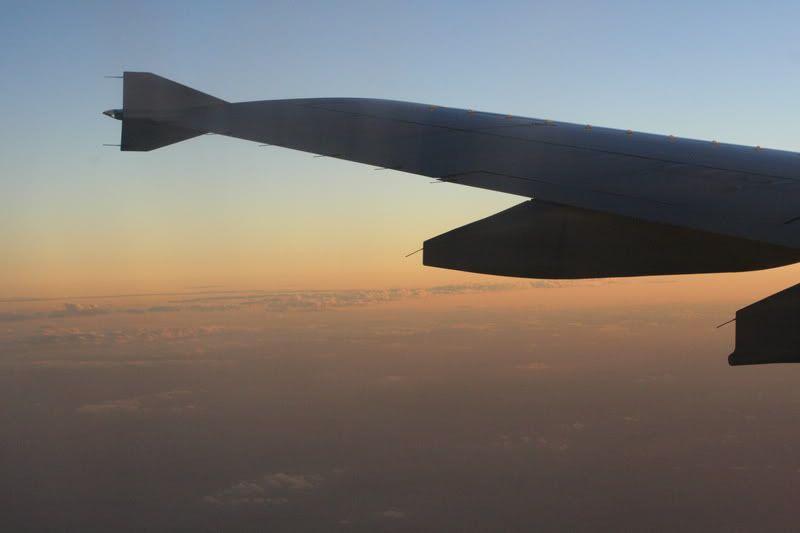 The flight was uneventful. The regular LH service with noodles for dinner and professional and mostly smiling cabin attendance. The purser, a Turkish guy, seemed to love his job much and was very kind as well.
The runway we landed was 26R and after a very hard break we turned into the taxiway and after a couple of minutes we were on the blocks on time. After passing the long queue at the passport control (only 3 border police man were working for almost 280 passengers just from our flight) I claimed my baggage's and went to Terminal 2 to meet my friends.
I enjoyed every one of this 4 flights. There is nothing to add to the regular professional service of LH.
I was very impressed of Atlasjet. They are doing a very god job and I think the domestic product is better than TK. The loads of both flights shows how good they work: cheap fares, very good and kindly service, alsmost ontime and new aircrafts. And they I have a frequent flyer programme as well. It is named Jetbil and I have 500 "jetmils" with this two flights now
I hope you had enjoyed reading this report...
Cheers
Ori