Thanks for deciding to read the report about a trip to Birmingham which Christoph (Contact Air) and I did last week, on BA Connect, or should I say BA CitiExpress, British Regional Airlines, Citiflyer Express, Manx European, Brymon, Birmingham European Airlines or whatever they call themselves these days...
The flights were booked on ba.com in January, 89EUR for the return flight all-inclusive, or 14EUR plus taxes and fees. In February, we got an eMail informing us about the implementation of the new brand BA Connect, and that we would no longer get free meals on board. I think they even offered us a full refund in case we would decide not to fly due to this change. But of course we took those flights.
STR-BHX
BA1740
14 September 2006
STD: 07:05 ATD: 07:22
STA: 07:55 ATA: 08:00
Seats: 17B and 17C
Number of passengers: between 30 and 35
ERJ-145
G-ERJD
Built and delivered in July 2000.
We checked in the evening before at BA's counters in Terminal 1 (I hate those check-in machines), however the agent there walked with us over to the check-in machines and then she checked us in there. Our frequent flyer numbers were already entered during booking, BA Executive Club for Christoph and SNBA Privilege for me. Not sure how many miles we got, but it must be something like 125 miles - wow
We got our boarding passes for both STR-BHX and the return BHX-STR: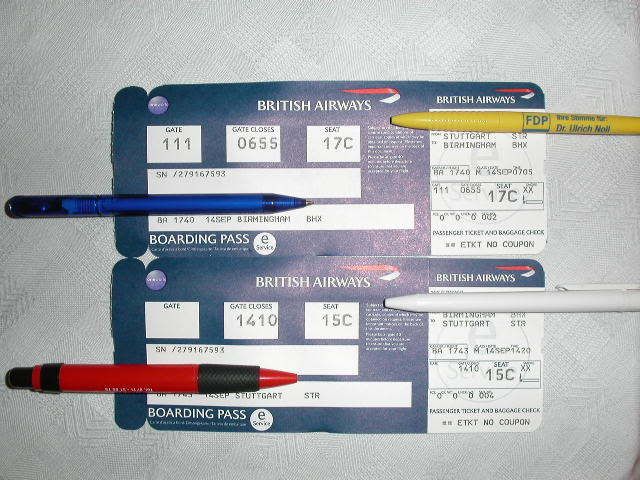 The next morning I took the bike to the airport. Christoph and I met at gate 111. I was a bit unsure what was allowed in my carry-on for a flight to the UK, so I passed through security early. However the UK flights were using just the same security control as every other flight. There used to be a second security check in front of the gate when I last flew BA in December, but apparently this is no longer the case.
Boarding started on-time at 06:45.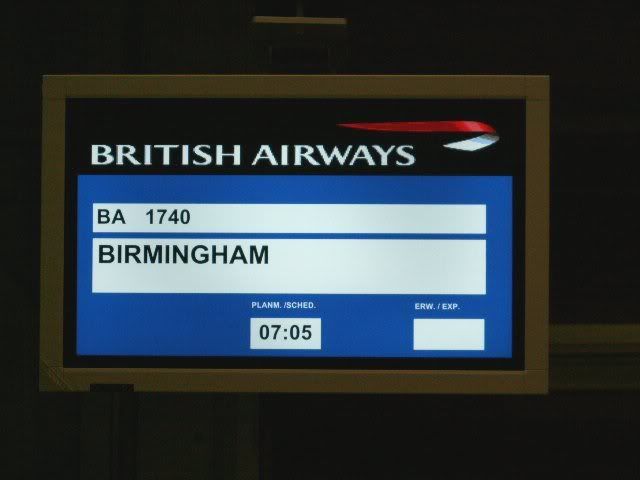 All announcements said "BA Connect", I had the feeling the use of the new name was really important for them. A bus drove us 30 passengers out to the plane, which still carried the British Airways titles: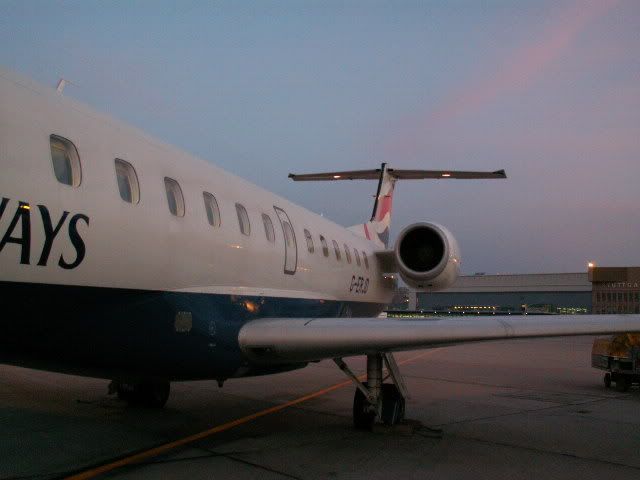 The two flight attendants welcomed us aboard, and we walked back to our seats just behind the wing. As the row in front of us remained empty, I later moved there in order to take some photos of take-off, while Christoph took care of the take-off video. An announcement was made that due to air traffic control restrictions, we would have to wait 20 minutes before we could leave.
A few words about the cabin: It was in excellent condition, blue leather seats, with BA Connect (!) headrest covers, BA connect safety cards and BA Connect pay-for-food pricelists in the seat pockets, ... the name BA Connect was everywhere.
View Large
View Medium


Photo © James Rowson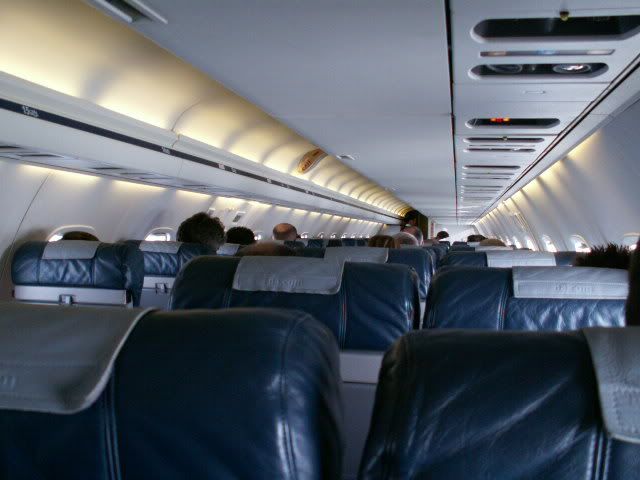 Engines were finally started and we taxied towards runway 25.
The take-off video...
http://smg.photobucket.com/albums/v5.../?action=view&current=BHXvid01.flv
The take-off pics...
The fire brigade: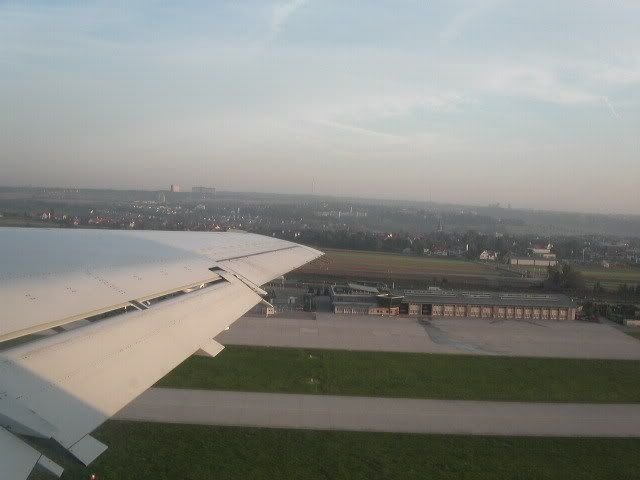 The Daimler-Chrysler Aviation and Lufthansa Technik hangars: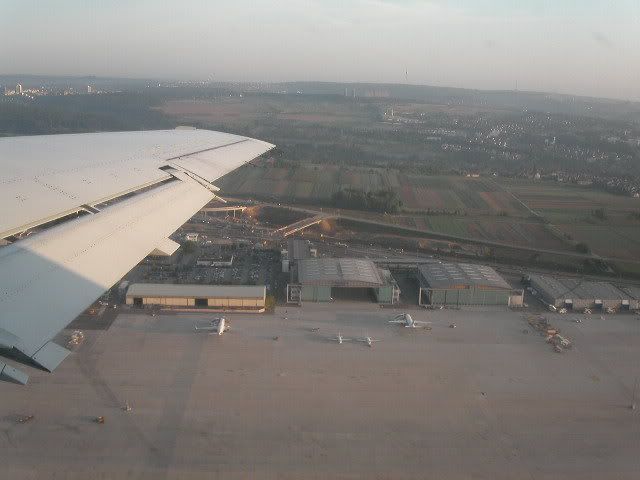 Terminal 3 with an Air France A319 and a DBA F100: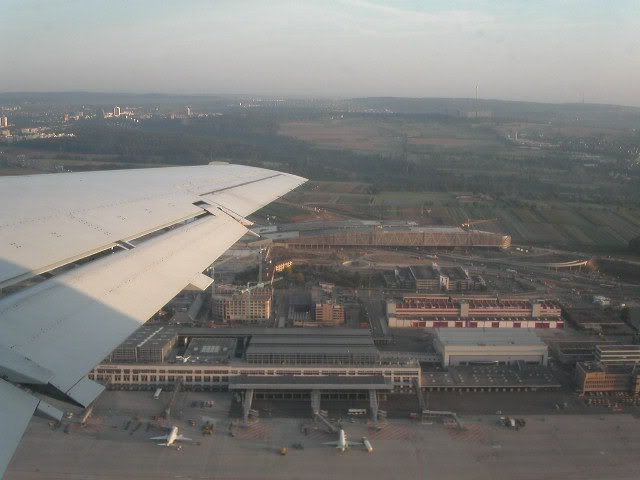 Terminal 1: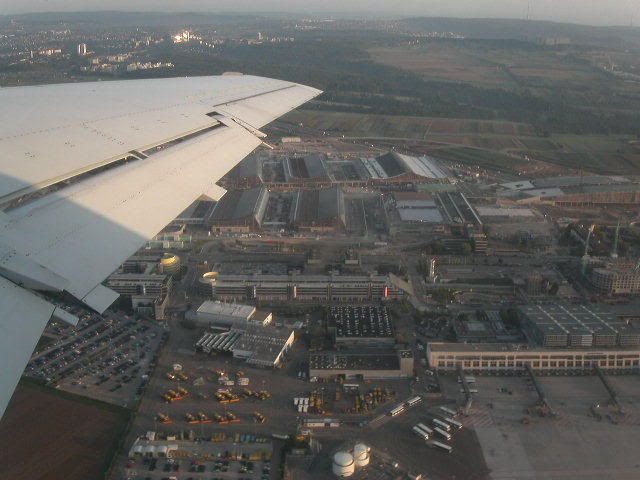 The "Fildermesse" construction side - it's interesting to see the building of this new fair growing each time you take off from STR: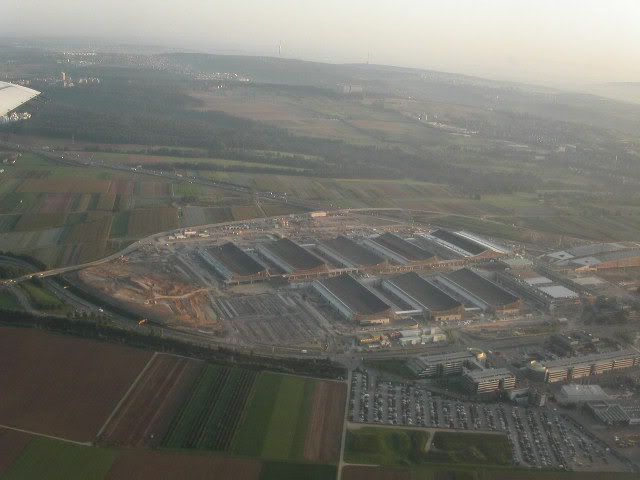 Echterdingen: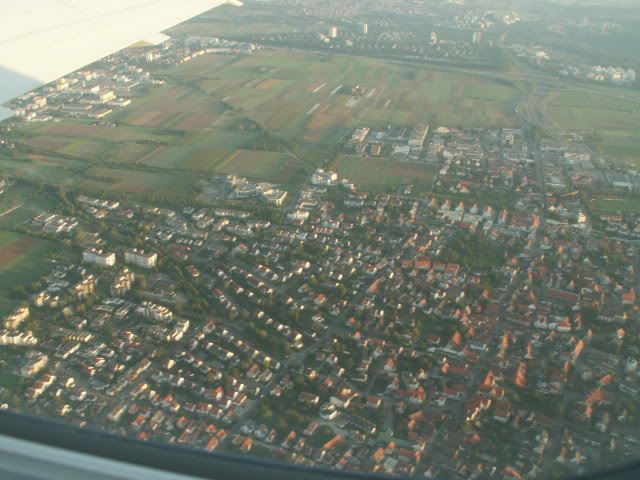 Leinfelden: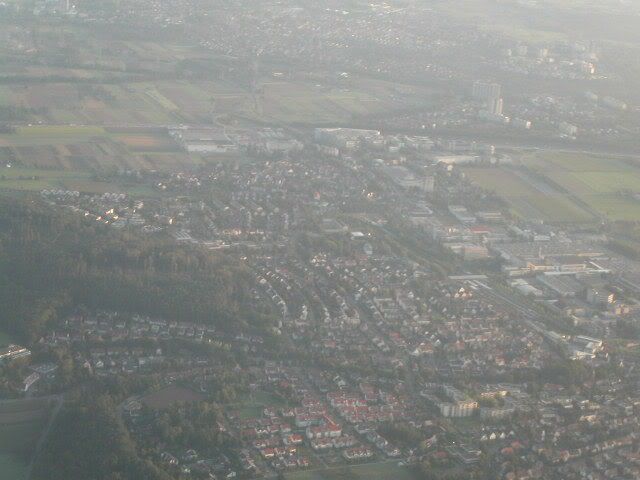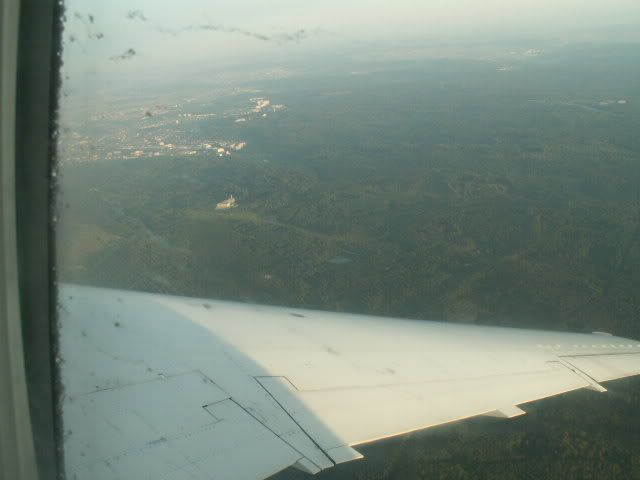 The Engelbergtunnel near Leonberg: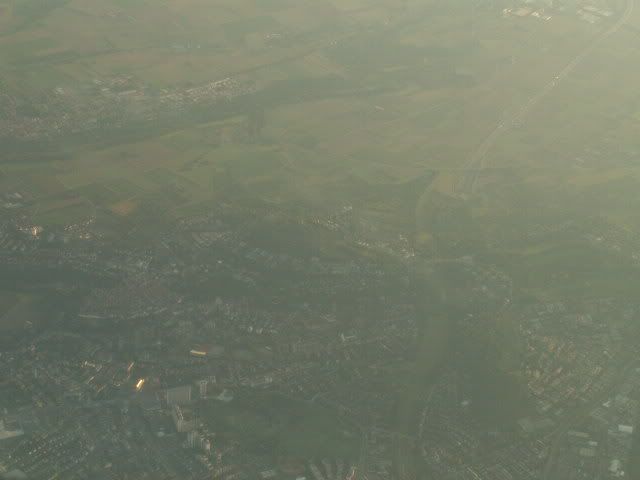 It was a strange weather outside: Not really cloudy, not really cold, but hazy, which created a strange feeling once the sun was rizing: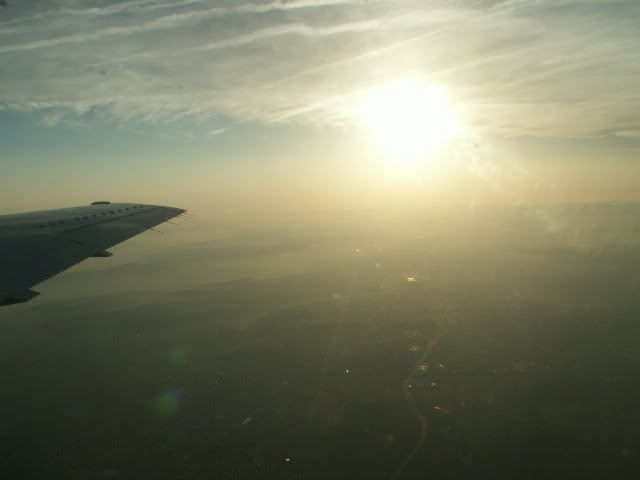 The two f/a's were coning through the cabin, distributing BA Connect menu cards: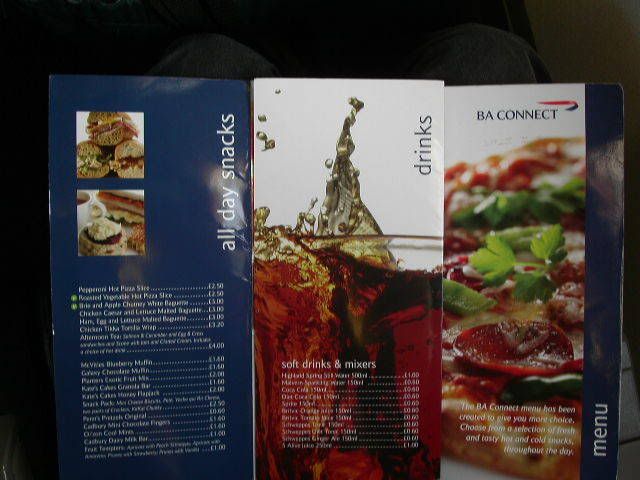 A variety of hot and cold snacks and drinks. Prices were neither cheap nor overpriced, I would call them reasonable. They sold quite a lot of coffee and tea, Christoph who ordered the full English breakfast was more or less the exception, as they didn't sell many meals. Anyway, the meal looks quite good, a hot meal for all-together 5 pounds: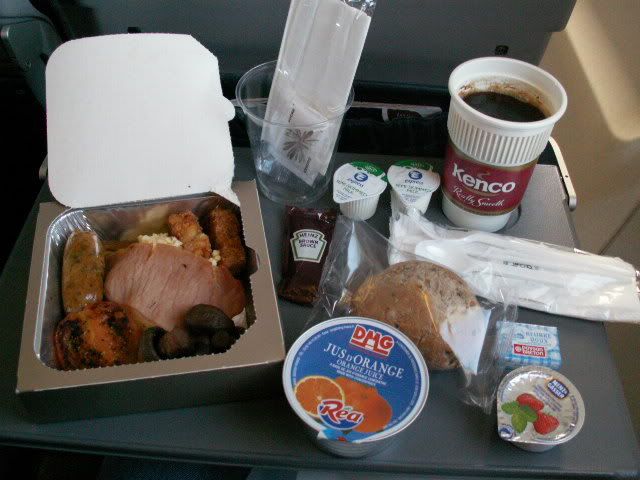 A nuclear power plant somewhere along the river Neckar: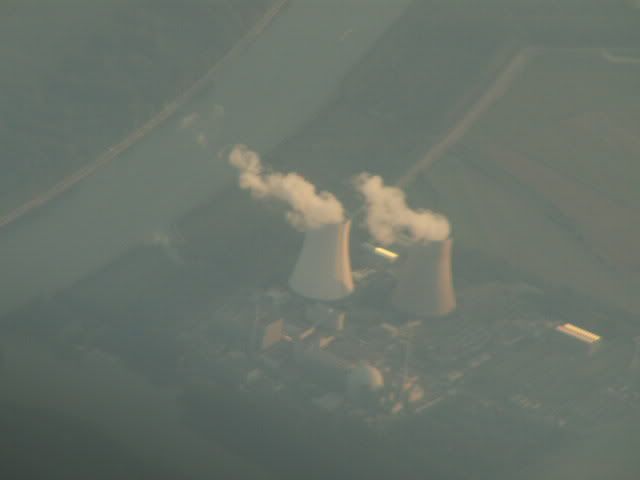 Somewhere over Belgium, it became more cloudy and later completely overcast.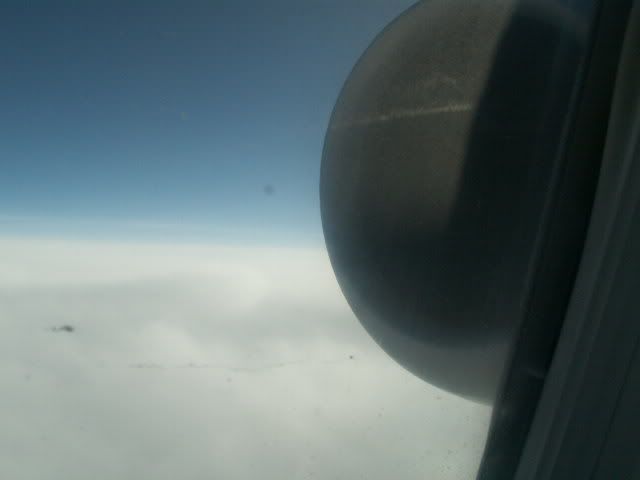 "...und Sehnsucht uns begleitet":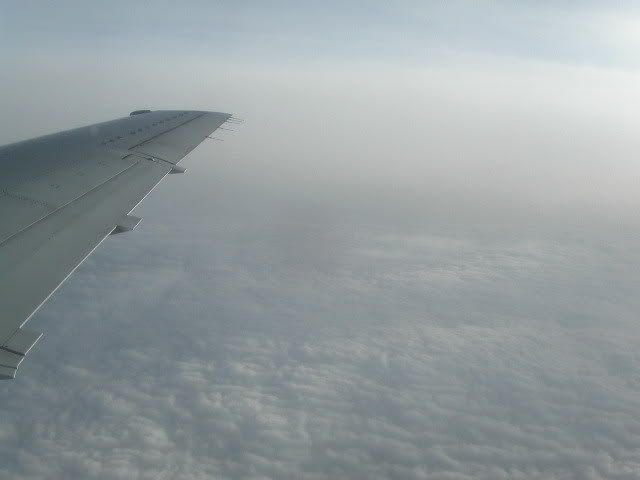 The North Sea behind us, the UK ahead: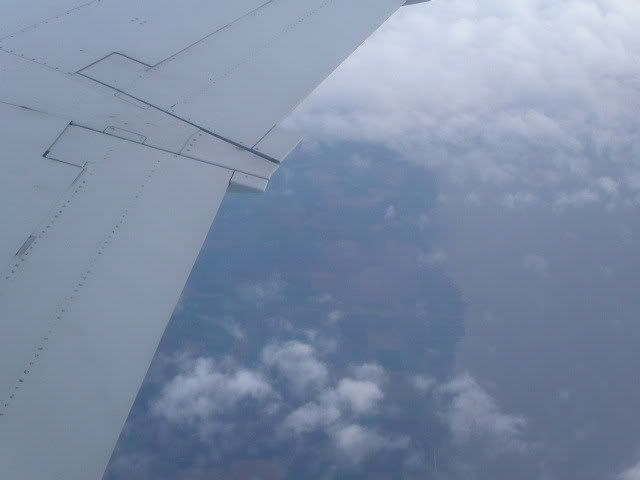 Somewhere below all the haze you can see Stansted airport: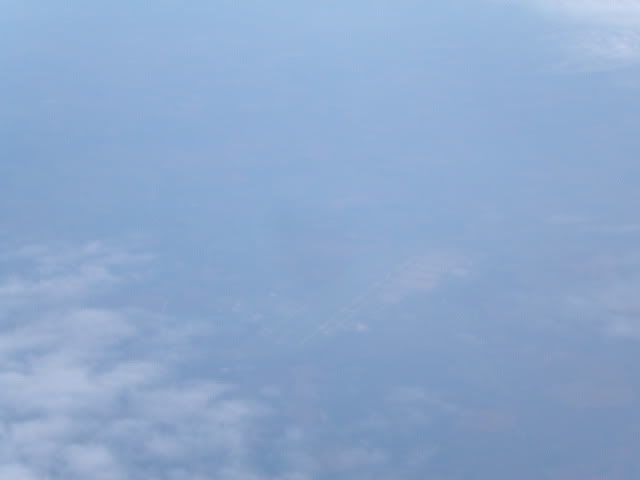 Some pics of the approach - it was raining at BHX: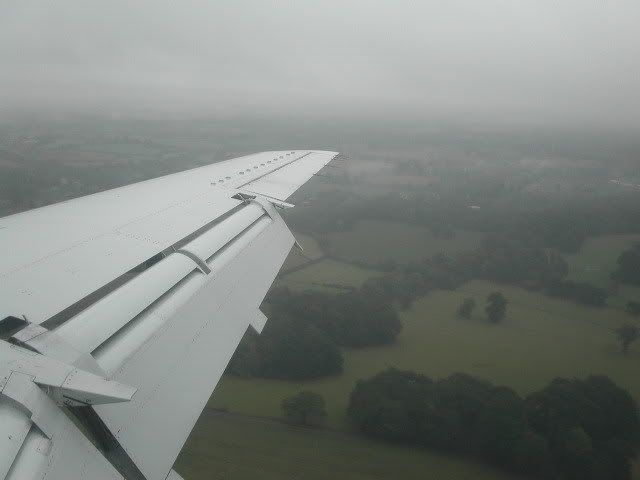 Thomsonfly (powered by Britannia) B757: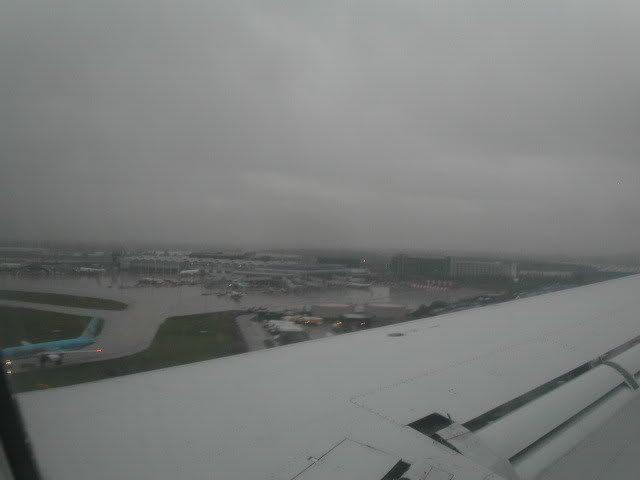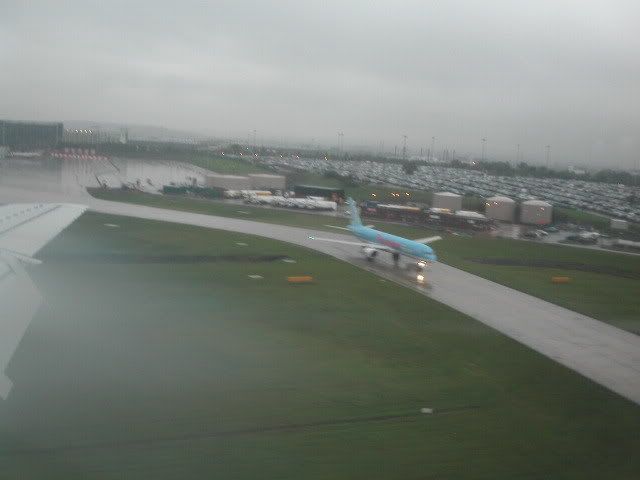 Touch-down with a European B737-200 in the distance: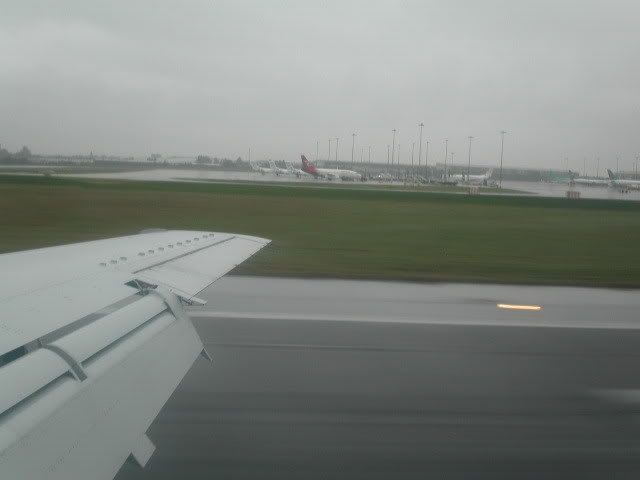 BHX somehow reminds me of BSL: terminals which were built for a sort of Eurohub / Eurocross operation which no longer exists in the way it was meant to be - so all the jetways are a bit out-of-place by now. Our ERJ parked in front of one of those jetways, we left the aircraft and walked over the tarmac just to walk up some stairs up to the jetway. I guess the airport planners expected some larger equipment, however BA's operations are down to mostly ERJ, with an RJ100 here and there.
This photo of our aircraft is crap - but notice the BA Connect titles which they have applied to their cars already: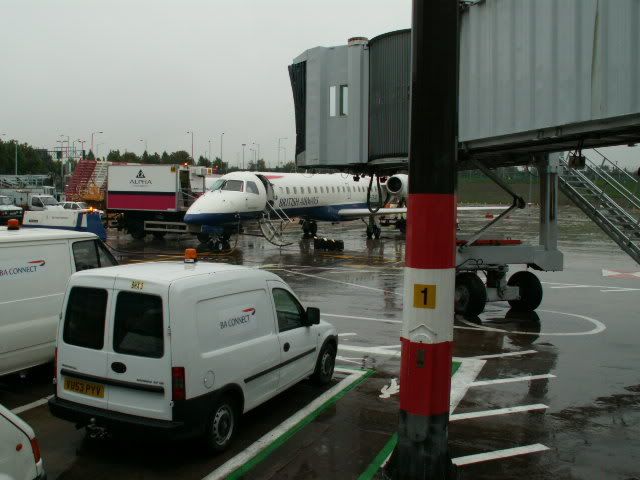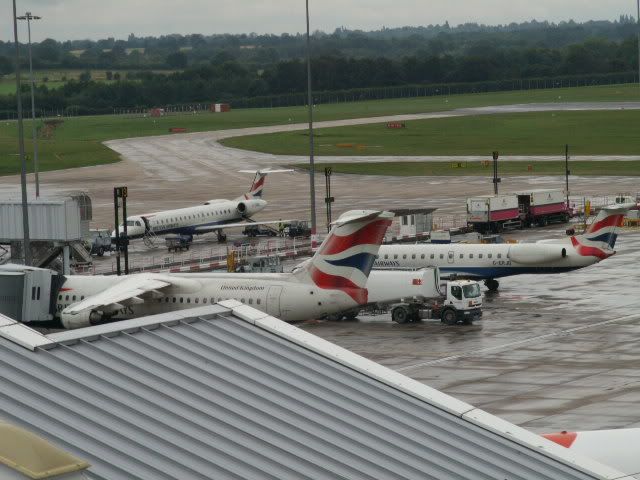 A sister aircraft parking next to ours - did I mention that it was raining?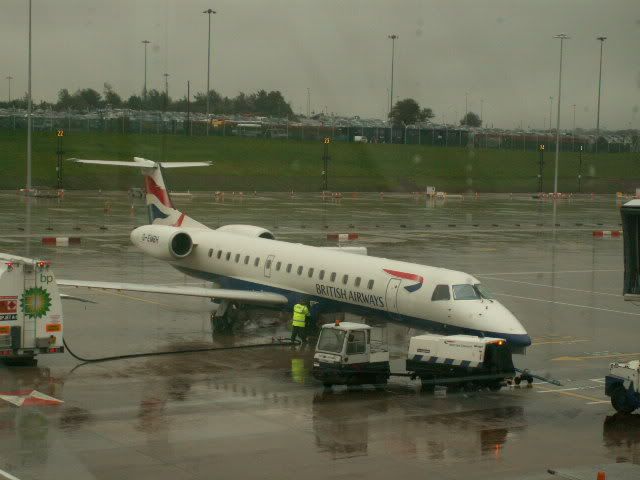 After a visit to the observation deck (which is literally hidden somewhere next to Terminal 1) we took the train to the city of Birmingham. 15 minutes by train, 3.30GBP.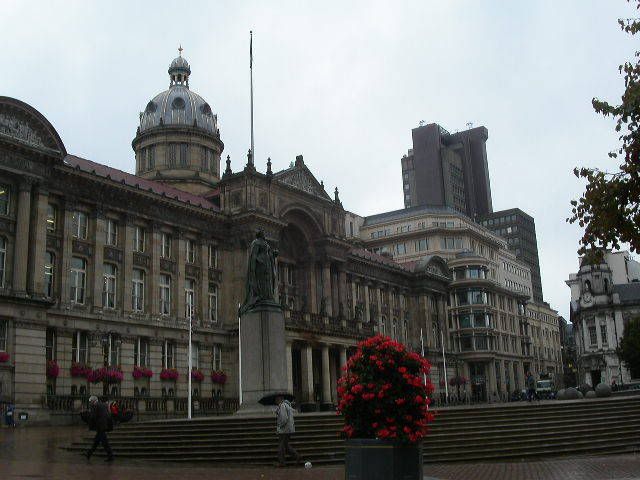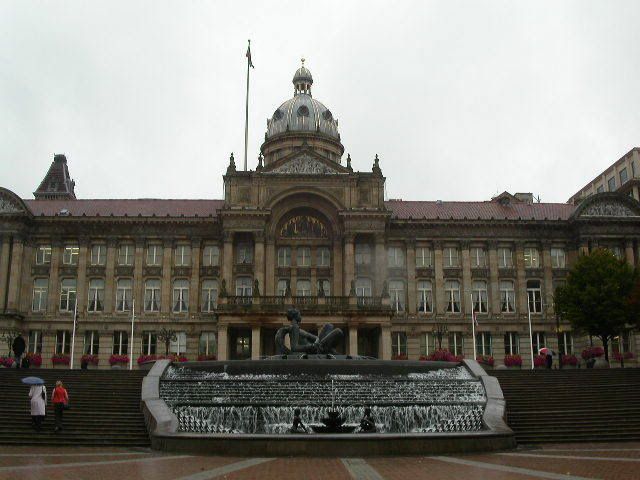 The Akropolis of Birmingham: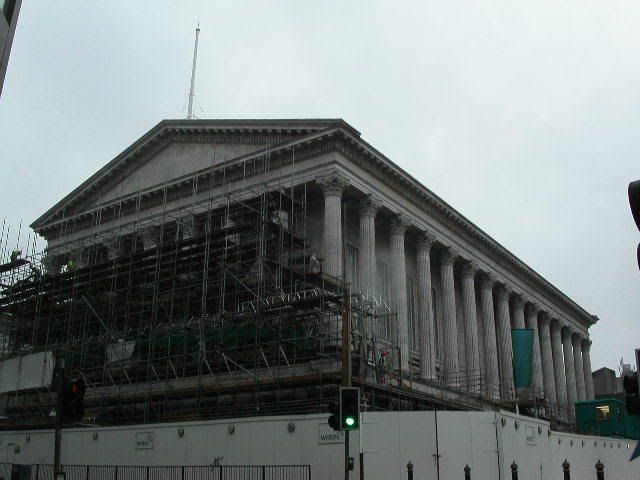 We didn't know about what sights could be seen at Birmingham, so we basically just walked around the city centre. Once the rain became heavier, we decided to take the train back to the airport.
BHX-STR
BA1743
14 September 2006
STD: 14:20 ATD: 16:15
STA: 17:10 ATA: 19:00
Seats: 15B and 15C
Number of passengers: between 35 and 40
ERJ145
G-EMBH
Built and delivered in January 1999
View Large
View Medium


Photo © PTN - VIP Vienna International Planespotters
This aircraft operated in "Blomsterang" World Tail colours until quite recently:
Already when we had arrived at BHX in the morning, the screens showed a delay for our flight back home in the afternoon. Surprisingly, the frequently-changing new expected time of departure was always an exact time, changing from 15:11 to 15:52, then 15:34 and so on. I have no idea how they could predict the delay so exactly some seven hours in advance! Anyway, in the end the delay came close to two hours, which the service counter explained to us due to the delay of the operating aircraft which was to arrive late from Milan.
We spent most of the waiting time again on the observation deck, as this place offers some decent views and -most importantly- you don't get wet, as it was still raining.
BA Check-in in terminal 2: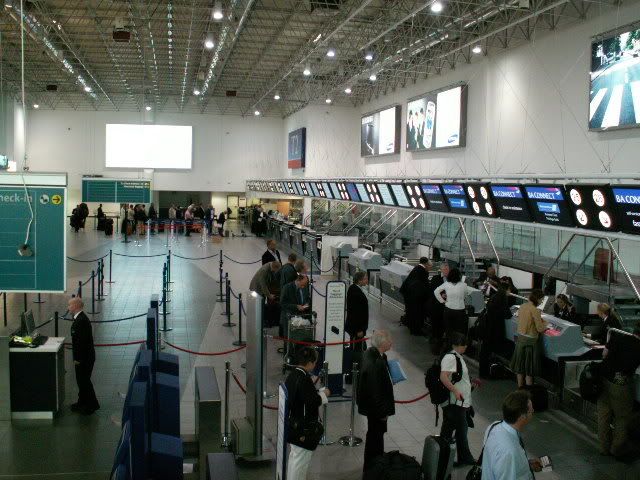 Security check in the UK. No liquids allowed in your carry-on. Laptops, mobile phones and all other electonic devices have to be x-rayed separately, shoes have to be taken off and x-rayed, too. However this time they didn't take photos at security (or at least I didn't notice). Very useful: a BA counter just behind security where you can check-in everything which security doesn't allow in your carry-on.
What I don't like about British airports is the late announcement of the gate, the screens say "wait in lounge" until boarding begins. While we were waiting in lounge, we saw FlyBE's new Emb-195 landing, which was delivered only a few days before.
Finally our gate was announced, gate F12 if I remember correctly. Now our flight was delayed by nearly two hours. No gate announced so far meant nobody could complain at the gate agent about the delay, but even now at the gate I didn't see any angry passengers. Well, they're British, I always find it nice to see how much more relaxed british passengers react when their flight is delayed by hours - in Germany you would see people complaining at the counter all the time, asking for refreshment vouchers and so on. Then again, BA was lucky to keep the delay a few minutes below the magic two hours.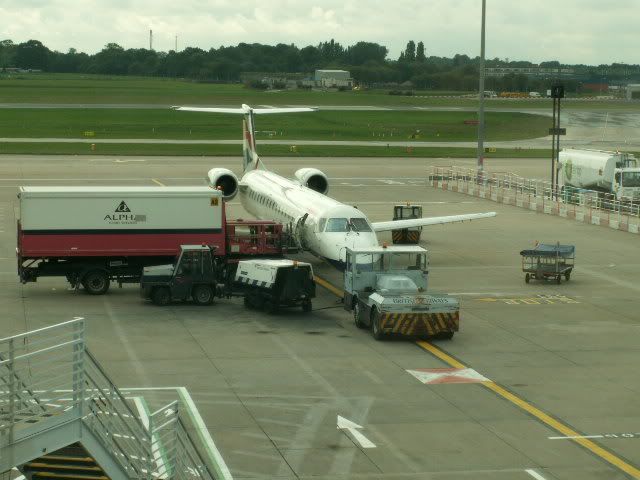 Boarding began, once again through a jetway, at the end of which they had a stairway attached, and we walked the last few meters over the tarmac.
The captain made an announcement explaining the reason for the delay once again. Then we were pushed back and on our way to the runway.
A last view to the terminal: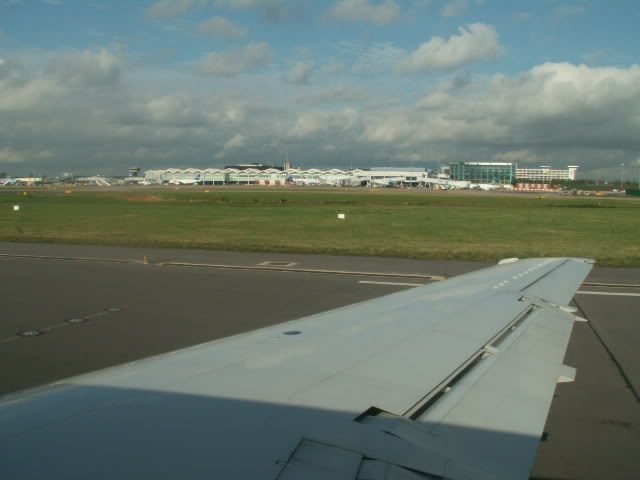 The BHX take-off video (which we kept much shorter than the STR take-off video):
http://smg.photobucket.com/albums/v5.../?action=view&current=BHXvid02.flv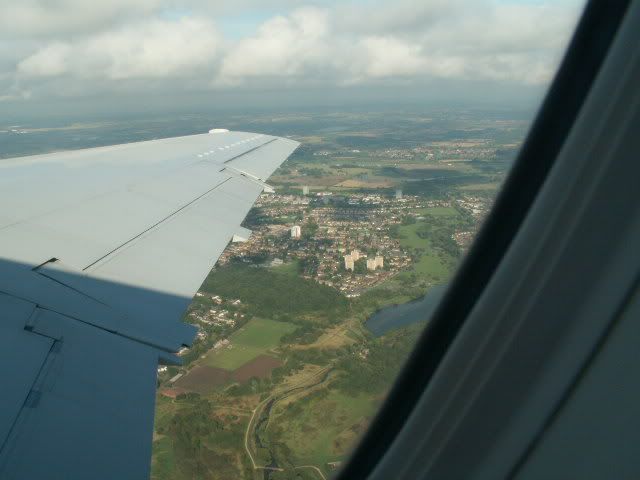 Meal service - Christoph had a big sandwich for 2.50GBP: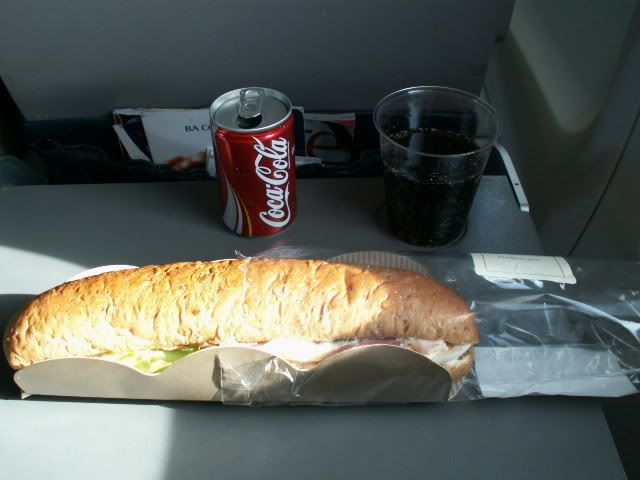 The runway 07 approach to STR was quite unusual, leading us over the city of Herrenberg - I have never approached like this, especially not when arriving from the northwest. I guess this was some kind of flying a holding, as there was some other traffic in front of us, e.g. the CSA ATR72 which we saw flying somewhere below us and which we later saw again at the airport.
The city of Herrenberg: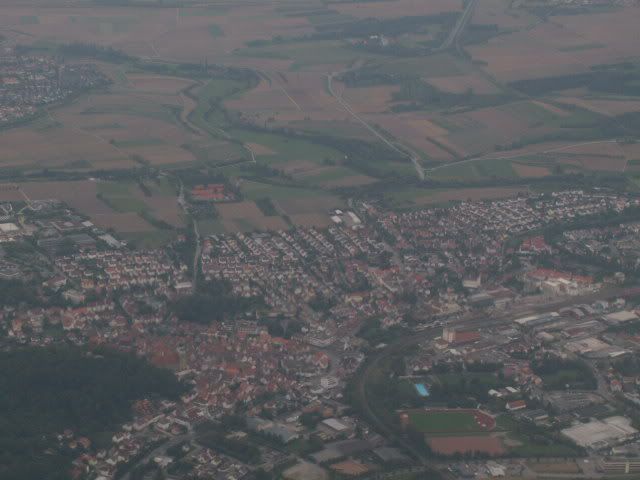 The Autobahn A81 with the Schönbuchtunnel: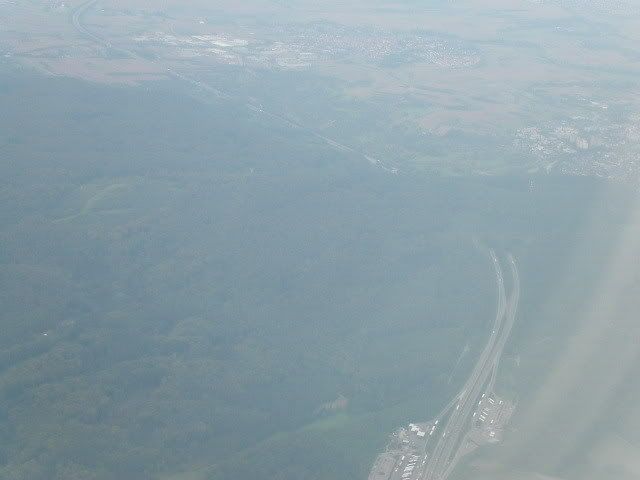 I really don't know if this is Holzgerlingen or Weil im Schönbuch. But then again- who cares
: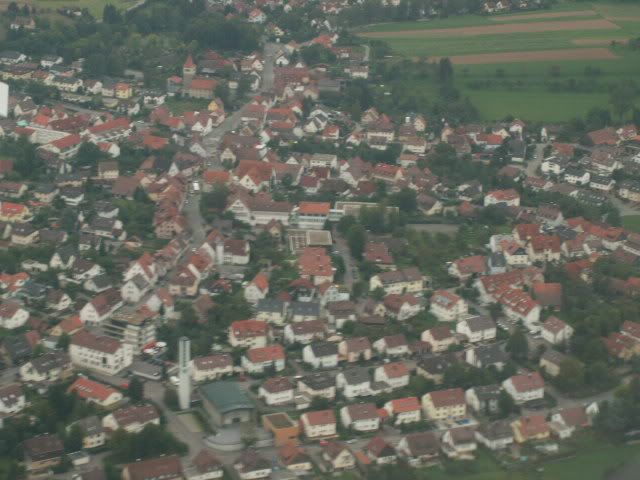 The Schönbuch forest: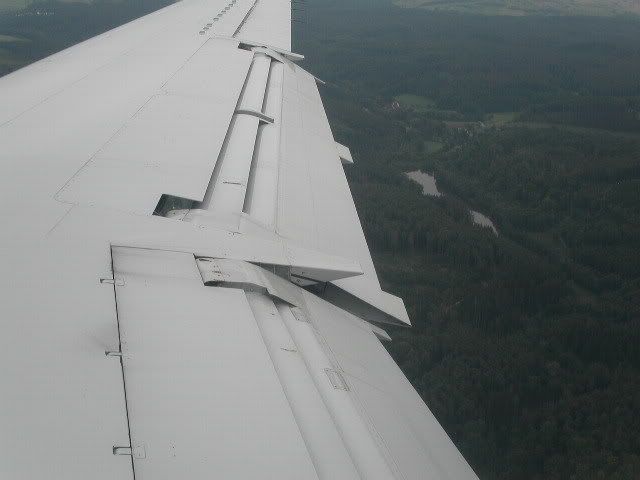 The city of Stetten: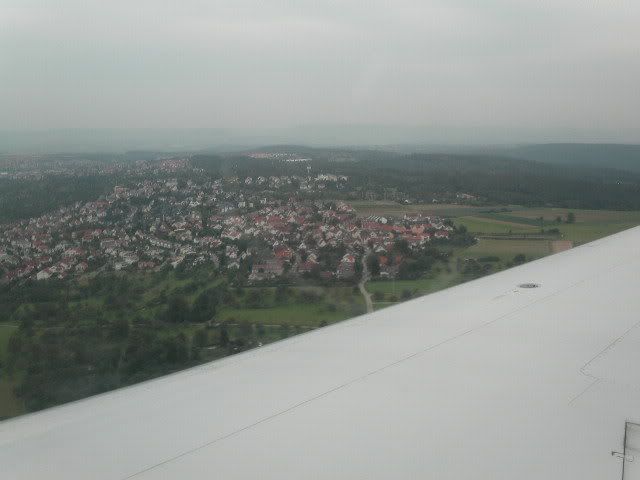 Flaps full down: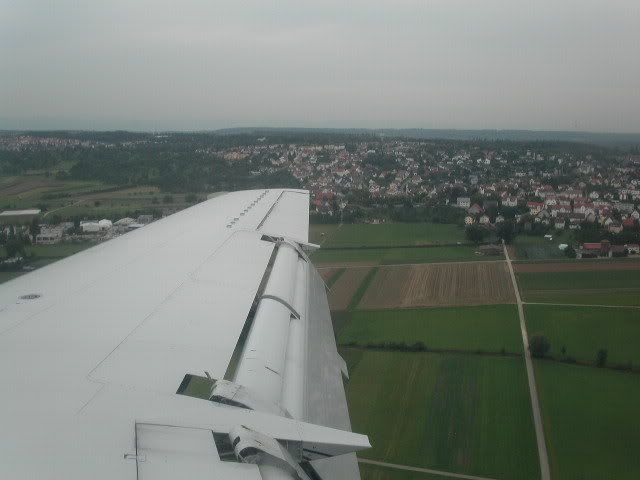 Touch-down with the tower and the real,- supermarket in the background: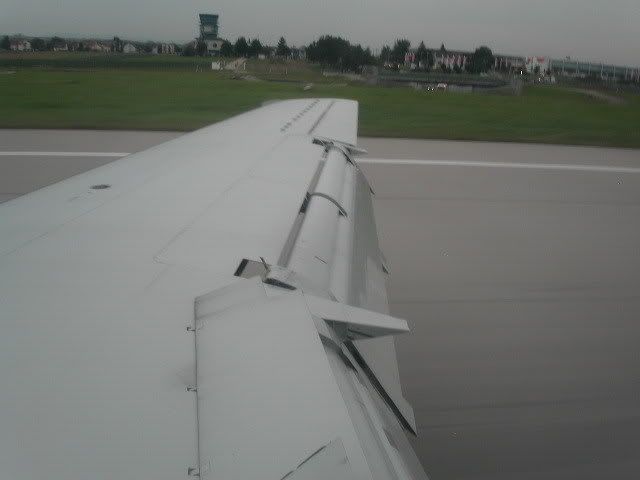 We taxied towards our stand and were bussed to terminal 1, where there was no waiting time at all at passport control, so in a matter of a few minutes I was already riding my bike back home.
Thanks again for taking the time to read this report. Feel free to leave your comments or questions, they're appreciated. Best regards, Alex.