I recently got back from a business trip to Australia. Earlier in the year I flew to Brisbane on QANTAS but this time chose Singapore Airlines since I could get Delta SkyMiles for my flights (though they don't count towards Medallion status) and their reputation as a great airline was something I had seen first hand with some other trips with them to India two years ago. Hope you all enjoy the report and the pics.
9/4/2006
DL914
Lv ATL 1735
Ar EWR 2001
Registration: Didn't Get
Not sure why I do this craziness to myself every time but I was running late trying to get out of the house for the airport. Packing at the last minute, trying to finish some stuff up for work, and just doing various chores around the house always find me in a rush. Perhaps one day I'll learn but probably not.
My wife drive me to the airport and I checked in with about 50 minutes before the flight was scheduled to leave. I said my goodbyes and rushed to the gate with no time to relax in the Crown Room Club. I got to the gate just as boarding started so I hopped on and took my seat for the start if a very long trip.
Service on this flight was the standard Delta service. They used to serve a meal on this flight in First but not anymore. No big deal but you notice those little things going by the wayside. We left on time and got into Newark a little bit before our scheduled time.
I had asked the check-in agent in ATL to tag my bag with a Priority tag (even though I wasn't Platinum Medallion) which he did because of my need to get that bag in EWR to take with me to Oz. He did put the tag on the bag but someone in EWR must have known I was in a hurry and held back all the priority tagged bags until the very end. Unacceptable in my opinion though I have no idea who handles ground processing for DL in Newark so I don't know who to blame.
I collected my bags and went upstairs since I didn't have to change terminals for the flight to Singapore.
New ATL tower and International Concourse E
Delta Technical Operations
9/4/2006
SQ21
Lv EWR 2300
Ar SIN 0540 (+2 days)
Registration: 9V-SGE
Check-in was quick and easy and I was able to get the aisle seat next to me blocked off. I made my way to the gate and sat around waiting for the flight. The flight tonight was only about half full so boarding went pretty quickly. Raffles Class first followed by Star Gold and PPS members and then finally Executive Economy.
The seats in the back are about equivalent to domestic First Class in the US with a fair amount of pitch and a decent width though the arm rest between the seats isn't as wide. Sadly the armrest doesn't lift up either so I could only use the seat next to me as a catch-all for my various crap during the flight. Singapore was smart enough to realize that normal Steerage seats would be construed as cruel and unusual punishment for an 18+ hour flight and made the seats a bit bigger. The thing that sucked for me was I've taken this flight before and was up in Raffles Class so I knew what I was missing. Alas, my client would only pay for Coach and my company was unwilling to pay for the difference despite a travel policy that said flights of 8 hours or more could be in Business. Oh well...boo fricking hoo. I'll survive.
Not too bad in the pitch department at around 38-39 inches
Good legroom for those dead sexy legs!
Looking forward in the ExecEconomy cabin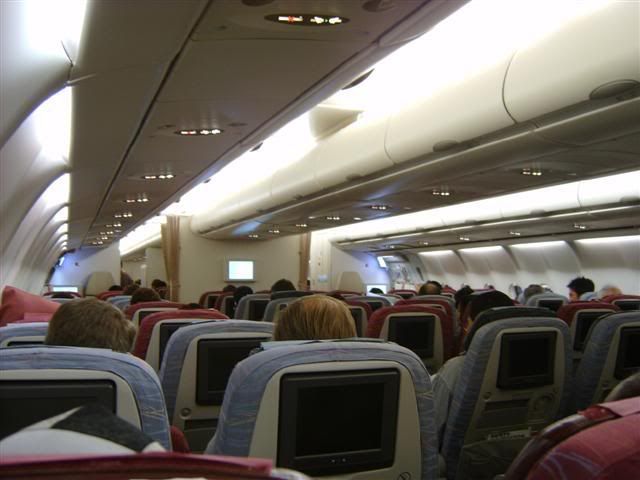 We took off a few minutes late and made a very long takeoff roll and finally crawled higher and higher into the night sky. Tonight's route would take us up over the North Pole and down across Russia and China into SE Asia. The meal service started soon after takeoff and was pretty good for Steerage. Sort of warm towels were handed out followed by the menus Tonight's meal would be the following:
Appetizer - Smoked salmon with Mesclun
Main Course - Seared beef marinated in balsamic with shallot-caper topping, caponata, and creamy polenta or Thai style green curry chicken
Cheese corner - Cheese and crackers (though they should just say piece of cheese)
Rolls and butter
Dessert - Ben and Jerry's Cookie Dough ice cream
Mmmm.....dinner.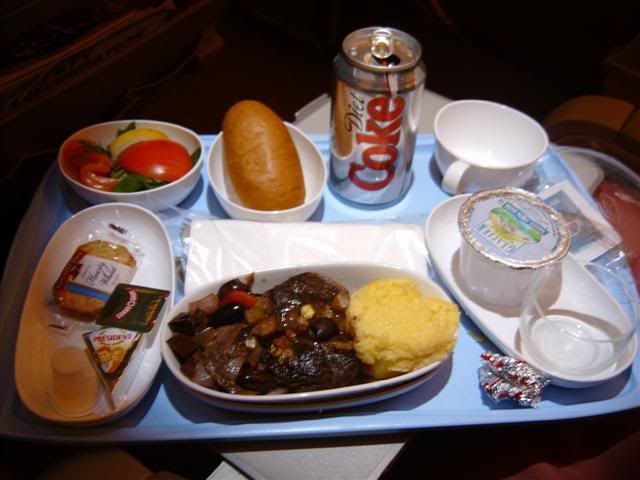 Somewhere close to the North Pole and about the only 2 hours of daylight I would see in the 18 hour trip.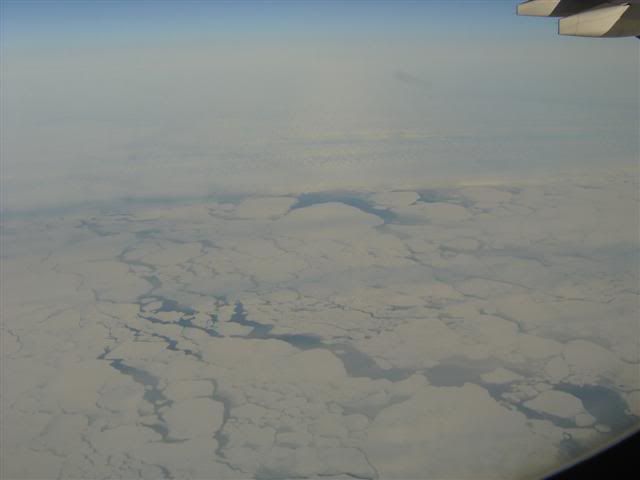 One of the various snacks handed out during the flight. This one was a chicken sandwich and quite tasty.
Our route over the Pole and down to Singapore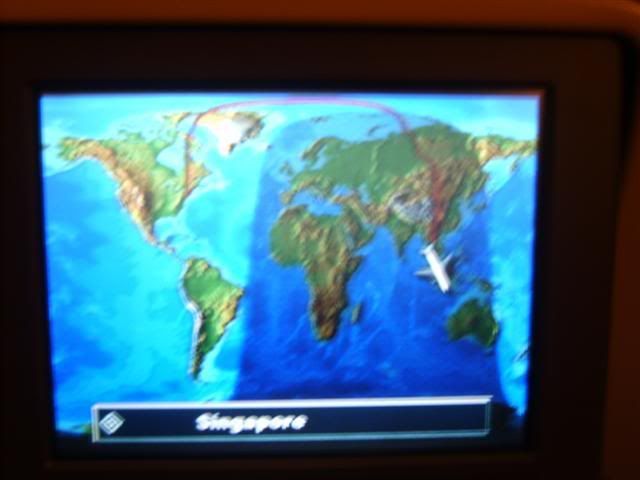 Breakfast of Shrimp...tasty!
Despite not having the comfy Spacebed up in Raffles Class I did get a fair amount of sleep on this flight. Although the time is kind of a blur I think I slept for about half or more of the trip. Not too bad for such a long flight and halfway decent seat.
We landed in Singapore a little bit before 5AM and taxied quickly to the gate since the airport was deserted at that time of the morning. I found my way to the Plaza Premier lounge and paid for access to the shower rooms. As always a shower after that long of a flight felt great and refreshing. I sat in the lounge for a little while to catch up on email and talk with some co-workers back home about things I needed them to do. The food selection in here wasn't all that great and I skipped most of it. Cost of the lounge was ~$30 SGD so about ~$25 USD which was worth it just for the shower.
Plaza Premier Lounge in SIN
Shower room in the lounge
Sunflower garden in T2 outside of the lounge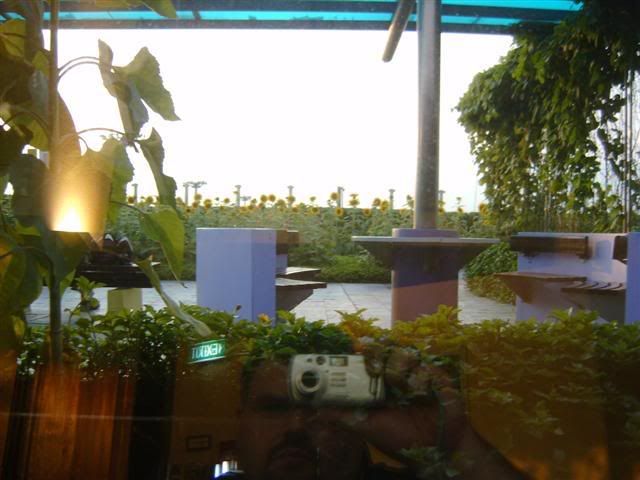 9V-SLH and 9V-SQI at the gate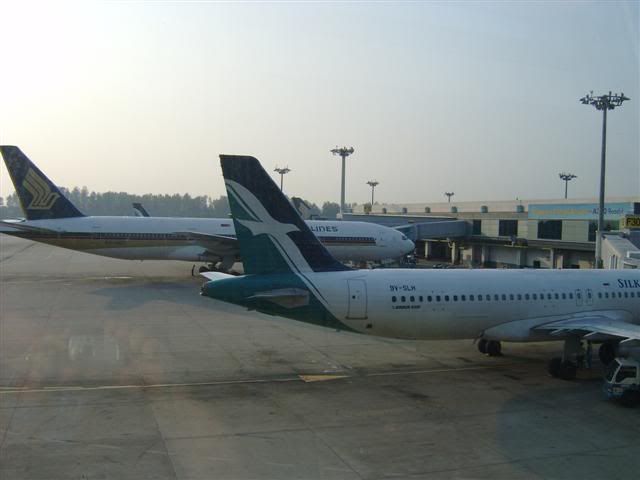 9/6/2006
SQ219
Lv SIN 0930
Ar SYD 1855
Registration: 9V-SMF
After getting cleaned up at the lounge and catching up with co-workers I wandered around the terminal for a little bit. If there is one complaint I have about the setup at Changi is the gate areas or more precisely the entrance to them. Since security is done at the gate itself which is cool by me there is always a crowd outside the doors to the gate. Today's flight only had us using one metal detector for a 747 yet they make quick progress. The crowding outside the doors to the gate area is really the only pain. Oh wait, no bathrooms once inside the gatehouse but if you can hold it for 30 minutes or so until you get on the plane then it is no big deal.
9V-SMF, our trusty steed to Sydney today
9V-SYE in Star Alliance colors next to us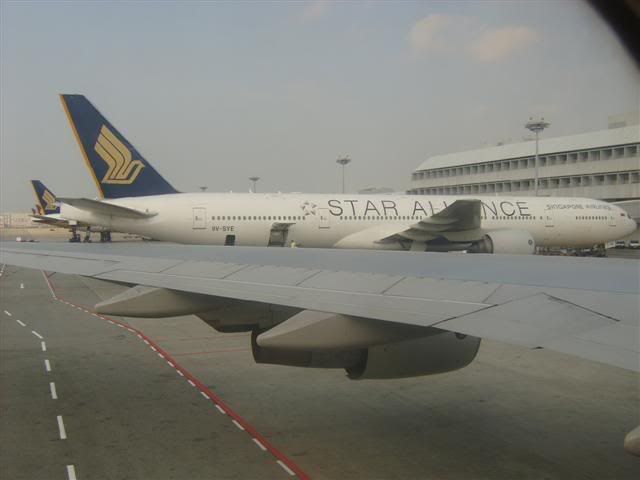 Liftoff after a decent takeoff roll
Singapore Harbor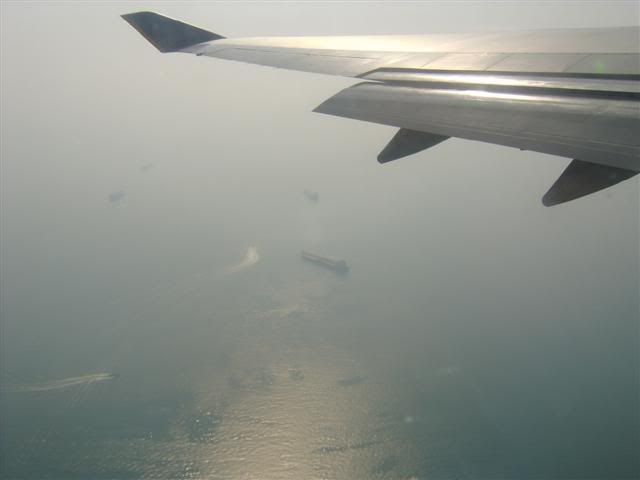 Not long after takeoff the Stewardesses made their way through the cabin with lukewarm towels. I wish they would keep them in the microwave or whatever they use to wamr them up just a little bit longer but that is a small complaint compared to the excellent service SQ provides.
Breakfast today was a simple bread, muffin, and fruit plate with OJ and hot tea. Nothing fancy but good nonetheless. I think I was watching "The Office" on my iPod after giving up on KrisWorld for a while. The movie selections this month weren't as good as the last time I flew them and I wanted to save some for the flights home.
Breakfast
Indonesian coastline
Lunch was served about 2.5 hours before landing in Sydney. Menus had been handed out earlier in the flight before breakfast. I chose the lamb and was quite pleased with it.
Appetizer: Pasta and smoked turkey salad
Main course 1: Stewed Lamb with herb, vegetable, and potatoes
or
Main course 2: Oriental Fish in hot-sour sauce with veggies and fried rice
Cheese and crackers
Rolls and butter
Dessert was some sort of strange ice cream/chocolate, and whipped cream loaf concoction that was quite good.
Lunch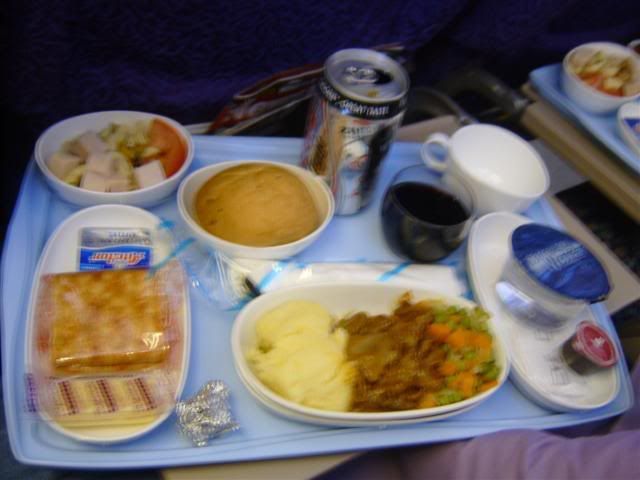 Landfall in Western Australia just above Port Hedland
Salt Flats? in central Australia
[IMG]http://i34.photobucket.com/albums/d129/DeltaGator/Syd
Our track took us southeast through central Australia and though we passed close to Ayers Rock it was too cloudy to see anything. Darkness came over NSW and those of us on the left side of the plane had good views of downtown Sydney as we were on final to the airport.
Despite being towards the back of the plane we deplaned rather quickly and only had to wait in a line 2-3 people deep at Customs. They did have one of the Customs areas closed so we had to hoof it farther along through the terminal until we reached the other one. I wandered briefly through the Duty Free area before going to Customs but didn't see anything I just had to have.
Our bags showed up pretty quickly and I was off in about 10 minutes to the Agricultural inspection/Customs. They had beagles on patrol through the baggage claim area and they were sniffing out food left and right despite all the signs telling you to throw things away. One lady next to me produced a half eaten sandwich from her bag and receive a good scolding from the Customs agent for not following the rules. The lady complained and she was asked what part of "throw away or declare all food" she didn't understand. After clearing all the checks I was outside in a couple of more minutes and took a quick cab ride into the city.
I beat a major rainstorm by a few minutes. It had been drizzling on the way to the city but literally 10 minutes after I got to the Marriott the sky let loose. It turned out to be a record rainfall for a September day since the 1830s IIRC with about 10cm of rain.
Some pictures from around Sydney
The view of Hyde Park outside my hotel room in the Marriott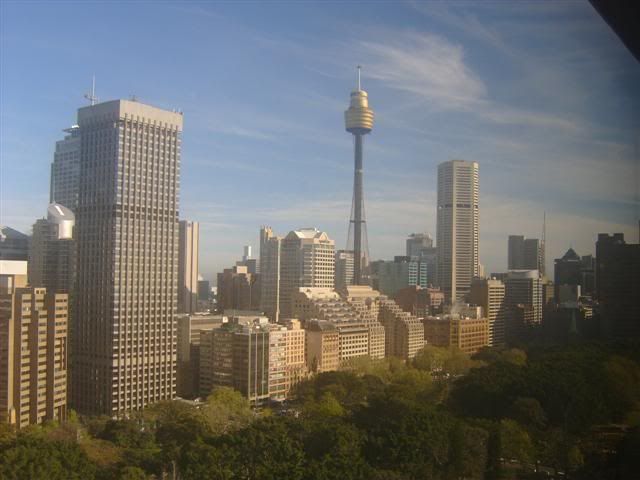 The ANZAC War Memorial in Hyde Park
New South Wales Parliament House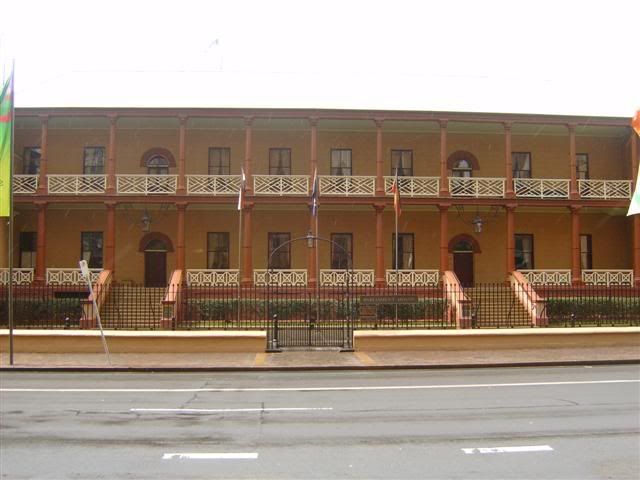 A statue in the Botanical Gardens
Hyde Park Prison Barracks museum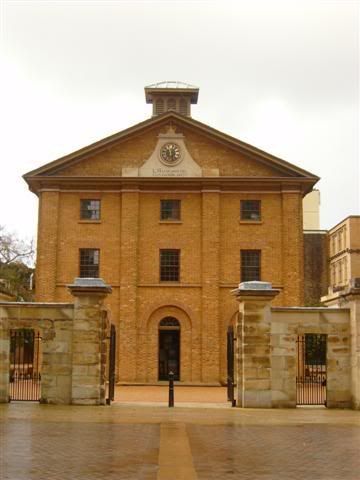 Lucky pig statue outside the Sydney Hospital. Rub his nose, drop in some money, and get good luck.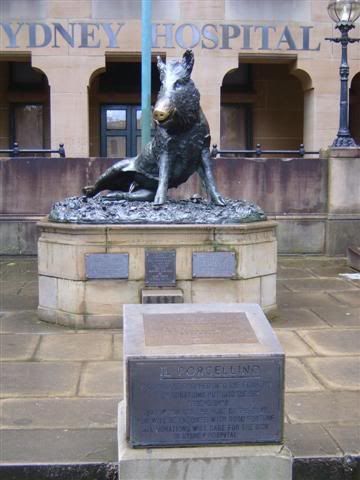 Looking back into the city and Circular Quay from the Opera House.
The Sydney Harbor Bridge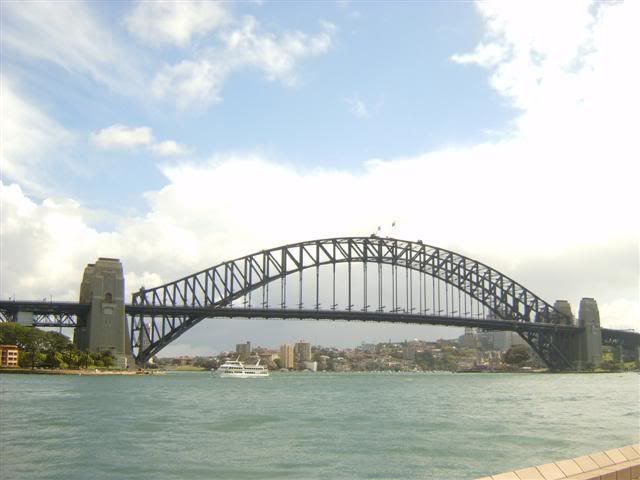 The Opera House though there isn't a good picture to be had of this place except from the water.
Sydney Harbor looking east towards the Pacific from the top of Sydney Tower
Looking south towards Botany Bay and the airport from Sydney Tower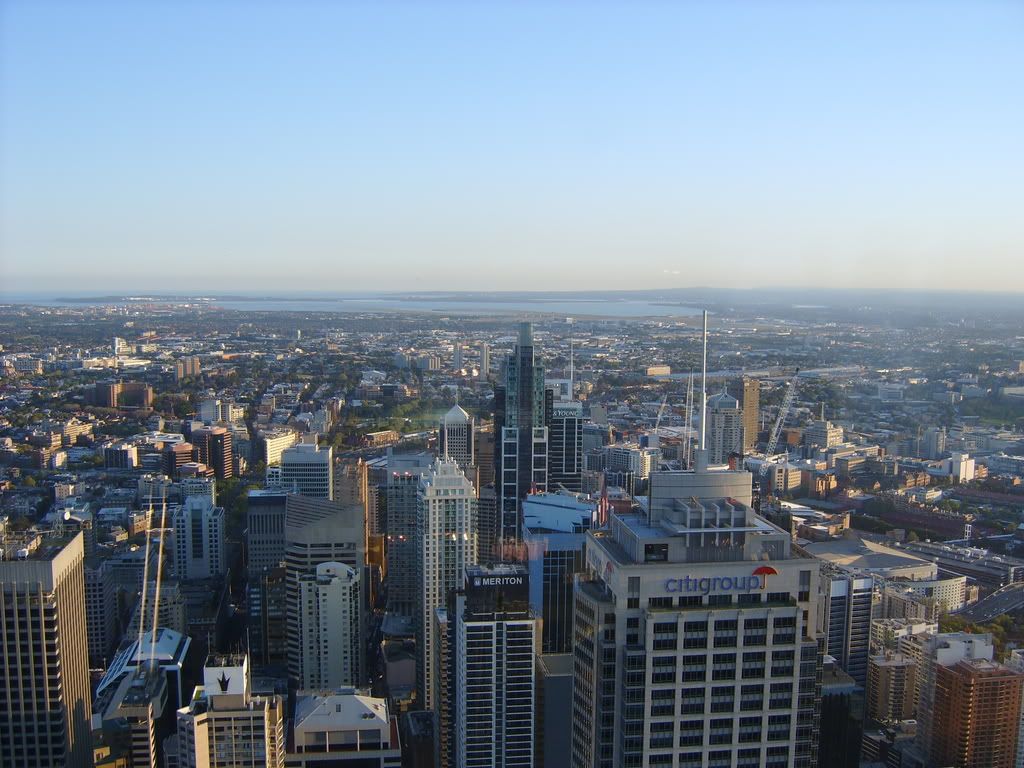 A little bit of America in Oz. This Krispy Kreme was on the walk to the office in Chatswood. I never did stop as my fat butt doesn't need donuts. They also didn't have a "Hot Now" sign and if you've had Krispy Kreme before you know what I mean.
9/16/2006
SQ220
Lv SYD 0805
Ar SIN 1420
Registration: 9V-SPD
After finishing up everything for work it was time to go home. My flight left early on a Saturday morning so I got up around 4 and left for the airport around 5:30 and was there in about 20 minutes or so. Check-in was quick and easy. Some guy that checked in online jumped in front of me until I fussed at him to go to the back of the line. He didn't seem to speak much English but figured out that I wasn't going to let him jump the line by the tone in my voice.
I was given my boarding passes and asked if they could block the middle seat. Unfortunately some tool had decided the middle seat was just the seat they wanted for our flight despite aisles and windows being open so they directed me down to the SQ customer service agent who easily moved me up a row and blocked the middle seat. Well done SQ!
I had some spare time so I wandered around the terminal. I though I had more pictures but I must have screwed something up. Only this one was from before immigration and security.
A big model of the SQ Whalejet (whoops! not supposed to call it that) in the lobby of the SYD airport
Once past immigration and security I snapped some pics of the various planes sitting around the terminal. Once I convinced the lady at the Duty Free shop that I was going to Singapore and not on the United Airlines flight was I allowed to buy some Bundaberg Rum.
Our SQ 747 to Singapore today 9V-SPD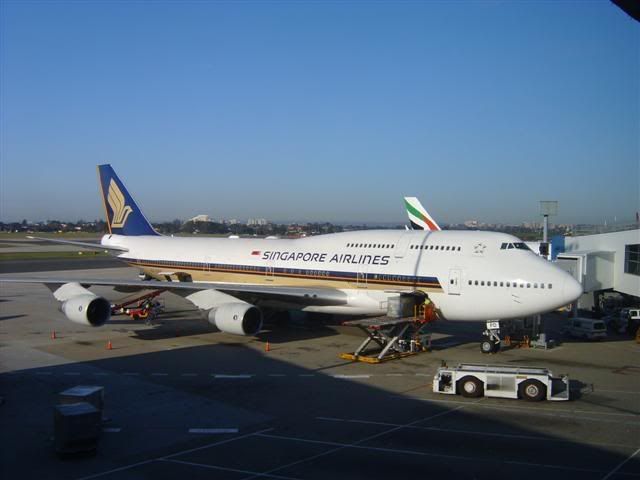 Korean Air A330 HL7586 at the gate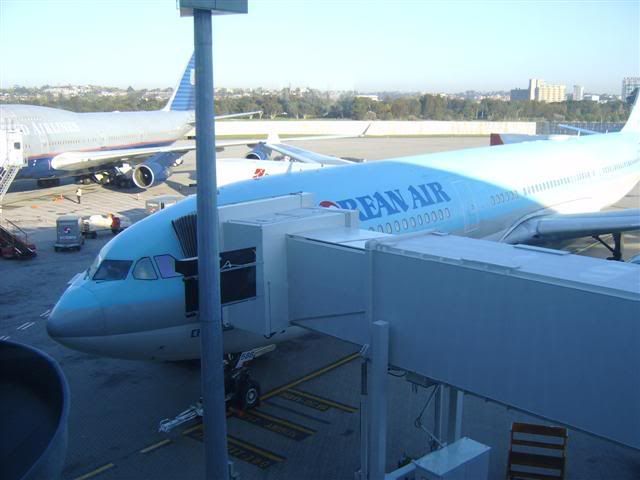 Thai 747 HS-TGY and British Airways 747 G-BLNW at the gate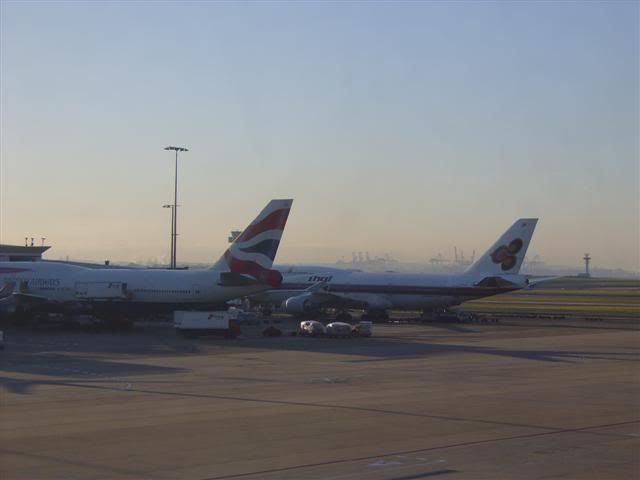 United 747 N194UA at the gate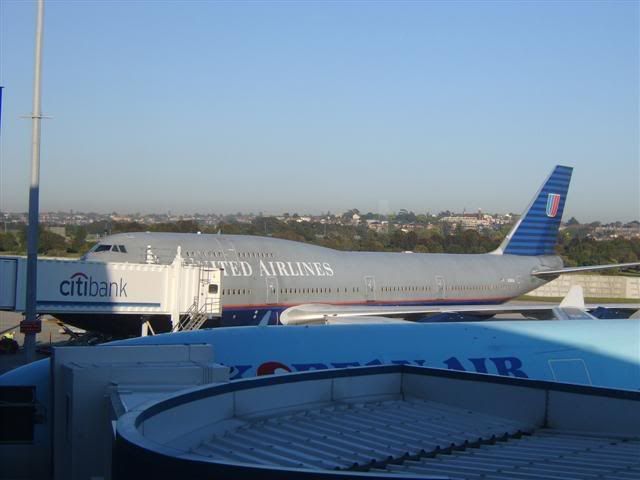 Emirates A340-500 A6-ERG at the gate.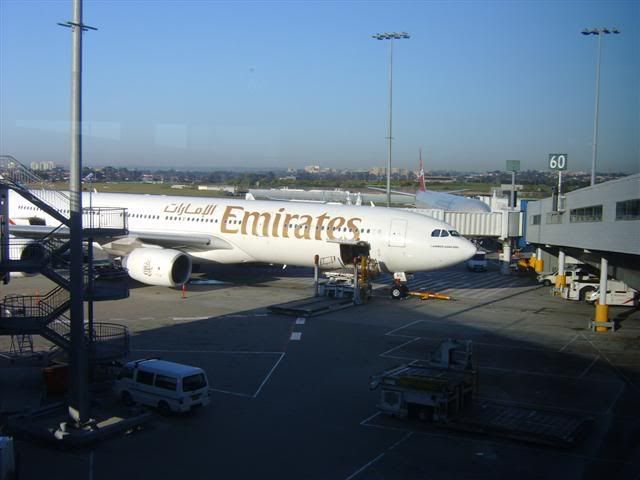 Emirates 773 A6-EBI taking the place of the A340-500 from a few minutes earlier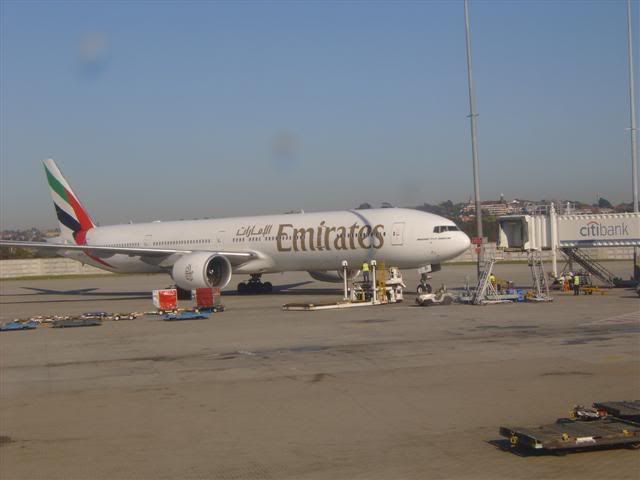 Virgin-Atlantic A340-600 G-VBLU "Soul Sister"
QANTAS 747 VH-OJG at the gate
JAL 747 JA8072 at the gate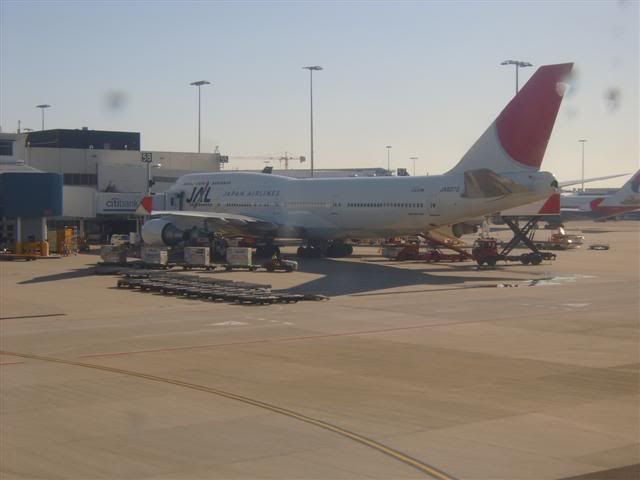 Malaysian 747 at the gate
Pacific Blue 737 ZK-PBF taxing behind for the runway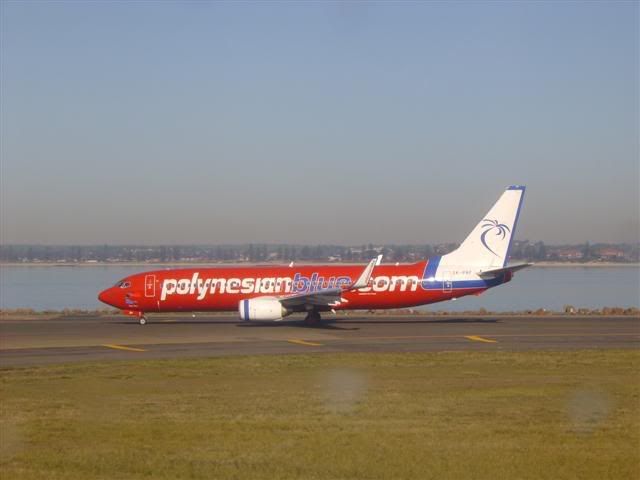 What a strange little tower. Is the staircase outside?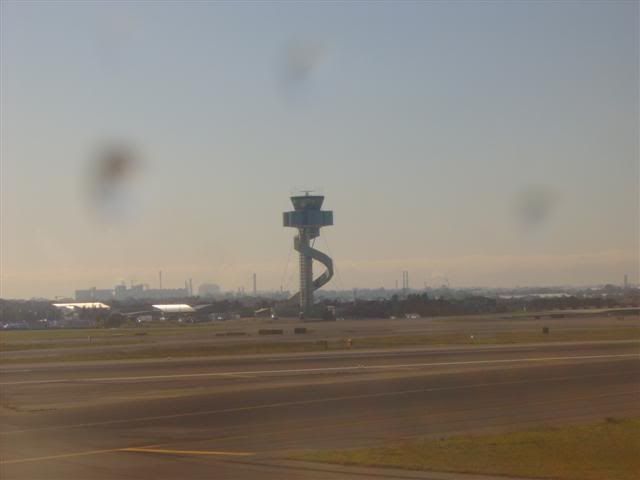 Looking back at the terminal with QANTAS, Garuda, Asiana, and LanChile at the gate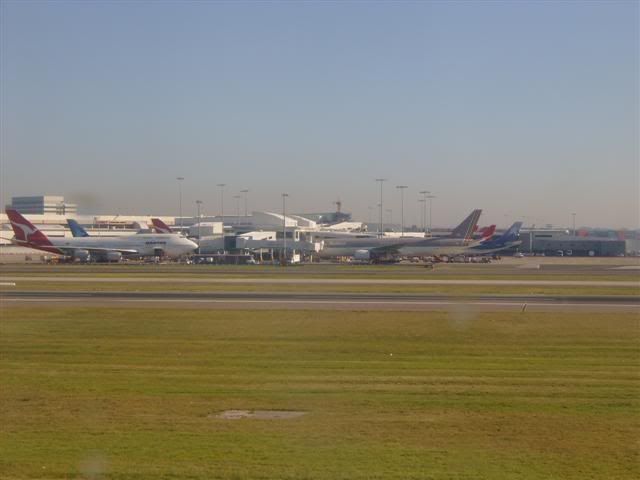 Takeoff with part of the International Terminal below
Sydney suburbs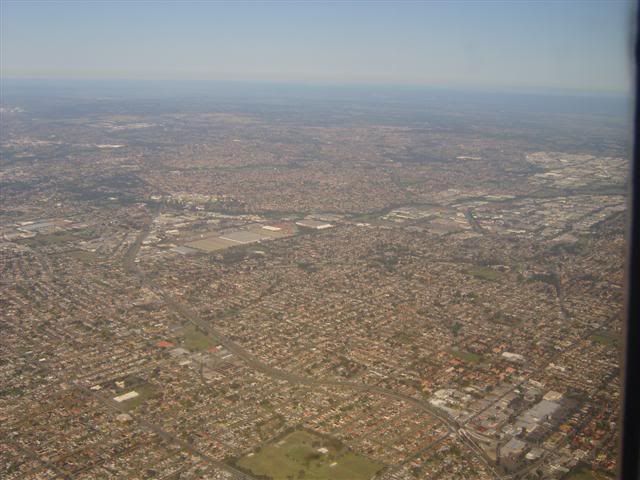 The Blue Mountains west of Sydney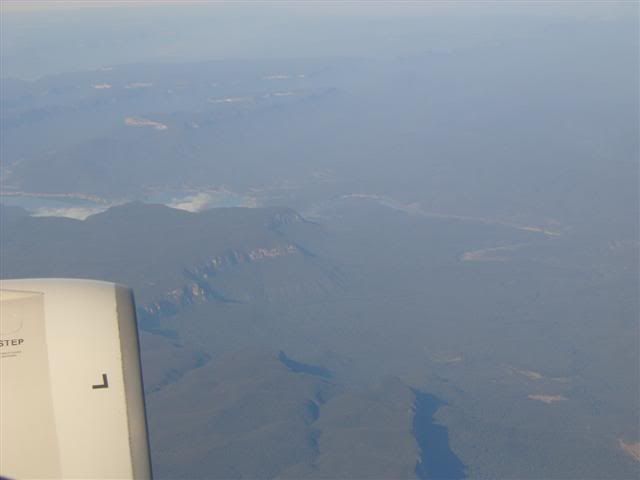 Legroom on the 747. Not nearly as good as the A345 but better than a QANTAS 747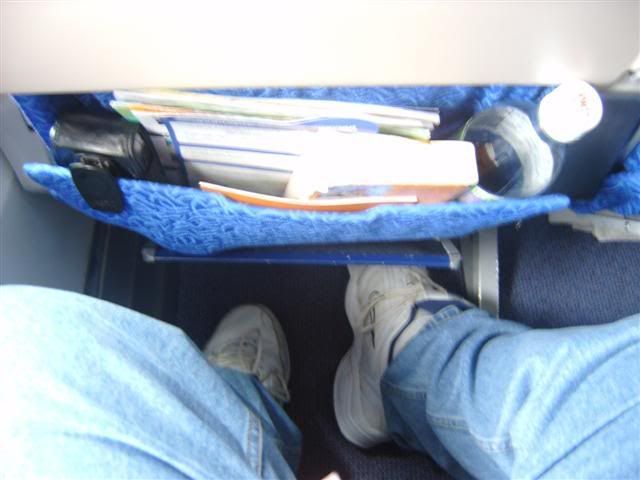 As usual the stewardesses handed out lukewarm towels and menus for the flight today. Breakfast today was more substantial than the flight down to Oz.
All meals got fruit, yogurt (mango flavored!), some sort of scone thing with raisins, OJ, and tea. The choice for the main dish was either braised egg noodles with pork or egg frittata (just call it a damn omelette) with tomatoes, mushrooms, and ham. I chose the noodles and pork and wasn't disappointed.
Breakfast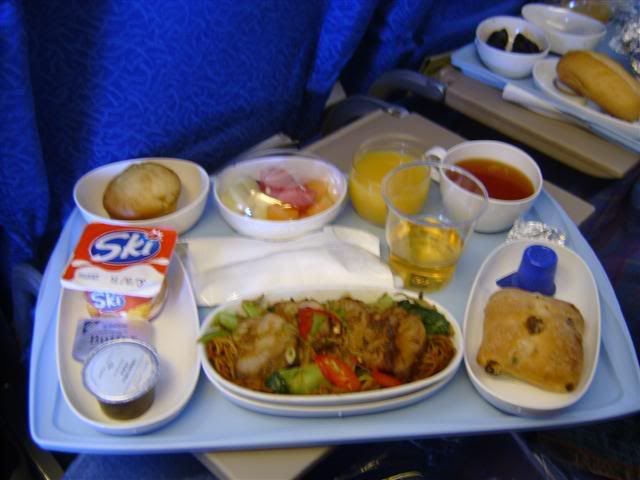 I settled in and watched Forrest Gump and I don't remember what else on KrisWorld for a while but I just couldn't fall back asleep. About an hour and a half before landing in Singapore lunch was served.
All meals included a potato salad with pastrami appetizer and rolls. Choices included Thai style green curry chicken or Beef-tomato casserole with veggies and potatoes. Unfortunately the curry chicken was gone by the time they got to us at the very front of Steerage so I was disappointed and settled for the beef. It was good but not what I wanted right then. Dessert was a mango creamy concoction on a stick and very tasty.
Lunch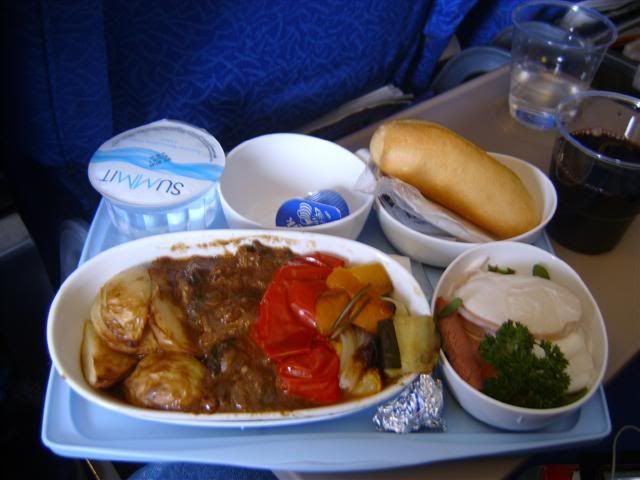 The rest of the trip was uneventful with little turbulence. There was a lady who was letting her kid run up and down the aisle and the stewardesses kept having to bring him back from Raffles Class. Once he was brought back by a steward who was pretty pissed off and scolded the lady to keep her child with her and out of Raffles Class and that if they found her kid upstairs again she would be speaking with the authorities when we landed. I was quite surprised to hear an SQ employee lose their temper that way but it was also good to hear as the kid was a pain in the ass and the mother was doing nothing to control him.
We passed over Bali and over Java. We landed in Singapore a few minutes ahead of schedule. We landed on the northern runway so we had a good little taxi back over to Terminal 2.
Old volcano on the Indonesian island of Java
Singapore Harbor with the city in the haze
More ships in the harbor closer to Changi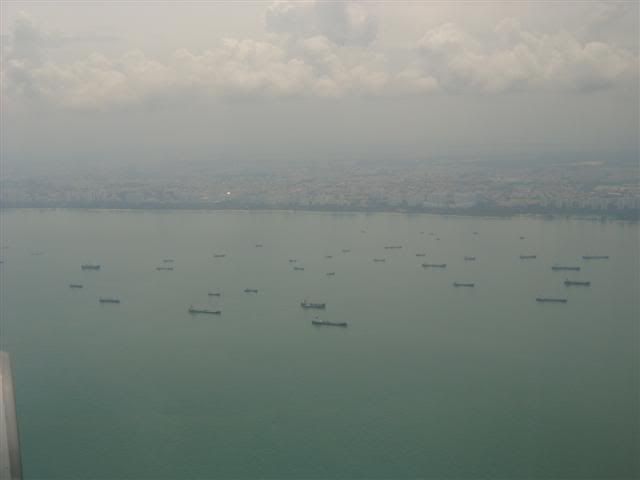 Singapore Air Force Base?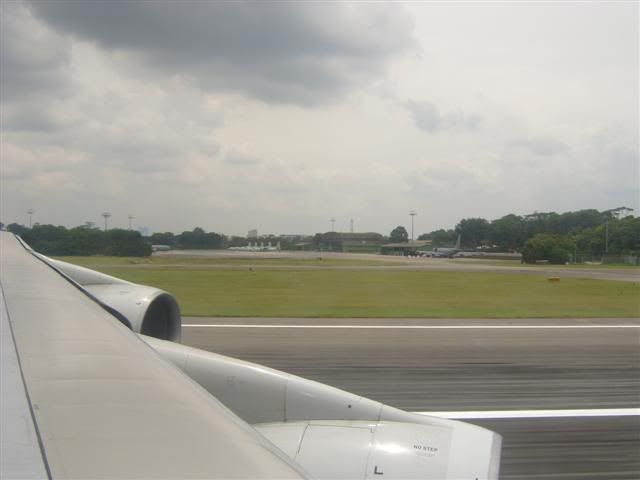 Maintenance area? at SIN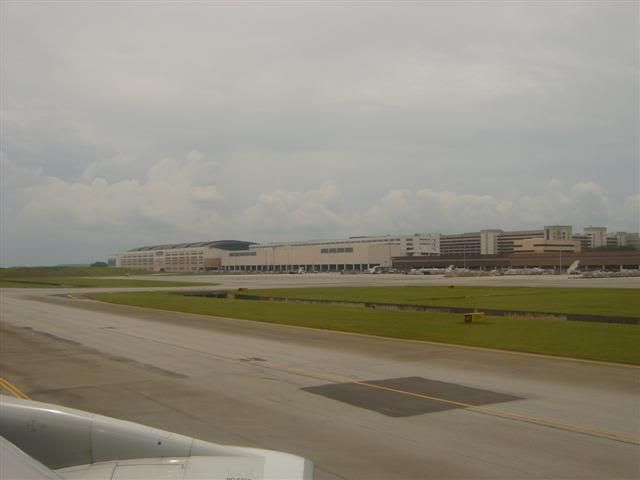 CX A340 sitting alone by T1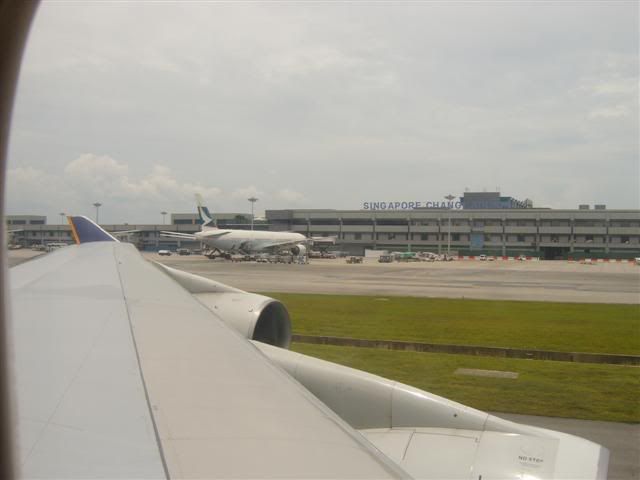 A SQ A340-500 sitting alone by T1/T3 area
Ongoing construction at T3
German Government A310 10+21 (the only registration umber I could find for it)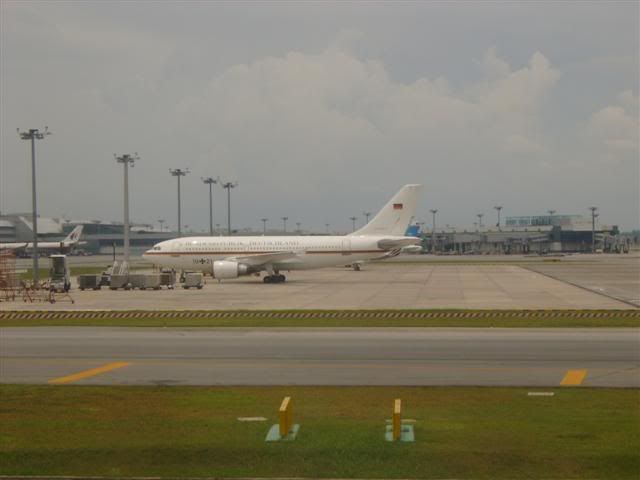 Kuwait Government A320 9K-AKD
Royal Brunei A320 V8-RBT
Deplaning was quick and easy. Within 5 minutes I was off the plane and at immigration. I passed through quickly and waited, and waited, and waited some more for my bags. Turns out they checked my bags all the way through in Sydney to Newark since my connecting flight was less than 24 hours later. Unfortunately I needed my bags because I had clothes and my toiletries in them. I went to Lost and Found and they said it would take about an hour to get them to me and that if I wanted they could deliver them to my hotel which I readily accepted.
The taxi ride to the hotel was quick even though it was busy for a Saturday. SQ called me at the hotel and said that if I wanted my larger bag I would have to return to the airport and pay duty on the 5 bottles of wine in it. I told them to go ahead and keep that one since I wasn't going to pay duty on something I planned on taking home and that wasn't for consumption in Singapore. They brought my other bag and it was at the Marriott no more than 2.5 hours after we landed. Good service though I'll know next time to check the bags only part of the way.
Since the flight to Newark leaves at 11 in the morning I got to spend the night in Singapore. I've been here before but took the time to go wander around the city some more to see the sites. The World Ban annual meetings were in town so many streets down by the water were closed off by police. Cops and security were everywhere though I doubt any problem would occur given the ability of Singapore immigration to keep the riff raff out of the country. Perhaps that is why they chose to have their meetings there?
Clarke Quay
Parliament House
Victoria Theatre
Landing Site of Sir Stamford Raffles
Civilian War Memorial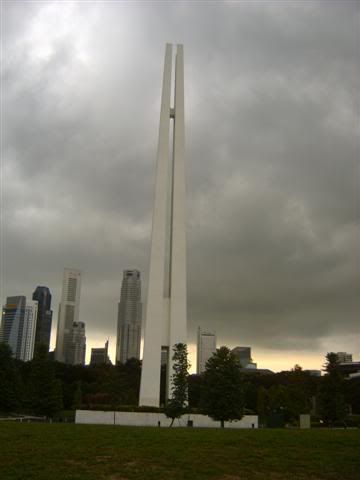 Herbie the Love Bug I saw on the street. Hippie owner nowhere to be found.
The Merlion fountain
The Esplanade and Suntec City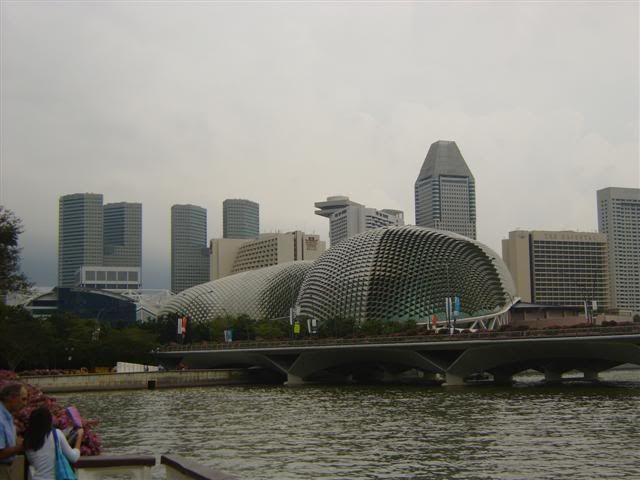 The Esplanade and Raffles City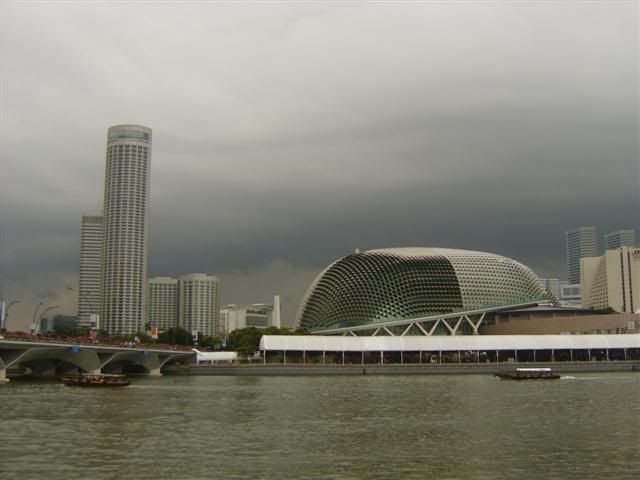 Armenian Church built back in the 1830s
Raffles Hotel though you couldn't get inside unless you were staying there due to the World Bank security
Fines a plenty in Singapore. Just behave and you'll not get into any trouble
Orchard Road in front of the Marriott. I don't know how else to describe this area except to say put Michigan Avenue from Chicago into Miami and replace Cubans with various Asian folks and throw in a little bit of Chinese langauge and a dash of Times Square from NYC or Shibuya from Tokyo. What a great street for shopping though I was so pooped the night before I only wandered down it for a little bit.
Today's flight was going to be completely full unfortunately. Luckily though it was the Executive Economy so a bit more roomy for the 18+ hour flight. I left for the airport around 8AM and was there in about 20 minutes. Before being allowed to the check-in desk I had to answer a bunch of questions in the name of USA in-security. One of which was why I wanted to visit the USA. My answer was I wasn't visiting but returning home. That was met with an odd look so I pointed out I had a US passport and was an American citizen so there was no way for me to be "visiting" my home country. A few more questions on where I had stayed overnight and where had I been before arriving in Singapore, etc. and I was on my way.
Check-in was easy and I was on my way to the Immigration checkpoint. There isn't that much in the main check-in area as they keep all the fun stuff in the transit area so I snapped a couple of pics and got my passport stamped and exit card taken and was now officially out of the country.
9/17/2006
SQ22
Lv SIN 1110
Ar EWR 1740
Registration: 9V-SGC
Terminal 3 from across the street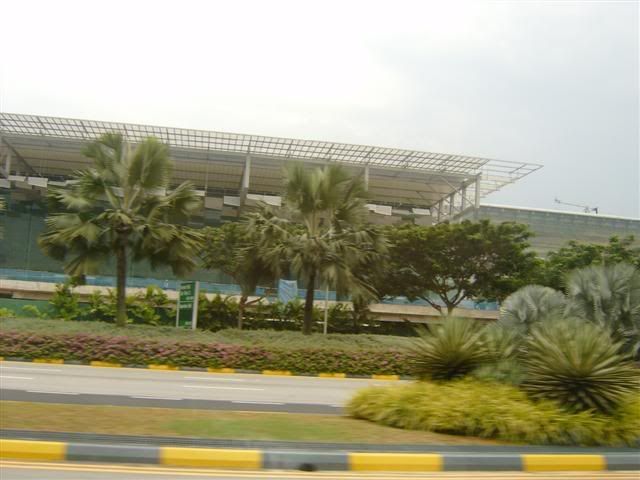 Changi Tower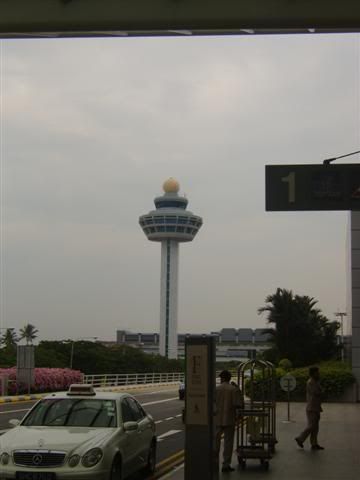 Inside Terminal 2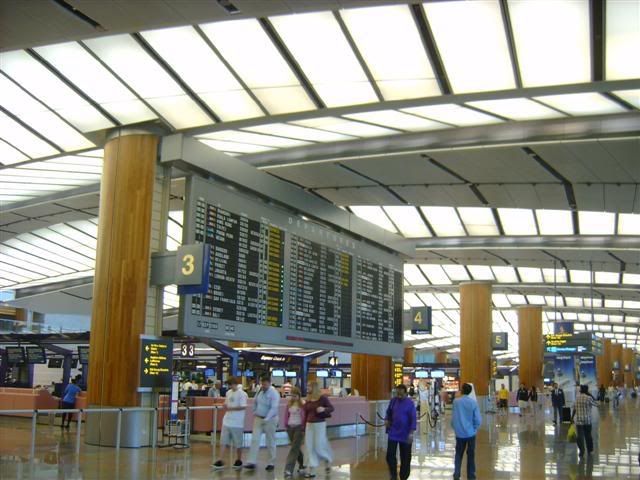 More inside Terminal 2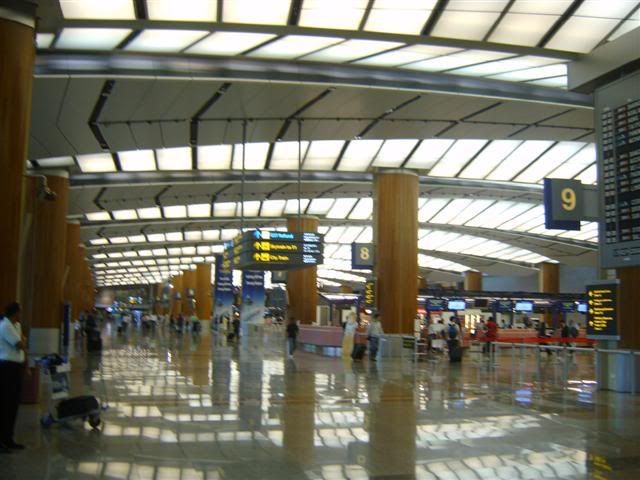 Shopping are inside T2. Not a huge deal but the ceiling in this area of the terminal just seem too low. Lots of stores though I discovered the prices aren't that great compared to the outside. An iPod cover in the city was $28SGD while at the airport they wanted double that price for the same thing. Many other items I found to be too pricey as well.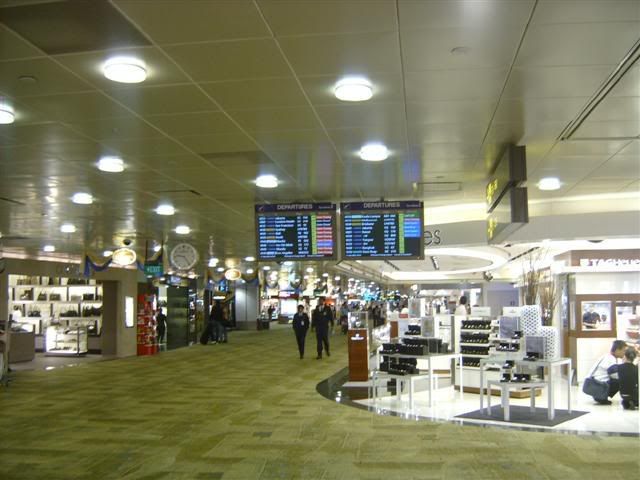 More shopping in T2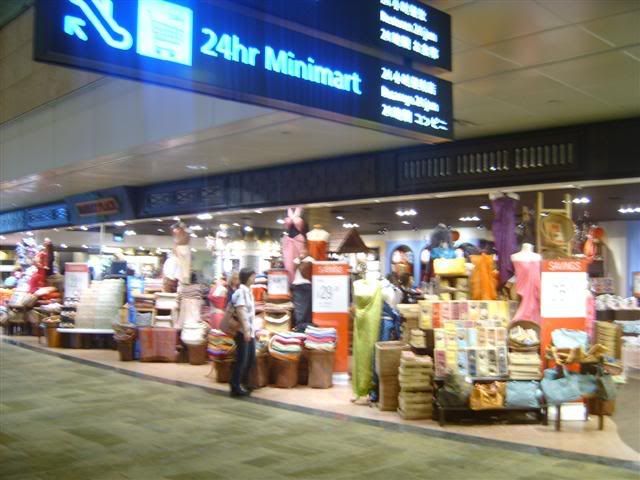 Orchid Garden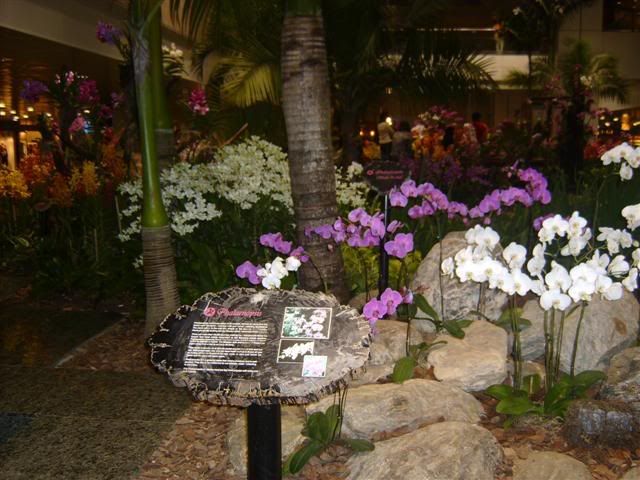 Koi Pond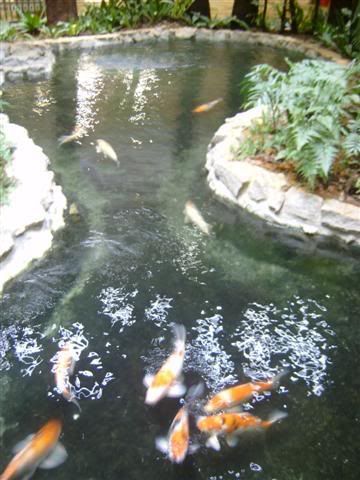 ESPN area but not showing any college football games unfortunately. I was getting updates on the Florida-Tennessee game from my Blackberry. I was bad and kept my cell phone on as we taxied and got the update we won 21-20 not too far from reaching the runway. Whoo Hooo!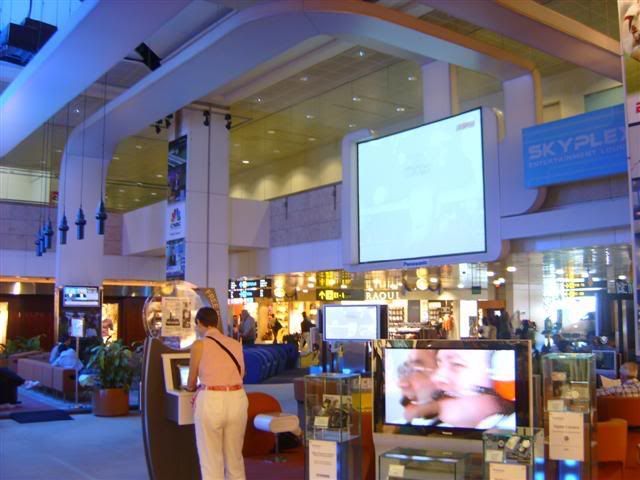 Our plane home today 9V-SGC. It just doesn't look big enough to hold all the fuel we need.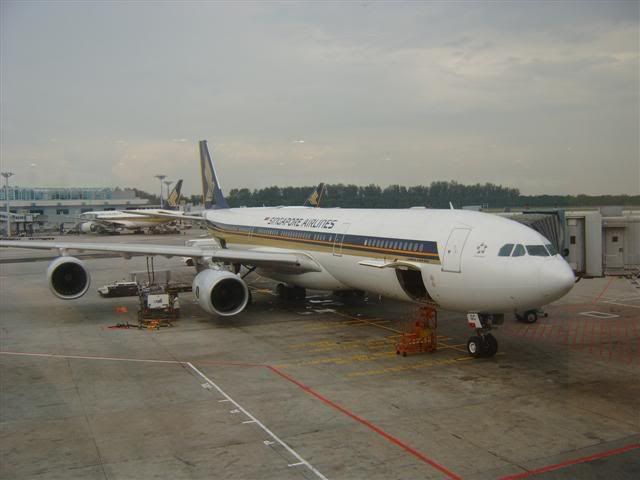 Takeoff after a very long roll. Wheels up was just a few feet before the displaced threshold.
Decent legroom for those sexy legs again, I need a tan on them!
After takeoff the lukewarm towels were handed out again along with the drink service. Menus were handed out and I noticed that we were only going to get two meals on the way home though we had three on the way over. The last time I flew this route in Raffles Class we had three meals going home. No big deal but a little surprise.
All lunches came with a marinated scallops salad, cheese and crackers, rolls and a choice of either herb roasted chicken with manicotti and mozzarella or stir fried beef. I chose the chicken and wished quite quickly I had picked the beef instead. The chicken was the signature dish and wasn't very good. Dessert was a Ben and Jerry's Cherry Garcia bar.
Lunch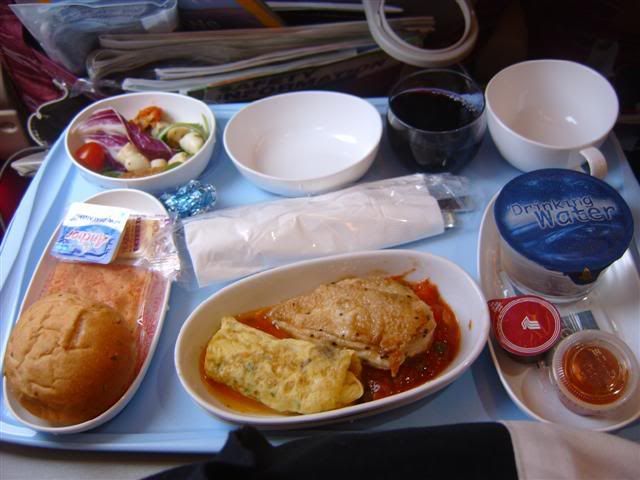 A muddy river in Malaysia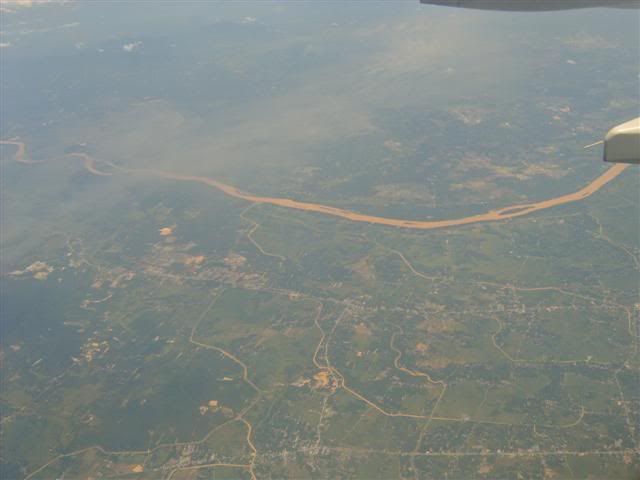 Landfall over Thailand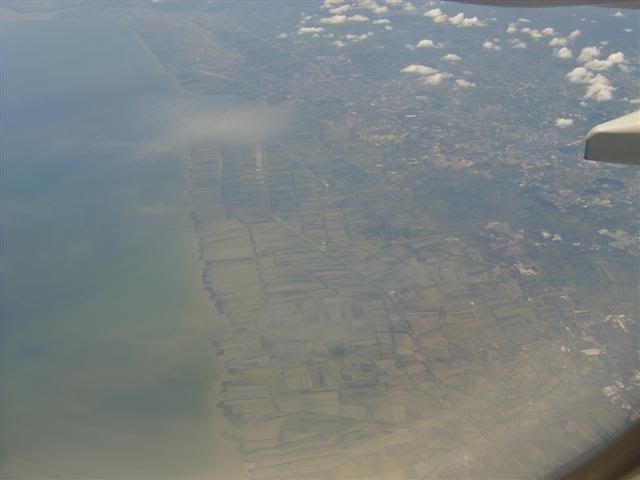 Flying over Bangkok
Not long after lunch they fussed at us to close our window shades. I closed mine because I was tired and wanted to nap a little bit. I suppose you could keep yours open if you wanted to do so though. The sun never set on this flight though it did get close to darkness over northern Russia and then back to full brightness over the North Pole.
Dinner was served about 8 or so hours into the flight. All meals came with a piece of turkey lunchmeat and coleslaw, cheese and crackers, rolls with butter and a cherry crumble (cherry pit included! Luckily was chewing softly and didn't crack a tooth on it.) Choices for the main dish included shrimp in curry cream with veggies and cod brandade (read that as casserole) or Thai style red curry duck. I chose the shrimp and was disappointed again. The duck looked so much better.
Dinner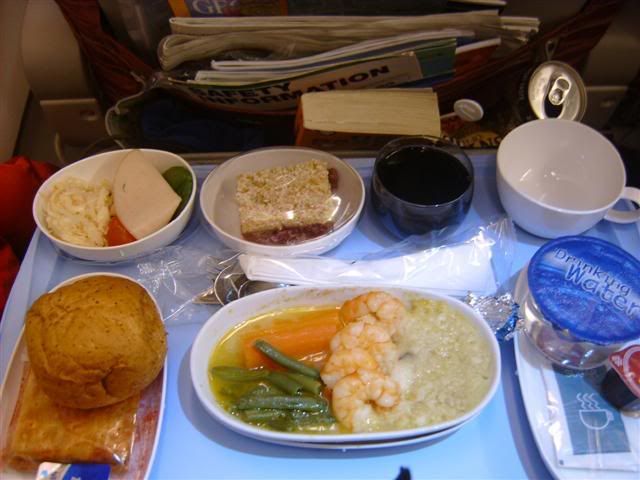 Our route today over the North Pole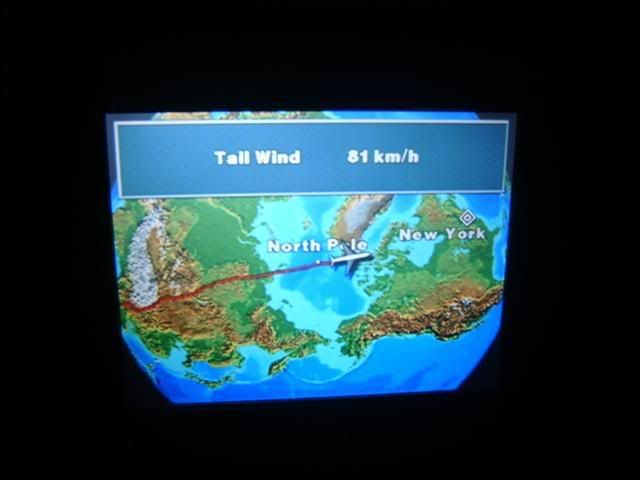 Somewhere over frozen Canada
After dinner I settled down for more sleep. Altogether I slept for about 9-10 hours of the flight. I won't say time "flew" by but I couldn't imagine being awake for the whole flight. The rest of the trip was uneventful and soon enough we were approaching Newark. About an hour before landing I got up to change back into my jeans and packed up my various stuff I had in the seat back pocket.
Orange County, NY airport
Stewart International or whatever they are calling it this week trying to get carriers to come there.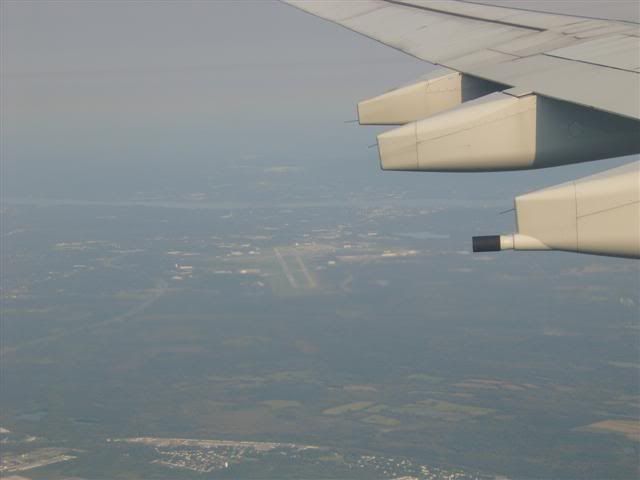 Continental Airlines Arena at the Meadowlands
Giants Stadium, although the Jets were losing there today at the Meadowlands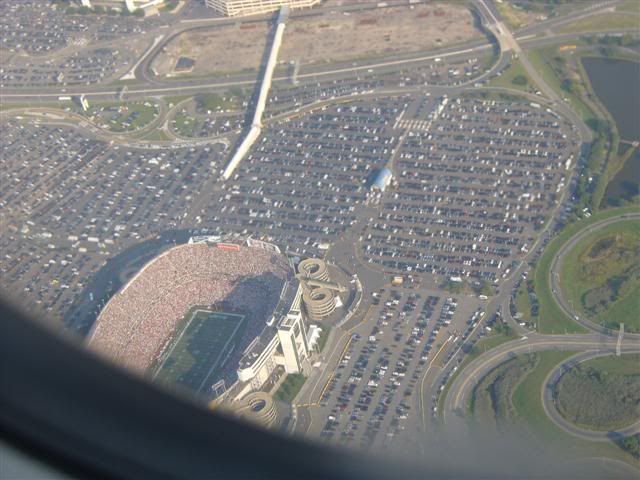 Midtown Manhattan
Lower Manhattan
Touchdown after 17.5 hours and Ikea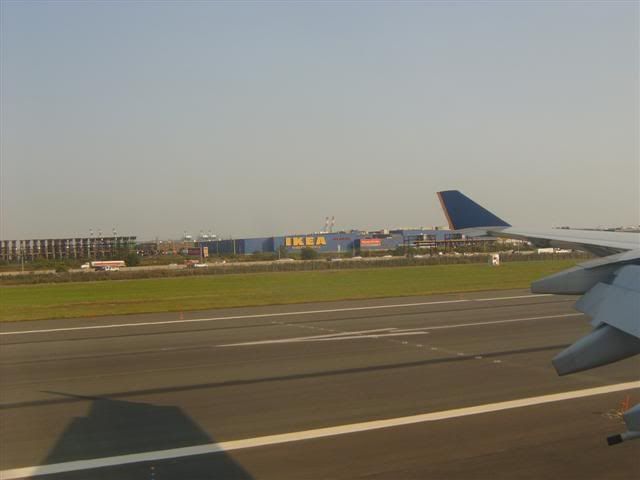 Czech A310 OK-WAA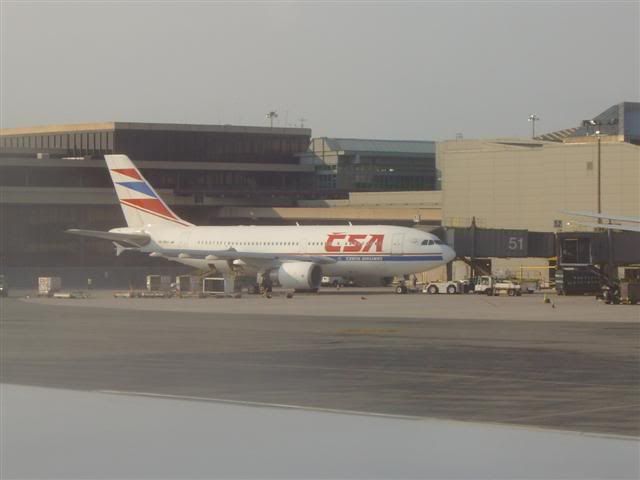 Air India 747 VT-AID
SAS A330 SE-REE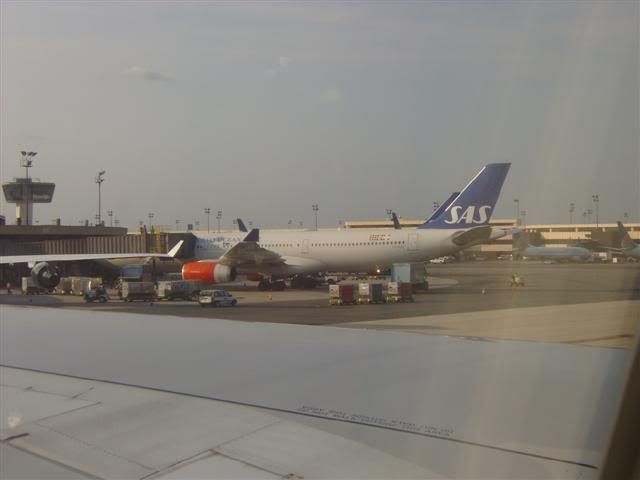 Alitalia 777 I-DISA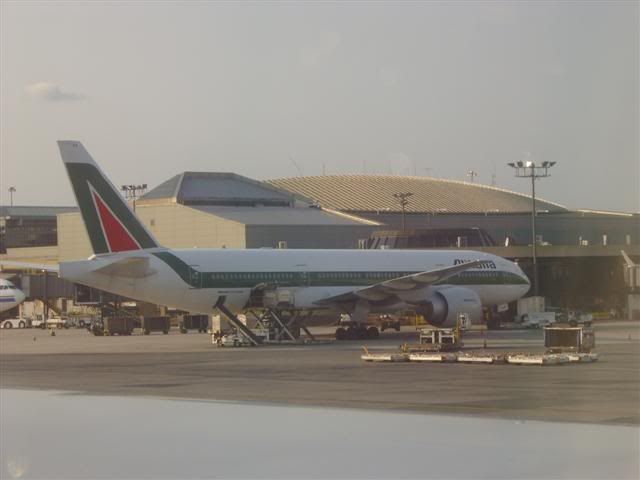 British Airways 763 G-BNWV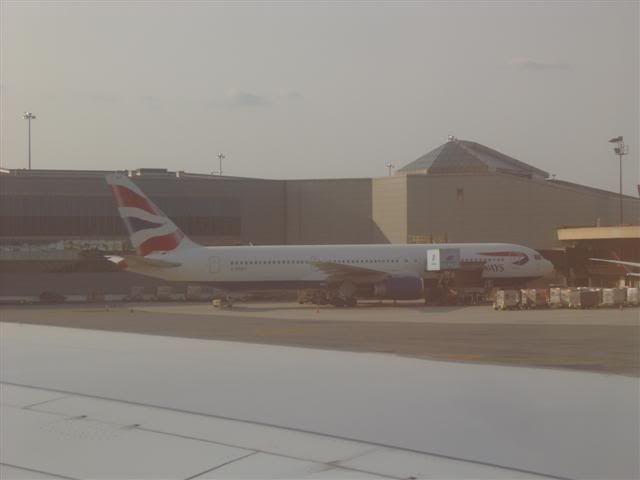 TAP A310 CS-TOF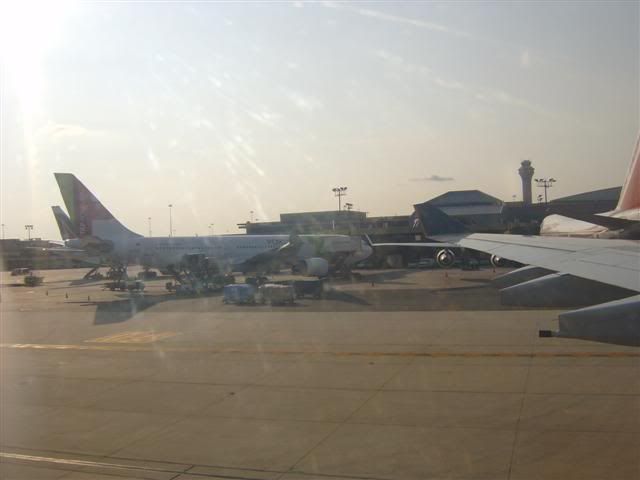 We landed right at 5PM and since we were 40 minutes early our gate was still occupied by a SAS A330. After waiting for about 15 minutes they cleared out and we pulled in. Deplaning was quick and easy and I was off to Immigration. The line for US citizens wasn't very long and I was through it in about 5 minutes. I chatted with the immigration officer and he asked how I could make such a long trip without being drunk to which I told him sleep was the answer.
One picture I couldn't get was of a Polish Government TU-154. I didn't feel like taking my camera out in the Customs area and getting yelled at so I found a pic on A.net. This pic says it is the Polish "Air Force One" so does anyone know why it was in Newark?
View Large
View Medium


Photo © Piotr Kaczmarek (Wlkp_Spotters)
My bags showed up about 10 minutes later after all the priority bags were offloaded. I put them on a cart and made my way to Customs. The flight from Bombay had landed just before us and it seems a lot of the Indian folks brought food with them and were getting sent over to the inspection line. Luckily my bag of chips were acceptable and I was sent on my way. I didn't question not having to pay duty on the second bottle of rum and got the heck out of there to catch my flight on Continental from Terminal A. For whatever reason I took the train to Terminal C instead. Once there I made a u-turn and took the train back past B and on to C. Along the way I snapped a couple of more pics.
British Airways 777 G-VIIJ and the SQ A345 behind it
Burkina Faso 727 XT-BFA. Interesting plane to see there. Anyone know what it was in town for?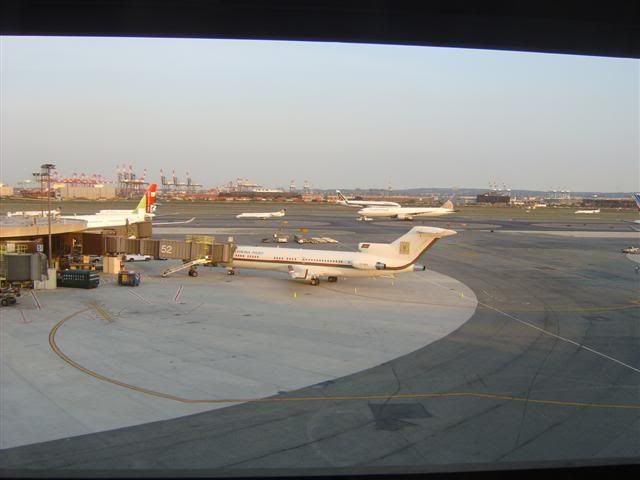 Northwest DC-9 N1332U. When will it be retired?
9/17/2006
Co85
Lv EWR 1915
Ar ATL 2059
Registration: N58606
I checked in for my flight quickly through the kiosk. The agent told me my bag was overweight at 65 pounds (all that wine I bought in Oz) to which I pointed out that I was allowed 70 pounds per bag and that anything over 50 was allowed for me free of charge since I was flying First. He agreed, tagged my bags, and sent me on my way.
The security check was quick and easy though I did get questioned as to why I was sweating. I pointed out the terminal wasn't exactly cool and that I had just pushed a cart with two heavy bags over from the other terminal. My reason was accepted as something ok and non-terroristic and I was sent on my way. I spent a few minutes at the President's Club for a drink and bathroom break and then walked down to the gate. The plane was late arriving and we were even more late taking off. The captain came on and said we were 20th in line for takeoff. The guy in the seat across from me started fussing about how crappy that was and how stupid Continental was to schedule so many flights at once. I politely told him to settle down and just relax as the plane will eventually get there. After 18 hours in the air what was another 30 minutes on the ground?
Service on this flight was the standard CO service with a small cold plate of lunch meat, fruit, cheese, and crackers. While not nearly enough to satisfy my hunger at that point I was too exhausted to fuss. CO always does a good job and soon enough we were landing on the new runway in ATL. After a relatively quick taxi from that landing location we were at the gate and I made my way to baggage claim. My bags with priority tags were third off the belt which was nice. I grabbed them and walked out to the car with the little lady who had come to pick me up.
All in all the trip was a good one. Delta and Continental service were both their usual selves. Nothing spectacular but good nonetheless. Having flown SQ in both First, Raffles and now Exec Economy/Economy I can see the differences between their service classes. First and Raffles are both very good and I doubt they have changed much in the 2 years since I last flew up front with them. Service in Steerage was good though not great. My biggest complaint about their service in the back was that they were stingy with the drinks. For some reason I just like to have a drink with me while flying and I either had to go and ask for it or ask if I could have the whole can versus a plastic cup half full of foam. Attention to detail (paper menus in the back being one of them) and the super sexy Singapore Girls (I know, very sexist and chauvinistic but they are good looking ladies) add to the experience. I know some folks say they are "robotic" and I tend to agree but they get their job done and do it with a smile.
If given the chance to fly SQ I would take them almost every time. I only hope I can have more flights with them in the front of the plane versus the back. They are an excellent choice and a great airline. They deserve every compliment and award they receive.