BOS-ATL-MEX-BMH-ATL-BOS
This trip has been in the making for a long while. It finally came to being reality this past weekend when I flew down to Mexico City to visit a very good friend. Even though I was only in Mexico City for three nights, they were some of the best times of my life. I have memories that are with me which I know will never fade away.
One of the great things about travel is that you are what you are right then and there, and the experiences from your journey are sealed forever in your mind. Nobody can ever take them away from you and nobody will ever understand how much joy you've experienced. You take comfort in knowing that you stepped out and went as far as you did. It's sad to come home at the end of it all, but you're comforted with the fact that you have more journeys ahead of you, and the thoughts of those good things will always be with you.
My trip started on the morning on Friday September 15th. I woke up at 2:30 that morning after not sleeping too well that night. I had a very bad headache! After showering and packing up the last of my things I was out the door by 3:30 headed for Boston Logan Airport. My dad dropped me off at Delta's Terminal A around 4:15. I used the automated check-in system and was really happy with its functionality. I swiped my Delta AMEX credit card and my reservation popped up right away and then I swiped my passport and was basically all set after that. A Delta ticket agent called my name about a minute later and tagged my bag for MEX. I was on my way!
Clearing security was a pain. The line wasn't long or anything, but I was subjected to additional screening. I didn't even have SSSS on my boarding pass! I was anxious to get to the gate so I could sit down and catch up on lost sleep. I think I got to the gate at 4:45 and noticed a boarding time for 5:30. There weren't many people at the gate so I found a row of empty seats and went to sleep for about 45 minutes.
Delta Air Lines
Flight # 1262
September 15, 2006
Route: BOS-ATL
Aircraft: 757-200
Duration: 2:20
Boarding was right at 5:30. I was one of the last people to board the flight. Just before we were to push away from the gate the entire plane basically shut off and the emergency lights came on throughout the cabin. An announcement was made a few minutes later and the power was restored. The pilot informed us that someone on the ground had disconnected the power cable to the plane. Shortly later we began our taxi and departed via runway 15R.
As soon as the plane lifted off the ground I looked out of the window and saw Yirrell Beach below. I've spent many hours spotting there and it was nice to finally see it from the air during daylight. We had a nice climb up to our cruising altitude that morning. A few bumps on the way up was all that we had as far as turbulence. I was really impressed with the new cabins Delta has.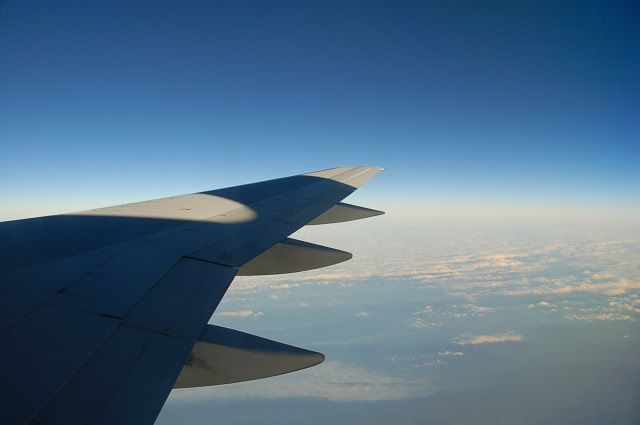 There was even what looked to be polished wood floors in the restrooms and the coach seats were leather (or at least what I think was leather). I was just disappointed that there was no map shown during the flight. I'd take that over Delta Horizon programming anytime!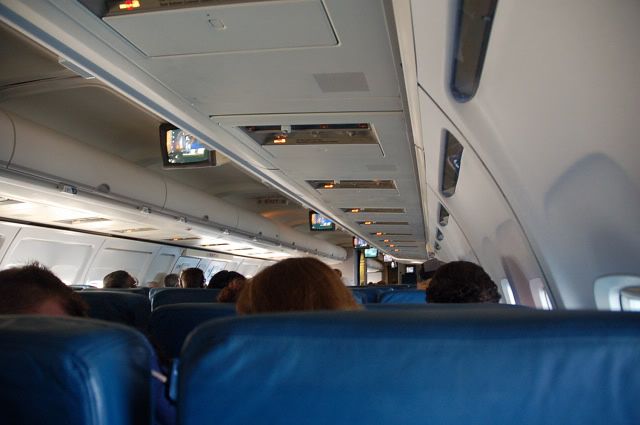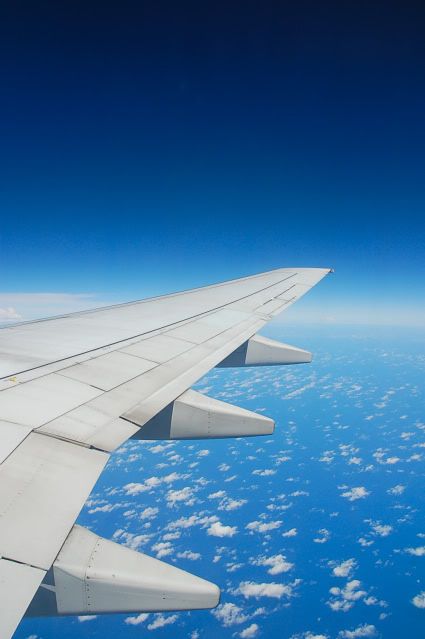 During the flight we were served drinks and a small snack of our choice. I had a Coke with a granola bar, but was wishing at least for a croissant and jam. For the rest of the flight I listened to the Beatles and some Alanis Morissette on my iPod.
Arriving into Atlanta was amazing! I loved seeing so many Delta planes all in one place. The whole airport is incredibly huge and so full of activity! We had to wait a little while once we landed to cross a runway before heading to our gate in the A concourse.
Once we got to our gate and deplaned I had to rush to gate E28 for my flight to Mexico City. Taking the train at ATL is a pretty cool experience. It reminded me of the train at FCO slightly. I felt bad for the people who weren't anticipating a stop and then almost fell down because of the sudden stops the train makes.
Delta Air Lines
Flight # 253
September 15, 2006
Route: ATL-MEX
Aircraft: 737-800
Duration: 2:50
Once inside of the E Concourse I stopped quickly at the currency exchange booth and changed some dollars into pesos. The rate wasn't the best, as I later learned, but oh well! Then it was off to the gate and onto the awaiting aircraft. The 737-800 that took me to Mexico City did not have the new style interiors, but was still very nice nonetheless.
Departure wasn't exactly on schedule. The pilot informed us that there was a slight maintenance issue with the aircraft that needed to be addressed before proceeding. This only caused a short delay. The real delay seemed to be the departures out of ATL. Apparently a runway was being resurfaced and this was causing some backups at certain times at ATL. I think we ended up departing about 30 minutes behind schedule.
Once we reached 10,000 feet the pilot came on and told us our flight plan. We'd fly over Alabama and then down east of Brownsville and then into Mexico City. Sadly, the flight map was only on for about 10 minutes of the flight…why??!! I was forced to watch some craptacular Lindsay Lohan movie on the LCD screens. I found the view outside of the window of the plane to be much much better than the movie
The meal service was very prompt, but the food was blah. I chose the chicken, but it tasted nothing like chicken. All I could taste was barbecue sauce. Once we were over the Gulf of Mexico we started turning a lot to avoid thunderstorms. We did ride right over the top of one, which was a pretty cool experience, at least for me anyway.
I could soon see the Mexican coast as we were starting our initial descent into Mexico City. A few minutes later we were flying in nothing but clouds and it got quite bumpy. I was wondering if it was going to be rainy in Mexico City as my friend had said it always does in the summer. Thankfully we were soon out of the clouds and I could see ahead and it looked quite sunny and nice. We were getting closer and closer to the ground below and I could even see what I think was Mexico City smog in the distance.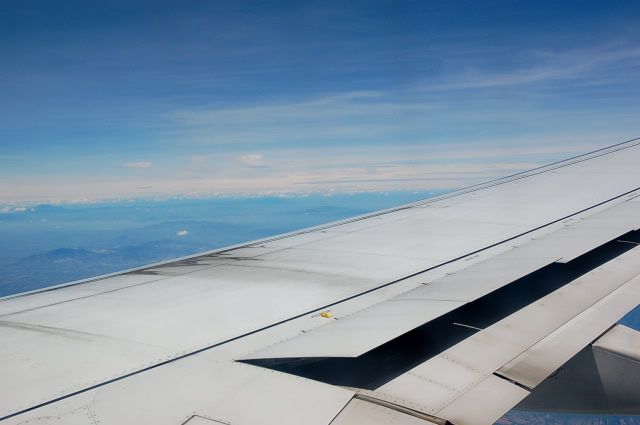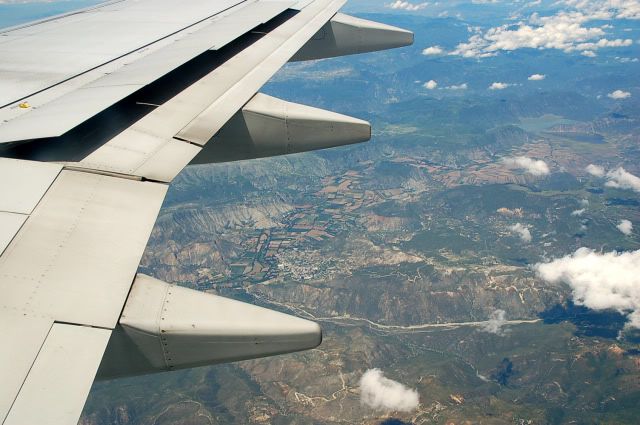 I was getting closer and closer to Mexico City and I was getting so excited to finally be there. During our descent we circled around the city before finally landing. I got a great view as we circled and saw a really huge Mexican flag on the ground below.
The airport looked as if they were adding panels of some sort to the outside of the terminal.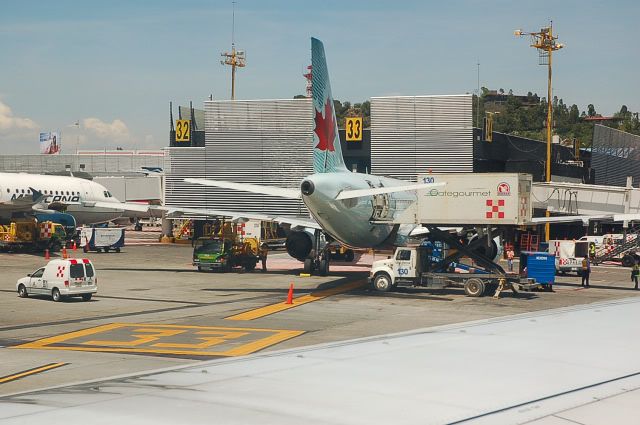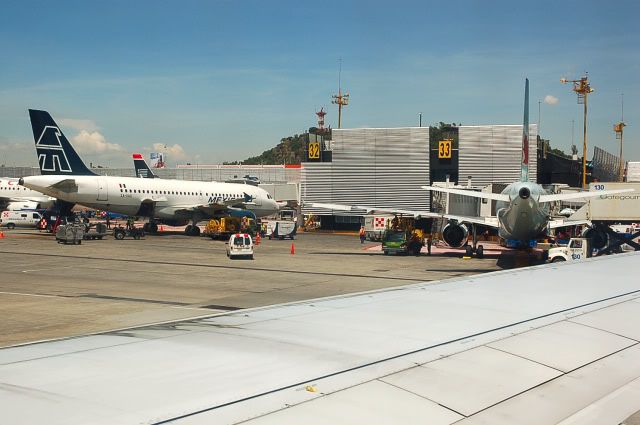 Anyway, we pulled in to gate 21 and then it was time to get off the plane and head to immigration zone M1. After getting my passport stamped (cool stamp!!!)...
I claimed my luggage at baggage claim 20 and then headed out into the arrival hall and then to look for the airport taxis.
As I was walking to the tax stand I noticed so many banks offering better exchange rates than I had gotten in Atlanta, oh well. The taxi from Benito Juarez Airport to the Camino Real Mexico City cost 172 pesos, but it was worth it. I called my friend as soon as I got into the taxi and talked for a little while before planning to meet up later. It felt so good to finally be in Mexico City. As the taxi drove out of the airport and towards the hotel I took in as much as I could. It's always so nice to be in a new place and try to take in as much of it as you can so quickly.
I loved the architecture of the Camino Real hotel. It was quite stunning for a hotel built back in 1968!!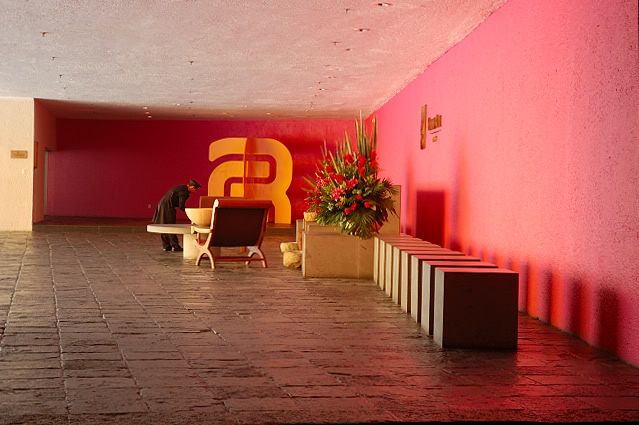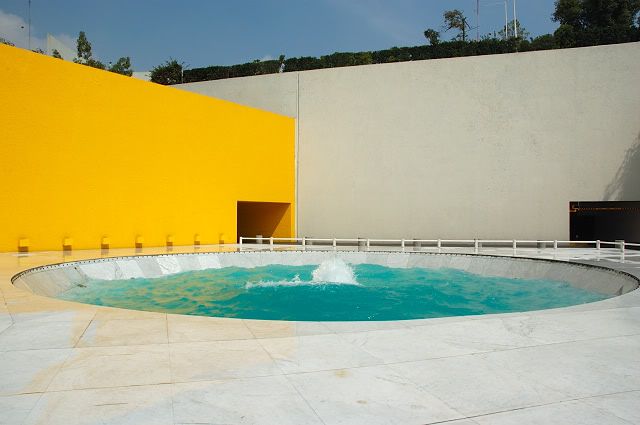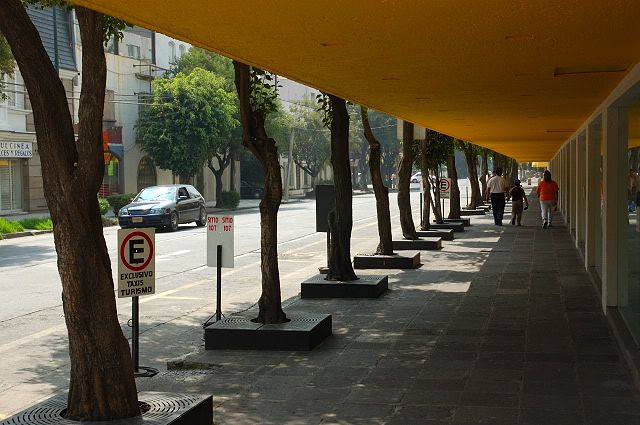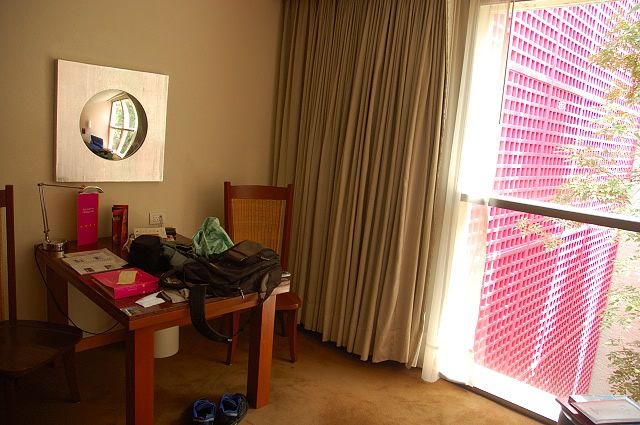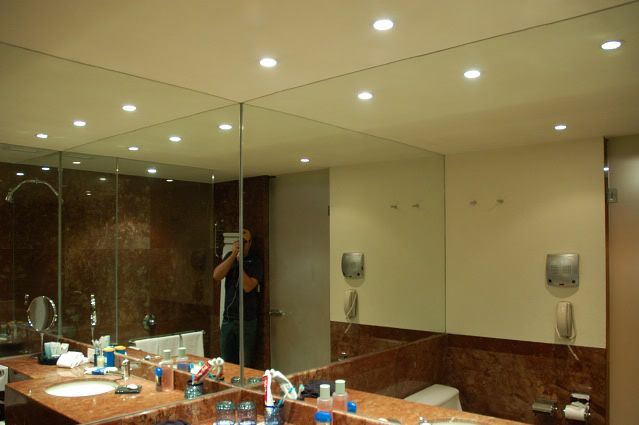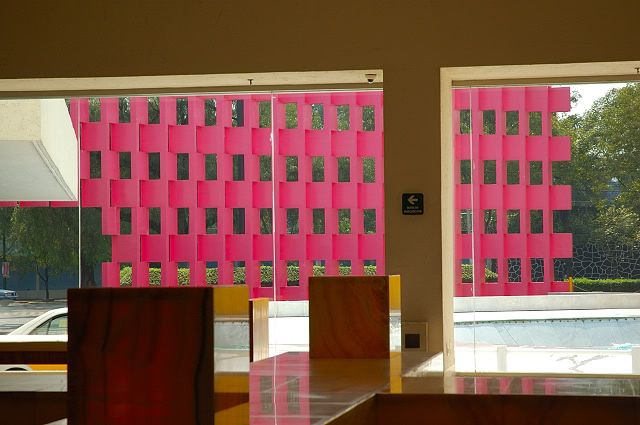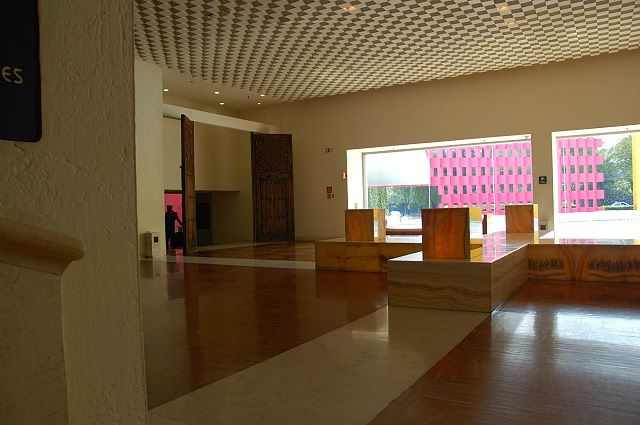 While in Mexico City my friend and I visited Chapultepec Park and had a good time there. We visited the Castle as well as the Anthropology Museum. The views from the Castle were stunning! You really get a good idea of how large Mexico City really is. I didn't tell my friend this, but I didn't want to leave. I was having such a good time that day in the park. I wish I could have stayed longer, or even visited the zoo there. Here are some pictures…
Walking up to the Castle...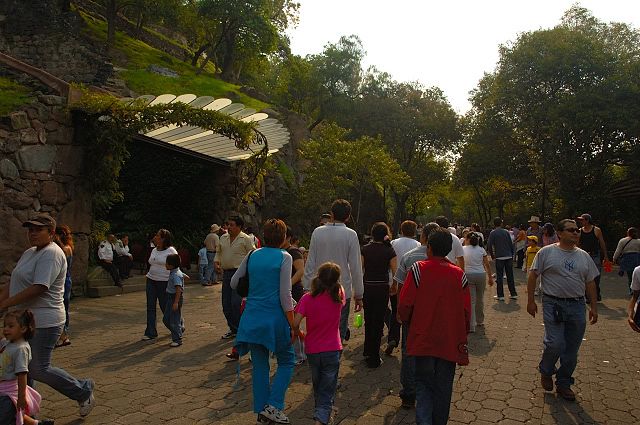 View from the Castle...
Tallest building in Latin America...
We went down to this lake after the Castle, it was nice...
Walking to the Instituto National de Antropologia e Historia...
Cool fountain...
Driving back...
My last night in Mexico City made me remember a saying… "being there is everything." I'll never forget what a great time I had…It was truly a trip of many firsts.
Delta Air Lines
September 18, 2006
Flight # 252
Route: MEX-BMH-ATL ( - DIVERSION - due to low fuel/weather)
Aircraft: 737-800
Duration: 5:15
I woke up on Monday morning to another sunny day in Mexico City. I packed up the last of my things and made my way to the lobby to check out. I racked up a lot of charges from the internet café apparently, lol. I should have just taken my laptop, but oh well.
I took a cab outside of the hotel to the airport. I was surprised there really wasn't much traffic at all on the way to the airport. It only took about 20 minutes to get there from the hotel in Polanco.
After arriving at the terminal (departure area F?) I checked in at the Delta counters. There was virtually nobody there, but I guess that was because I was a few hours early. Before I could actually check in my bags were screened. It made me wonder why isn't this done as much in the US?
Anyway, I made my way to the gate area to wait for my flight. I got a little bored while waiting so I bought a National Geographic and sat down with that for a little while. I even managed to find some coffee for my dad in the duty free shop. I then found a nice spot to sit down in near the end of gate 19, which gave some pretty good views of arrivals into MEX. I even got to see an Iberia A340!! In the distance I could even see a silver and red 737-200 parked, which I believe was Republica?
Boarding was announced at 15:10 that afternoon, and we were soon on our way to Atlanta…or so we thought! We taxied out to the runway and I took a few shots along the way…
The takeoff roll was a bit long, but it was still very nice! It was however sad to see Mexico City fade away behind as we ascended into the clouds above.
I put on my iPod and listened to some tunes for a little while before lunch was served. This time I opted for the pasta, thinking it was the safe choice, sadly I was wrong again. The pasta was really nasty, but at least the salad was ok.
This was my last glimpse of Mexico…
The flight got very interesting at this point. We were over Georgia somewhere, and it was very cloudy and turbulent. We were flying in clouds most of the entire time we were circling before arriving into Atlanta. The pilot instructed the passengers and flight attendants to be seated because it was going to get pretty rough. It did for a little while, but then it subsided. We then continued to circle and circle and eventually the pilot announced that we had to divert to Birmingham, Alabama due to the weather in Atlanta still being bad and our low fuel situation.
Immediately after the pilot announced his intentions to divert the plane suddenly descended very rapidly and we were on the ground in less than 10 minutes in Alabama. Once we were on the ground we were told that we had to park in a remote area of the airport to be refueled since we were an international flight. We were not allowed to leave the plane, but the crew decided to put on another movie in the meantime as well as pass out small bottles of water...
I saw a few other Delta diversions come into Birmingham as well, even a 767-300 which parked next to us.
Getting more fuel to get to ATL...
The pilot came on after we got our fuel and announced we'd be heading to Atlanta shortly. Sure enough we were only in Birmingham for maybe 45 minutes and we soon made a short 30 minute flight to Atlanta.
We arrived into a wet Atlanta at gate E35. It was now 22:00 and I was wondering if my connection flight to Boston had departed yet or was delayed or even cancelled. After clearing immigration (thanks for the stamp Atlanta!)…
Delta Air Lines
September 18, 2006
Flight # 1578
Route: ATL-BOS
Aircraft: 737-800
Duration: 2:05
I soon found out that my flight to Boston was delayed until 23:26. What's even stranger is that my flight to Boston was on the same plane that took me to Atlanta from Mexico City! I found this out because the flight to Boston was leaving from the same gate in Atlanta from which we arrived. I also talked to a lady at the gate in Atlanta who told me that the flight was delayed because our flight from Mexico City was diverted and they were waiting for the plane to come in from Birmingham.
Here's a shot of the Atlanta Airport E Concourse…
Our flight didn't exactly leave at 23:26. It was more like after midnight since we were waiting for a crew to come in from another flight to fly our flight up to Boston. The flight from Atlanta was relatively calm. Most people just slept on the flight it seemed. I was wide-awake the whole time staring up into the clear starlit sky. It was a good time to do some thinking…
As we began to descend into Boston I noticed that we were flying right over PVD !!! 15 minutes later we would be arriving onto runway 33L. The worst part of traveling always is coming home!
At 2:47 in the morning Logan Airport is quiet...
I have to say that I was very impressed with the service on Delta. Mexico City also gave me memories that I will never forget. I hope you all enjoyed this trip report and be sure to leave some comments and all…