Here it goes... my first trip report...
This is a summary of my (quick) trip to Porto and Lisbon, Portugal departing on 7/15/06 and returning on 7/18/06.
I find that part of the enjoyment of flying is planning how to get there. For my trip to Portugal, I did a lot of research on the internet to explore the various options and prices. I have "Chairman" status on US Airways so I wanted to fly on them---or at least a Star Alliance carrier so I could earn miles towards keeping my US Airways status. This was a business trip and my company will pay for business class on European flights. US Airways offers a seasonal flight from Philadelphia to Lisbon on a 757-200 that has two rows of "first class" seats. This aircraft is typically flown on domestic and Caribbean routes and the seats don't recline like typical first class or business class seats that you would find on transatlantic flights. I researched the internet and found that TAP Portugal was offering a special $1,880 round trip ticket in their "Top Executive" business class. Their website includes a multimedia presentation that details the experience of flying on TAP in business class, including check-in, the lounge, food, cabin, the seats, etc. I found that they go into much more detail than most other airlines do about their business class experience. I was particularly interested in the description of their "Italian designed" seats that seem to recline to a semi flat position and included individual video screens. Since they are part of the Star Alliance, I decided to book my travel with them.
I arrived in Newark Airport about two hours ahead of my flight to Portugal. There were only a few passengers at the counter and check-in went very quickly and smoothly. TAP does not have a club at Newark Airport, but I was given an invitation to the Virgin Atlantic Club instead. During the day, the Virgin Atlantic Club is contracted out by other airlines including Alitalia and El Al so it was very busy. The Virgin Atlantic flights don't leave until later in the evening so the service was not the typical Virgin Atlantic club service that I have heard about (meals, snacks, etc.). Basically all that was offered were drinks and chips.
After spending an hour in the club reading emails, I headed down to the departure gate. The club is in front of the security area so I allowed extra time to make sure I made it through security with plenty of time to board. The gate area was extremely crowded with passengers waiting for flights on other carriers that blended together. For my flight, all classes boarded through the same jet way. The TAP gate agent offered preboarding for families and others who needed assistance. It was as if someone yelled "GO!" because everyone rushed to board. It was a free-for-all at that point with very little order in the boarding process---every man for himself!
The aircraft was a fairly new Airbus A330 with the new award-winning TAP livery that is modern and very pleasing to look at.
View Large
View Medium


Photo © Carlos A. Morillo Doria
To my disappointment, once I boarded I found that my aircraft did not have the special "Italian designed" seats as featured on their website. Rather, they had the traditional business class seats that don't fully recline. (After returning home, I checked the website and the seats are available only on A310s and A340s. They don't make it clear that these seats are not available in Top Executive class on all aircraft.)
The Top Executive class cabin was full as several charter flight attendants that were headed to the Azores to start a flight were upgraded to Top Executive. Passengers were offered a preflight drink of water or orange juice. Soon, we were taxing to the runway and took off to the South over the Atlantic Ocean.
Almost as soon as we got off the ground, the flight crew began preparations for dinner. A dinner menu and separate wine list were handed out.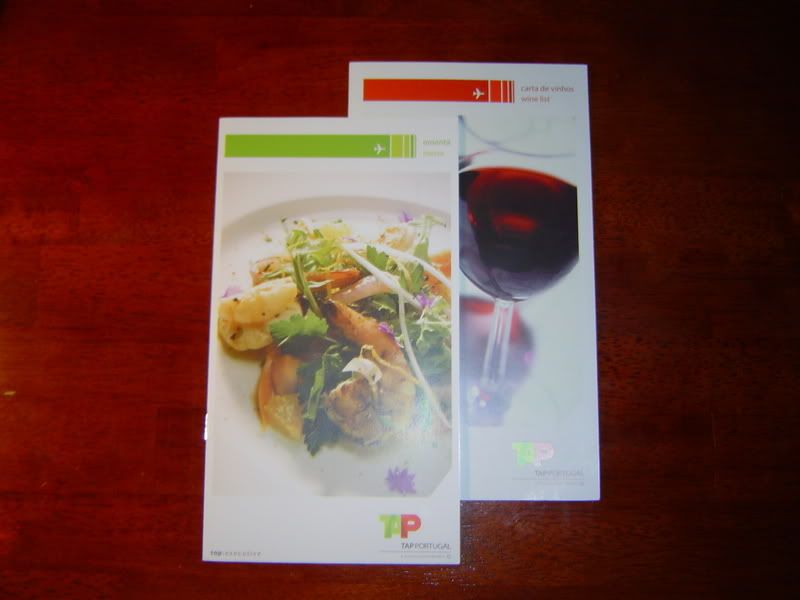 While I don't drink, I was impressed with the wine list featuring over 11 varieties of Portuguese wine including two sparkling wines, a rosé, three white wines, and five red wines. They also served Portuguese brandy and port wines. The drinks were served from a large cart where the wine was featured. Very impressive
The dinner menu consisted of the following:
Appetizer (choice of)
Roasted Red Pepper Soup
Seared Shrimps with Jicama Salad
And Seasonal Salad
Main Course
Grilled Beef Filet with Portobello Demi Roast Potatoes and Vegetables
Sesame Crusted Mahi with Grilled Pineapple
Thai Grilled Chicken Breast with Fried Rice and Vegetables
Cheese Manicotti with Marinara Sauce
Dessert
Selection of Portuguese Cheeses
Chocolate Mousse
Fresh Fruit
I couldn't make up my mind on the appetizer, so I asked if I could have both the soup and the shrimp. The flight attendant gave me a curious look and then gave me both. The shrimp and soup were excellent! The presentation could have been better as the cold plates were served with plastic wrap still attached to the dishes. For the main course I ordered the Filet of Beef. I was disappointed that the dinners were served from a cart that was wheeled down the aisle. It sort of cheapened the experience. Next they brought dessert. I asked for both the cheese and the chocolate mousse. Again the flight attendant gave me a curious look and gave me both! Hey, I want to experience it all!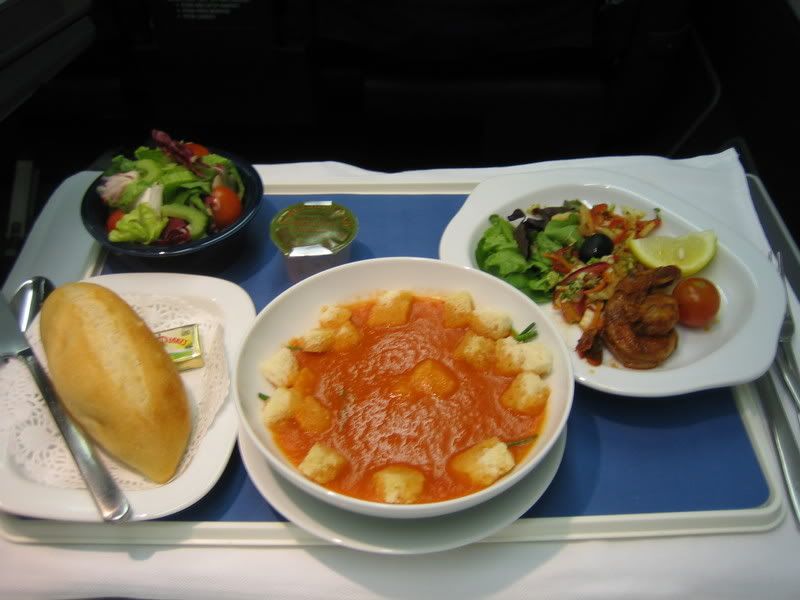 The food and service were both good although I did feel like the flight attendants were rushed to get dinner served and things cleaned up. After dinner, I reclined my chair (not as far as the "Italian designed" chair I am sure) and dozed off.
It was just before dawn as we approached Lisbon. I woke up too late for breakfast and wasn't offered anything as the flight attendants were rushing to secure the cabin. We flew low over the center of Lisbon as we approached the airport. The mix of early dawn and city lights was absolutely stunning. Lisbon is truly a beautiful city. Within a few minutes we were on the ground.
After landing we taxied to a large loading and unloading area with about 20 or 30 other jets. Most of the TAP flights are accessed through an airport bus system called "Ground Force" that provides transportation to the main terminal. We walked down the steps and into the bus for a five minute ride to the terminal. Customs was a bit confusing, but got through without problems. As I was connecting to a flight to Porto, I had to go through security again. I have flown a lot and I have to say, this was the most pleasant experience I have EVER had going through security. It was very civilized and unrushed with a friendly security guard to assist me with putting my bags on the conveyer, taking out my lap top, and to check my passport and boarding pass. There was another guard on the other side who helped me take my bags off and repack my laptop computer and made sure I had everything and directed me to my connecting gate. Everyone in security was friendly, smiling, and extremely helpful... and this was at 7:00 on a Sunday morning! TSA could take some notes.
I found my connecting gate and within a half hour boarded another bus to take me out to my flight to Porto. This time, the aircraft was a fairly used A319. Business class on an A319 has the same 3-3 configuration as coach with just a bit more leg room. All the seats on this aircraft were leather. There wasn't any food offered on the flight, only orange juice. The flight was a short half hour and we arrived in Porto at about 8:30 AM. The Porto Airport was new, efficient, and had jet ways--a big contrast from Lisbon.
Return trip...
The night before my return flight I stayed at the Raddison Hotel close to the Lisbon Airport. It is also close to the subway station so I was able to get out and see a bit of the city during my rushed trip. The Raddison also has a shuttle to the airport which makes it very convenient. I got up early and enjoyed one of the better continental breakfasts I have had. I took the shuttle to the airport (about a 15 minute ride) and arrived two hours before my flight. I checked in and was given an invitation to the Top Executive lounge. The entrance to the lounge was hard to find. I had to ask several people where it was located. The entrance is located after you pass through security, then you go up an escalator, you pass the McDonalds and it tucked between some duty free shops, down a small corridor. It was smaller than it looks on their website. The food selection in the club was fairly limited, but it was still a quite place to sit away from the duty free crowds and wait for the flight (I did end up going to McDonalds and got a McFlurry to tide me over until my flight!).
Even though my bags had been screened and my passport was checked at security, as I entered the gate area both were checked again and I was selected to have my bags searched. As I mentioned before, most TAP flights are accessed via a bus. Again, families and passengers needing extra assistance were boarded first. And again there was a mad dash to board the bus to the plane. It was announced that Top Executive class would board the buses last. A few Top Executive Class passengers attempted board early, but were told they couldn't board yet and were turned away. I guess this is so we could "relax" in the boarding area and not have to wait on a bus, but it was somewhat confusing. I finally boarded the bus and took the five minute ride to the plane. Again, it was an A330 so I still was not able to experience those "Italian designed" seats featured on the website. This time there were two sets of stairs---one to coach, the other to business class. There was some light rain so I hurried to get on board. The Top Executive class cabin was almost empty with less than ten passengers (coach was full). Once the flight was boarded, we taxied and took off for the trip to Newark. Within minutes we were over water and the flight attendants began the preparations for lunch.
A lunch menu and a wine list were given to each passenger. The lunch menu consisted of the following:
Appetizer (choice of)
Cauliflower Soup with Cottage Cheese and Coriander
Mushroom Salad with Asparagus and Mint
And Seasonal Salad
Main Course
Partridge Pie (that is really what it said)
Salt-Cod with Traditional Portuguese Cornbread
Caramelized Pork Tenderloin with Potato Gratin
Penne with Sautéed Green Asparagus
Dessert
Selection of Portuguese Cheese
Pumpkin and Lemon Tart accented with Aniseed
Fresh Fruit
Neither of the appetizers sounded appetizing, and I ordered the cauliflower soup. It was actually very good. The main course selection also didn't appeal much to me either. The flight attendant mentioned that they didn't have the partridge pie but had a beef dish instead. I gladly took the beef dish. Again for dessert I asked for, and received both selections. The pumpkin and lemon tart was especially good.
After lunch, the shades were drawn and most people settled back for a rest. I ended up working on my computer for about an hour and sleeping for about three hours as the movie choices weren't very good.
Before landing we were served a snack. At first glance I thought it was a ham and cheese sandwich, but it turned out to be a smoked tuna and boiled egg sandwich. My first bite was my last!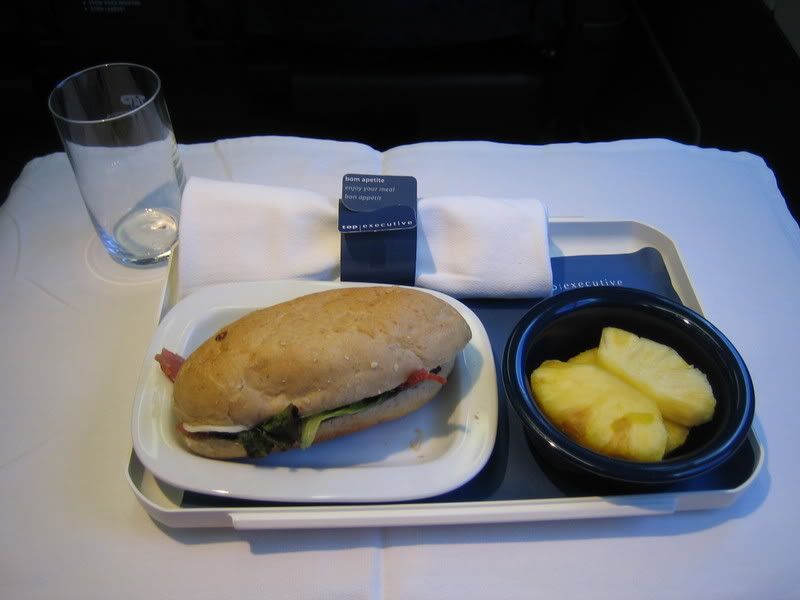 Between lunch and the light snack, there wasn't any other food offered or available (which one would expect---especially in business class)... not even a pretzel!
The return flight was smooth and relaxing. One of the highlights of the flight was our flight path over Sable Island about 130 miles ESE of Halifax, Nova Scotia. It is about 25 mile long by about a mile wide at its widest point. It is basically a huge sandbar in the middle of the ocean and is notorious for causing many shipwrecks over the years. I once lived in Nova Scotia and have heard a lot of tales about this island, and so seeing it from 35,000 feet was a treat.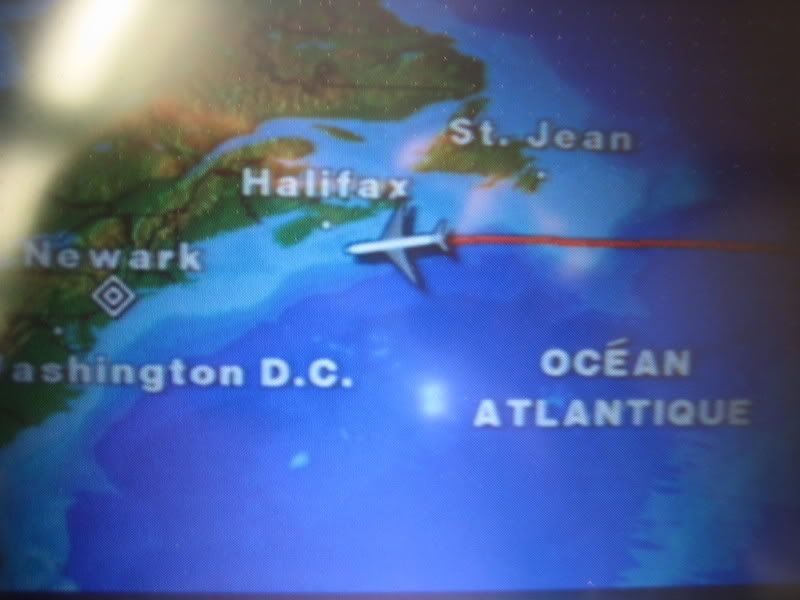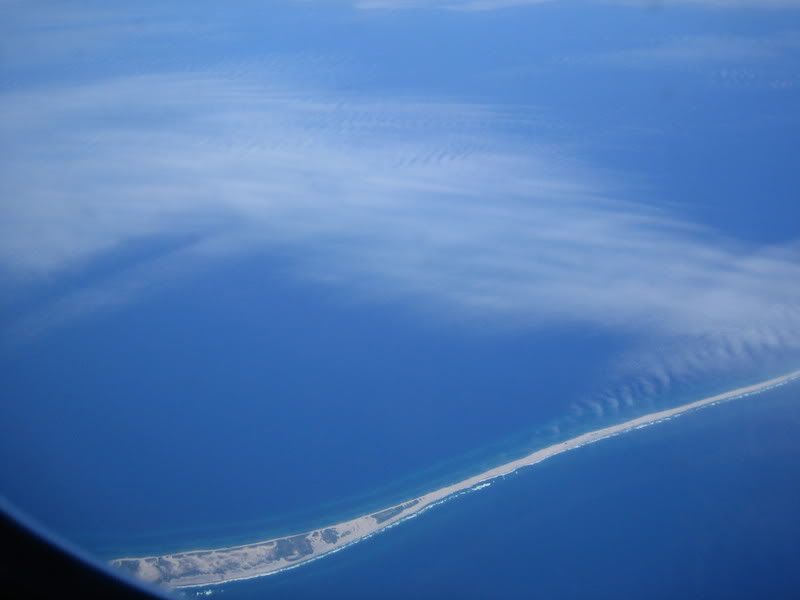 The rest of the trip was uneventful. As we approached Newark, we took a large circle over Long Island and New York City to the North and landed in Newark.
Portugal is a beautiful country and would love to return when I can spend more time. Would I fly TAP again?... maybe, but I would make sure I booked Top Executive on an A310 or A340. Also, the Star Alliance system needs some work as my miles still have not posted to my US Airways account. I called TAP and they are working on it, but make sure you keep you boarding pass to prove you were on the flight!
Rating
Food: 7.5 out of 10 (if you don't count the smoked tuna and boiled egg sandwich)
Wine Selection: 11 out of 10 (even though I don't drink)
Seat: 6 out 10 (it wasn't the "Italian designed" seat)
Service: 8 out 10
In-flight Entertainment: 5 out of 10
Lounge: 7.5 out of 10