PART 1
So, I decided it was time I took to the skies again, having not flown for a seemingly endless 14 months, since my 5 days in Oslo last summer. I was thinking of maybe taking just a few days out, somewhere in Europe, but I didn't really know exactly where I wanted to go! Therefore, I did a thread in Non-Av, asking for any ideas and recommendations of where I could go for a short weekend break. Many ideas were suggested to me, Geneva, Zurich, Copenhagen, Stockholm etc. During this time I got talking to another a.net user Yirina77, who many of you will know. To cut a long story short, we got talking about places we'd been to before, and New York cropped up in the conversation. We both said how we loved the City and the atmosphere in NY, and we decided to take a trip there together.
We booked our flights for Friday 15th September to NY, departing NY on Sunday 17th September. Yirina would be flying direct from Prague with CSA, and myself on BA from LHR. I booked my flight on the monday before the flight, and in the next few days, time seemed to go by as slow as it could, which is just typical!
Anyhow, I got myself out of bed on the Friday morning at about 07:45, and did the usual, shower, cup of tea etc. I left my house at 09:30 and caught the train into London Waterloo East, before taking the short walk to Waterloo Main Station to catch my train to Feltham, where I would catch the 285 bus to Hatton Cross Station, and then the Rail replacement bus service to Heathrow Terminal 4. I arrived at Terminal 4 at around 11:30 and had a cigarette outside the Terminal, then I gave a good friend of mine Hannah (Speedbirdie) a call to see if she was going to come down to T4 for a quick drink before my flight. She was still asleep so I left her a message on her voicemail, telling her to move her arse down to T4! - After a few more cigarettes I dropped my baggage in at the 'Fast Bag Drop' desk, and asked the lady on the desk if she could tell me the registration of my aircraft, to which she answered 'G-VIIW'. - Then I went downstairs a level to the bar to await the arrival of the best looking Speedbirdie out there! She arrived just after 13:00 and we stayed in the bar for around an hour and fifteen minutes, before she buggered off back home (probably to get more beauty sleep!), and I went through to security. The queues in security were very long, but luckily were pretty quick moving. By now it was around 14:30 and my flight was showing on the board as being from Gate 24. I got to Gate 24 and there was a Triple 7 parked there, but it was 'G-YMMG'.
G-YMMG on stand 424.
I thought that this was just a late change of aircraft, and didn't think nothing more of it. I walked down to the end of the departure area and took a few pics from the window...
G-VIIL taxiing to Runway 27L for departure of BA189 to Newark.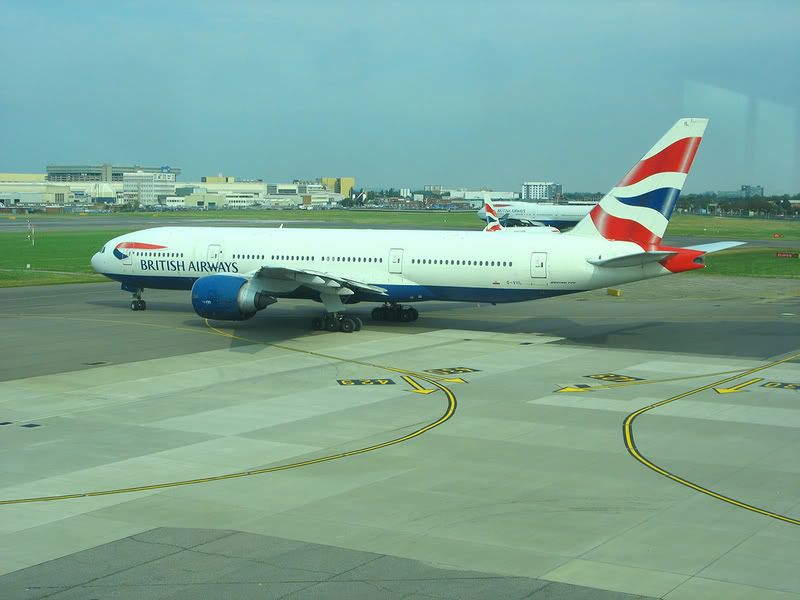 G-MEDM of British Mediterranean.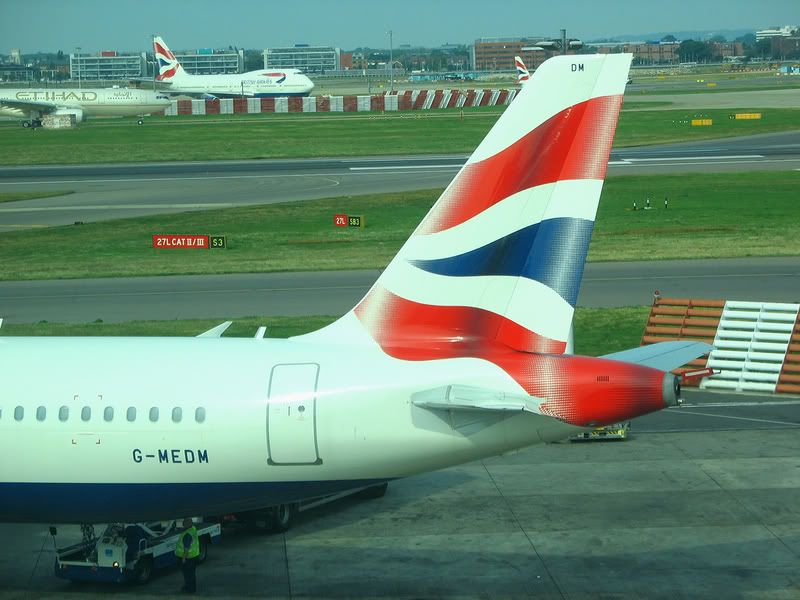 G-YMME about to commence pushback, BA145 to Dhaka.
At 14:50 we were called to board, and as usual, everyone made a dash to the desk to show their boarding passes and passports. I joined the queue and proceeded down the sloping walkway to yet more security checks, which were to be very thorough, which I guess can only be expected given the recent security issues. After I was searched, groped, rubbed, poked and prodded by some miserable old git, he said "Exit to the right and board the coach." - Coach?! - I boarded the coach and after about 5 minutes, we moved off for the 1 minute ride around to our aircraft, G-VIIW. I later discovered that the aircraft G-YMMG which was parked on stand 424 was to fly out later that evening on flight BA077 to Luanda.
British Airways 113
London Heathrow - New York JFK
Boeing 777-236ER
G-VIIW

Sched Dep LHR:
1525 GMT
Sched Arr JFK:
1800 EST
We got to India Whiskey, which was parked on remote stand 432. I stepped down off the coach and saw the might of the GE90 engines! I boarded the plane and found my seat, 28K, which was perfectly positioned just behind the starboard wing. There was still a fair amount of passengers to board, so I just watched aircraft taking off from Runway 27L. Then after about 15-20 minutes, the Captain did his pre-flight speech, stating that we would be pushing back from the stand within 5 minutes, and our flight time to JFK would be around 7 hours. We pushed back from the stand at 15:54 and as we had out safety demonstration from the cabin crew, the engines were fired up. We begun our taxi to Runway 27L at 15:58, we moved a few feet before pausing, as there was a couple of other ex-T4 departures in front of us. After 3 or 4 minutes we moved forward a bit more, before again pausing. We eventually got onto the Runway and took off without any pauses. We were airborne at 16:07.
I did a video of the take off, but have yet to edit it and resize it, of which I shall do in the next few days.
Approximately 5 minutes after we were airborne, the seat belt signs were switched off, and we continued our initial climb to 35,000 feet. We headed west over Swindon, Bristol and to the southern most parts of Wales. I took a few pics during this time...
The Southeast Irish coastline.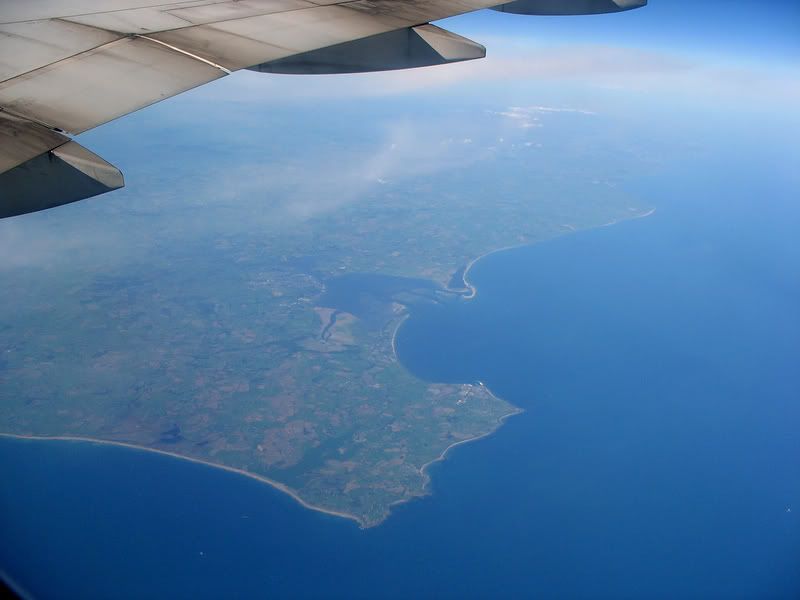 ...as we continued west, over Southern Ireland, we were served with light refreshments, which consisted of Sea Salt and Cider Vinegar flavoured Pretzel Nuggets, and that long-awaited can of Carlsberg!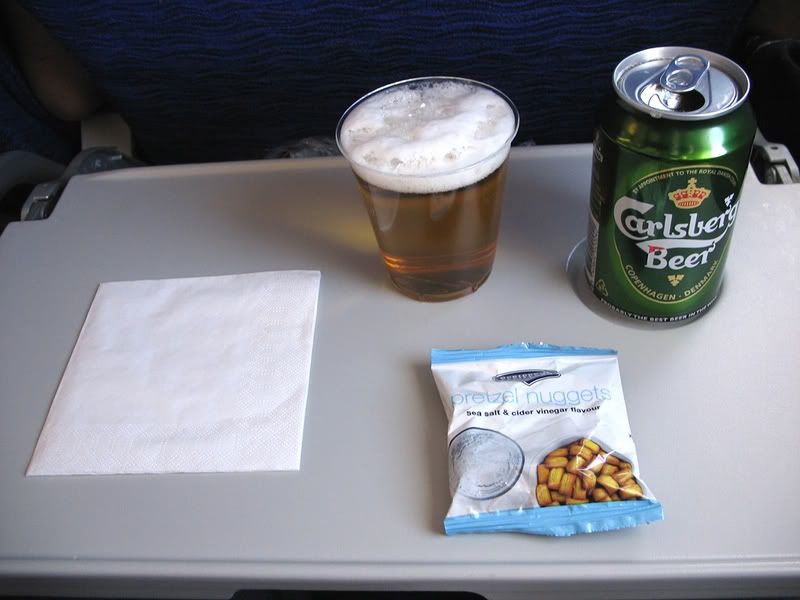 IFE... (Apologies for the blurryness, it was a bit turbulent at this point!)
The last bit of land on the West Coast of Ireland...
...then we hit the Atlantic Ocean. (It's under that cloud cover, I assure you!)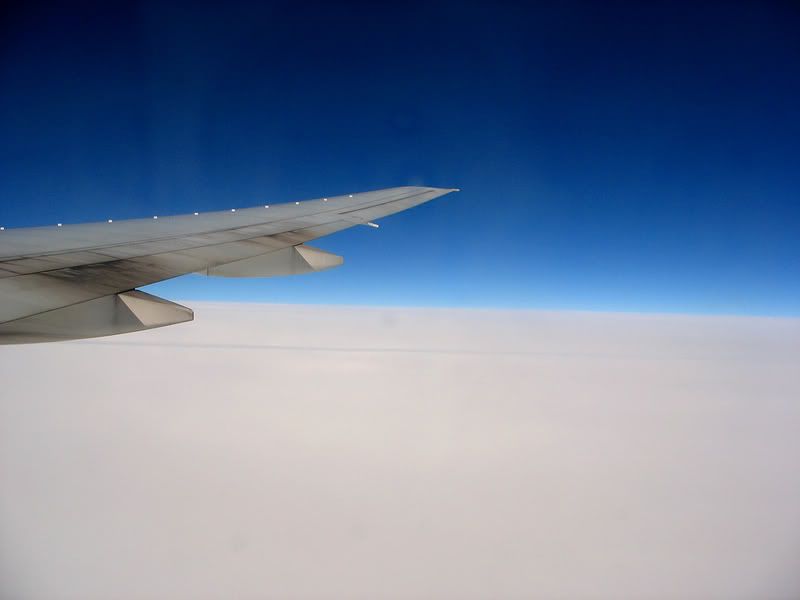 After a further couple of hours, we were served with dinner. The choice was Chicken Casserole or Beef. - I opted for the Chicken Casserole, which was delicious!
The next few hours were uneventful, with no turbulence to report on a very smooth Atlantic crossing. By now we were at 39,000 feet, with a Ground Speed averaging 500mph.
Bangor Airport, Maine.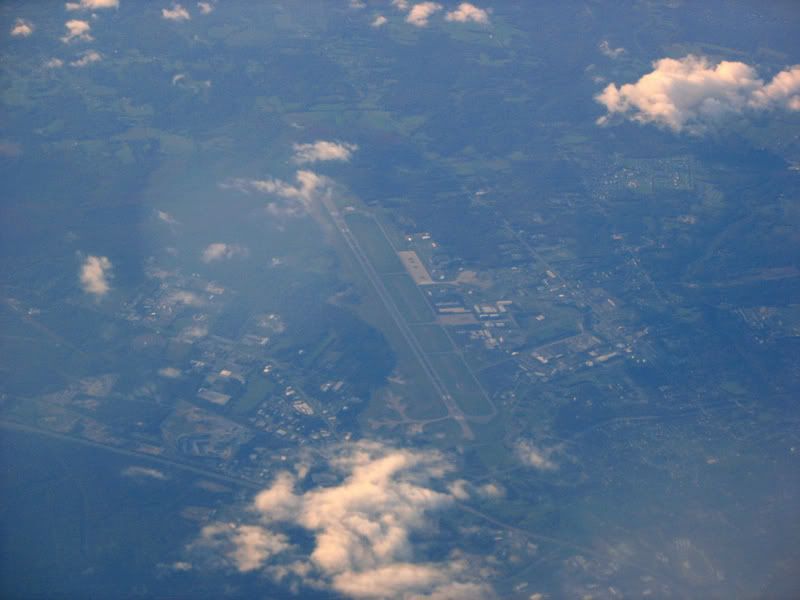 For the last hour of the flight, we climbed up to 40,000 feet, and shortly after this, the Captain made an announcement stating that we would be rerouted into JFK as there was some thunderstorms in the New York area, but it shouldn't add much more time to our journey, with our expected arrival into JFK at 18:12 EST. We begun our descent from FL400 and it wasn't long before we descended into mist.
We eventually got down to about 6,000 feet after a lot of holding to the north of New York, and we broke through the mist just in time to catch a picture of our flight overflying JFK Airport...
We continued west of JFK before beginning our final approach for landing on Runway 04L. Here are some approach shots...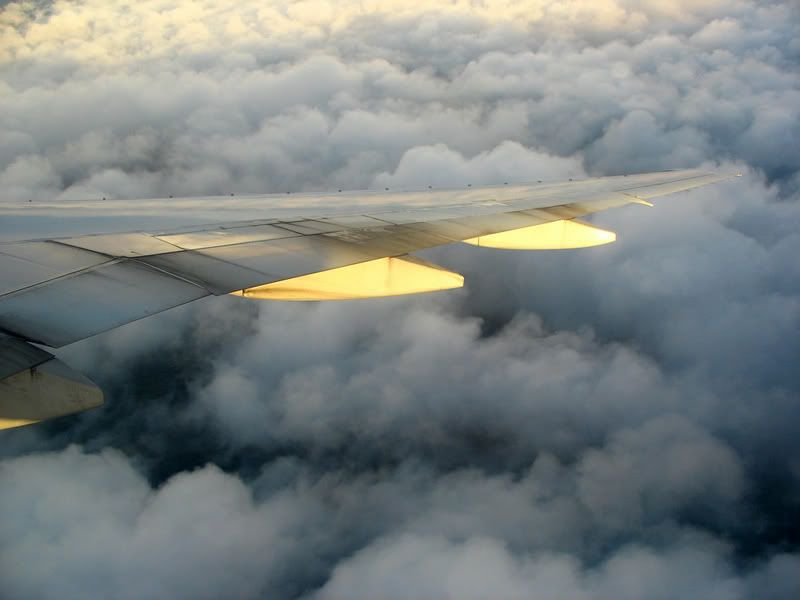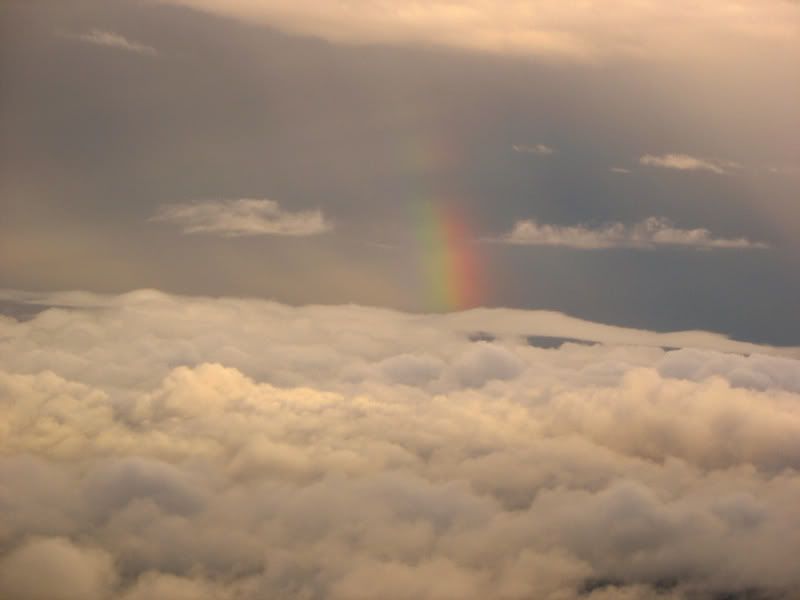 I made a video of the landing at JFK, but as above, I shall post it in the next few days.
We touched down on Runway 04L at 18:32 EST, which meant a flight time of 7 hours, 25 minutes. By the time we got to the end of the runway and begun our taxi to the stand, the clouds had burst open and it was pissing hard with rain! It was a fairly long taxi round to Terminal 7, and we paused just outside the terminal for a few minutes, before the Captain announced that he was going to shutdown the engines there on the taxiway and that we were to be tugged to our stand as there was some width restriction thing going on. Approximately 20 minutes after landing we were given clearance to depart the aircraft and head up towards immigration. After that was done, I collected my baggage, after a fairly long wait. I then went through arrivals to meet up with Yirina, which was cool! - We'd decided that we wouldn't book into a hotel beforehand, and that we would go to the Ramada Hotel in JFK, as we would be able to get a hotel room without any problems...WRONG! The Ramada was fully booked this evening, so after a few minutes of deliberation we decided to call a number of other hotels in the JFK area, which was a complete waste of time as they were all fully booked! - Panic is now setting in!! - We ended up going to a desk in the terminal and speaking to a rather attractive young lady. I asked her if she could make some enquiries on our behalf for any hotels we could stay in. She said that the only hotel with available rooms was called the 'Coliseum Motor Inn' which was on Long Island. We had no choice but to take it. The taxi to this place cost $85, and was about a 30 minute drive.
We got there at around 22:00 and after a few minutes of taking some stuff out of our bags, we pretty much collapsed and went to sleep, as we were both extremely tired! - I did however, take a quick picture of the room before sleep...
Next morning, we got up at around 08:00 and had a shower etc, before setting off for a day out in NYC. We took a bus from just outside the hotel to Hempstead.
This is HEMPSTEAD! Which is the end of the line on the Long Island Rail Road.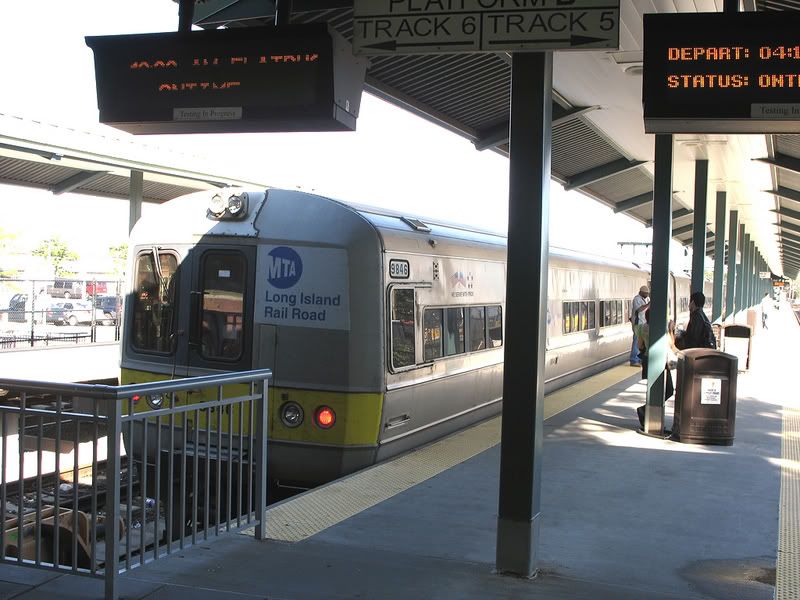 Continued in Part 2…