PART 4
British Airways B763 G-BNWI, operating the MAN-JFK-MAN flight.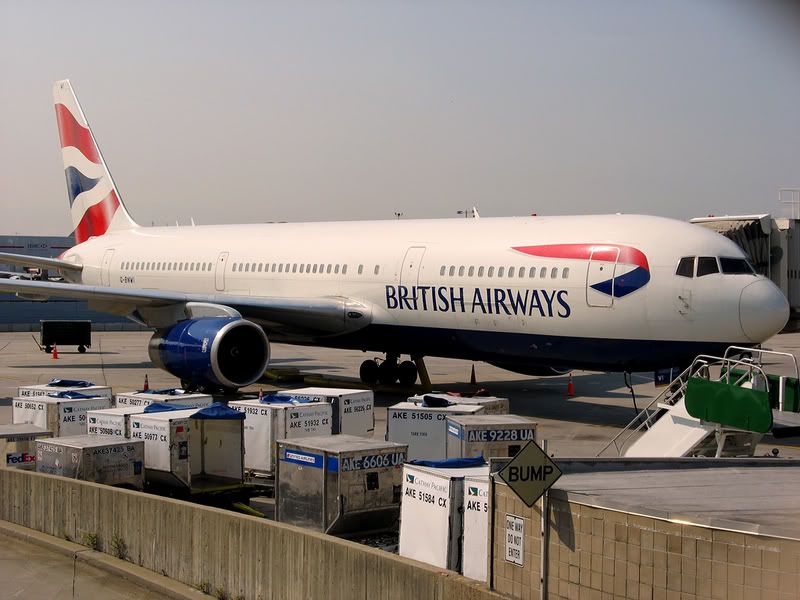 Hmm...wonder what she's drinking?!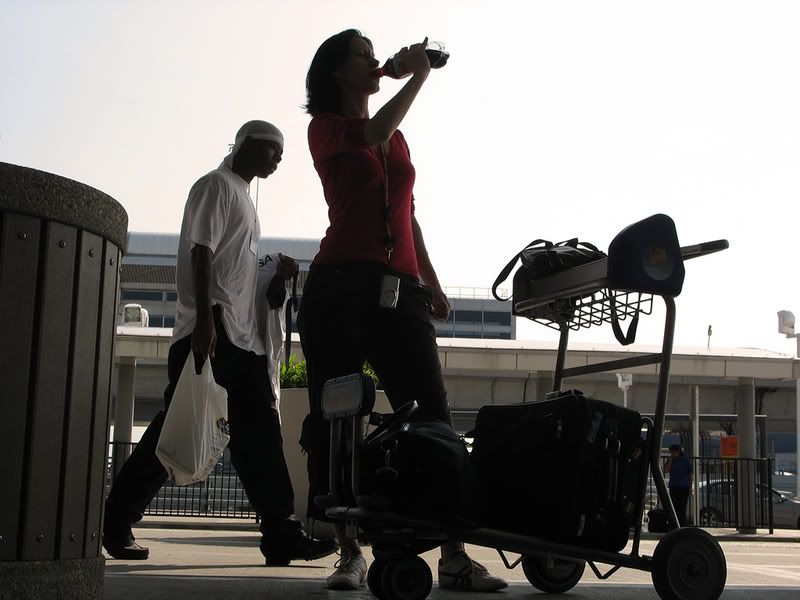 This one was mine!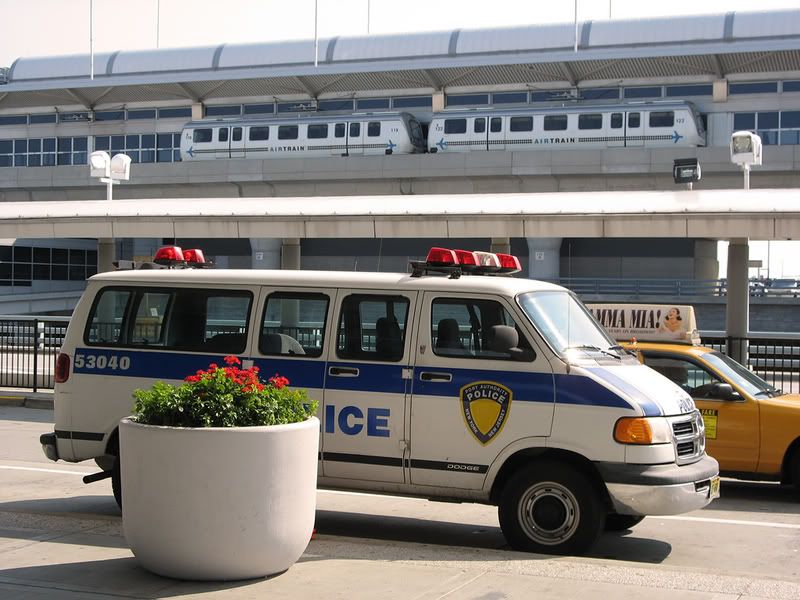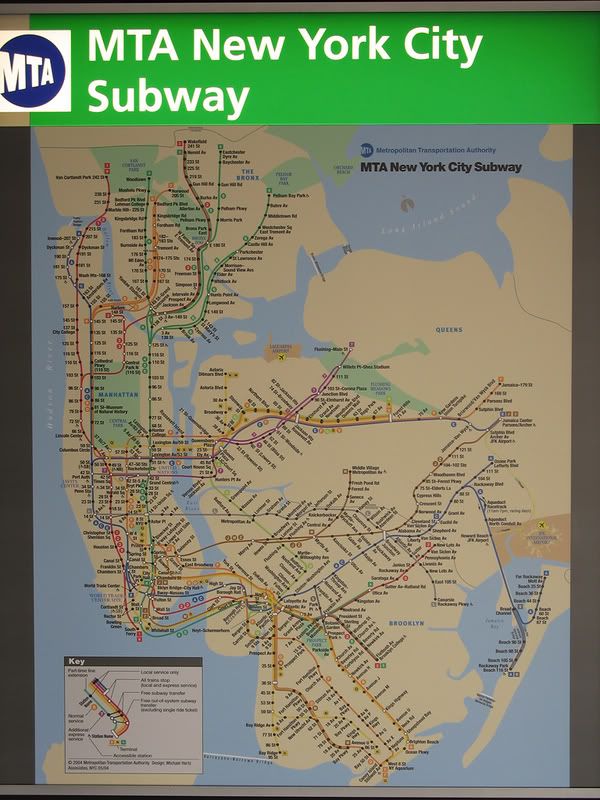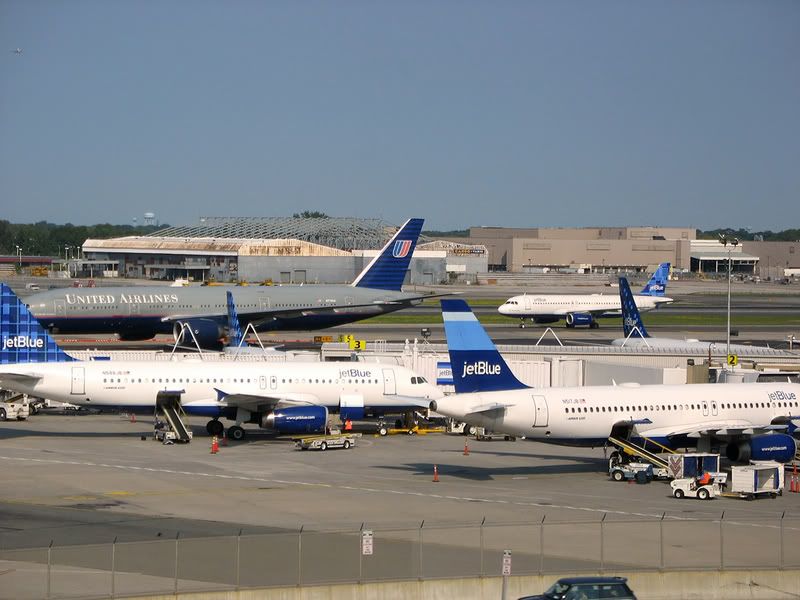 New York City can be seen in the distance.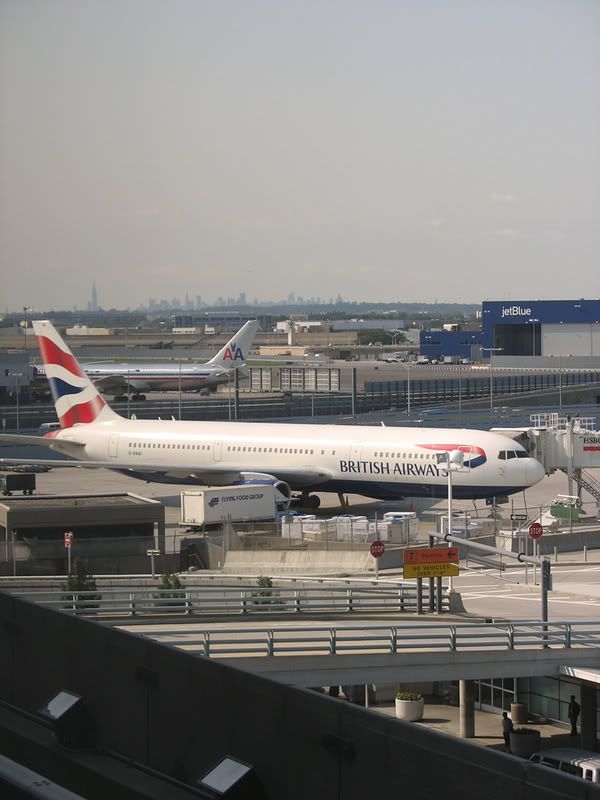 CSA Airbus A310 OK-WAB, which was to be Yirina's ride home!
By now the time was 17:00 and it was time for myself and Yirina to go our separate ways. - She got her boarding pass from the check-in desk, seat ZZZZZ! She loaded her baggage onto the security screening belt...or rather it was brutally thrown on there by a security woman! - It kept on falling down off the upward travelling belt, so the woman opened it up to take a look inside. - Heaven knows what she must have been going through her mind when she discovered 9 million bottles of different flavoured coke inside!!
I walked downstairs to departures with Yirina, and we said our goodbyes!
Then I headed back upstairs to the Airtrain to make my way over to Terminal 7, which is where BA operate from at Kennedy. I got to T7 and had one last cigarette before my flight. It was now around 18:00 so I went through security, with great ease I might add, no body searches whatsoever, and up to the departure lounge. My flight was going from Gate 9 this evening. I had a bit of time to kill so I took some more snaps.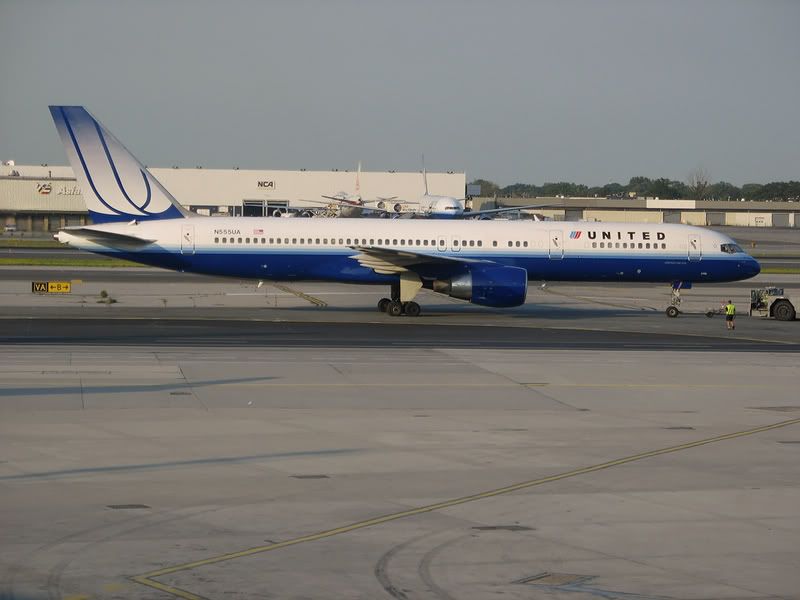 ...then this big head appeared! It was that of G-BNLT arriving from London, which was to be my ride home... my first ever flight on a Boeing 747.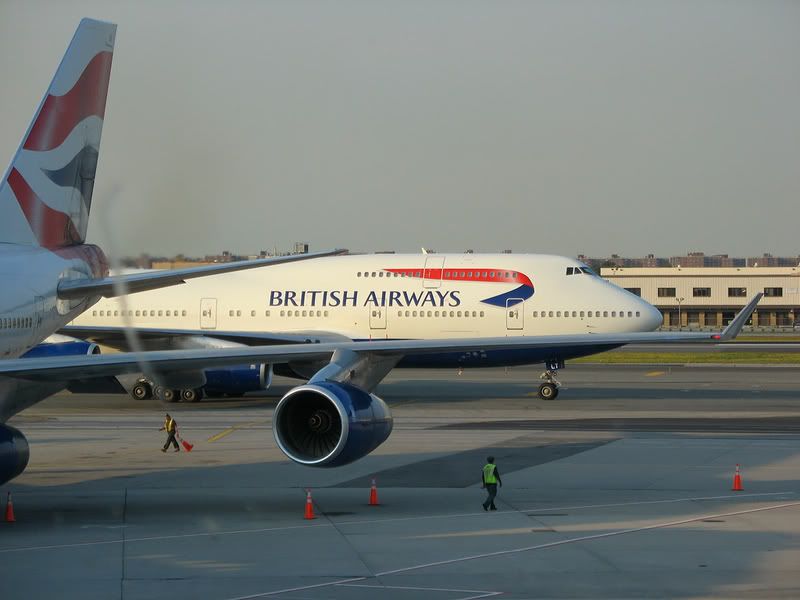 British Airways 176
New York JFK – London Heathrow
Boeing 747-400
G-BNLT

Sched Dep JFK:
1930 EST
Sched Arr LHR:
0735 GMT
At 18:50 we were called to board, and I was pretty much near the front of the queue as the plane was being boarded in sections, working from the back of the plane to the front. My seat, 46K was about 10 rows back behind the starboard wing. I watched tons of planes landing on 13L as the sun gradually set on the horizon. The Captain stated on the PA that we were to expect a flight time of around 5 hours, 50 minutes, as there would be a very good tailwind helping us along. We pushed back from the stand at 19:37, and didn't begin taxiing until 19:56. This was because, as on my arrival into JFK there was a width restriction thing going on. We pushed back and into the Jetblue terminal, sat there for a few minutes before being pulled forward and onto a taxiway, of which we remained for what seemed an eternity. at 19:56 we taxiied to 13R for departure. The Captain explained that the airfield was very busy with departing flights and it could be up to half an hour before we were airborne. We taxied slowly to the runway, with many aircraft alongside us on the adjacent taxiway... Aer Lingus A330, Aerosvit B763, Delta B752, some American Eagle jets, to name but a few. Eventually we were airborne at 20:37, with a very powerful take off.
We banked left, and left again on departure, climbing up to 31,000 feet, where we stayed for a short time, before climbing up to 35,000.
About 30 minutes into the flight we were served with a light snack, which was the same as my flight to New York...
...except I chose Stella, and not Carlsberg!
IFE:
Later on, dinner was served! The choice tonight was Beef Lasagne, or a Chinese Chicken stir-fry. - I wanted the Beef Lasagne, but that had all gone so I had to have Chinese. - But it was bloody delicious!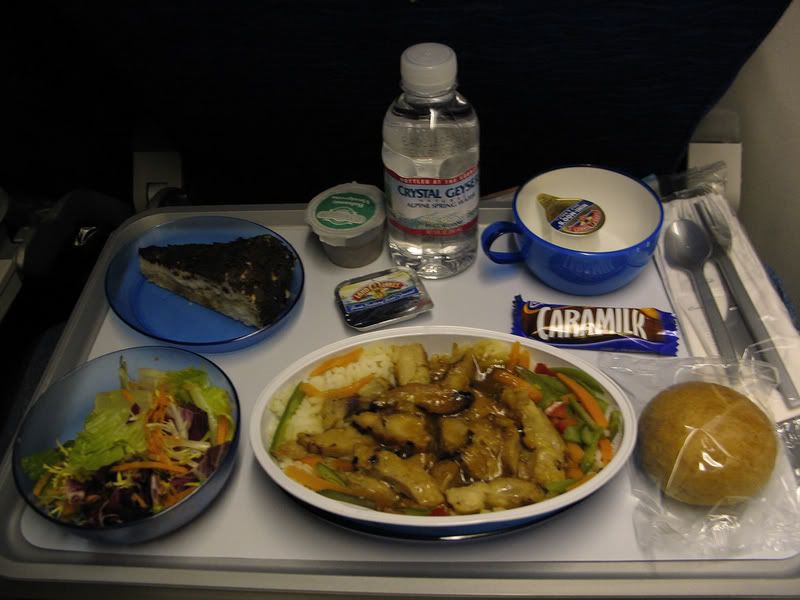 Nearing home...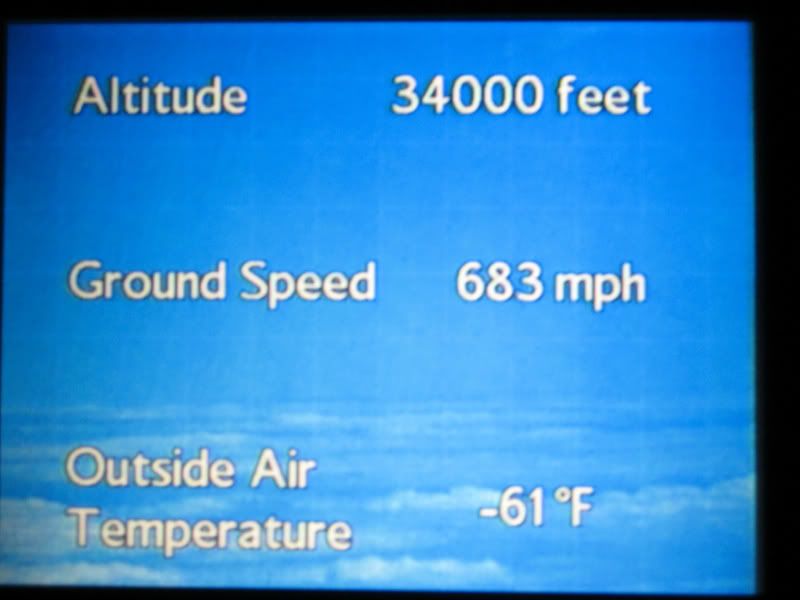 As we were passing Southern Ireland, we were given breakfast.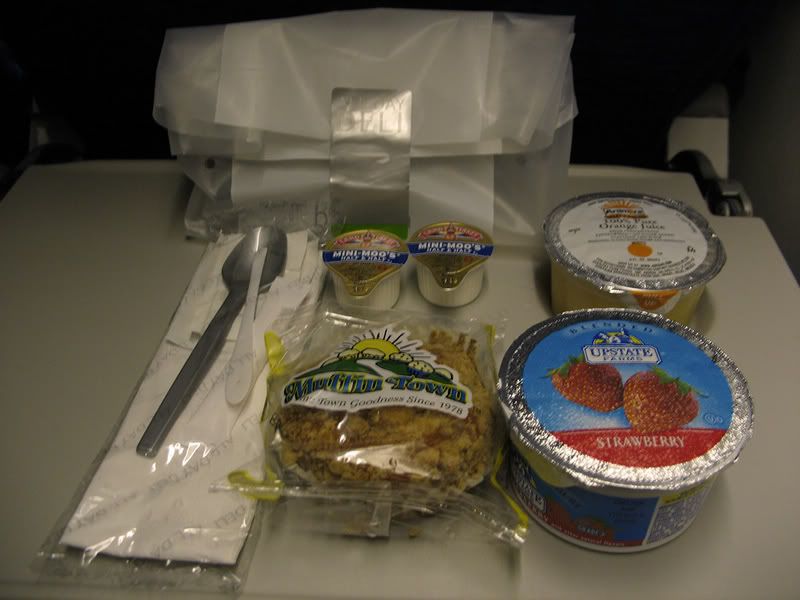 Night becoming day.
As our altitude and speed dropped, it was inevitable that we would be put into a holding pattern, on this occasion it was Ockham. We entered the hold at 9,000 feet and circled a few times until we reached 7,000 feet.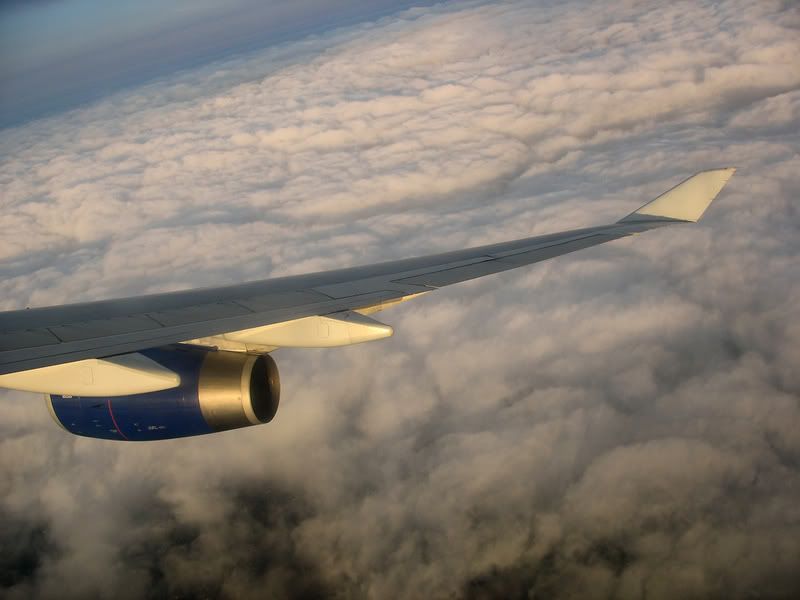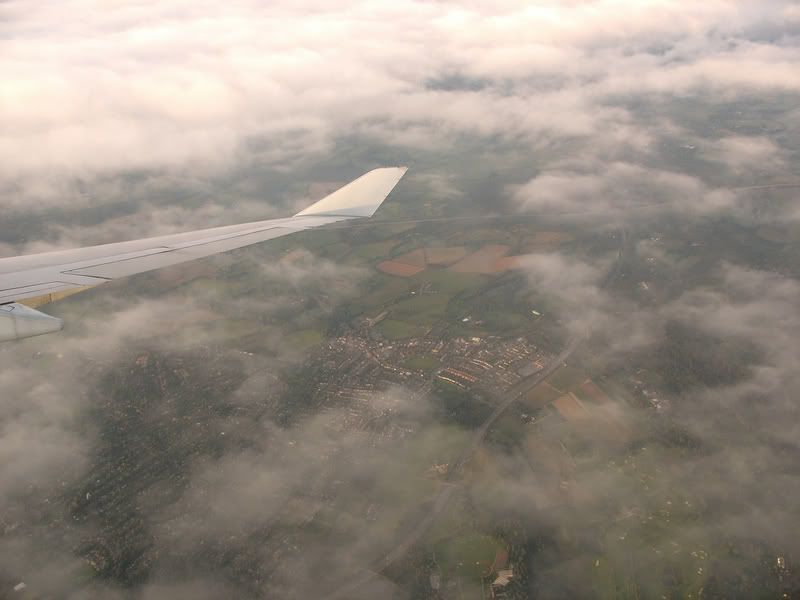 We then left Ockham at 7,000 feet and descended further and headed in an easterly direction towards the South of London. Passing over Selhurst Park (Home of Crystal Palace F.C), we turned North and NNW to establish on the ILS for Runway 27R.
That was the last air shot I took as I filmed a video of the approach and landing.
Touchdown on 27R was at 07:32, 3 minutes ahead of schedule, giving us flight duration of 5 hours and 55 minutes, and then it was a 10-minute taxi over to Terminal 4.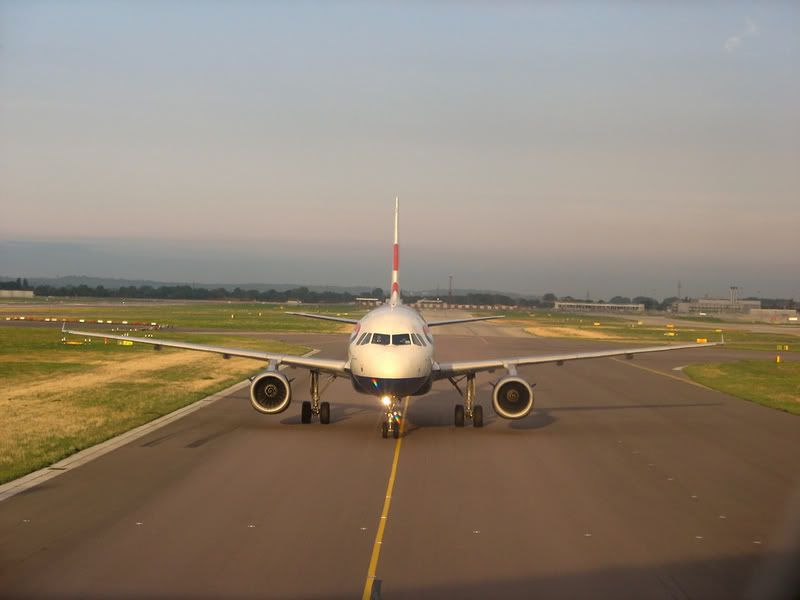 My aircraft arrived on Stand at 07:43. Shortly after I stepped off and up to Immigration and then collected my suitcase from the baggage hall. Went and changed around $180 into GBP, went outside for a smoke, phoned some friends to let them know I had arrived back home. And then made my way home where I promptly fell asleep in my bed!!!
Many thanks to Yirina, for a wonderful time in New York, and also to British Airways for providing an excellent service!
Chris