Howdy!
Upon the news of Flybe. getting its first ERJ195 I was delighted to find it was being based at my local airport- BHX first! So having keeped a close eye out at work decided to nail a flight on it, just days after it going into revenue service. This obviously meant the price of the ticket was going to be high (turned out not too be too bad at £69 one way at this late stage), so decided to see if Richard Bransons latest TV adverts about the Trains being as good as the planes was infact, in any way shape or form- true......
Date: 25/SEP/2006
Route: Birmingham International (BHX) to Glasgow International (GLA)
Airline: Flybe.
A/C: ERJ 195 - G-FBEA
STD: 0710
ATD: 0740
STA: 0830
ATA: 0833
Delay code and reasons: 81 - Slot Restriction (BHX)
Working at BHX already, being up at the crack of dawn was certainly no change for me and after turning myself from a caveman to a budding twenty-something I climbed in a taxi (the one I usually fall into wrecked after a night out on the town) and headed down the A45 to the airport! No traffic on the roads, just streets littered with drunks, chavs, teenage mums, and a queue of men who claim to be their fathers at this time of day! No home like Birmingham is there!!
£18 later, we arrive at a busy Birmingham International Airport and go straight to check in.... it was picking up but flybe. only had a queue of two people. Me and my partner jumped in line, morealess went straight to check in and was given seats 20A/B (my best mate at aviance (SOU) had assigned them for me the day before anyway) and walked away with boarding cards. We had no luggage which is something you have to pay for now with flybe, just had my small liquid-free handbag (as in small bag, not female party sized things they carry everything around in!)
I went to see my collegues in the crew room for TCX and headed through staff gate security as there was a massive queue for normal folk.... see pass does come in handy for other things than duty free! My other half went through normal security as he don't work at the airport, and I met him starbucks in arm, the other side!
With not long to go now til boarding, I just watched the action out on ramp which was your standard summer traffic, loads of ZB 321's, TOM 752/762/763, TCX752 (CG and LE), WW 735/733, LH 735/733/CR1, MYT320, FCA 752's, BE146s/DH4's and of course my sexy little new machine the ERJ 195. Stylish as it is beautiful, I have often thought about trading my human counterpart in for a 195
) Sorry Aaron, sometimes in many ways you just can't compare!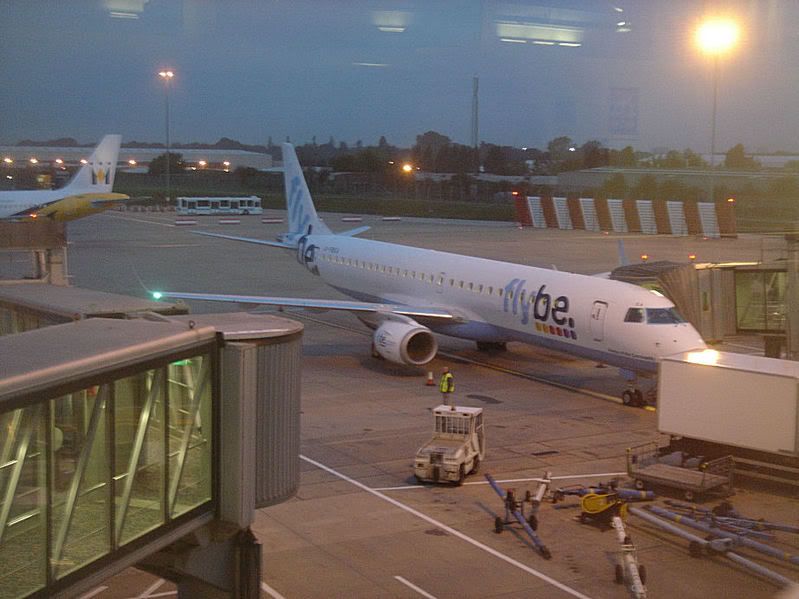 Boarding called, and we went down to gate 59 where she sat being all loaded up for the trip to GLA. You could tell the a/c was new before you even looked on ramp- the dispatcher had to keep checking everything with load control and the loaders were trying to load the wrong hold. The gate staff's jobs hadnt changed all they had to do was get the passenger missing number back to zero which wasn't too difficult as there was only 28 people onboard this flight today! I'd love a load like that on my TCX752 turnarounds! Boarding was commensed not long after being held in the lounge for a bit, and we headed down towards the sleek A/C.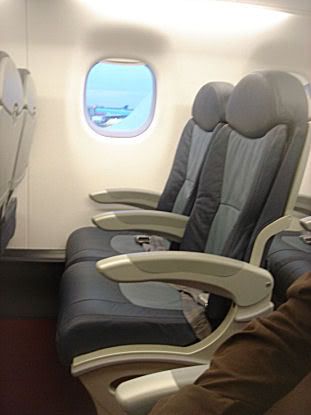 Once on, the moodiest crew member in the world told us the seat was after row 19 on the right (god what i'd do to have the extended knowledge on aviation that she's got!) and we walked, well some of us minced, down the cabin and parked in row 20. There was no passengers allocated anywhere near us so had some privacy. The other crew members, were a bit rude to be honest, more interested on talking to themselves and laughing rather than smiling and looking somewhat professional.... most of the crew were women with one man. As the fuelers were still loading they decided it would be a good idea to actually make a seat belt announcement, advising pax not to buckle up just yet and then got back to talking about the ever so importance conversation regarding the latest shinanigans in eastenders.
Pushback time came and went and with no news on a sign of movement just a stressed dispatcher on and off the radio about departure procedures and a bored crew I sat and watched some ramp action. Two WW 733's pushed and a EI320 came on stand before us and then an announcement from the flight deck confirmed we was waiting for another slot allocation before we could go anywhere.
At 0740, 45 mins after getting on and half an hour after STD we pushed bound for GLA, and this is where the 195 really came out to play! The engines started turning and the sweet sounds of this Embraer kicked up. The latest ERJ i'd been on was an AZ170 back in November last year (trip report on here somewhere) and I have always been amazed at how quiet these machines are. The safety demo was done by the unmotivated cabin crew in a prerecorded tape fashion. Tug gone, and we was away taxiing past my collegue at a TCX turnaround bound for BJV, who was waving like mad from the top of the airbridge at us - bless ya Olivia!!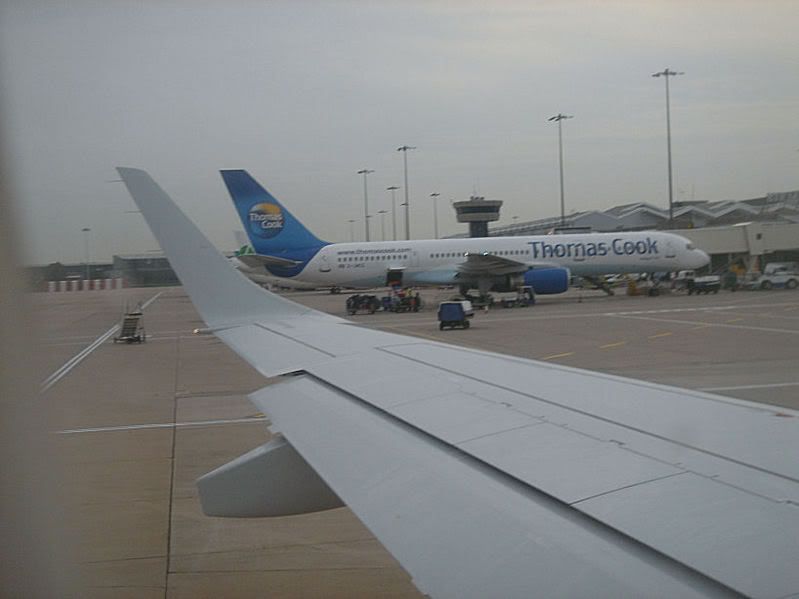 With no traffic infront of us we rolled around the TCX752, and past T2 onto the active R33, for a straight out departure. The engines kicked up a little roar but still gracefully spinning, and we shooted down the active, climbing like a squirrel up a tree
. A turn over Birmingham, two miles out to the right whilst climbing and the crew clicked they needed to do some work. During take-off a number of tray tables had come down, so one fixed all of that, and the other made a PA regarding the bar. The choices onboard were extensive but expensive (I should copyright that!) and I don't think they may have got about a tenner out of the whole A/C. Most people, myself included had gone to boots in the departure lounge and got a meal deal for £2.99 which was a sandwhich/drink and a snack compared to flybe's £4.50 meal deal - a sandwhich and a drink thats it!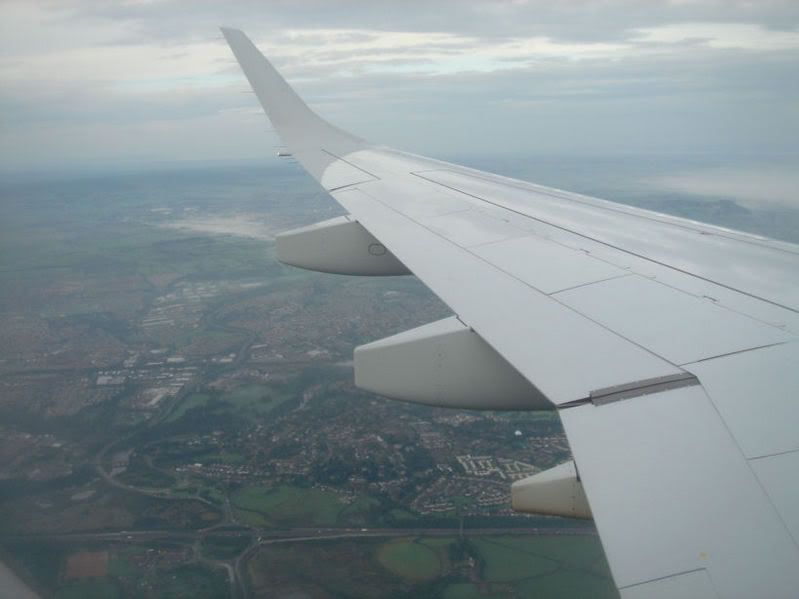 The flight was going to be around 45 minutes so we was bound to make up time as the flight time allocated to this sector on our ticket was 1hr 20 mins. My boyfriend moved over to the opposite window for a peak, though with hevy cloud cover today there was nothing to see. After the bar ran through the cabin, and about enough time to walf down your sandwhich had passed, we began our decent into Glasgow.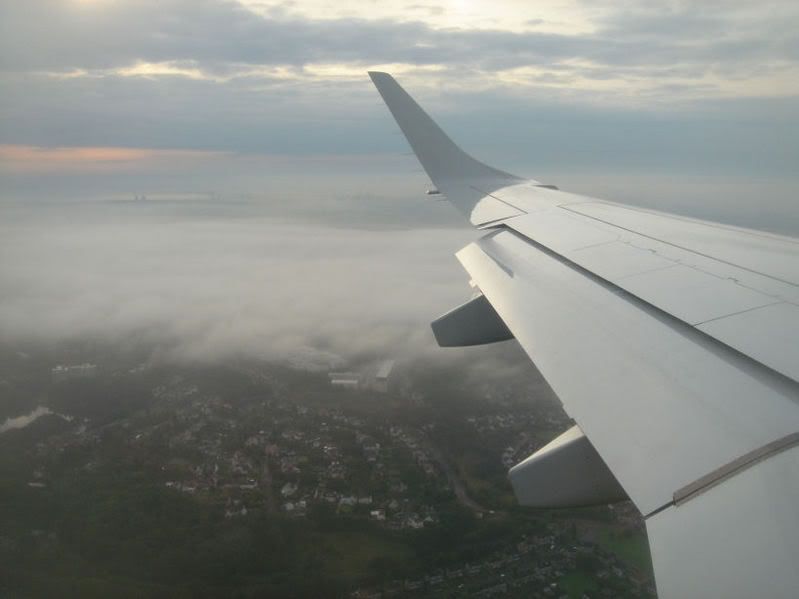 landing Video:
The crew made their final clearance and checks of the cabin before taking their own seat for landing. This in turn, was not too bad, however the touchdown was a little hard and heavy reverse thrust was used. We parked next to a TCX752 (friggin work pi** off!) and a MYT763. No exciting traffic on the ground really but was nice to see the new colours of US Airways in person. Other traffic included BA 320/757, flyglobespan 737/763, MYT and BMI 320.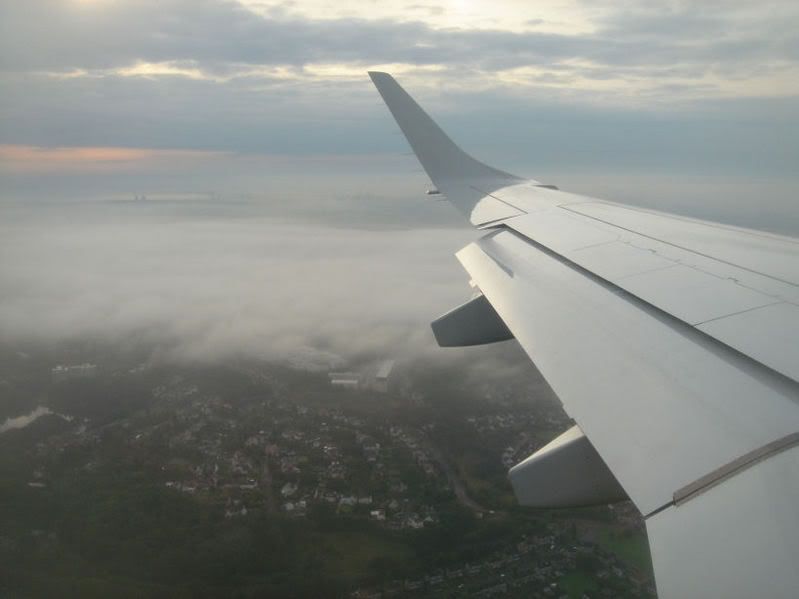 Disembarking was quick, and domestic arrivals was a breeze and so we left GLA and headed for a mass shopping trip in the city centre. Glasgow itself is quite nice I feel, loads of shopping and a cute little pub named the Drum & Monkey! This is me, and err wine... which by the looks of it don't go!
Date: 25/SEP/2006
Route: Glasgow Central - Birmingham New Street
Airline: N/A Virgin Trains
A/C: N/A for coach make and model number; ask a train spotter!
STD: 1810
ATD: 1810
STA: 2243
ATA: dont know was drunk.
Delay code and reasons: none- ontime- hurrah!
OK so now the train part..... with a 4hour journey ahead we nipped to the off-license before getting on and carted bags of shopping on with us. The freedom of not worrying how to pack on the way home was nice, as was the fact of not having to turn up ages before we were meant to be leaving. In turn, it would have took us just as long to fly back if you know what i mean - with going to the airport earlier and waiting, the flight and then getting home from the airport when I live in Birmingham city centre and its a stones-throw away from Birmingham New Street. So Richard gets the points there.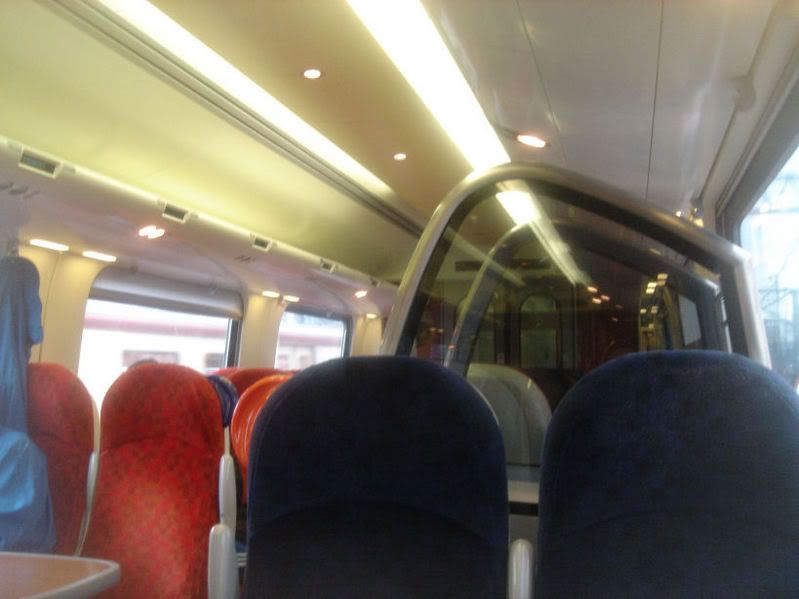 This service, due to leave Glasgow central at 1810 was bang on-time (yes I know thats a first for VT but give them the credit!) and the train had a handful of people in my carriage if that. We cracked open a can and watched the world from land level...... and watched..... and watched..... so much so we decided to have a laugh together..... as instead of showing you some of the normal face pics I could have done at the begining of the journey, heres a little review of the trip by pictures.............
The scenry aint go grand....
bordom kicks in..... but at least you can use ya phone......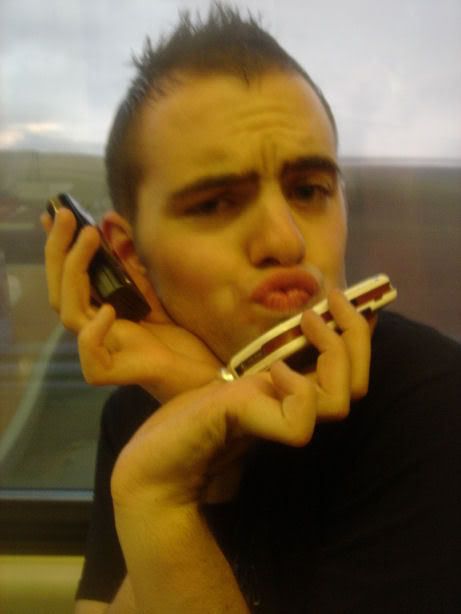 drink comes out.....
and the party gets started.....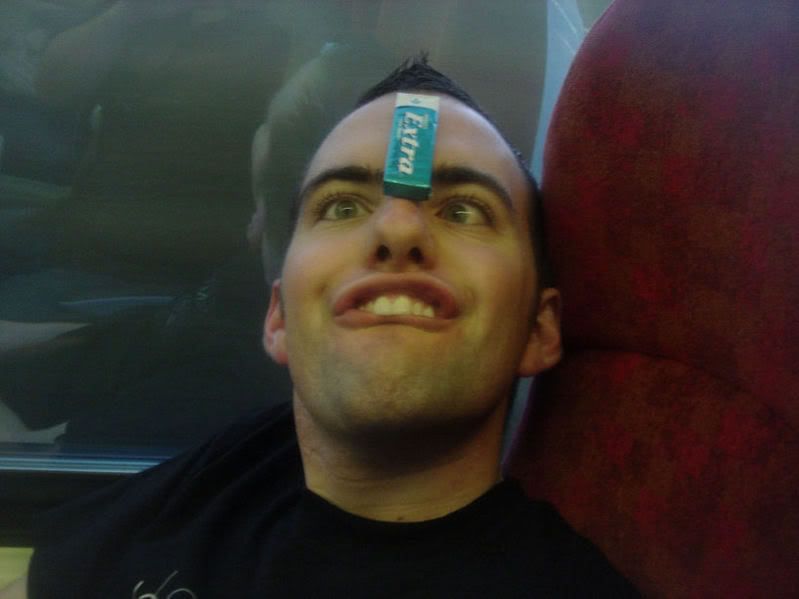 sun goes down, and my boyfriend aaron tries to attempt at attracting a lady friend with his straight pulling technique....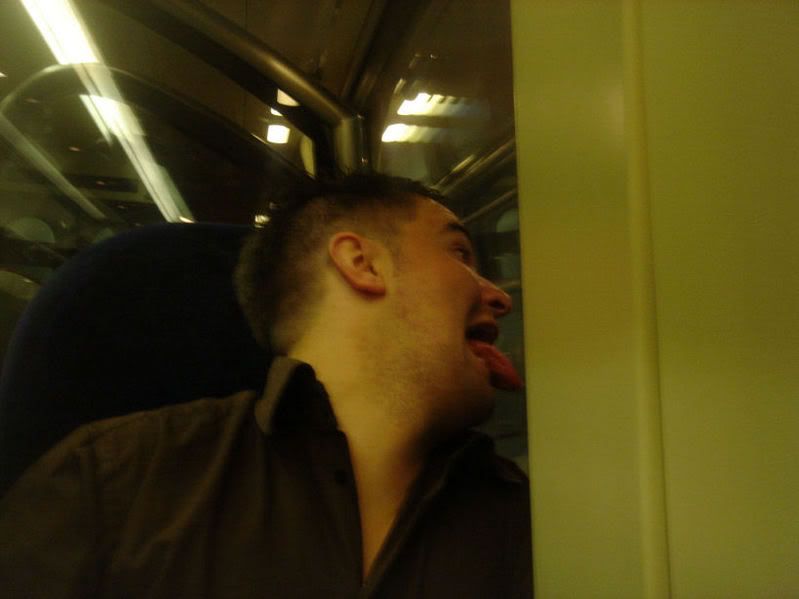 and is hurt when it don't work.....
So a few stations came and went but the cabin was clean, comfortable and offered music entertainment through in seat radio (more than what flybe could offer), along with a hotline magazine (so like flybe's inflight mag then). There was on onboard shop/cafe and didn't see no miserable crew, as we didn't see any VT staff at all!
Overall - The Verdict
Virgin Trains have a good product, i'll give them that, but the current state of the UK railway network it's too much too soon and overcrowding on numerous services, along with delays and long journey times means that people won't catch on to the dump the plane idea just yet. The train fare was just £24 one way booked two days in advance, which was nowhere near anything offered by flybe or ba connect who operate GLA-BHX.
I, like many of here, also wouldnt dump a plane ticket for a train ticket anytime soon either, so Richard B, quit whilst your ahead! Thats if you are, pick up a copy of railway weekly or something if you want to know the state of VT!
Flybe on the other hand are leading the way for domestic air travel in the UK and throughout europe with the introduction of such a smart, sleek aircraft which has bags load of space both for passengers and in the a/c asile. The crew on the otherhand wouldn't survive two seconds on my turnarounds back at TCX, they were uninspirational, miserable and downright rude even one crew even laughed through the safety demonstration. This is not like the service I recieved on a flybe flight last year to AGP on the 733 so hopefully, this was just a one off and most of them are good, only time can tell.
So in end, flybe won but only becuase of the A/C on this occasion, so will try them again once they have had the aircraft a little bit longer and they have more of them so its not just a sham. the Aircraft itself was above all expectations, very nice, very sexy and very very quiet. Definatly the way forward for regional air travel, and good on flybe. who have an excellent potential product with this unit.
DISCLAIMER: No boyfriend was harmed during the filming of the landing, nor through the company of me throughout the train journey.
Over and out,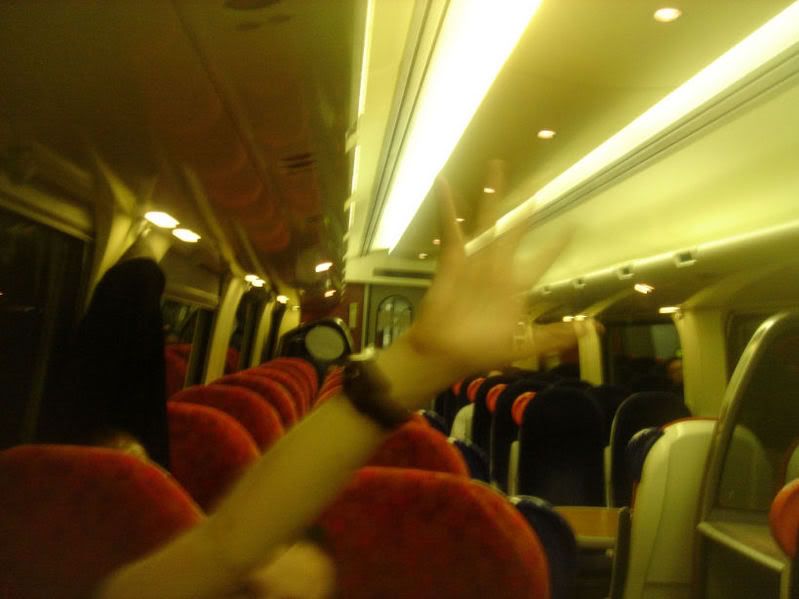 Mark & Aaron XX