I was in Turkey for business/pleasure for about 3 weeks and had to take few trips between IST and DLM. So I chose to see the difference between the new airlines serving the domestic market and TK. Most of you must have heard that the Turkish domestic market opened up recently to more competition.
Here is the Turkish Trio: Atlasjet, Turkish Airlines, and Pegasus.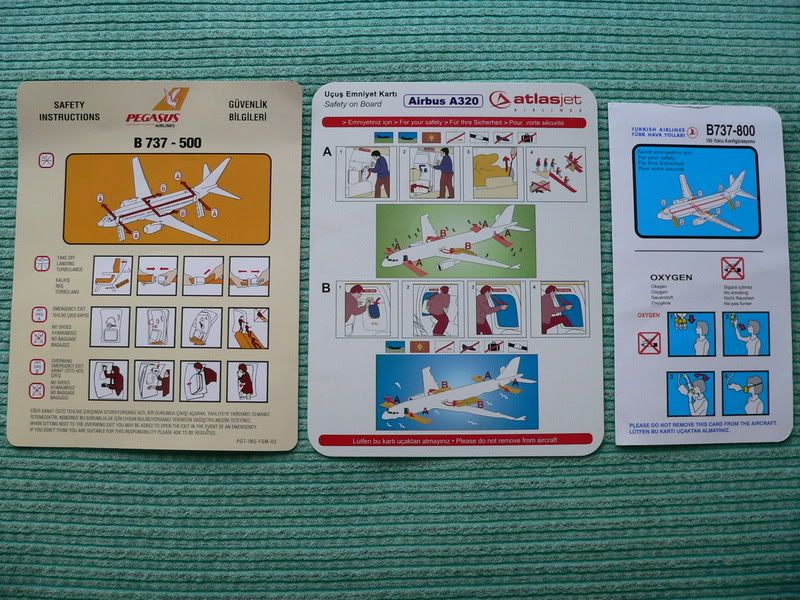 ATLASJET:
The first of the trips came on Sept. 2nd. I received a call to make it to IST first thing the next morning. For this trip I chose Atlasjet. I looked at their website for a flight and there I found a 9am DLM-IST flight. Then I called their reservations, and asked about if I could purchase the ticket at the airport, and the availability of seats. The reservations agent was very helpful, asked me if I would like to buy the ticket over the phone. I opted to buy it at the airport. Then I went online and checked the "Havas" site, the airport bus system from Marmaris to Dalaman, for their schedule for the next morning. It is a 2 hour bus ride from Marmaris to DLM, and the busses leave 3 hours ahead of every flight leaving DLM. It was a 5am call for me. The bus left at 6am. The cost is 22YTL ($15) one way. When we arrived at the very small domestic terminal at DLM it was a sunny, beautiful day already in the 80's. First we go through a metal detector at the entrance of the airport. Immediately after, I go to the Atlasjet counter, and asked an employee if there is a certain line to purchase tickets. He asked me if I had reservation through SMS service. I said no, and he takes me to a very small purchasing counter. There I buy my ticket in less than few minutes for 89YTL. ($55) They had a problem processing my foreign bank issued credit card, so I had to pay cash.
DLM domestic terminal is small but efficient. There is always a hint of cigarette smoke in the air. A small coffee shop and a newspaper stand are located by the check in counters. After you go through another security check to go to the gate, there is the infamous "Bye Bye Dalaman Café" with its outrageous pricing. (30.5 YTL ($20) for a dbl. Blended scotch)
On the Departures board there is the domestic flights for the day so far: 3TK flights, 3Atlasjet flights, 1 Onur air.
Finally we board the bus to go to the tarmac:
View Large
View Medium


Photo © Cengiz Arda
Sept 2nd, 2006
DLM-IST on KK003 @ 9am
1:05 hrs is the flight time
A320, TC-OGO
Seat: 28A
Load:75%
Altitude: 9700 meters
Speed: 840 kph
When I entered the plane, it feels fresh, clean with leather seats.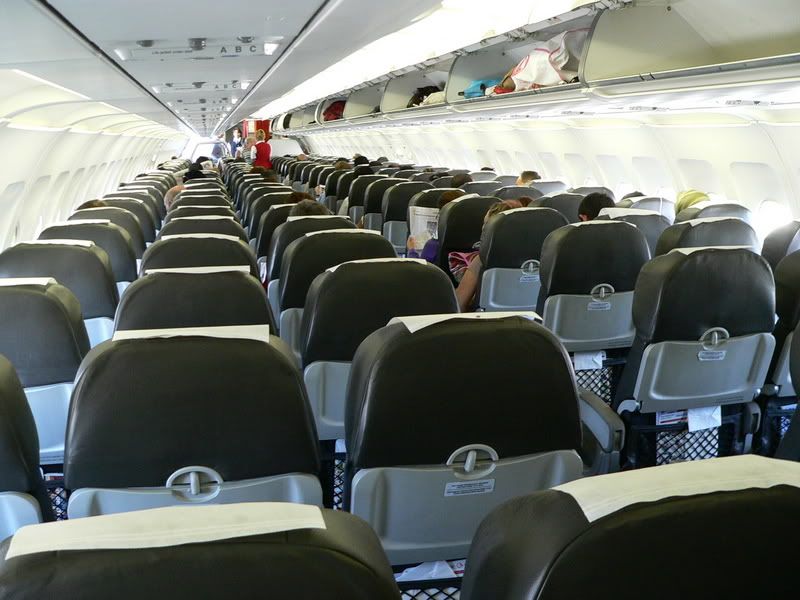 FA's seems cheerful, nice uniforms. Announcements in English are very hard to understand, even the Turkish has a slight accent.
We push back @8:50am on time. The pilot introduces himself with a very confident, nice voice and a good command of both Turkish and English. He mentions we will be taking off to NE after a plane landing from our right. It is a Transavia 737-700 with winglets.
We take off at 9am on time.
Here is the new DLM int. terminal and the Transavia in foreground: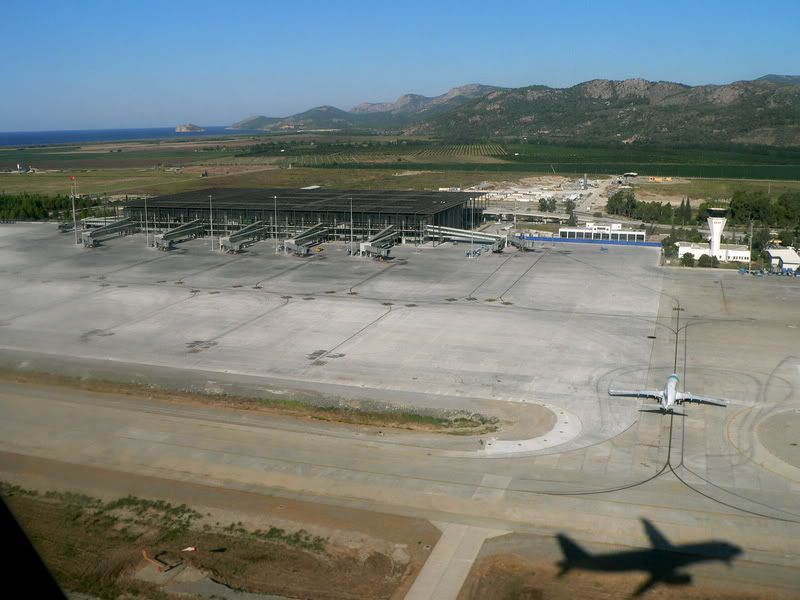 The big building on the right is the old DLM int. terminal.( maybe the future domestic?) Two TK 738s, and you can see the two boxy looking warehouses to the left. The one on the left is the current domestic deps. and the one on the right is the domestic arrivals.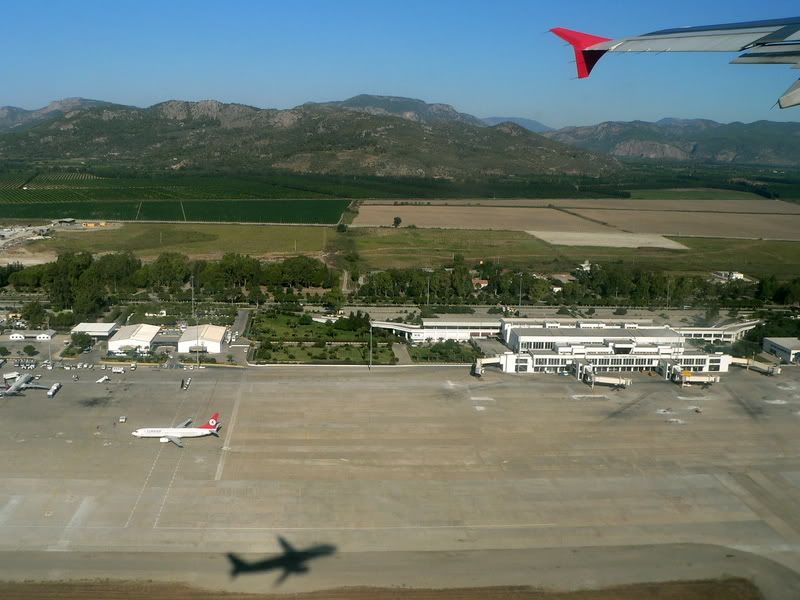 The pitch seems OK, 32"?
@9:04am the pilot explains that we might experience some turbulence due to mountains but not to worry. This happily surprises me; since I haven't heard this before from Turkish pilots. Knowing some of the population is new to flying, this kind of reassurance is very helpful for them.
Looking back at DLM after takeoff.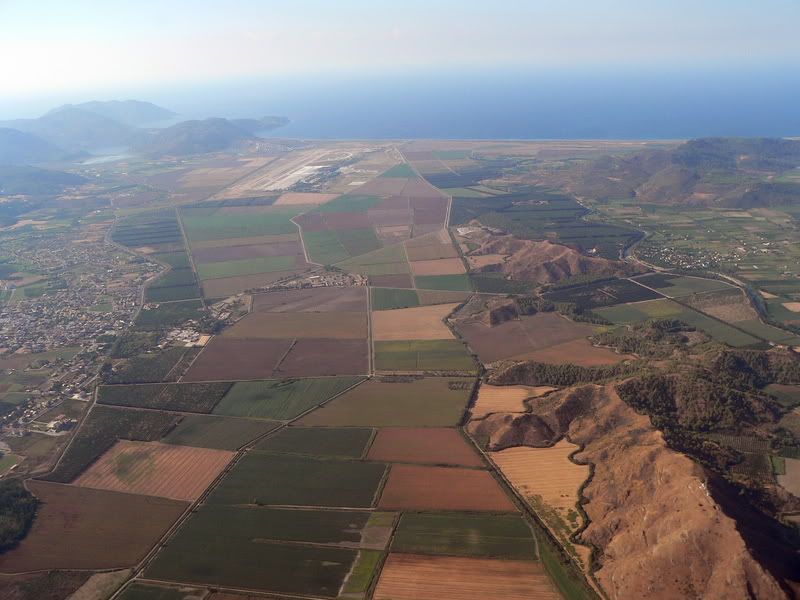 He points out to Dalyan, to the left side of the plane where Caretta's lay eggs on the beach.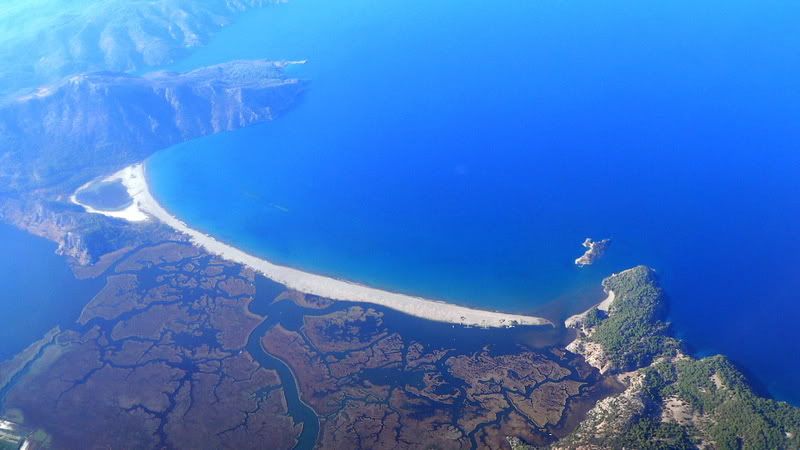 He later comes on again to mention about flying over Marmaris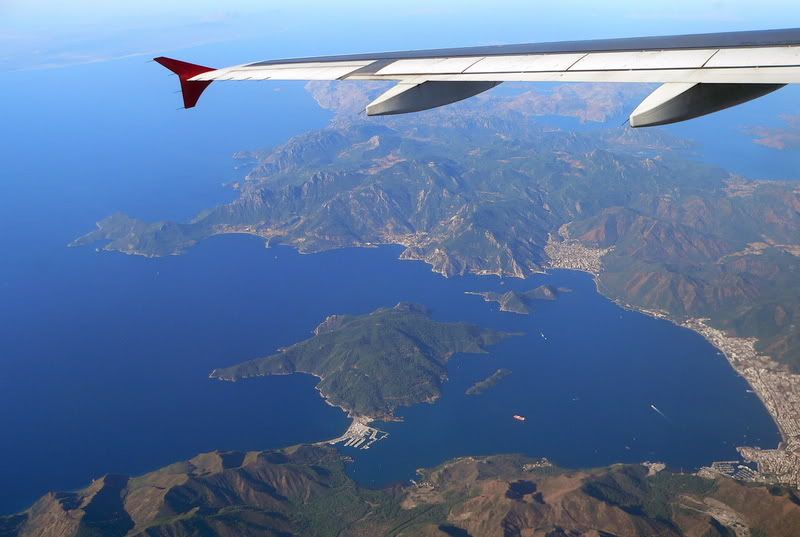 and again over Bodrum airport, then he gives some info about our route and tells us that we will be landing at IST runway 6.
Food service is 9:08am. For this short flight we get a small sandwich and a soft drink with a wet toilette, free of charge.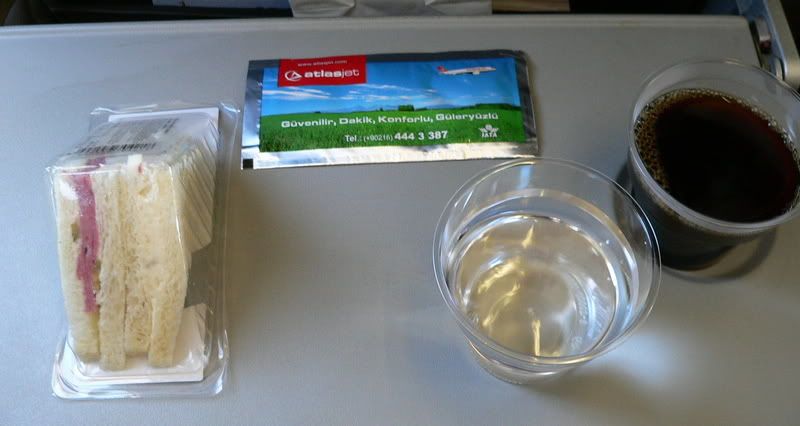 The weather in IST is: Wind, rain and 14 degrees Celsius. I am not looking forward to it. The pilot keeps coming on the PA with more explanations like: "Our runway is changed, now we will be landing at 36L, we are over the Marmara sea".
3 minutes from touchdown he again warns us that "we might get slight turbulence while going through the cloud coverage, but not to worry, it wouldn't be any worse than what we just experienced during takeoff at DLM", which to me was nothing to write about.
We land very smoothly and he gets an applause. We land @9:58am.
We stop at the taxiway, again the Captain comes on and says "There are two planes in front of us and when they move, we will make our way to gate 105, so you guys don't have to take the bus this time. Until then please remain seated and please don't turn on your cell phones." Incredibly he gets another round of applause. This man is treated like a rock star now.
While getting off I get to shake his hand and her chief FA. I asked if I could visit the cockpit, he says no problem. Immediately we get along since we have the same model cameras, and we compare the shots we took during the flight. He has a nice shot of the Transavia landing in front of him, while I get the Turkish Navy base right outside of Marmaris at Aksaz.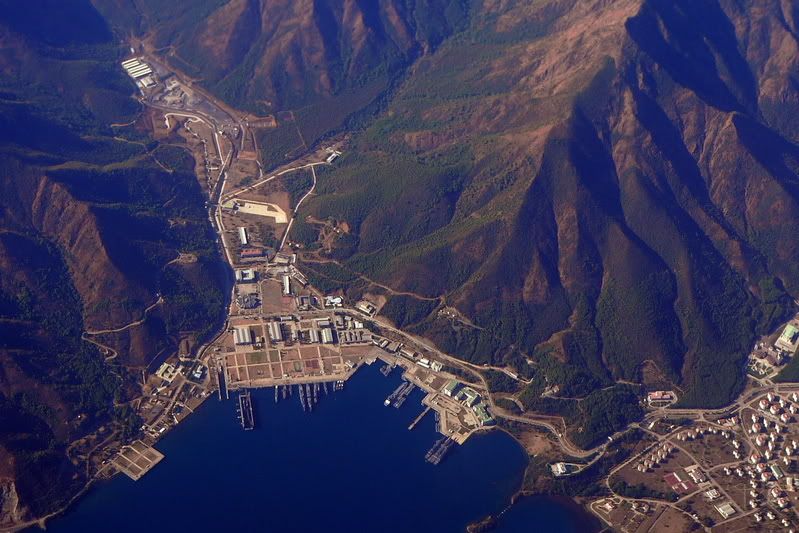 He gives me his card "Derya GUNACAN, Captain Pilot", and urges me to write to Atlasjet if I liked flying with them.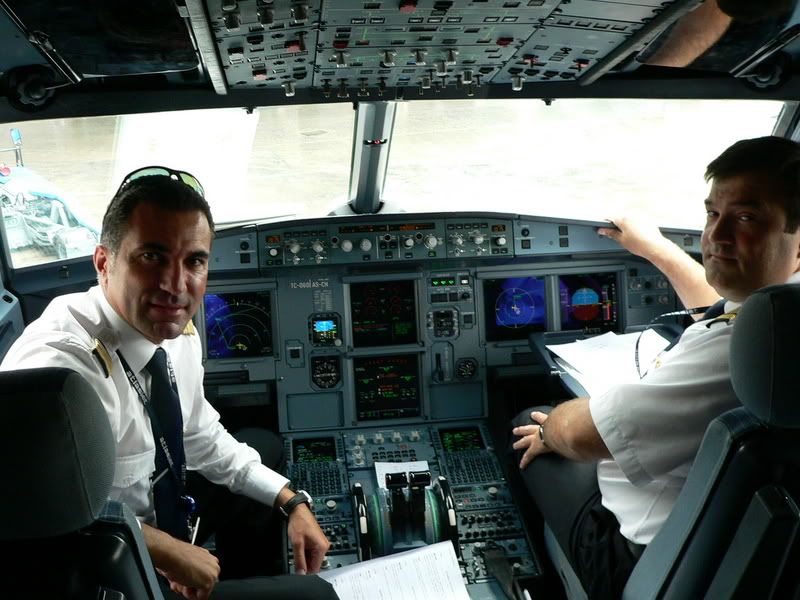 I have to say this was one of the best flights in my 25 years of flying. Few things add up and it becomes an experience, rather than going from A to B.
TURKISH AIRLINES:
I fly back the next morning since there were no seats available that night after I got done with work. Late night I call TK and make reservations, and was told that there will be a confirmation SMS sent to my cell phone, which never arrived. So I call first thing in the morning to make sure I am in the system. They found my reservation without a problem, but didn't know why I haven't received a confirmation on my cell phone. To my surprise both calls to TK were answered by guys with heavy South Eastern Turkish accent. In the past those jobs were filled with ladies with big city accents. Anyways, it is all good.
I arrive at the domestic airport and do an electronic check-in at the new TK kiosks. There were 5 of them for pax without luggage. TK crew in red t-shirts were standing by, ready to help. After check in I go to TK ticket purchase line just to get a receipt for ticket so I can get reimbursed. It goes pretty easy, the ticket is 94YTL ($64). Airport is dark, old looking but functions. I go to gate 102.
Here is the usual suspects:
View Large
View Medium


Photo © Gerry Stegmeier
September 3rd, 2006
IST-DLM on TK 4216 @12:25pm
737-800 "Kirsehir" TC-JGK
Load: 70%
During check-in I chose my own seat: 29F not knowing that it is the last row, but to my surprise it reclines, a lot. I have the whole row to myself and happy to be in one of the new 737s with the baby blue leather seats. The pink divider between business and economy, that most a.netters hate, is very small to notice. Also I see a very large size, blue "Evil Eye" bead glued at eye level to one of the walls when you enter the plane from the front. It is a very nice touch, done for good luck.
One of the FA's leaves her jacket on the aisle seat in my row, here is the nice detail of the tulip figure.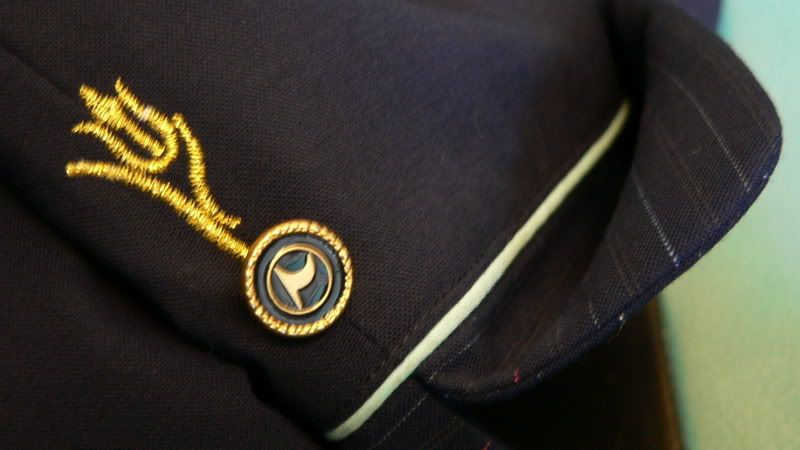 We push back @12:32pm. The FA's English and Turkish is understandable. Captain "Altinok" comes on and informs us that we will be flying at 31,000 feet at a speed of 900kph for this one-hour flight. His announcement is very dry, read from a manual I am sure. His Turkish bothers me. "Hamfendiler, beyfendiler…" ( Ladies and gentlemen…) the way he starts, sounds weird. His English is not that good.
We takeoff @12:45.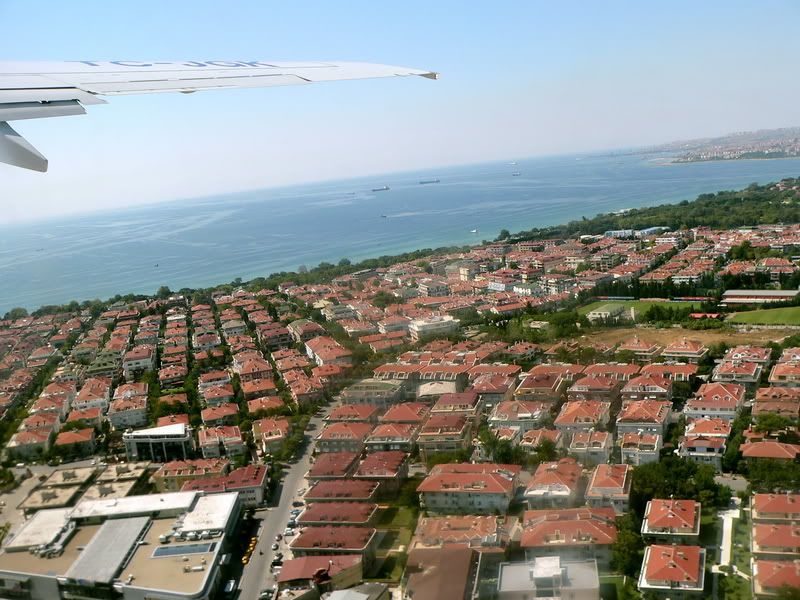 Looking back at IST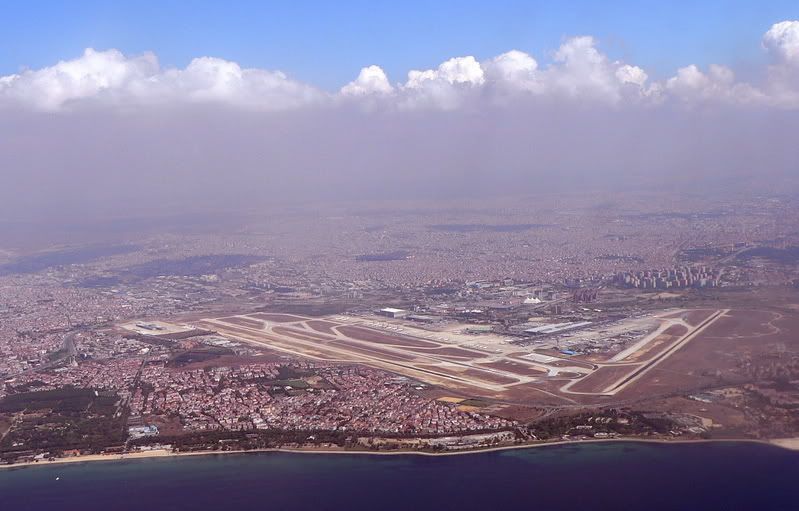 There is a new FA on this flight, and she gets on the job training from another one on how to use the touch screen monitor to control the drop down LCD's and start the in flight show. The new 3-D flight tracker is too much video game like.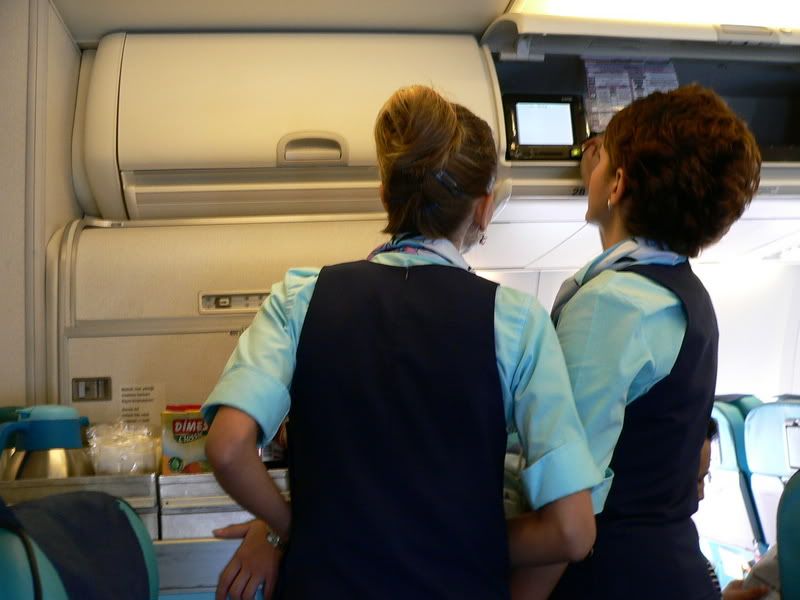 Food service is good, and believe it or not there is a choice: tuna sandwich or salad?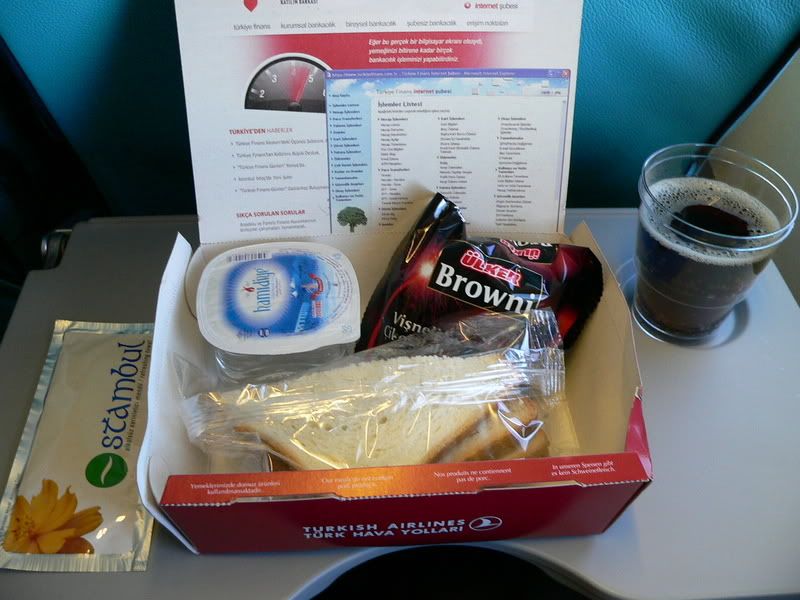 Over the Marmara Sea.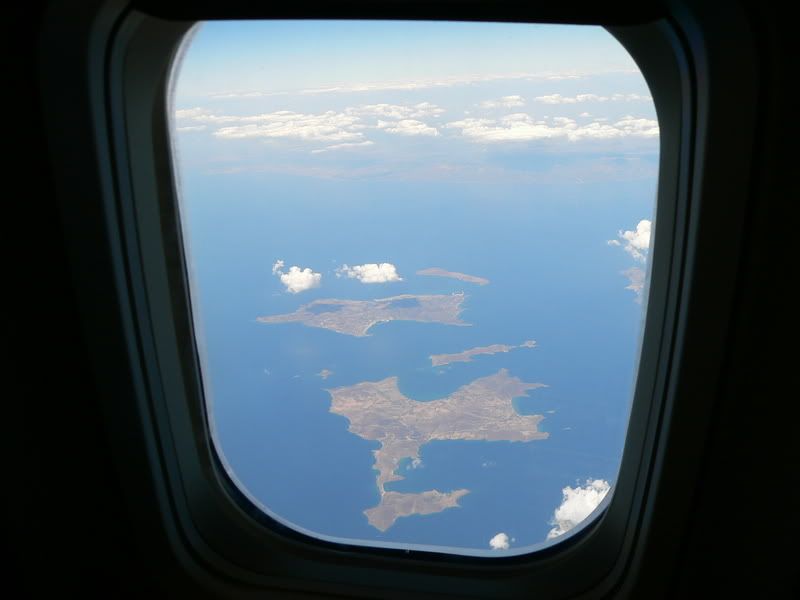 The captain comes back on @ 13:05 for more flight information. Again, uninspired and hard to understand.
We start our descend. Over Dalyan.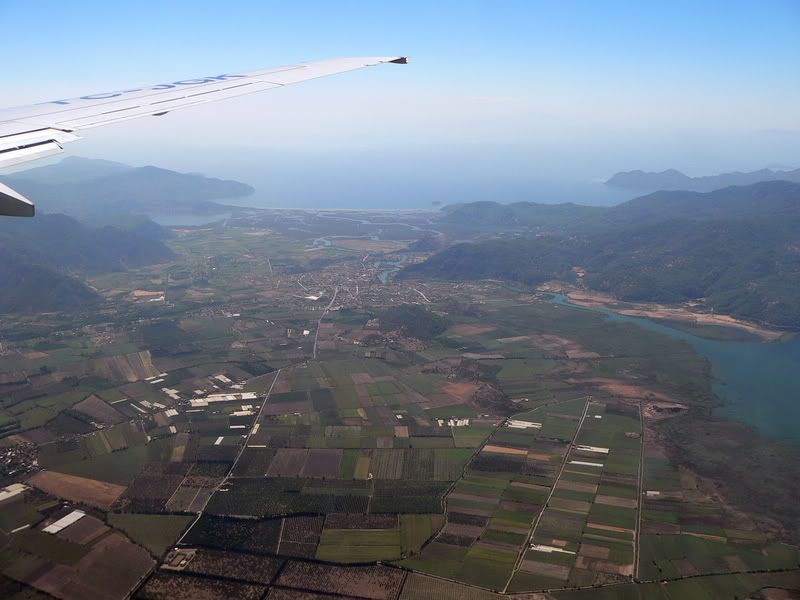 I notice the cup holders and the plastic cups they give us do not work together. Cup size is just smaller than the ring size. Oh well, I am sure they got a real good deal on those.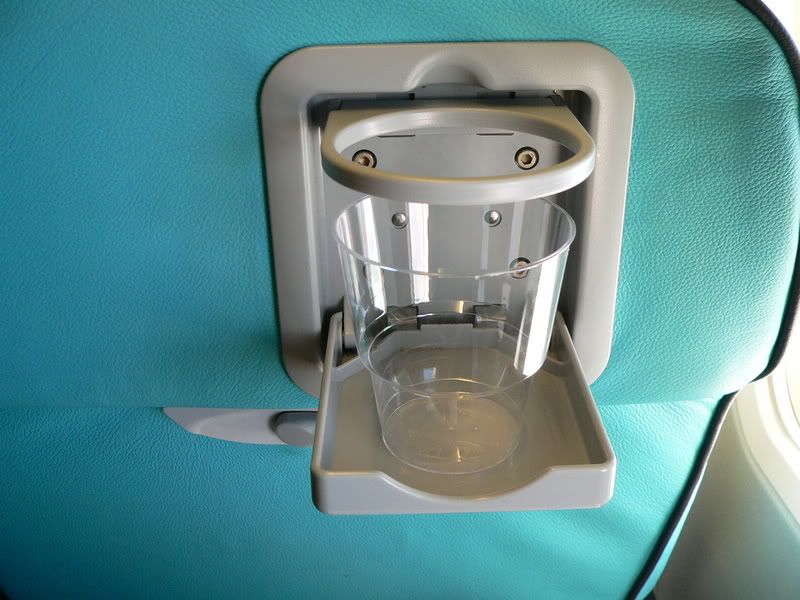 Final turn toward the runway.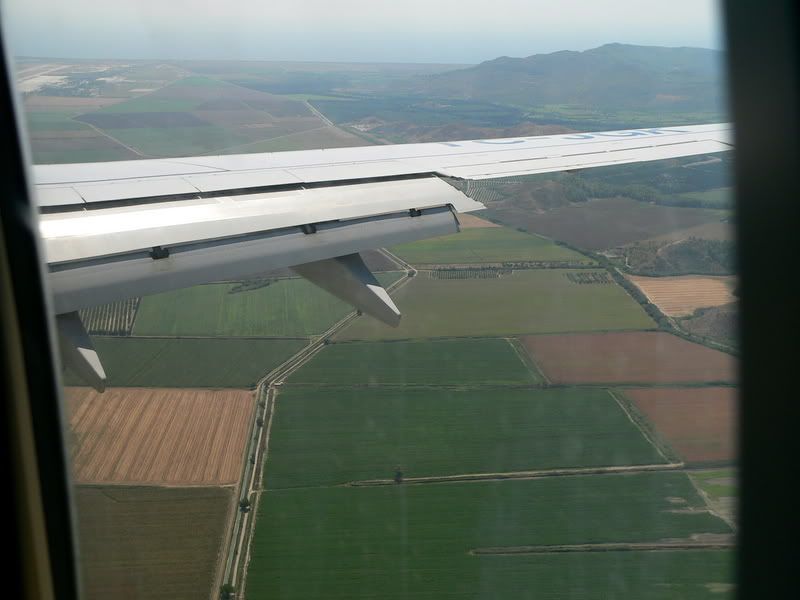 13:35 we have a rough landing, and no applause. After looking at the windsock next to the runway, I realize that we land the same direction as the wind.
Comfortable seats, nice colors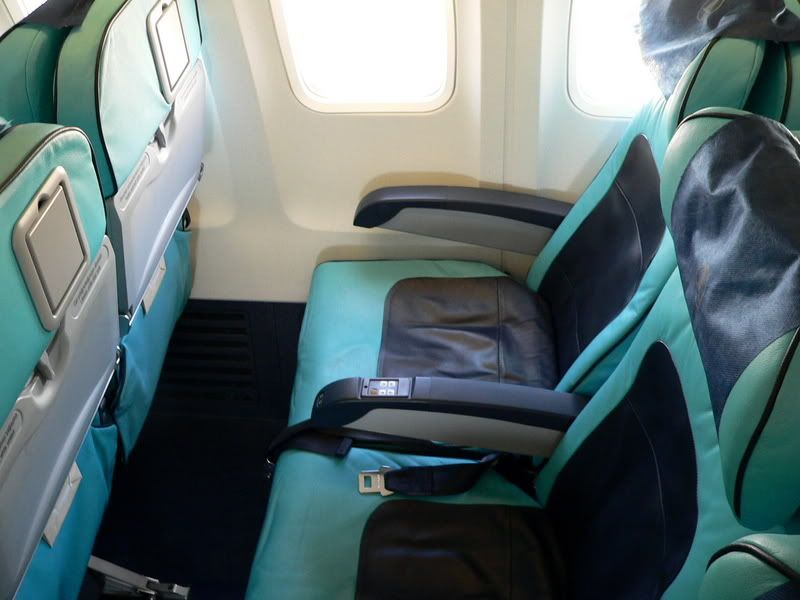 I take the Havas bus back to Marmaris. On the way right outside of Dalyan there is this crazy outdoors car gallery I have to mention: "Amerikan Oto Show". In the middle of nowhere they sell old American cars from 50's, 60's, 70's.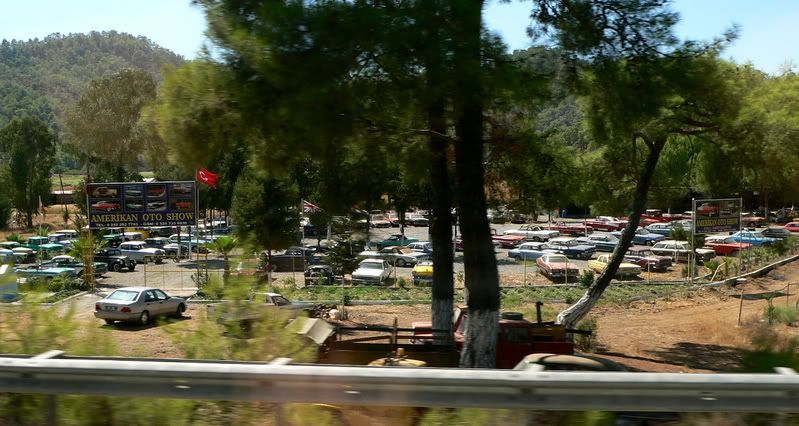 PEGASUS:
For the last flight, I chose Pegasus since they fly to SAW which is closer to where I will be staying in IST. The ticket price was 115YTL ($76). I could have flown for lot cheaper to IST with other airlines. Even though Pegasus flies only once a day on this route, I wanted to give them a try.
Again the trip starts with a two-hour bus ride from Marmaris to DLM on the Havas bus. When we get to DLM there is a pretty good size line to enter the domestic terminal through the security check. I go through fine, but my wife keeps beeping, even after she takes her shoes off. They ask her to take off her silver bracelet which she was given 30 years ago, and kept on always since then. She says no, back and forth. Finally she forces it and her wrist starts bleeding. No sympathy from the security personnel. My wife is still arguing with them and I try to calm her down. I mean, they had a female officer, wands and all, why she had to take off her bracelet I didn't get it? Before we get some medical help we wanted to get rid off the bags. At the counter we check in and find out that we are flying on a plane other than a 737-800. I wonder what?
After check-in we go to the first aid office. It is locked. I go back to the screeners and tell them that we need some help. I was told that they have to call someone in (from Dalaman? From the International terminal?) and it would cost me 80YTL ($53) for them to put some cream on it. Outrageous!
Upset and dizzy from the cigarette smell we head to the gate area. Since it is early it is mostly empty, so I go to the "Bye Bye Dalaman" café and ask the girls over there if they have a first aid kit. They were very helpful and gave me some first aid cream, which put me and my wife in a better mood. Since we can't afford most of the drinks at this bar ($12 or more, steep even for us New Yorkers) we order some beers ($5).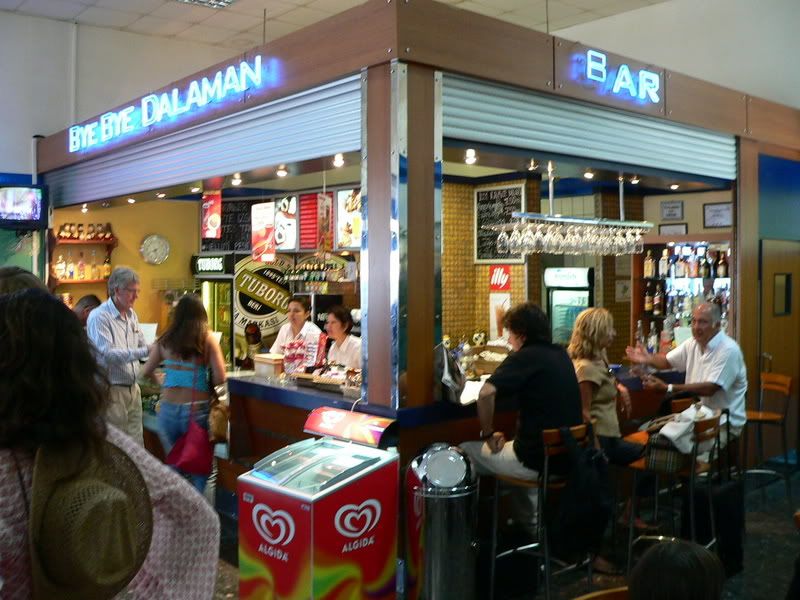 Bathrooms are "Free of Charge" inside.
After this ordeal we finally get on the bus and go to our plane.
View Large
View Medium


Photo © Marcelo Castilhos de Oliveira
September 6th, 2006
DLM-SAW on Pegasus 179 @21:25
737-500 TC-AAD
Load: 80%
Inside the plane, even though it is an older plane which joined the fleet from an airline from Brazil ( ex Rio-Sul), it feels good. FA's are friendly. My seat 18F is leather but the pitch is horrible, on the other hand the recline is better than usual.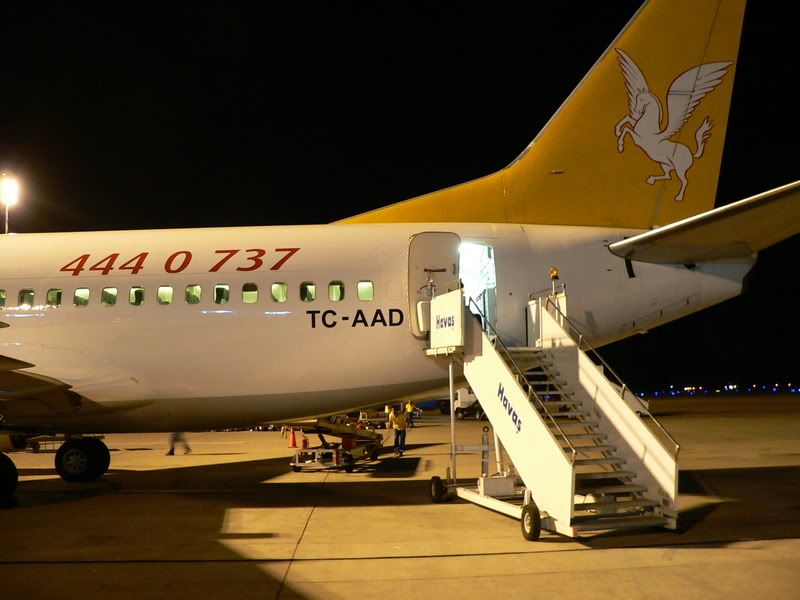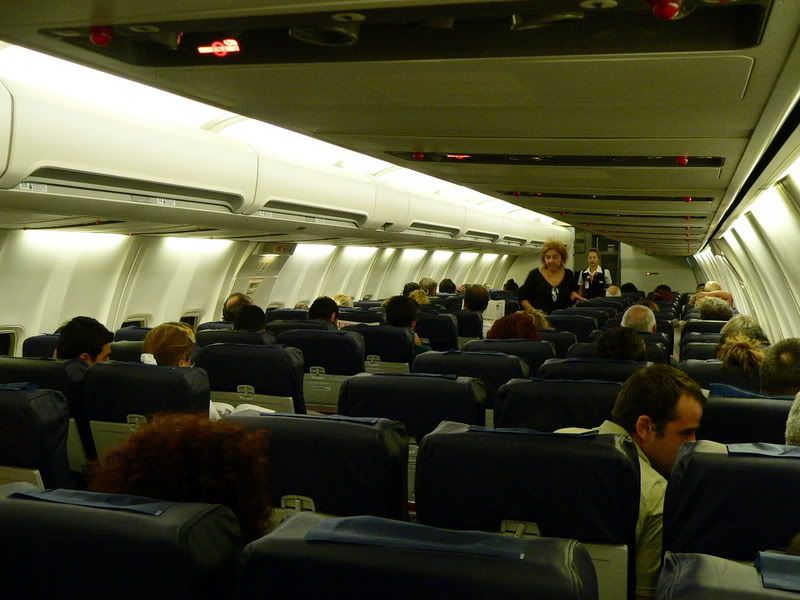 We take off @21:25, in the dark of the night towards the water and made a left turn. ( Again this is my first takeoff in this pattern. Usually after takeoff towards the water, we turn right) It is dark outside even though there is a full moon.
The captain "Ilhan Kaplan" comes on @ 21:50, very loudly, from the speakers, and in Turkish first than in good English gives info about the flight. It was so loud that some pax complained to the FA's.
And there was the food service which consisted of a baked good with some cheese in it.
We also purchased wine for 5YTL ($3.5) which comes with nuts. We wanted to get Scotch for 10YTL but we were told they didn't have ice nor club soda. How are they planning on selling drinks with no ice?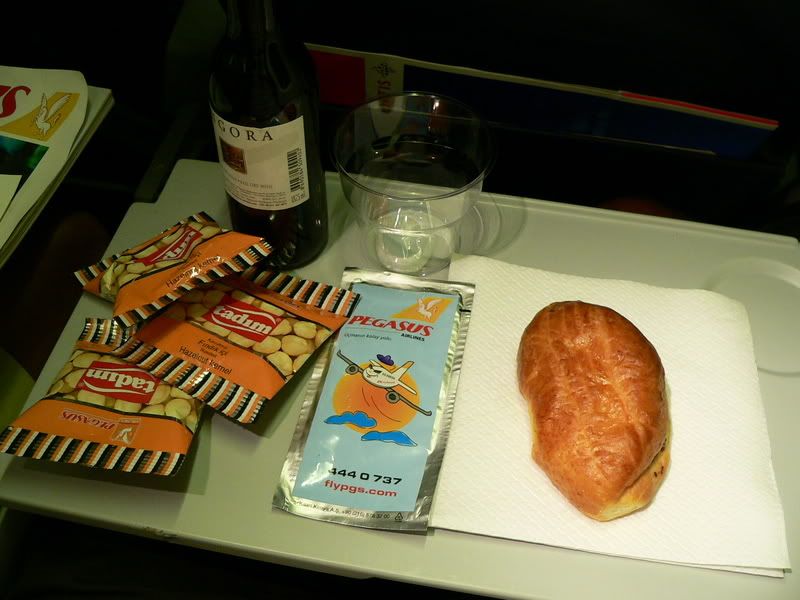 There were no video displays so I had no idea which direction we were flying, since this will be my first landing at SAW. We come over the Marmara Sea, make a right turn to a smooth landing.
It was unusual to see the Africa International Airways' DC-8 parked next to us.
Leaving the plane I see the big sister of our plane, and behind it the unmistakable tail of Izairs A319.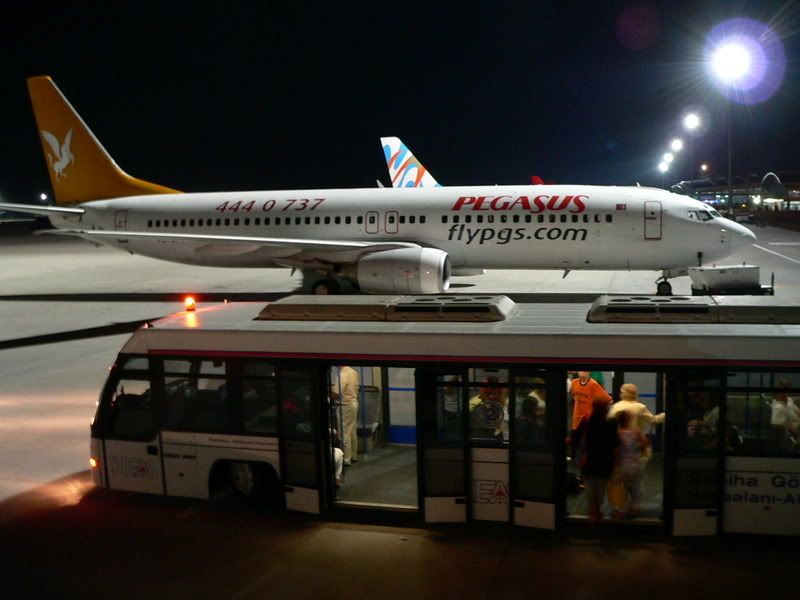 And finally we were inside the luggage claim area and I was told not to take pictures by a female officer. At this point I really didn't care. I keep taking pictures. I refuse to live in a world where I am told not to take pictures; of airports, of tunnel entrances, of subways. What's next?
After getting of the terminal it already feels cold compared to Marmaris. There is a line of Havas busses waiting. For 5.5YTL ($3.5) it takes us to an intersection close to where we stay. In less than 30 min. we are home. If I was to fly to IST, the trip would have been at least an hour longer and cost double. I would definitely fly Pegasus again and use SAW more often.
I hope you like this report on the Turkish Trio. I would like to end it with some photos from one of my favorite things to do in Turkey: The Breakfast. Enjoy.