Not a mad trip to MAD from STR
Hello, dear readers, follow me towards an unusual routing to the capital of spain.
I decided to visit Madrid late last year for March, but this trip was impossible so I switched the inbound flight to an outbound an
connected with an inbound via Paris-Orly.
Preparations were finally done in late March.
Friday, 22.09.2006
STR (Stuttgart-Echterdingen) - ORY (Paris-Orly)
X3 5352 operated by HLX B737-500 D-AHLD in T-mobile special colours
Scheduled: 07.35 // 09.00
Actual: 07.40 // 08.40
Gate: 361 Seat: Free seating
Load factor: 105 pax = ca. 85 %
Fare: 22,50 EUR
History:
Delivered to Hapag-Lloyd: 15.12.1990
Leased out to Malev/Hungary: 22.12.1998
In service with HLX since: 05.01.2004
STR remanaged their car-park fares back in early September.
So P8 was the cheapest car-park storey opinion now, 30 EUROS two days.
Arrival at around 6.00 am, ten minutes to walk to T3, where HLX check in was handled by Stuttgart Ground Services.
No time to wait there and my bag was accepted by a robot style young female, no smile, no communication, the best argument for more check in machines.
Also no time at security, had a nice chat with fellow A.netter Ndebele at the DBA gate and walked down the stairs to my announced gate no. 361. .
Not to long to wait there, boarding started at short after 7.00 am, by bus the free apron tour to the easternmost parking position.
D-AHLD this time, leisure flight no. 18 on the 737-500 and the third on this metal.
Boarding by the rear stairs, welcomed by a friendly young male and settled down, window last row.
The female purser introduced all the crew members by name, a good thing.
Departure from runway 07, the 20 minutes earlier scheduled AF A319 to CDG directly behind us.
The plane fitted with bright grey leather seats, clean and in good conditions. Telekom, magenta coloured headrests.
Route: STR-south of SXB-Auxerre-ORY, good to follow on the map system screens.
Flight level 6500 meters.
Detailed informations from the flightdeck, Captain Norbert Pick and FO Alexander Moerick, during boarding and cruiseflight.
I was really surprised about the load, around 50 % biz pax today.
No special service on this leg.
Approach to ORY started around 25 minutes ahead to arrivals.
D-AHLD on approach to ORY: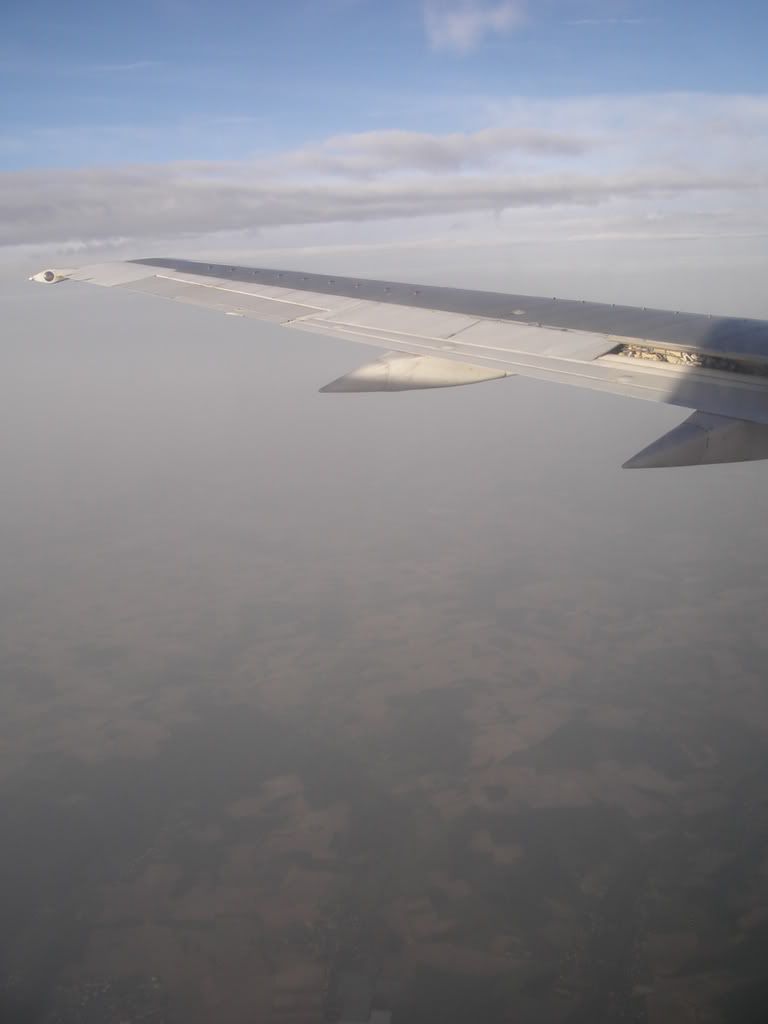 Much more interesting than CDG, castles and horse race courses there.
Arrival on runway 26 , only a short taxi and deboarding by an airbridge, a long way to walk to baggage reclaim.
D-AHLD finally on stand at ORY: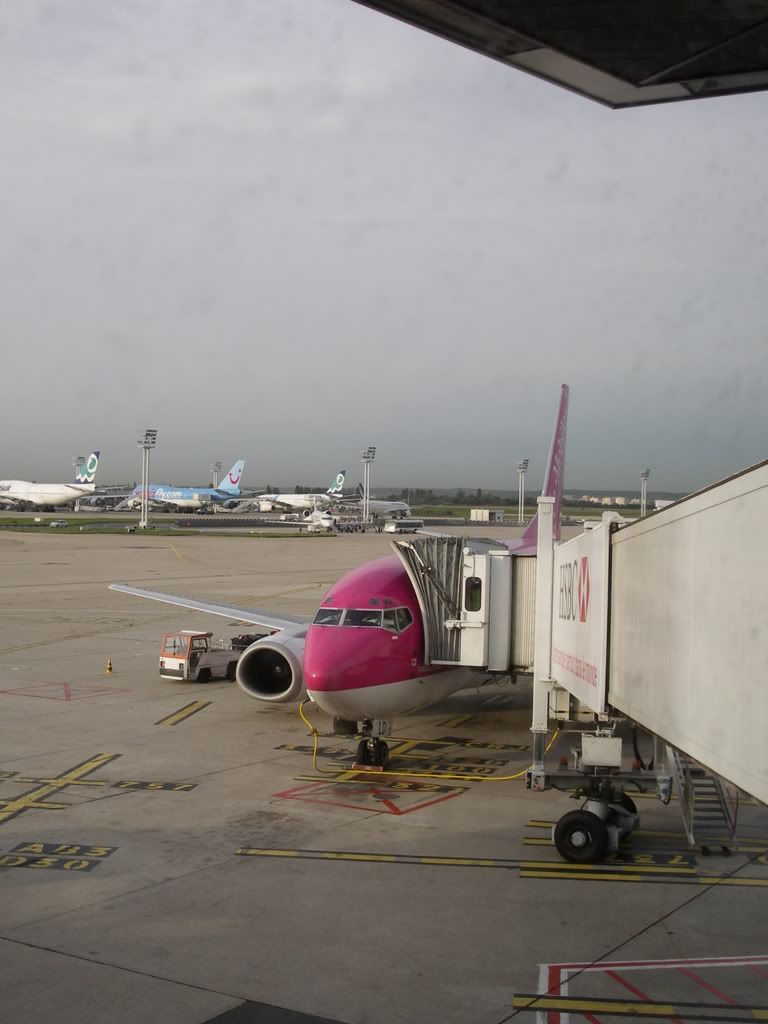 Again D-AHLD at ORY:
I was once in ORY, but in the AF used terminal west, first time in ORY south terminal.
IMO an oldfashioned and partly dirty place but on the other hand side airy and spacious, not to much people around and with a great open terrace for spotting.
TX/Air Caraibes to Fort-de-France and Pointe-au-Pitre: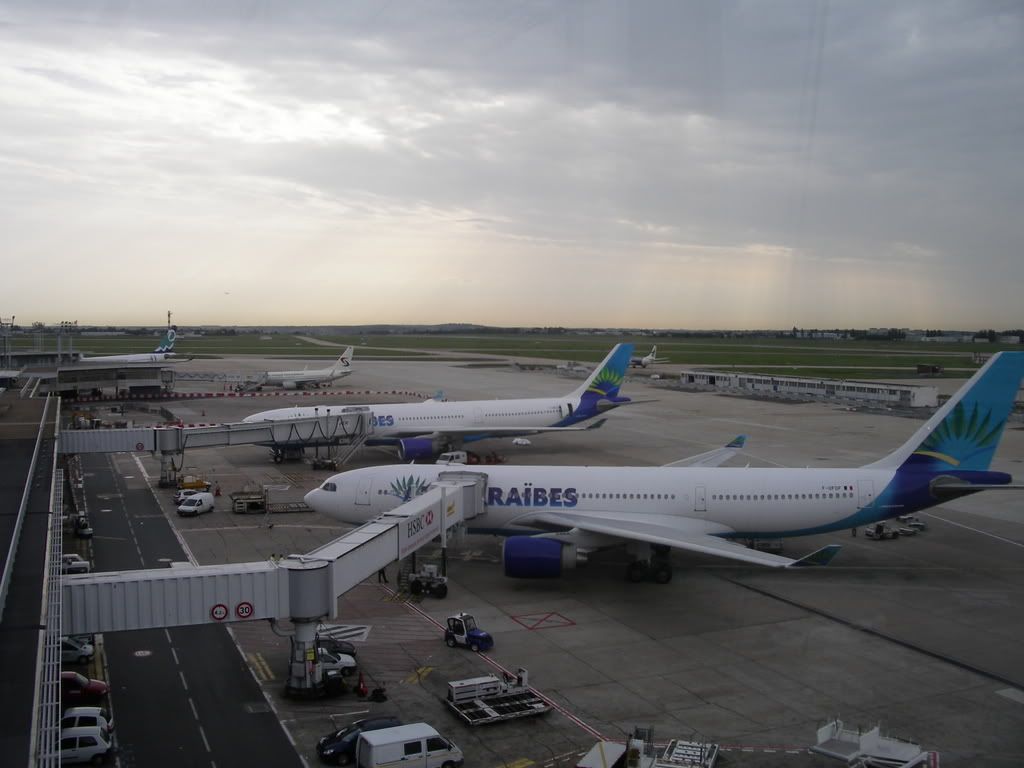 TK A-310 two hours delayed from IST: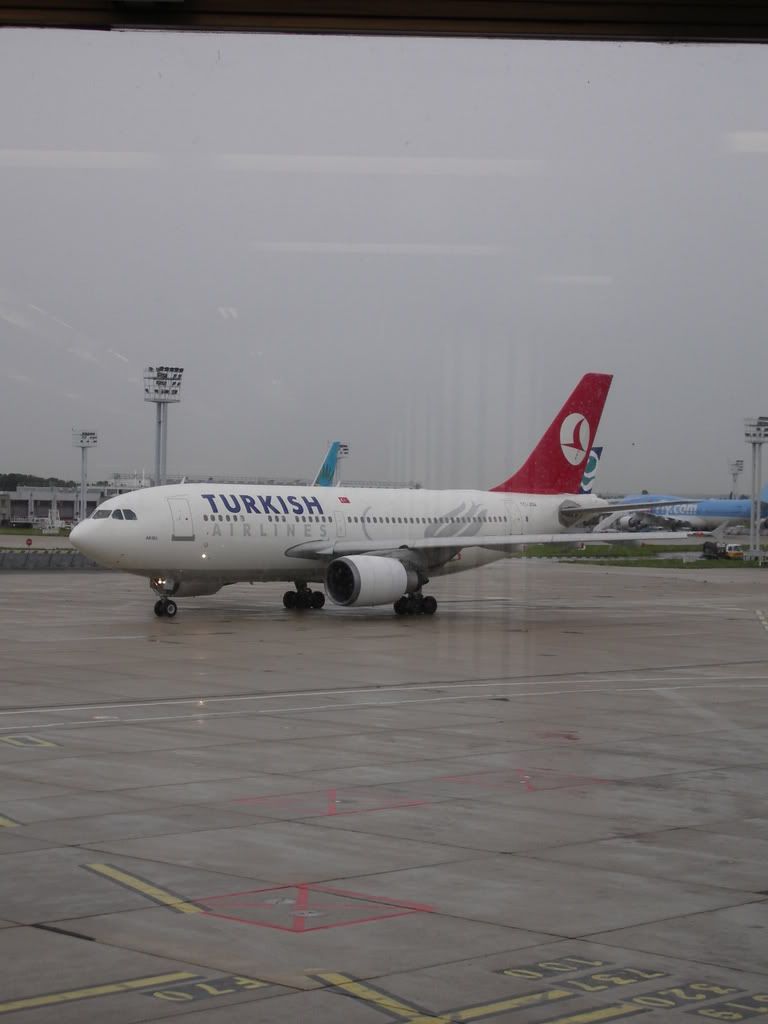 Aerocondor registered in Portugal from Agen: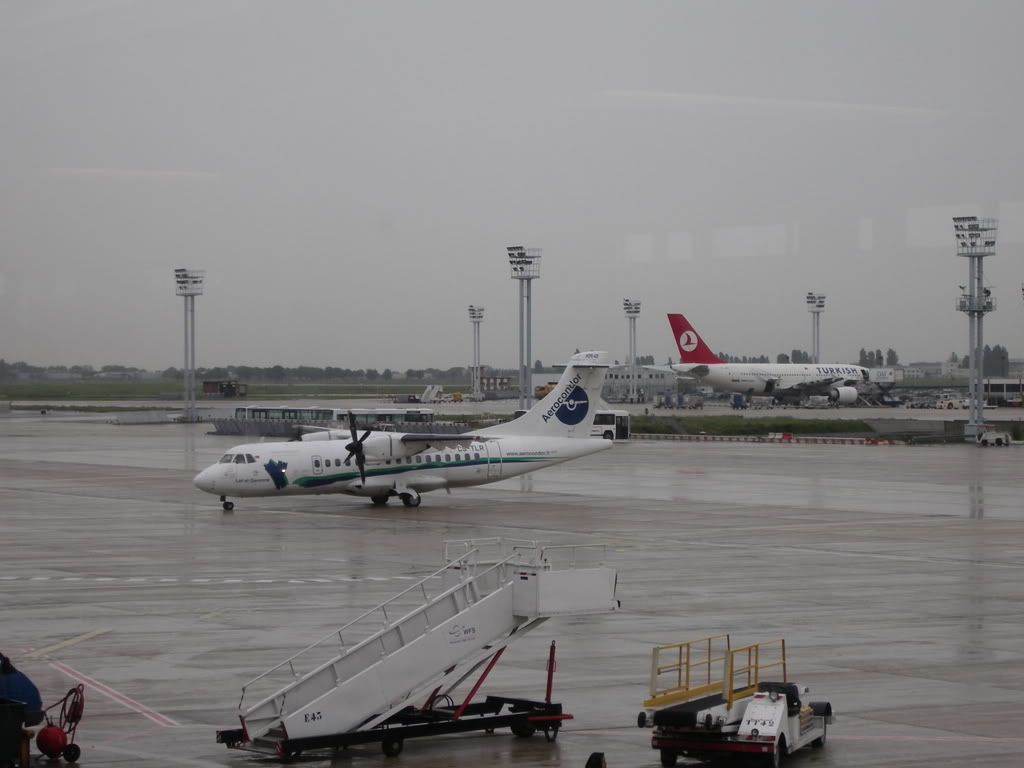 Air Europa on operations for Cubana three hours delayed from Havanna: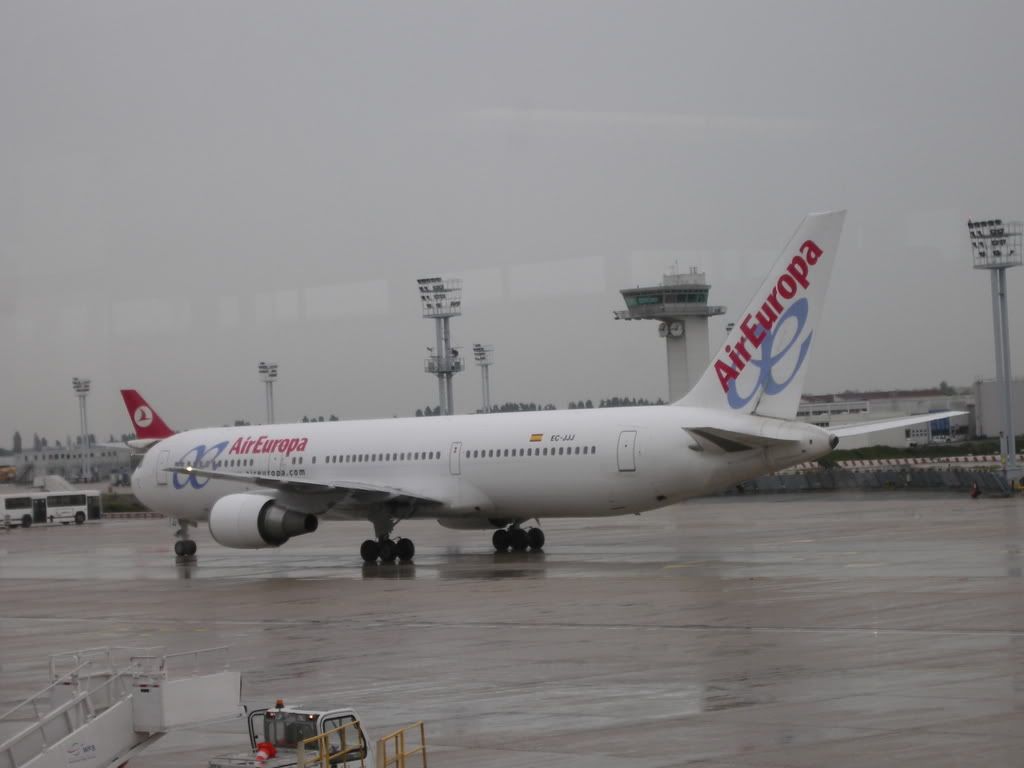 Friday, 22.09.2006
ORY (Paris-Orly) - MAD (Madrid-Barajas)
EZY 4235 operated by Easyjet A-319 G-EZAJ
Scheduled: 14.05 // 16.05
Actual: 14.20 // 16.10
Gate: D? Seat: Free seating
Load factor: around 90 %
Fare: 57,49 EUR
Delivered to EZY: 15.04.2006
I decided to try first to check my bag in for the EZY flight, ten minutes to wait in the queue but the friendly female told me its to early,
so I´ve gone upstairs, level four to the terrace, only two or three others there, real good views to the activity.
Some bad wheather on final and during my stay clouds come up and later it started to rain, but nevertheless interesting traffic.
Finally I checked in my bag at around noon, crossed security without problems and waited in the gate area for my flight to MAD.
My plane was inbound from TLS and arrived early at 1.15 pm.
My plane to MAD on taxi: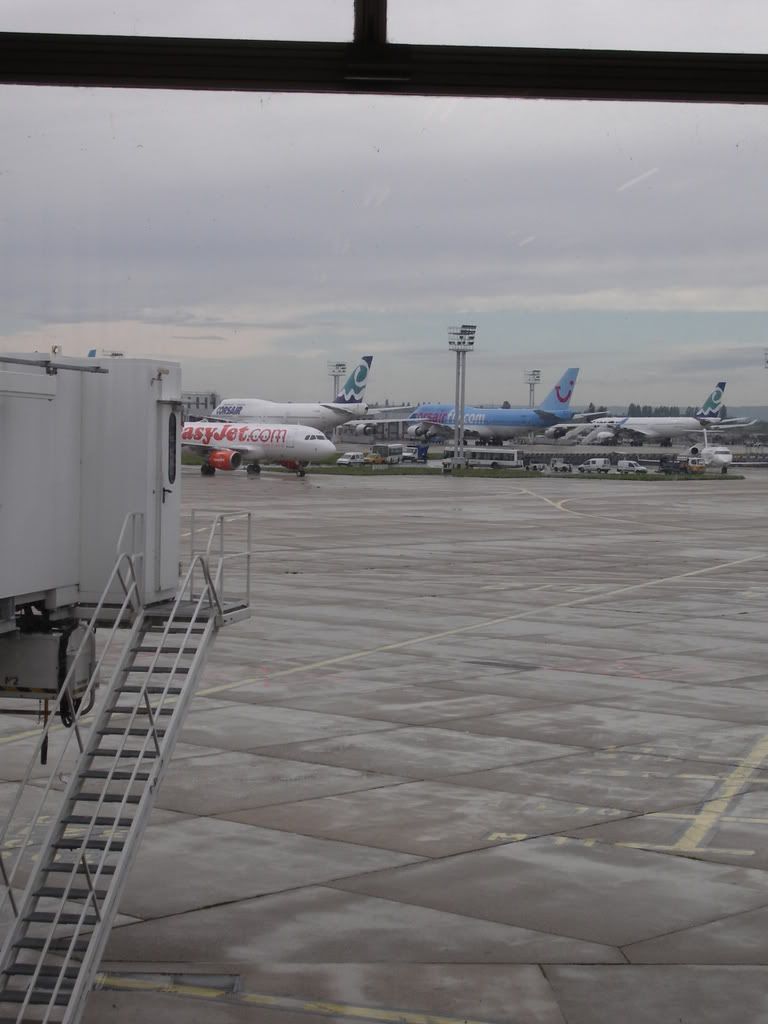 G-EZAJ on short finals to the gate: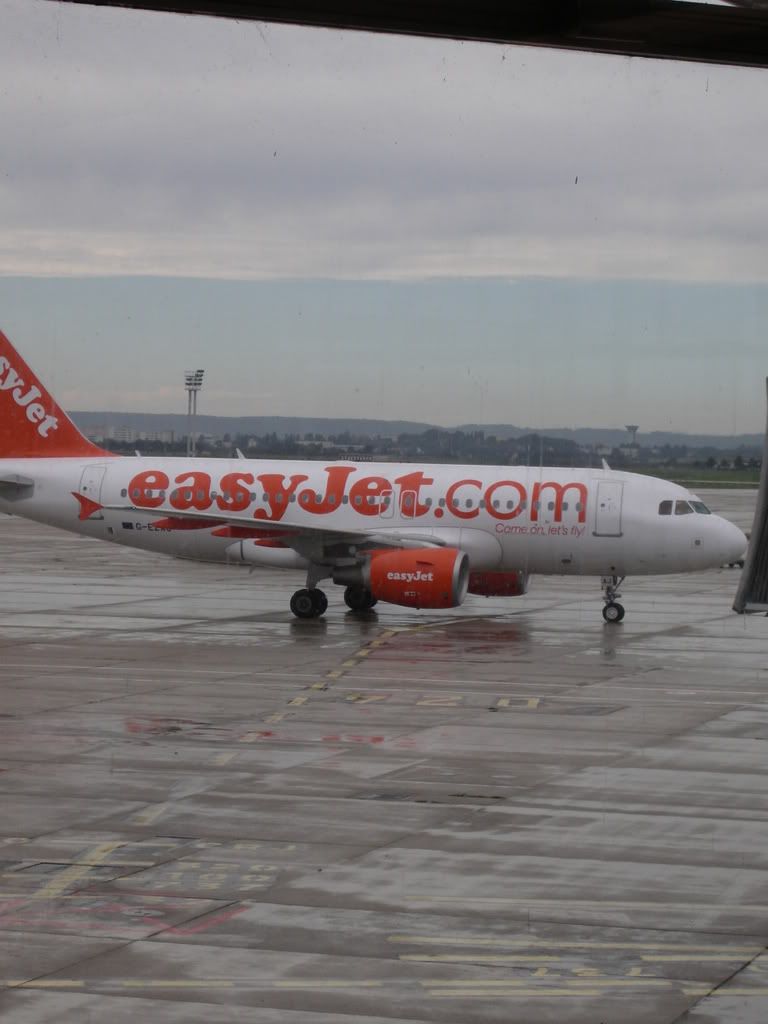 G-EZAJ finally arrived:
G-EZAJ this time, leisure flight no.26 on the A319 and the first on this plane.
Boarding started at 1.45 pm, airbridge this time and strict sorted by priority groups. I was in group A and therefore early in the plane.
I decided for a window, second last row with the whole window, only partly view in the last row.
A friendly welcome from the FA´s, a good load on this flight and an ontime pushback for the flight to MAD.
Departure from the same runway like in the morning, but in the other direction = 08.
Nice view to ORY short after departure: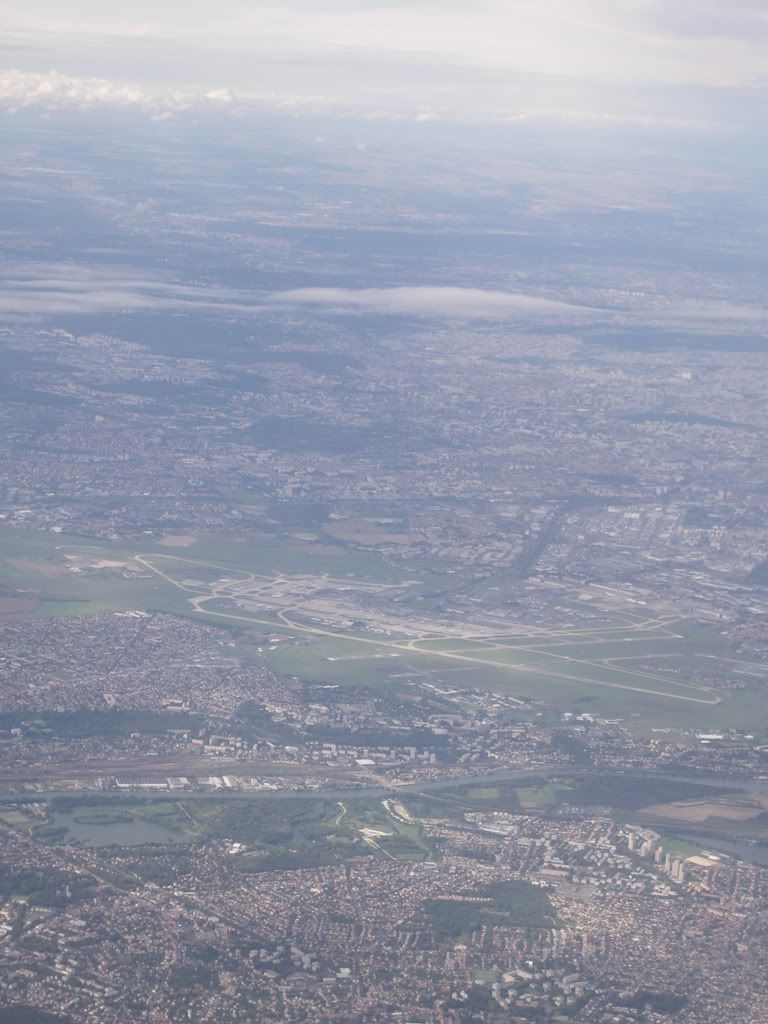 A clean and good looking plane, fitted with dark-grey/orange fabric seats.
Both, captain and FO from france. The female purser introduced the cabin crew by name, three females and one male.
All announcements in english/french and spanish.
Route: ORY-Bordeaux-Pamplona-MAD. Flight level 31.000 ft.
Near the french/spanish border: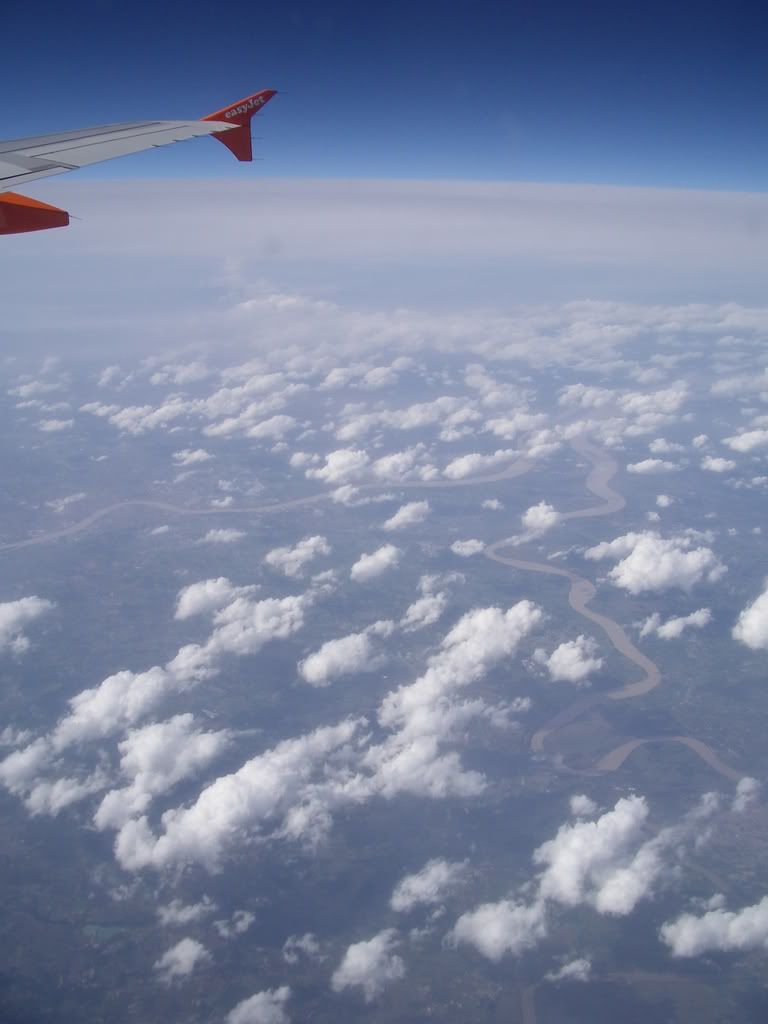 No special service on this leg.
This time around 20 % biz pax, the others vacationeers.
Some shakers above the pyrenees, otherwise a calm flight.
Approach to MAD at around 3.30 pm, I´am once again impressed about that dry, yellow-brown mainland spanish landscape.
Arrival on runway 33L , a rather long way to taxi for our stand at T1, the older part of MAD airport.
Only some minutes for my bag and than on the long way to walk to T2 for the subway station.
I need some 45 minutes and two connections for the ride to my hotel, the Vincci Soho in MAD´s Cortes district.
Booked by hotel.de, fare B&B = 139,10 EURO´s not cheap, but MAD is expensive when you want a stylish place to sleep.
The hotel itself is recommendable with some restrictions.
My room at the Vincci Soho:
MAD with my personal view:
Main post office: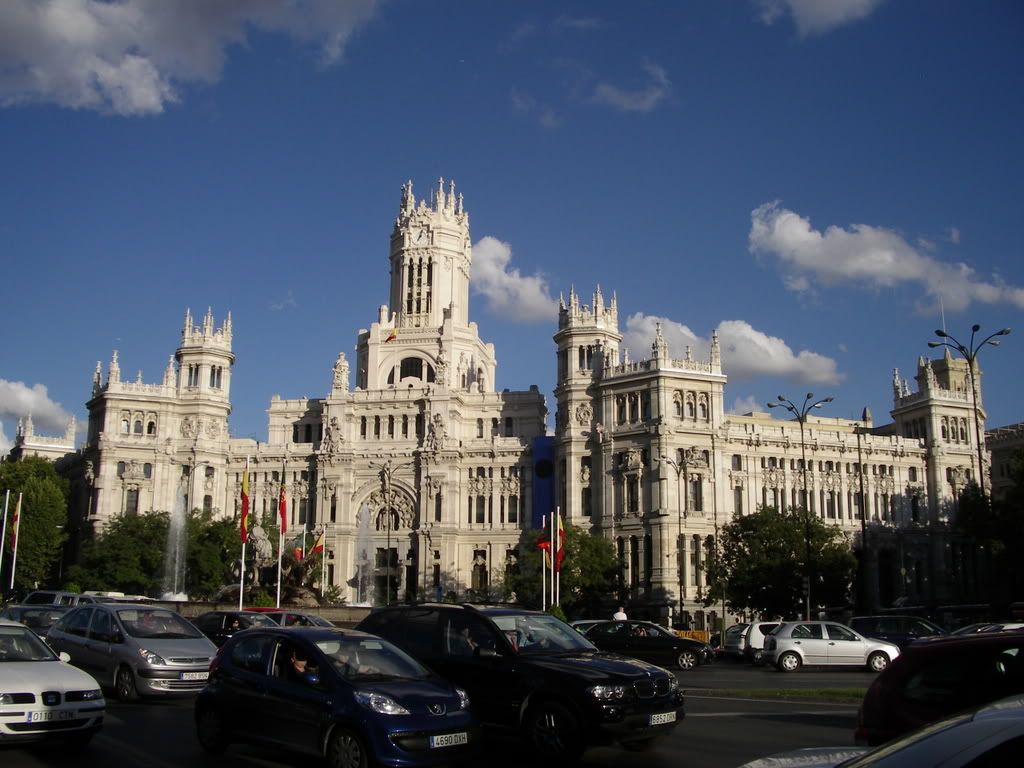 Telefonica building: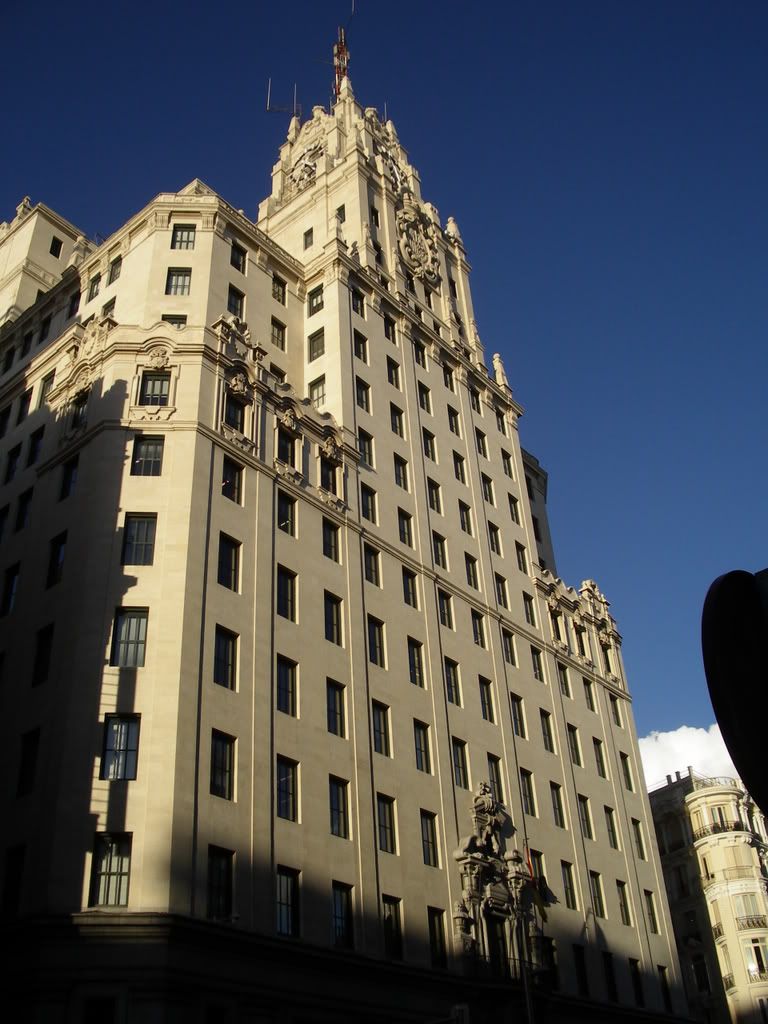 Museum Thyssen-Bornemisza:
Atocha station: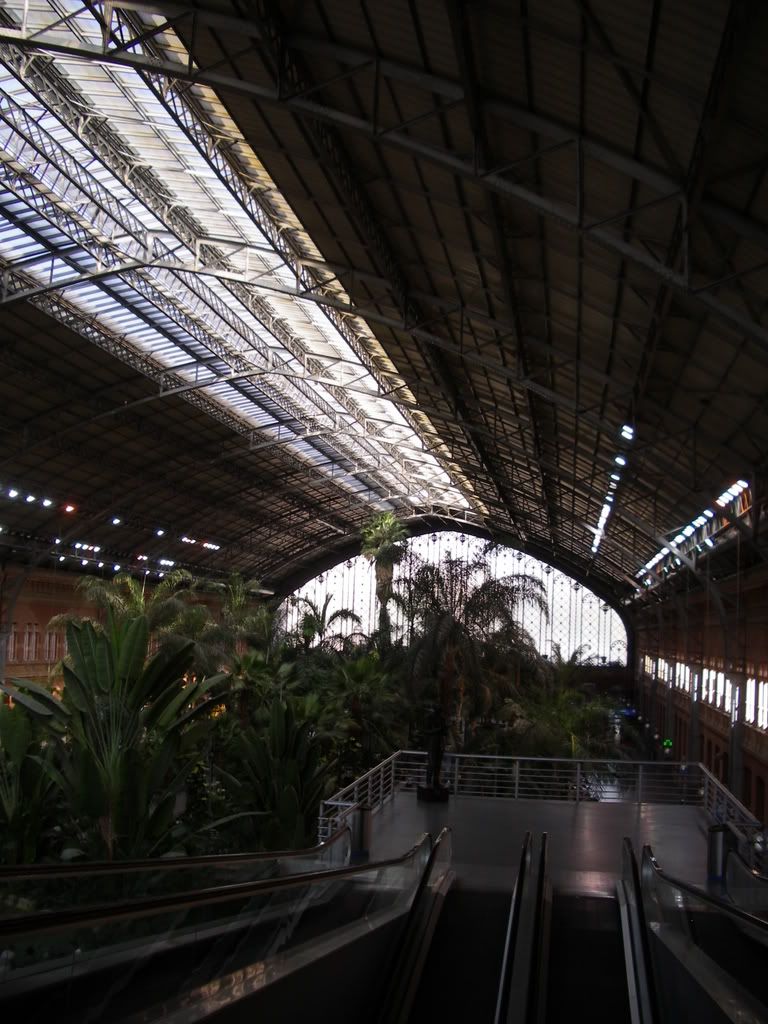 Egypt?, no the Templo de Debod: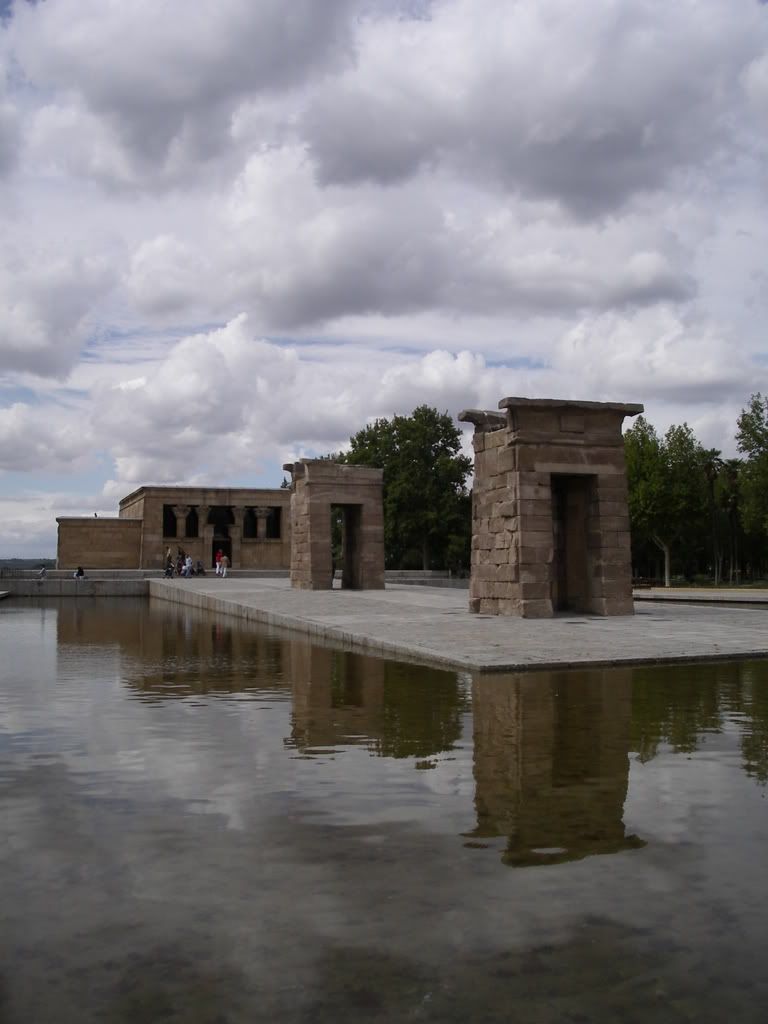 Puerta de Europa: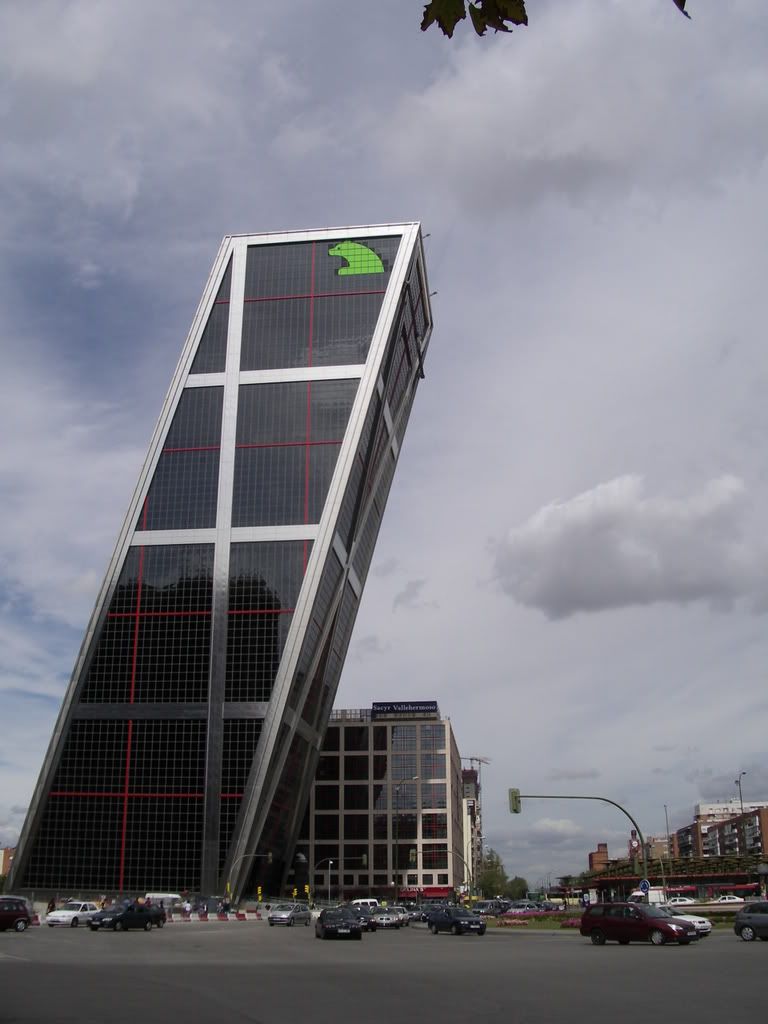 Saturday, 23.09.2006
MAD (Madrid-Barajas) - PMI (Palma de Mallorca-Son San Juan)
AB 4741 operated by Air Berlin B737-400 D-ABAL
Scheduled: 17.50 // 19.05
Actual: 18.20 // 19.10
Gate: D? Seat: 28F
Load factor: near 100 %
Fare: 138.-- EUR
Delivered to AB: 30.06.1996
I decided to start my journey back at 3.00 pm again by subway to Madrid-Barajas Aeropuerto station.
This time no long way to go, while AB checks in at T2 are located beneath the subway entrance.
I was there at around 4 pm, a long queue and believe it or not, check in was finished short after 5 pm, boarding was announced for 5.20 pm.
One counter for Top Bonus Silver and Gold members and two for the others.
Unbelievable how slow this continued, a group of spanish whitehaired retire´s occupied one counter for more than 20 minutes.
People travlling with dogs in large boxes, weird.
Passed security and at the gate short before boarding, the plane was there.
D-ABAL with a nice classic passing behind at MAD: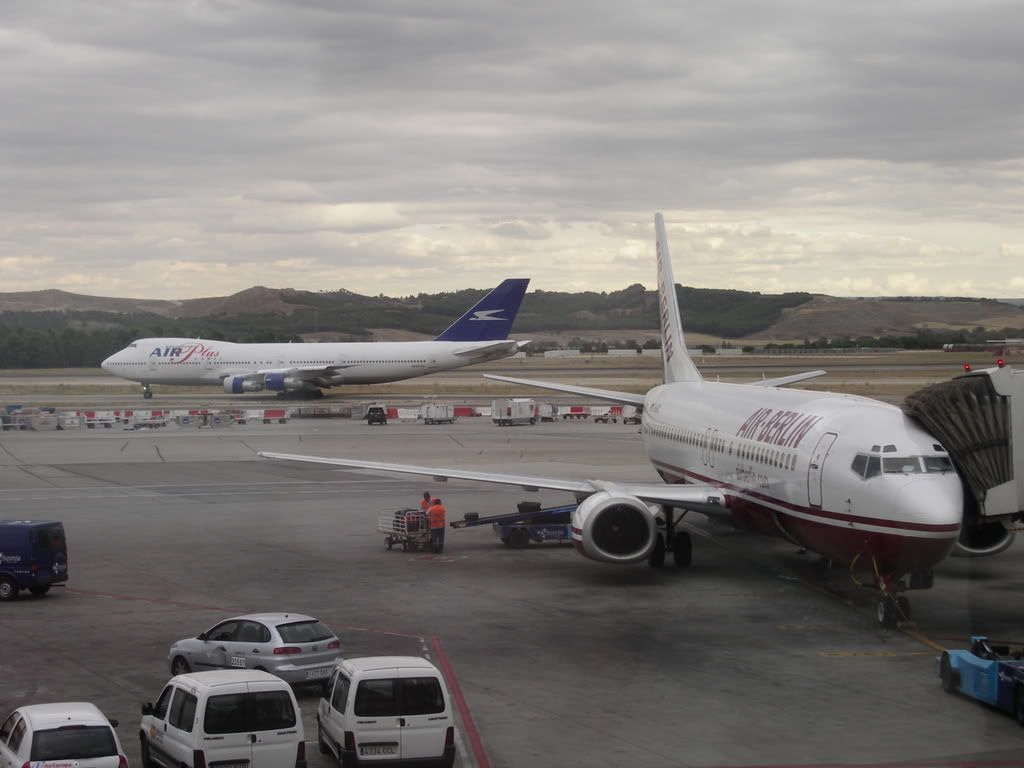 D-ABAL at MAD: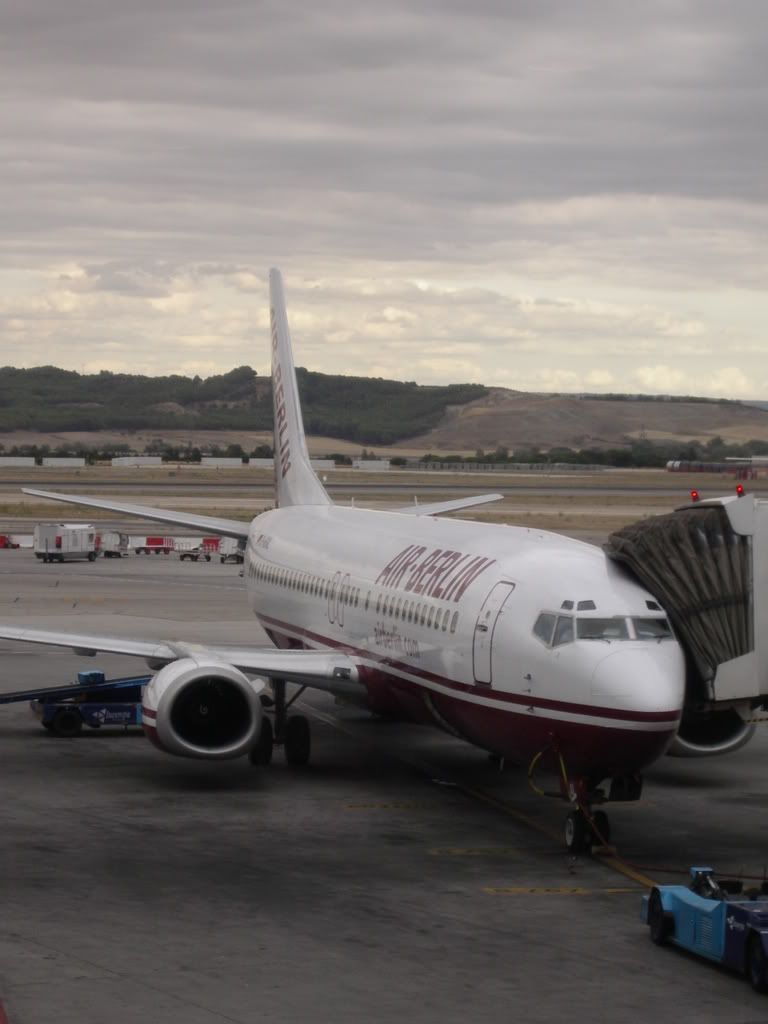 A real surprise, D-ABAL IMO one of the last B734 in the AB-fleet.
Leisure flight no. 8 on the B734 and the first on this machine.
Boarding started as announced, another good loaded plane on this trip.
Depature from runway 15R a bit late while we had to wait for late pax.
Plane in good conditions. Dark grey fabric seats.
Free newspapers.
Route:MAD-Cuenca-north of Valencia-PMI. Flight level 29.000 ft.
IMO 60 % spanish pax on this leg.
Service was a free bread roll and free beverages.
The captain was introduced by the female purser as Jan Schäfer.
Total four female FB´s on this service. All announcements in spanish and german.
The sky was cloudy on most parts of the journey, some heavy shakers especially near the coastline.
Approach to PMI from the landside to runway 24L.
Deboarding by a finger gate and finally arrived at PMI.
Saturday, 23.09.2006
PMI (Palma de Mallorca-Son San Juan) - STR (Stuttgart-Echterdingen)
AB 9389 operated by Air Berlin A320 D-ABDE
Scheduled: 20.30 // 22.30
Actual: 20.55 // 22.30
Gate: D59 Seat: 28F
Load factor: again near 100 %
Delivered to AB: 09.03.2006
Where are all the spanish travellers gone?.
Most of the gates in the D area occupied by AB services, impressive and the typical Mallorca crowd there.
Lots of older couples, some "Ballermann" style groups of youngsters and only a low number of spanish and other
travellers.
D-ABDE arrived at 7.30 pm, the announced boarding time.
Taxi D-ABDE at PMI: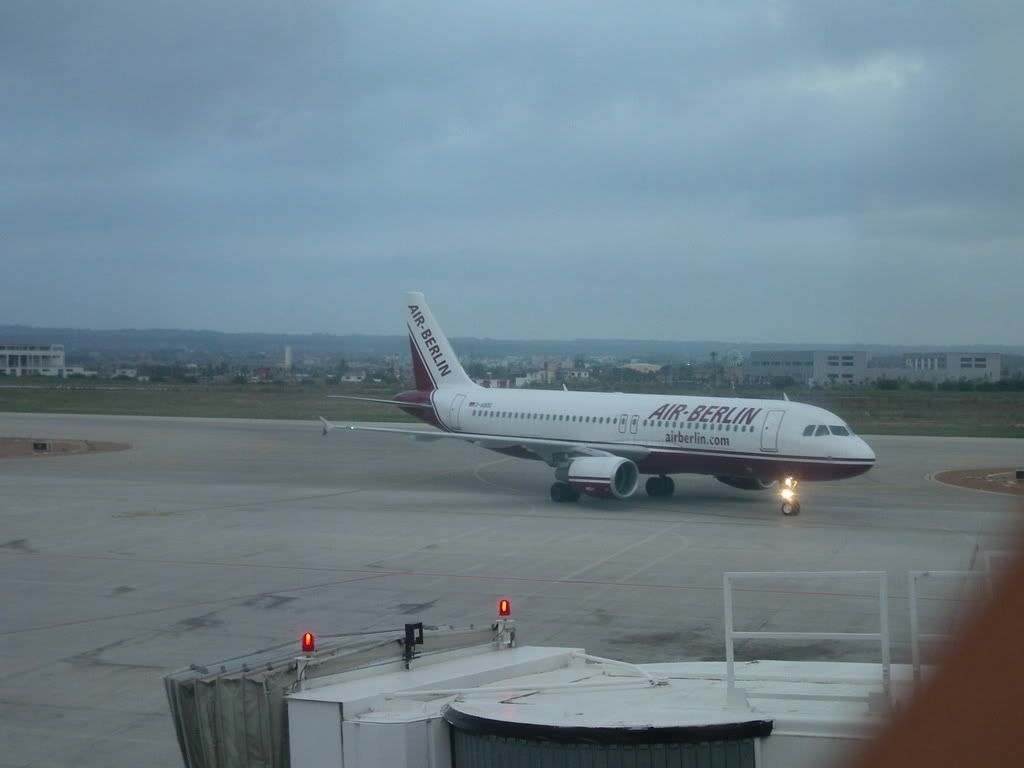 D-ADBE on finals at PMI: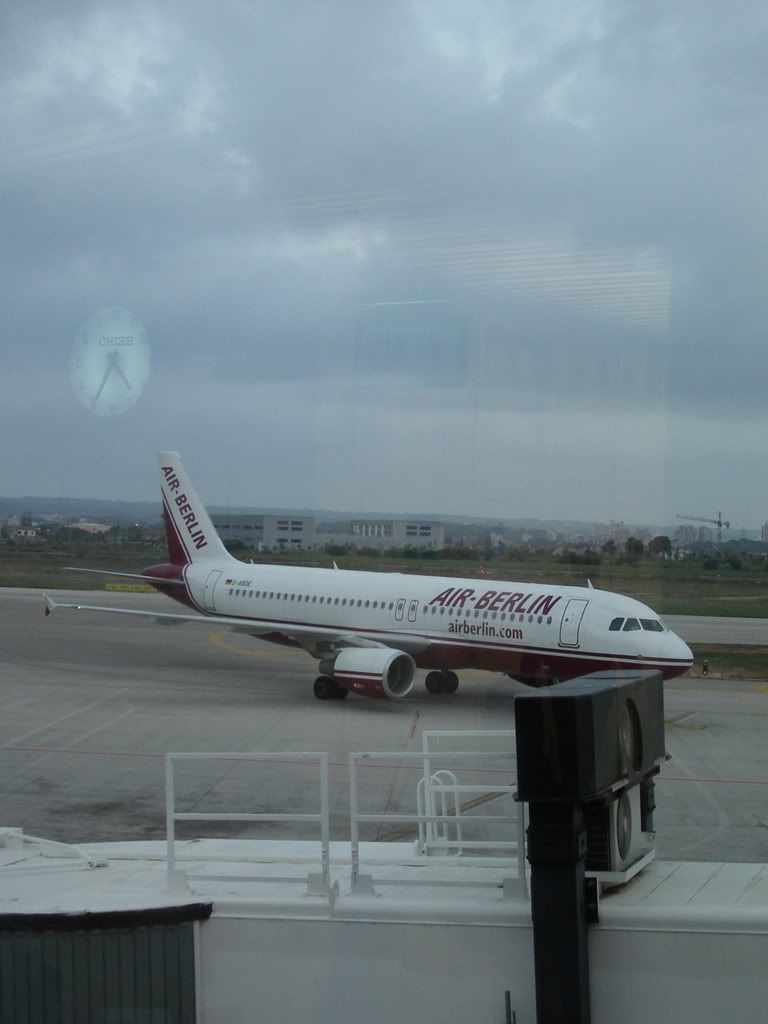 The handlers sorted all the bags directly at the planes.
Leisure flight no. 28 on the A320 and the first on this machine.
Boarding started than at around 8.15 pm, some nerveous whities asked the gate agent if the plane will be delayed.
Once again boarding by a finger gate and another good load.
Free newspapers and magazines on offer.
The plane shiny new, bright blue leather seats.
Taxi around the corner and departure from runway 24R directly after an impressive noisy EAL B732, great.
The captain introduced himself as Dieter Bäron.
Route:PMI-east of Marseille-west of Turin-ZRH-STR. Flight level 36.000 ft.
Service: One breadroll and free non-alcoholic drinks.
Calm flight, no shakers.
Good views to the nightly scenery.
Approach to runway 07 in STR 25 minutes ahead to arrivals.
A soft touchdown and taxi the long way back to the terminal.
And again deboarding by a finger.
One funny thing, the FO was introduced als Julius Cäsar, no joke, I asked the captain at the door during deboarding and he told me that this was his real name.
My bag was on the belt when I arrived and I was quickly on the way back home.
No personal rating this time as there are highs and lows on all flights:
Stretch 1: HLX: Ontime service, real good fare, female purser and one male FA ok, one unfriendly, detailed informations from the flightdeck.
Stretch 2: Easyjet: Ontime service, fare acceptable, flightdeck informations ok and interesting, cabin crew ok.
Stretch 3: Air Berlin: Nearly ontime service, higher fare, no welcome nor infos from the flightdeck, friendly cabin crew.
Stretch 4: AirBerlin: Ontime service, higher fare, motivated and detailed flightdeck infos, a friendly purser and three stressed female FA´s.
One girl has done her first day of service, she was the friendliest, the other two non-friendly.
No new airline or airport on this trip.
MAD is not my No.1 city in Europe but sure an interesting place to visit at all.
Comments as always, welcome,
Markus (FLIEGER67)