This is not one of those trip reports detailing the travel experience to an exotic destination. Rather, this report details of day-to-day business travel. Today it is a day trip from Pittsburgh to Birmingham, Alabama for a business meeting and returning to Pittsburgh (no offense to those who think that Birmingham, Alabama is an exotic destination!).
OUTBOUND
Monday morning travel out of Pittsburgh International Airport can be brutal. The security lines back up early and can be very long. To make a 7:00 flight, I set my alarm for 4:30 to allow myself time to arrive at the airport by 5:30. I also printed my boarding pass the day before so that I could avoid the lines and make sure I had the seat I wanted. I have "Chairman" status on US Airways so if there is an unsold seat in first class, I am on a list to get it. If there isn't a seat available at check-in, but one comes open at the airport, it is given to the person with the highest status with the earliest check-in time—so checking in on the computer the day before the flight is important. Because this was a day trip, I parked in the short-term parking in one of the coveted spots next to the terminal designated as "no overnight parking allowed". It was almost like I was tempting fate.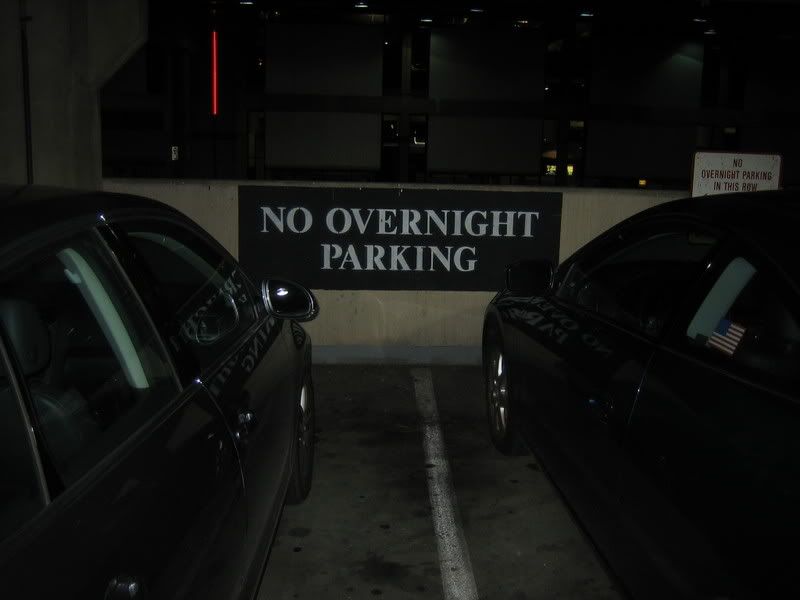 I went from my car, directly to the security line. I passed through the security line without incident and took the airport transit to the satellite terminal. When I got there, I checked the board to make sure my flight was on time. There was a large Monday morning crowd in the terminal looking for breakfast and coffee. There were two lines of about 20 people each at McDonalds. There was an equally long line at the coffee shop. I waited in line at the French bakery café to get my orange juice and chocolate croissant. I sat down at a table and checked my email. Pittsburgh is a great airport if you have to wait for your flight. They have several mall shops plus free wireless internet access.
Security on a Monday morning...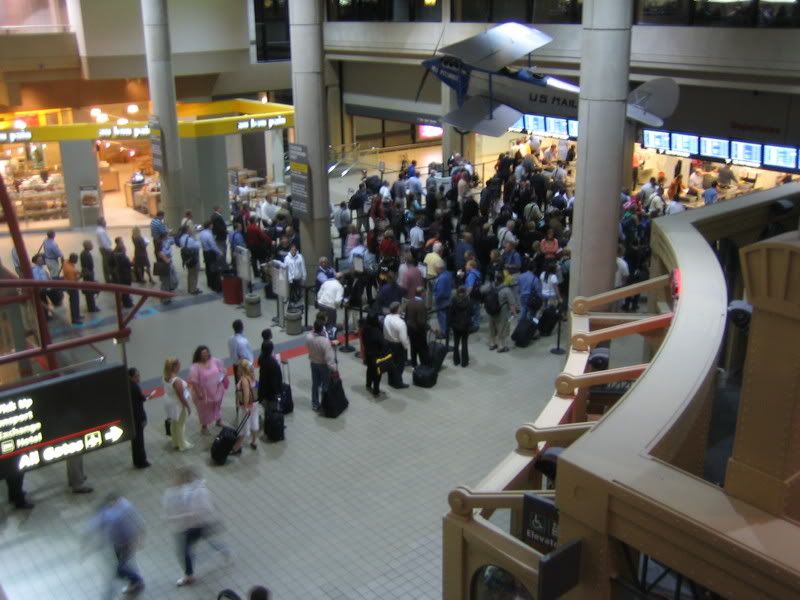 Flight: US #1537
PIT – CLT – 366 Miles
Aircraft: 737-400 #N433US
Departure Scheduled: 7:00 / Actual: 7:00 – Wheels up at 7:27
Arrival Scheduled: 8:26 / Actual: 8:57
A half hour before my flight, I walked down to the gate. My flight turned out to be oversold. In addition to the Monday morning business travelers, there were several US Airways employees trying to standby to get to work in Charlotte. Pittsburgh is no longer a hub for US Airways, so to get to Birmingham I have to transfer in Charlotte, NC. The flight was first boarded with "Zone 1" passengers that included first class and preferred-level frequent flyers (which seemed to be half the plane). I took my seat in 1F. Boarding didn't take much time at all. With the new security measures in place that eliminate fluids from being carried on board, it seems that boarding is faster. There also seems to be more room in the overhead bins. The doors were closed at 6:58 and push back was exactly at 7:00.
Shortly after takeoff, I fell asleep for about a half hour. I missed the beverage service, but when I awoke, the flight attendant was there with the snack basket and water.
Like most US airlines, food on short flights has been eliminated. In first class on US Airways, they offer a snack basket that includes peanuts, pretzels, cookies, and potato chips. The potato chips are the Cape Cod reduced fat variety and a favorite of most of the passengers. (About a year ago they switched to Lay's brand and I think there was a revolt…they switched back. Don't mess with the potato chips!). I asked the flight attendant if I could take a picture of the snack basket. She obliged after I told her about the trip reports on Airliners.net. She was fascinated that there was such a place on the internet and took down the web address. I guess at this point I should mention that the service was exceptional on this flight!
Air traffic around Charlotte was heavy and we circled the airport and landed to the North almost a half hour late.
I deplaned and headed for my connection in the commuter terminal. I like connecting at the Charlotte Airport. They have trees growing in the main part of the terminal and the moving sidewalk is lined with rocking chairs (which are usually filled.) It certainly creates a casual, friendly atmosphere as you dash to catch your flight.
Flight: US #2289
CLT – BMH – 352 Miles
Aircraft: CRJ-701 #N723PS
Departure Scheduled 9:35, Actual 9:35 – Wheels up at 9:57
Arrival Scheduled: 10:01, Actual 9:50 (with a time zone change)
I found the connecting flight which was almost ready to board. Again, the flight was full but boarding was orderly and the doors closed on time at 9:35. While it appears as if this is a 25 minute flight, it is actually an hour and 25 minutes as there is a one hour time difference. The onboard service for this all-coach flight was just a beverage. I guess US Airways has stopped serving any carbohydrates in coach. The weather improved the further South and West we traveled. There was a nice view of Atlanta as we flew over.
The approach to Birmingham was scenic as well. We flew past the city on the South, circled around and passed it on the North and then landed at the airport.
I deplaned and headed to the car rental counter. As I was going down the stairs, I saw this sign that shows Birmingham's pride in their home town celebrities.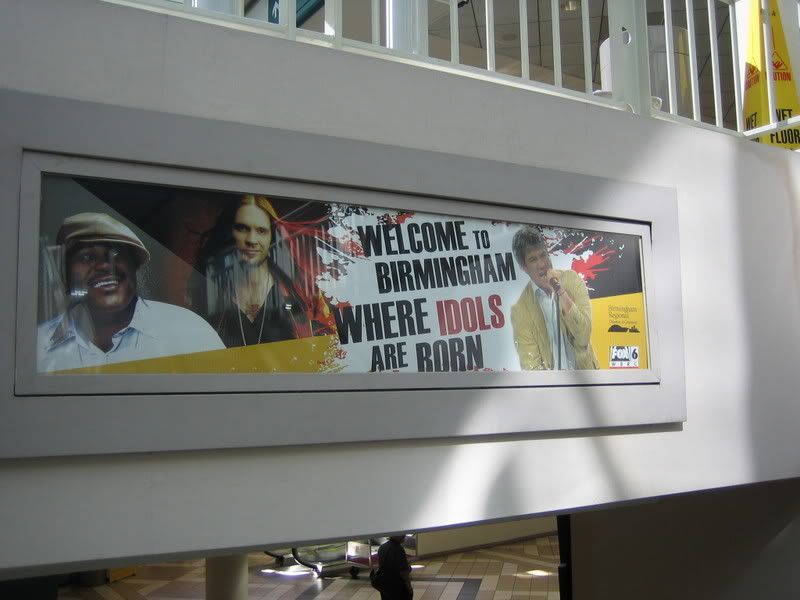 RETURN
Flight: US #2232
BHM - CLT – 352 Miles
Aircraft: CRJ-701 #N702PS
Departure Scheduled: 16:35, Actual: 17:05 – Wheels up at 17:21
Arrival Scheduled: 18:43, Actual: 19:05 – at the gate at 19:26
The meetings went well and overall it was a successful day. I got back to the airport about 45 minutes before my departure. That is one thing I like about flying out of smaller airports, the security lines are more manageable. Just before security, a local TV news reporter was interviewing passengers on their opinion on the change in security procedures allowing passengers to once again bring liquids on board.
I passed through security and walked a short distance to the gate. My flight was delayed by 25 minutes. The gate agent assured me that I would make it to my connecting flight in Charlotte on time even though I was arriving at Gate E17 and leaving from Gate B14 (the exact opposite side of the airport). The inbound flight finally arrived at 16:45. The passengers deplaned and almost immediately passengers were boarded. The flight turned in 20 minutes. It didn't make much difference however as we sat on the tarmac for nearly 20 minutes before taking off.
The flight was fairly uneventful. We passed over Atlanta again. We finally arrived in Charlotte at 19:05 which would give me plenty of time to catch my connection to Pittsburgh. Traffic on the ground was fairly heavy and it took us another 20 minutes to get to the gate. I was in seat 1A and was first off the plane. I ran to catch my flight but arrived just as the plan was pushing off. I approached the gate agent and told them I had missed my flight. They asked if I was Mr. (jakeflyer), and I said "yes". They had already printed off a boarding pass for me with a seat in first class for the next flight out. Nice service.
I missed my original flight, but was rebooked on Flight #1580
Flight: US #1580
CLT - PIT – 366 Miles
Aircraft: A320 EOW (A320-214) #N121UW
Departure Scheduled: 21:30, Actual: 21:22 – Wheels up at 21:42
Arrival Scheduled: 22:50, Actual 22:41
The flight to Pittsburgh was full. The passenger next to me had been on the same outbound flight that morning. He went to Miami for the day. (Miami sounds more exotic than Birmingham!) The flight was uneventful and I think I was numb from the lack of sleep. After we were airborne, I watched the trivia on the video screen that plays for the duration of the flight (by the way the answer to the trivia question shown is "TRUE"), drank my seltzer water and ate my potato chips. Life is good.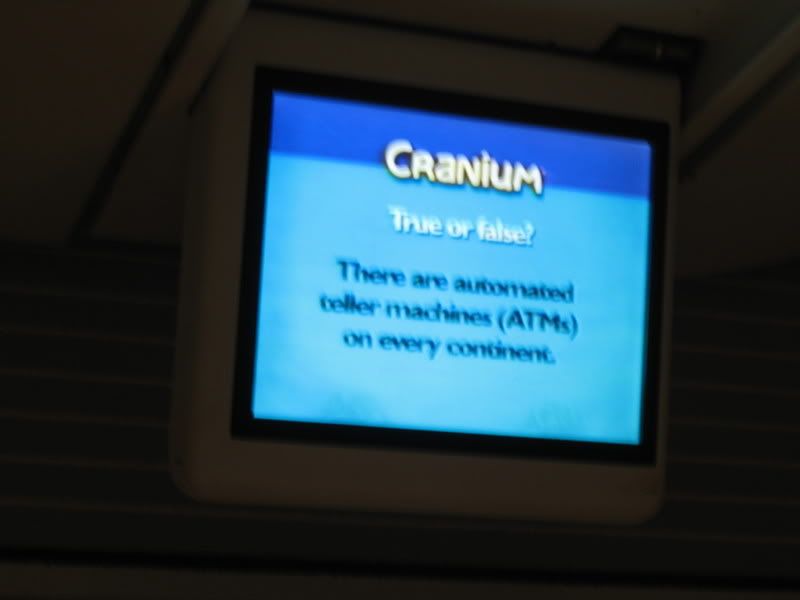 We circled the Pittsburgh to the East and North and landed at the airport early. The airport was fairly quite that time of night. As I went to exit the airport and pay my parking fee, I found the parking attendant asleep in the booth!
That's it, a typical one business trip. By the way, I drove into my garage at 23:35 and was in bed at 23:50. It was a long day!