I recently posted a report on my JFK-MEX-JFK adventure on MX's 318. I realized I had never written this trip report. Well, if you thought my last post was an unusual report I've got another for you . . .
I was riding the train home one night from work and noticed an advertisement in the New York Post. Air Tahiti Nui were boasting the fastest way to New Zealand with introductory fares of $599 roundtrip. This was also coupled with an advertising blitz with NZ Tourism. I couldn't resist – I've always wanted to visit New Zealand! My sister joined me on this trip as well.
This trip would bring to an end the busiest two months of traveling I have ever done. March saw me JFK-LAX and JFK-DCA. April saw me JFK-LHR-BRU, CRL-DUB and DUB-LHR-JFK. May saw JFK-LAS-BOS-LGA and finally, the big one. I was particularly anxious about this trip. Several firsts for me . . . a new airline . . . crossing the International Date Line . . . a stop in TAHITI . . . and another "continent" to add to my collection.
May 29, 2006
AIR TAHITI NUI FLIGHT TN003
Departs: New York JFK 17:15
Arrives: Papeete Tahiti PPT 2355
Seat: 27D
Airbus A340-300 F-OSUN "Moorea"
Today was Memorial Day in the United States, the "traditional" start of the American summer. We left our home in Westchester Country around 2:15 for the 5:15pm departure to PPT. Because of the holiday there was very little traffic on the way out to JFK. Terminal 4 was rather quiet as well. TN are handled by Swissport at JFK and used approximately 8 desks in Zone 6. Three lines . . . one for Moana Class (coach), another for Poerava Business and another for Poerava First. Of course, this being a flight to PPT the coach line was full of honeymooners on their way to paradise. As I checked in I thought to myself I certainly have a couple of more years before I'll be doing this flight again . . .
Agents are wearing the Tahitian style shirts . . . some blue, some green and some orange. Definitely adds to the "holiday" atmosphere! I asked the girl who was checking us in whether the flight was full and she said "not really." I asked if it would be possible to get an entire centre section of seats to ourselves. No problem . . . So, we had 27D and 27G, with 27E and 27F blocked for the 12 hour 40 minute flight to PPT. For a guy like me who's 6'3" . . . SCORE!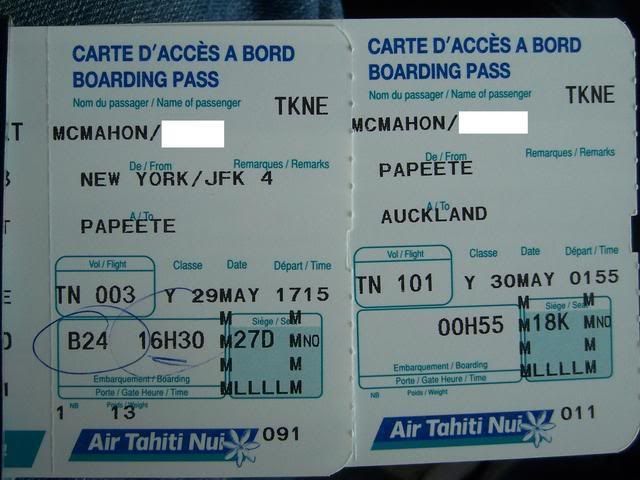 Boarding would be out of B24. Since this is one of the first flights out of the B Pier in the evening security was very easy. Snapped these photos to prove to my friends that I actually was flying on a real airline . . . many of them could not believe an airplane could fly JFK-PPT nonstop . . .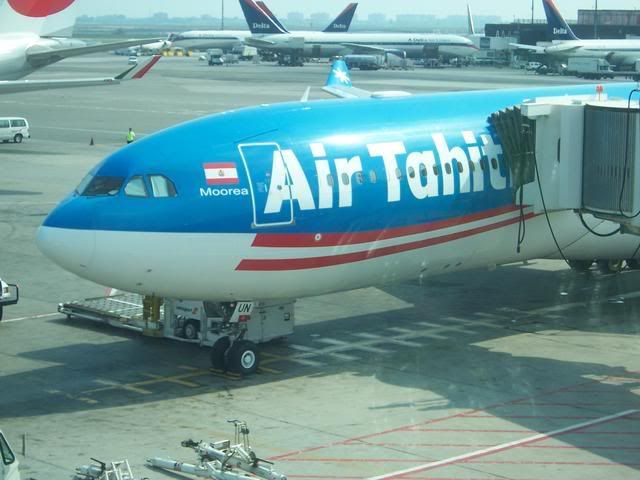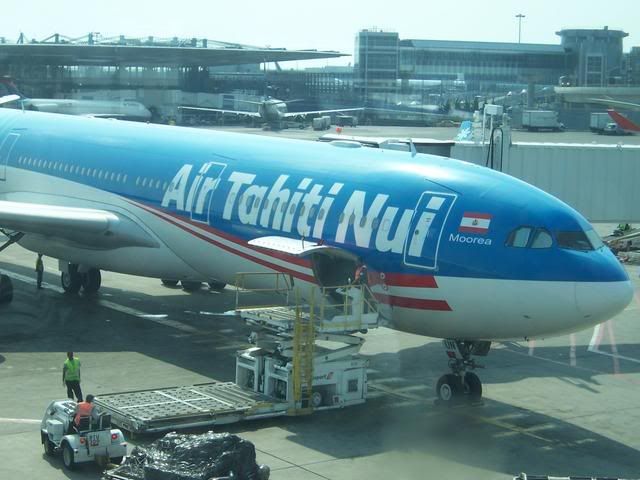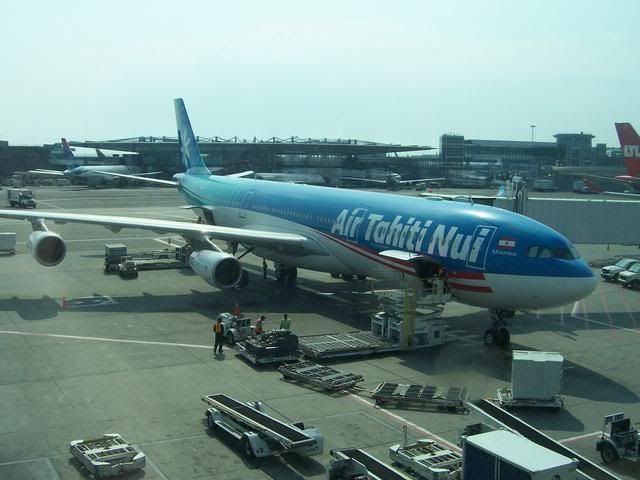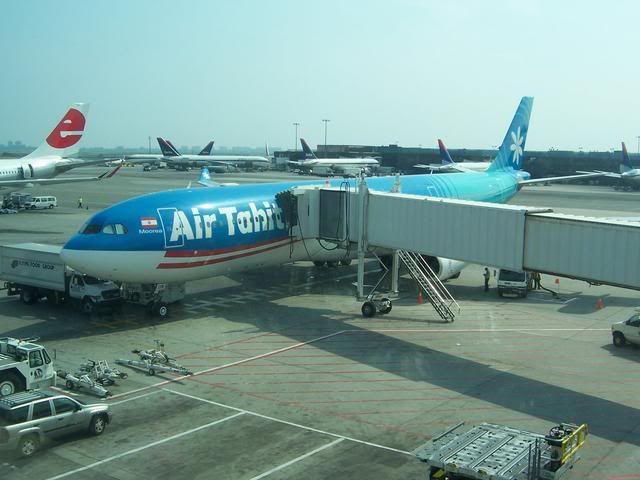 Boarding started promptly at 4:30pm with Poerava First and Business, followed by a general boarding announcement for Moana Class passengers. As we boarded I couldn't help but notice the number of people on this flight . . . especially for a "not really" full flight. We proceeded down the jetway and was welcomed on board "Moorea" with gardenas from one of the stunning FAs. We found our seats towards the rear of the center section of our 343. In row 28 behind us there was a honeymooning couple and a father and daughter. The father was a rather large man who appeared to be Australian and very irritated at his seat assignment. Once the doors were closed he was even more irritated when he noticed the EF seats in front of him vacant.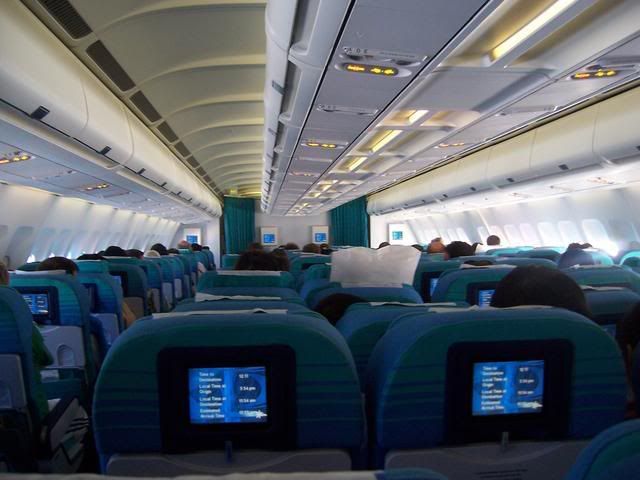 The captain announced our flying time to PPT would be 12 hrs and 40 minutes. Announcements were first done in Polynesian, French and then English. It was very difficult to understand the crew at some times.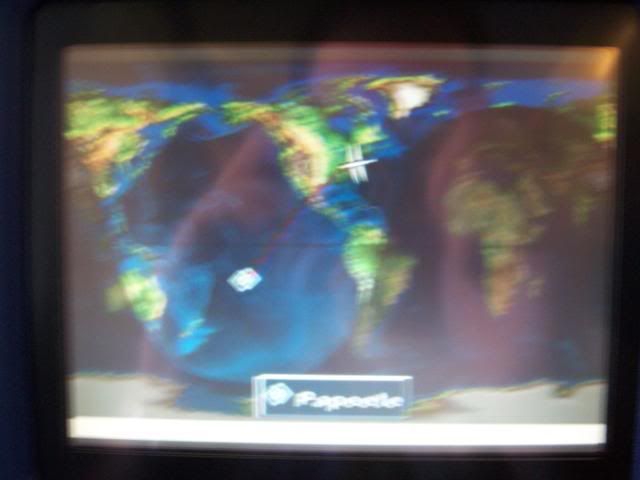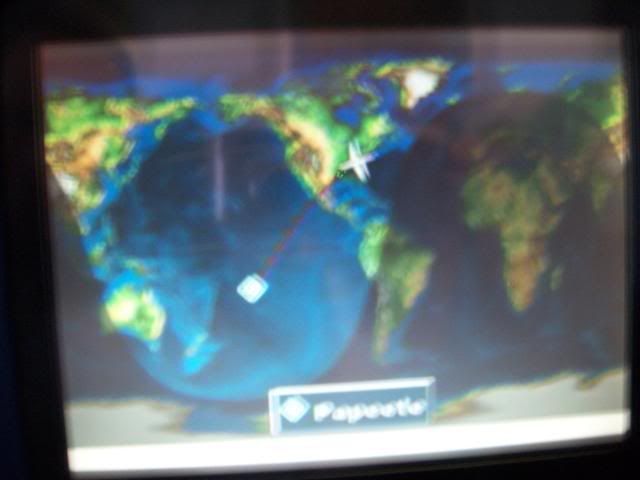 After take-off menus and amenity kits were distributed to passengers, along with immigration forms for French Polynesia. There appeared to be some confusion on whether AKL bound passengers required these forms. We erred on the safe side, took them, completed them and held on to them.
Once airborne the male crew changed into traditional Tahitian clothing. In flight service started with a bar service . . . alcohol was free, and served from full bottles as opposed to the smaller single servings. I enjoyed a couple of glasses of red wine before dinner was served. Menu . . .
NEW YORK – PAPEETE
Hot Lunch
- Orzo Pasta Salad
- Chicken Breast with Red Wine Sauce, Parisienne Potatoes and mixed vegetables
or
- Filet of Sole with Tomato Sauce, wild rice and mixed vegetables
- Cheese
- Normandy Apple Cake
Hot Snack
- Caesar Salad
- Penne Pasta with Smoked Salmon and Cream Sauce
- Crème Caramel
IFE on TN is pretty basic by today's standards . . . still miles ahead of some carriers but we'd have six movies to keep ourselves entertained to PPT. Memoirs of a Geisha, Family Stone, Cheaper by the Dozen II, and Yours Mine and Ours, come to mind.
Crew were up and down the aisles approximately once an hour with water. About 2 hours prior to arrival in PPT the "Hot Snack" was served. I must admit this was one of the best airline meals I have ever had. In fact, I also ate my sisters.
Unfortunately, there isn't very much to see on your way into PPT at around midnight. All you know is you are in the middle of the Pacific Ocean, and you know you are on approach when you start to hear the flaps and are descending. Even though PPT is not my final destination I'm starting to get excited . . . . little did I know what was ahead . . .
Disembarkation was very easy via airstairs and a band was inside the terminal welcoming us to Tahiti. There was also a girl welcoming passengers with gardenas. After your welcome you need to take a left for "transit passengers" or continue straight to immigration. We proceeded to the transit desk where we were greeted by a gentleman who inspected our tickets and handed us transit cards. We proceeded to the departures lounge where it became apparent I would be spending more time in PPT than I had planned for . . . . Estimated time of departure for TN 101 to AKL was now pushed back to 0430. Not a happy camper after spending almost 13 hours in transit. It was 88 degrees and 100% humidity in an open air airport with no A/C and only fans!
Thankfully the terminal has some rather comfy lounge chairs and we set up camp for the next couple of hours. Moorea was turned around in about 45 minutes and headed back to LAX at 0130. At around 315 our delayed Nuku Hiva F-OLOV arrived from LAX.
May 30, 2006
AIR TAHITI NUI FLIGHT TN101
Departs: Papeete Tahiti PPT 0155
Arrives: Auckland AKL 0515 (May 31, 2006)
Seat: 18K
Airbus A340-300 F-OLOV "Nuku Hiva"
Boarding for TN101 commenced at 0400. We were seated in 18K and 18L for this flight but by 0420 when the doors were closed it became abundantly clear this would be a very empty flight. I switched to 19L and stretched out a little bit.
Nuku Hiva is TN's latest addition to the fleet, also the aircraft that was on display at the 2005 Paris Airshow. It's extremely modern and very sleek inside. However, there were some noticeable differences from Moorea . . . namely the legroom for me. Very tight indeed.
The films on this segment were not of much interest to me, and besides I wanted to sleep. And I would have plenty of time to do so. Although our scheduled flying time was just about 5 hours this flight would take almost 7 hours due to extremely strong headwinds . . .
Just after takeoff from PPT menus and amenity kits were distributed along with NZ Immigration Forms. Our menu consisted of the following
Snack
Hot Breakfast
- Fresh Tropical Fruit Salad
- Plain Omelette, grilled ham and vegetable ratatouille
or
- Butter crepes with guava compote
- Fresh Bread Rolls, Croissants, Butter, Jam, Tea, Coffee, Chocolate and Fruit Juice
I slept most of the flight but approximately 2 hours outside AKL they came around with the Hot Breakfast. I opted for the crepes and must admit they were very tasty . . . . but I was starved and would have eaten anything at that point. I was glad I had my sister's Hot Snack on the JFK-PPT segment. At this particular point my sister was literally starving though . . . she is not much of an adventurous eater, and airline food is not something she enjoys or is even willing to try.
Here's a couple of shots I took on final approach to AKL. You can see the cabin of Nuku Hiva, the tight legroom, and my first glimpse of NZ – the Great Barrier Island. Nuku Hiva is equipped with forward and ground facing cameras so it was fun to watch the approach.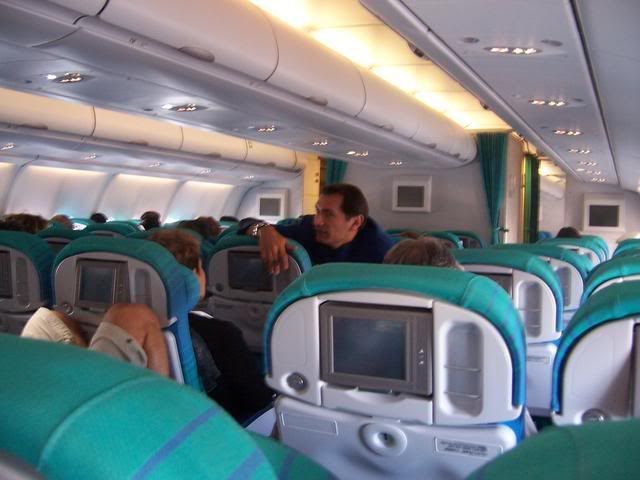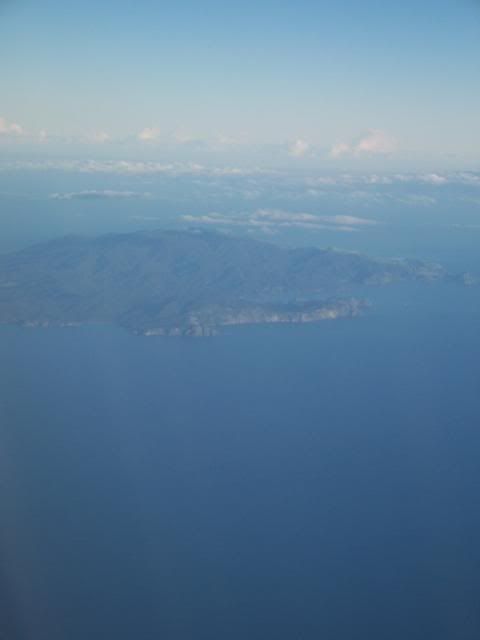 Once on the ground I felt like a zombie. This is in fact one of the longest flights you can take from the East Coast so it's no wonder. It also felt amazing to be in New Zealand, where it was sunny, 60 degrees and nearing the end of the Southern Hemisphere's fall. Immigration was very easy and baggage delivery was amazingly quick. I'd say it took us 15 minutes to get from the plane through immigration and customs, a quick stop at an ATM and into a taxi to our hotel.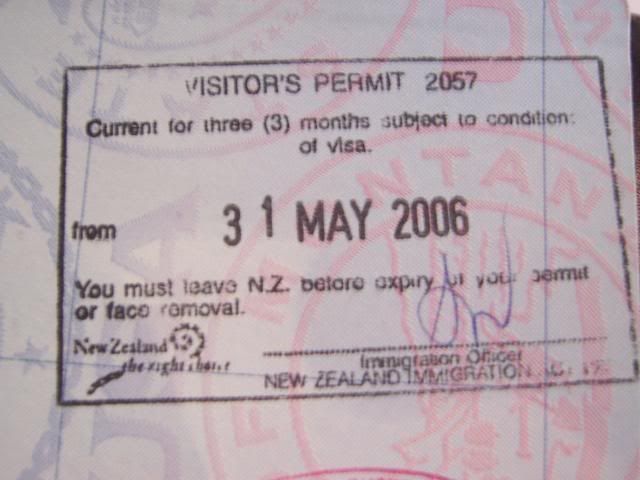 We stayed at the Hyatt Regency Auckland in the Residence Tower for 3 nights. The rooms in the Residence Tower are among the best you can get in Auckland. For locals they come at a very high price . . . but for American travelers this is one of the very few countries where our USD buys a lot more. Worth the US$130 a night!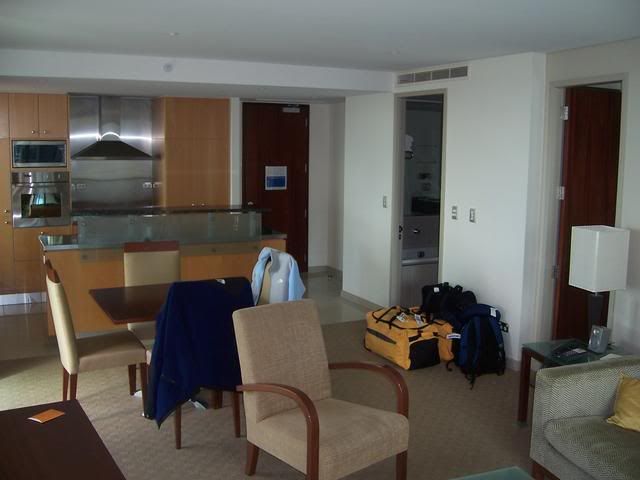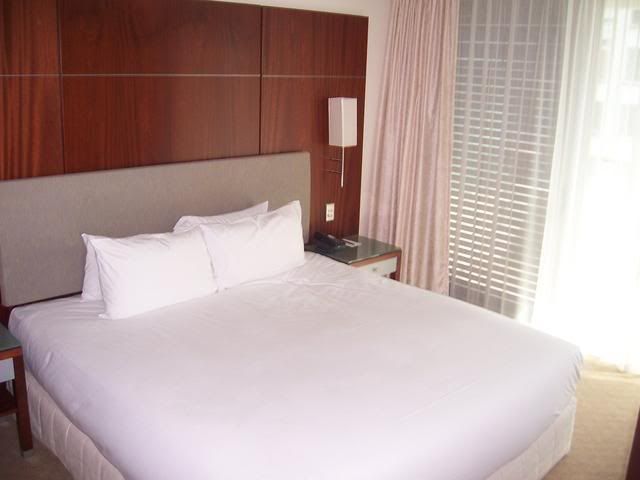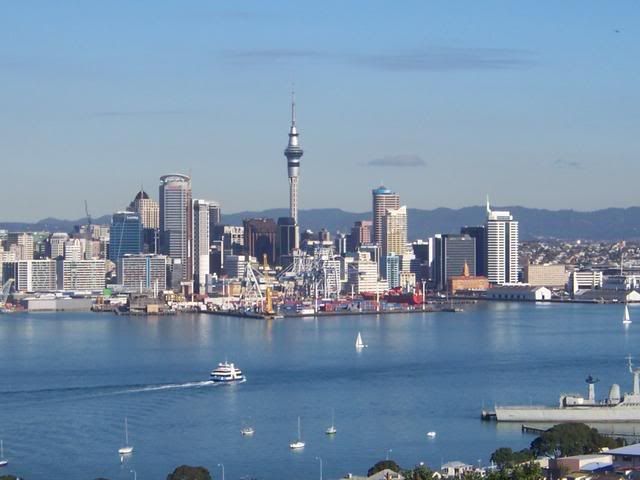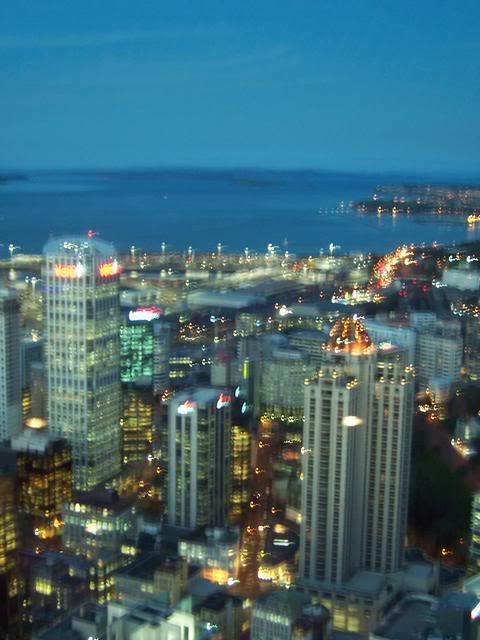 June 3, 2006
QANTAS AIRWAYS FLIGHT QF4117
Departs: Auckland AKL 1210
Arrives: Christchurch CHC 1330
Seat: 7A
Boeing 737-300 ZK-JNC
Our adventure to NZ's South Island would begin this Saturday afternoon at the Qantas Domestic Terminal. The terminal was very busy and I flashed my Aadvantage Gold Card at the Qantas Club desk and was checked in very quickly to CHC.
Boarding commenced at 1140 and this would prove to be a very crowded flight to CHC, but the middle seat would remain vacant for the hour flight to CHC. My sister took the window, while I took the aisle so I really have no photos from this flight.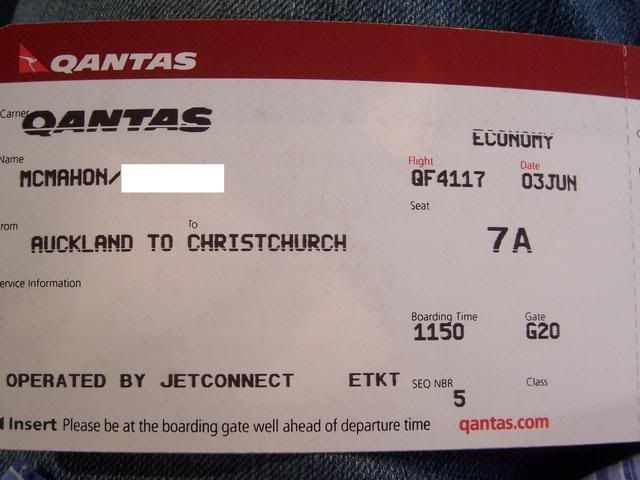 QF cabin crew for NZ domestic flights are all friendly Kiwis and service was exceptional. Coffee/Tea/Juice was offered in addition to a variety of snacks. I was very impressed with the service. In addition, Friends was shown on the overhead screens for the short flight.
Our time on the South Island was amazing. We rented stayed one night in CHC, rented a car and took off for Mount Cook, Queenstown, and Dunedin.
Queenstown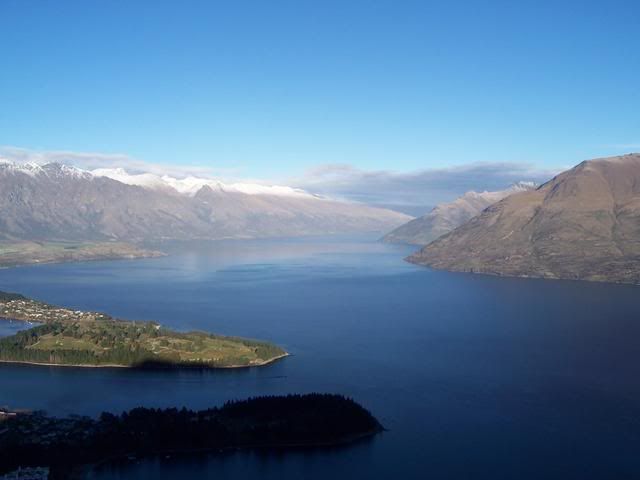 Kawarau River Bungy – YES I IDID IT!!!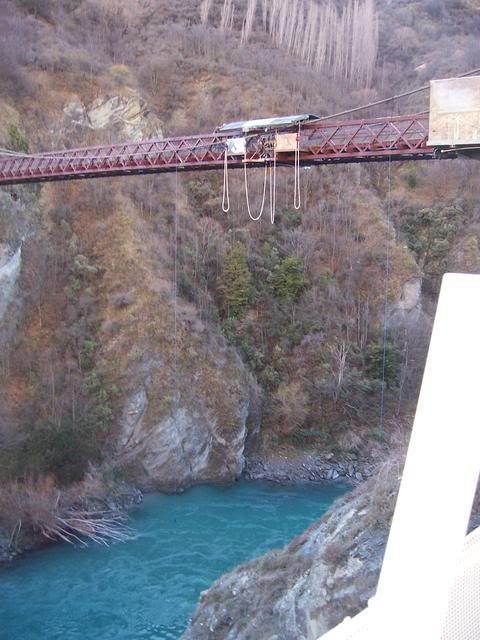 Otago Peninsula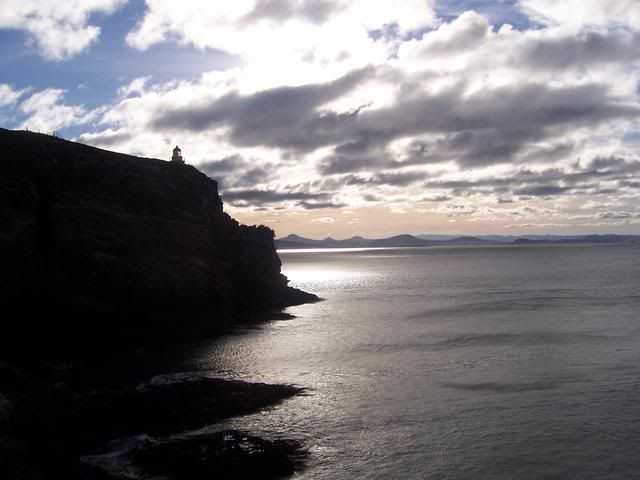 June 8, 2006
AIR NEW ZEALAND FLIGHT NZ632
Departs: Dunedin DUD 0930
Arrives: Auckland AKL 1110
Seat: 5C
Boeing 737-300 ZK-FRE
After 5 glorious days of touring it was unfortunately time to start the trek back the US – and by any standard we were on a short trip so it was very hard to say goodbye to this wonderful country. I hope one day to visit again in the summer months.
We dropped our car at the Hertz counter and checked in with NZ via their Self-Service kiosks. The kiosk printed this boarding pass and said "What is this?" It looked more like a movie theater ticket than a boarding pass . . . very strange indeed. But, better than the flimsy pieces of paper we get here in the US.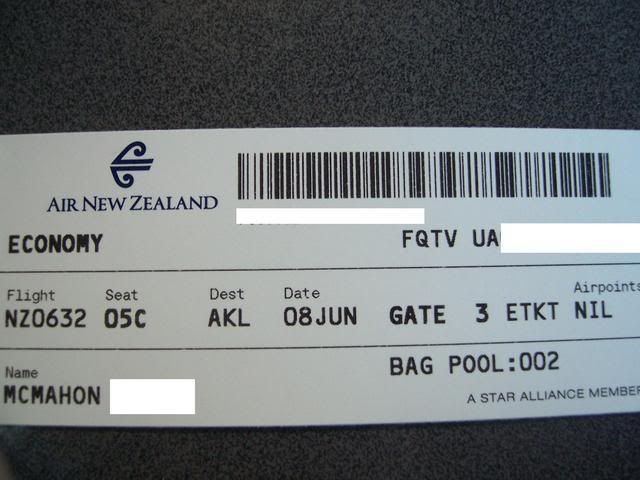 Dunedin is a very small airport, but very modern and one of the nicest "regional" airports I have ever been in. We would be taking the longest domestic flight in NZ today . . . just over 90 minutes flying time.
Although the flight was crowded we still managed to ensure the middle seat remained vacant. Unfortunately the sister got the window again meaning my photos ops would be limited once again.
Crossing over to the North Island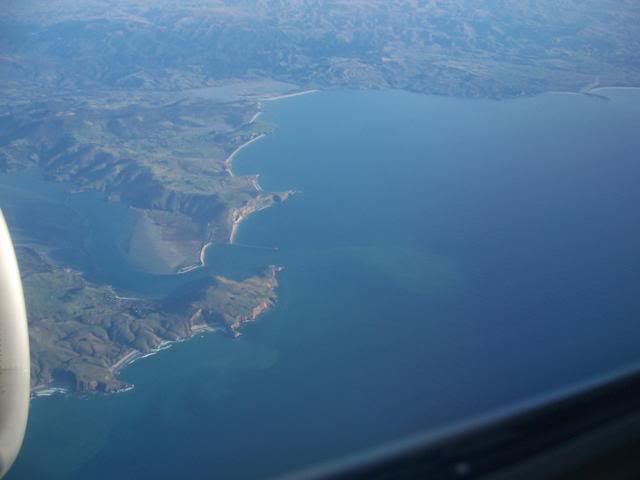 In flight service was not as good as on QF. Seats were a little harder and cabin crew much more reserved. I guess I decided I like QF better . . . it could also have something to do with the fact that W fares on NZ are not eligible for mileage on UA. Whereas I got the miles for the QF flight . . . What can I say? I'm a mileage collector . . .
Taxis in Auckland are very expensive from the airport and we discovered the Super Shuttle a couple of days ago and used it to take us back to the Hyatt this Thursday morning.
One last night in Auckland. We headed over to Vulcan Lane for dinner and drinks at the Occidental. A wonderful Belgian Beer Garden with excellent food, and the prices cannot be beat.
Sadly, I must admit that one of the highlights of this trip was being able to see episodes of Coronation Street . . . it's nice to know nothing has changed on the show! The best part of this hotel is that a washer/dryer is in your room, in addition to the kitchen, etc. So this evening we also did our laundry so we could avoid doing this when we got home. So nice.
June 9, 2006
AIR TAHITI NUI FLIGHT TN102
Departs: Auckland AKL 1305
Arrives: Papeete Tahiti PPT 1955 (June 8, 2006)
Seat: 25K
Airbus A340-300 F-OLOV
We finished up the last of the food we had bought for the roadtrip this morning and headed off to AKL rather early. We did not have assigned seats on this flight and I wanted to make sure we, or moreso for myself, were comfortable for the long ride to JFK.
TN is handled by QF at AKL and an adorable girl checked us in for JFK. I asked how much an upgrade would be and the girl consulted her cheat sheet and told me NZ$1600 (US$1,000). I actually contemplated saying yes but then I realized I'd have to pay for two and then said No. Since we were 3.5 hours early for the flight seats would not be a problem in coach. We were assigned 25K and 25L for the AKL-PPT segment. And this adorable girl then said to me . . . I have and exit for you on the JFK flight . . . so you guys will be in 31K and 31L to JFK. Sweet!
After paying almost $200 taxes on my "promotional" airfare we still had to pay a NZ$25 departure tax. Very strange. Not sure why they can't include this airport service charge in the ticket price. We paid the fee and proceeded through to the departures lounge and had a great time in the Duty Free Store. I have never seen alcohol being sold for so little. Picked up a bottle of Grey Goose for US$20 and Sapphire for US$11.
Since I knew my sister would not eat for the next 19 hours I stuffed her up on Burger King before leaving . . . she's a big fan of the chicken tenders.
We proceeded out to Gate 8 for our 1:05pm departure to PPT. The lounge area was very crowded and this would prove to be a very full flight to PPT. Parked outside was Nuku Hiva again . . . and I knew it would be a tight fit for my legs this afternoon but at least I could rest knowing my ride to JFK would be comfortable.
As we were sitting in the lounge it became very clear most of the people on this flight would actually be continuing to JFK.
As had become the "usual" by now we were greeted on board with a gardena. Just before takeoff menus and amenity kits were distributed. This was followed by immigration forms for French Polynesia. This time we were told that for passengers traveling to JFK or LAX no forms would be required.
A bar service was offered once at cruising altitude followed by lunch:
Hot Lunch
- Pesto Pasta Salad and Sliced Ham
- Beef and Spinach Lasagna
or
- Gratinated Hoki Filet with a Tomato Coulis, Parsley Potatoes, Buttered Broccolis and Carrots
- Cheese
- Tiramisu
I took the fish and my sister declined the tray. The fish was actually very tasty. So far I have been very impressed with the catering on TN. No complaints so far.
Today's flight to PPT would only take 4 hours and 45 minutes. We touched down in PPT just a little before 8pm local time. Just the right time to be able to see a little out the window. It truly is a paradise . . . the overwater bungalows look amazing from an aerial perspective!
This time the lines at the transit counter were longer than for those actually destined for PPT. This time where were two lines . . . one for LAX and one for JFK. We were handed our transit cards and proceeded into the lounge area. Our aircraft heading to JFK, F-OJTN, had just arrived from SYD and the lounge are was extrememly crowded with what looked like two full flights heading to the USA. We checked out the duty free store but were not really interested in anything there.
FA'AA Departure Lounge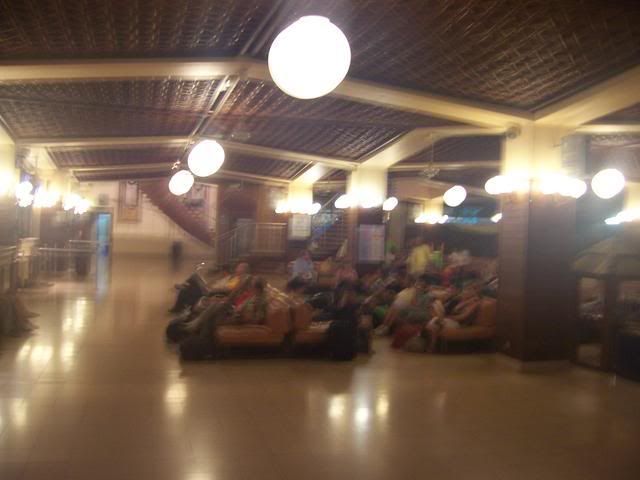 June 8, 2006
AIR TAHITI NUI FLIGHT TN004
Departs: Papeete Tahiti PPT 2105
Arrives: New York JFK 1515 (June 9, 2006)
Seat: 31K
Airbus A340-300 F-OJTN "Bora Bora"
Boarding for JFK would be first and it was announced the flight would be full and boarding would be strictly by Cabin and Row Numbers. First call was for Poerava First/Business, then coach 31 and back. As you are going down the ramp security officials are there to do random inspections of handbaggage and I was one of the lucky selectees.
Bora Bora – It's very "sticky" outside!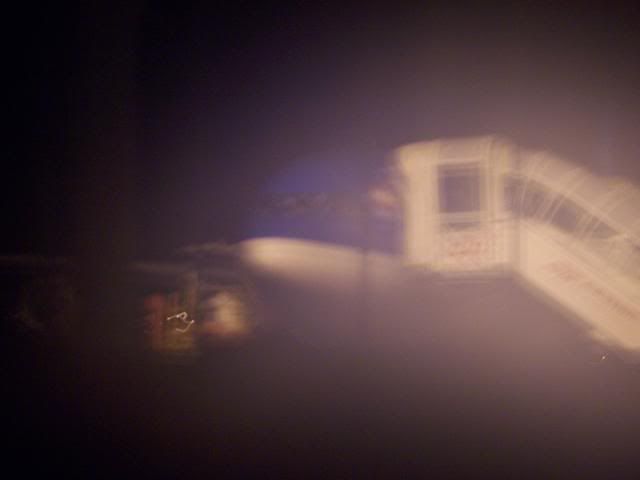 Once completed we climbed up the airstairs and was welcomed on board one of TN's older birds, "Bora Bora" built in 2002, with the gardenas. My friend back in AKL did me a huge favor by assigning me that exit row seat and I sat down with a glib smile on my face as I stretched my legs. I would later place my backpack on the floor to use as a footrest, which I was surprised I was allowed to do.
Again, the usual walk through with menus, amenity kits and immigration forms. At this particular point I almost felt I was a regular flyer of this airline.
Unfortunately, the IFE for this segment was not good – mainly because we had already seen the cycle on our PPT-AKL flight. So this would prove to be a very long journey. I was glad I had a book with me.
Bar service, then dinner. Menu for this flight was:
Hot Dinner
- Cucumber and Shrimp Salad
- Farfalle Pasta with Carots and Napoletana Sauce
or
- Sauteed Chicken with Fafa and Coconut Milk
- Cheese
- Vanilla Flan
Brunch
- Fresh Tropical Fruit Salad
- Plain Omelette, Grilled Ham and Vegetable Ratatouille
or
- Buttered Crepes with Guava Compote
- Fresh Bread Rolls, Croissants, Butter, Jam, Tea, Coffee, Chocolate and Fruit Juice
The "Hot Dinner" was by far the most disappointing I have had so far. Oh well, you can't win them all. I passed out for a couple of hours, read, listened to my iPod, and then the "Brunch" was served. The crepes were very good. Finally, after almost 19 hours we then touched down in JFK.
It got a bit short towards the end but after a while it all sounds the same . . .
Hope you enjoyed!
MCMAHONSMR