After a busy week spent working in Casablanca, Morocco, it was time to head back to Abu Dhabi. Sadly, I did not get the opportunity to see anything of Morocco, apart from a hotel and an airport, so I hope I get the chance to take another trip there in the future.
I had flown in the previous week from Dubai with Emirates, in a rather cramped economy class on an A330-243. The best thing about flying EK is usually their IFE system, but sadly the aircraft I flew on was not yet equipped with the new system. Naturally, I was now looking forward to my trip back into Abu Dhabi with Etihad Airways on their latest route.
The inaugural EY flight was operated on June 2nd, with the second flight on June 4th, operated by A330-243s A6-EYH and A6-EYG respectively. Both of these aircraft are in Etihad's standard two-zone configuration, with 22 flat beds in Pearl Zone, and 240 seats in Coral Zone. The following photos show A6-EYH pushing back from CMN on the inaugural flight.
Inaugural flight EY610, CMN-AUH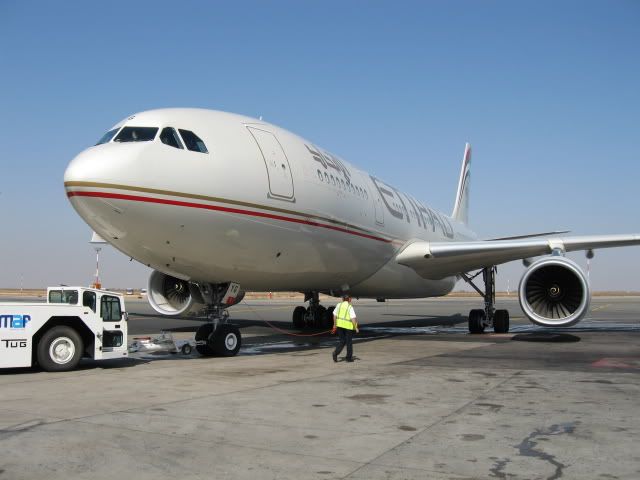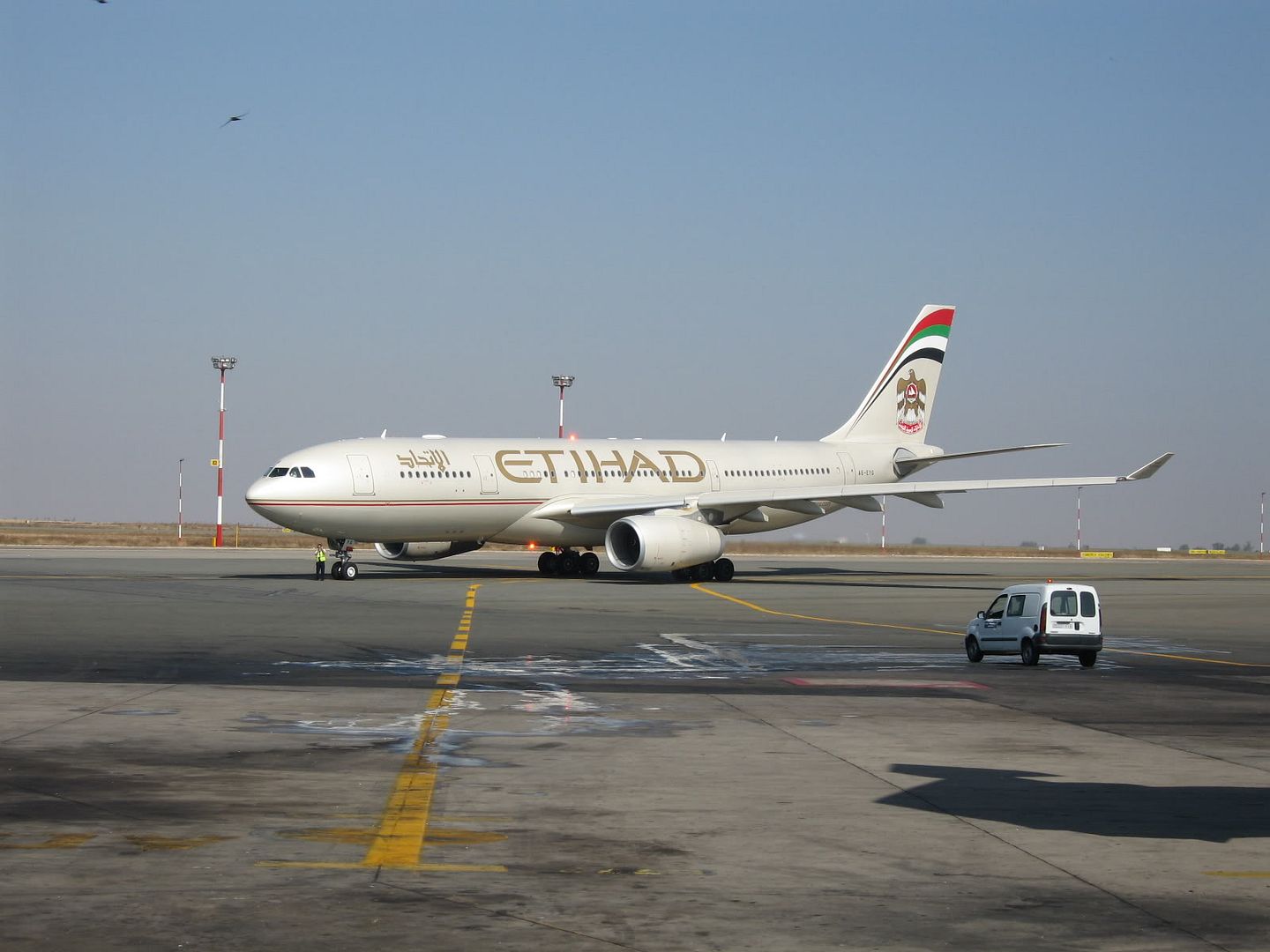 ***

Departure Airport: Casablanca - Mohammed V
Morocco (CMN / GMMN)
Arrival Airport: Abu Dhabi - International, U.A.E. (AUH/OMAA)
Airline: Etihad Airways
Flight number: EY 610
Aircraft type: Airbus A330-223
Registration: A6-EYB (c/n 259)
Date: 5th June 2006
STD: 0850
Class: J (Pearl Zone)
Scheduled Flight time: 7hrs 50mins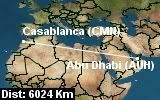 My flight today was to be operated by A6-EYB, one of the three A330-223s on lease from TAM. Although it would have been nice to have flown in Etihad's new Pearl Zone, I did not really mind flying 'YB, as all three of the TAM aircraft (A6-EYA / 'YB / 'YX) are scheduled to be returned by August, so this could be my last opportunity to fly aboard one of Etihad's original birds. These aircraft are in a 3-zone configuration of F18 J36 Y171, but I imagine TAM will replace their comparatively dated interiors before returning them to service in Brazil.
The airport at CMN is not particularly large, but a new terminal is under construction, which looks like it will provide a further 5 widebody stands. The flight today had a very light booked passenger load, so check-in was quick and easy. Etihad and Lufthansa are the only scheduled carriers not to be handled by Royal Air Maroc in CMN, instead having chosen MAR Handling. Most of the MAR staff were in Etihad uniform, along with the small number of Etihad's own staff, so the Etihad presence is fairly visual.
The check-in area at CMN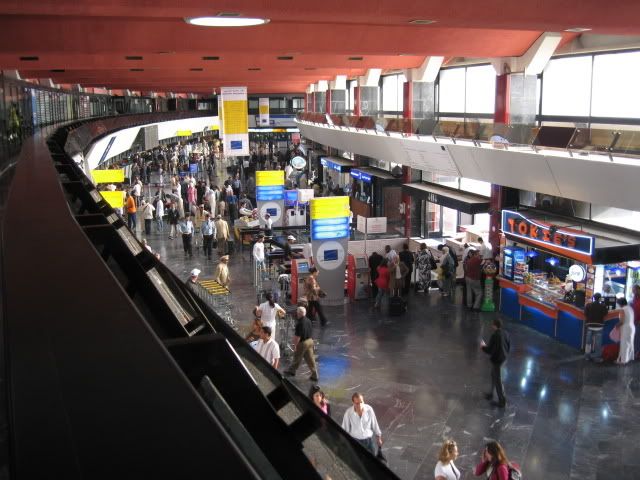 The flight had been allocated gate number 2, but I had found out earlier that it had been allocated a remote stand on arrival, so guests would be bussed to the aircraft. After filling out a departure card, I headed through security and immigration, and within two minutes I was airside. There were a few shops along the short pier, but I headed straight to the gate and chatted with some colleagues while we waited for boarding to commence. The aircraft which had been occupying the stand by gate number 2 was a Royal Air Maroc B763. When boarding commenced, I headed downstairs to the waiting bus, and we were soon being driven to the aircraft. Along the way, we passed a Qatar Airways A332, Air Algerie B736 and Royal Air Maroc A321. There were also many other aircraft in evidence further along the apron. After a few minutes, the bus reached the Etihad Airways A332, which was looking particularly striking on this pleasant, sunny morning. I always find it more pleasant to board an aircraft via steps than using an airbridge, particularly in such pleasant weather as this.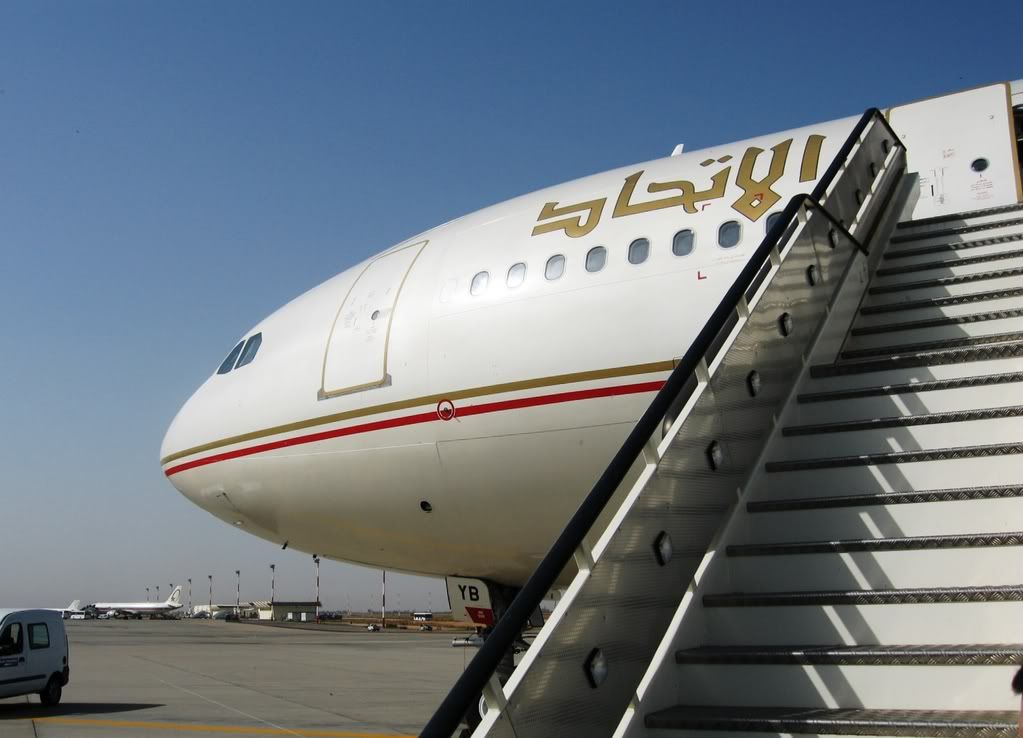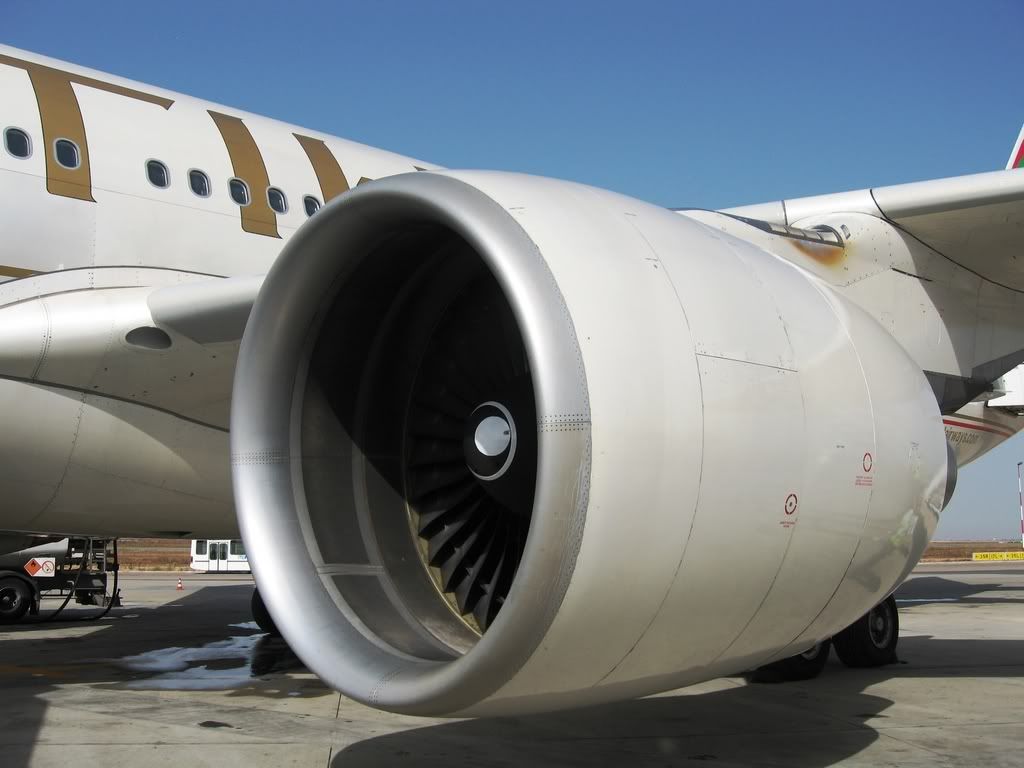 I was one of only two guests travelling in Pearl Zone on this flight, and had been allocated seat no. 12A at check-in, which is on the sixth and last row of Pearl Zone. I usually like to sit at the back of the zone when I am travelling, but in this case the view was restricted as I was looking along the centre of the wing. I put my laptop bag in the overhead locker, took my seat in 12A, and decided I would move forward after take-off.
The First Officer, who was Jamaican, made a welcome announcement, introducing himself, the Captain and the Cabin Manager for the flight, and I gathered a clue as to which carrier he may have recently come from by the airline he welcomed us aboard, before promptly correcting himself by saying "Etihad Airways"! There were not many on the flight, so I think he got away with it
There would be no pushback required, as the aircraft was parked nose-out, so both engines were started on stand, before the aircraft taxied.
The cabin crew seemed to be having some difficulty with the video safety demonstration – the sound seemed to be working, but not the picture, so in the end they did a manual demonstration while the aircraft taxied out. I was glad of this, as the video demonstration is quite long, and is shown twice, in Arabic and English. The aircraft taxied past the main terminal, and towards the far end of the apron, where a number of Royal Air Maroc aircraft were parked. As the aircraft turned to the right to join the parallel taxiway, a RAM B752 could be seen to the left, along with two company B763s, one of which was devoid of tail markings.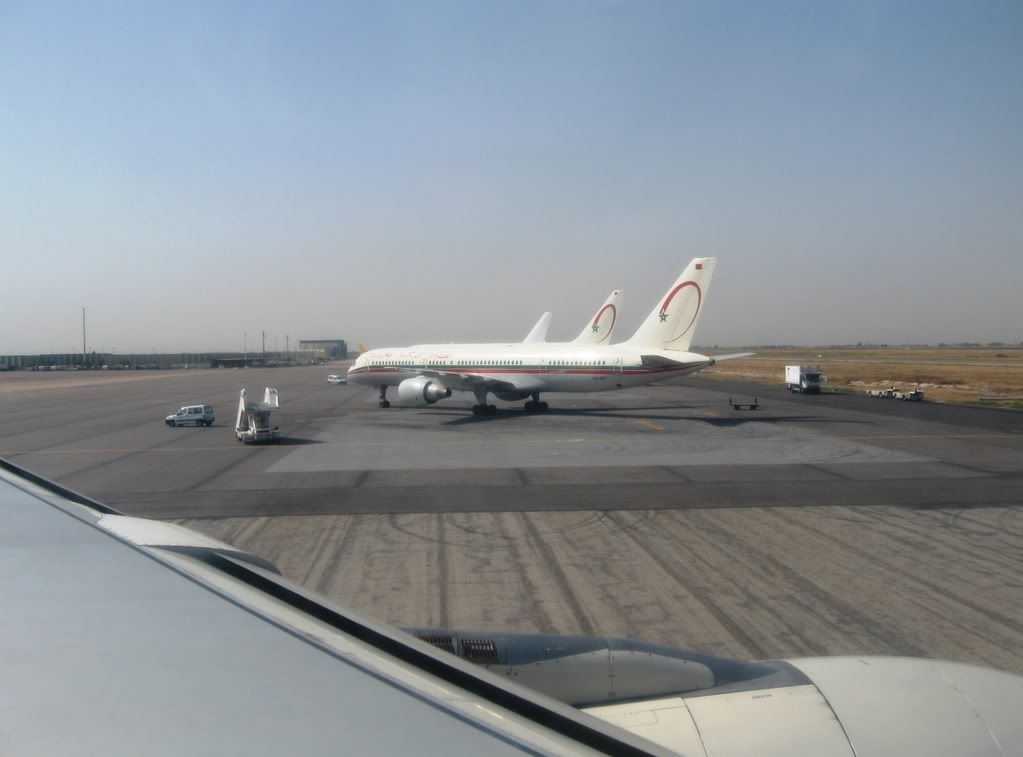 The aircraft then took a left turn onto the parallel taxiway, and passed behind the three RAM aircraft. Further along, there were also an EMB-120 Brasilia and a DHL B752 in evidence. 'YB soon reached the end of the taxiway, and made a right turn to line –up on the runway for take-off.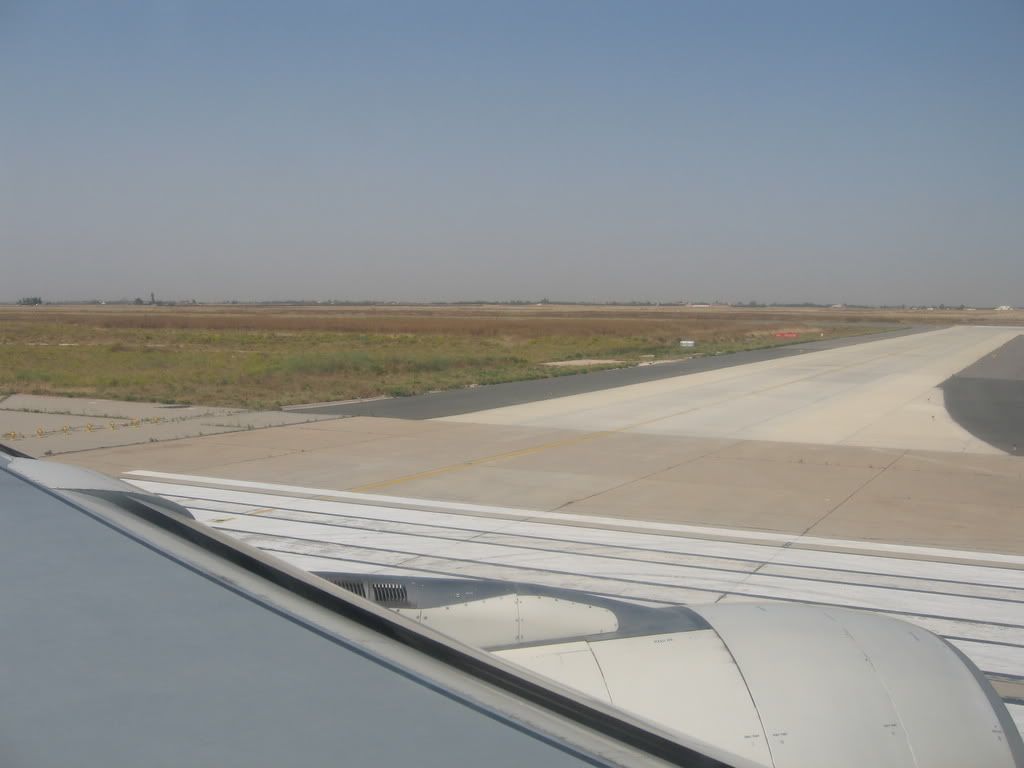 The aircraft lined up and stopped for a minute, and I decided to record a video clip of the take-off rather than my usual photographs. Take-off thrust was applied, and 'YB was soon airborne for Abu Dhabi.
We were soon climbing out of CMN, and the city and coast became visible to the left a couple of minutes later.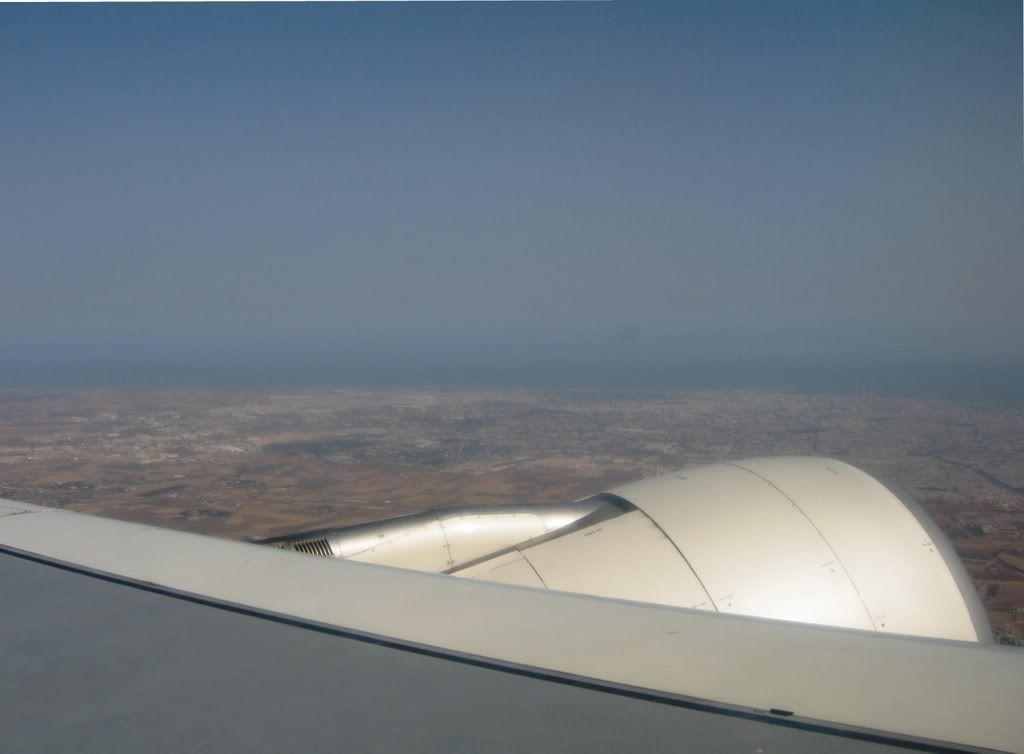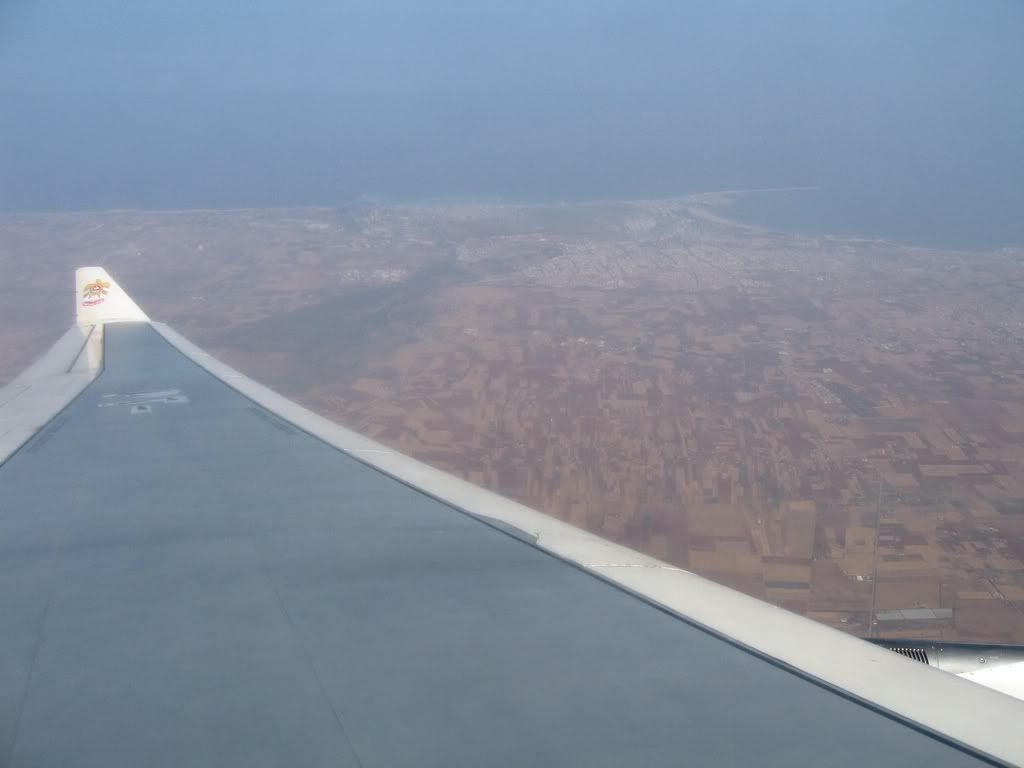 As we climbed, the seatbelt signs were turned off, and the Captain made an announcement to extend his own welcome, also giving some information about the flight. The distance to AUH would be 3104nm, and the flying time 6 hours and 11 minutes. This would be over two hours shorter than my flight to CMN the previous week.
I was soon offered a drink by a male member of the cabin crew, to which I declined, knowing that I would shortly be able to get a drink with breakfast, and I was soon given the menu and wine list by one of the female cabin crew members.
The Pearl Zone breakfast menu read as follows:
Juices
Selection of Seasonal Morning Breakfast Juices or Breakfast Energizer
Fresh orange juice
Apple and lemon with mint
Honey, yoghurt and banana energizer drink
"Our Bakers Own"
Breakfast rolls and croissants, Danish and muffins served with butter and preserves
Fruits and Yoghurt
Seasonal fresh fruit
of mango slices, orange segments, rock melon, black grapes and fresh strawberries

Fruit Yoghurt


Breakfast Main Course Selections

Dual egg Filled Crepes
[i]Light scrambled eggs encased inside a herb crepe with its partner of charred red pepper crepe filled with Arabic shashouka eggs sautéed button mushrooms surrounded with tomato and foul medames
Grand Mixed Grill
A combination of grilled lamb cutlet, grilled chicken medallion, beef brochette veal sausage, fried pepper potato with grilled slices of eggplant and courgettes
Cinnamon French Toast
Slices of raisin bread dipped in egg and cinnamon, pan-fried to golden served with sliced peaches, maple syrup and roasted flaked almonds
Cottage Cheese (light option)
A dome of healthy cottage cheese decorated with strawberries and seedless dates, hazelnuts, almond flakes and raisins
Beverages
Exclusive Dilmah Teas:
Showcased chairside by your cabin crew
Coffee: [i] Brazilian, Decaffeinated, Cappuccino and Espresso
Hot Chocolate
I opted for the main of dual egg-filled crepes. Breakfast arrived a few minutes later with the starter of seasonal fresh fruit. I was also offered a choice of bread from the basket.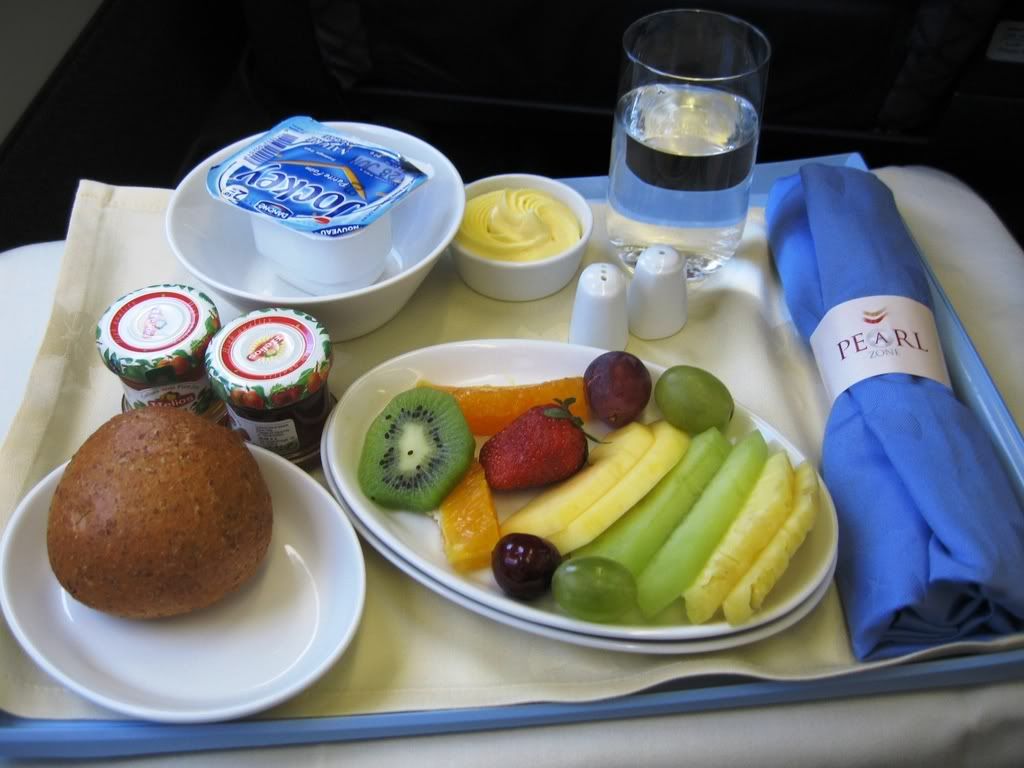 The main course followed shortly afterwards, and was nicely presented. I was once again offered a choice of bread, and chose a croissant. The hot breakfast was very pleasant, and I felt much better for it, having been awake since 0300.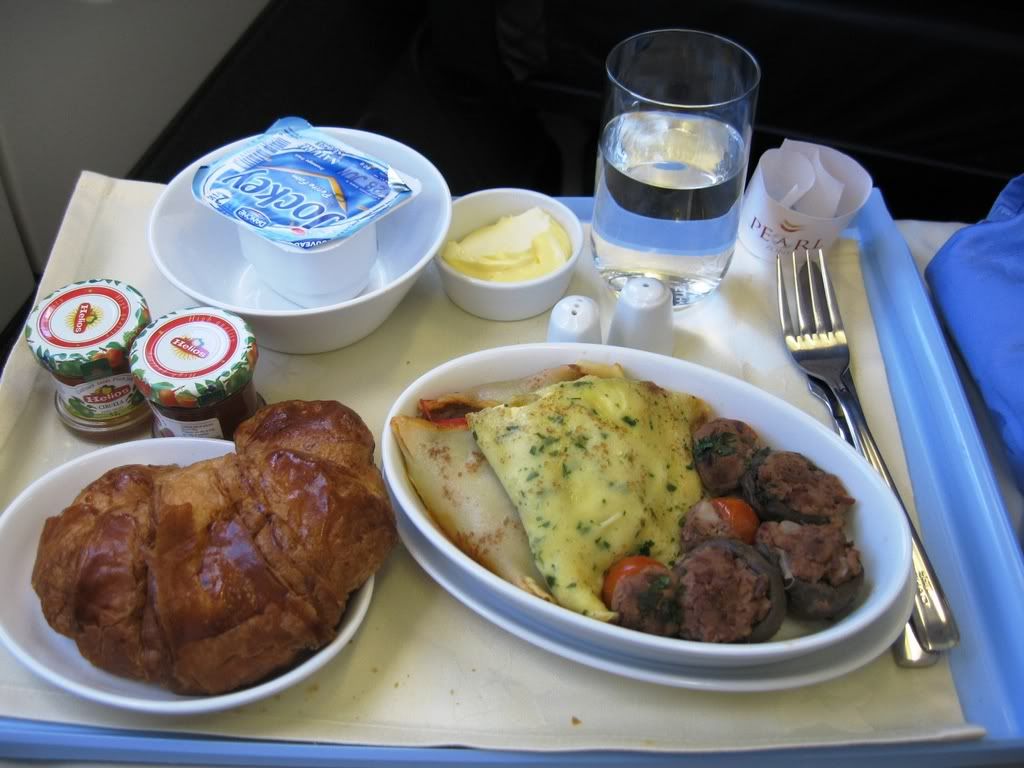 ***
NOTE: The trip report thus far was written back in June, not long after I took the trip. I have now finally returned to it in early October – this aircraft has since left Etihad and been returned to TAM along with sister ships 'YA and 'YX, and I have flown on a further 27 flights, so please excuse my 4 month tea break! This sector back in June seems so random now…
***
As I finished breakfast, we were passing over the northern coasts of Morocco and Algeria.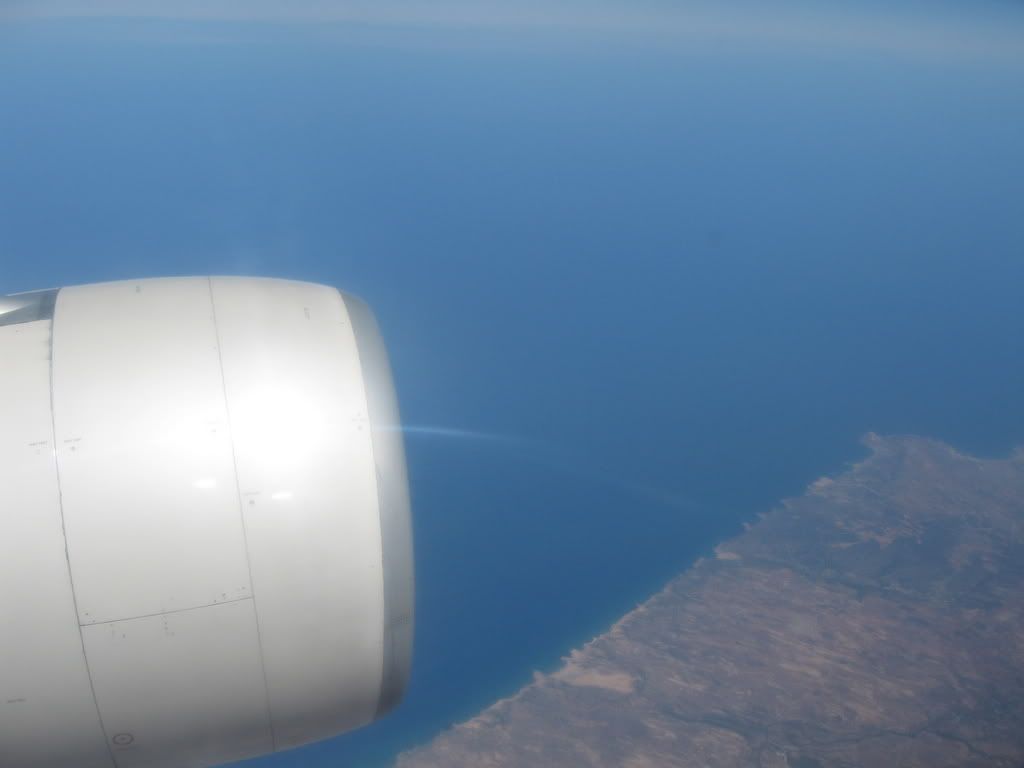 After Algeria, there was a short glimpse of northern Tunisia, which then gave way to the central part of the Mediterranean Sea.
The first notable feature after Tunisia was a small island, which showed on the moving map to be Pantalleria. An airport was also distinguishable on the island.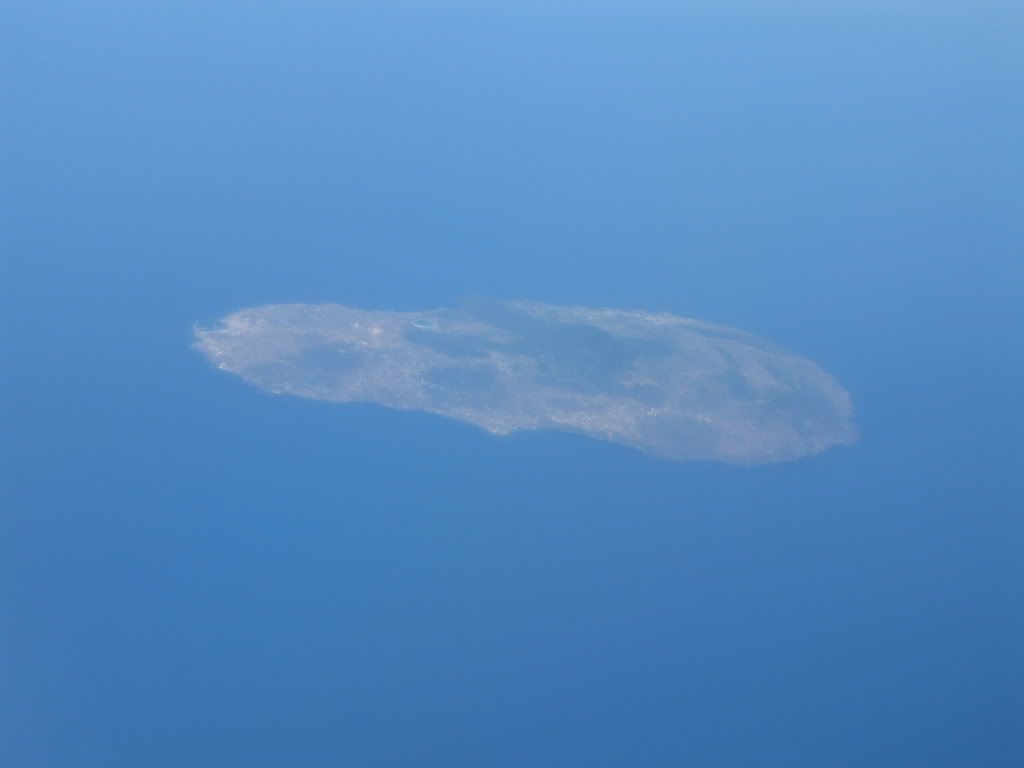 Soon afterwards, we were passing over Malta, but it could not be seen as we we appeared to be directly above it. However, the island of Sicily was clearly visible to the north.
Shortly after passing south of Sicily, the window blinds were lowered, and I drifted in and out of sleep. I checked the flight's progress on the moving map each time I awoke, firstly noting that we were passing over the south coast of Cyprus – very close to the town of Paphos. This always brings back memories of family holidays to Paphos in the early-mid '90s.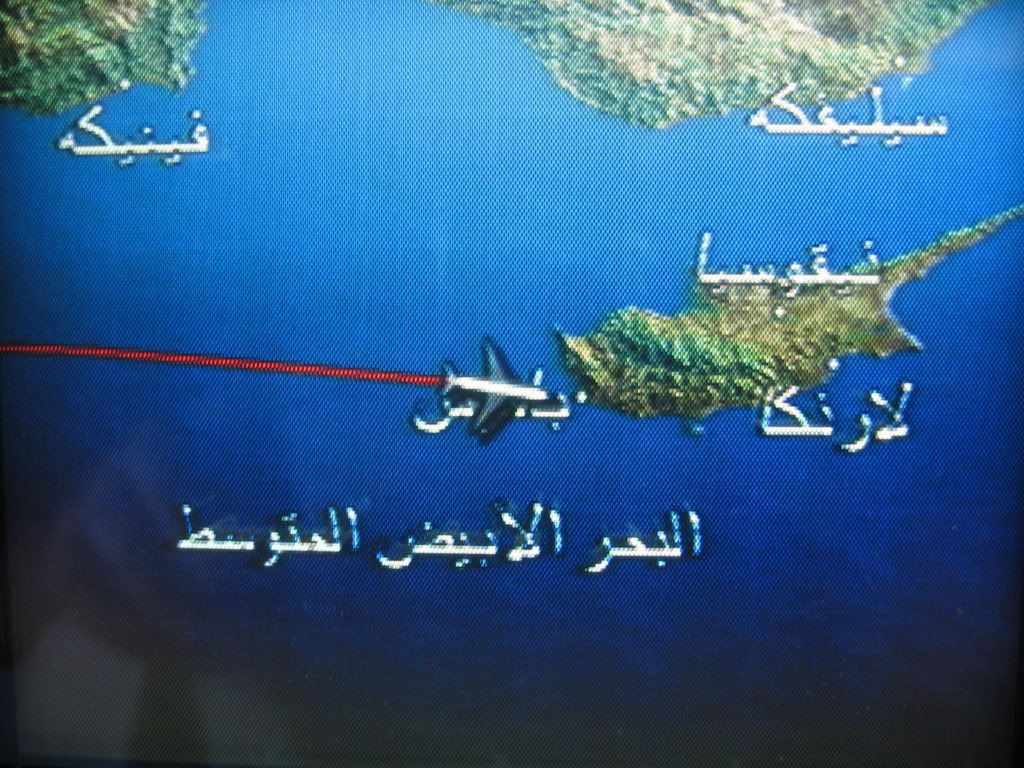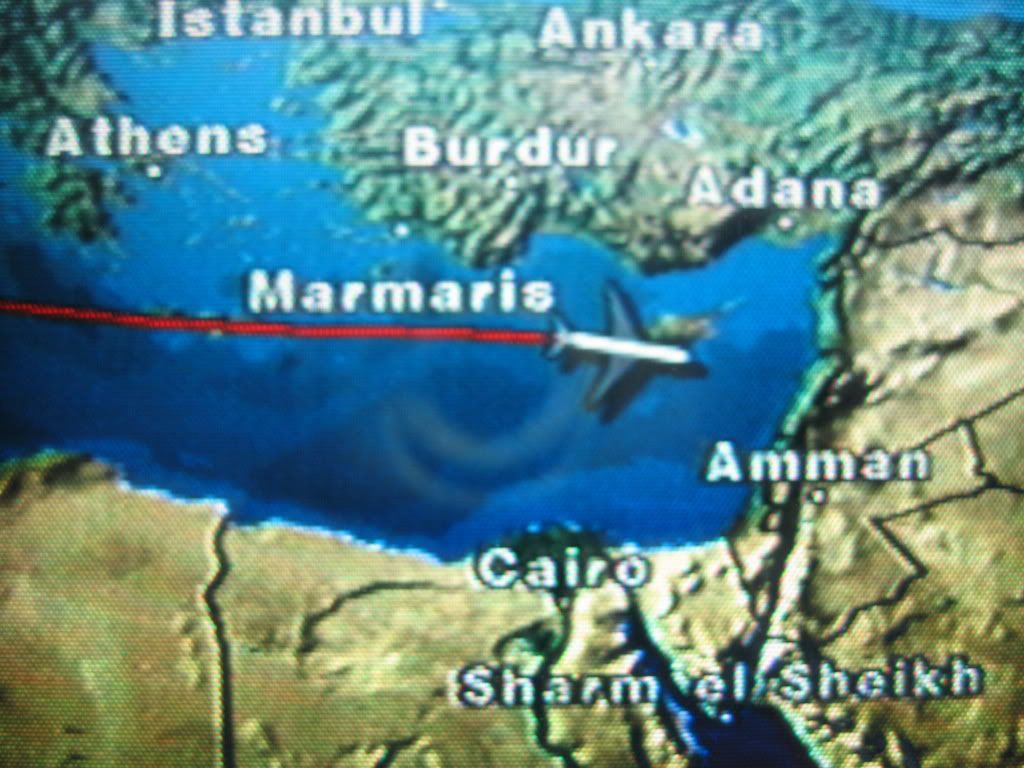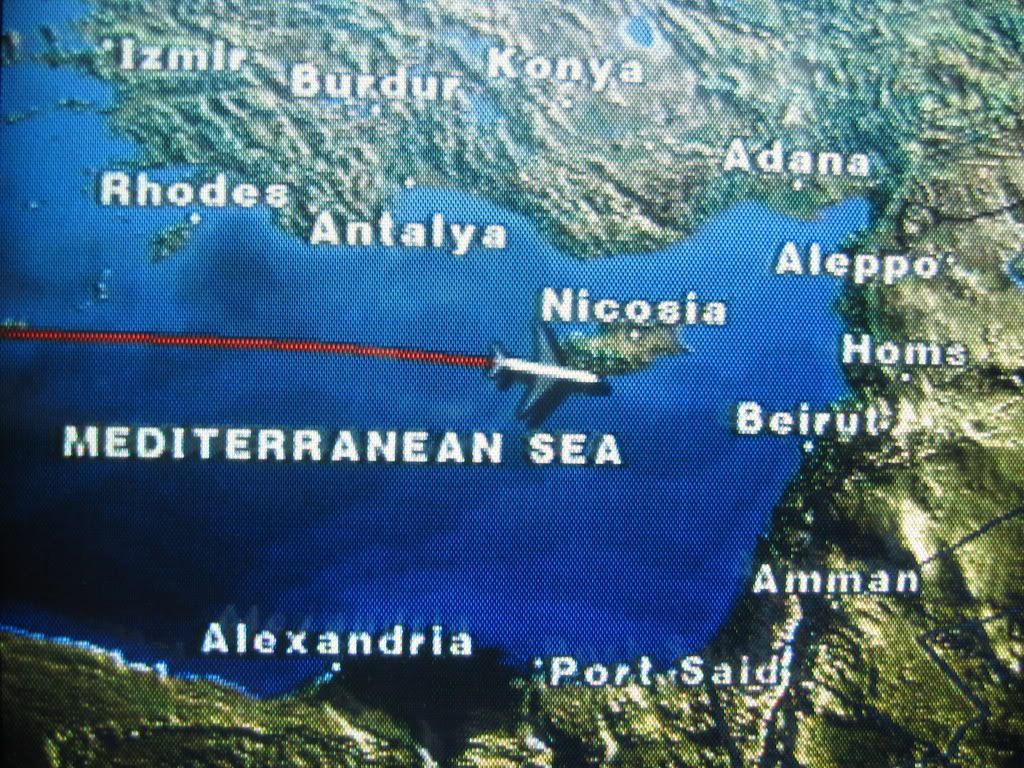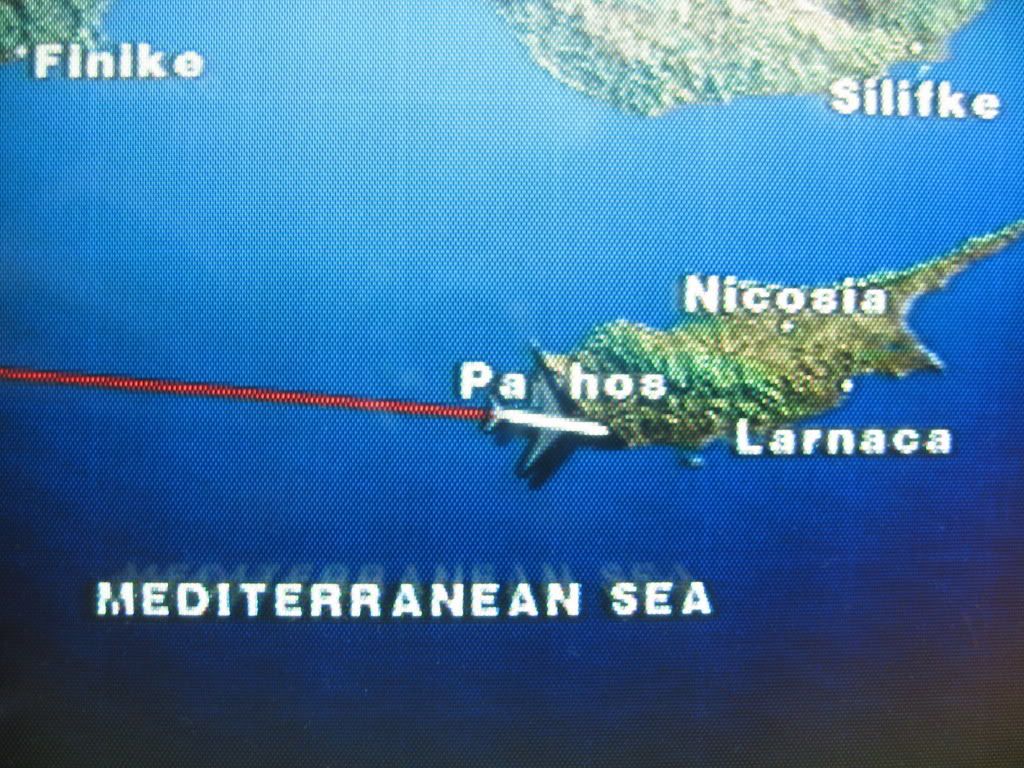 As a reminder that one is flying with a Middle Eastern carrier, the direction to Mecca is shown every few times the screen changes.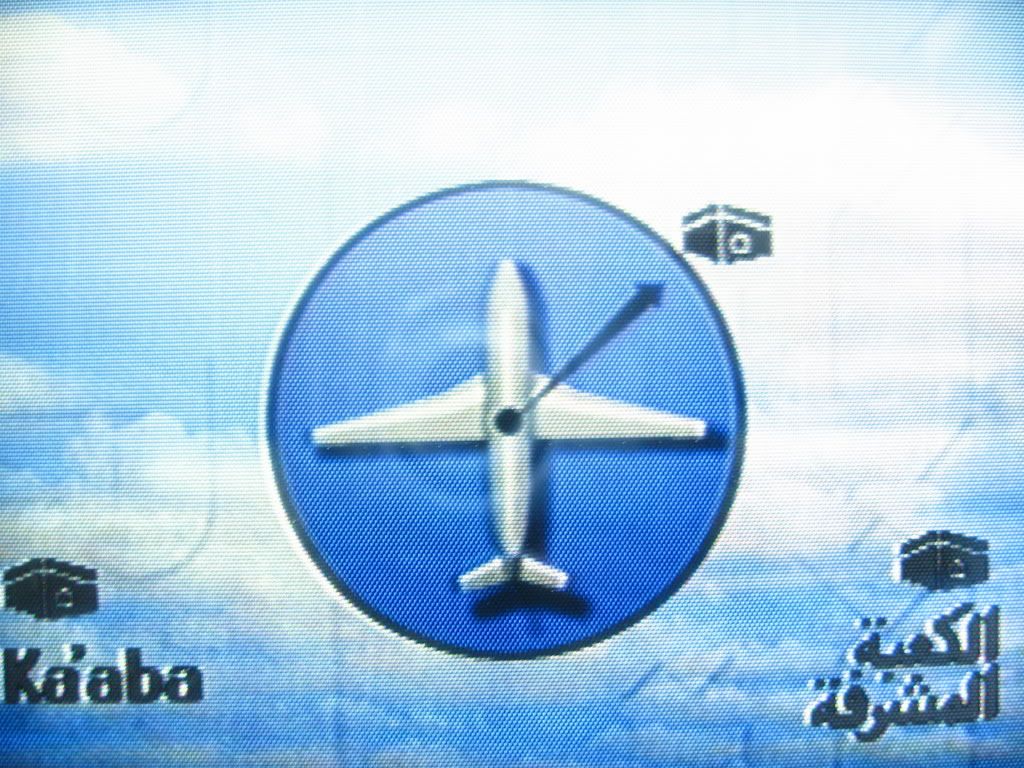 It did not take long to pass over the relatively small country of Cyprus, and the Island's south western tip soon became visible along with an airport – presumably Larnaca.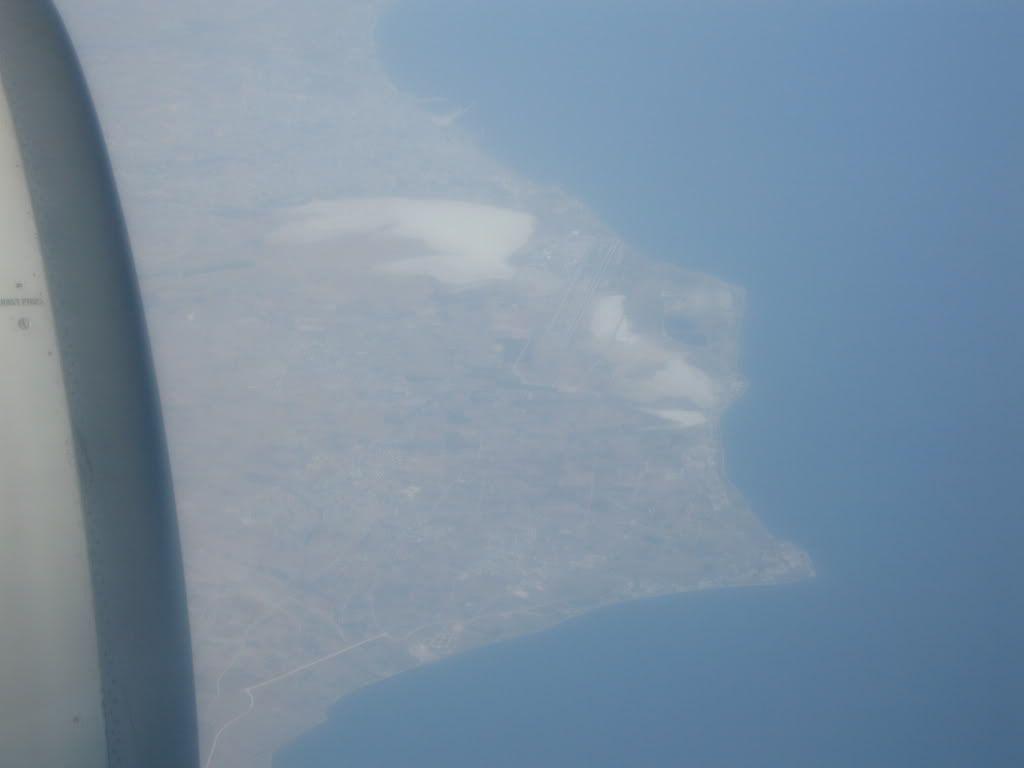 After a short flight over what remained of the western Mediterranean, the familiar coastline of Lebanon became visible – one which I have passed over many times over the past year or so.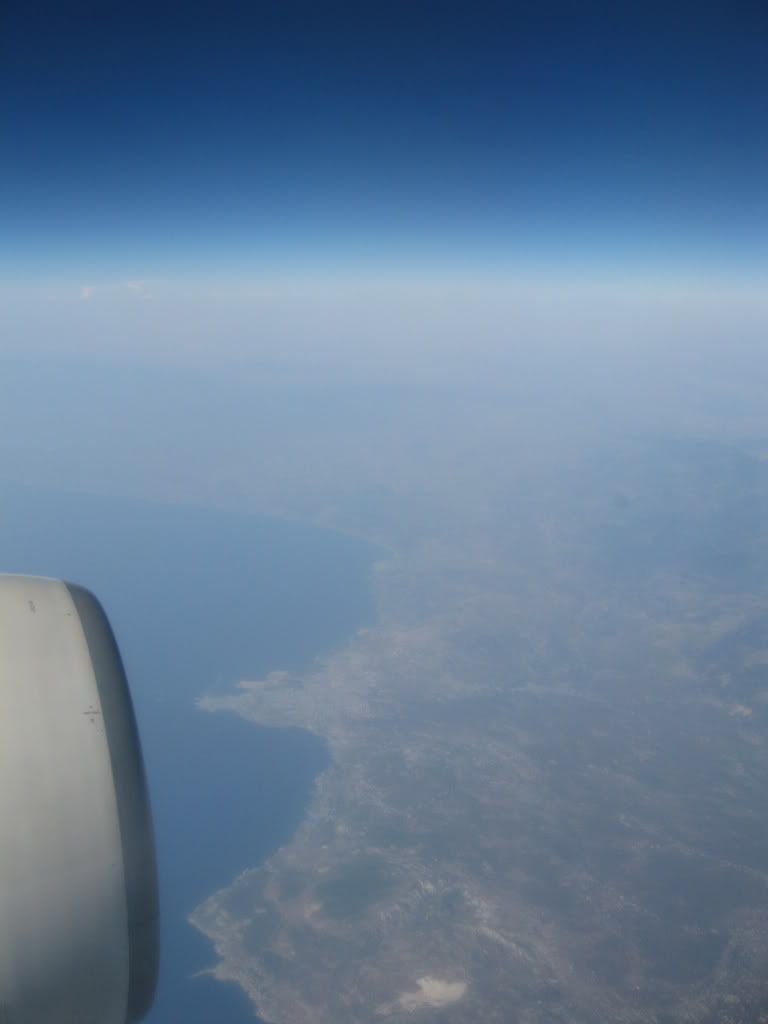 The next time I raised my window blind we were over Syria, which mostly offers a very different landscape to Lebanon.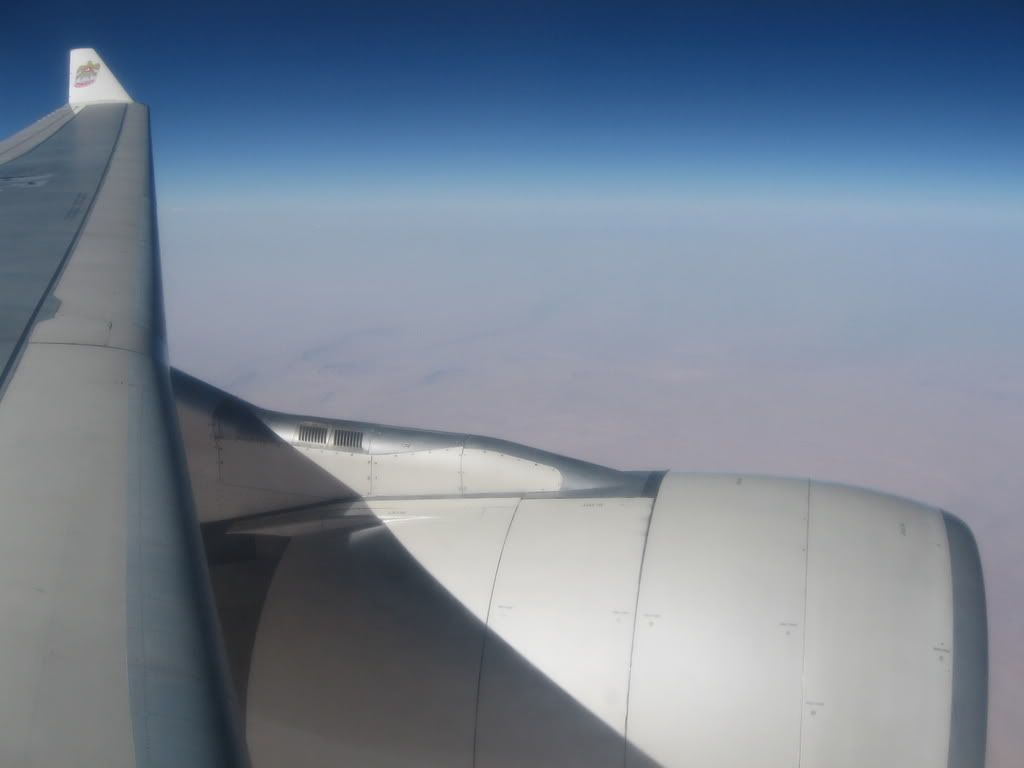 I lowered my windowblind once again, and spent the remainder of the flight drifting in and out of sleep. As I was on one of the leased TAM aircraft, I was not particularly interested in using the outdated IFE system – not having got used to EY's much superior AVOD system which is installed as standard on all new aircraft. Apart from the lack of AVOD, there was another not-so-subtle giveaway of who this aircraft was leased from…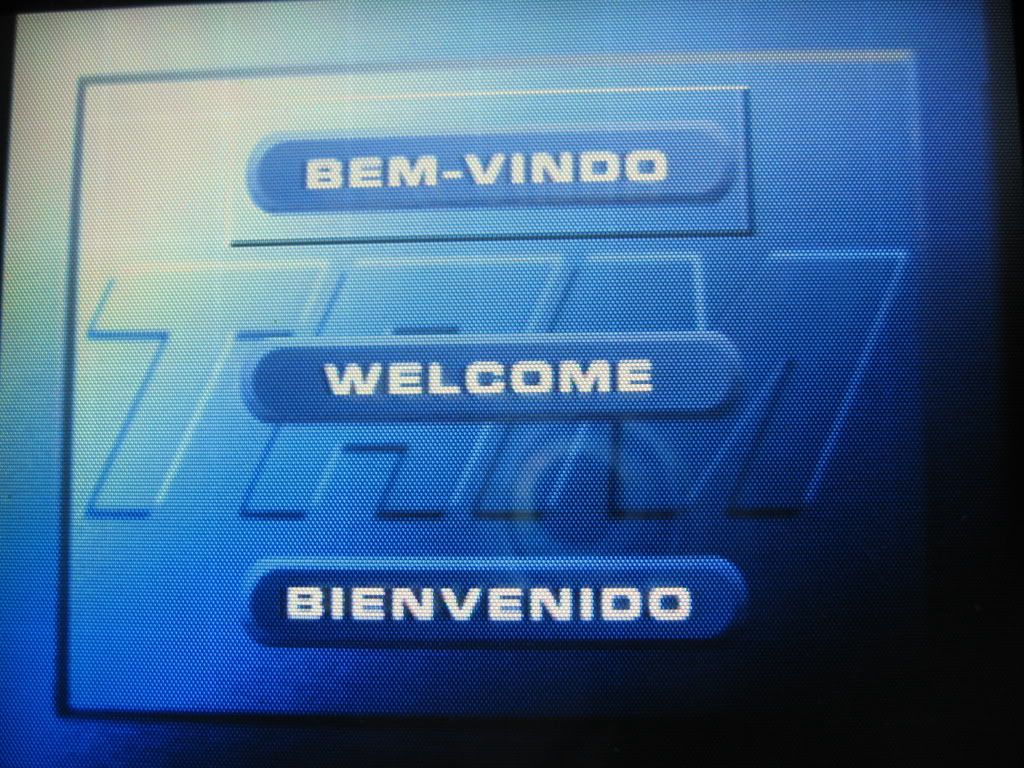 The next time I awoke, it was dark outside and we were starting our descent into Abu Dhabi.
It was a long but very pleasant flight with Etihad, especially as I had Pearl Zone almost to myself, making it all the more private.
***
More recently, all three of the leased TAM machines have been returned to TAM. This is good for the Etihad product, as there are now only four aircraft in the fleet without Etihad cabins and the latest IFE.
Here is a photograph I managed to take on July 27th of A6-EYB being prepared for its return to Brazil, still wearing the UAE registration: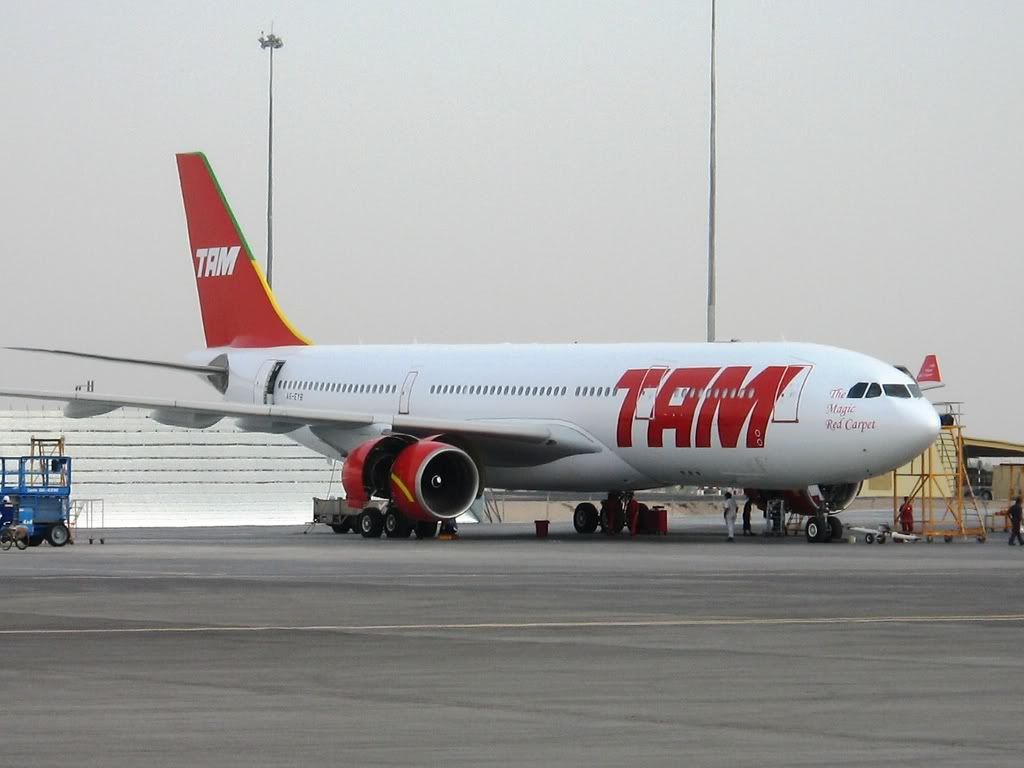 ***
I hope you enjoyed my trip report – please leave a reply and let me know what you thought. I wish I had the time to write as many reports as I started writing last year, but sadly it is becoming very difficult to find the time.
Regards.