Hey all,
This is part 2 of my trip to Norway, Finland, and now Estonia. Part one is here...
Trip To Norway: SEA-ORD-EWR-OSL With Tons Of Pics!
(by
Thepilot
Sep 29 2006 in Trip Reports)
Part 3 to be posted later. Enjoy!
Tuesday October 3, 2006
Norwegian Air Shuttle Flight 011 (Boeing 737-300) (LN-KKL)
Depart: Bergen Flesland Airport, 10:25am (Gate 31) (Runway 17)
Arrive: Trondheim Vaernes Airport, 11:30am (Gate 30) (Runway 9)
Seat: 1D Load Factor: 95% Cruising Altitude: FL330
Wheels Up: 10:33am Wheels Down: 11:22am
View Large
View Medium


Photo © Alastair T. Gardiner - WorldAirImages
Just yesterday, my dad and I decided to purchase two tickets on Norwegian Air Shuttle (DY), to go from Bergen to Trondheim. So I went to norwegian.no and got us on! Yeah, extra trip report for airliners.net!!! We woke up at the Radisson SAS at 7:00am, had a nice breakfast, and took the Bergen Flybussen to the Bergen Flesland airport. We arrived for our 10:25 flight horribly early, and I had already printed travel documents, so we got right through security. Between gate 30 and gate 31, there are leather reclining chairs with footrests, so my dad and I just sat there and watched the planes. We saw a few SAS 737s, a few DY 733s, one DAT F50 (I think), and a few Wideroe Dash 8s.
DY is free for all seating, like WN, so I got an aisle seat in the first row. My dad wanted me to ask for jumpseat, and I did too, but I knew it wouldn't happen. The two flight attendants up front were very friendly, and we chatted for almost the whole flight. A Norwegian woman and a Swedish man, both of whom were absolutely hilarious! They kept fighting with each other, each telling us their country what better than the other.
Approach into Trondheim was very straight forward (literally). We came in low over an inlet of the Atlantic Ocean, smoothly touching down on runway 9. The TRD terminal is having some renovation done, and it is very modern and beautiful. Although, there is not a lot of waiting room around the gates. The gates are all surrounded by restaurants and other shops. After landing, the flight attendant invited me to talk to the pilots, which I did. The first officer was a cheery man, around 30ish, and the first officer was a young woman of 25, just having been on the job one month. She was quite quiet, so I mostly talked to the captain. He believed that the Americans were too paranoid, and I agreed. He asked if I had ever been in the cockpit before, and I told him I flew in the Alaska Airlines 737-700 simulator left seat for two hours. He was impressed.
After that talk, my dad and I connected to the Flybussen, and we went into Trondheim, awaiting our red eye train ride in "Reindeer Class" to Bodo.
Pictures!!!
Inside of Bergen airport.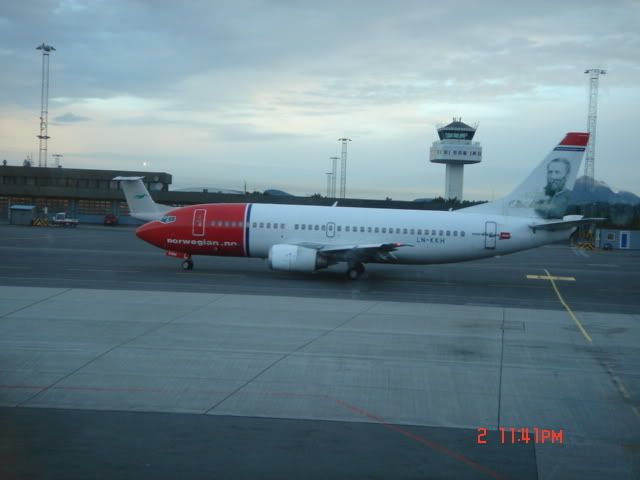 A DY 733 for OSL.
Our 733 coming in from maintenance.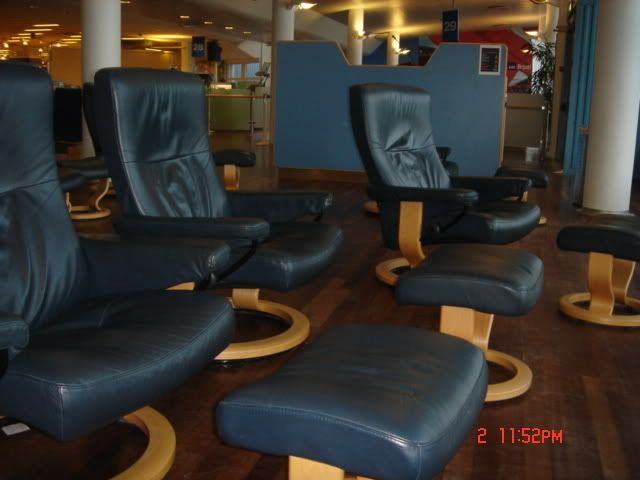 Lounge chairs at our gate in BGO.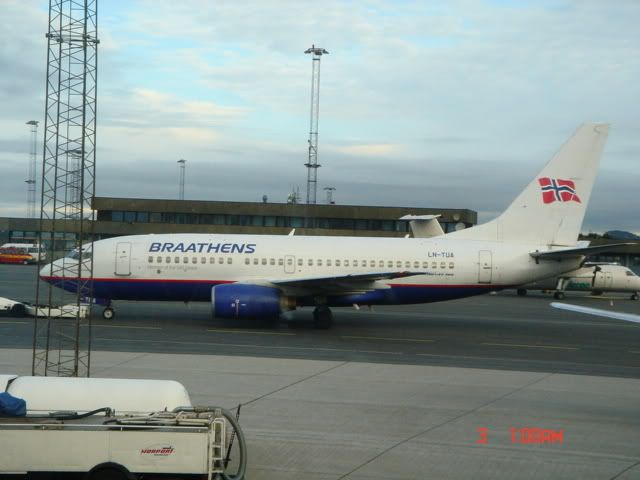 A BU 73G.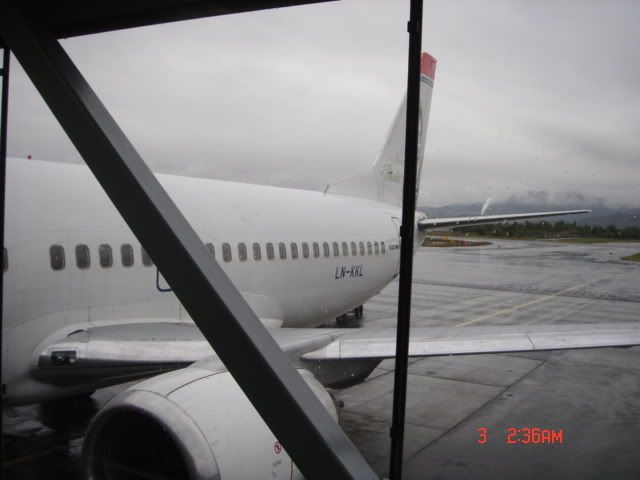 Jetway at TRD.
Thursday October 5, 2006
Scandinavian Airlines Flight 4111 (Boeing 737-600) (LN-RPX)
Depart: Bodo Airport, 12:40pm (Gate 18) (Runway 07)
Arrive: Oslo Gardermoen Airport, 2:05pm (Gate 18) (Runway 19R)
Seat: 11A Load Factor: 94% Cruising Altitude: FL330
Wheels Up: 12:42pm Wheels Down: 1:57pm
View Large
View Medium


Photo © Fredrik Granberg
When my dad and I got to Trondheim, my dad decided that it had bad "juju," and we decided to take the overnight train to Bodo. No offense to the Trondheimians, it just didn't agree with him. So I went to wideroe.no and purchased two tickets to Gardermoen from Bodo, to allow us plenty of time to connect to our Finnair (Finncomm for you picky anetters) to HEL. The F/A on our Norwegian Air Shuttle flight said it had "Hel" in its name for a reason, but she was Norwegian.
On the morning of our flight, we walked all around Bodo, and eventually checked in for our Braathens flight to Oslo. The Bodo airport had a relatively circular terminal, with four jetways and many remote stands for Wideroe accessible from the terminal. The security was a little different. You go through security to get to the waiting area for your gate, and all the shops and the rest of the amenities are outside of security. We cleared security and waited at gate 18 for our flight to Oslo. There was one plane, a 73G, that I couldn't recognize. It had winglets, and had a picture of a sun on it. I think it was Coast Air, but I am not sure. Three 737s, two 500s and one 600 (our plane), landed within 5 minutes of each other (One Braathens, one SAS, and one SAS Braathens).
Unfortunately, the 3rd 737 couldn't get to his gate because to 1st 737, to TOS, was late, and didn't push back on time. However, we pushed back on time. Just a note, BOO has a very effective way of reducing turn around times. They take your ticket well before the gate is open, then open the jetway, and everyone runs towards the plane. Somewhat WN like. We took off from runway 07 after two Norwegian military planes, and the pocket rocket (the 736) rocketed off, and we got a good overview of the city of Bodo. I miss the DC9-21s.
Just your basic up and down flight, with no drink service or meal service. I played chess against my dad, and we had a stalemate. Right after we stalemated, the captain began his descent into OSL, through the thick rain clouds, and dropped a few notches of flaps. Touchdown was slightly rough, but that is ok, and we taxied to gate 18. Got off the plane and walked towards the international part of the OSL terminal for our flight to HEL.
Pictures!!!
The original Wideroe DH-6. I love the Twin Otter.
A DH-3 on skis.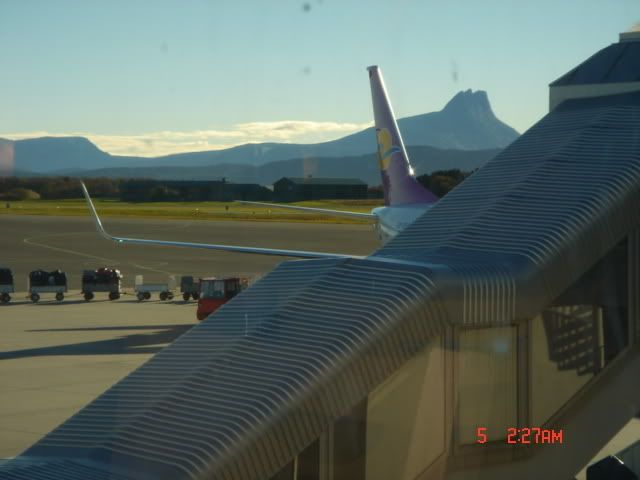 The winglet of an unknown aircraft.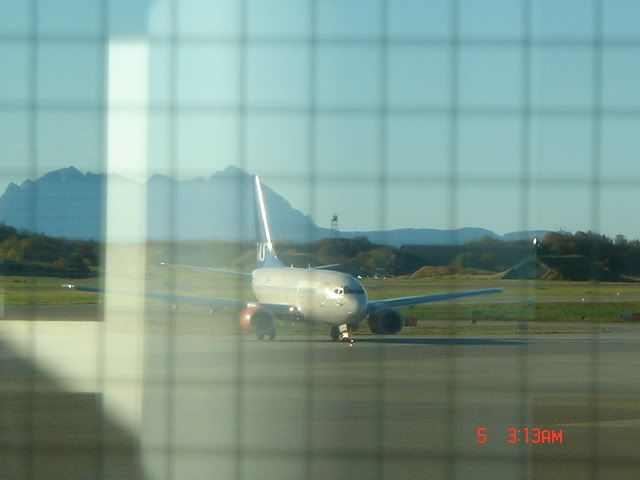 Our plane coming in from OSL. An SK 736.
From our seat with a Wideroe DH-8-100 next to us.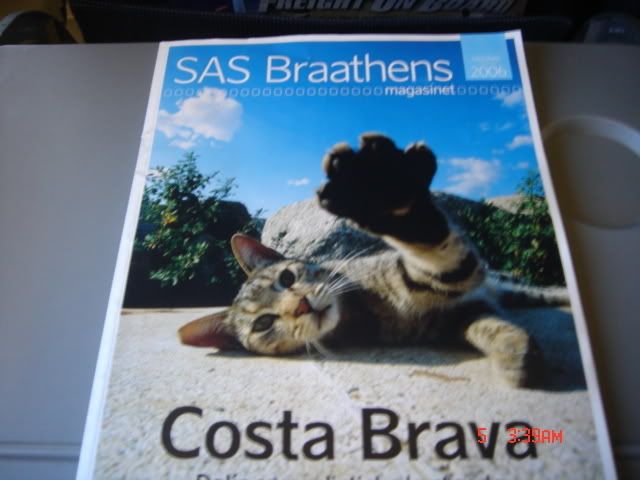 Awwww!!! I love cats!
Red engines are quite beautiful.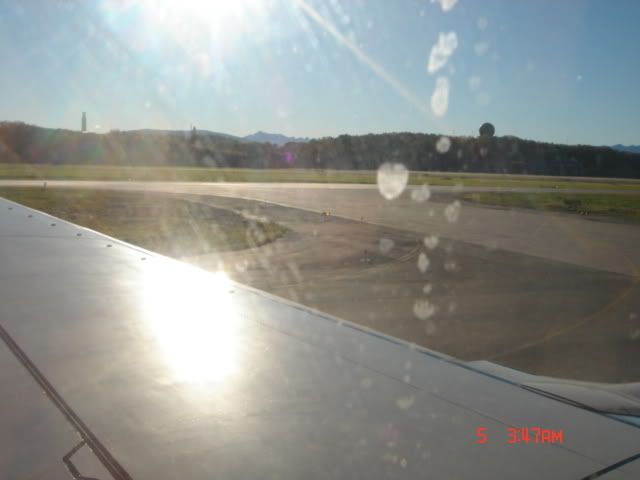 Can you spot the Norwegian fighter jet on upwind?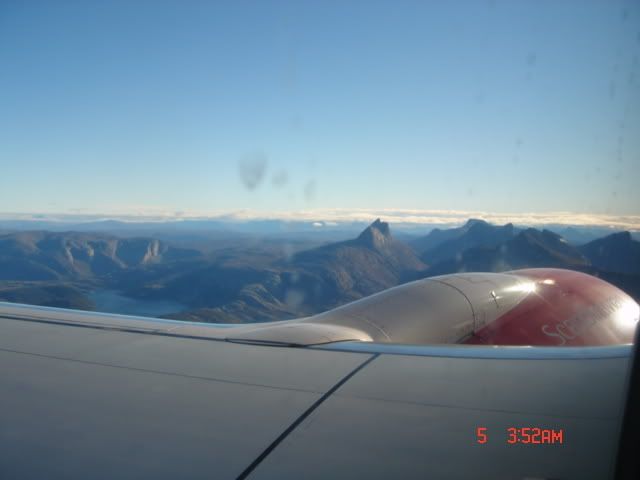 Climbout to FL330.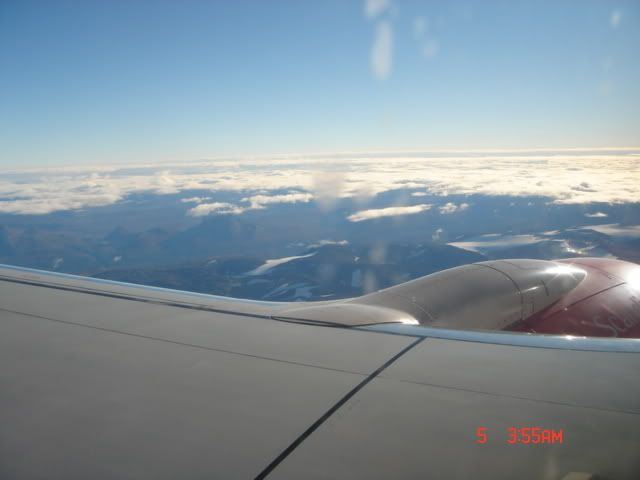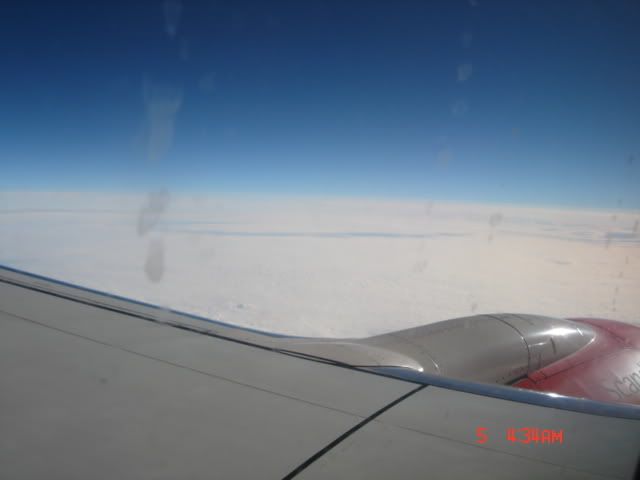 Cruising…
Coming straight in for 19R. The pilot had just dropped the gear.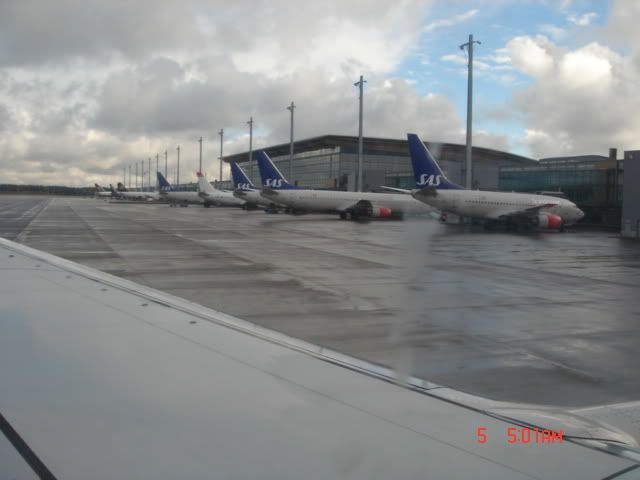 Many SK, BU, and SAS BU planes.
Guess where this plane is going?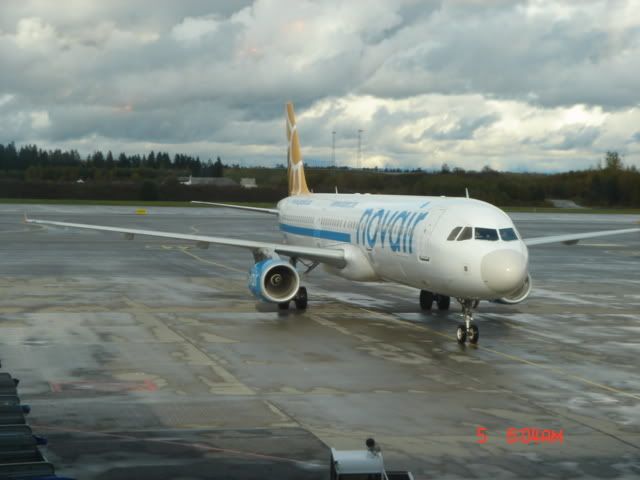 Never seen this airline before.
Thursday October 5, 2006
Finncomm Airlines Flight 3956 (Embraer E145) (OH-EBE)
Depart: Oslo Airport, 4:50pm (Gate 37A (Stand 181)) (Runway 19L)
Arrive: Helsinki Vantaa Airport, 7:15pm (Gate 123 (Stand)) (Runway 22L)
Seat: 5F Load Factor: 98% Cruising Altitude: FL310
Wheels Up: 4:55pm Wheels Down: 7:05pm
View Large
View Medium


Photo © Maurits Vink
We transferred easily into the international terminal, although we still didn't have boarding passes. I walked up and down the terminal, seeing SAS, Air France, Lufthansa, Icelandair, Blue 1, and two I had never seen before: Fly Nordic and Novair. I purchased a BBQ Chicken and bacon baguette, which was awesome, and watch an entertaining baggage handler add two carts worth of bags into one cart, leaving the second one empty. Also, I parked myself by Gate 46 for a charger, and was right in front of a BU 73G to ATH. Isn't it appropriate, Braathens to Athens?
Our gate was supposed to be gate 43, but they changed it at the last minute to gate 37A. That has no jetway, and we got to be bussed out to the plane! Who hoo! When I got down the gallows of the gate 37 area, the wifi access I bought died on me. Damn it, I want a refund! We boarded a beautiful Mercedes bus, and we drove to the remote stand where are Embraer Jet was waiting for us. The seat was extremely comfortable, and even though my head bumped the top of the cabin, it was still a very confortable plane with good seat pitch. We pushed back, and took off right before a BA A319 and the Hungry A319 of GermanWings. Made a quick left turn after climbout, and climbed up to FL310.
On the way up, the two beautiful flight attendants served us a meal. No you did not misread that, on an 80-minute flight on a regional carrier, we were served a meal. I could get used to this. I listened to some more Sean Paul (his music is rather catchy), and I stalemated the computer in Chess on grandmaster mode. I couldn't believe it! That f**ker checkmated me in less than ten moves once. Before I knew it, we were starting our descent into Vantaa. The descent was rather fast, and the F/As sat down literally 45 seconds before wheels down. Touchdown was rather rough, but I didn't care, and we taxied to stand 123. From there, took a bus to customs, and passed not even a security guard on our way into Finland. Lots of neon lights, and we got lost on our way to the hotel. Overall, great flight to HEL (some people tell me to go there), so now when someone says, "Go to hell!" I can tell them I have been there!
Pictures!!!
SN Brussels bound for Abu Dhabi (sarcasm, its to BRU)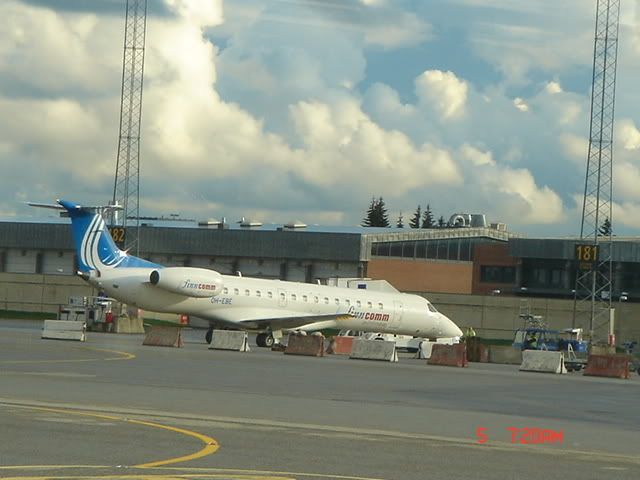 Our ERJ-145, parked at its remote stand.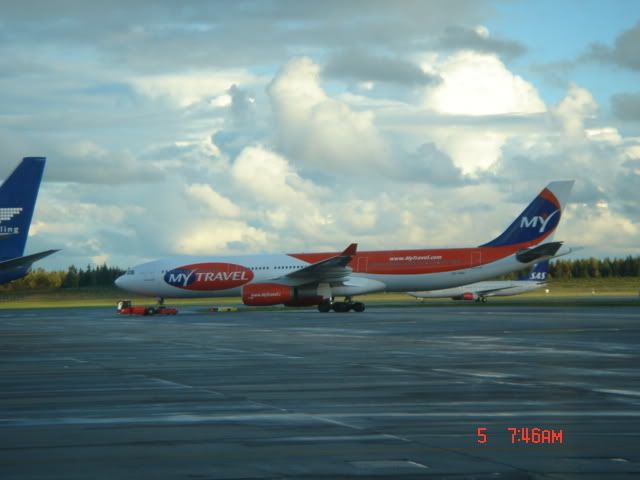 MyTravel A330-200 coming from who knows where.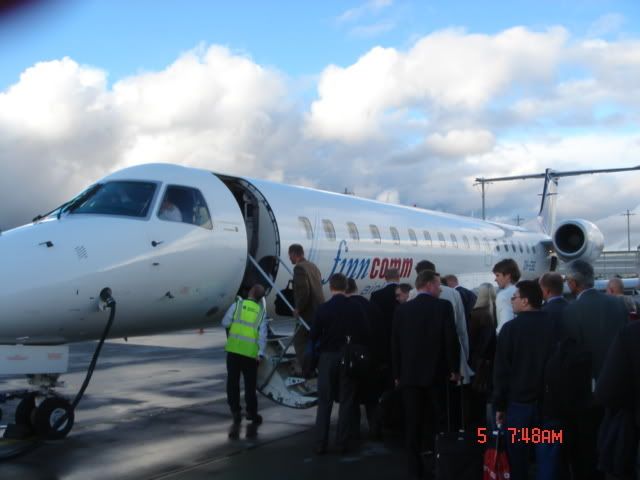 Boarding after taking a wonderful Mercedes bus from the terminal.
Braathens 737-700 next to us. Don't know where it is coming from.
BA world cargo and the nice ATC Tower. It seems Norway has many new ATC towers.
Just beginning T/O roll on runway 19L. I love that GermanWings paint job!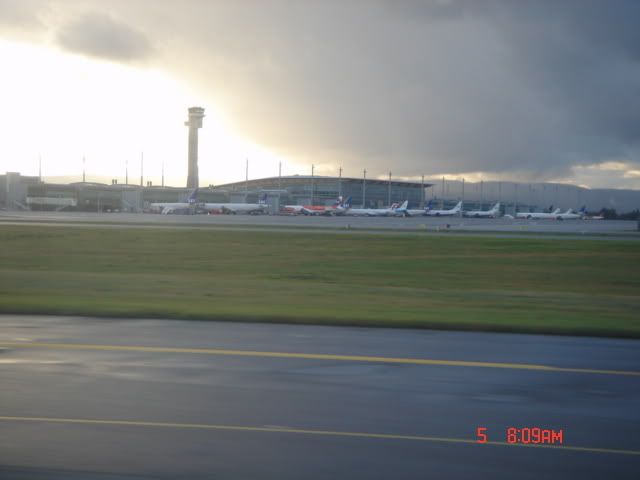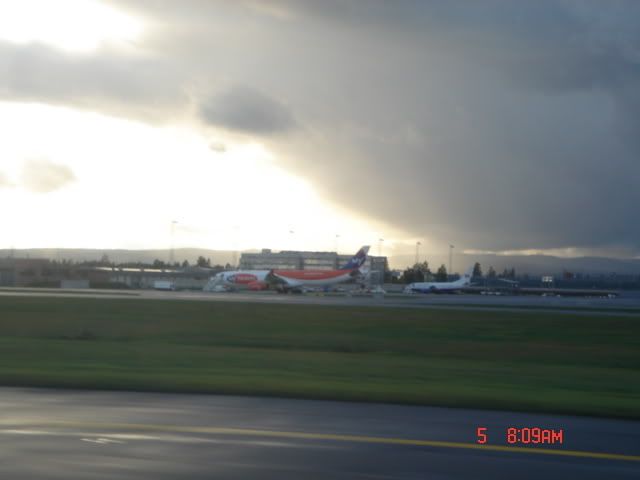 Still rolling…
Climbing through the clouds to FL310.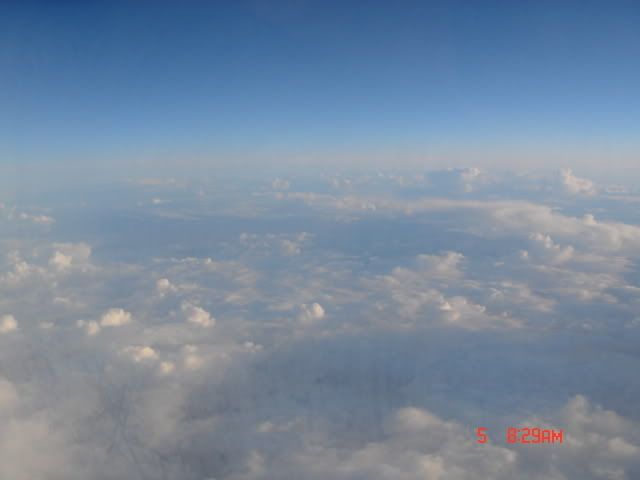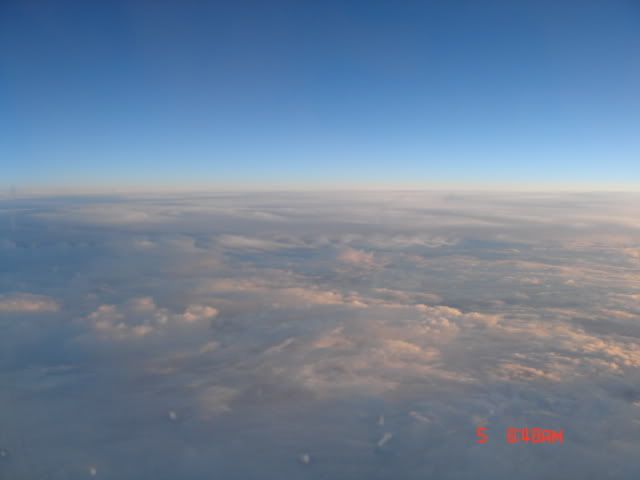 Cruising over Sweden somewhere.
Just beginning our descent over Finland. The countryside was beautiful!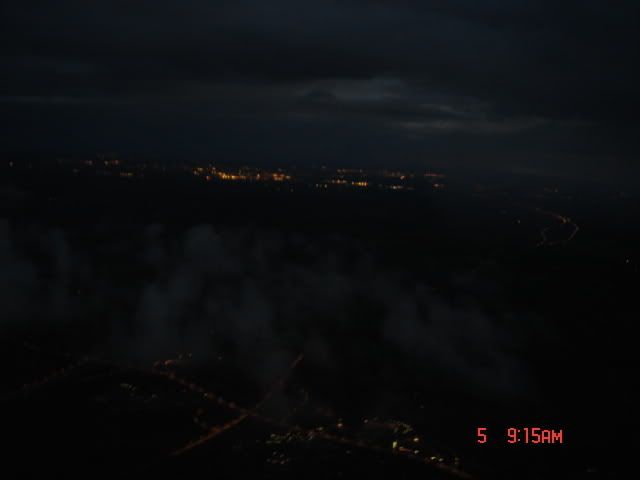 Banking for final for runway 22L.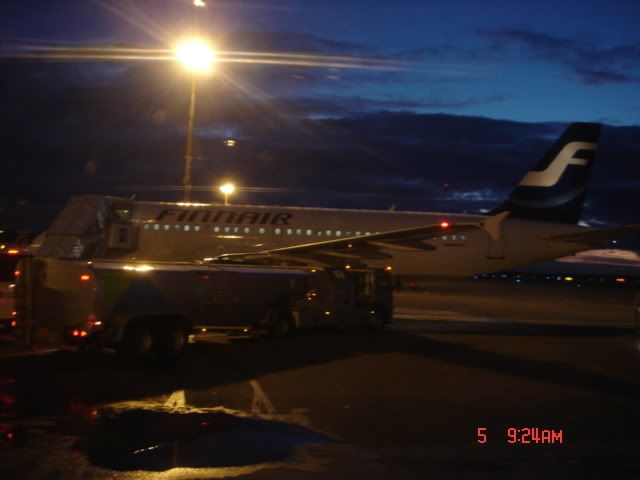 Parked at our remote stand 123 next to a Finnair A319 going to some wondrous place.
Well, that concludes part 2 of my Trip to Norway, Finland, and Estonia. Part 3 will include AY HEL-OSL, CO OSL-EWR, and CO EWR-SEA. I will possibly include a part 4 here or in nonav comprised of pictures from the rest of my report. No airplane pictures. Thanks again for reading! Take care.
Will
[Edited 2006-10-05 21:54:41]