It was time to head off to Edinburgh for a weekend. My choices were as follows:
Scot Airways from LCY- I would have liked to give Scot a go, but as I was leaving on a Saturday morning, I assumed that their schedule would not allow me to travel on Saturday.
The same went for BA out of London City. I also decided against BA as they have no business class on domestic flights, so it was a case of Hobson's choice- bmi from Heathrow. I booked the ticket a few weeks in advance and one aspect of booking with bmi that I like very much is the ability to choose a seat online when booking. I also like the feel and functionality of the bmi website in general.
Saturday, 23rd September 2006
BD054 LHR-EDI
Dep. LHR: 11.05 (11.30) Arr. EDI: 12.25(12.15)
Business Class Aircraft: A-319 (Didn't get the reg.) 
I had booked a cab to take me to Heathrow from my home in Central London. Light Saturday morning traffic meant that I arrived at Terminal 1 rather earlier than expected, but it was a beautiful, sunny morning and it is always exciting to be at the airport, even for a short domestic hop.
The check in area of the terminal seemed relatively quiet. I had checked in online the previous day and reserved seat 3A, but as I had a bag to check, I had to go via the bag drop. There is a business class bag drop in bmi's premium zone, and I was quickly directed there by a smiling and hatted bmi greeter who was zealously guarding the entrance to the premium check in.
There were 2 people ahead of me in the bag drop queue, and in turn, both engaged in protracted discussions with the check in agent.
However, neither passenger was able to check in and was sent away to wait. Perhaps they had arrived too early to check in. This was an annoyance to say the least.
The check in agent was friendly and chatty, and he confirmed my seat allocation, tagged my bag with a Star Alliance "Priority" tag and re-printed my homemade boarding pass. Security for the domestic area of Terminal 1 is close by.
The initial security check is for boarding passes, but today they seemed more interested in making sure that I didn't have any liquids on me. Indeed, there was a dazzling array of drinks and other liquids on a table, obviously confiscated from other passengers.
Security was relatively quiet this morning, and within a few minutes I was through to the bmi Business Lounge. The staff at the bmi lounge are invariably friendly and welcoming, in contrast to my experiences in BA lounges, where the main objective of staff seems to be to keep passengers out, or to continue reading Hello! Magazine whilst I stand there waving my boarding card at them.
They have some very nice models of bmi aircraft on display at the lounge entrance. IIRC, there is a model of an A321 in full bmi colours. I think that the A321's were never painted in the new bmi livery?
Although bmi gives a warm welcome, that is where the lounge "experience" ends. The domestic business lounge at Terminal 1 is large and quite well laid out with modern furniture and bright colours.
It also gives a good view over some of the T1 gates. However, the overall impression of the lounge is rather dreary and soulless. Away from the windows, there is a lack of natural light, and the lounge felt rather desolate. Perhaps I got this impression because it was so quiet there on Saturday morning.
After a while I decided to pop out of the lounge and do some spotting from the large windows that are near Gate 8- bmi's domestic gates.
All quiet in the domestic area of LHR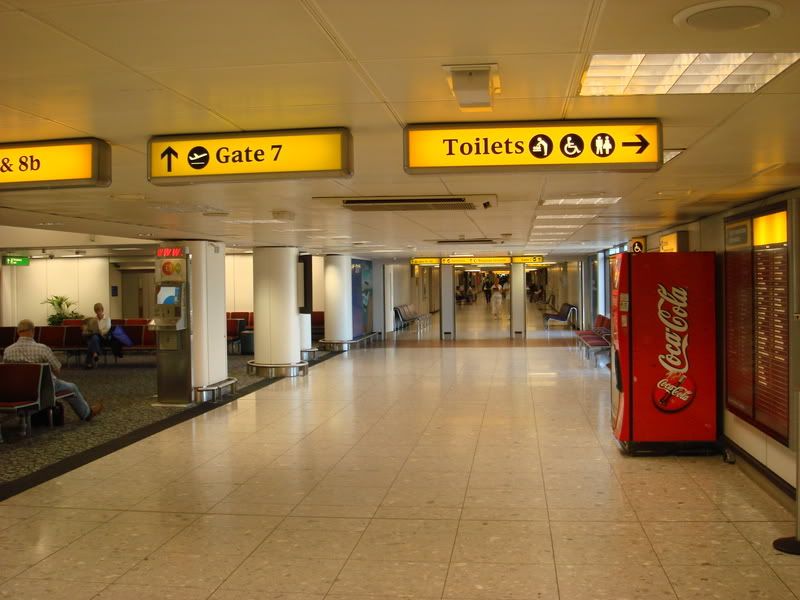 bmi ERJ bound for somewhere in the UK. LBA perhaps? Sporting the old style Star Alliance scheme
The domestic bmi business lounge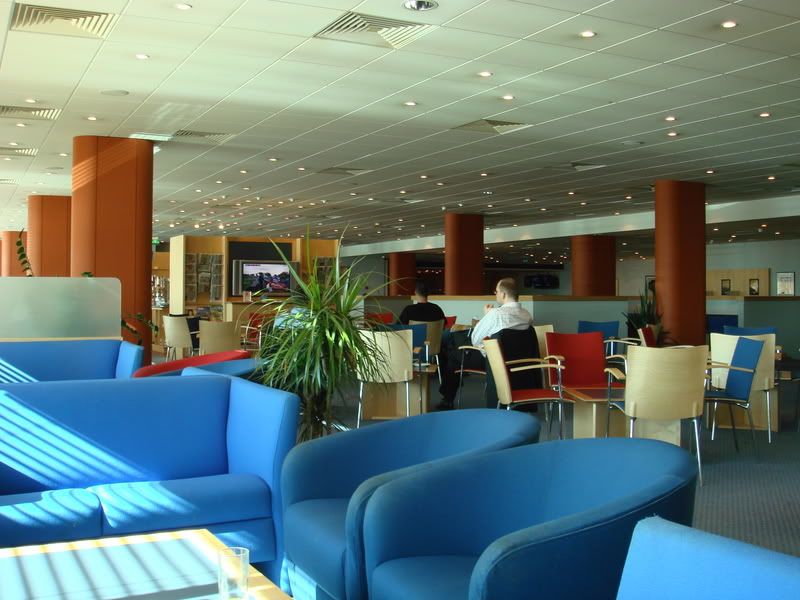 There are lots of newspapers and magazines on offer throughout the lounge, as well as a few tv's for bored passengers to watch. I normally switch them off! I had a wait of an hour or so before boarding, so I found a seat near the window.
The range of snacks and drinks on offer can only be described as lamentable. This is really not good enough for the domestic hub of an airline that offers a full service business class. There were some biscuits in a jar and the usual beer, coffee and soft drinks. The wine looked very suspect- probably around £2.99 per bottle, and of course no bubbly, cakes or sandwiches. This left a very poor impression with me.
The lamps were also rather worn and tatty. This lounge needs to be revamped somewhat, given that bmi are offering the only domestic business class from Heathrow, or perhaps this is why things are rather down-at-heel, as they know that they have a captive market?
There were flights departing for Leeds-Bradford, Inverness and Manchester. An announcement was made that the MAN flight would be delayed due to the late arrival of 90(!) connecting passengers.
Soon a bmi A321 pulled up at the gate- looking resplendent in the Star Alliance scheme.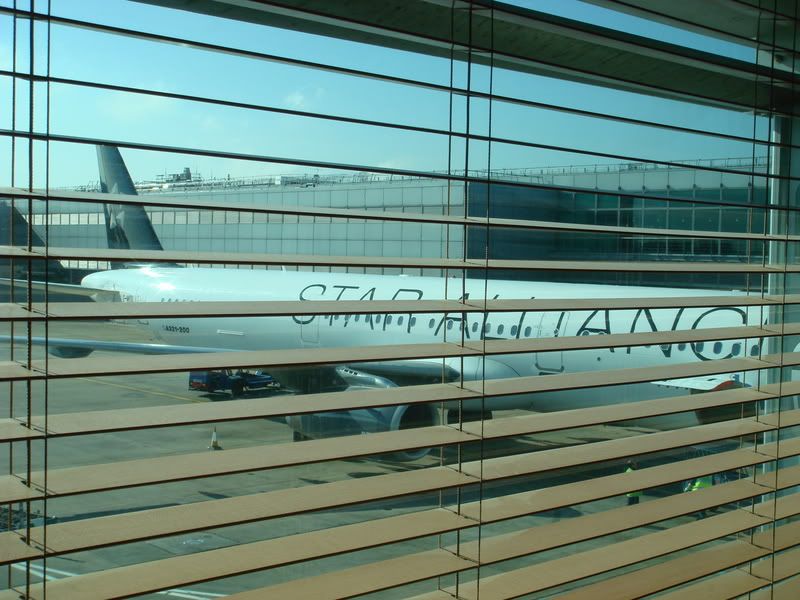 I much prefer this to the older-style Star Alliance scheme, where airlines are shown above the window line. This scheme is also quite out of date by now.
Does anyone know when the A321's will leave the bmi fleet? It seems strange that the A321 is too much plane for bmi at Heathrow.
When Heathrow slots are so prized, I am surprised that bmi can't make optimum use of these aircraft on a high-yielding route? But then again, perhaps that is the mystery of bmi…
Boarding time was 10.30, which as usual came and went without any boarding announcement. We were eventually called for boarding at 10.50 and it was a short walk to Gate 8. One thing that I do like about bmi is that their branding is very visible and looks good, and this extends from their aircraft (those painted in the current livery!) to their uniforms and marketing collateral.
I know that not everyone is a fan of the boaters worn by bmi crew when boarding passengers, but I quite like it. At least it is distinctive and ensures that the crew stand out. I suppose that the romantic in me is also reminded of an era when flying was a lot more glamorous than it is today.
One of my pet peeves when flying is to be called from the lounge only to meet a queue at the gate. Today there were only a handful of people at the gate, and boarding was quick and hassle-free. My immediate impression when boarding a bmi aircraft is always how bright and cheery the cabin looks, in sharp comparison to BA short haul cabins where dark colours predominate.
I received a friendly welcome from the female flight attendant.
Today the flight would be almost full in economy, and there would only be 2 free seats out of 25 in the business cabin. I do like the A and C seats on bmi as there is a lot of space in between the seats- good for a laptop bag and a jacket.
A sister ship at the adjacent gate- I think that it was bound for Manchester?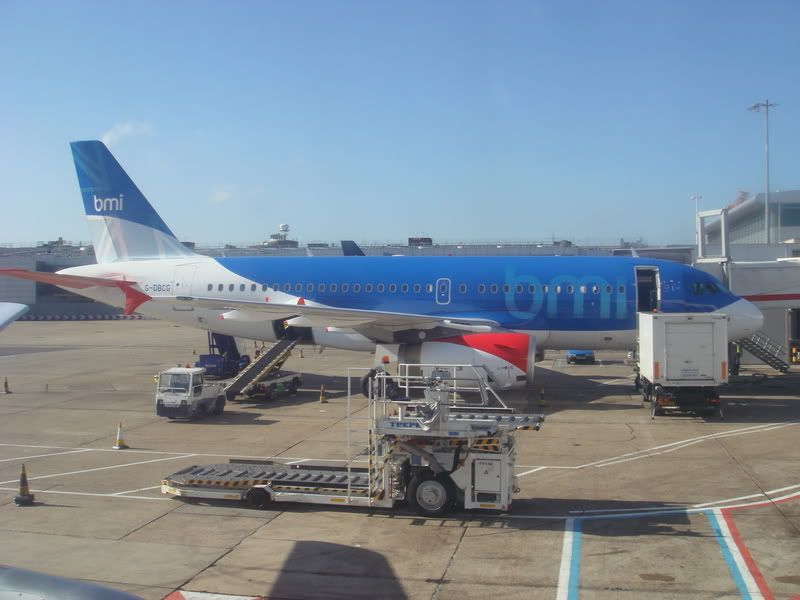 I really like the bmi colours- they look fantastic on a sunny day.
I had the usual rummage in my seat pocket- there was the usual "Voyager" magazine- this is, in my view, one of the most boring airline magazines around. It was far more interesting to have a look at the price list for the economy cabin.
In case anyone is flying bmi soon, I photographed it so that you can have a look. Some of the prices seem quite steep. £1 for a KitKat anyone?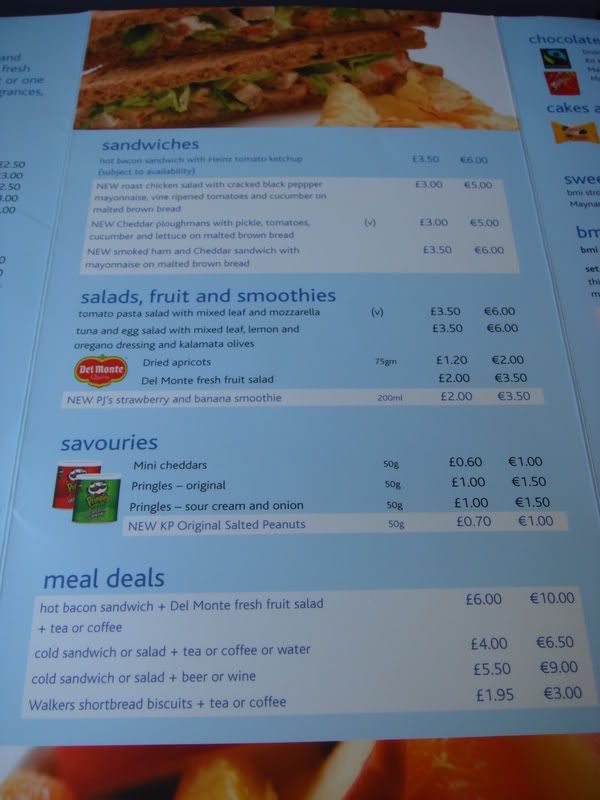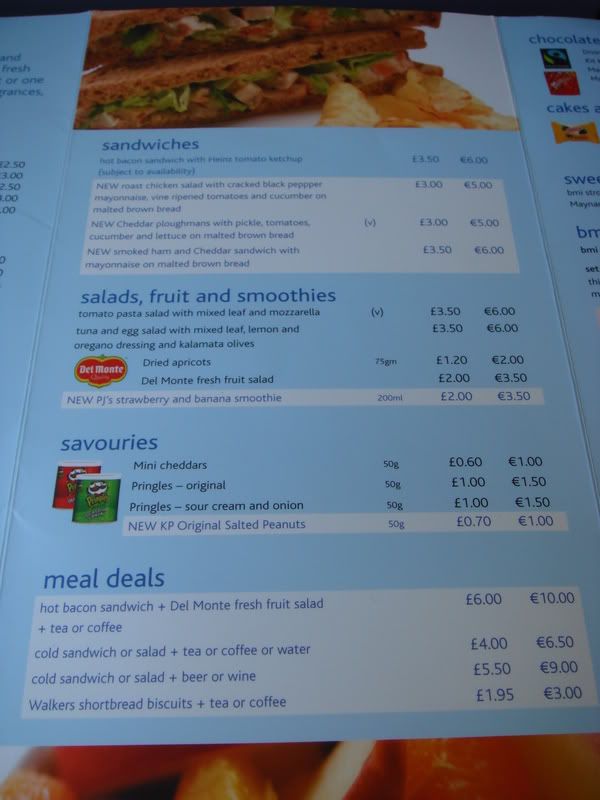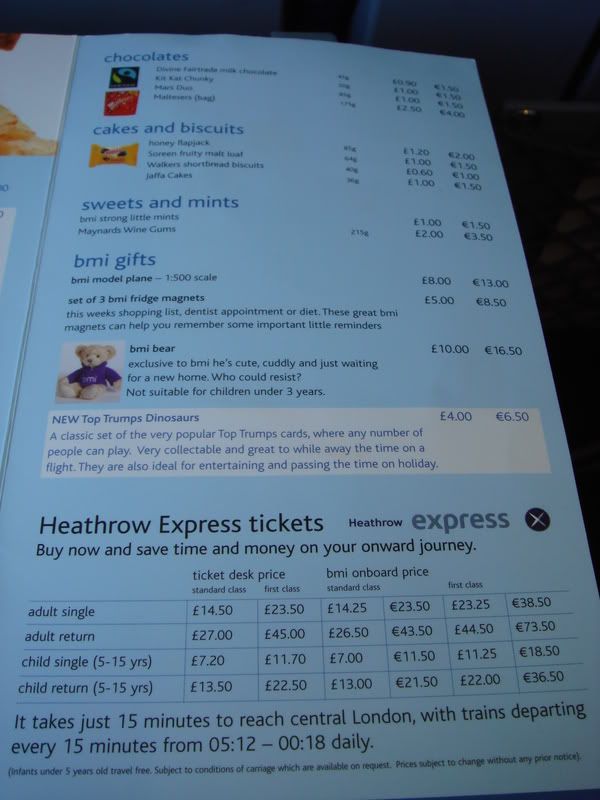 A choice of newspapers was offered, followed by an introduction to the crew.
Although we had a scheduled departure of 11.05, it was obvious that this would be optimistic. With a minimum of fuss, the doors were closed and the airbridge removed.
Then it was time for the safety demo, performed manually, followed by final cabin checks.
Soon we were pushing back for a long taxi- today we would be taking off to the east, so this meant taxiing past Terminals 1,2,3 and 5 to reach the take off point. Good for spotting, at least.
There was the usual congestion on the ground. At one point I began to think that we would be driving to Edinburgh.
AA 777 about to embark on another hop across the pond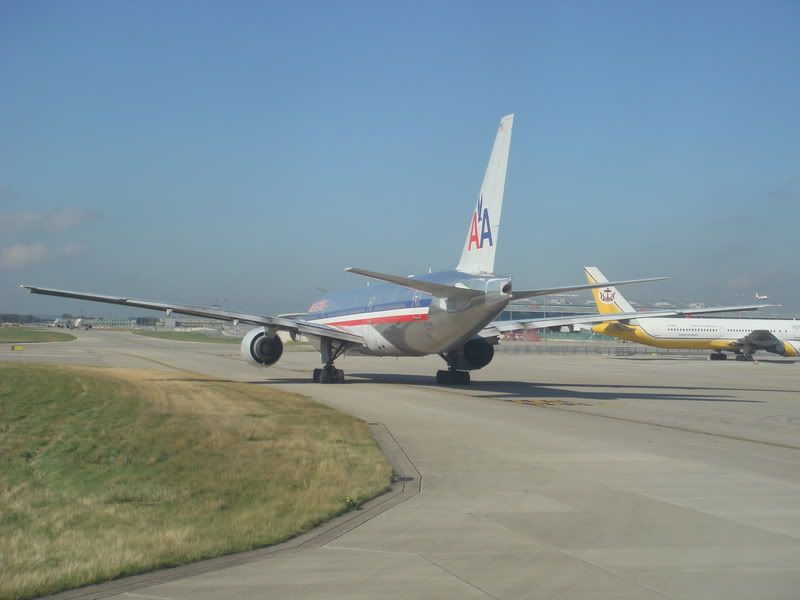 Congestion at Heathrow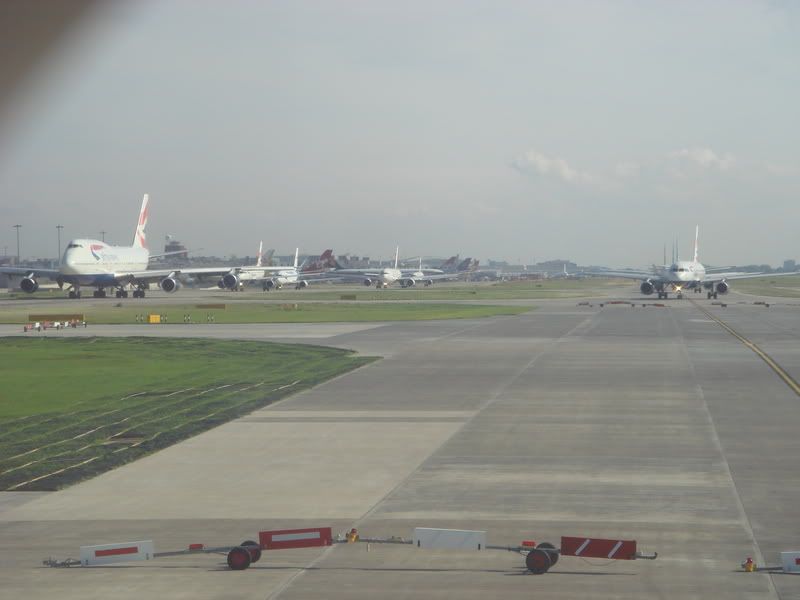 Although there were a lot of planes queuing ahead of us, we were managed to overtake a few to get near the head of the queue.
Sister ship- A321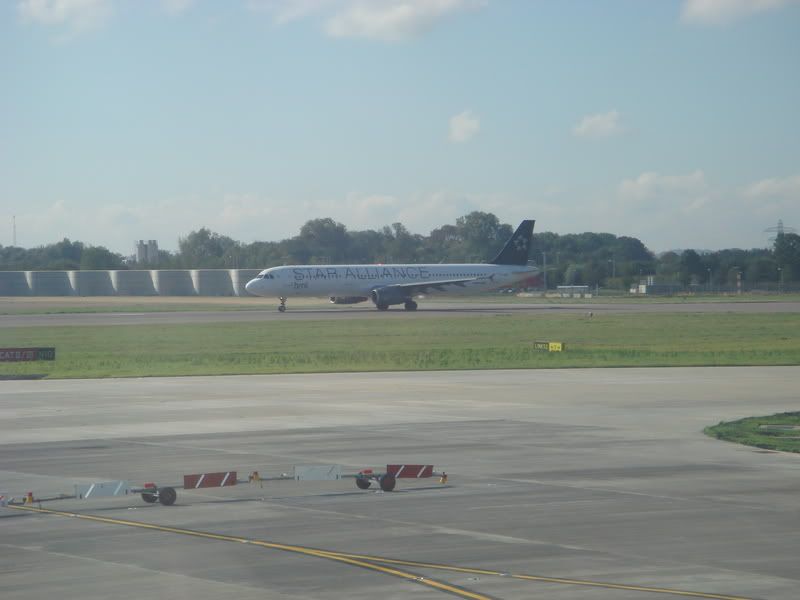 We then overtook an IB A321. So what? Well, I just had to take a photo, as this plane is called Benidorm! Chav-tastic!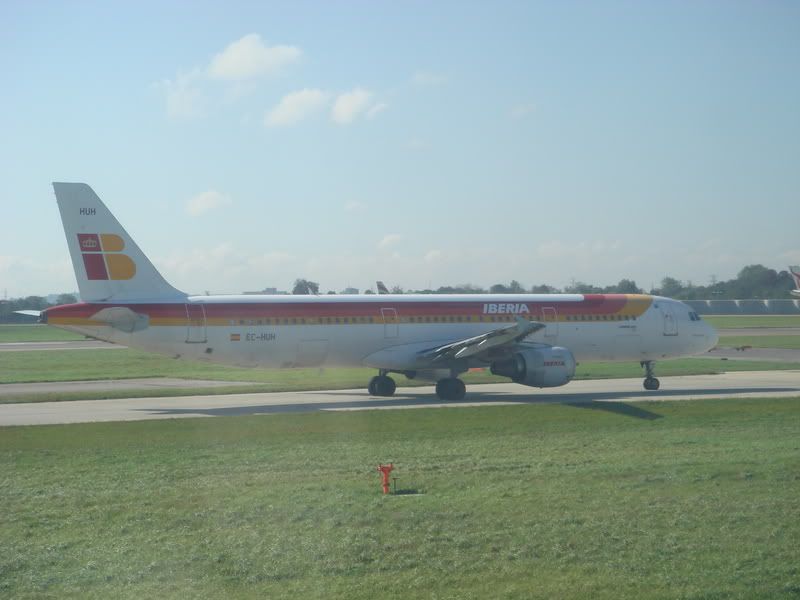 By this time I was fed up of slowly inching forward, and I was eager to get into the air. After a Qatar A330 took off, we lined up for departure and performed a rolling take off. Despite the full load, it was a very powerful take off to the east over Cranford. As it was such a clear day, local landmarks were clearly visible. As we banked northwards I got an excellent view of Northolt.
Within a few minutes we were crossing the northern M25 east of Watford, and within about 10 minutes of our departure, LTN could be clearly seen.
LTN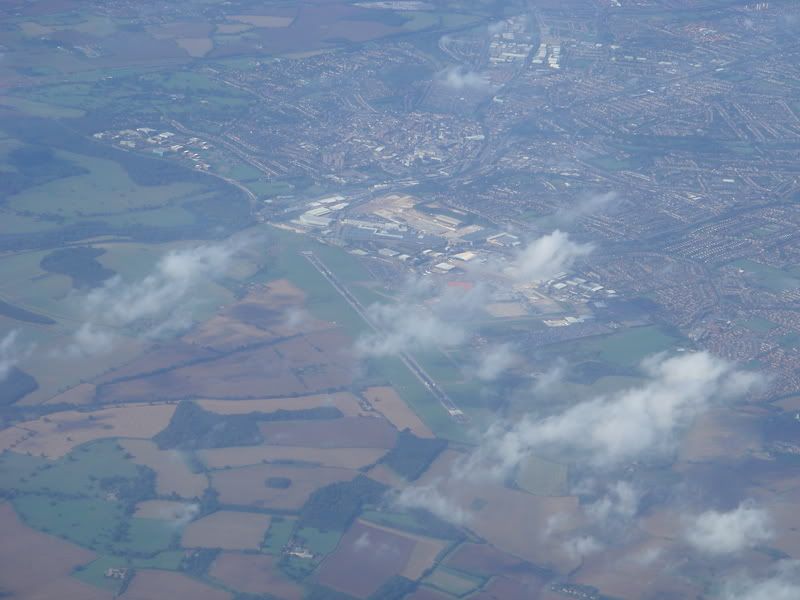 I then got a very good view of the grid road system of Milton Keynes.
The usual announcements about the Star Alliance, Diamond Club and buy on board in economy were made. When the crew were released they busied themselves setting up the carts and closed the curtain between business and economy.
A drinks service was offered. Most people were opting for soft drinks or hot drinks. I went for a cola- served in the 150ml can- a bit mingy for business class? What I really object to is that there is no champagne in business class on domestic routes. The London-Edinburgh sector is longer than Brussels or Paris, yet for some bizarre reason, champagne is offered only on international flights.
The bmi business class box also gets a bad press. I do think that it is quite a poor offer on longer international flights, but on this short sector, it manages to tick every box. (Excuse the pun!).
There was a choice of ham or cheese sandwiches.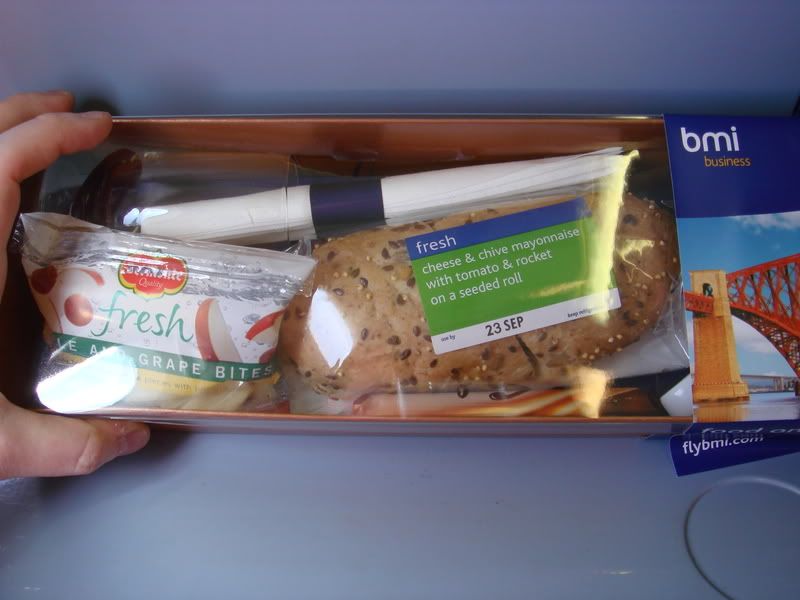 The sandwich was of good quality and very fresh. It certainly filled a hole and more importantly, gave us something to do on the flight. The box comprises a sandwich, water, fruit bag and chocolate bar-along with a drinking glass and china cup.
It was all tasty and filling enough. Nothing special when compared to other carriers on short haul business class, but nothing really objectionable either.
We had passed some nice cloud formations heading north.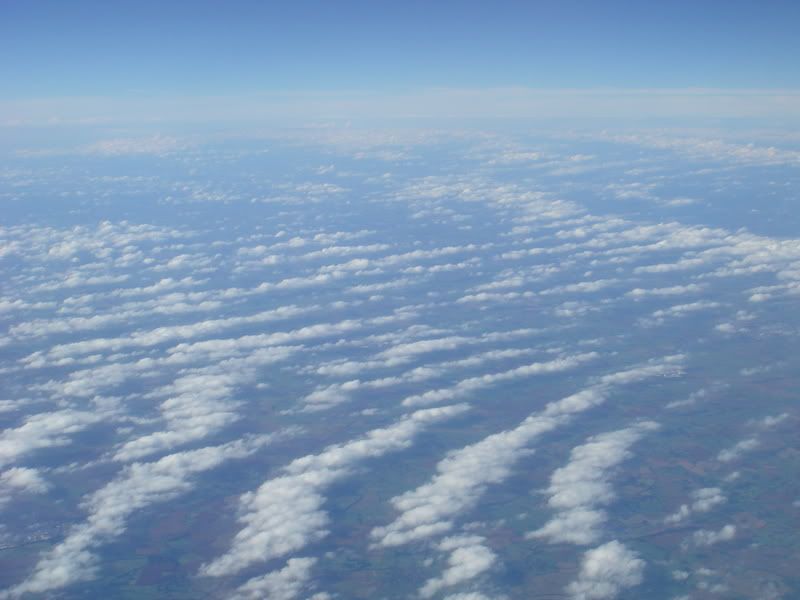 Tea and coffee were offered repeatedly, and I managed to down 2 cups of very good coffee on this short flight. The buy on board service was completed very quickly- the flight attendant serving the business cabin expressed surprise at the speed at which her colleague had completed the economy service. Obviously people are wise to being ripped off on board!
By now I could see Morecambe Bay in the distance- we were then overflying the Lake District. At this point we had begun our descent into Edinburgh.
On approach to EDI
It is a surprise for someone living in the centre of London to see how relatively unpopulated this area is.
A view of the Forth Bridges signalled our final approach into Scotland's capital.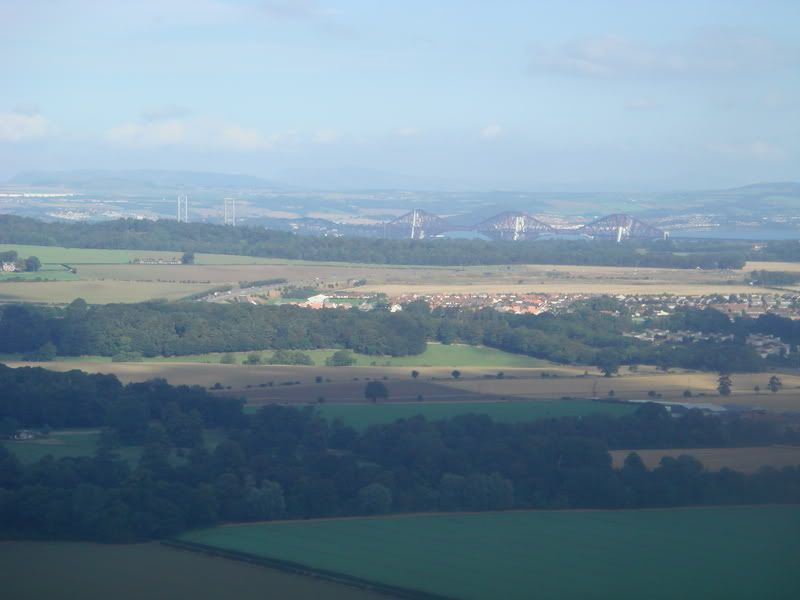 We made what seemed like a hard landing, and quickly turned off the runway.
Welcome to Edinburgh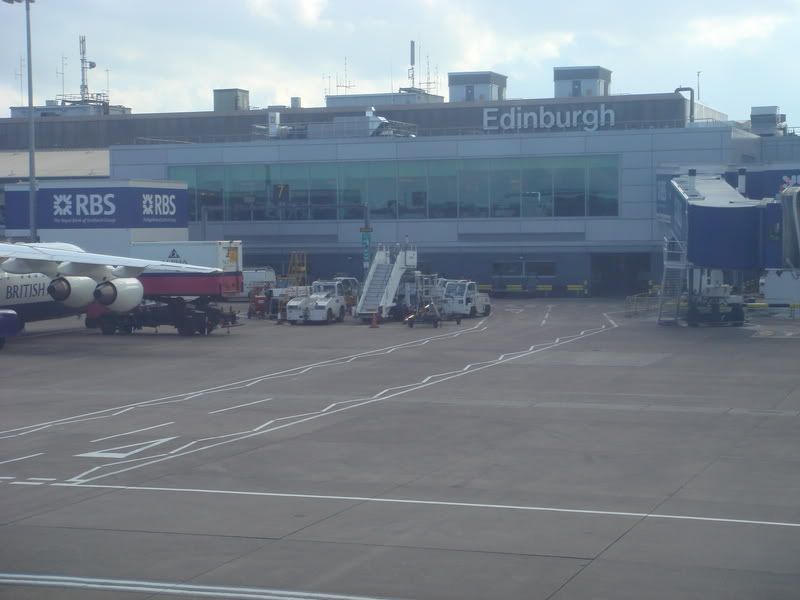 Delta 767 to Atlanta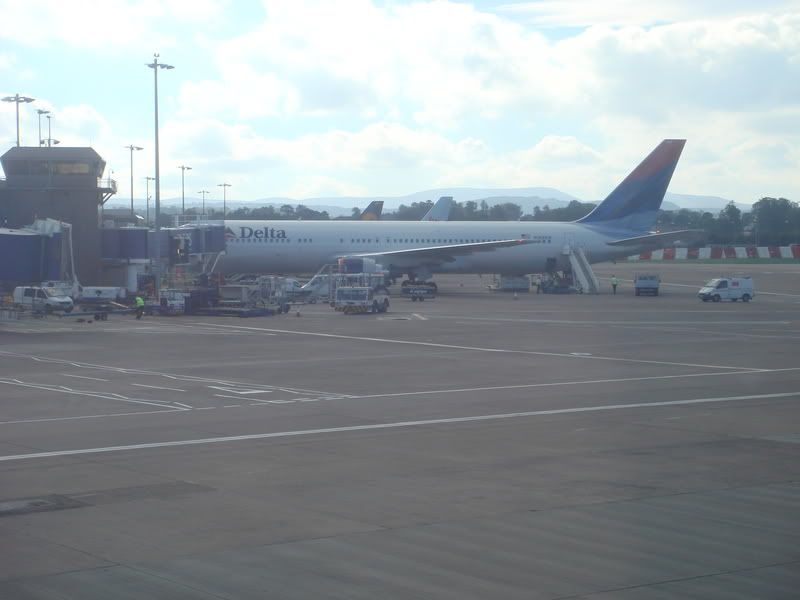 We soon pulled up to the gate, and I was very happy to be back in one of my favourite cities!
I think that Edinburgh airport is an absolute gem- really an example of a well-designed, smallish airport. It is even better now that they also have a patisserie Paul. Looks like deep-fried Mars bars have some serious competition now?
Just one small gripe- there is a sign advertising Scotland as the best small country in the world. Haven't they heard of Wales?
The bags seemed to take a while, but at least my bags were amongst the first to appear on the belt. Good old Star "Priority" tags! Then it was off for a weekend of debauchery in Edinburgh.
Monday, 25th September 2006
BD055 EDI-LHR
Dep. EDI: 11.00 (11.30) Arr. LHR: 12.25(12.20)
Business Class Airbus A320-200
All too soon it was over, and I was heading through the western suburbs of Edinburgh, out towards the airport. It was a foggy morning, and I began to wonder if we would be on time.
Check in was swift and hassle-free at the business class check in, with no queue ahead of me. This time the flight would be on an A320 with 7 rows in business class. I quite like having the back row, so I had pre-selected seat 7A on the bmi website.
Once again, "Priority" tags were attached to my bags. I was told that there would be a slight delay to the incoming aircraft, but that they were hoping to make this up. I went straight to Security and then to the bmi business lounge.
Again the lounge was almost empty, but with more windows, it was somewhat brighter than the equivalent at Heathrow. It was the usual lounge setup- again, a truly terrible selection of snacks and drinks on offer.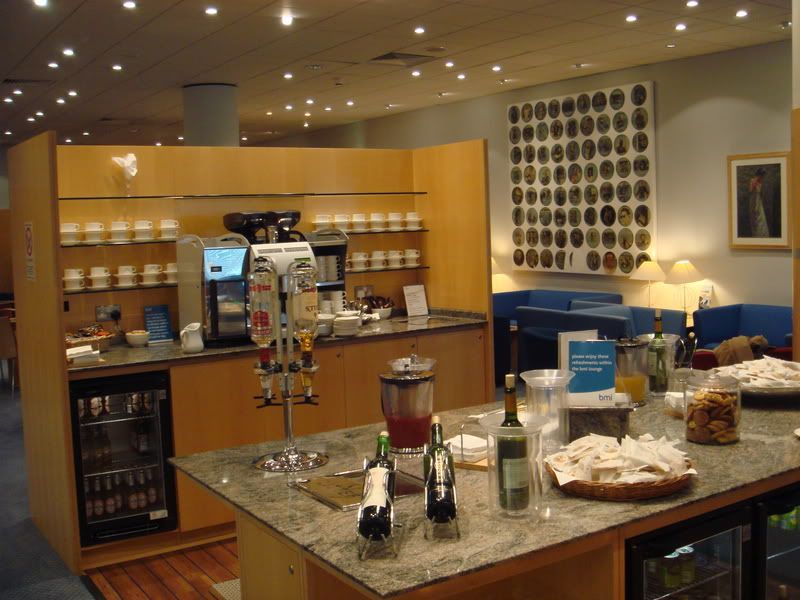 Although identical in décor to Heathrow, this lounge felt much nicer.
After a while I decided to go and have a look around the terminal. As I already mentioned, I think that Edinburgh is a really great airport- well laid out, and with an interesting mix of movements at certain times of the day. I did see a Balkan A320 clearly showing signs of its previous incarnation as a Virgin Nigeria plane. This was going to Bourgas.
The incoming flight was quickly turned around and business class, Star gold and passengers with children were called for boarding. Although the plane was parked at a gate with an airbridge, for some reason we had to go down steps to the apron, to walk to the aircraft and climb the steps of the plane. Does anyone know why this was the case?
There was a blind passenger travelling with a guide dog seated in 1C. Throughout the flight the dog was so well-behaved and seemingly oblivious to the various noises and motion of the plane. Only when we had arrived at Heathrow and were waiting for a gate did the dog let out a howl. Even guide dogs get impatient at Heathrow!
This A320 sported an interim dark blue, old style livery with the newer bmi titles applied over it. I am not a fan of these interim colours at all, especially when the weather was as grim as it was. This time the cabin had leather seats, and it looked bright and clean- which seems to be the norm for bmi.
Despite having seven rows dedicated to business class, the business cabin was very light on this mid morning flight- 7 of us in total, but economy seemed quite full.
bmi business cabin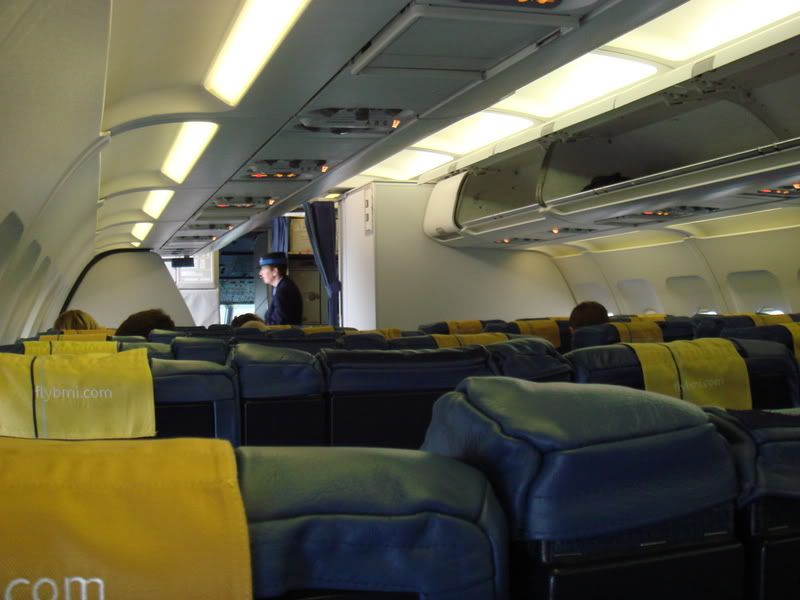 The 2 female crew looking after the business cabin were well-presented, smiling and friendly. They seemed to be enjoying themselves, and took time to engage with the passengers. The usual pre-flight announcements were made. We would have a flight time of 45 minutes, and without too much congestion over London, we hoped to arrive on time.
At this point the Captain paid particular tribute to the crew. They had begun their day leaving MAN at 06.40, but incurred a 40 minute delay leaving MAN for LHR. They had then had a very quick turnaround at Heathrow and Edinburgh, and had made good the delay. The captain was effusive in his thanks to the crew.
The safety demo was done on the flip down screens, and the Purser told us to pay attention to the safety features of this "Boeing 320". She then realised her mistake and started laughing. It put everyone in a good mood.
Dep to Man?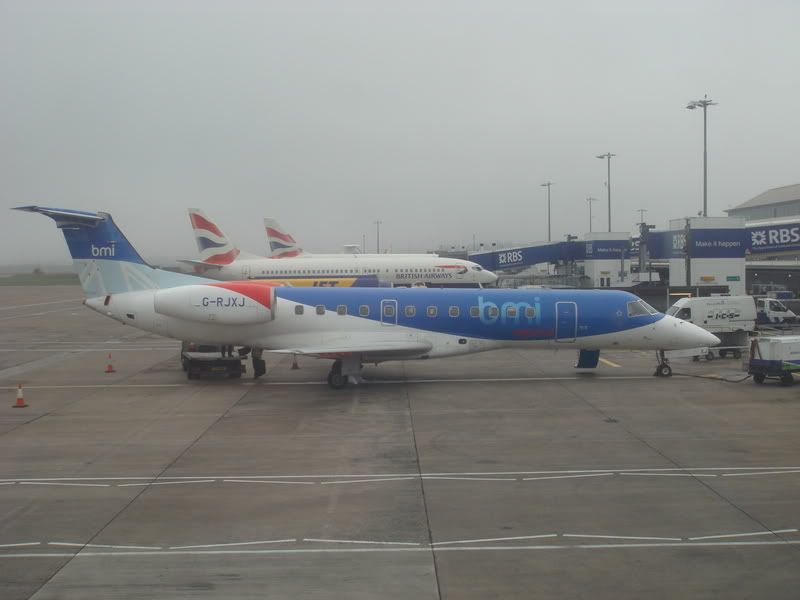 KL to AMS- ready to roll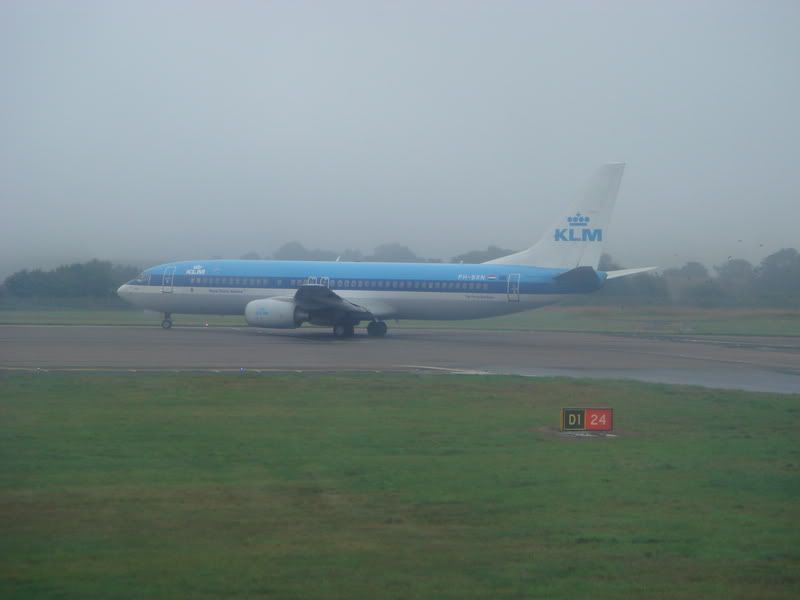 Is EDI now a KL mainline destination?
Once the KL flight had departed, we waited for an incoming aircraft before making a powerful take off, into the cloud base almost immediately, heading west, then south.
I had hoped that a light load would make for a less hurried service and this proved to be the case. The crew member serving me was very friendly and took time to chat. Refills of drinks were plentiful as we made our way southwards.
The lunch box made another appearance- again sufficient for a short flight, but nothing dazzling. What really made this flight memorable was the friendly and positive attitude of the crew.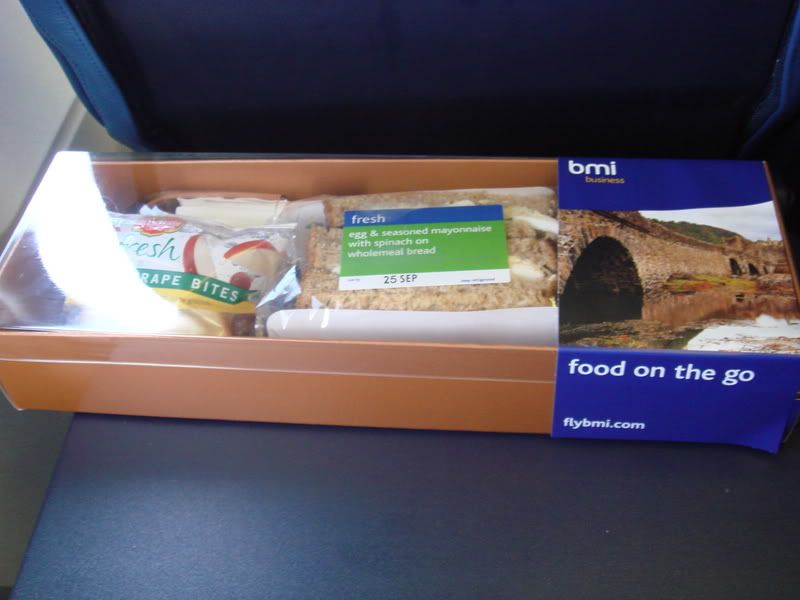 After a few drinks and some more excellent coffee, we began to get closer to London. The captain had warned us of turbulence on our final approach, but it was what I call "fun" turbulence, and not at all like the time when I flew into Lugano in the summer…
The familiar and seemingly-endless rows of semi-detached houses could be spotted between breaks in the cloud, and next thing I knew, we were touching down at Heathrow again, and my weekend was over.
We had a short taxi to the gate but then had to wait a few minutes. In no time at all I had my bag and was heading for the taxi queue.
What is my verdict? bmi offers an eclectic product range, to say the least. Many people say that there is no need for a business cabin on domestic routes. I would disagree with this, as I am always willing to pay more for the lounge access and more space in a quieter cabin at the front of the plane.
There seems to be a market for business class on this route. The business product is nothing special, as is the case with most business class travel in Europe these days. However, I do think that bmi could enhance their catering offer somewhat, and they should definitely stock champagne in business class.
Bmi ground staff were unfailingly polite and welcoming. T
he lounge at Heathrow needs a facelift of some kinds. The one in Edinburgh was better than at Heathrow, but the range of drinks and snacks is really pathetic. Again, bmi could enhance this for relatively little cost, and give business class and Star gold passengers a much better impression of the airline.
High frequency on this route is very convenient for business travellers, and the planes were clean and bright. I would certainly choose bmi again, but as I mentioned, there is really no choice if I want to fly business.
Perhaps in the future we will also see BA return to a business cabin on domestic, but I very much doubt this.
All in all, I was satisfied. Bmi got me there on time and it was a relatively painless experience. Not dazzling or particularly memorable, but not terrible either.
I think that bmi have the makings of being a good airline. It is good to be able to collect Star Alliance miles, and they are a strong player in the UK domestic market. I only hope that they stop playing around with their routes and products so much and focus upon a market that they genuinely want to target, and stick to something resembling a strategy.