SEPT 16: Finally at long last I was getting the vacation I had been waiting for and very much needed. I book the trip in F (found a good deal), and it was worth it on the long legs.
CO 2254, OKC-IAH
ERJ 145, seat 3C
Flight time: EST 1+12, ACT 1+08
Arrived at the airport to no lines. I checked in and for some reason my luggage tag didn't come out as VIP, though my boarding passes had elite access on them. Luckily I was able to snag the bulkhead window for extra leg room. I thought 3B was going to be empty but a lady who was early for her flight to IAH was put on mine. Luckily for me, she was a normal sized person (usually I get guys who were former high school or college linebackers in size).
The flight was normal ExpressJet service, drink, pretzels, one pass through the cabin and no time left for more. The FA did a good job being rushed with the short flight duration.
CO 1406, IAH-ANC
B738, N76225, Seat 4A
Flight Time: EST 6+30, ACT 6+34
Looking at that 738, I still could hardly believe it would get us to ANC non-stop. I boarded with F, and found a blanket and pillow at my seat, but no headset. The FA (a young, very attractive blond) got us a pre-departure drink (I wanted a beer but she told me it wasn't cold yet, so I settled for coke). Boarding took a bit longer than expected and we pushed late, but the flying time was also going to be shorter than usual so it wasn't a loss. We taxied single engine till about 5 min prior to takeoff then were off to ANC.
They handed out headsets and took lunch orders. The choices were a turkey sandwich or shrimp salad. I was expecting more/better offerings which disappointed me, as this flight is longer than an EWR transcon and the F prices were more as well. My audio jack wasn't working right but I managed to fix it. The FA came with drinks and the usual nut mix. Then the meal came. I got the turkey and it was a good sized sandwich, along with some type of mushroom soup and potato salad (I love COs potato salad). Everything was good but it was a lot like the meals I've had on IAH-EWR/BOS in F, and I had expected more. Fresh baked white chocolate chip cookies came a bit later, along with milk. After this I settled in and finished watching Duma (good movie), but didn't really pay any attention to RV (with Robin Williams) when it came on. Sadly, there was no Airshow on this 738, as I had heard the 18F 738s had it.
About 2+30 out of ANC (and only about 1+30 after I finished lunch), they came around with a snack. It was the cold snack plate you've heard about/seen in F, with two pieces of ham and turkey, a couple cubes of cheese, crackers, grapes, and a few other things that kinda looked like mushrooms/fungi of some sort which I stayed away from. The plate was good but it seemed rushed. Overall though, the FAs did an excellent job, and they were all very pleasant, but I was sad they sent the attractive young blond to work coach for the flight.
About 1+30 out I got this shot of the Canadian Rockies, looks like winter is approaching:
We came in and landed on runway 14 after a scenic flyover of the northern part of Anchorage. I got a good view of Elmendorf AFB and downtown. When we landed, FedEx had 7 MD-11s and on DC/MD-10 on the ramp, as well as 744Fs from Cathay and Eva, a UPS 767, and other freighters from various companies on the ramp. The CO gate is detached from the main terminal area at ANC, and there is almost nothing in it. Bags came at a normal pace, and then I got my rental and was off for 5 days of R&R.
Denali: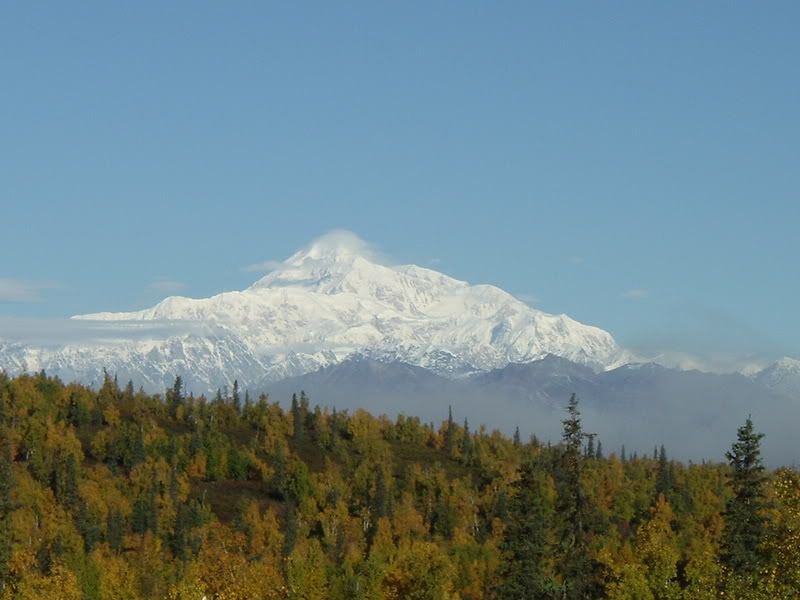 Exit glacier near Seward:
22 SEPT/23 SEPT: Time to head back home to NH to see the family.
CO 1409, ANC-IAH
B738, Ship 263, Seat 2A
Flight Time: EST 5+55, ACT 6+07
There was no checkin line when I got to ANC. I went to the elite line and an agent came right over to assist me. It took about 2 minutes to get done. I hung out at the USO type lounge and used their internet to check the flight conditions back to IAH, then for my flights to EWR and BOS. There was tons of reports of turbulence on the great circle route starting over ANC and going all the way to the OK/TX border.
I boarded with F and found everything the same as it was when I boarded in IAH a few days earlier. While boarding, the captain came and told us about the reports of turbulence and told us we would be taking a more westerly route over the pacific down to Vancouver, over SEA, west of SLC, then over ABQ, then down to IAH, but thanks to almost 100kt tailwinds we would arrive about 20 min early even though we would be 15 min late getting airborne.
Once airborne, we hit that turbulence as expected until we were close to cruising altitude. Once at altitude we saw the last half of a beautiful sunset. We got the usual drinks and mixed nuts, but this time the nuts were warm. That is the attention to small details that make a huge difference. I ordered beef tenderloin thinking I was getting a steak, but it was in a bowl with rice and veggies. It came with some type of chili soup which I had never had before. The meal was of excellent quality, everything, the beef especially, was delicious. After that came the famous CO sundae, need I say more, fantastic as usual.
I settled in and tried to get some sleep but couldn't for some reason, so I just listened to music (movieswere, 1. bad, and 2. old). About 1+00 out of IAH they served a fruit plate (orange and melon slices), along with a croissant and chocolate chip muffin. It seemed like a BizFirst arrival breakfast (minus the cinnamon rolls) and wasn't expect, but it was very good. The pilot who landed did an excellent job with what I found out was a high crosswind landing. I could feel him in the crab on final then kick the rudder out to decrab just before touchdown. He made a very smooth touchdown, which on crosswind landings like that are not common nor expected (it's argued it's safer to land a little more firm in conditions like that, but you can grease it in). We parked at the new E concourse just up from my flight to EWR.
CO 51, IAH-EWR
B762, N67158, Seat 2A
Flight Time: EST 2+35, ACT 2+53
I had been waiting to get back into the BF cabin for a while. I got to the gate a bit late so I boarded via the elite line while coach was boarding. The agent stopped the coach line and boarded me, a nice plus. When I got on, I found no blanket or pillow at my seat. Worse, I found the guy sitting next to me on his cell swearing a blue streak at some poor lady. He finished his first tirade with an abrupt hangup, waited five minutes, then called this poor lady again and went on tirade #2 (profanity laced yet again). At one point, he said he was a about to explode to her and his face was blood red. I was hoping he would go off and that would lead to his removal from the flight, but he just fired off a few more insults then hung up. He then proceeded to read his paper, hanging it over my seat. I tried to gently push it away but he either didn't notice or didn't care it was over my seat. I tried putting him on ignore because I wasn't about to let him ruin this flight or get me in a bad mood just before I see my parents for the first time in months.
The FAs got pre-departure drinks. I tried to get up to the flightdeck but the FA stopped me. We pushed about 15 min late but didn't have a long taxi, and thanks to good tailwinds we were looking ontime or a bit early. The takeoff roll was short, but it didn't seem as powerful as I had expected or remembered for a 762. The FAs took breakfast orders, either an omelette or cereal. That was all I was expecting, but before it came they came out with a fruit plate like the one I had just had coming from ANC. Then, they came out with cinnamon rolls and crusty rolls (I only got a cinnamon). They, this came: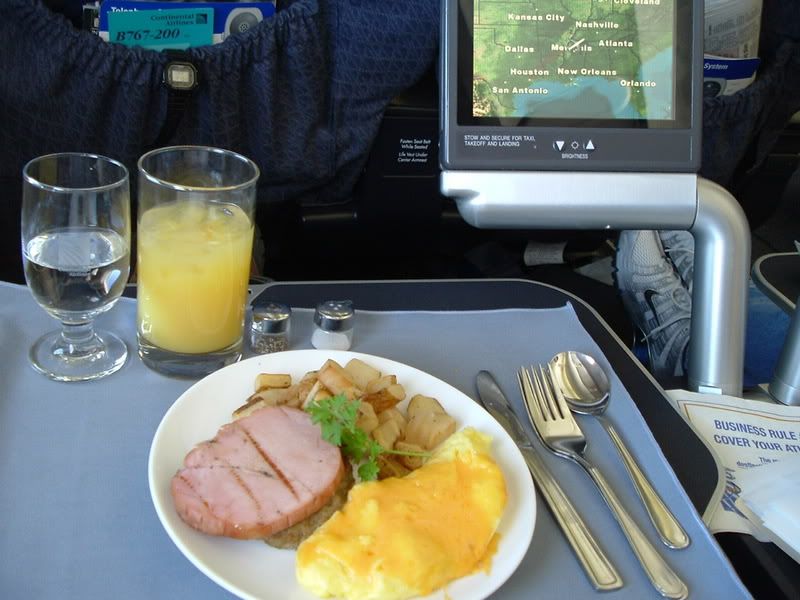 It was very good and was just what I was looking for. Loony tune guy next to me tried to get me to close my window shades during breakfast. I pulled one of the two halfway down, having already decided that if it wasn't good enough for him I was going to put it back up, but he didn't say anything more to me the rest of the flight. After I finished breakfast (and I was full) I played around with the PTV for a bit but nothing good was on. I closed my shades, leaned the seat back, and got a little sleep. I cannot describe how nice it feel to be able to lean almost all the way back on an airplane vice trying to sleep in the seated position.
We landed on 22L at EWR with a good view or NYC and Giants stadium on final. As soon as we landed, the guy next to me got back on his cell, called a co-worker, and went off again. He seemed to have no realization about common courtesy in a public place, like not having every fourth word be a four letter word. Taxi was short and luckily I was able to get up to the flight deck (hadn't been up to a 762 flight deck before). Both the captain and FO were nice guys, the captain being a former AF RC-135 and E-4 pilot, so he knew of the plane I fly. The FO had no idea, and it was kinda funny trying to explain it to him, but he was all good. The captain though seemed very shocked when I told him the E-4 is going away in a few years.
Overall, despite the jerk next to me it was a great flight and great crew. The breakfast was almost too big.
CO 1128, EWR-BOS
B735, Seat 1F
Flight Time: EST 0+38, ACT 0+43
I just wanted to get home by this point. I grabbed an ice coffee at Dunkin Donuts and had to do the painful terminal change to A. Why CO puts BOS flights in A I will never understand. All the other cities I can understand, but BOS just doesn't seem to fit in there.
There is an upside to this. Everytime I take that tram from C to A, I always seem to see the most beautiful girls on it. This time, there was a girl, I'm guessing 21-24, who appeared to be of middle eastern descent, and I just could not keep my eyes off her. I was hoping she would be heading to BOS (last time it was a Spanish girl I saw in the tram and she was heading to BOS so I got to talk with her some), but alas she wasn't. I've talked to guys who have been to the middle east who say there is a reason why the men over there keep their women covered, and it's because they are that beautiful (they were saying this in a humorous way to describe their beauty, not to be offensive).
Anyway, flight boarded on time and quickly. I finally got a young woman about my age in the seat next to me. Turned out she was from just outside Philly, and since I went to college just outside Philly we had a lot to talk about, so I really didn't even notice the flight, being as short as it was. It was one of the best conversations I've ever had on an airplane and was a welcomed break from the norm, and very welcomed after being next to Mr. Profanity on the last flight. Nice landing in BOS, and quick taxi, getting us in about 20 min early. We parked at a gate I had never used before in the C terminal so it took me a second to get my bearings to baggage claim. The bags came off in record time for BOS, and mine was amongst the first. Glad to see the priority tag worked after hearing from so many people how it leads to your bag being the last one off.
I would return to OKC 8 days later. I left out of Manchester, NH. MHT is a really nice little airport, and they did a great job of upgrading it since I was last there in 2001. It was express jet to EWR, and everything was standard for them. Flight was a little long due to weather coming into the area, but we still got in about 10 min early.
I took CO 63 to IAH. It was another 762 and I sat in the same seat. We pushed 30 min late but arrived on time in IAH. They only served the cold plate as a snack. Again, it's so nice to be able to stretch out. We arrived at E7, and that plane was turning for the EZE run that night. I had to rush over to the tram to get to A to get ExpressJet to OKC. I made it with about 12 min to spare, but I figured my bag probably didn't. The flight to OKC was normal (well, despite that it was 88 in OKC, it had been 40 when I woke in NH that morning, and I don't like warm weather). I got to baggage claim and my bag was #2 off the belt.
Overall, CO did a great job on this trip, like they almost always do, which is why I'll pay extra to fly them. The only thing I would ask for is better meal offerings for a long flight like IAH-ANC and menus would be nice too. They used to have the headsets on the arm for FC when you boarded so I hope they go back to that. Also, on my 738 ANC-IAH, the FA said the 738s do NOT have airshow, yet I have read reports saying they do. Does anyone have a definite answer? Suffice to say, I am planning on BF to Europe next fall for my vacation, can't wait. B+/A- for CO, not perfect, but very good.