How I got to the USA
QF175 BNE-LAX With Pics
(by
Safs
Oct 7 2006 in Trip Reports)
After a short stay in Anaheim, it was time for our internal flights within the USA to take us to two other great cities!
Flight: UA 1490 (TED)
Route: LAX to LAS
Date: September 25, 2006
Aircraft: Airbus A320 Rego unknown
(
Seat Number: 5D
EDT: 5:47pm
Scheduled arrival time: 7:00am
We arrived at LAX after a shuttle bus from Anaheim a couple of hours in advance. After check in we made our way through security. Shoes off, belt off and everything out of pockets. I passed! After clearing here, we took ourselves to Gate 71B. After waiting here for a short time, we looked around and noticed that there weren't many passengers here for a flight which left so soon. I decided to check the screens and found out that our departure gate had moved.
Boarding as announced so we made our way into the aircraft. All passengers on board, seat belts fastened and push back was made at 5:38pm. Flight attendants disappeared as the safety procedures were conducted on little flip-down screens.
Leg room was ample. I believe that this was due to the fact we were sitting in economy plus!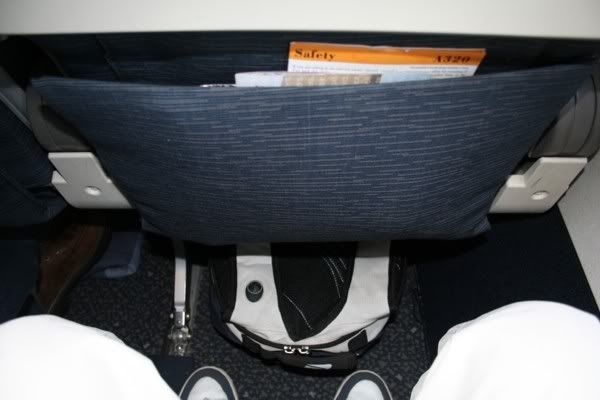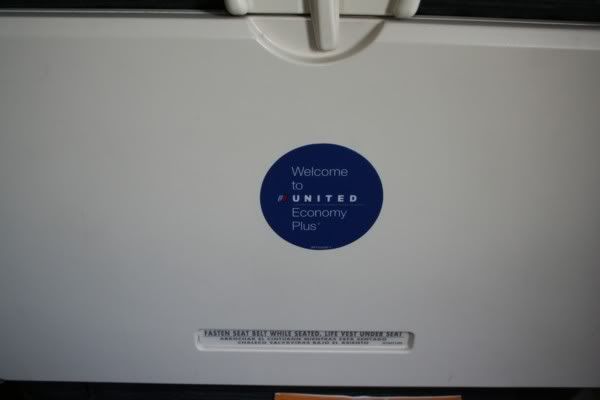 Headphones of all different colours were found in the seat pockets in front of us, along with the in-flight magazine and safety instructions card.
We lined up on 24L and started a 25 second roll, out over the ocean. We made a series of left hand turns before making our way to Las Vegas.
Shortly after, flight attendants came around serving drinks. I opted for the 'Unique blend of Starbucks' coffee. Margaritas, wine and beer were available to purchase for $5.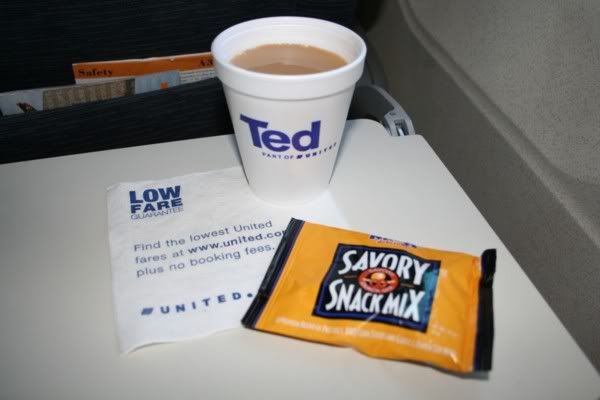 After a short 43 minute flight over the desert, we landed smoothly at Las Vegas and headed towards gate D43. I was surprised that after we departed the plane, we found slot machines in the airport arrival/departure lounges! Welcome to Vegas!!
The flight was great and the flight attendants were fast and efficient. I guess they had to be for such a short flight.
Now it was off to the New York New York hotel for our short stay in Vegas before our flight to Seattle.
Flight:
Route: LAS to SEA
Date: September 27, 2006
Aircraft: Airbus A319 N814AW
Seat Number: 1D (First class)
EDT: 11:26am
Scheduled arrival time: 2:00pm
After a great stay in Vegas, it's off to Seattle! After the shuttle took us from our hotel to the airport, we made our way to America West departures. We lined up for E-ticket check in but for some unknown reason, it couldn't find our booking. After asking a check in agent for help, she called us over and assisted us. Thankfully, she found our booking and asked us if we wanted to upgrade to First Class for an additional $100 per passenger. Having never flown First Class before, we jumped at the chance.
With boarding passes in hand, we made our way to security. I looked down at my boarding pass to discover that I had the lovely SSSS printed. My friend made her way through the first class line at security quite quickly where I had to line up for what seemed like eternity in the additional security line.
Shoes came off, carry-on bags scanned and each passenger had to stand in a special scanner machine which I had never seen before. An electronic voice told each passenger when to move forward to be scanned. About 4 powerful jets of air came from the top and sides. I passed. We had to collect our shoes and make our way to a TSA agent who thoroughly searched through our carry-on baggage. I passed again!
We made our way to Gate A14 and waited for the announcement to board. My name was called over the PA system and I was asked to move back a row so a couple could sit together. Seeing I was also with a friend, I politely declined as it would mean that we wouldn't be sitting together.
First class passengers were invited to board so we made our way down to the aircraft. Not only was it my first time in first class, it was my first time in an A319. All passengers were seated. The aircraft load was about 50% so we were ready to depart a few minutes early. We had an on time departure as we made our way to Seattle.
After take off, the flight attendant came around offering us unlimited amounts of drinks and light snacks from a basket. After we had finished, she came around and offered us more.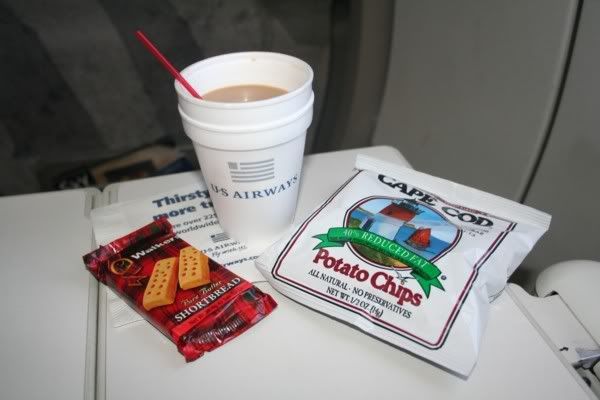 Meanwhile, my friend and I challenged ourselves to a game of Cranium which was displayed on the small screens on the bulkhead. Quiz questions were asked and we guessed some, especially those about American history! We scored evenly.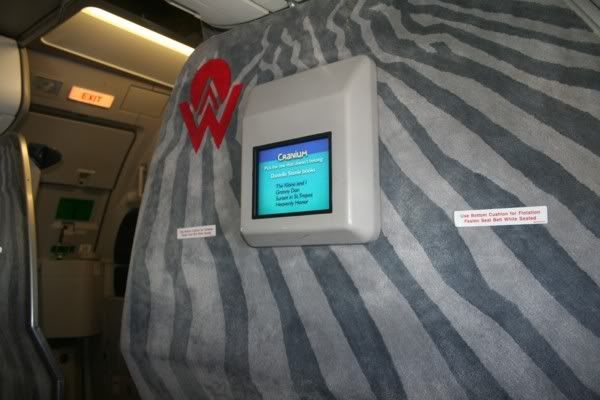 After Cranium I decided to take a few pictures outside the windows. I saw a few mountains and one which looked like a volcano!
We arrived at Seattle at 1:43pm, a little earlier than scheduled which is always nice. We made our way to arrival Gate A3 and deplaned through the front left hand door.
I enjoyed the flight. I guess I was expecting a little more in First Class then what was offered. The economy passengers were offered the same snacks and drinks as we were (but not unlimited). The only difference was the size of the seats with more leg room. It was a nice experience though.
In Seattle, we visited the Boeing Tour up at Everett which took us to the 777 assembly line. We also drove past Boeing Field and I saw this beast without her dress! Is she ever going to be painted?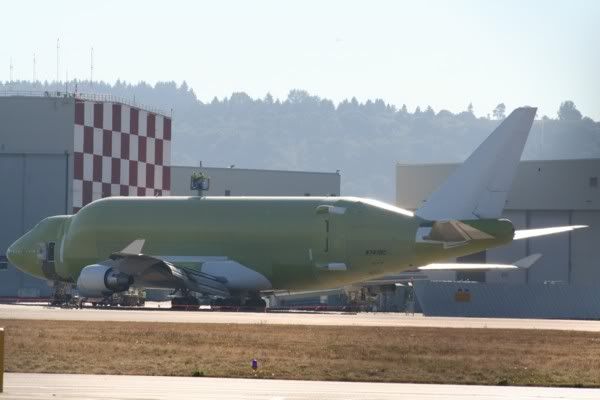 We also attended the Seattle Mariners Vs Texas Rangers baseball game which was fantastic! Sadly, the Mariners lost by 1 run.
From SEA we took the Amtrak bus up to YVR for 4 days. This included a day trip to Whistler and a scenic flight over the village and nearby glaciers.
Airline: Whistler Air
Aircraft: C-GEND
Aircraft Type: De Havilland Canada DHC-3 Turbine Otter
Flight duration: 30 minutes
Flight: AS524
Route: SEA to LAX
Date: October 4, 2006
Aircraft: Boeing 737-400 N767AS
Seat Number: 12F
EDT: 1:00pm
Actual Departure time: 1:55pm
It's time to go home. We had to catch a flight from SEA to LAX to catch our flight home to Australia on QF176. See trip report here:
QF 176 LAX BNE - The Return Journey (+pics)
(by
Safs
Oct 7 2006 in Trip Reports)
We go to the airport a couple of hours in advance to check in. Rather than heading to E-ticket check in, we made our way to the special assistance area as we wanted to check our luggage all the way through to BNE rather than having to collect our suitcases in LAX and check them in again. Because my suitcase weighed 31 kilograms (68 pounds) I was delighted that my bag was tagged all the way through due to the fact that QF and AZ have an interline agreement with each other. I was glad I did not have to pay any extra $$ for excess baggage!
We made our way passed security and headed towards the gate. I picked up Burger King on the way as I was feeling a little hungry.
Our scheduled boarding time had passed and our aircraft was not at the gate so I rechecked the departures board to see that our plane is delayed due to the late arrival of the operating aircraft. For a scheduled departure of 1:00pm, we finally departed at 1:55pm on the aircraft pictured below.
Flight attendants performed the safety procedures manually. The first class flight attendant read the instructions and the front economy flight attendant demonstrated to both the first class and economy section, rushing back and forth.
After a 32 second roll on runway 34R, we were finally on our way to LAX. We flew over Boeing and saw the Concorde and 747-100 which I didn't get a chance to visit. We made a series of left turns which positioned ourselves towards California.
Flight attendants were efficient. We were offered two rounds of drinks with garlic pretzels. Boy they were strong!
Leg room was adequate and I was comfortable for the entire flight.
The actual flight was uneventful. We passed over some wonderful scenery below and at 4:34pm, we touched down at LAX and arrived at Terminal 3.
After deplaning, we had a 7 hour layover in LAX before our flight to BNE on QF that night. See trip report here:
QF 176 LAX BNE - The Return Journey (+pics)
(by
Safs
Oct 7 2006 in Trip Reports)
One of these birds will take me home that evening.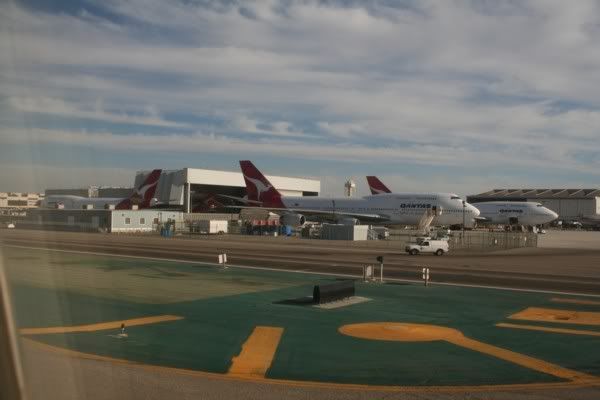 Alaska Airlines was great! The flight attendants always smiled and the service was fantastic.
So that's my internal flights within the USA. All were unique and different, but I was happy with the overall service provided.
Any comments or questions appreciated.