Hey all,
First and foremost, I am very sad to hear about the plane crash in Stord (Atlantic Airways Flight 670). My thoughts go out to all involved in this terrible incident.
Welcome to part three of my trip to Scandinavia! Thank you for reading! This part chronicles my AY flight from HEL-OSL, and my CO flight from OSL-EWR. Part 1 can be found here
Trip To Norway: SEA-ORD-EWR-OSL With Tons Of Pics!
(by
Thepilot
Sep 29 2006 in Trip Reports) part 2 can be found here
Norway Pt. 2: BGO-TRD-BOO-OSL-HEL, Pictures
(by
Thepilot
Oct 5 2006 in Trip Reports) and the blog can be found here
http://www.scanditrip.blogspot.com/
Onto the report!
Monday October 9, 2006
Finnair Flight 651 (Airbus A319) (OH-LVH)
Depart: Helsinki Vantaa Airport, 7:35am (Gate 20A Stand 151) (Runway 22R)
Arrive: Oslo Gardermoen Airport, 8:10am (Gate 30) (Runway 19R)
Seat: 5F Load Factor: 92% Cruising Altitude: FL380
Wheels Up: 7:55am Wheels Down: 8:08am
View Large
View Medium


Photo © Globalpics
Finland was very good to my dad and I. The herring festival was rather intriguing, and the market was wonderful. Unfortunately, my dad got very bad food poisoning so we were grounded on Saturday. Yesterday, we had a wonderful trip to Tallinn, Estonia, on Nordic Jet Line. If you have never been to Estonia, I fully recommend seeing Tallinn. Not sure how good Estonia Air is.
Anywho, we woke up and 5:10am and took a taxi to the train station. From there, we boarded the Finnair bus (not Finn Airbus, we would be on that later), and arrived at Vantaa around 6:30am. Departure Hall 2 was very beautiful and spacious, and the departure board was pretty nice as well. Finnair had an easy check in machine for international flights if you are not checking baggage. However, we printed our boarding passes last night, so we proceeded directly to gate 20A.
We took a very long bus ride past the Santa Claus MD11, a BA A319, and a Malev onto our A319, which was supposed to be an A320, but that is okay. I really like the remote stand idea, because I get a better view of our plane, almost guaranteeing a registration sighting! We had an all female flight crew, and they took good care of us. We climbed to FL380, and we got a taste of the nose wheel camera, which I now cannot live without! A small breakfast was served, and I played my dad in chess. The battery died before a winner was made, but he was winning. Before I knew it, we were descending into Gardermoen.
We descended rather quickly, using the speed brakes to keep airspeed under control. Once again, we got a wonderful view of some lakes and fjords on our approach into OSL 19R. Touchdown was pretty smooth, and we taxied to gate 30. Easily cleared customs into Norway, and proceeded to the Continental check in desk for our next, very long 757 flight.
Pictures!!!
The departure board in terminal 2 (the international terminal), of HEL.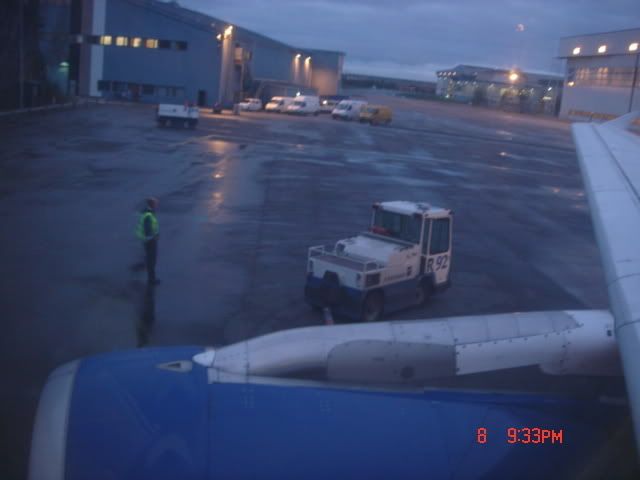 View of the blue A319 engine from 5F.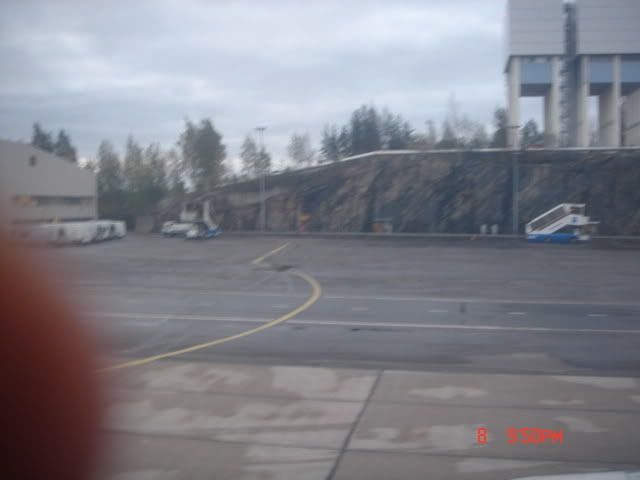 Our remote stand, 151. It was a very long bus ride from gate 20A.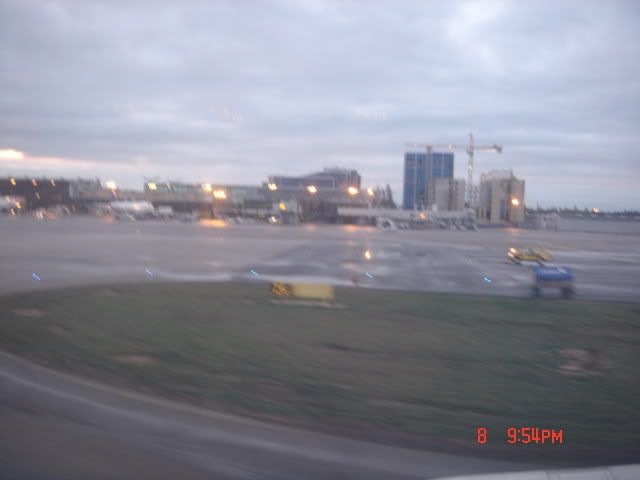 View of HEL. In late November, it will freeze over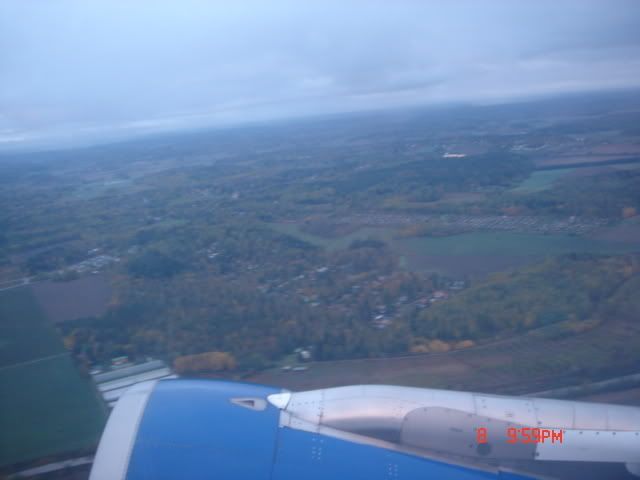 Climbout from 22R. We were just about to turn towards OSL.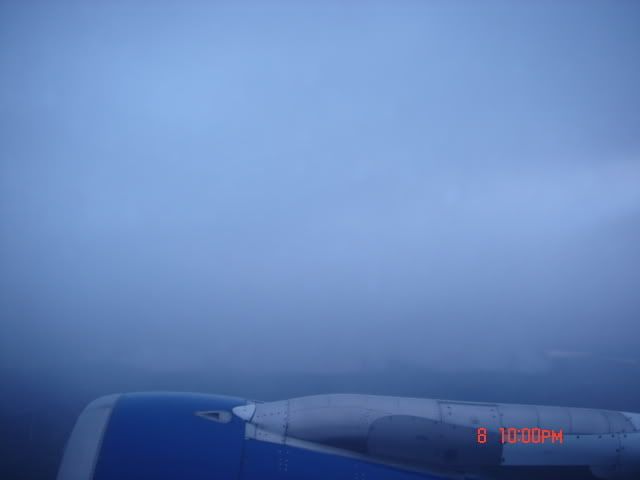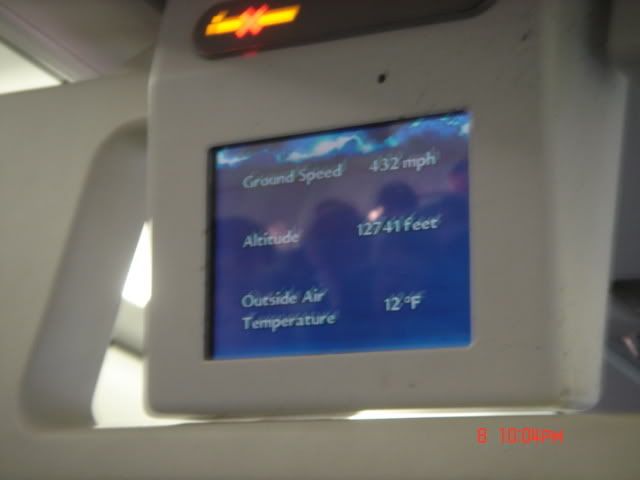 Our TV monitor. This was great, as we could see altitude, and the all important nose wheel camera.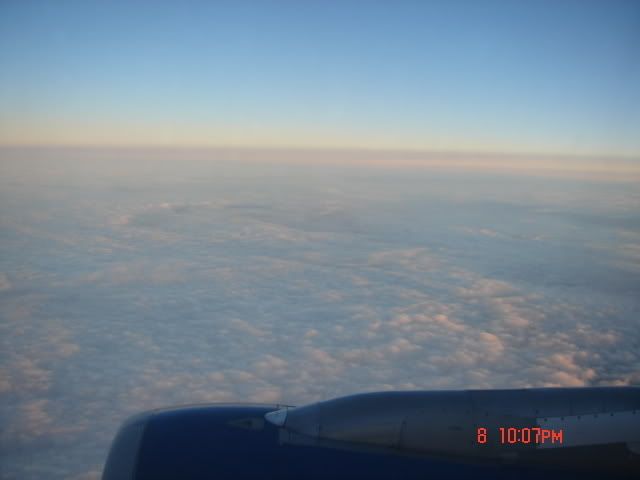 Comfortably cruising many feet up. Breakfast was then served.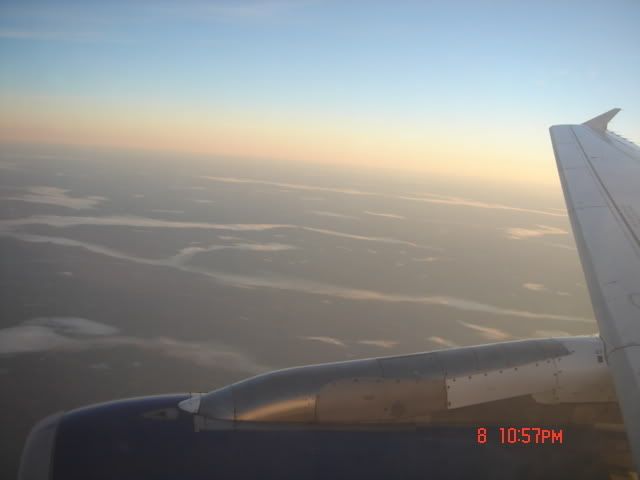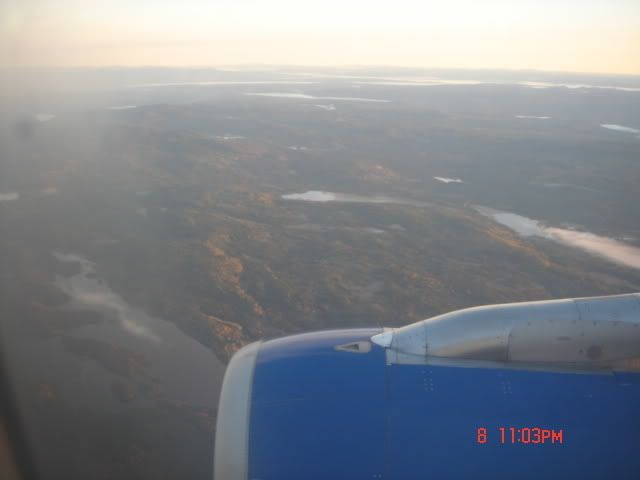 Descent one again over those beautiful Norwegian fjords North of OSL.
On final for the beautiful yellow 19R.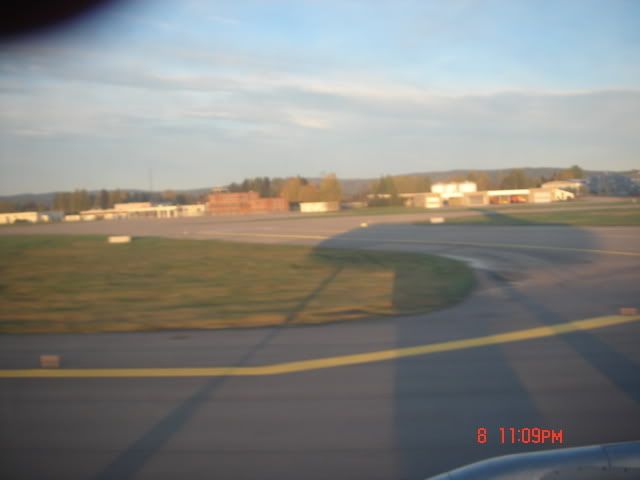 Rolling out on 19R. Visual evidence of their yellowness.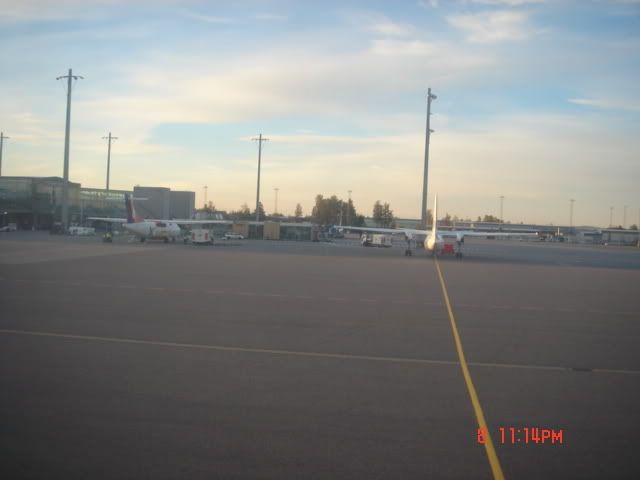 The prop area of Gardermoen.
Pulling into the gate amid a flurry of SASs.