Hello again all, things have been busy for me lately, but i just returned from a great trip to San Antonio texas with some great flying adventures to boot. So here we go.
Friend of mine just got out of the Air Force and has decided to stay in San Antonio, Texas so me and a friend went down to visit him. This was my third time there, so i was anxious to see some other friends i had made while down there. Enough backstory, on with the flying!
Flight 1.
CLE-SAT
Continental Airlines
D: 9:45pm EDT
A: 1045pm CDT
Equipment:RJ-145
Seat 6-A
Here is the giant paper airplane in the tunnel leading to D terminal at CLE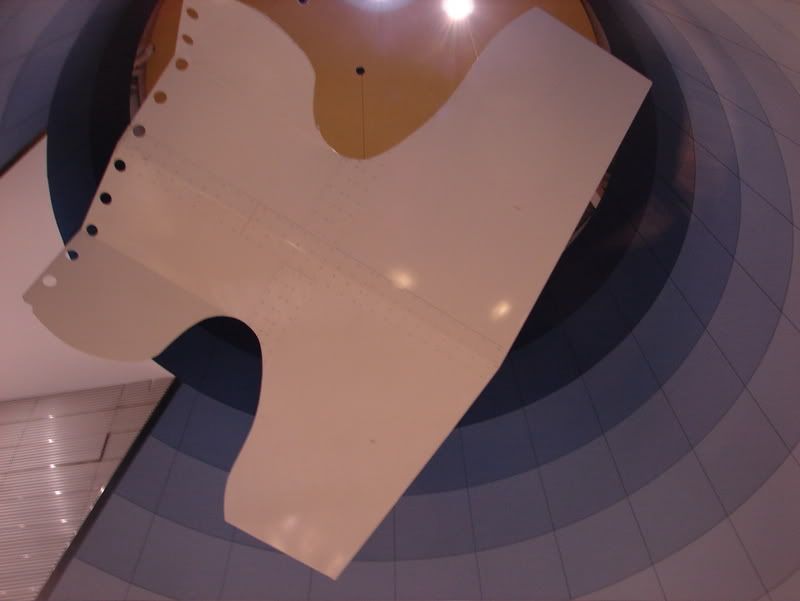 Here is my friend Brenton playing with the peanut butter and jelly from the bagel shop on the walkway.
The flight was to leave at 8:45, but of course, it was late leaving, we actually got off the ground around 9:30pm. No real explination was given as to why the inbound flight was delayed, but it didnt bother us much.
We eventually boarded, after i tried in vain to find a water fountain in D terminal...i guess people like bottles of water now...but all the stores were closed. I knew i would get some water on the plane tho...
This is one of the few gates in CLE that lets you walk out onto the tarmac and up to the plane,
Our bird
Front View
I made sure i was last out of the gate, so i wasnt holding anyone up. As i was snapping away with the camera, one of the ground workers said something to me, i didnt hear him at first, but expected it was some sort of reprimand for all the shooting...but he said "There's the shot you want right there!" pointing to Brenton on the stairs...so i lined it up and took a shot.
I let my friend have seat 1-A as i had already experienced one of the oddest seats in aviation. I enjoyed the solitude, and he said he had a real enjoyable time watching the flight attendant do her work.
Forgot to get shot of the legroom on the ERJ-145, but it is cramped...i longed for the 738 we would fly from SAT to IAH...
I paitiently wated for my water to arrive, and as the flight attendant got to row 5 (one row in front of me) the plane started to shudder with turbulence, she was ordered to hold service for a bit...man i was thirsty...20 minutes later she started up, and i emptied my water very quickly, and had her refill it, which she did with a grin.
To my surprise they fed us a litle something on the late night flight, some bagel chips, and a fruit bar.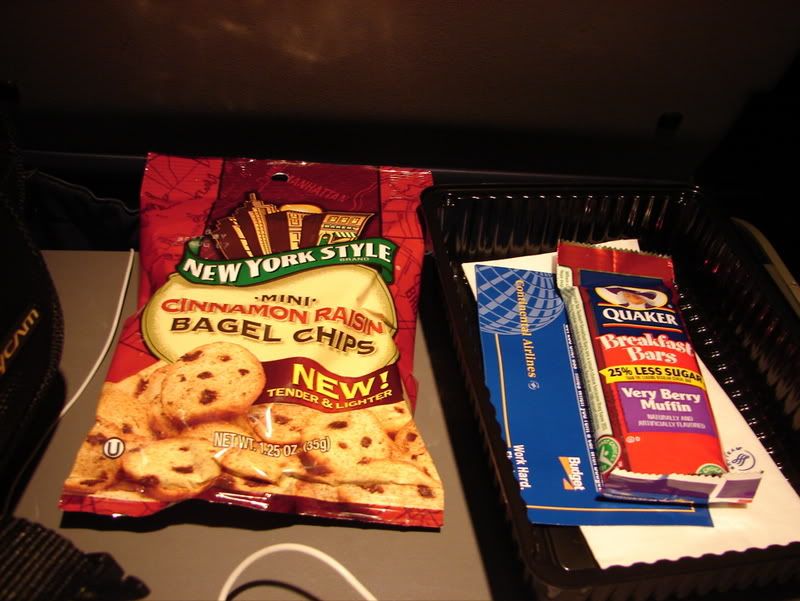 We arrived into SAT a little late, but as soon as the captain allowed the cell phones, i phoned my friend, and he came to pick us up. Our bags showed up in great condition, and off we went to enjoy our vacation.
A few snaps from texas...I happened to be swimming at a friends house when i heard a roar...it turns out he is in the approach flightpath to SAT! this is bad for realtors, but i loved it.
Here is a new friend and i.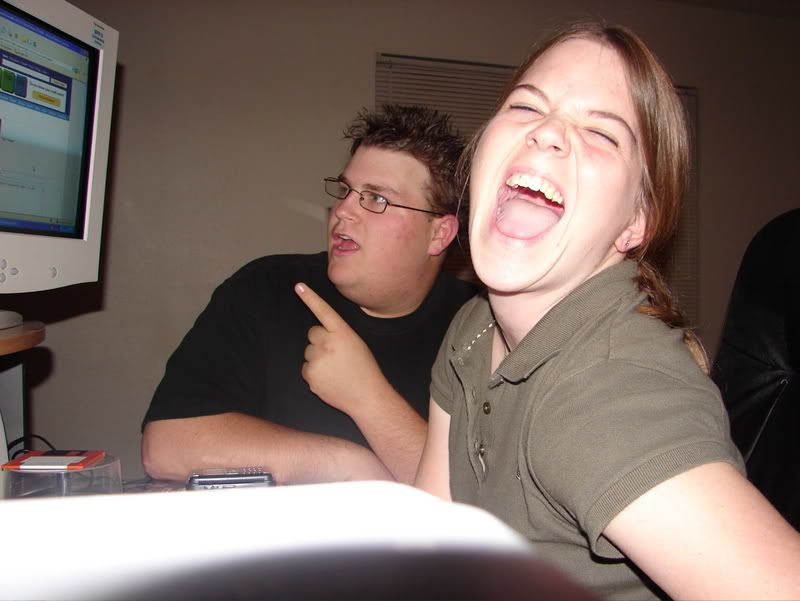 Here is brenton in a cactus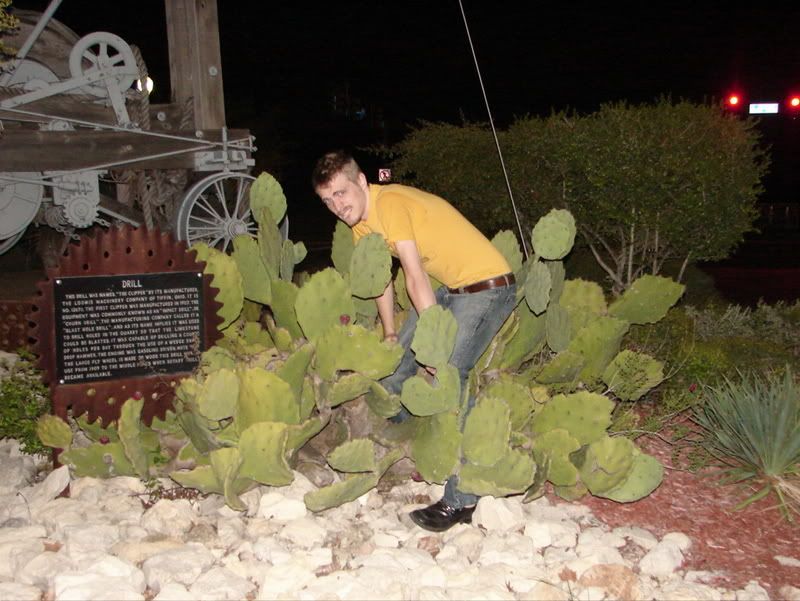 Now for the fun trip. Back to cleveland.
We awoke on tuesday to find it raining, something that the locals assured us NEVER happens down there. We ate some breakfast tacos and made our way to the airport. It was a total downpour, and i must say, the terminal at SAT is a bit confusing for the driver...we had to circle 3 times to get to the right spot for continental drop offs...and it really isnt all that clearly marked...but we made it. We checked our bags and headed for security, which took about 15 minutes...it seemed like everyone else in line knew each other, which was weird.
SAT-IAH
Continental
D: 1:45
A: 2:40
Equipment: Boeing 737-800 (oh so nice)
I havent been on a real plane for awhile now, so many regional jets...it was nice to get onto something larger, even if it was just a 738. But in my check in, i noticed that the exit row window was open, so i snatched it up. it was heaven in coach, especially as the seat next to me was open.
Economy Luxury!!
Im glad i had this seat, because we ended up on this plane for a lot longer than the 34 minutes of flight time to IAH! The pilot pushed us back, and headed out to the tarmac and told us that we would be there for awhile, because IAH was under full ground stop. We didnt know why, but we were made very comfortable by the staff. They came around with peanuts and drinks and the pilot allowed us to use our electronic devices. The flight attendant came up with a free headseat and said "Its free, dont ask, just take it, and remember you got it on Continental not Delta!"
These folks made the best of a bad situation, and made us feel welcome. We were there about an hour, and then the pilot abrubptly got on the intercom and told the flight attendants to get ready to go, and off we went.
The rain was still coming down as we sat.
The flight was very bumpy, and they had already served the drinks, but we didnt mind, we were in good spirits. We touched down beautifully, and the pilot came on and said "A landing like that in conditions like this deserves a round of applause" ( a hot point of contention on a.net!) so we obliged. On the way out, i congratulated the pilot on a job well done, but seeing as how we didnt know the status of our other flights, i didnt linger near the cockpit long.
We arrived in houston at about 4:00pm. 10 minutes after our flight to CLE was to have left, but the pilot had said many flights were delayed, he just wasnt allowed to promise that ours had been too. it had, until 5:20. We set off to explore IAH, as i was anxious to see what was up.
I found a CO 767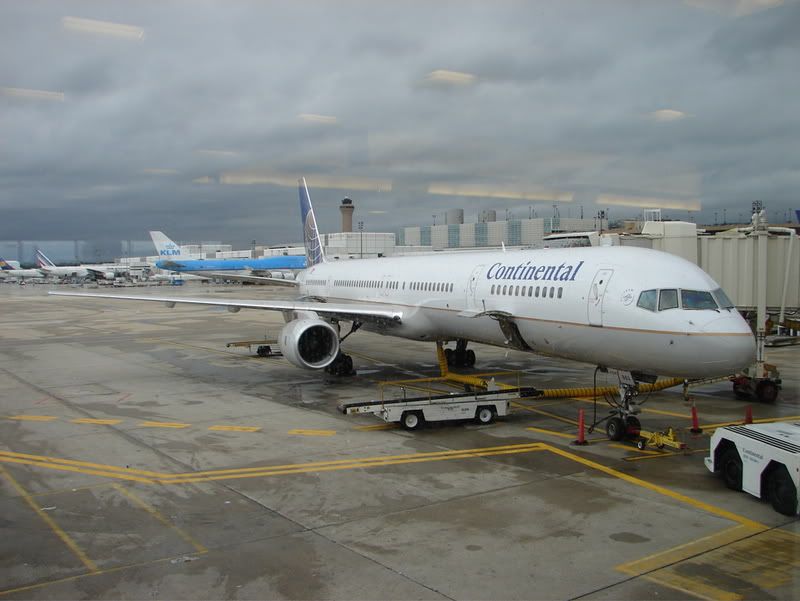 a BA 777 (methinks)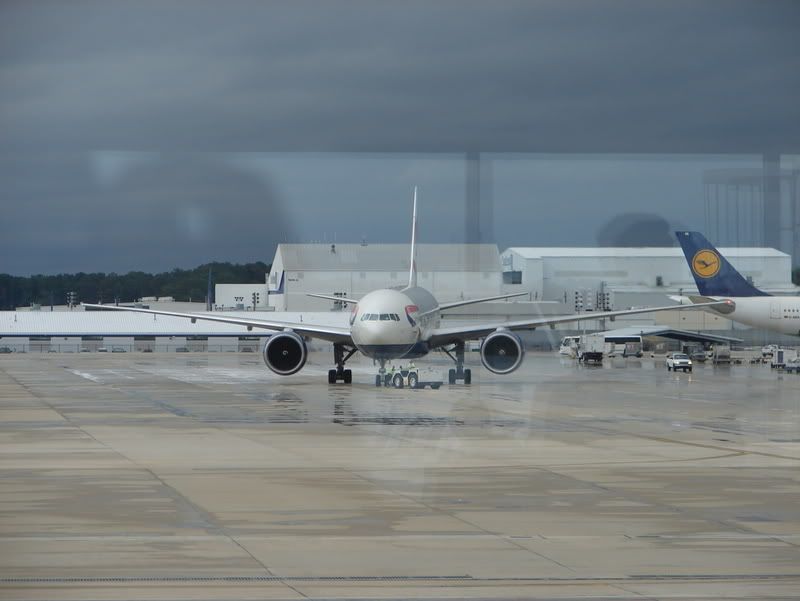 an AF 777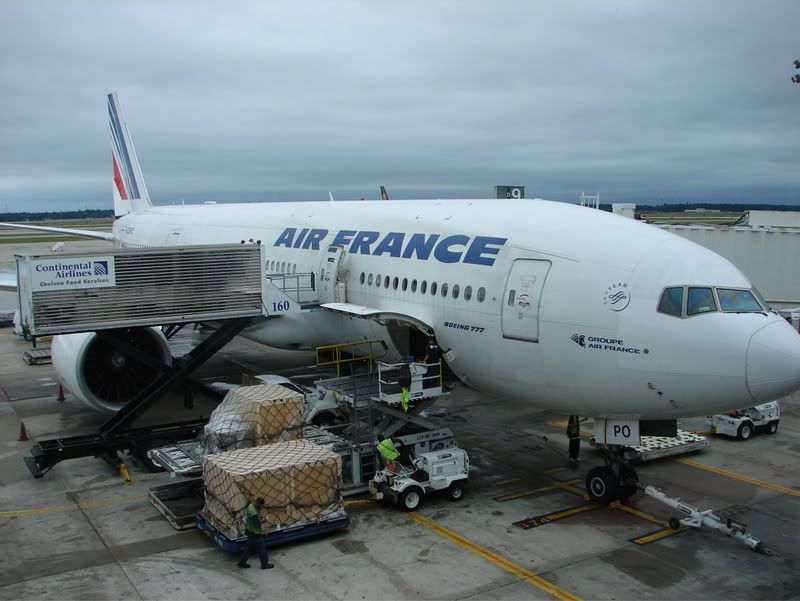 a KLM 747
a Luft. A-340
We rode the monorail over to D terminal, and while we were on it, i saw that they were doing similar things here as they did in AMS, having many RJs on the tarmac, and taking buses to them.
another view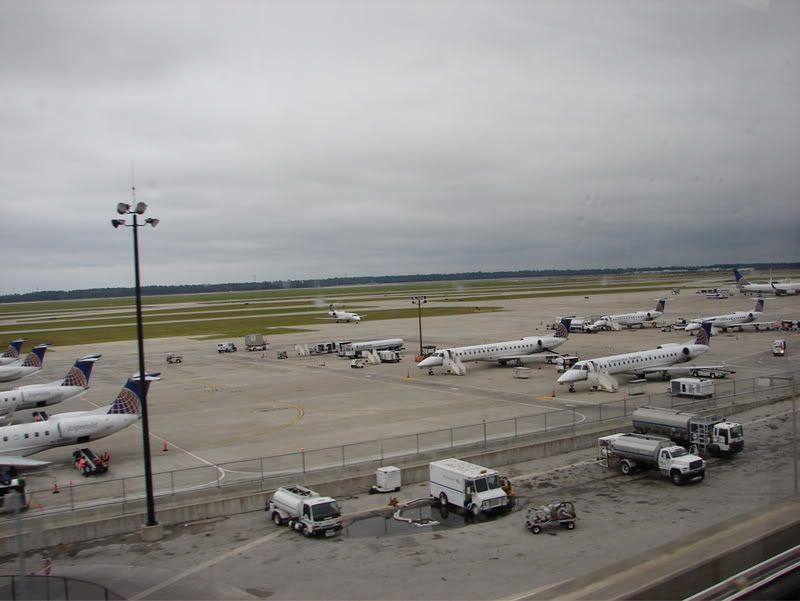 This is me with George H.W. Bush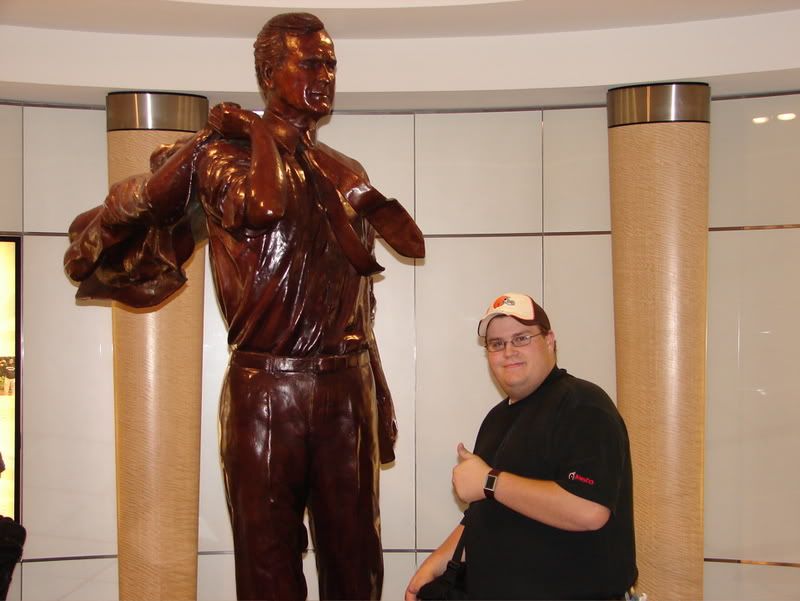 We trudged to C-38, only to find that the flight had been delayed another 10 minutes, and moved to C-31 (i may have those backwards) so we had to trudge some more.
We walked by a VERY long continental customer service line, which we were VERY greatful not to be in...
We boarded the 737-300 and took our seats. i was farther back, but i got a window, so that was fine.
Not so luxurious legroom this time.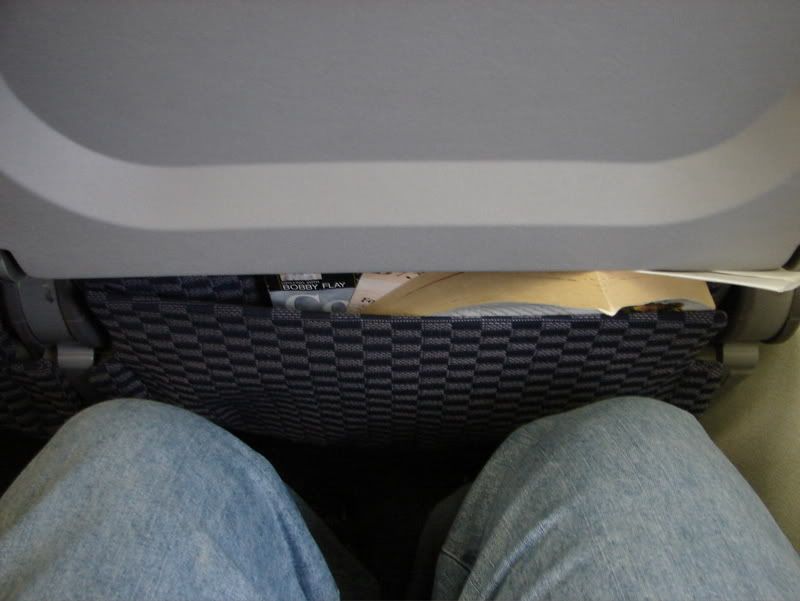 We pushed back, and the pilot came on and said that he would be honest, it would probably be an hour on the ground before we lifted off, there was a mornings worth of traffic still waiting to take off, and he would do his best. He allowed the use of cell phones for awhile, so we could make arrangements, but he said we couldnt use our electronic devices. And since we were "Taxiing" the flight attendants could only move a bit, tray tables had to be up, and no one was allowed to get up. (only in emergencies)
A Lady was in the aisle seat, but again, i was blessed to have no middle companion. After the FAs said that the door was shut, and people could switch seats, she got up, and headed for another aisle seat.
"was it something i said? i know i showered today" i said to my compadres in the back, and they all got a kick out of it.
This flight crew had obviously had a long day, and they didnt take the delay as well as the other crew had. I was strictly repremanded for having my tray table down, i hadnt been talked to like that since grade school. I didnt get mad, i just made a few casual jokes to my flightmates about detentions.
After an hour, the pilot came back on with more bad news, the wind had shifted, and they wanted all departures to leave from runway 33, not 15, so after another 40 minutes, he announced we were number 9 in line, and 10 minutes later we were rolling.
Seatguru says that the back seats' proximity to the galleys is bothersome, i agree, but only because you smell what first class is eating, and you get handed this
After a long bumpy flight, we came in on one of the smoothest touchdowns i have been on. I made sure i was the last one in line to get off (i was 3 rows from the back) so i could talk to the flight crew. I told the pilot he did a great job, and asked to snap a few pictures of the cockpit, he said no problem, and he let me take a few, while the co-pilot switched the lights back on.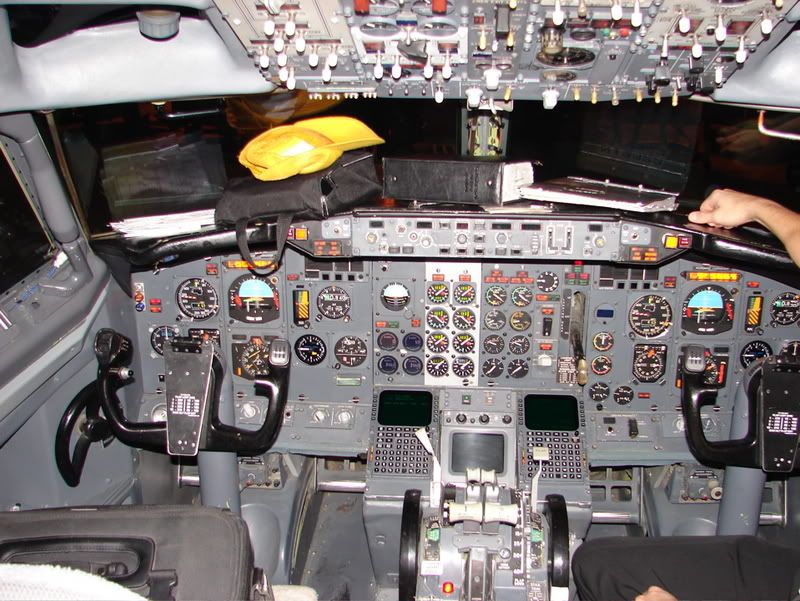 After this one, the co-pilot asked if i would like to be in one, and of course i said yes, after a bit of an awkward set of movements, i sat down in the co-pilots seat, and he took a shot. the first one had the flash on, and he said "oh, this one lit up your face, let me get one without the flash." what a nice guy. i asked the age of the 733, and he said it was older than him, built sometime in the 80's. I thought to myself "i was born in 1980, i could have been a co-pilot by now!"
Good flights, considering, and it really showed me the difference an upbeat and positive flight crew can have on a bad situation.
It seems no matter what i do, and what i schedule, i always end up back in CLE at 11:00pm...
[Edited 2006-10-12 03:45:13]
[Edited 2006-10-12 03:53:40]
[Edited 2006-10-12 03:56:32]