As promised, I said I would do a thread on "The day in the life of a dockhand." So here goes:
But first some information to get you up to speed. I work for Atikokan Atikokan, a charter service located in Atikokan Ontario, Canada. We mainly transport customers to and from outpost cabins within the vicinity of Atikokan. We also do any other work that might need to be done by plane in the local area, IE. supply runs for Quetico provincial park, or medivacs. Atikokan Aero currently employs four pilots, including the chief pilot and we all stay on site on the base in a bunkhouse. We have a fleet consisting of two deHavilland Beavers (C-GDZH and CF-IPL) and a Cessna 180 (CF-IJE) all of which are on floats. For more information go ahead and check out our site.
www.AtikokanAero.com
I am a dockhand for AA, and have been one for 3 years now. What I do is fuel the planes, load/unload, "catch" them when they taxi to the dock, weight up costumers gear, do any office work needed to be done, Mow the lawns, landscaping, and anything else that needs to be done. Aswell I go on flights and help with the cargo etc.
The typical day starts at daybreak, usually 5am or 6am in the morning, sometimes 4am in June. I'll get up, eat some quick breakfast, and go pump the floats on both of the Beavers for water, while one of the other pilots pumps the 180s floats.
Early morning - Dave inspecting DZH
DZH's Tail in the early morning sun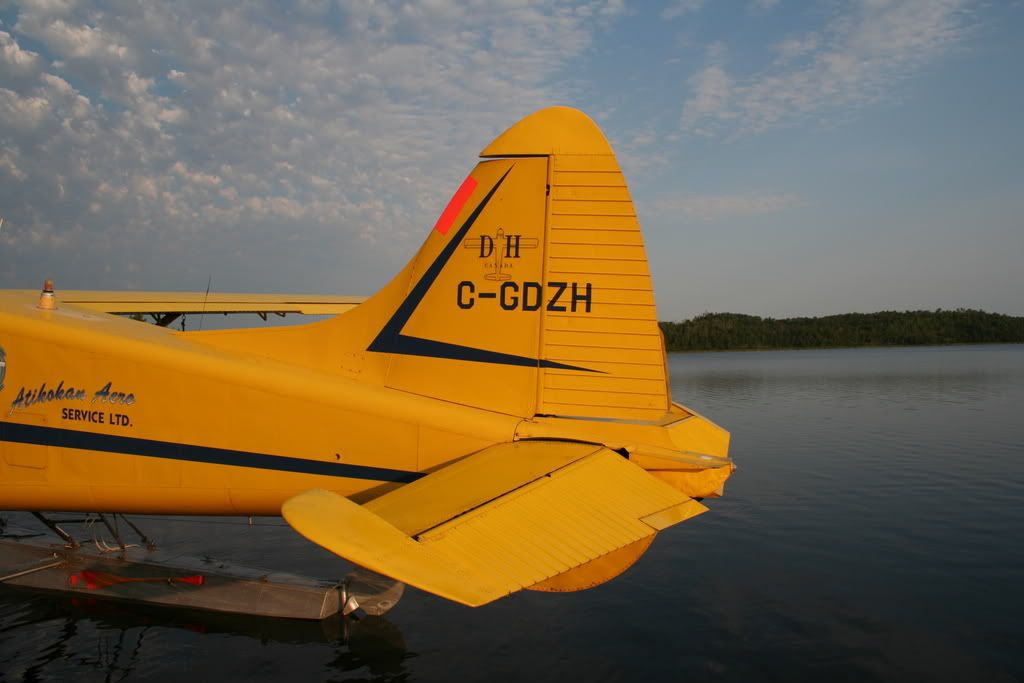 Once the floats are pumped, there is not much to do until the first costumers arrive, when they do I'll turn on the scales, and weight up the costumers gear, and when that is done I will load it onto the plane. Depending on the size of the party, we will use any combination of the planes, be it the 180 or all three. When the plane is finished loading and fueled I will untie it and push it from the dock, where the pilot will then start it and proceed with the flight. Unfortunately I need both hands to do that and I don't want to wreck my 350D so I am unable to take pictures of that portion. The flights range anywheres from 20 to 40 minutes, depending on the distance flown, or time taken to unload at outposts etc.
DZH waiting for her first flight of the day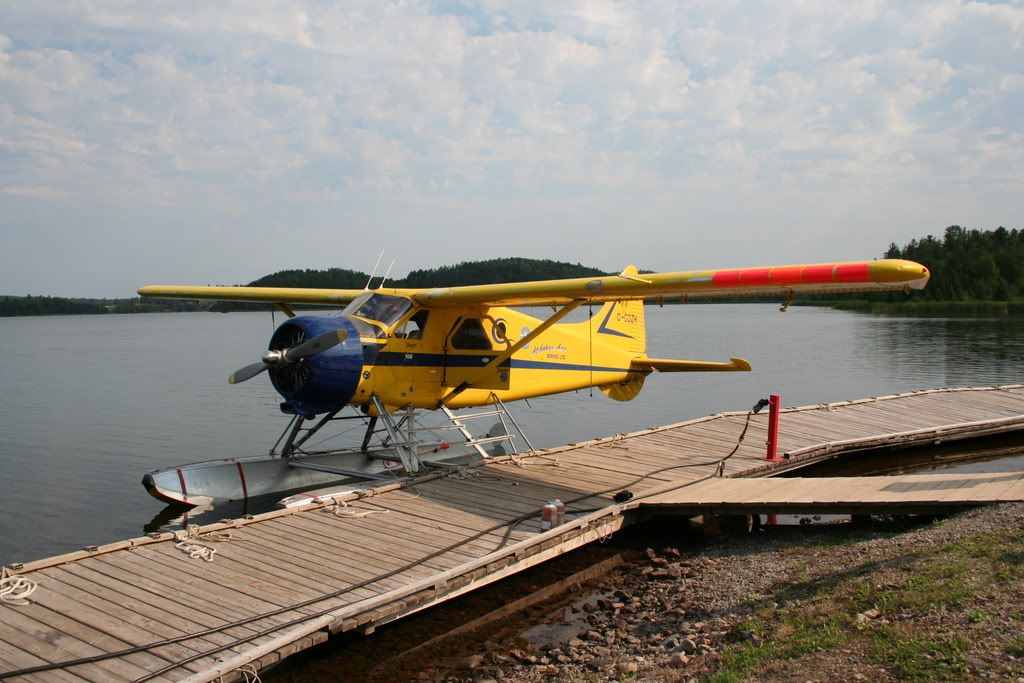 IPL moved in front of DZH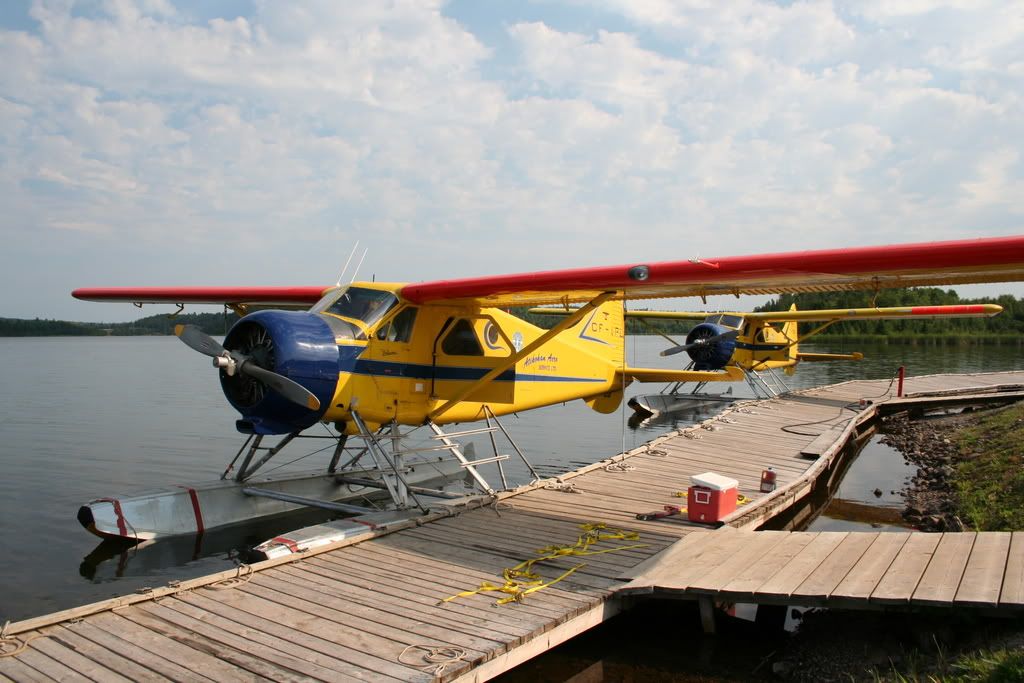 If all three planes are gone, or there are no scheduled flights for the next while, I will usually go to the office and watch some TV.
In the office we have an area for sitting, whether costumers are being trip planned, or it is raining out.
HQ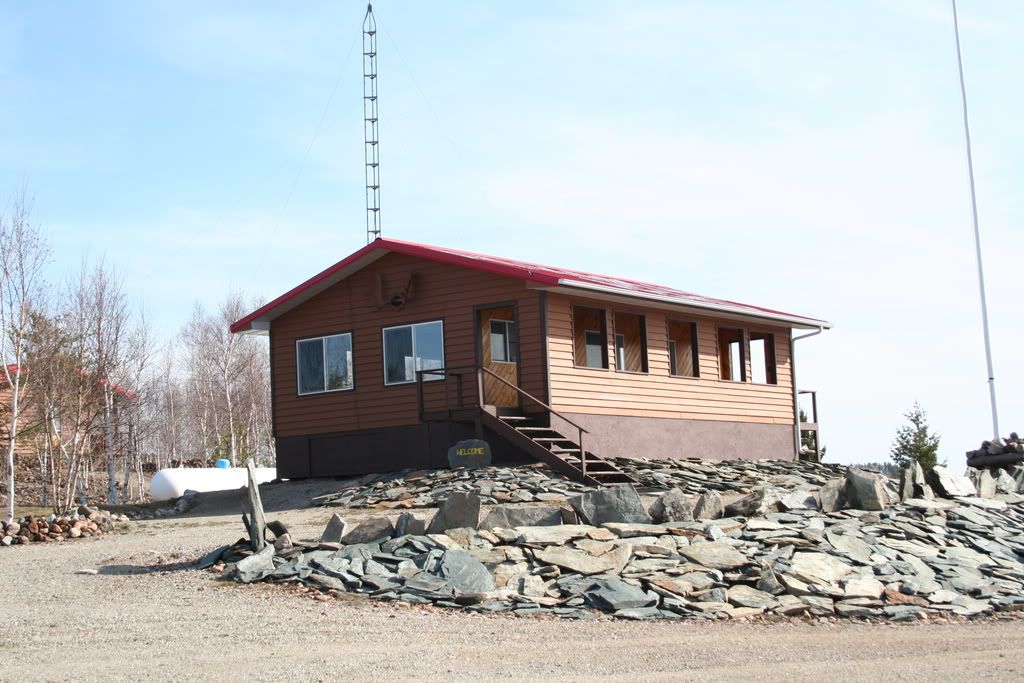 When I hear an arriving plane call on the radio that they are 5 minutes out, I will go back out to the dock and wait for the plane. This usually repeats all morning until all the scheduled flights are done.
Mark tying a canoe to one of the canoe racks on the floats - Note the other canoe on the other side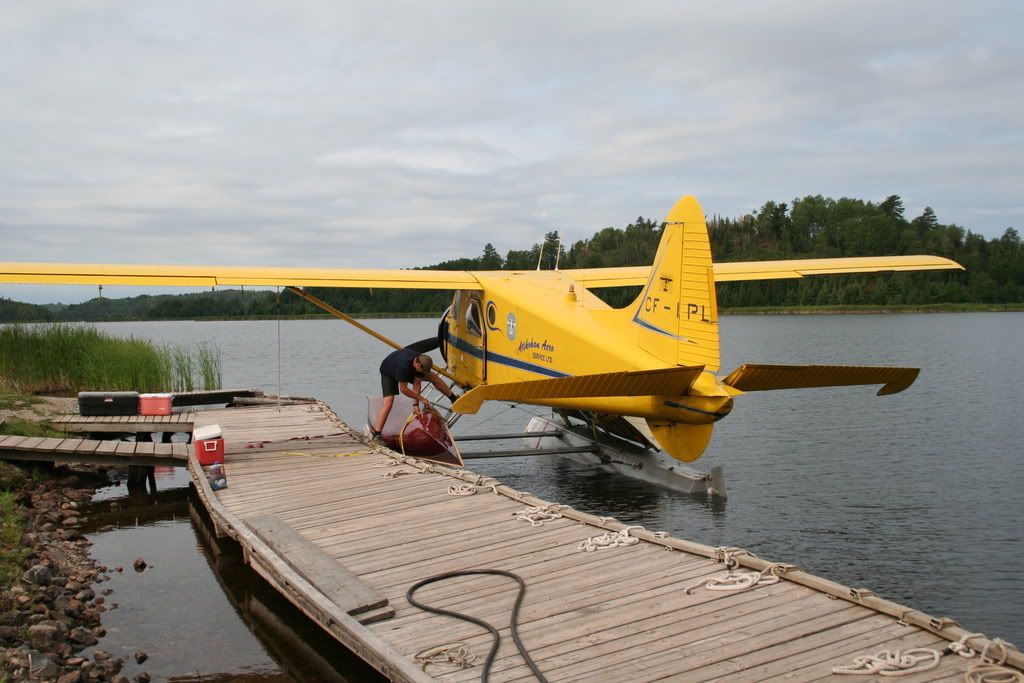 Mark making sure the canoe is tied on tight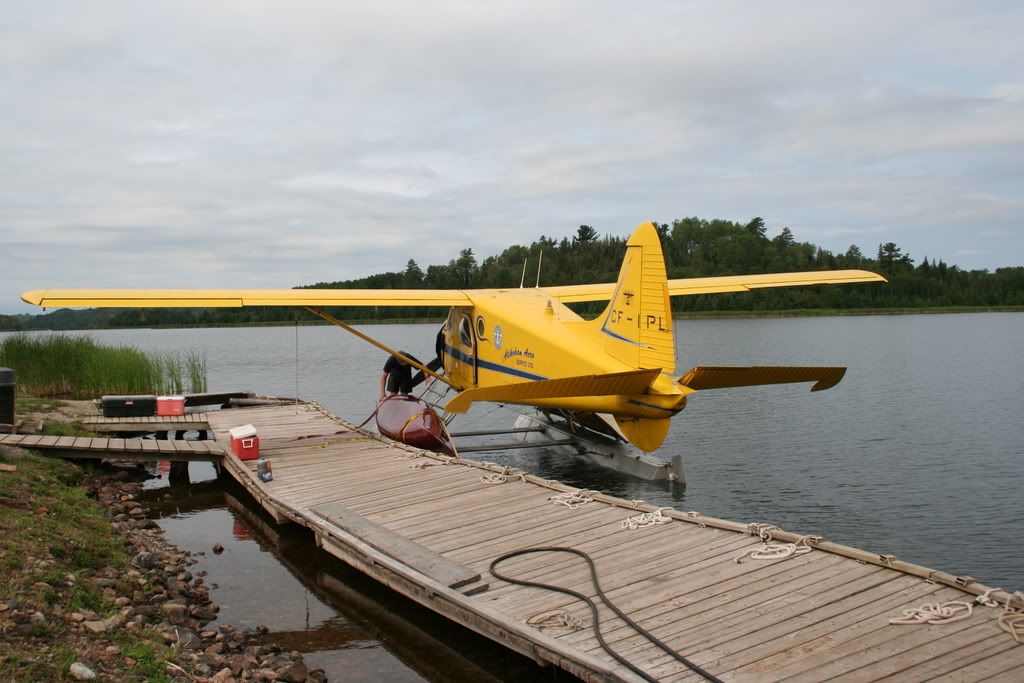 By this point in time Mark was giving me a hard time about not helping and taking pictures instead
IJE returning from a flight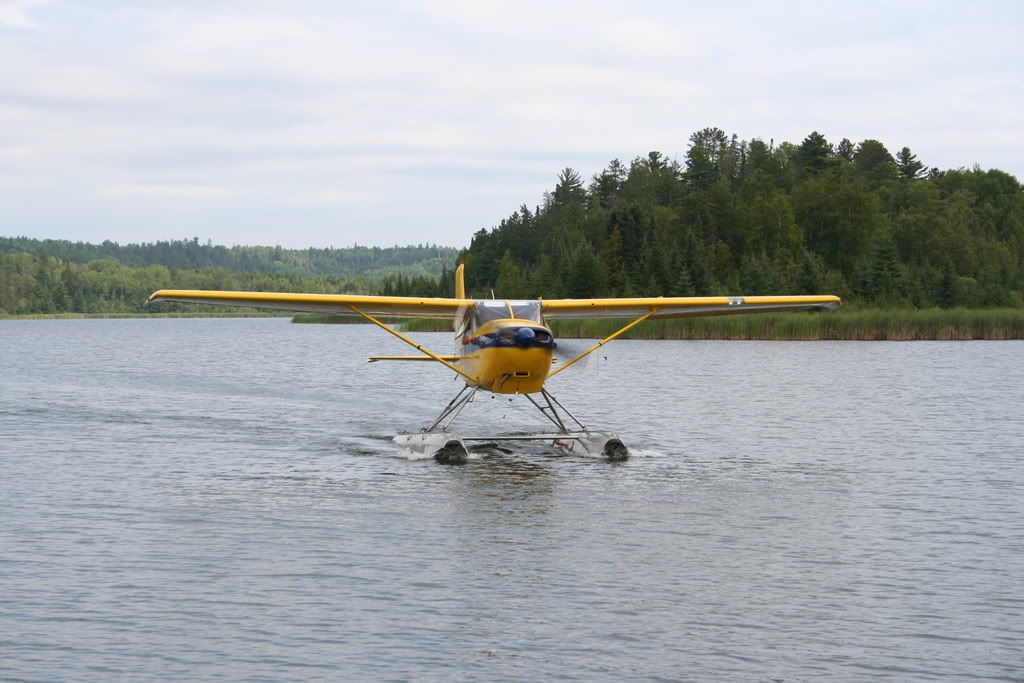 IJEs cockpit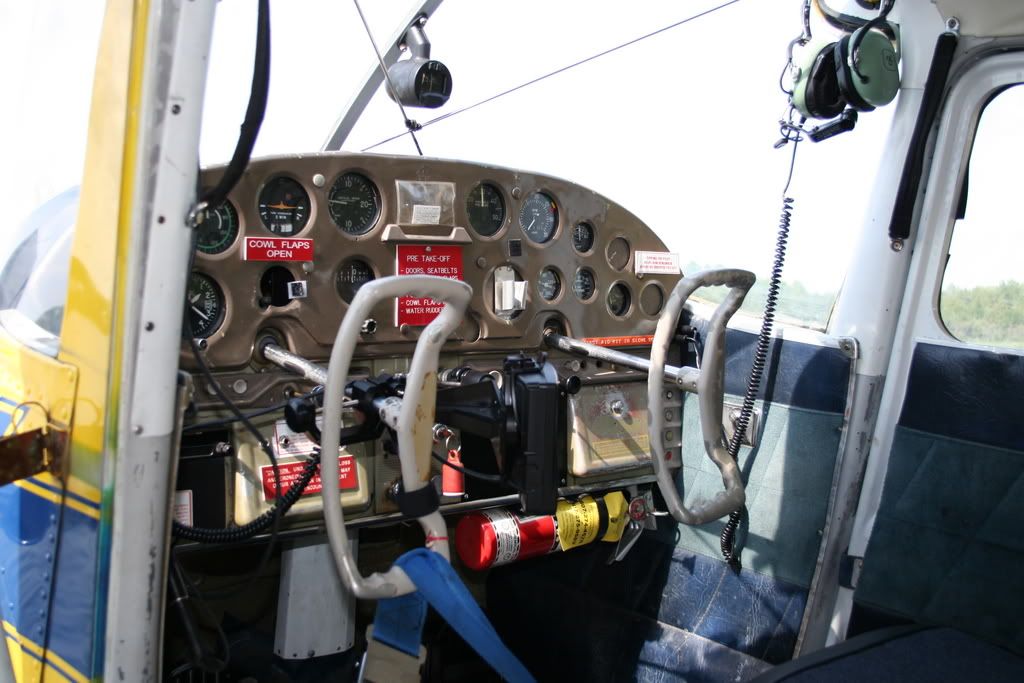 Once all the morning flights are done we will go for a well deserved lunch in the pilots quarters. Alot of the time we will have food that wasn't used by the costumers and they will give it to us instead of bring it all the way home. This way there is always something to choose from that you like for lunch.
Pilots quarters
After lunch it's right back to business. If it is a quieter day I will sometimes start to do yard work or some "landscaping." Luckily for my I would finally go on a flight that day, I would get to help fly out a 16 foot boat out to one of the lakes.
Once the boat was all tied down we were off. I would have liked to have taken a shot of the boat from the outside, but again was too busy.
Looking out the Co-pilots window
Landing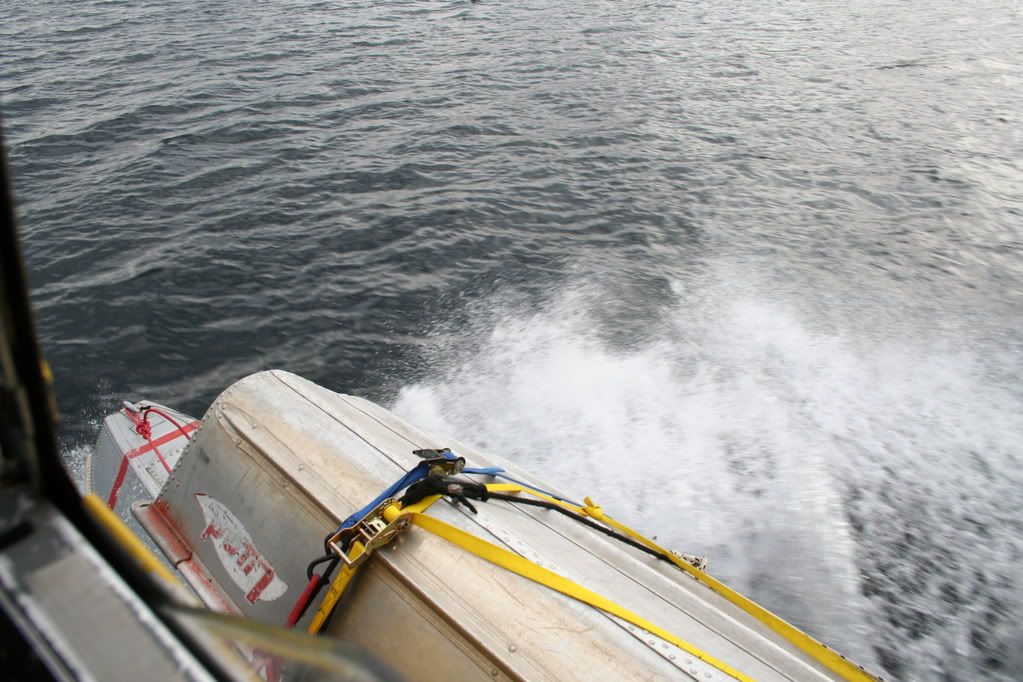 Atikokan Aeros chief pilot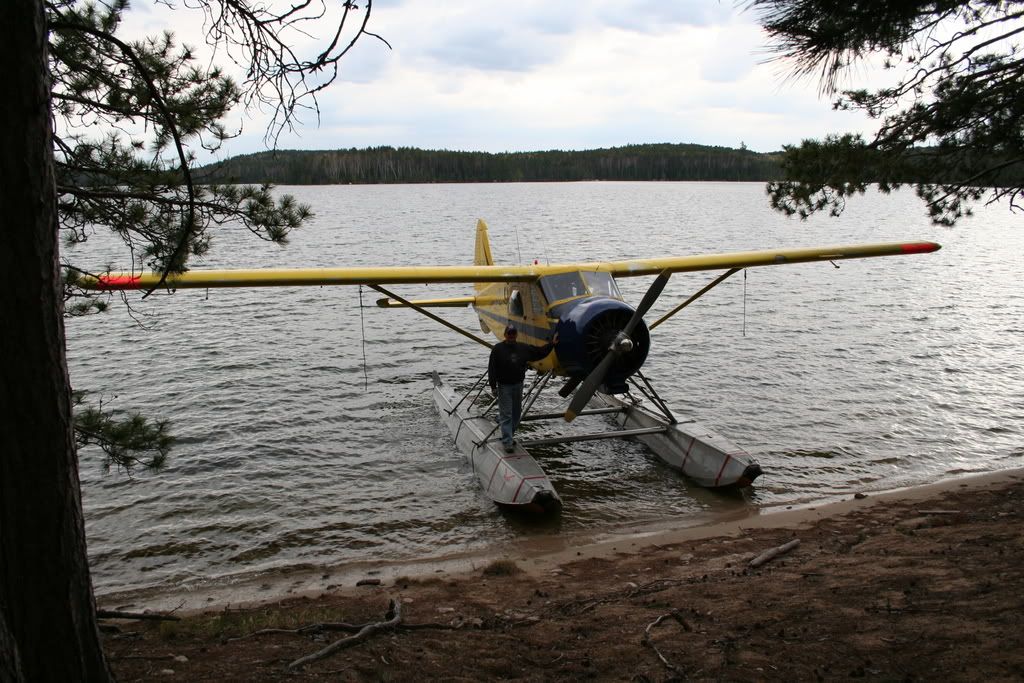 Me in my ultra cool hip-waders, this is probably the coolest picture of me ever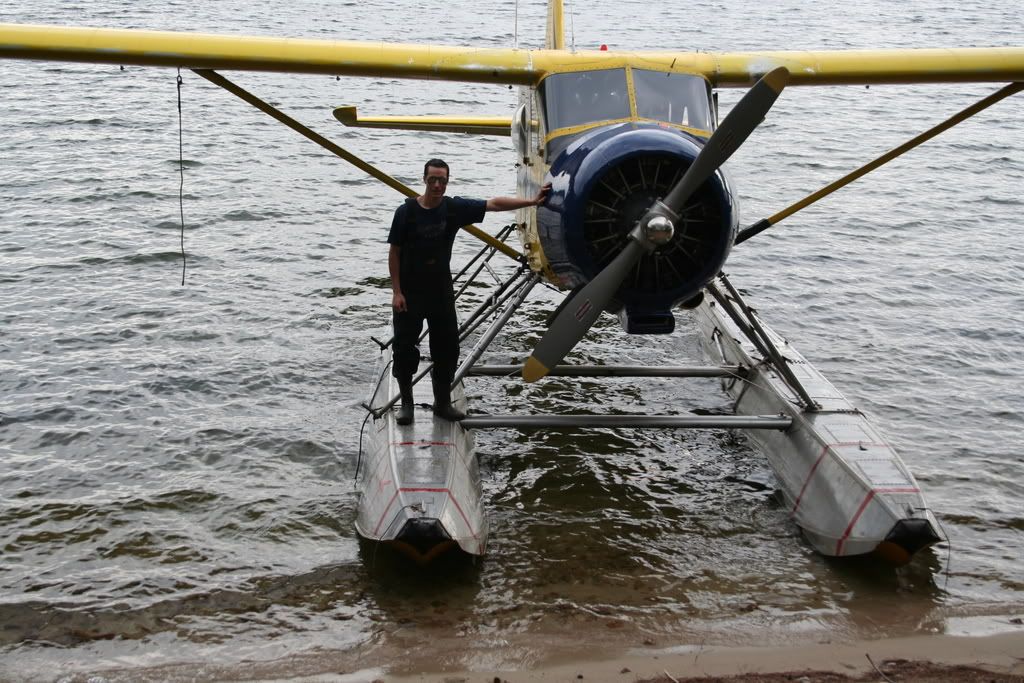 Once the boat was at the lake we flew back to the base. There was only a few flights left in the day after that.
IPL returning, once I get my 100-400mm hopefully we will be seeing more shots like these on A.net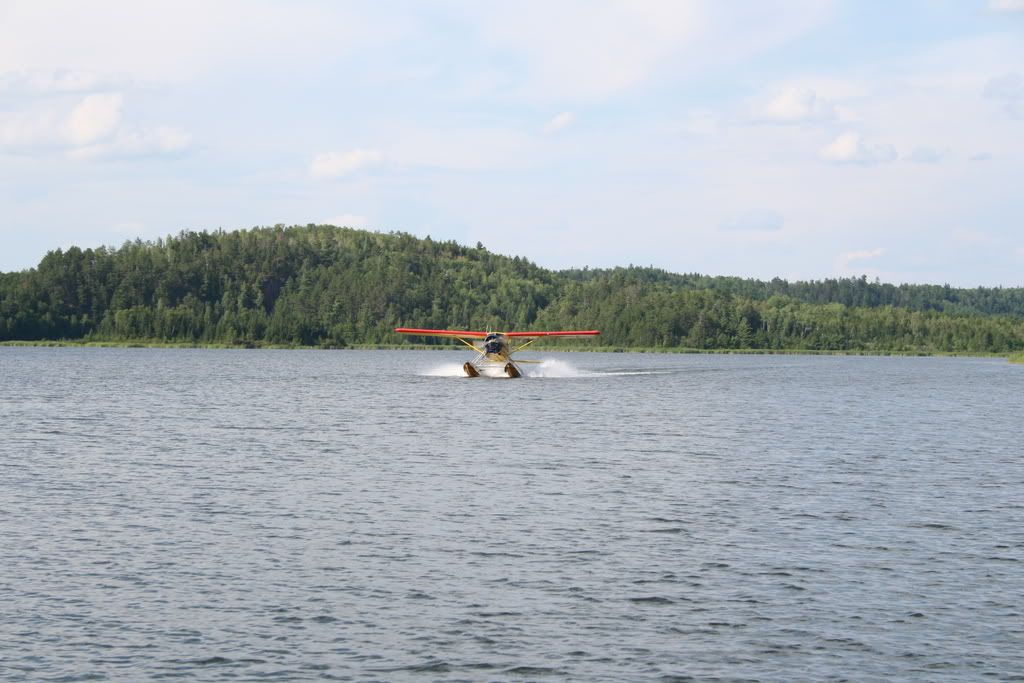 IPL taxiing in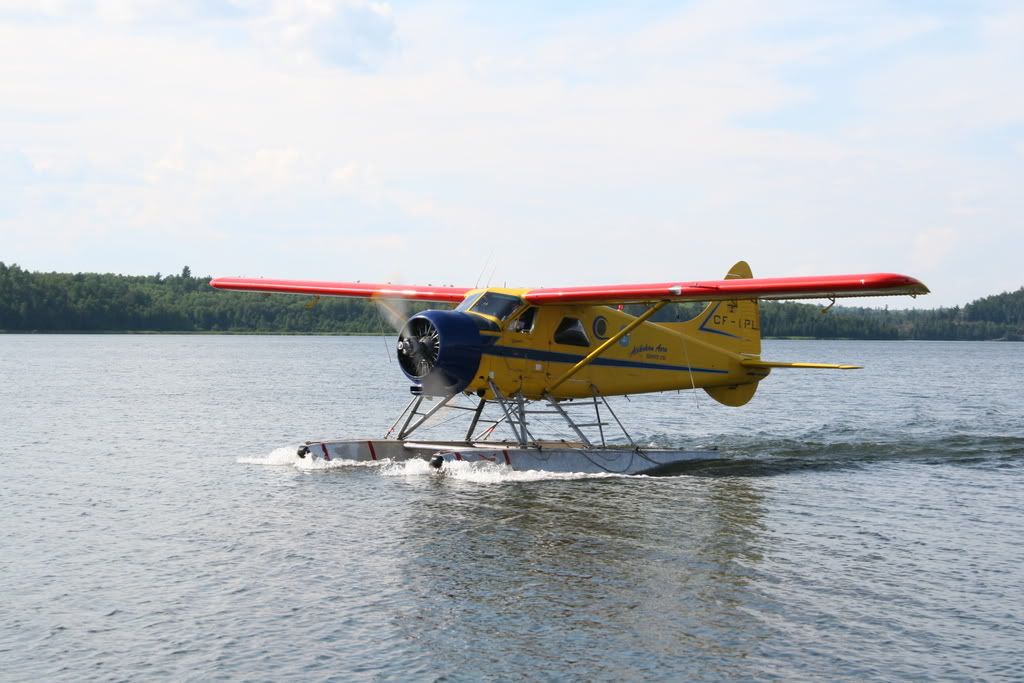 If there is no more flying to be done and still time left in the day, everyone will do something be it yard work or paper work. Only once all that is complete, is it off to town for a coffee, groceries and possibly supper in town. After the evening in town, it is back to the airbase and off to bed to repeat the same thing the next day.
Me in front of DZHs tail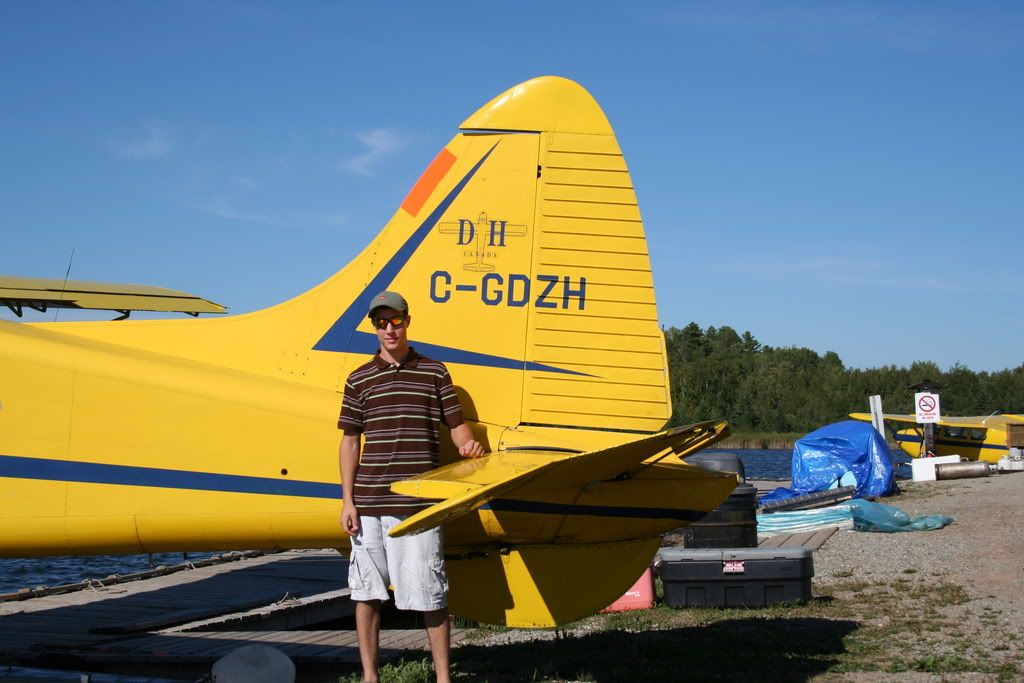 I love my job
, but unfortunately with fall here, and winter soon approaching we will be shutting down for the season and I will be working elsewhere for the winter.
But I'll be counting down the days till spring!
Hope everyone enjoys
Cal