The first week of October, I had a business trip to Hong Kong. I flew to Hong Kong on Singapore Airlines (I will submit that report later). While in Hong Kong, I had an overnight trip to Kaohsiung, Taiwan traveling on China Airlines. I was traveling with a business associate who is very tall and so our company travel agent booked us in business class to ensure the extra leg room. The round trip ticket was only $100 more than economy and was definitely worth the extra money.
Outbound: 10/5/06
China Airlines #626
Hong Kong to Kaohsiung, Taiwan
Seat 2K (Dynasty Class)
A330-300
We arrived at the Hong Kong airport on Thursday afternoon about an hour and a half before the flight to Kaohsiung. The first week of October is holiday time in China, and the airport was surprisingly quiet. As such, we were able to walk up to the China Airlines counter without any wait.
Check-in was quick and efficient. The agent was extremely helpful. They even printed our boarding pass for the next morning's return flight. We were flying in Dynasty (business) Class and were given an invitation to the Dynasty Lounge.
The Dynasty Lounge was busier than I was expecting, given the light traffic in the airport.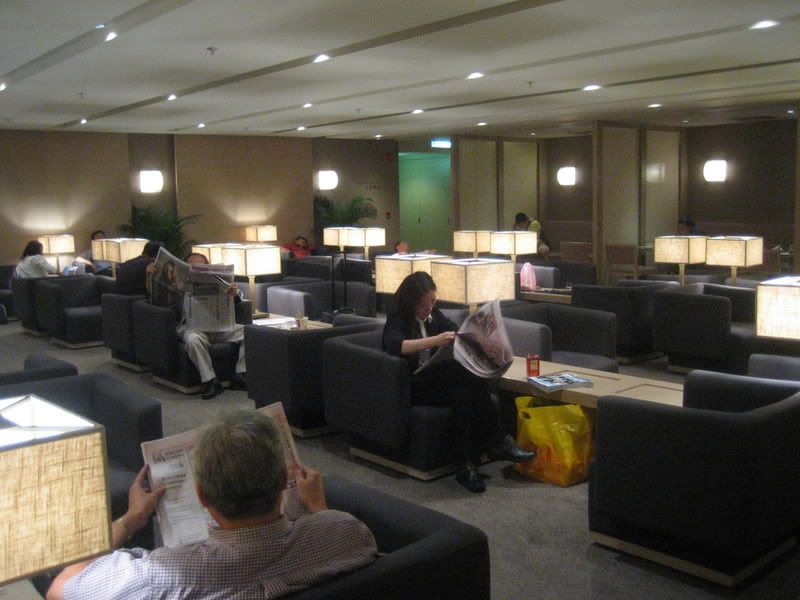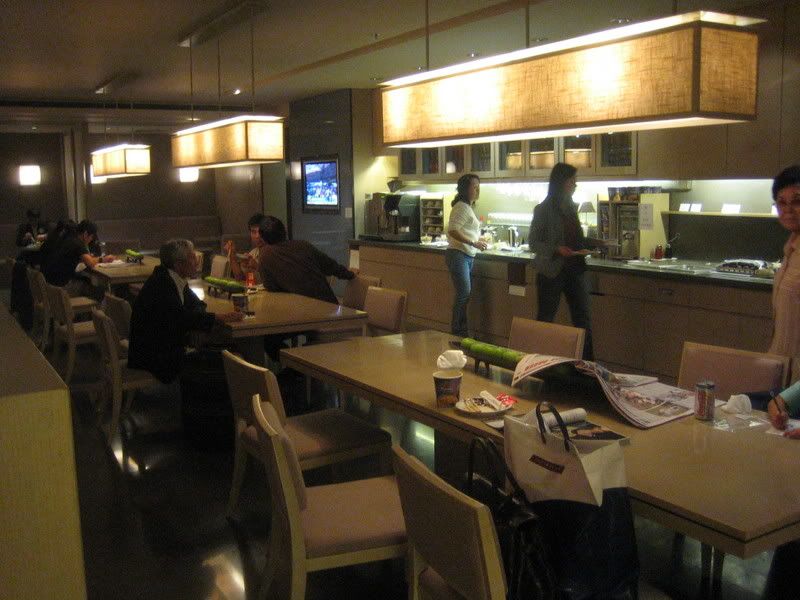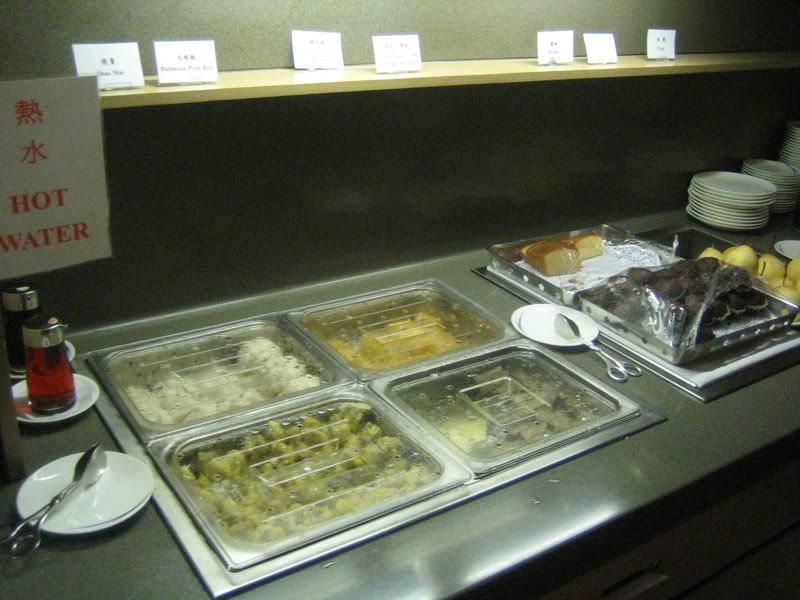 About 25 minutes before departure, we walked down to the gate. There were two lines and two jetways for boarding—one for business class, the other for economy. Our plane was an Airbus A330-300. There was a framed Chinese print at the entrance (and throughout the cabin) which made the cabin very inviting.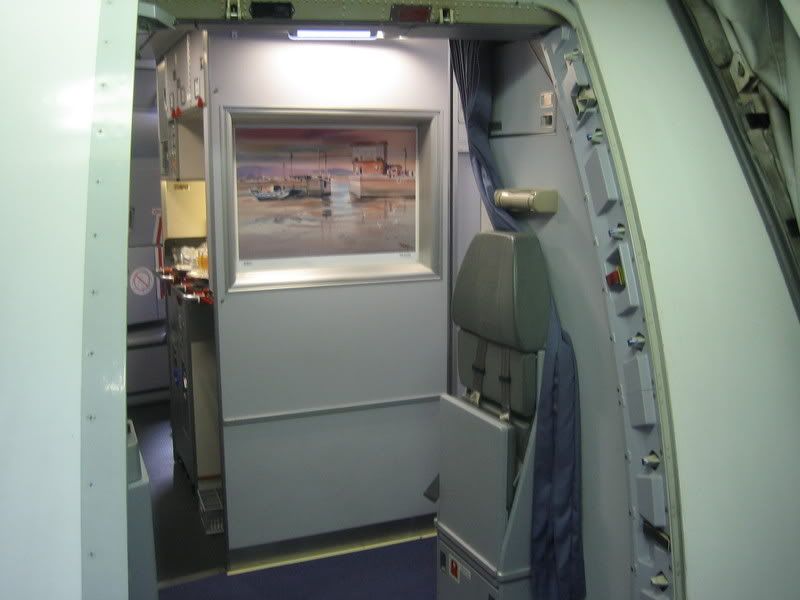 The cabin configuration was a 2-2-2. The seats were very comfortable, although they did not recline all the way. The AVOD system was playing scenes from China with some soothing background music which helped to create a comfortable environment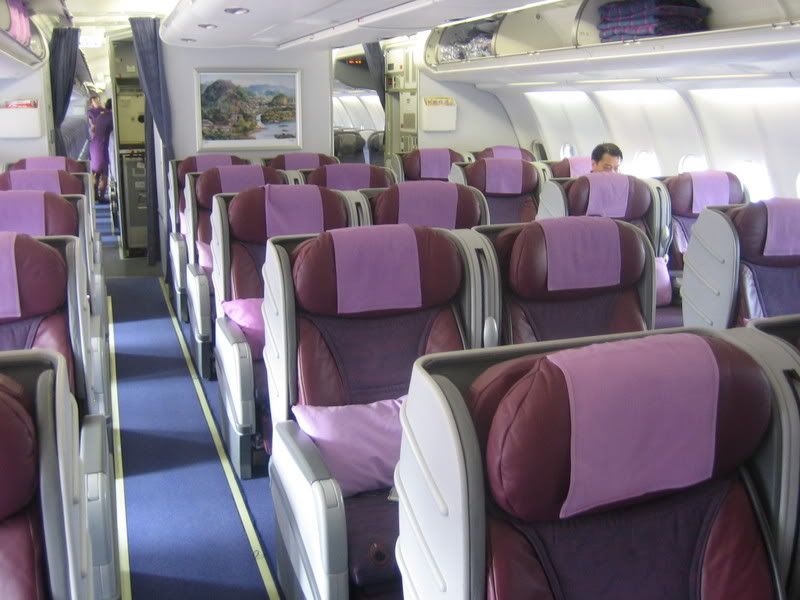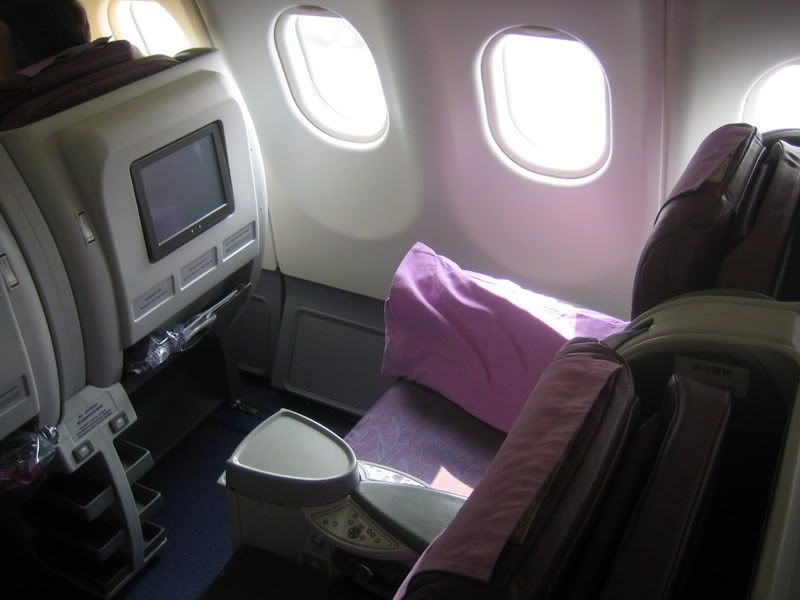 We took our seat and were offered a choice of orange juice or water along with hot towels to freshen up. We were also offered a blanket. The trip was scheduled to be about one hour, yet the flight attendants offered us a menu for an afternoon "snack".
We taxied around the terminal to the runway. I was amazed at the number of different airlines—some of which I had never seen or heard of before. I also snapped this picture of a lineup of several Cathay Pacific 747s parked at their maintenance facility.
Almost immediately after the wheels left the ground, the AVOD system started. There was a large selection of movies and other entertainment. Each seat in Dynasty Class had noise-canceling head sets.
The Flight Attendants also started their marathon meal service. While I was in business class, I understand that there was also a meal service in economy (US carriers could take a lesson). The menu was as follows:
Braised chicken in beer sauce with rice
-or-
Braised pork in mushroom and mustard brown sauce with potatoes
Apple crumble tartlet
Fresh fruits of the season
I had the braised chicken which was very good. (They called this a snack!)
The flight attendants were very attentive and genuinely interested in giving good service. I noticed in the galley there was a mirror and this note as a reminder to the FAs on how to provide service.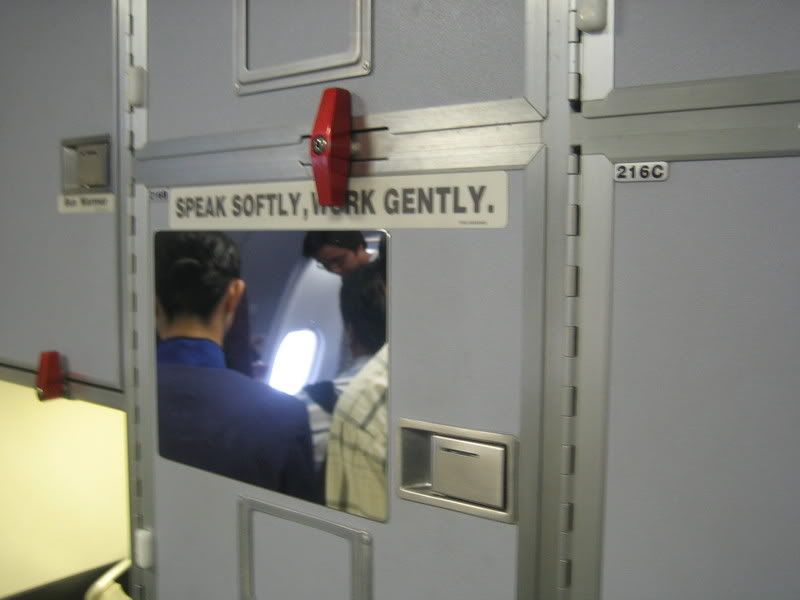 As this was a midday flight, the view was very nice. After about an hour, we approached Taiwan and landed in Kaohsiung
We were able to watch the landing on the AVOD system through a camera mounted at the front of the plane
Return: 10/6/06
Mandarin Airlines (China Airlines) #821
Kaohsiung, Taiwan to Hong Kong
Seat 6A (Dynasty Class)
A330-300
We returned back to Hong Kong early the next morning. The airport was fairly busy as it was a vacation day in Taiwan and it appeared that families were traveling. We already had our boarding passes, so we checked our bags and received an invitation to the Dynasty Lounge in Kaohsiung.
The lounge was fairly busy, and there was a nice selection of breakfast foods to tide us over until our flight. The lounge was large and very comfortable. I was expecting breakfast on the flight, so I didn't eat too much.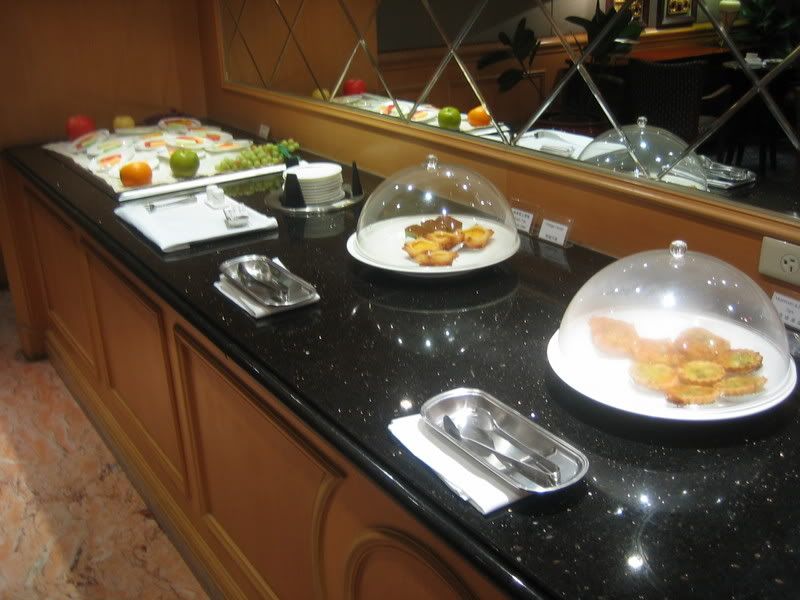 About a half hour before our departure time, we made our way down to the departure gate where they were already boarding. I did get to snap a couple of pictures of some airlines I had never seen including Air Macau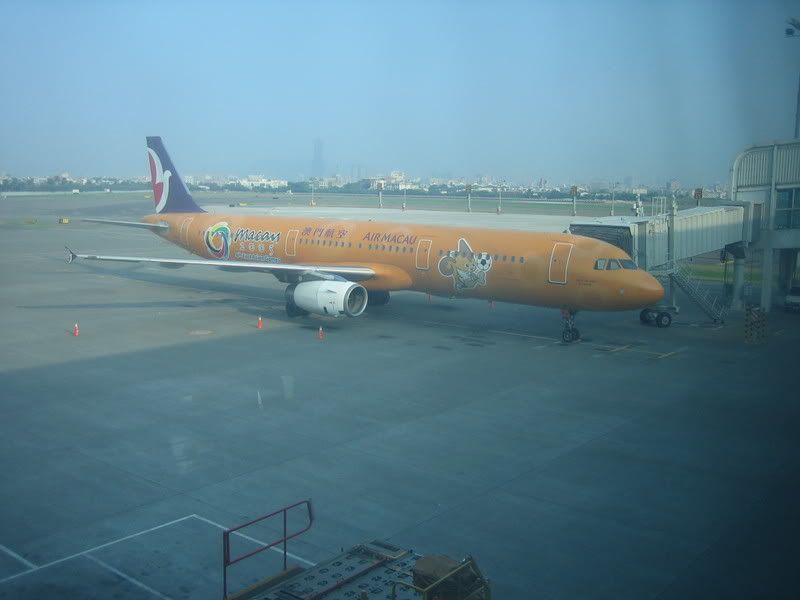 The service on the return flight was very similar with the AVOD starting immediately after take off, and the flight attendants starting the meal service. The menu for breakfast was as follows:
Fresh fruits of the Season
Yogurt
Stir-fried noodles with seafood
-or-
Poached egg gratin a la Florentine with sausage, vegetables, garlic mashed potato
Bread basket with butter and preserves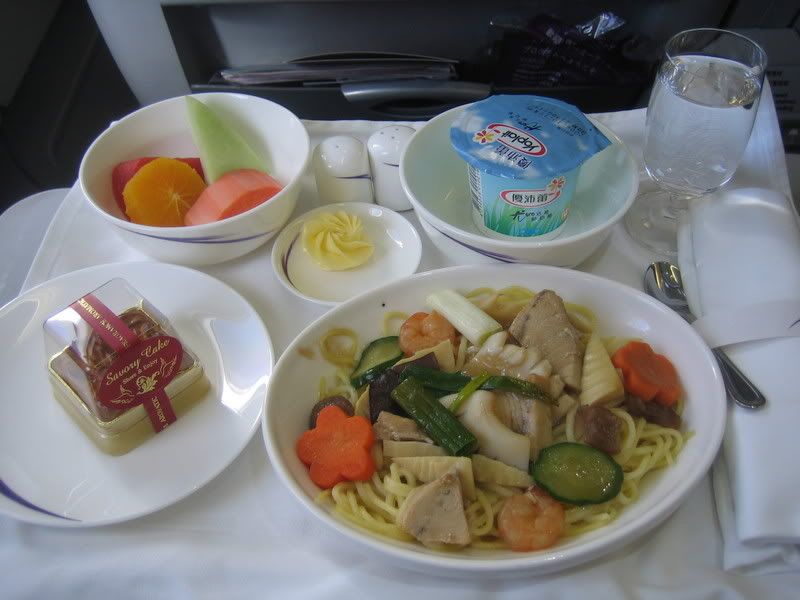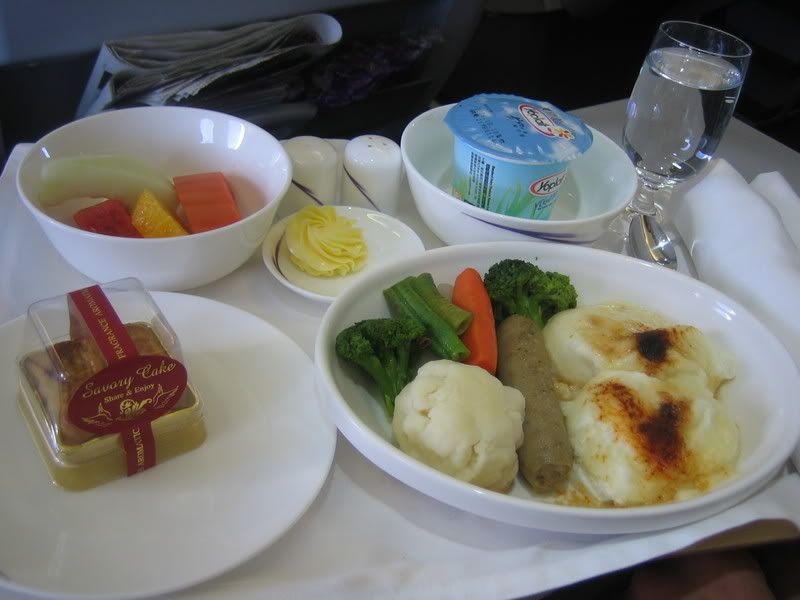 I had the noodles and seafood…which was OK. My business associate had the eggs Florentine…and he said they were OK as well. We were flying on the day of the Autumn Festival (celebration of the first full moon in autumn), so each meal had a traditional "Moon Cake" as part of the service. Moon cakes are given as gifts and eaten during this Autumn Festival. I was told that they are an equivalent of an American Fruit Cake… the gift that keeps on giving!
The flight went without incident, due in part to the great service given by the China Airlines FAs. We arrived in Hong Kong on time and ready to continue our business.
One note… I have to say that travel in Asia was very pleasurable; much more so than in the United States. The airlines offered excellent service and you got the sense that you were welcome on their airlines and valued as a customer.
Trip rating:
Check-in: 10
Cabin Comfort: 9.5
Flight Attendant Service: 10+
AVOD: 9.5
Food: 9 for outbound, 7 for return.
Overall an excellent trip, excellent service, and a great airline. I would definitely fly China Airlines again.