Time for another day trip to LAX, this time on HP/US with a short scheduled layover in the morning in LAS so I can ride a 757. From LAS I would ride my very first CRJ-900 to LAX. Then for the nightcap I'd come back to PHX from LAX on my first A319, and only my seventh lifetime 'Bus. But things don't always go as planned. At least one of these segments changed. But which one(s) would it be?
Saturday October 14, 2006
PHX-LAS
America West Airlines Flight 320/US Airways Flight 8565
Boeing 757-225
N914AW (ex-Eastern N518EA)
Scheduled (Actual Wheels Up/down)
Departs: 7:25 AM (9:47 AM)
Arrives: 8:33 AM (10:42 AM)
Gates: A20, B21
Runways: 25R, 25L
Load: 95%+
I get to Sky Harbor and go straight to the no baggage HP kiosks near the A security checkpoint. When I reach the end of the check in process, my boarding passes don't pop out, most likely due to a busted printer. I have to go down to the ticket counters and talk to a live agent. This early in the morning, I barely wait a minute for one of the 2 live agents at the end of the self check machines. With no trouble at all she prints my boarding cards. I go up to the 9th floor of the short term lot to see the aircraft situation. I can see the tail of my plane at A20, a 757 in general HP colors. I have already flown on Nevada One (ship 915) and was hoping for another special colors today. I will have another chance in December which will probably be my last flight on HP before the operating certificates merge to one. Security at the A checkpoint takes four minutes from entrance to exit (still before 6 AM). My plane: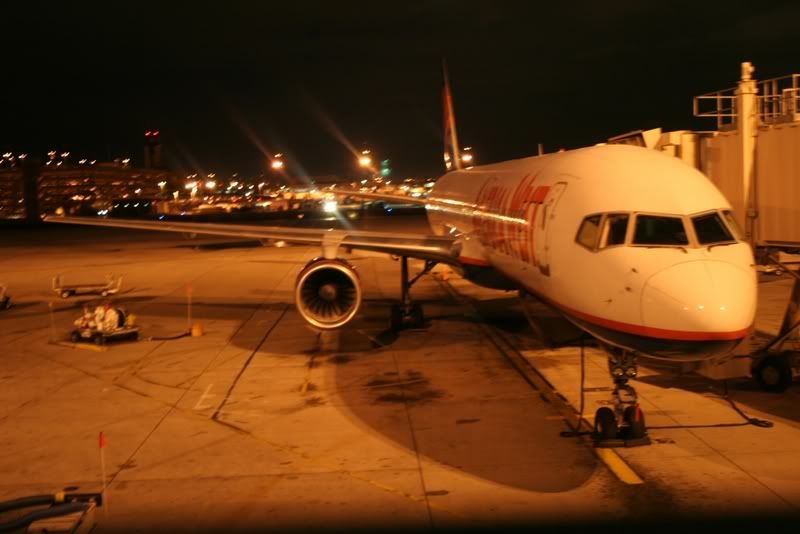 By the time I leisurely stroll down to Concourse D and return, its time to board.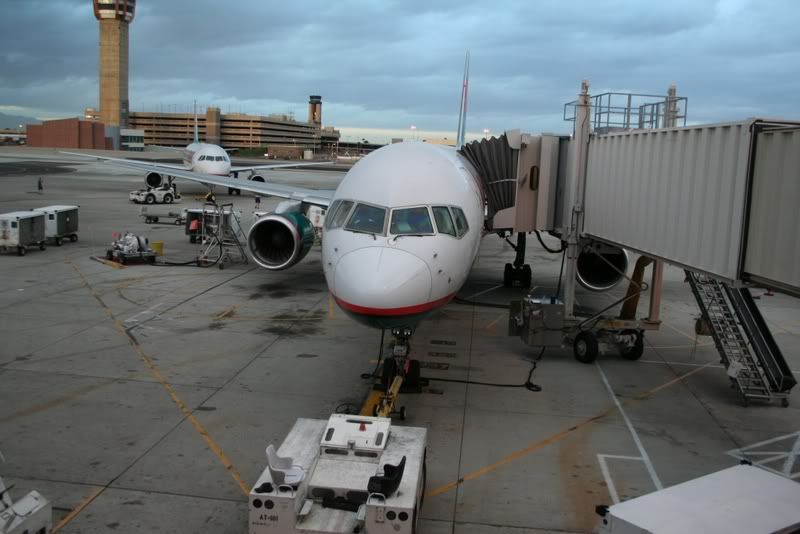 I'm in 25F, boarding zone 2. The interior is in respectable condition for a 18-19 year old plane.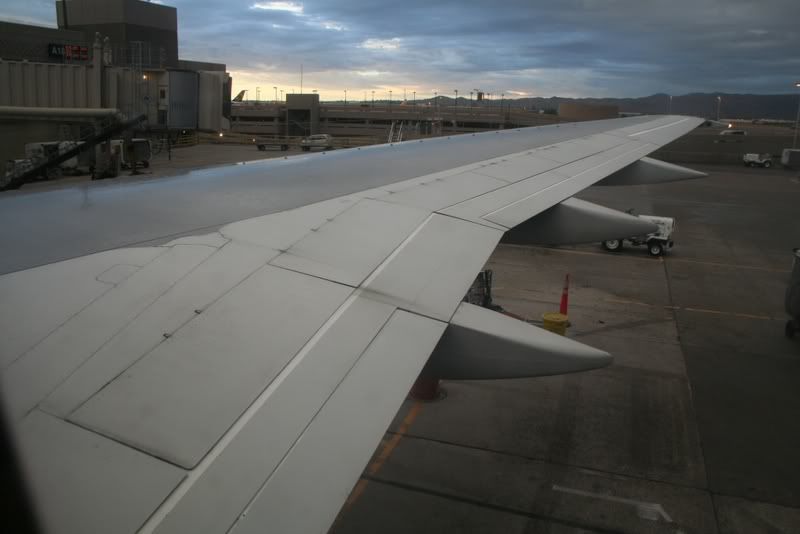 We push a couple of minutes late. It seems like we're taxiing slower than usual headed to the south side for a 25R takeoff. I was surprised to see the 25's in use in the morning, the early westerly winds likely a product of the rain this morning. We cross the bridge between T4 and T3 but instead of turning left to 25R we turn right and stop in front of the fire station. Now I know something's up. The captain comes on and says LAS is on a ground hold for thunderstorms, and that it may be up to an hour before we depart. He said we may have to return to the gate because we can't just sit on idle for an hour using up fuel because we didn't bring that much for a short jump to LAS, and our alternate airport is ONT. About five minutes later, we turn around and head back to the north side and park at A27. They open the doors and tell us it's going to be at least an hour, so we can get off if we want. I stay on, but about 1/3 of the pax get off at some point. I suppose I could have called res or gotten off and gone to CS in person and rebooked on a nonstop to LAX but this was far more exciting. And I wouldn't get a 757.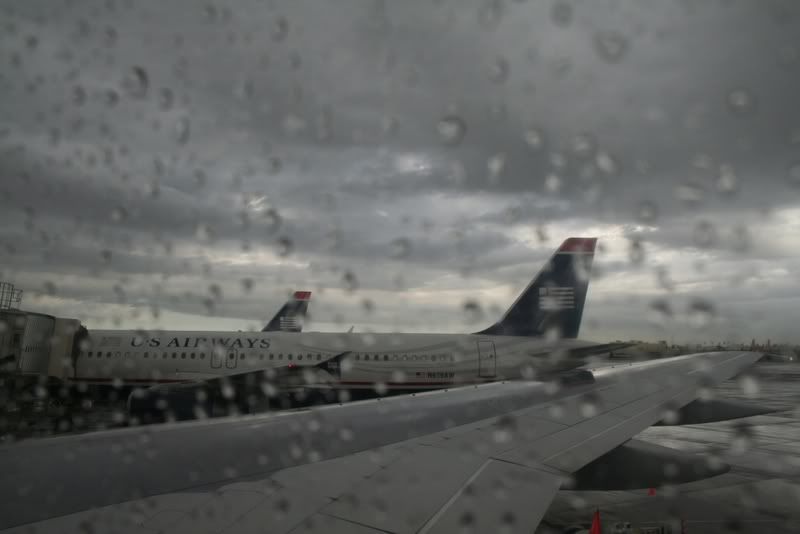 At about 8:45 or so we get clearance to depart. But first they have to herd all the impatient pax back on to the plane, which takes almost 15 minutes but we finally push again and take a number for departure on 25R. We're probably at least 13 or 14th in line when we join at the 9:00 rush hour, and are finally airborne at 9:47. A very powerful takeoff, like my previous RR 757 flights, and we're airborne by the T3 fire station.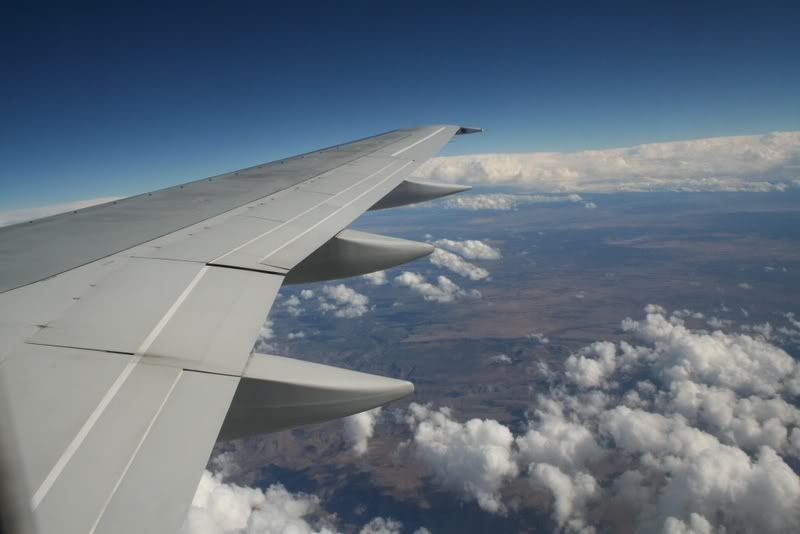 The first 25 minutes or so were smooth. Drink service began sans hot drinks because the captain said some turbulence was expected when we got close. With two beverage carts in Y class service went fast. Sure enough, we ran into some large, ill tempered clouds as we descended into LAS.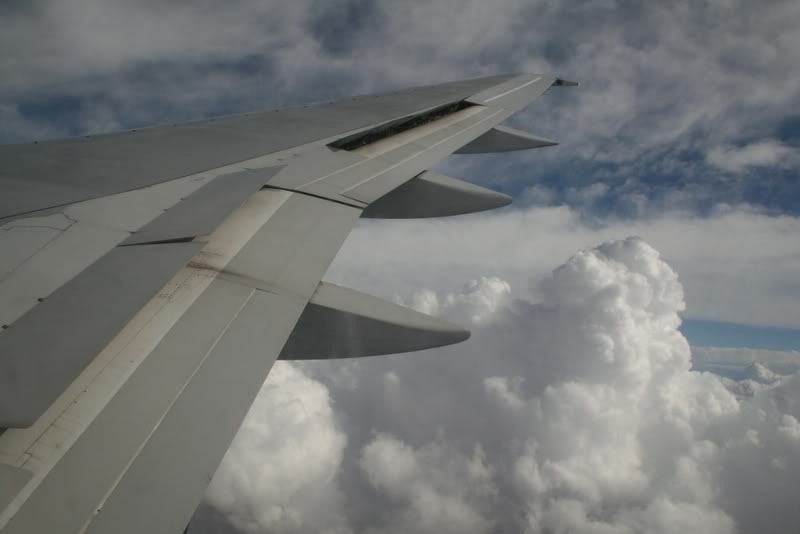 We had some moderate turbulence on approach. I've flown through a lot worse, but there were a few communal "Whoa!"s from the Y passengers. Soon enough the strip is in sight and we land on 25L. There's a line of about a dozen planes for takeoff on 25R, but we cross 25R immediately after landing. We taxi straight into B21.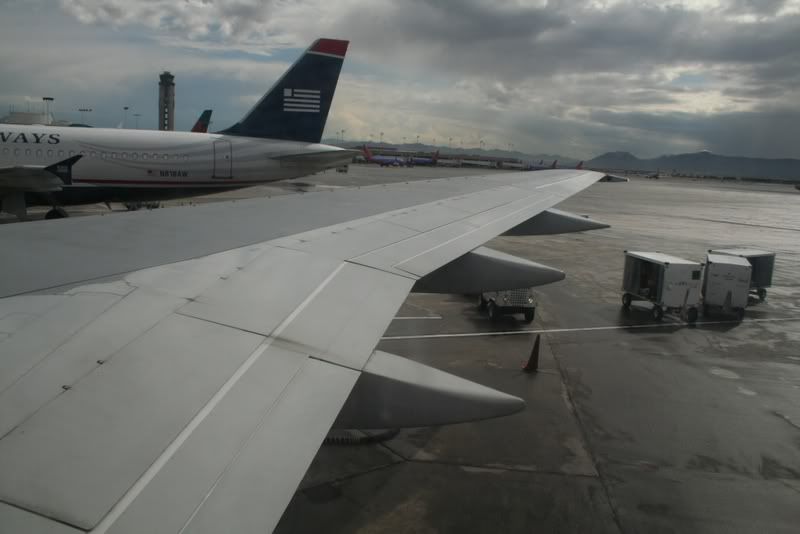 There's a CSA waiting at the gate for tight connections. I'm booked on US2790 (CRJ-900) to LAX that should have departed at 9:15. He tells me B24 which is to my immediate left. The flight is shown as boarding on the screen at the gate, and there's a CR9 at the gate. I approach the podium and they direct me to B17 because they bumped me. B17 is a short stroll, and I find a rather full gate area for Flight 100, the next LAX flight. I go to the podium where there's 2 gate agents working. It takes a minute before one is free to deal with me. I give her my BP and ID, she types and hands me a new BP for HP100 with no trouble at all. I was happy to see I still got a window (13A) on what was to be a full flight. They make an announcement then saying the inbound was calling in range and would be on the ground by 11:10. (It's now about 11:00). With a little time to spare, I head down to the security station and see it's a short line. I decide to take my chances and go out of security to see the Aviation Museum kiosk. They have great airline merchandise there including models and the tail pins I collect so I figure it's worth the risk. They have a Sky Marks VS A380 but it's priced at $50 so I passed, as well as quite a few different WN schemes (Hogan brand I think). I ended up just buying a few new pins I didn't have yet (AM, HA, and SY). I turn right back around and pass through security again, and I'm back in at 11:15.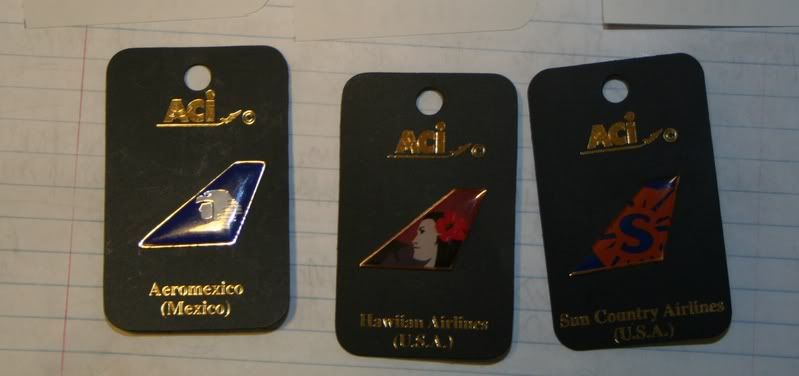 I didn't know what A/C I would get, so it was exciting to see what would be out at the gate when I returned. It's an A320, from BOS I later discovered that had diverted to DEN because of the wx and had arrived about 2 hours late. The gate agents start boarding after the A/c is catered and unloaded, and announce carryons will be strictly limited to 1+1 being a full flight.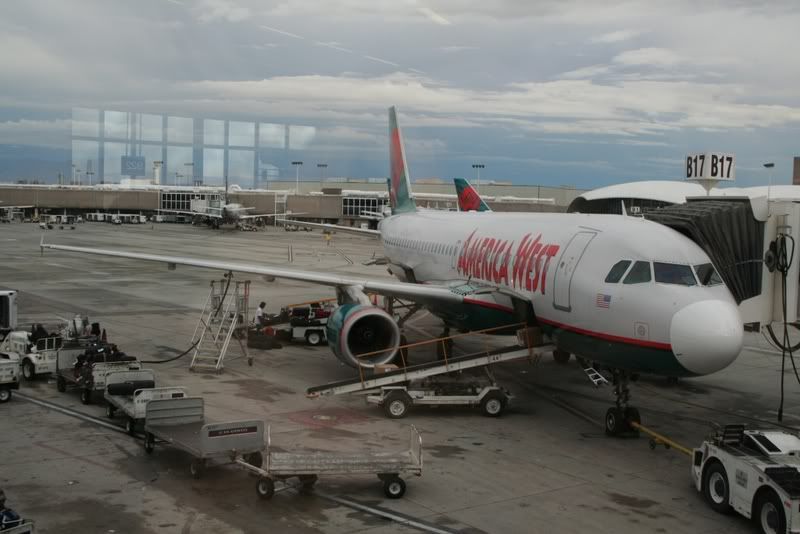 I board in Zone 2 again.
I get to wait for quite some time as people spill on late, presumably earlier missed connections, and we push at around 12:15 or so. Sitting next to me is a Japanese couple with a now tight connection on JAL in LAX.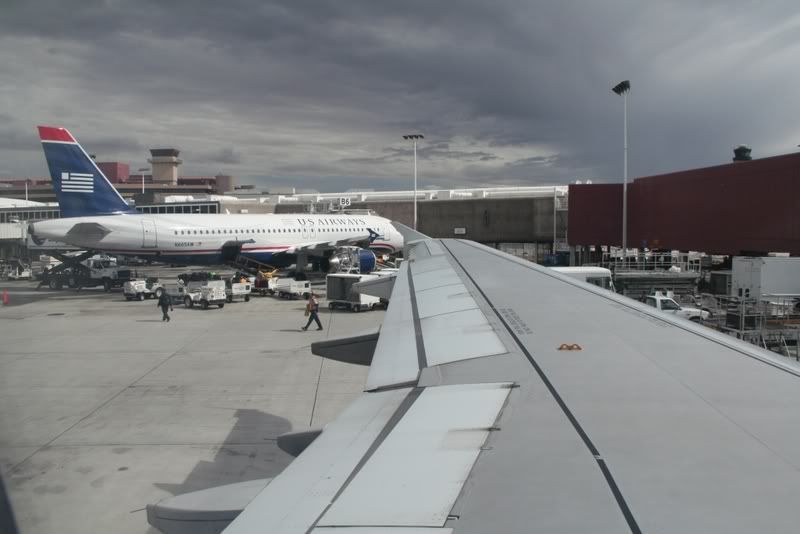 LAS-LAX
America West Airlines Flight 100/US Airways Flight 8179
Airbus A320-232
N650AW
Departs: 10:31 AM (12:30 PM)
Arrives: 11:37 AM (1:18 PM)
Gates: B17, 4B
Runways: 25R, 24R
Load: 100%
As we head down to 25R, the takeoff queue is still quite long. As we taxi down past the C gates, the A/c I flew here on, N914AW, is now in the "penalty box" waiting for an ORD slot to permit departure.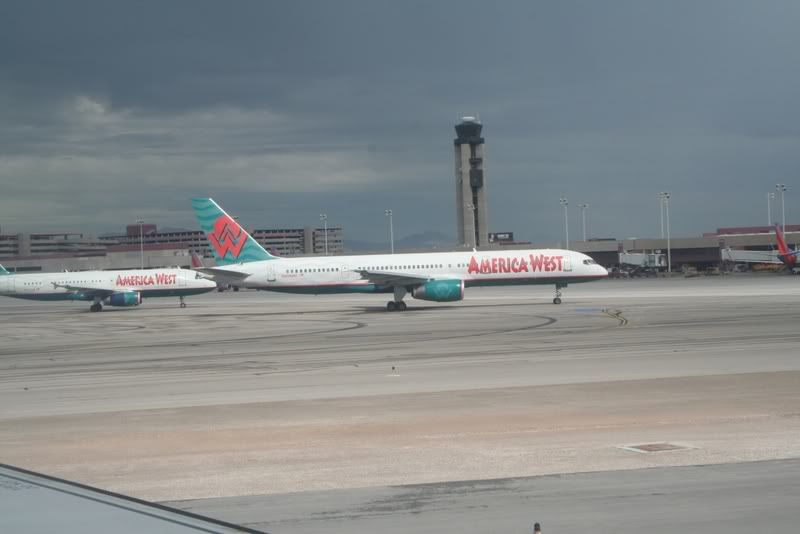 ATC was then very kind to us. There was a line of about 8 aircraft that we just passed up and got to cut in front of as we got to go to almost the front of the line and take off with minimal wait. I was disappointed that I didn't have a right hand window seat, which I had originally reserved, so I could see the strip on departure. This was the first time I was departing (of 3 previous trips) LAS in daylight. Anyway the ascent was a little bumpy, but this proved to be the smoothest of the 3 flights.
I enjoyed one pass of the beverage cart along with the bag of Skittles I brought with me, and soon enough we were descending into LAX.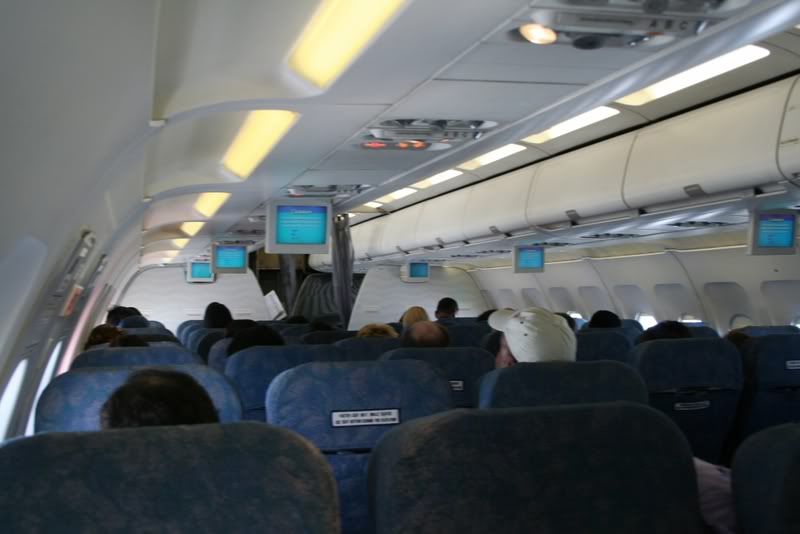 I could see glimpses of the coast as we approached and landed on 24R. On the left side, I didn't get to see the skyline or In N Out as we approached. I did get to see the 25L construction though. We land on 24R and head straight down to T1 where we park at 4B.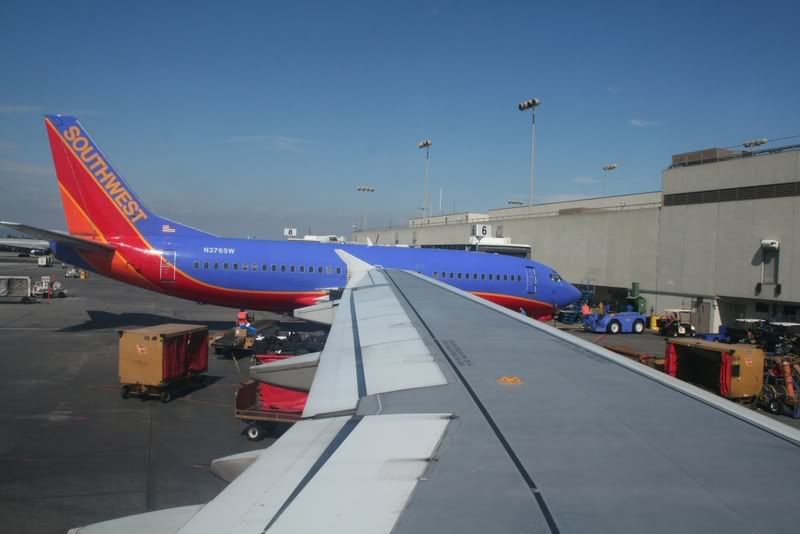 The FA asks everyone to be courteous and to allow the tight connecting passengers on JAL to get out first, but of course no one listened. I waited to be last off the plane so I could get cabin shots.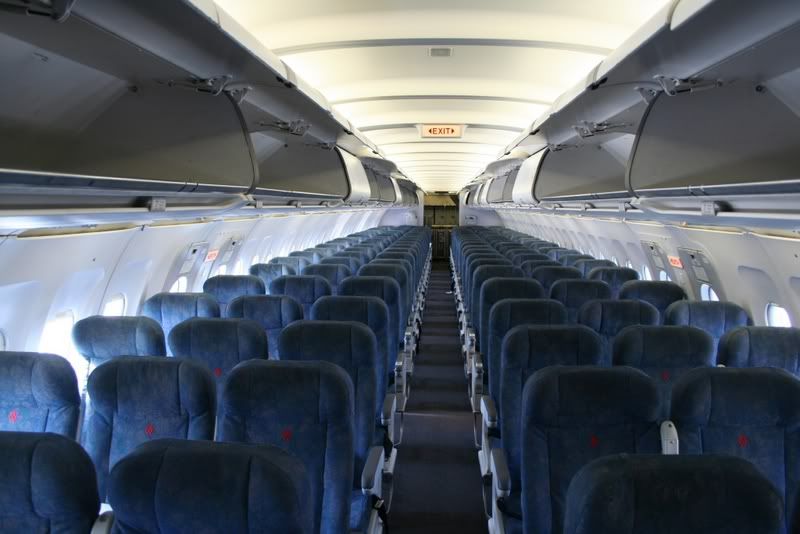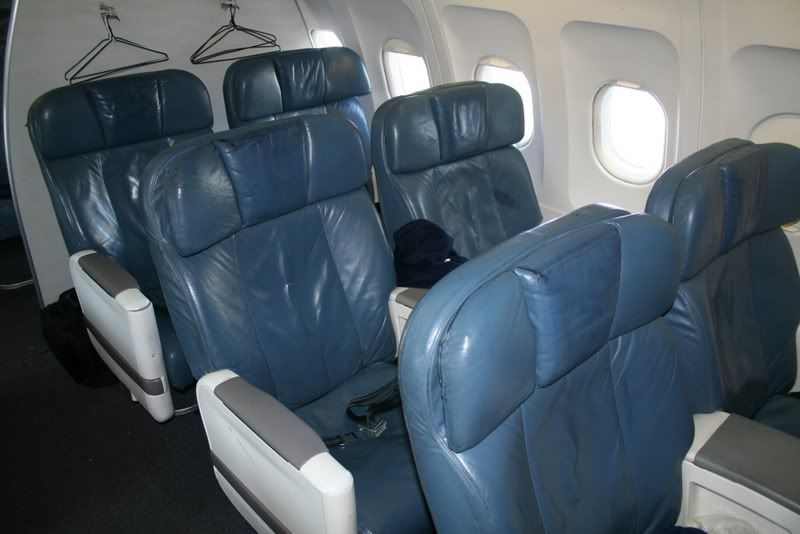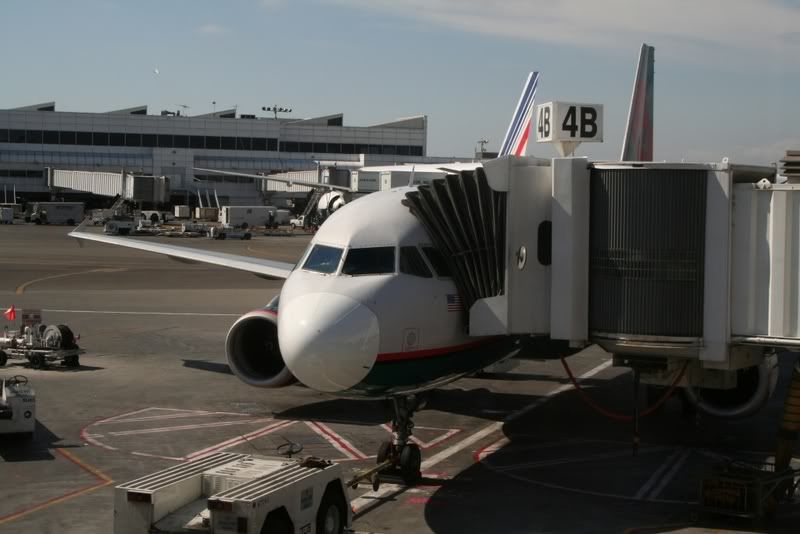 So I ended up getting into LAX 3 hours later than expected. I wouldn't have done it any differently, I was happy I chose the itinerary I did. These 6 hours were quite exciting. Now time for some spotting! I'll keep this brief because I took a few hundred pictures that have yet to be processed: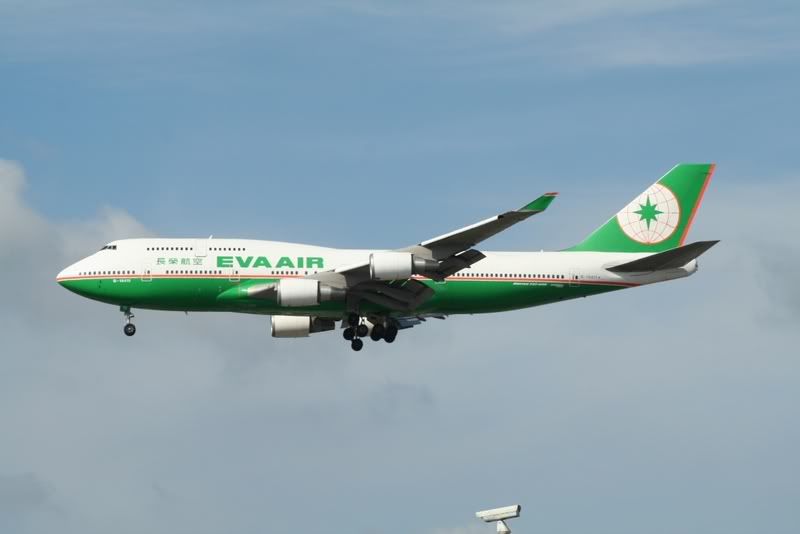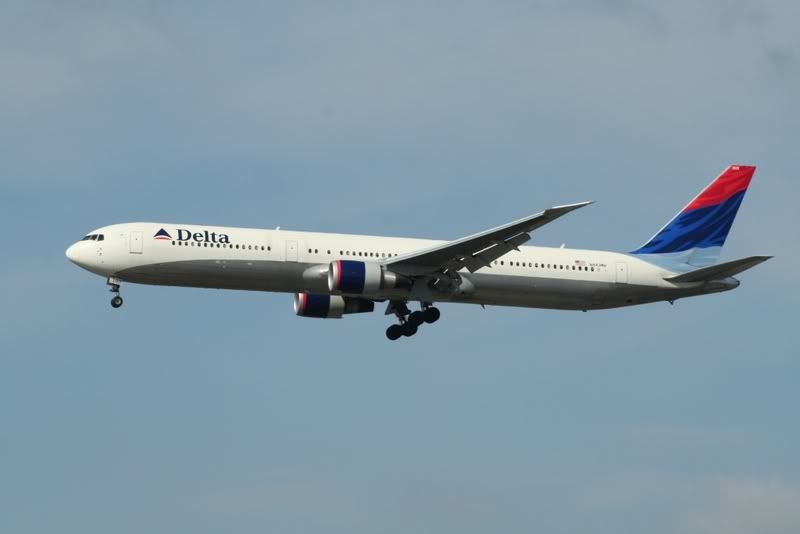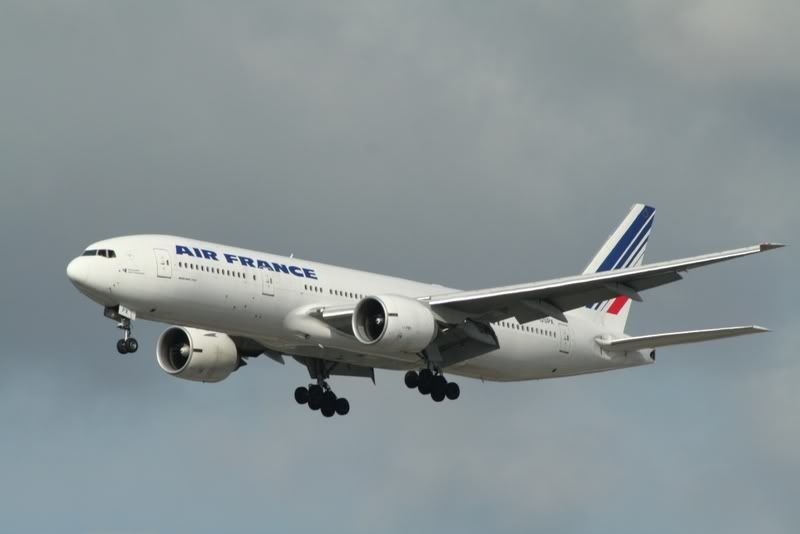 SQ20: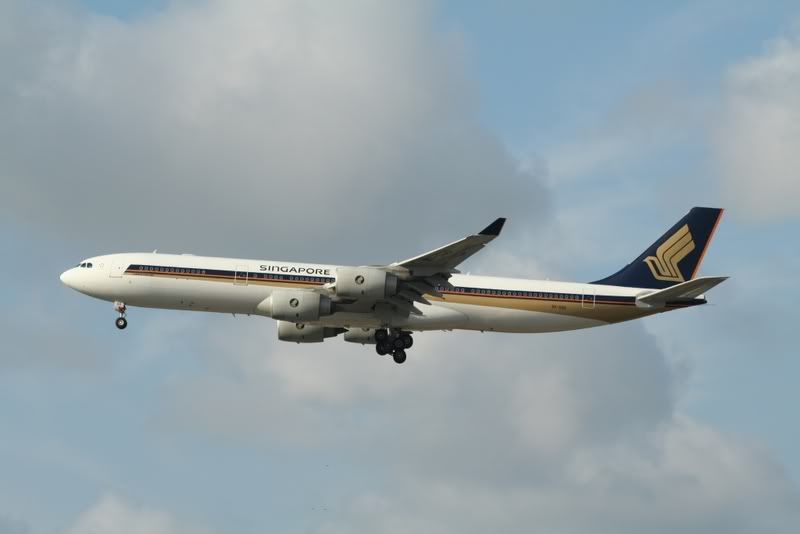 TBIT: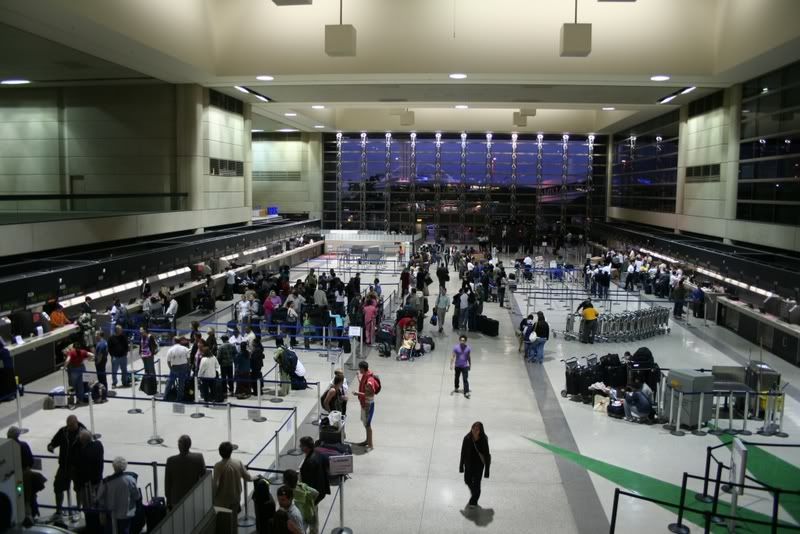 And I wasn't leaving without getting the Theme Buidling at night: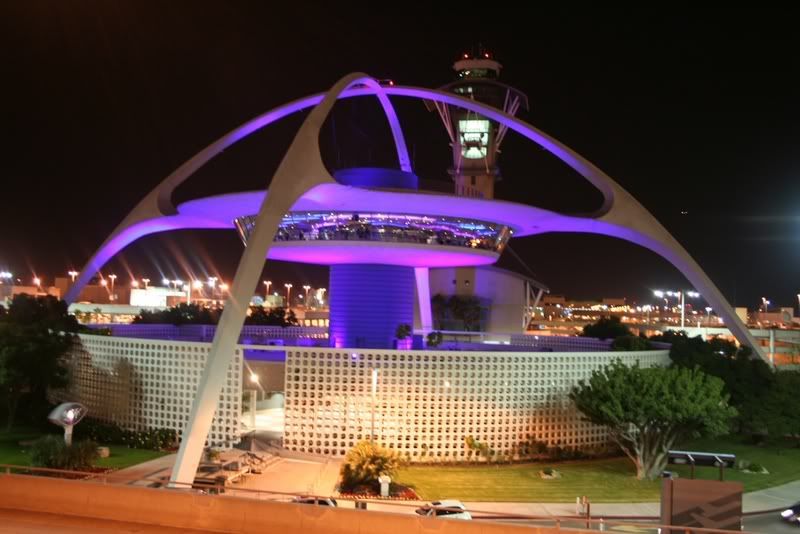 It's around 8:15 or so when I'm content to end the spotting day. I go back into T1 and pass security with 3 people ahead of me. No trouble at all. I do need to sit down in the sterile area and clear some of my excess pics so I have room for the night flight shots. I was full at this point, so I cleared some of the blurred night traffic shots.
LAX-PHX
America West Airlines Flight 36/US Airways Flight 8167
Airbus A319-132
N830AW
Departs: 9:45 PM (10:01 PM)
Arrives: 11:01 PM (10:55 PM)
Gates: 9, A6
Runways: 24L, 26
Load: 70-80%?
The inbound A/c gets in a little late, scheduled at 8:53 it actually pulls in at 9:06 or so. Pushing is only delayed a couple of minutes. I board for the third time of the day in Zone 2.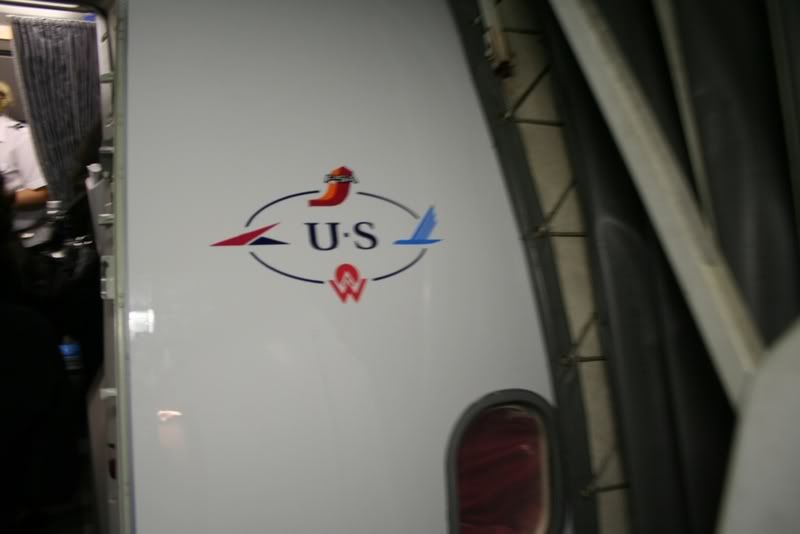 I've got seat 16A.
As I said, we pushed a few minutes late. There's a NW bus pushing from T2, otherwise just landing activity at the moment. We sit in front of 24L for a few minutes, either to let some landing planes cross 24L or perhaps to let the engines warm up for the full 5 minutes before applying takeoff thrust. The taxi distance from T1, especially the end of it, to 24L is so ridiculously short that it takes 2 minutes tops to reach it. After pausing, we head right off. The takeoff felt more powerful than the A320 run earlier today, but still didn't compare to the 757. By the time we pass the parked QF's, which are getting ready to be tugged to a gate, we begin rotating. We head a couple of miles out to sea before turning south and then west. This was a reasonably turbulent flight, mainly on the beginning of descent back into the Valley. It was nearly as bad as the morning rattling, enough to bother the little girl sitting next to me. Shortly thereafter, I can see Sky Harbor as we fly the downwind leg of the approach. Two more left turns and we're lined up to land on 26.
We pull into gate A6, coincidentally the gate where I boarded my first 'bus back in November 2004.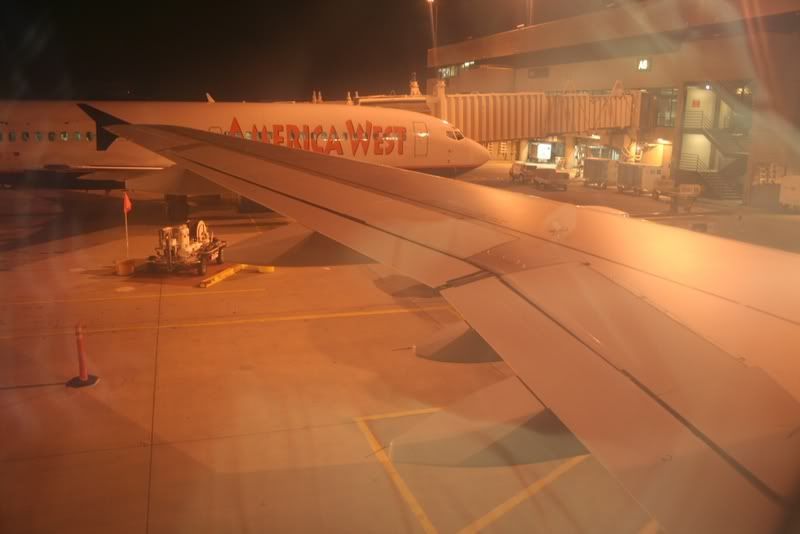 I wait for the last pax to disembark before briefly talking to the FA's and getting some cabin shots again. I wanted something to show for my first A319 flight.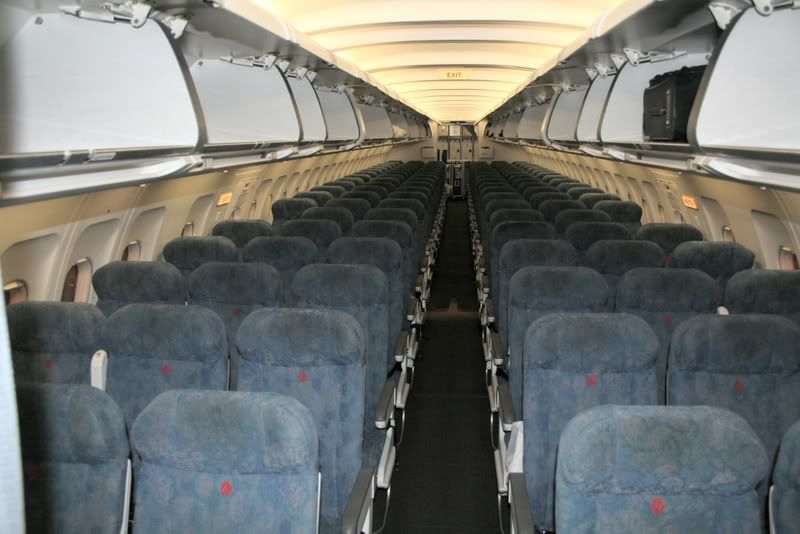 And so ends another day trip. I was a little disappointed I didn't get to ride an RJ. It's a different atmosphere for me flying on an RJ. I enjoy short 1-hour hops on an RJ, it's fun to fly like that, but I draw the line on longer flights like my 3 hour 3 min excursion on an MQ CR7 CLE-DFW earlier this year with raging headwinds. However since I missed my RJ flight I was able to leave security and pick up some new pins for my collection. And it was quite exciting waiting for my LAX flight when I had no clue what aircraft to expect to arrive at my gate and take me there.
Boarding passes: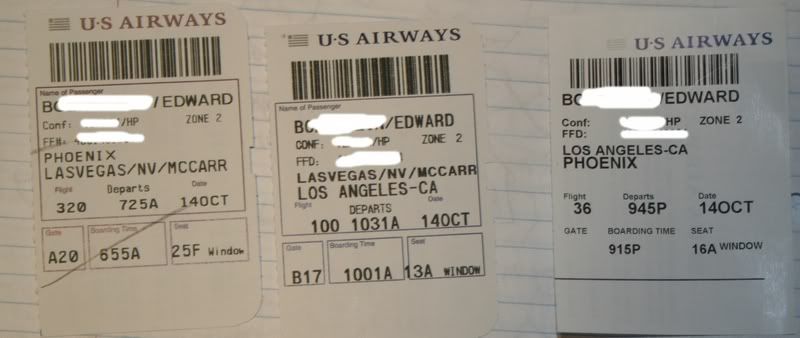 Overall, it was another pleasant trip in my book. It was only my fourth itinerary ever on HP, who I've grown to like a lot more, and it was a good break from all the WN I seem to be flying recently. Next trip: PHX-LAS-ATL-CLE on HP/DL in December.