Living in Saskatoon (YXE) doesn't provide a person with the chance to try to many different airlines. Westjet or Jazz, and NW if travel involves going to the US, are the choices. Being an aviation nerd, I always try to fly different airlines/aircraft when the chance comes up. Being in California on holidays with a couple friends, we decided to head to Vegas for a few days. I went online and browsed thru the various options from LAX to LAS. Price wasn't so much of a factor as airline and aircraft. America West had some interesting options through Phoenix as did AA through San Jose with an ERJ135. Since we were staying in Long Beach the first part of our trip, I looked into options from LGB. To my delight I found Jetblue flew twice daily to LAS. That was settled since Jetblue doesn't fly to Canada, and it was only $39USD.
B6 284
LGB-LAS
July 19, 2006
Dep 4:40pm
Arr 5:50pm
A320 N615JB "I love Blue"
We took the bus from downtown Long Beach to the airport to save a little coin. The Jetblue check in area was small and extremely crowded. We used the selfservice check-in machines, printed our boarding passes, then headed upstairs to the cafe. I had one of the best burgers ever, and enjoyed a great view of the ramp. We went out to the patio area to take some pics and enjoy the sizzling california heat.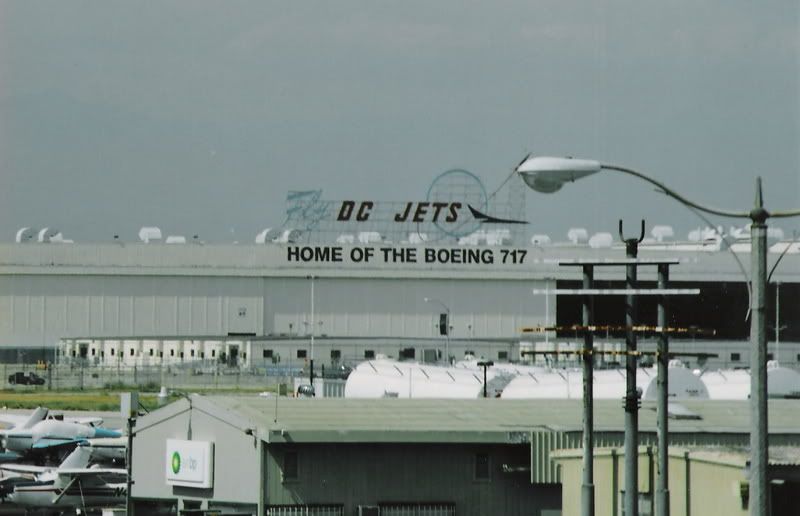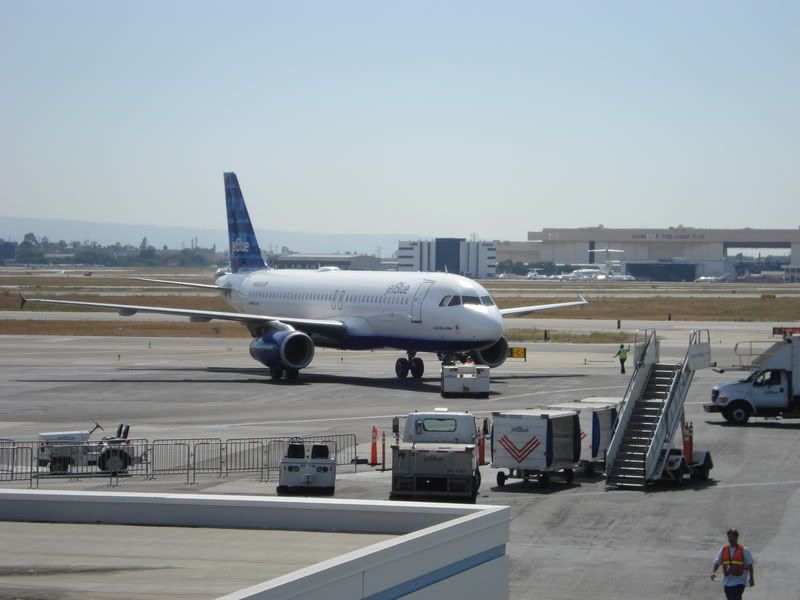 Boarding time was nearing so we headed down to security. We were hearded down this little covered walkway into another little building where security was. There was a huge line up, and they only had one line operating. In typical US fashion, we were pretty much undressed at the xray machine before walking thru. Once dressed again, we were outside for a few steps then into a small gate area where our flight would board from.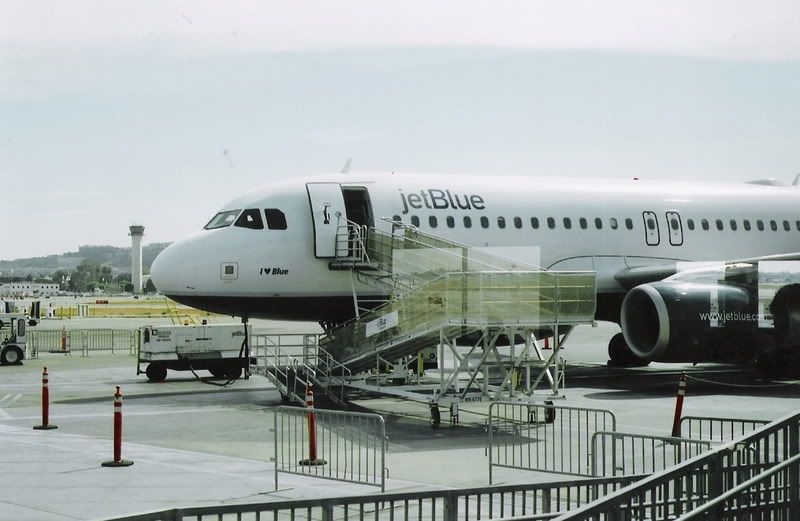 N615JB gets ready to take us to Vegas.
Boarding was delayed about 20 minutes because Las Vegas airport had closed briefly due to thunderstorms, and they had a backlog of traffic waiting to land. After a short delay, we were walking out to the plane.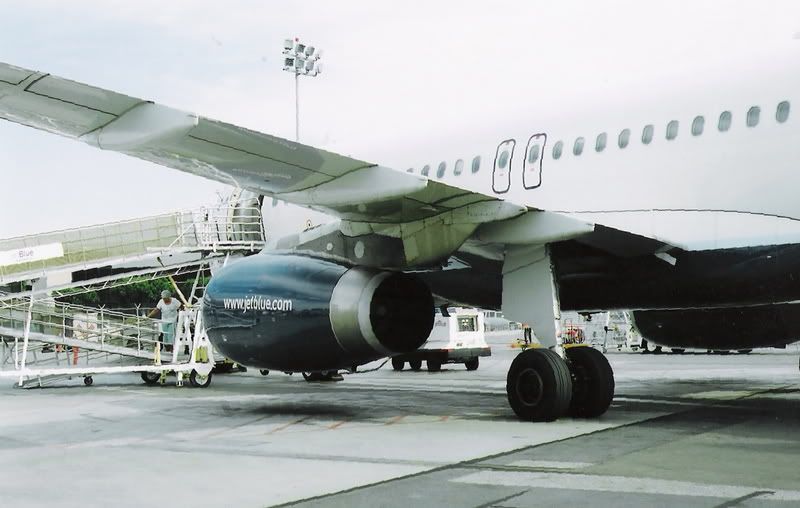 Sitting near the rear of the plane, we got to walk around and board through the rear.
First impressions were very positive. Seats were comfortable, seat pitch was good, and the cabin was clean. FAs were very friendly as they helped people get settled in.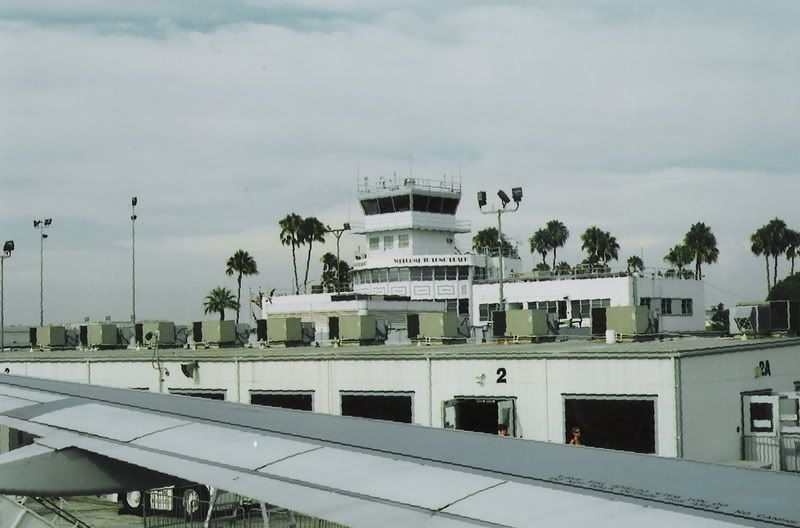 Long Beach terminal.
Load factor for the flight looked pretty good. We pushed back and started up about 30 minutes late. We passed what looked like a maintenance facility for business jets on the way to the runway.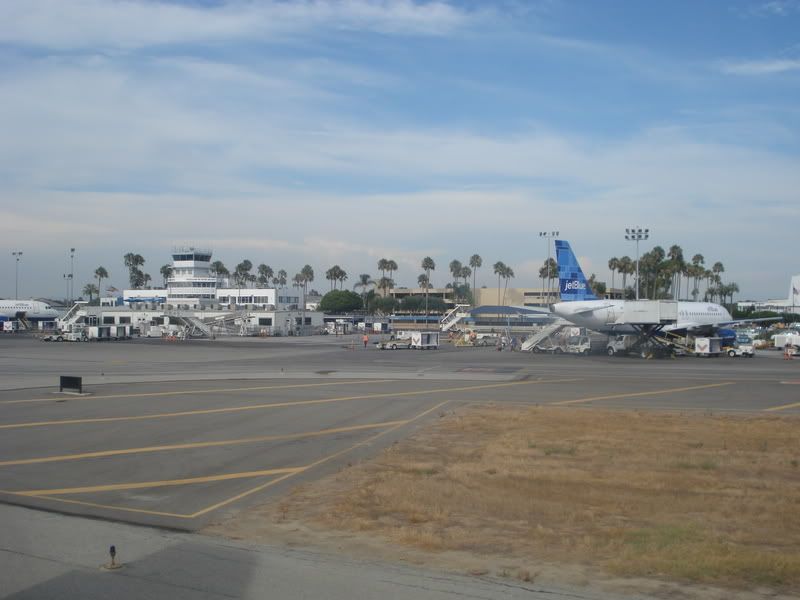 Jetblue gate area.
We took off to the NW and turned south over Long Beach. The captain had said we would be flying south a fair bit before turning east to avoid the thunderstorms that affected Vegas earlier. So I watched the map on my little PTV as we headed south a good distance before finally turning east.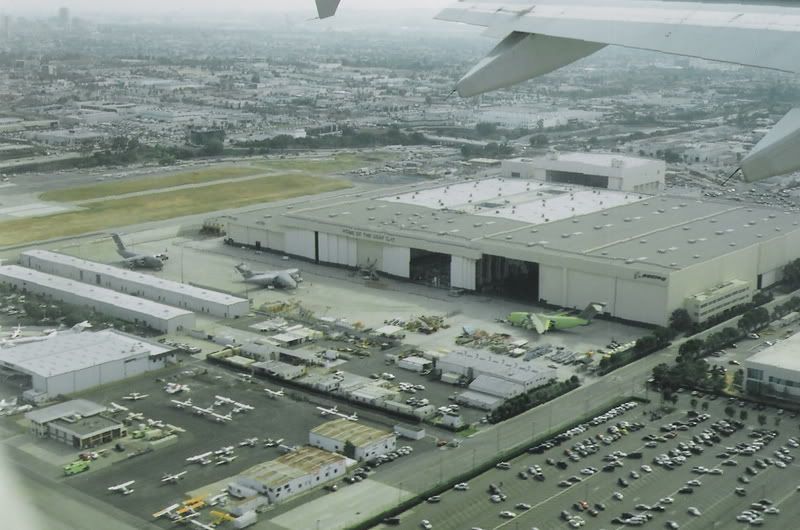 C17 Factory.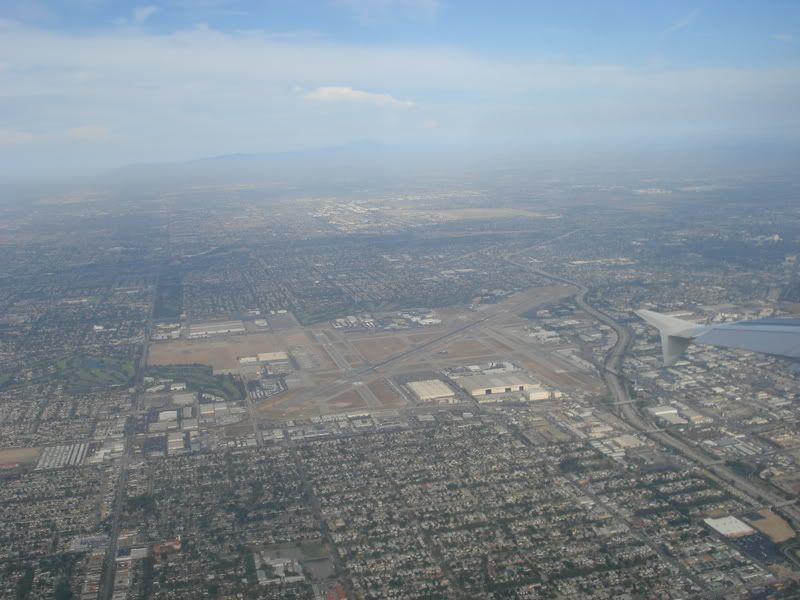 Long Beach Airport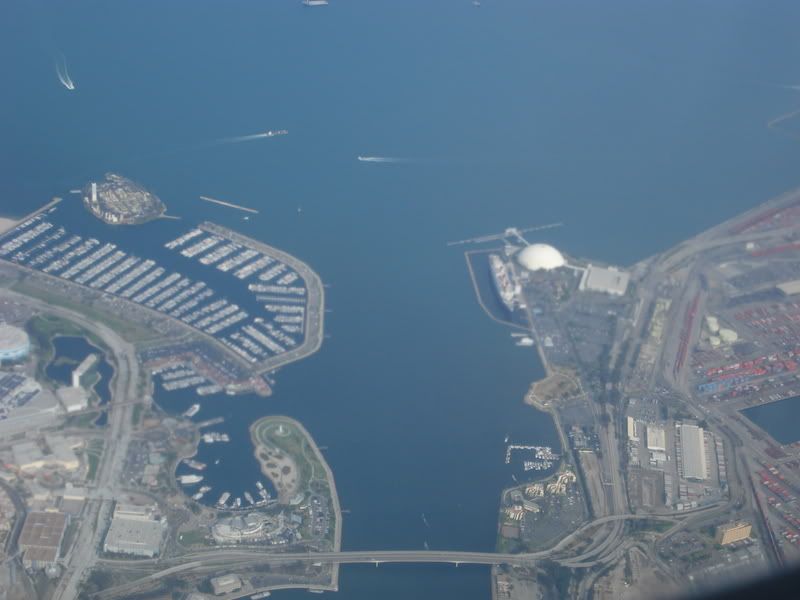 Queen Mary, among other things.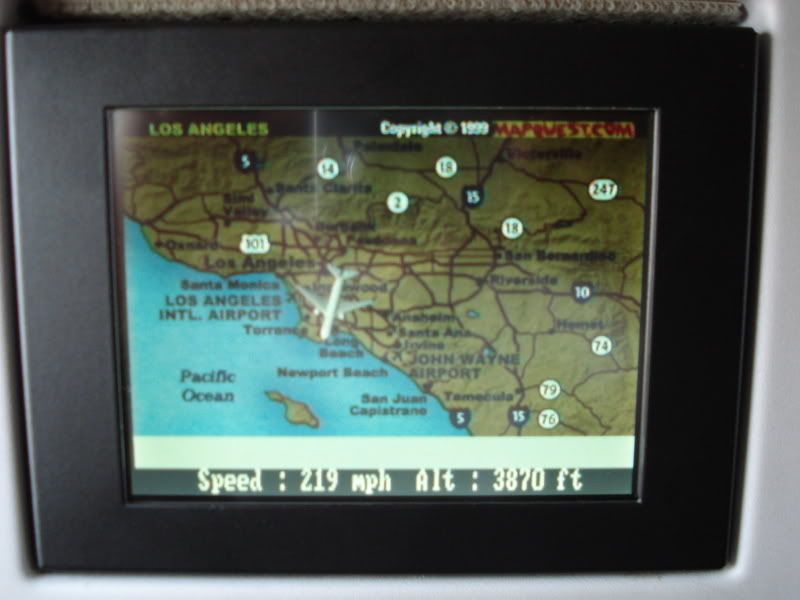 LiveTV!
We reached cruising altitude and were served a choice of small snacks, and a drink. I usually choose orange juice for some reason, I'm not sure why. The flight was pretty smooth for the most part, and I found an episode of COPS to watch on my PTV. Before I knew it, we were descending into LAS. We turned to the north and continued descending.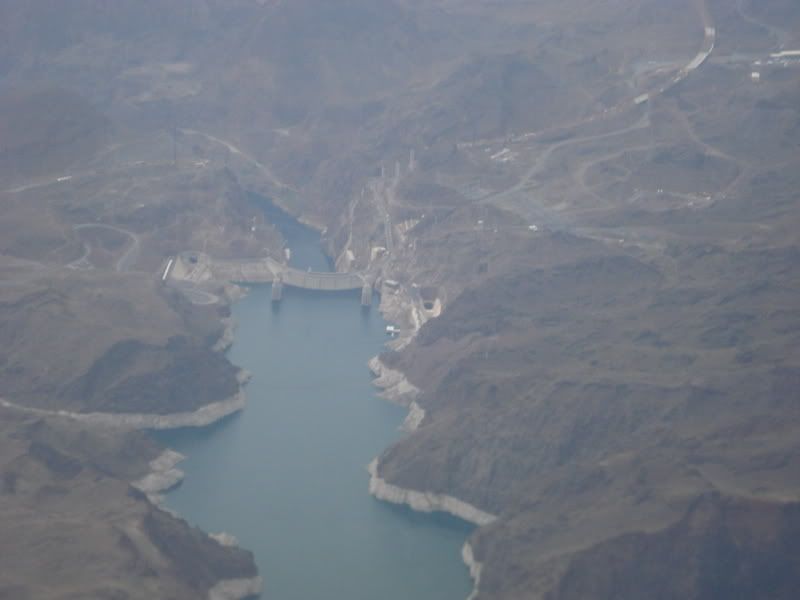 Hoover Dam as we gradually turn west to line up for 25L.
We passed Hoover Dam, and the spoilers came up as we continued to descent. FAs quickly gathered up the "service items" as it got a little bumpy as we neared LAS.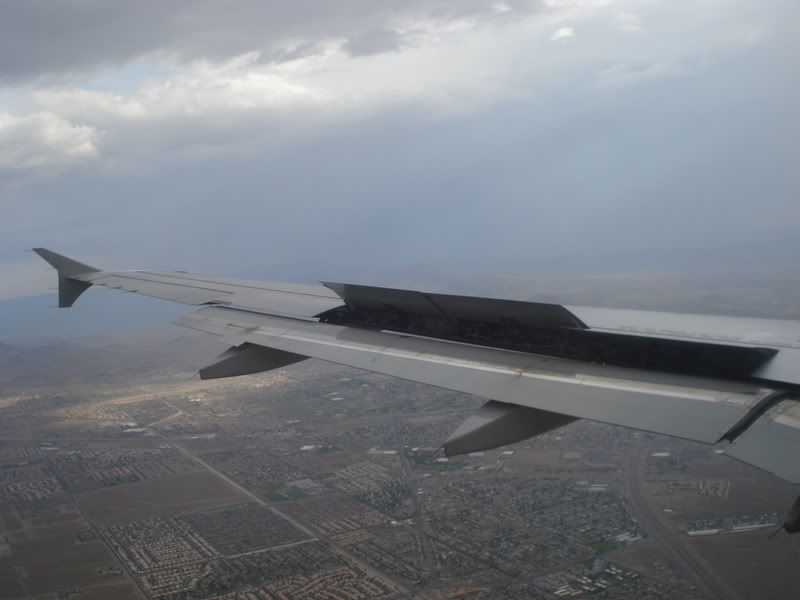 Descending into LAS.
We gently settled onto 25L and took a high speed exit fair quickly after we touched down. We waited a few minutes before we could cross 25R, then taxied to our gate. We arrived at the gate about 6:10pm, so we made up a little time. I don't think to many passengers were to concerned about the delay, most looked like they were ready for some partying.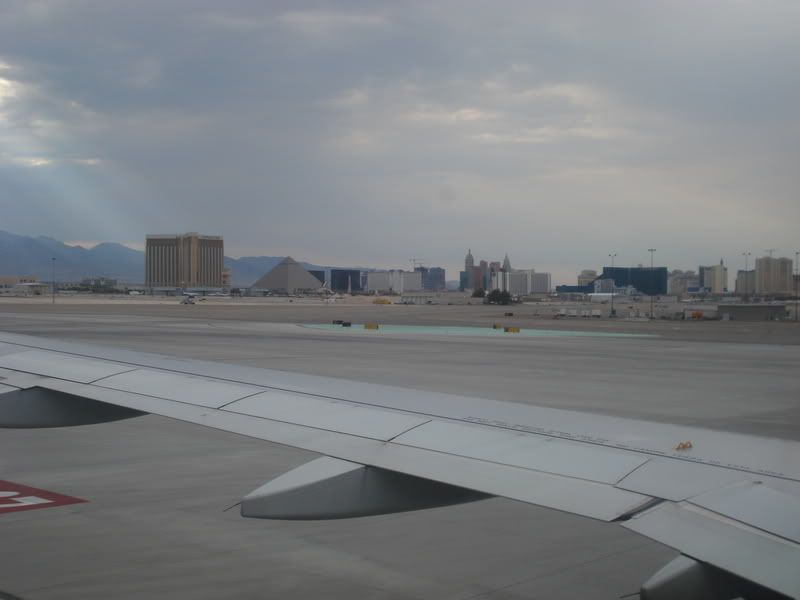 Taxying to the gate.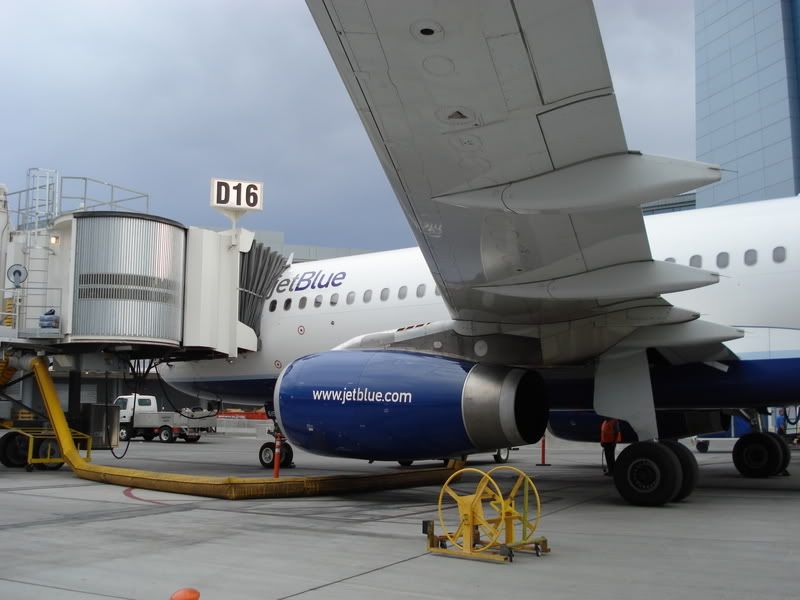 Jetblue uses the rear door in Vegas, so out the back we went. It really gives a good chance to get some pics of the plane, and the ramp. We passed the slot machines in the gate area, and took the train to the main terminal, and into a cab bound for the stratosphere.
Conclusions: I was really impressed with Jetblue. They lived up the reputation they have here on A.net, service was great, FAs were friendly, plane was clean and comfortable, and of course assigned seats and Live TV never hurt. Long Beach airport could use some improvement, it was way to small for the people using it, and security could improve. Are there plans to expand it?? I haven't heard anything. But as far as Jetblue, I hope they come to Canada, but I'll fly them again if the chance comes up. Stay tuned for the return trip report, LAS-LAX on Southwest.
C-GAGN