Feedback always appreciated.
Trip Report: 006
Flight Category: J-ILR (See Report End)
Date: 20-Sep-06
Dep.Arr.Time: 2300/0540+2/18:40hrs (Arrived early by 01:02hrs)
Flight:
SINGAPORE AIRLINES, SQ 21
, 9,535 miles (World's longest)
Routing: EWR-SIN
Aircraft: 345
Seat: Raffles Business Class, 20K
I > Background:
Part of a month long amazing passage to India for a wedding, with some stops in Asia to see friends. Routing was CCS-MIA-EWR-SIN-CGK-SIN-CCU-DEL-CCU-BOM-CCU-IXZ-CCU-IXA-GAU-CCU-SIN-ICN-YYZ-EWR-CCS with a mix of J and Y class of travel. This focuses on the SQ segment from EWR to SIN. Other trip reports for this trip will be SIN-CGK (KI), CGK-SIN (VF), CCU-DEL (SG), DEL-CCU (IC), CCU-BOM (S2), IXZ-CCU (DN), CCU-IXA (CD), IXA-GAU (IT), GAU-CCU (6E), CCU-SIN (SQ/J-Cabin), and ICN-YYZ (AC/J-Cabin). I think these reports will be "firsts" for revenue flights on SG, CD, IT, and 6E and cover IXA, GAU and CCU-IXZ for the first time on Airliners.Net.
II > Pre-Flight:
a) Before Airport:
Booking for the sector was made using my travel agent in CCS. I was frustrated that the agent could not book my seat directly and I had to call SQ a few times before finally being guaranteed my choice of seat. SQ seems to have a very old-fashioned system as passengers in Y-cabin cannot pre-select a seat. Guess traveling in Raffles Business Class has its perks.
b) At Airport:
I had some time in Newark so ended up going back and forth between the terminals using the Air-train (there are some blurry pictures below.) Singapore Airlines (like many other international carriers) uses terminal 2 at EWR. Their check-in counter is in the middle-pier and they have around 6-7 counters … 4-5 of which are carpeted and reserved for Raffles Class passengers. Since the counters next to them were empty, Newark felt emptier than it really was. Moreover, I am not much fan of the American airport designs (SFO, DEN, and even IAD being the exceptions) and found EWR to be quite blah.
Check-in was brisk and the SQ counter agents did not seem very friendly. In fact, my agent had problems changing the UAL mileage number to BD. She had to ask 2 supervisors what to do and did not know that the code was BD … even after I had mentioned it several times over. Throughout it all, she was very robotic and never looked at me to smile or interact or make small talk. Very unlike-SQ. Also, the ground staff looked extremely nervous, and a bunch of them were randomly hanging around … I guess trying to anticipate the need of J passengers but not really knowing what to do with themselves. It was all quite bizarre. Anyways, after initial fumbles, she handed me my boarding pass … and when I was ready to leave … called me back as she had forgotten the SAS lounge invitation card.
Since I had some time, I walked around the relatively empty terminal, and post security made my way to the SAS lounge. The lounge is basic with internet terminals, wi-fi, some cheese/cracker/vegetable spread, and some beer and alcohol help-your-self kinda things. The lounge was small and was crowded despite really catering to only 2 flights … SQ to EWR and AI to BOM via CDG.
Boarding was orderly from the now near-empty terminal and soon I was on board the Airbus A-340/500 enroute to Singapore. Upon entering the plane, I was surprised to find no cabin crew at the door to greet … very odd for J class anywhere … and this was one of SQ's flagship flights. Perhaps it had to due with the 100% load in J? Y+ load was around 75%.
Check-In:
(Newark Terminal 2)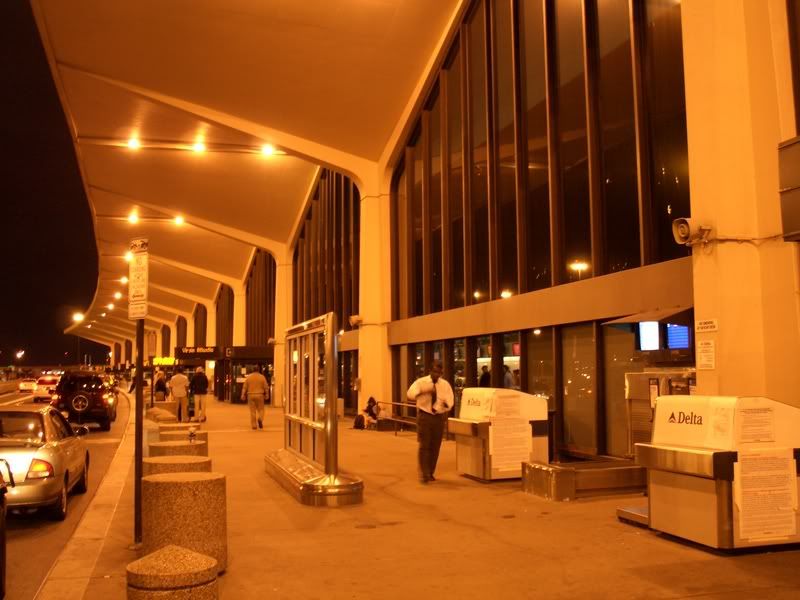 Airport: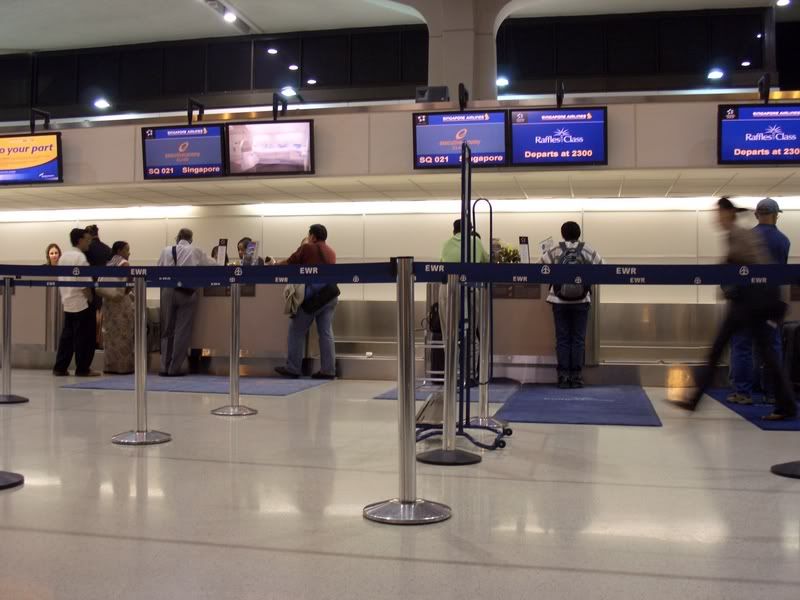 Scenes of the tarmac: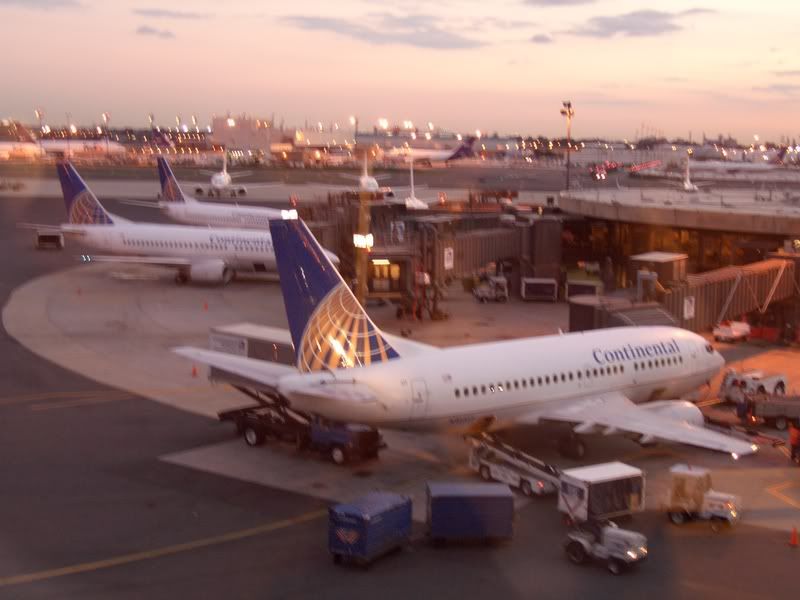 Lounge – SAS/Star Gold:
Boarding: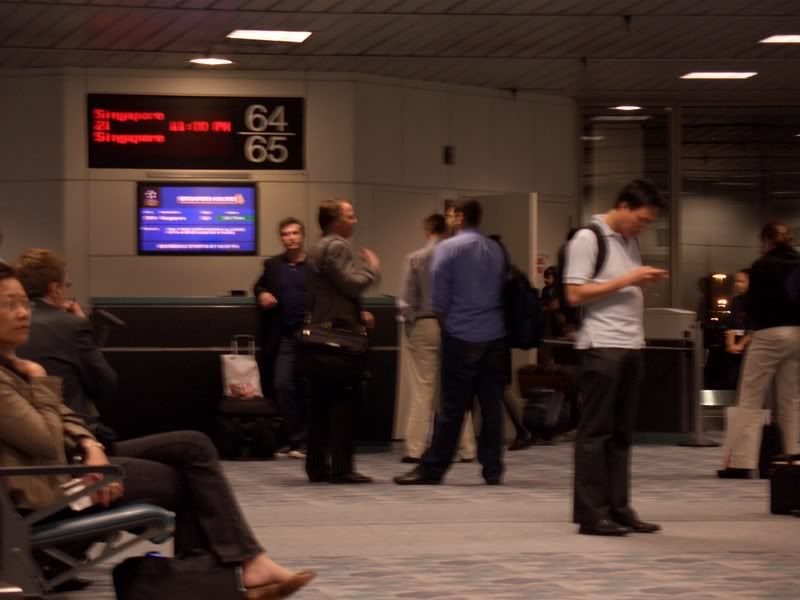 III> In-Flight:
a) Service Schedule + Impressions:
Pre-takeoff included hot towels and a choice of drinks (average champagne, orange water, or water.) Soon after an extremely slow ascent (this is the A345 after all) and upon reaching cruising altitude of 41K, dinner was served. At any time during the flight, there was a snack counter and one could also avail of some light bites between meals. Finally, an hour and half prior to arrival in Singapore, breakfast was served.
SQ's overall Raffles product is definitely showing its age. I was disappointed by the amount of small things that SQ did not have anymore … no in-flight stationary, no amenity kits/except an eye-shade and socks (this is totally unacceptable to me in a premium cabin), and no deck of cards. Moreover, there were many things that the crew had "run out of." This included non-sugar sweeteners and 2 of the types of tea.
b) Aircraft + Seats:
SQ's 345 were immaculately presented and the mood lighting was greatly appreciated. The J class cabin was clean and the seats came with a blanket and pillow. The angled lie-flat beds were not uncomfortable as some believe and I definitely was not slipping off … I even managed to get in a good 8 hours of sleep. The seat pitch was adequate and the various compartments (on the facing seat-back) was neat – this included a coat rack, a shoe holder, and an eye glass holder. Oh, I am a sucker for windowed bathrooms!
Aircraft: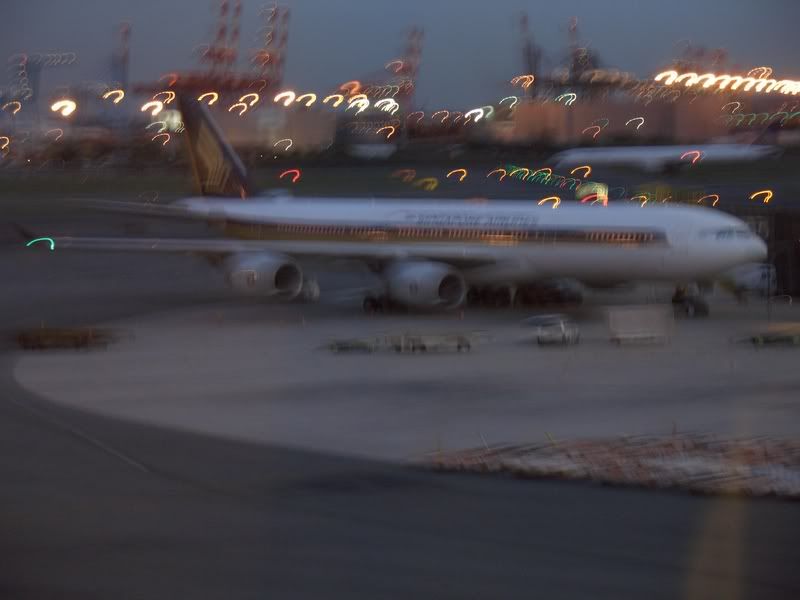 Views from Aircraft:
(Extremely slow take-off of the 345. This was taken 9 minutes post wheels-off)
Seat Leg-Room: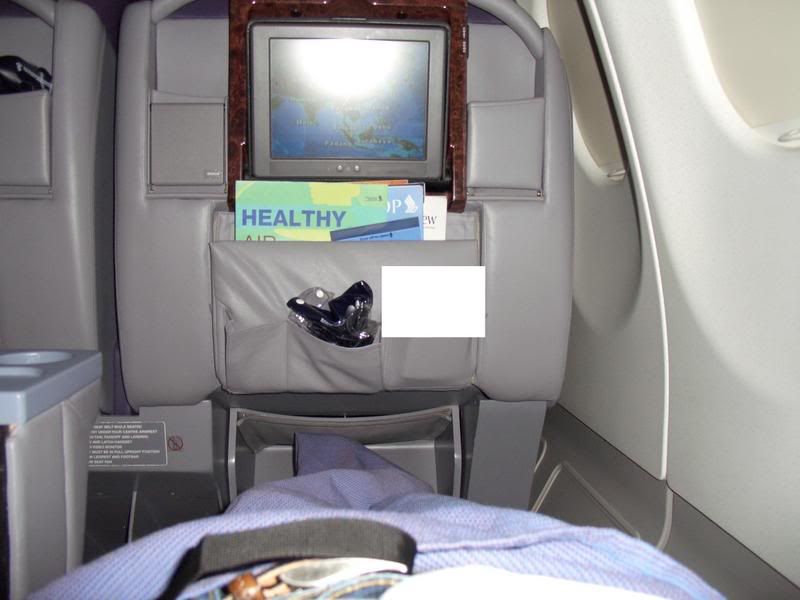 Seat Recline + Angle View:
(The controls are extremely intuitive – and for people like me, just use the one-touch button)
Cabin:
(Inside of the Washroom)
(Aaw…my favorite thing…washrooms with a view)
c) Meal + Beverage:
SQs meal and beverage service included dinner soon after take off, and a breakfast 1:30hrs prior to landing in Singapore. In between, one could go to the snack bar or order from the light-bite menu. Dinner menu read as follows:
TASTY BEGINNINGS: Maine Lobster with olives and mesclun
MAIN EVEN: Roasted baby chicken marinated in balsamic with shallot-caper topping, caponata, and creamy polenta :: Grilled beef fillet :: Braised grouper fillet in XO sauce :: Indian style lamb shank curry
SWEET OVERTUNES: Apple-almond crumble or Strawberry ice-cream
CHEESE CORNERS: Old Chatham Hudson Valley camembert :: Tomme Idyllic Putney Vermont :: Humboldt Fog (all served with dried apricots, grapes, walnuts, and biscuits)
FRESH PICKING: Seasonal fruits
TRANQUIL FINALE: Gourmet coffee (Brazil Santos Bourbon, Colombian Supremo, Kenyan Kilimanjaro) :: Premium tea (Pure Ceylon, Earl Grey, Darjeeling, Japanese Green, Chinese Oolong, Chamomile, Decaf)
Instead of having my main course from cart, I had earlier pre-booked my dinner using SQ's award winning BOOK THE COOK program. Unfortunately, the Grilled shrimps and scallops in tarragon mustard sauce with leeks, carrots, and linguini I had ordered was an absolute disaster. It arrived cold, soggy, and was flavorless! A real disappointment as my prior experiences with this program had been positive.
Besides dinner, the other main meal was breakfast. Again, I was disappointed by my cold dry frittata. Portions were also pretty small. The breakfast menu was as follows:
TANTALZING NOTE: Choice of apple, tomato, or freshly-squeezed orange juice.
TASTY BEGINNINGS: Special "K" cereal with milk and yoghurt.
MAIN EVENT: Beef roasted in herb and salt crust with porcini red wine sauce, spinach, and potatoes :: Braised beef :: Poached eggs :: Baked vegetable frittata
FROM BAKERY: Freshly baked bread
MORNING AROMAS: Gourmet coffee :: Premium tea
In between the 2 meals, one could go for a walk to the snack counter which included fruits, cereal, and cereal bars. One could also go for the "light-bite" menu which included beef bee hoon soup, focaccia sandwich, griddled hotcakes, and cheese omelette.
In terms of beverages, SQ offers a wide variety of specialty cocktails including the Golden Spice, Singapore Sling, Silver Kris Sling, Gin Fizz, and Cloud Nine and regular more common ones. Aperitifs include Campari and Dry Vermouth. Spirits include Cognac XO Otard, Chivas Regal, Johnnie Walker Black, Jack Daniels, Gordon's Dry Gin, Smirnoff, Bacardi Carto Blanca. Liqueurs include Cointreau, Tia Maria, and Baileys. There is also an international selection of beer, red wines (Lockwood Cabernet Sauvignon 2004, Chateau Marquis De Terme 1998), port (Dow 2001 late bottled vintage), white wine (Wente Reserve Riva Ranch Chardonnay 2003 and Rheingau Riesling 2004), and champagne (Piper 1999.) Besides these, there was a variety of non-alcoholic drinks, 5 kinds of fruit juices, soft drinks, and iced drinks (tea, coffee, mocha, chocolate, milo.)
(Immediate post-take off drink, my Silver Kris Sling)
(Lobster Beginnings @ Dinner)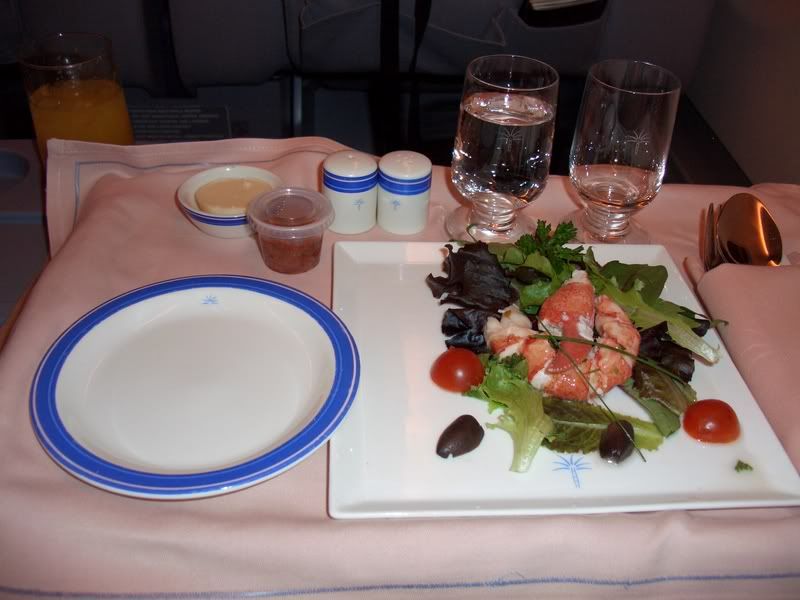 (Not tasty at all – from BOOK THE COOK)
(Dessert)
(Snack Counter)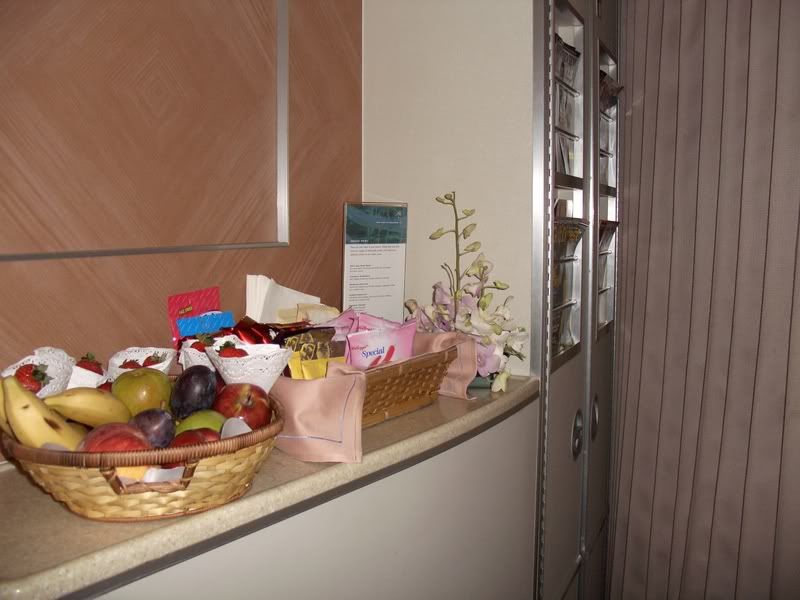 (Midnight Tea; Excellent Collection of Tea)
(Breakfast)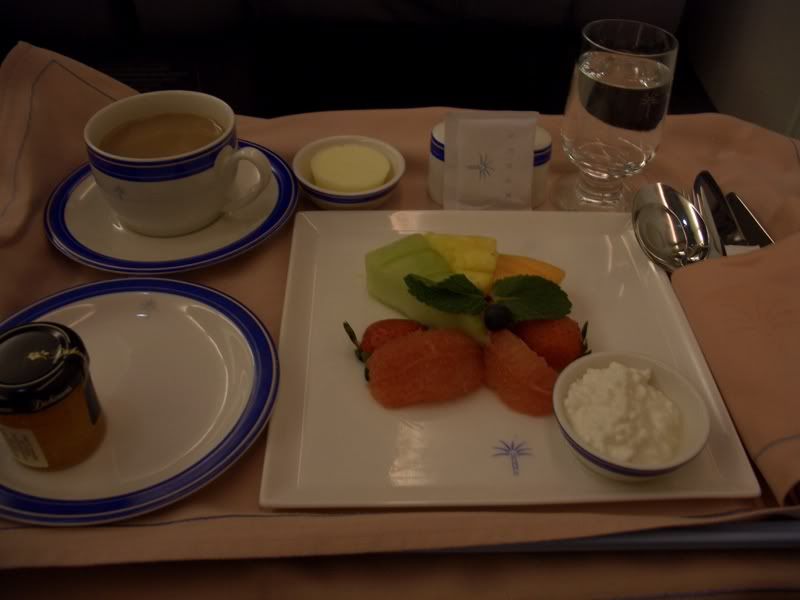 (Not yummy Frittata)
d) Inflight Entertainment:
I simply love SQs on-demand IFE system … 80 movies, 104 tv channels, music, game, live tv … it cant get much better than this. However, the choice of recent Hollywood movies was not as stellar as it has been in the past and I ended up seeing a classic … THE MANCHURIAN CANDIDATE. Helping enhance the IFE experience were the noise-canceling headphones provided on board. The excellent SILVER KRIS magazine helped as well during this long flight. Of course, having internet on board helps and this was surely missed from such a long flight.
(Post Departure)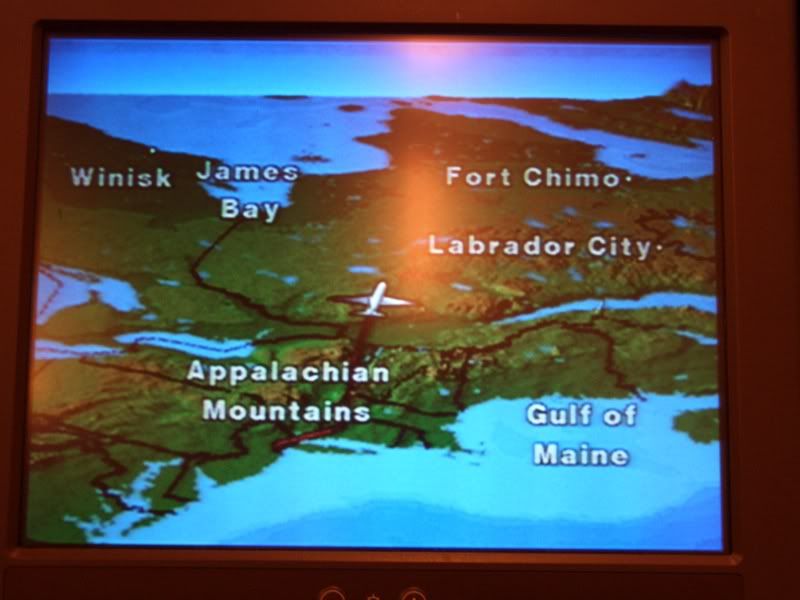 (Journey Ahead)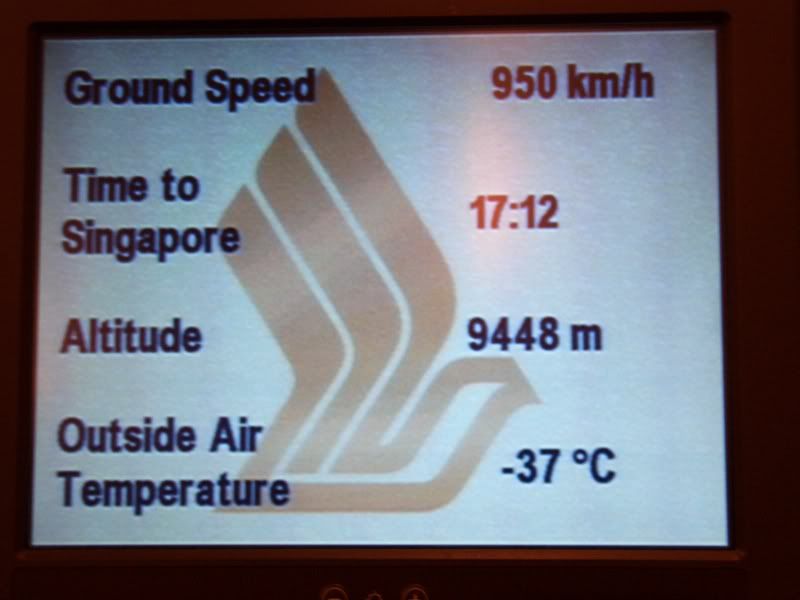 (Kris World Main Menu)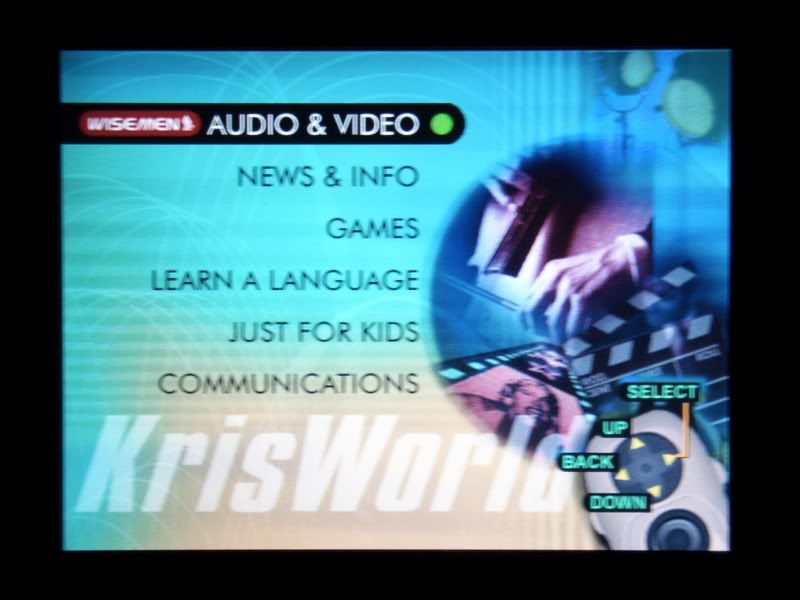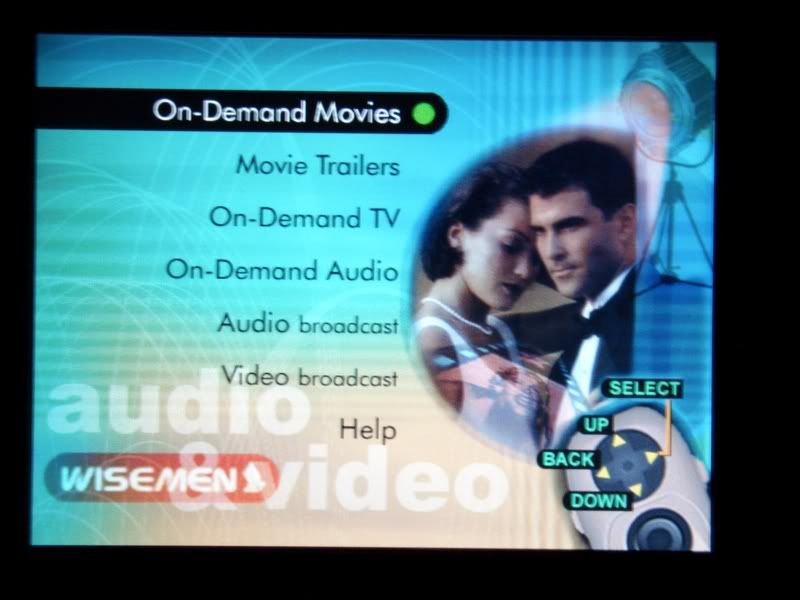 (Amazing array of on-demand movies)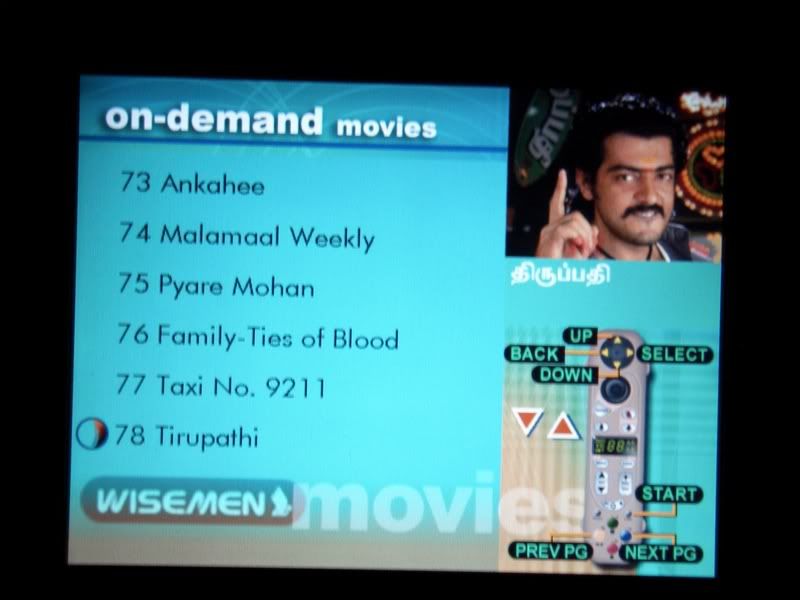 (MANCHURIAN CANDIDATE – one of my favorites of all time)
(The route)
(Silver Kris Magazines; Boarding Pass)
e) Crew:
SQs crew has definitely taken flak of late for being robotic and performing out of obligation. My crew was different. Led by a 28 year old veteran, it showed sparks of the old SQ. I must commend them as they were always perky and ready to help … however, it is evident from this experience (and from several chats with leading SQ FAs in the past) that the service brought by a culture of intimidation and strict quality control can produce roboticness. Warmth is something that has to be felt. However, this was one of the better SQ crews in recent memory.
IV> Post-Flight:
Singapore Changi continues to be one of my favorite airports (along with KLIA and Incheon.) Arrival processing was fast post a quick shower at SQs SILVER KRIS lounge (crowded, but excellent.) Baggage was waiting for me in hold when I got there and soon I took the excellent subway to head to CLARK QUAY for some hanging out with friends.
Singapore Airport: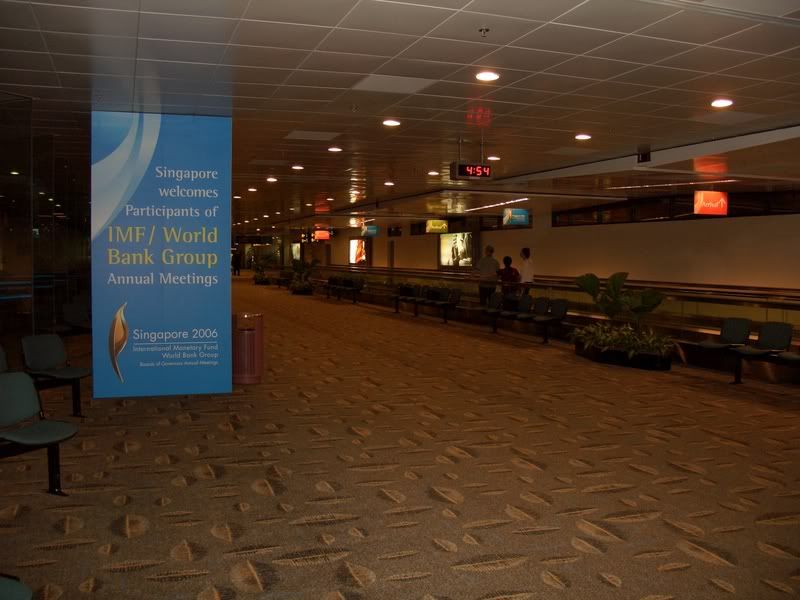 V> Impressions + Scores:
Singapore Airlines remains one of the worlds leading carriers. Unfortunately, it is no longer the benchmark on which other airlines should be judged. Lots of products look tired. While the crew has improved, ground staff and the recent cutbacks in amenities is noticeable. As EK, EY, QR and CX enhances their J product, I do not know how SQ can retain premium traffic by reducing some goodies which most people expect out of Asian carriers. Food standards are also slipping. I know I am being picky about meal service and the like … but those who have flown SQ in the past can notice the difference. Having said all that, I still think SQ is miles ahead of most of its competition and is clearly one of the top 10 in the world. I would jump on the opportunity to fly SQ-J again soon.
Reservation: 7.0
Check-In: 7.0
Lounge: 7.0 (SAS @ EWR)
Boarding: 7.0
Seat: 9.0
Aircraft Overall Ambience: 9.0
IFE: 9.0
Crew Service: 8.5
Food: 6.0
Beverages: 9.0
Amenity Kits + Others Freebies: 6.0
Disembarkation: 7.0
On-Time Record: 10.0
OVERALL IMPRESSION: 7.81
(Scores are based on comparison with other airlines in THAT class of service – No comparison of Y vs. F for example)
VI> Other Trip Reports:
1/
Avianca: BOG-LIM: 07/06/06: 7.09pts: Y-IMR
2/
Air Tran: EWR-MDW: 08/02/06: 6.73pts: Y-DMR
3/
West Jet: YYC-YVR: 09/05/06: 7.14pts: Y-DLR
4/
Air Canada: YYZ-YVR: 09/02/06: 5.92pts: Y-DLR
(Note on Codes: Y – Economy, J – Business, F – First :: I/D – International/Domestic :: SR/MR/LR – Short/Medium/Long Haul :: I have designed these codes so people don't believe my scores are comparing apples and oranges)
VII> Other Pictures:
(Raffles Class Comfort Pack – pretty dismal)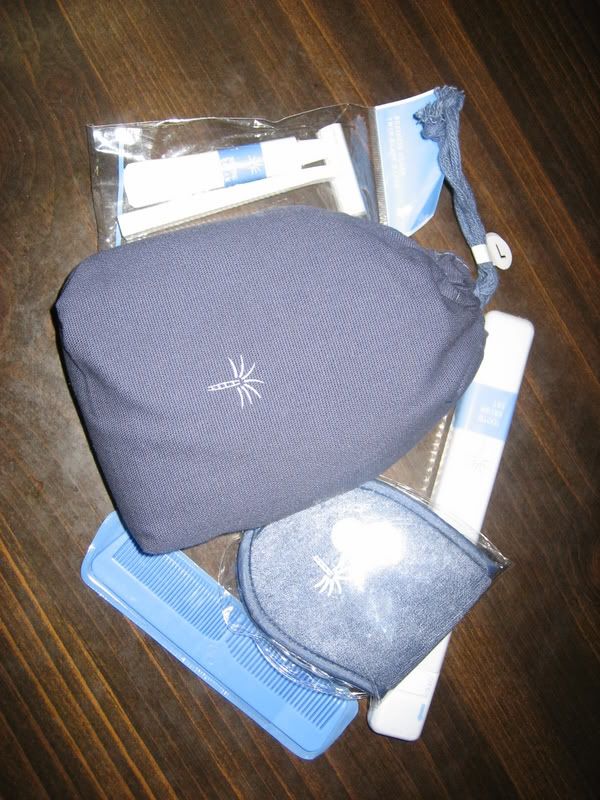 (Silver Kris Raffles Class Lounge, Singapore)
(Silver Kris Raffles Class Lounge, Singapore)
(Shower Room)