Hey all,
Welcome to the 4th and final installment of my Trip to Norway. Here are the links to the other reports…
Part 1:
Trip To Norway: SEA-ORD-EWR-OSL With Tons Of Pics!
(by
Thepilot
Sep 29 2006 in Trip Reports)
Part 2:
Norway Pt. 2: BGO-TRD-BOO-OSL-HEL, Pictures
(by
Thepilot
Oct 5 2006 in Trip Reports)
Part 3:
Trip To Norway Pt. 3: HEL-OSL-EWR With Pictures!
(by
Thepilot
Oct 11 2006 in Trip Reports)
Blog:
http://scanditrip.blogspot.com/
And, just because there aren't enough links in this report already, here is the link to the nonav thread I started…
I Am Going To Norway On 9/28!
(by
Thepilot
Sep 22 2006 in Non Aviation)
Ok, enough attention whoring, onto the report!
Thursday October 12, 2006
Continental Airlines Flight 1581 (Boeing 737-800 (Winglets!)) (N33209)
Depart: Newark Liberty International Airport, 9:30am (Gate C126) (Runway 22R)
Arrive: Seattle International Airport, 12:30pm (Gate B7) (Runway 16C)
Seat: 12F (Exit Row!) Load Factor: 100% Cruising Altitude: FL340
Wheels Up: 10:00am Wheels Down: 12:18pm
View Large
View Medium


Photo © Carlos Aleman - SJU Aviation Photography
I had a pretty good time in NYC with my dad, and we were sad to have to return home to Seattle. We went to the J &R Electronics store, and I got the new Flight Simulator X strategy guide! Who hoo! On Wednesday, my dad and I decided to visit the Metropolitan Museum of Art. Man, St. Maarten, who cares? French impressionism is the biggest thrill known to man (please, please, note the sarcasm).
After the MET, we decided to take a little walk around the Upper East Side. I am sure we are all aware of the tragic plane crash in NYC on this same day that killed NY Yankee pitcher Cory Lidle and his CFI. My dad and I walked along the East River, and turned on 72nd Street to walk back to the Subway on Lexington and 77th (I think), taking us right past the Belare Apartments at around 1:30pm, about an hour before the tragedy. We were walking to the Subway to take it to Queens, in order to do some spotting at LGA. We got off the Subway and walked to LGA. We stopped at a little convenience store at around 2:40 (I know, this sounds like an investigation into a murder case), and a plane to LGA flew over. When we left, we did not see another plane for around 25-30 minutes, which is unheard of for LGA. We thought they were just changing the runways, or Ops were working, we had no idea that a plane crash had happened. The planes began coming over again, and didn't think much about it, not knowing of the crash at that time.
My dad was joking that only old people or deaf people would live near LGA. I laughed, but sure enough, on our walk, we passed a cemetery, two or three retirement homes, and a sign that says "Center for the Deaf" with an arrow pointing right under the approach path for runway 4. My dad and I laughed our asses off, and he managed to get this great picture, with, most appropriately, an American MD80 flying over. Those Mad Dogs are loud!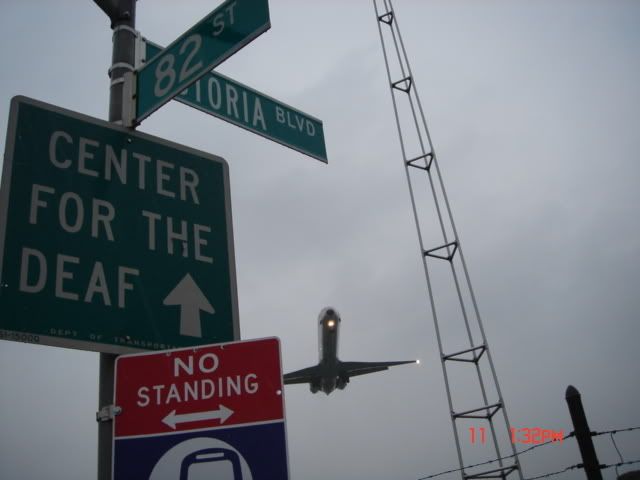 As you can see, our spotting point was at 82nd and Astoria. Absolutely great spotting!
Onto the flight. I got very, very sick the night before our flight, and could not sleep at all. Anyone who has ever flown transcon knows that is a recipe for disaster! We took a limo that my dad's speech people had provided us, with a very cheery Ukrainian with ambitions to be a rock star. Interesting ride, especially since I was on the brink of throwing up. We arrived at Terminal C, and took door 6 for the continental.com bag check. This was very easy, and there was a bathroom right next to it, which I spent the next ½ hour in. After that horrid ordeal, we breezed through security, I got the metal detector again, and we walked slowly towards C126.
C126 is a great place for spotting, but unfortunately, I was back and forth between the bathroom and the gate, not even having time to chat with the two gorgeous flight attendants who started talking to me, seeing my "First Solo" T-Shirt. Too bad. My dad was very disappointed in me. We boarded the plane very early, approximately 40 minutes before push back, and we settled into the exit row, kicking out the guy who tried to upgrade himself into my seat. I felt very sick, had "The Final Countdown" and "Ironman" stuck in my head, and I tried to sleep. We pushed back a few minutes later, and got in line for departure. We were probably about number 19, and I fell asleep.
I awoke again right before takeoff (I believe we had just got position and hold clearance). We had a very powerful takeoff, and climbed into the clouds in a matter of seconds (the ceiling was very, very low), towards SEA. I collected many airsick bags around me, and had a Coke, which, of all things, helped my stomach substantially. Not being able to sleep, I decided to watch "Click," which was way too long, in my opinion. Then, I spent the next two hours trying to sleep, and didn't have the strength to eat what looked like a good breakfast of a personal pizza and a muffin with orange juice and coffee.
With about 45 minutes to go, I think, my stomach miraculously began to feel better. I was able to look out the window at the Rockies, or something, and we began our descent at what seemed a late time. Most of our flight was spent over Canada, and I went on flight aware and found this picture of our flight route. Is this normal?
I got a great view of North Seattle, my school, PAE, Harvey Field, Monroe, WA, and downtown. I did not hear our landing gear drop, but I was not worried, seeing the redundancies of the landing gear system in just a single engine prop. I also got a nice view of the new 3rd SEA runway, which seems to be coming along nicely. I had forgotten that the former 16R was now changed to runway 16C. Pretty cool! We taxied to the gate, and we met my mom, my brother, and my black lab, Ebony. It was nice to be home, especially because my stomach started feeling better. However, I got a migraine, which absolutely sucks to have.
Well, that concludes the 4th and final part of my trip to Norway trip reports. I hope you have enjoyed these, and I am very sorry that I was not able to take lots of pictures for my report here. If you have any questions, please let me know. I have no idea when my next trip will be, and I'm sure you don't want to hear about my little BFI-YYJ trips. Once again, thanks for reading!
Will
[Edited 2006-10-16 21:35:07]