Work found me making a few trips to the Bay Area to support a client of ours down in the Santa Cruz area. Of course being from Atlanta and having Gold Medallion (soon to be Platinum) status with Delta it made good sense to continue using the hometown airline for the non-stops across the country. Planes on these trips included the 767-300, 767-400, an older style 757, the new transcon 757, and an American Eagle ERJ-140.
Hope you all find this report semi-informative. Be on the lookout for my report probably the week of Thanksgiving on my Delta trip to Manchester in Business Elite. I apologize in advance for some of the crappy picture quality since I took most of the pics from my RAZR phone. I forgot my camera in my bag the first couple of trips and didn't have it handy until the last trip. I'll do better next time.
10/3/2006
DL 578
Lv ATL 1755
Ar SFO 2001
Plane: 757-232
Registration: N623DL (Ron Allen colors)
After coming back from Singapore on the 18.5 hour flight you think I could do this silly little transcon flight with no issue. I just find this flight to be too short, and at the wrong time, to get some sleep, and just long enough to get annoying and run out of things to do. This was my first trip after the rules were relaxed to allow us to take small amounts of liquid on board and what a fiasco it was. I had caught a cold or ear infection in Australia so I had a nice bottle of cough syrup with me. Somewhere along the line I missed the part about having to declare any medicine over 3 ounces. I made it through the metal detector and was told I had to "declare" the medicine. I asked them who to declare it to since I had no idea what the guy was talking about. He asked me if someone had stopped me before entering the line to look at my stuff. I said I saw some TSA guy at the start if the Medallion line and he was yammering on with some other TSA guy and never said a thing. I just figured since he had a Ziploc bag sitting on his table that I was to stop there if I needed a bag.
Apparently not since they kicked me out of security and made me go back to find this guy. He asked what I wanted rather rudely and I stated that I had been sent back since he had not stopped me to ask if I had any large bottles of medicine. He marked something on my ticket and sent me on my way. I picked a different line this time and they never looked at my Ziploc bag nor the writing on the back of my ticket. I sure am glad TSA is there for us since I feel so much safer with them scribbling on my ticket. Somewhere Osama Bin Laden is laughing his ass off in a cave watching us on CNN and FoxNews dragging through the security lines. Ok, end of rant.
After the secondary trip through security I didn't have a lot of time to make my flight. Luckily we were leaving out of the A concourse and I got there quickly. I couldn't get a shot of our plane other than the nose so I didn't bother. Needless to say we were in one of the few remaining Ron Allen colored jets still floating around the fleet. What amused me was the interior was new which must take a few days to do so why not paint it then as well? Boarding was quick for me since I was sitting up front and was in Zone 1. Everyone else seemed to board rather quickly as we departed the gate on time and maybe even a little bit early.
About 38-40" of pitch on the 757.
Another older livery 757 sitting next to us.
The breast cancer plane. A good cause but it really is quite ugly.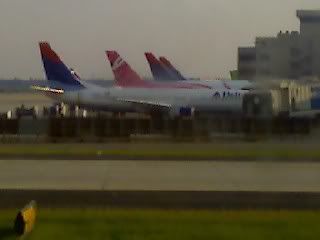 One of the 767-300ERs taxing for takeoff to a far off exotic locale.
Ah yes, the 8R construction has resulted in longer taxi times. Oh joy! It wasn't as bad as I have heard it could be. Maybe a 20 wait once we were in the line.
Ongoing construction of the 8R runway. 8L gets this treatment next IIRC.
More construction on 8R.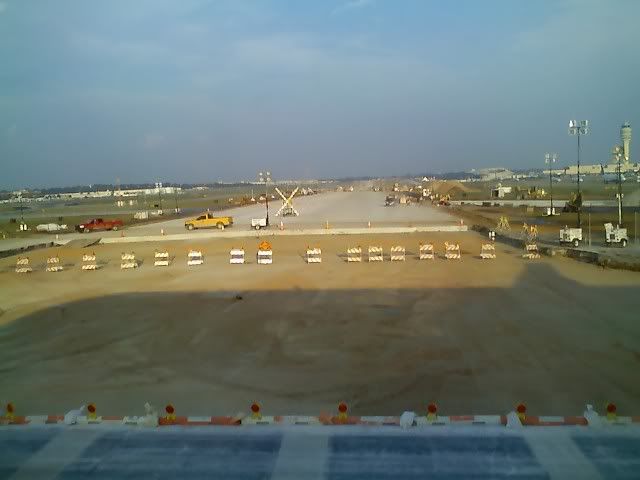 Even more construction on 8R.
A view of Delta Technical Operations during the takeoff roll.
Final shot of the 8R construction as we lifted off.
Dinner tonight was pretty good for airline food. Grilled chicken on top of mushroom ravioli with a nice mushroom sauce, salad, roll, and a brownie/cheesequake concoction.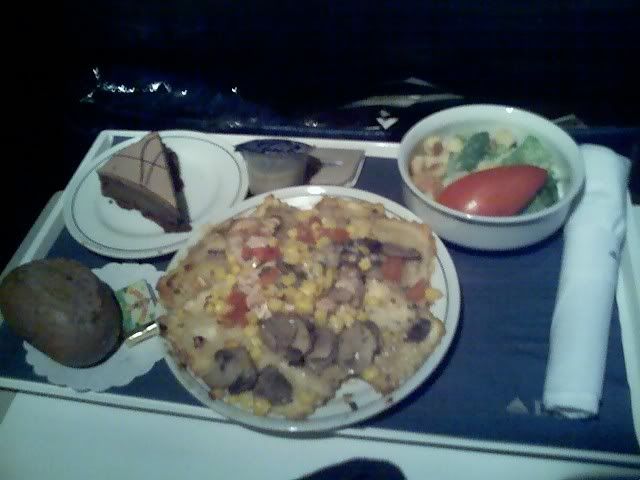 The rest of the flight was uneventful. The movie tonight was "The Breakup" which was pretty funny and then had a horrible ending that was so damn lame. I hunkered down and listened to my iPod for the rest of the trip. One thing of note was the guy next to me. Now I'm no tiny guy but when I move around in my seat the chair doesn't creak, moan, and shake like it is getting ready to get ripped out of the anchors in the floor. He also kept drinking the entire flight and went through at least 8 Scotch and waters. The annoying thing he did was ring the stewardess call button and then immediately press it again to turn it off so they had to come back and ask around who had pressed it. Once he grabbed the skirt of the stewardess as she walked up the aisle. Just generally an obnoxious passenger.
Arrival into SFO was just a few minutes late and I was off the plane and on the way to the rental car facility very quickly. From the time I got off the plane to the time I was driving away was under 45 minutes. Not too bad in my opinion.
I had to take the redeye home on Thursday since we would be leaving in the morning to drive down to Pensacola to visit the out-laws (whoops, meant in-laws.) The 10:30 PM flight out of SFO was completely sold out so I ended up flying out of San Jose to LAX and then home to ATL. I almost didn't make the flight since I called to see if the SFO flight was open and was told I had no flights scheduled for Thursday night but instead they were on Friday night. Luckily I was able to change the date and get out of town on that Thursday night.
10/5/2006
AE 3113/DL 5788
Lv SJC 2115
Ar LAX 2225
Plane: ERJ-140LR
Registration: N815AE
Check-in was quick and easy at the American counter. I made sure not to check any bags since they always lose mine. The check-in area was a bit quiet but then all of a sudden there was a bum rush by a herd of Southwest passengers running to make their flight. I didn't realize it until I got to the security line which is all of 10 feet from the AA counter but I got the dreaded SSSS on my ticket. Ah yes, the body cavity search before a redeye flight. What fun! I'm guessing I got it since I changed my flight at the last minute and never fly American.
Check-in area of Terminal A looking towards the WN counter.
Good old fashioned crowding around the WN gates waiting for the cattle call. I really do believe flying them would cost me some sanity having to deal with these folks. Welcome to the new age Greyhound bus station!
It seems the SJC terminal hasn't been updated since they built it way back when. Kind of disappointing for such a high tech and high price area. Come on, slap on some new paint that doesn't say 1984. Mmmmm.....mauve. What a wonderfully dull color.
Inside the cabin on the ERJ-140. Not too bad sitting on the single side of the aircraft.
While waiting to take the bus over to the Delta terminal at LAX I snapped a picture of a Saab 340 sitting there.
The bus service was a bit screwy as the posted signs directing you down certain lanes meant nothing and folks were getting redirected to other lines. Once we were on the bus though everything was quick and we made a stop at the main AA terminal and got to drive under a few QF 747s and other large planes. After that stop it was off to the Delta terminal where I made a quick trip to the Crown Room to use the head and relax for a few minutes (not at the same time!)
10/5/2006
DL 957
Lv LAX 2330
Ar ATL 0632 (next day)
Plane: 767-332
Registration: N126DL (Ron Allen colors)
Even though I was sitting in First I was not looking forward to this flight since it was a redeye and completely full. I made sure to get right up to the boarding area so I could get on first and get situated in my seat. I don't have any pics of this flight as it was dark and I went to sleep as soon as possible. I left my eyeshades at home this week by mistake so I took the blanket and threw it over my head which I'm sure looked funny (well, no more than usual) but did the job. We departed on time and made good time to ATL. Unfortunately we landed on the new southern runway so we had the taxi from Hell back to the gate. Once at the gate though I easily made it out to taxi queue and got a ride home only to get right back in the car within 2 hours.
Well the weekend was over and it was time to get the heck away from the out-laws (whoops, I said it again.) My wife dropped me off at the Pensacola airport and I was able to catch the flight an hour or so before my scheduled flight. Since my flight to SFO was on a different PNR they couldn't seem to do anything with it right then so I called once I got past security. The gate agent couldn't do anything with the flight but when I called I was put on the earlier flight to SFO with no issue.
10/8/2006
DL 498
Lv PNS 1120
Ar ATL 1329
Plane: MD-88
Registration: N975DL
Looking towards the PNS terminal.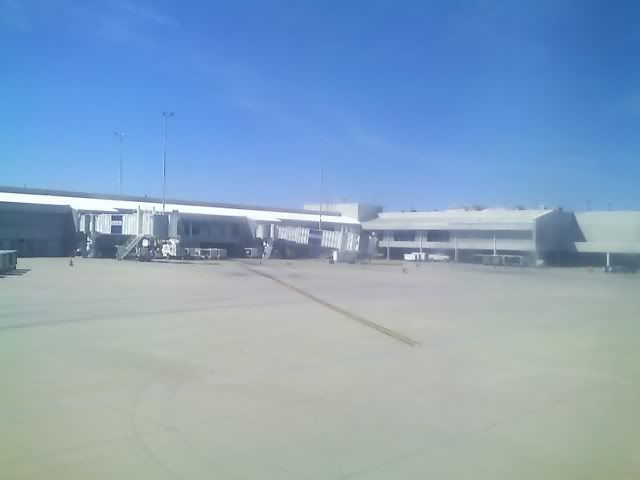 An AirTran plane ready to go back to ATL.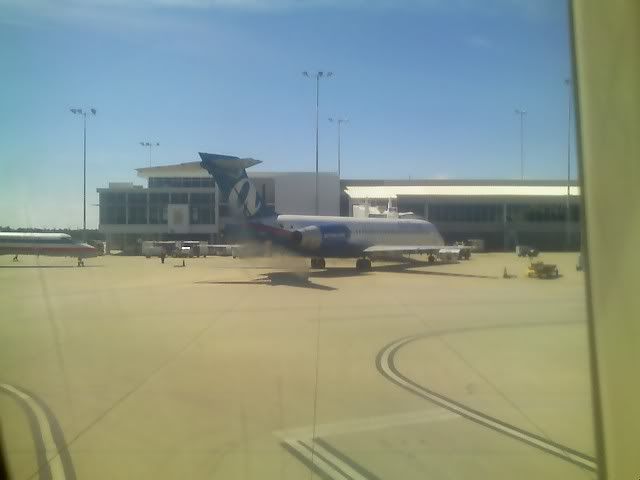 Working on one of the runways in Pensacola.
Flying over Pensacola Bay.
Eglin AFB on the east side of the bay.
Santa Rosa Nolf on the north side of the bay.
Andalusia-Opp airport in Alabama.
Troy Airport in Alabama.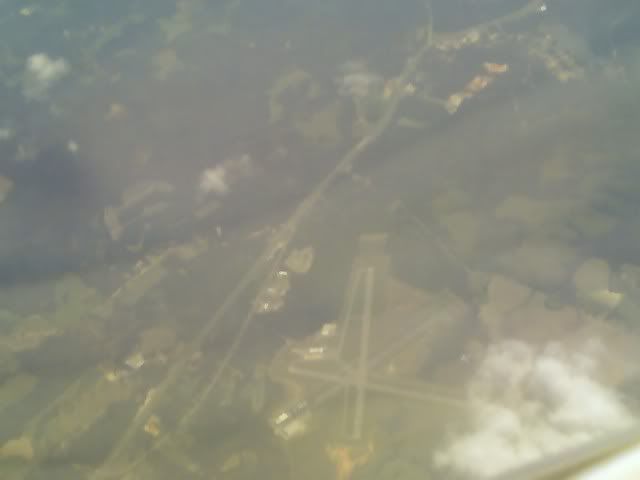 Not a great picture but this one is of the bridge over I-285 that the southern runway is on.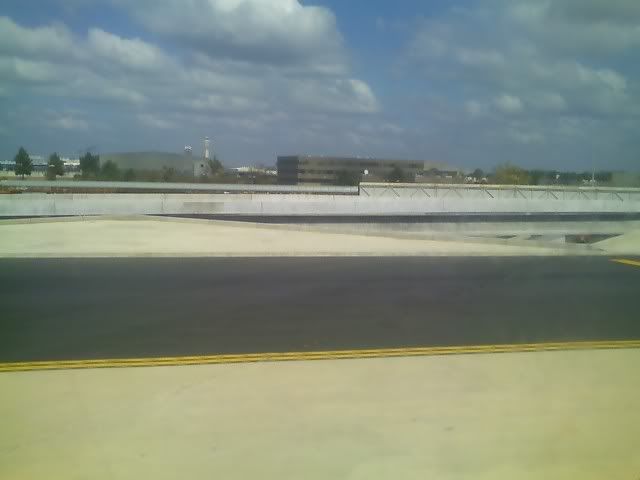 The abandoned NW hangar on the south side of the field.
The KAL 747 on the way to Seoul with the new tower in the background.
A better shot of the new tower.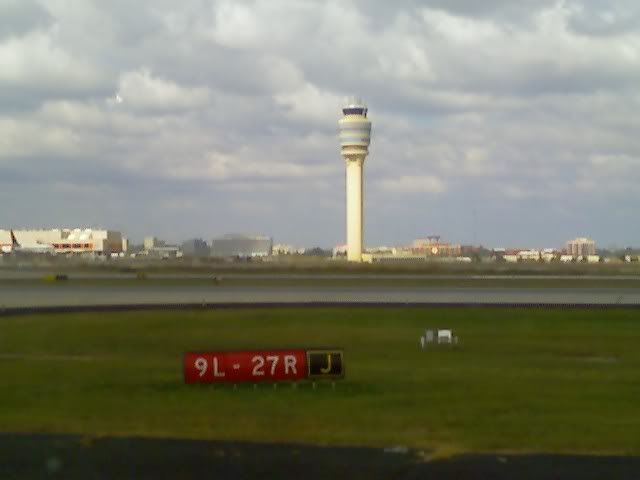 Delta Technical Operations from a different angle.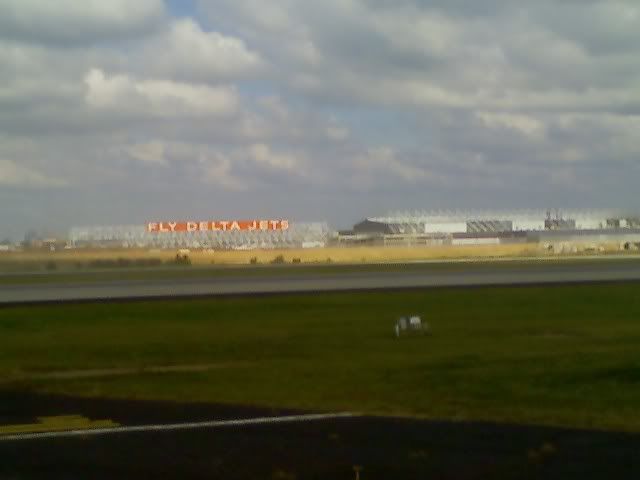 Another AirTran plane sitting at the gate.
We were late leaving PNS and got stuck landing on that damn southern runway again thus facing the looooonnnnnnnggggggg taxi to the gate. I wouldn't have been so bothered but for the rare time I was connecting in ATL instead of coming home with no need to run. I went straight from the first flight to the next gate with no time to enjoy a drink in the Crown Room. My original seat was 4F but I was able to snag 7F which is used sometimes as the pilot rest seats. The joy of this seat is that it has a huge amount of legroom somewhere in the neighborhood of 50-55" on the BizElite planes. The other good thing is that 7E and 7F can recline almost completely flat if you know to pull the little switch inside of the tray table holder in the armrest. As with the previous week getting to the rental car facility was quick and easy and it was nice to do it in the daylight instead of the darkness of night as usual.
10/8/2006
DL 629
Lv ATL 1455
Ar SFO 1650
Plane: 767-432ER
Registration: N844MH
The First Class cabin on the 764.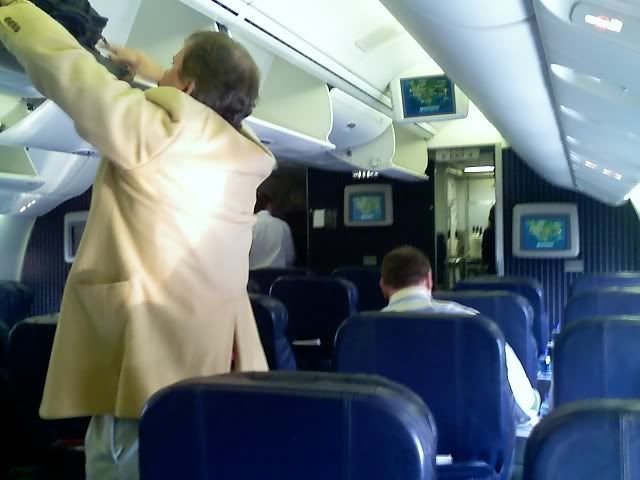 The 777 style fancy bins with tons of storage.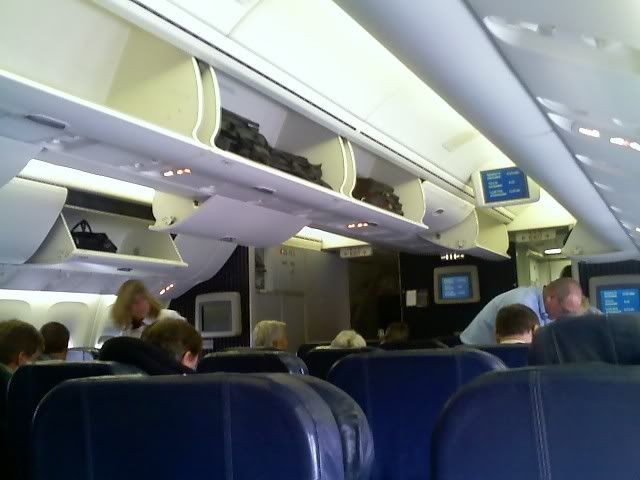 Not so much legroom in the other rows.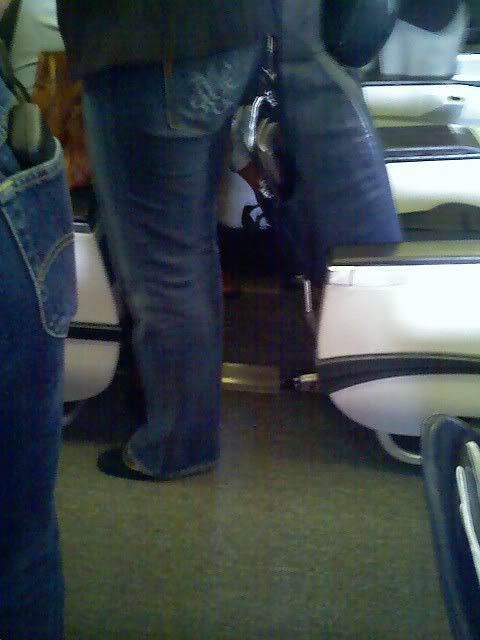 But plenty of legroom in my row!
Come on Delta! Paint those planes. It's been almost 7 years since you brought out the Wavy Gravy.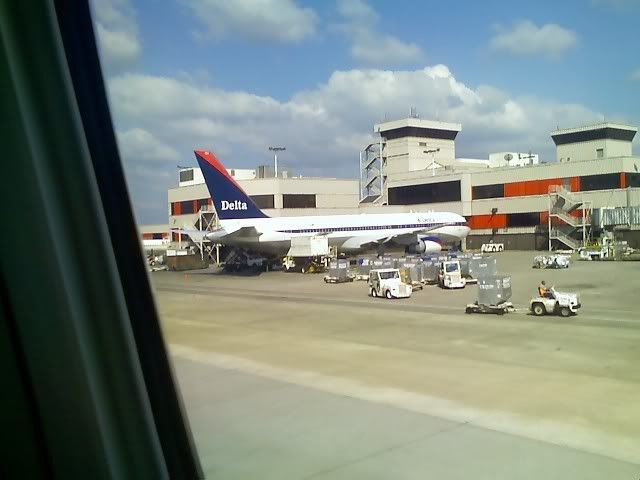 Another shot of construction on 8R.
Good old heavy industry and trucking in SE Atlanta.
Oh look, it's the same meal as last week! Still delicious though.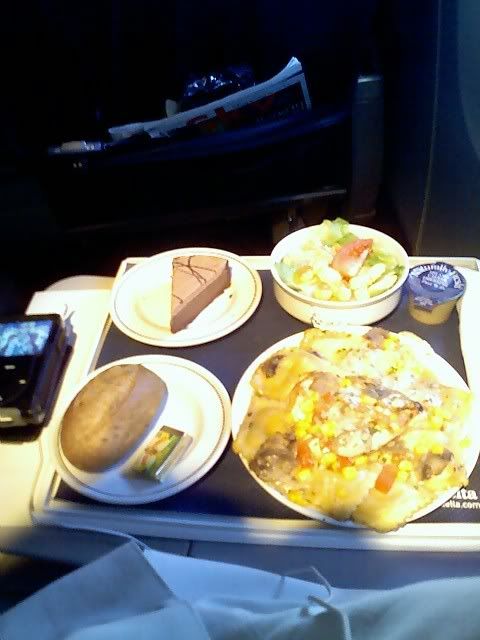 Overflying Memphis and the Mississippi River.
Not a great picture but who decided Lemongrass and Wasabi make a pleasant soap smell?
Normal recline in the seat.
And now way the heck back by pulling the second switch. The seat next to me also reclines like mine but he only took it back to the normal recline which is what you see him doing in this picture. I think the folks back in Steerage were jealous a bit when they saw me flat on my back. The only thing missing is a leg rest to lift up your legs.
Somewhere over Nevada.
Mono Lake just inside California.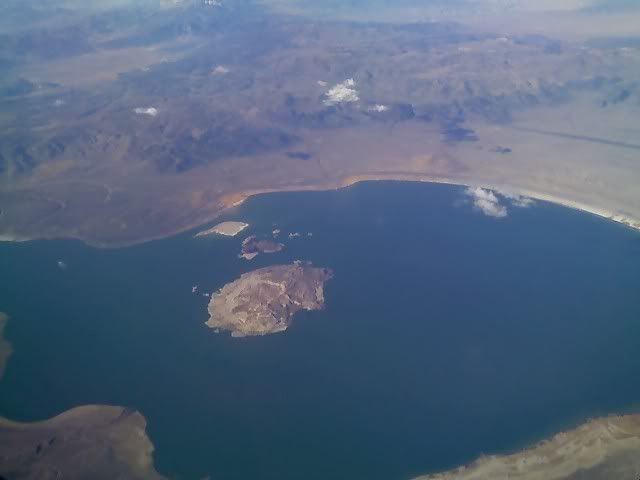 Yosemite Valley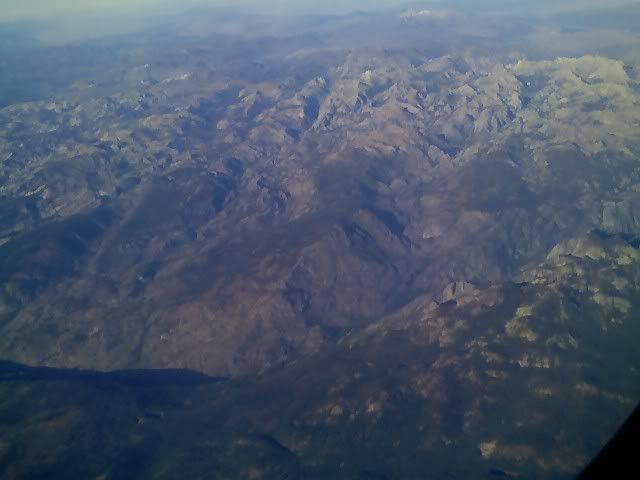 More Yosemite National Park.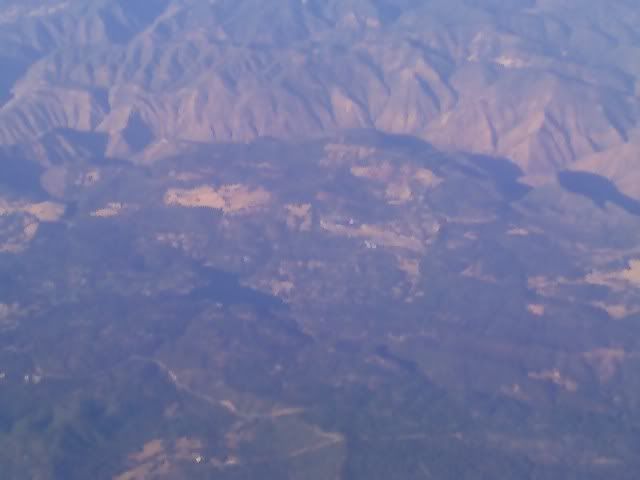 The Hetch Hetchy Reservoir close to Yosemite.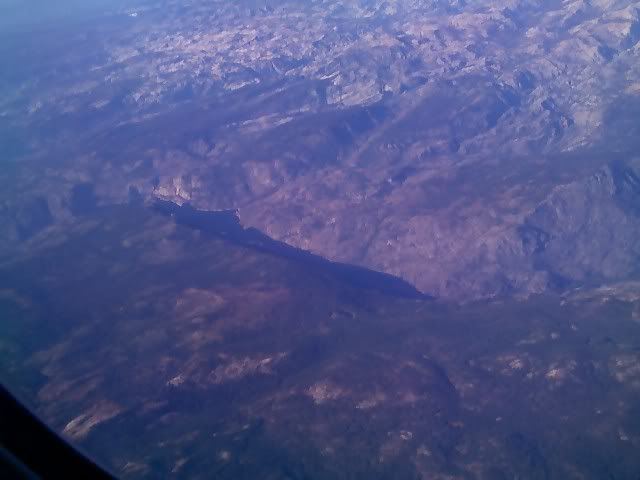 Mount Diablo off in the distance north of Oakland.
The San Mateo Bridge.
A view of downtown San Francisco while on final approach.
British Airways arriving from Heathrow.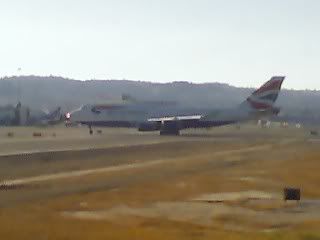 Walking through the parking garage to get to the train to the rental cars. What wonderful 70s neon!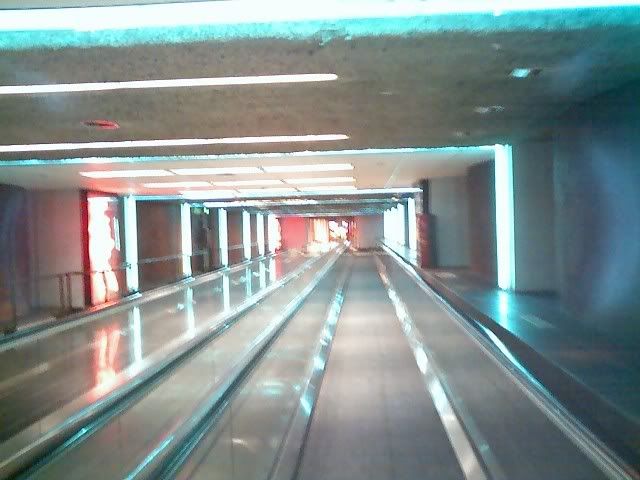 Way off in the distance you might be able to make out a Virgin America plane just hanging out.
United, EVA, and New Zealand waiting at the International Terminal.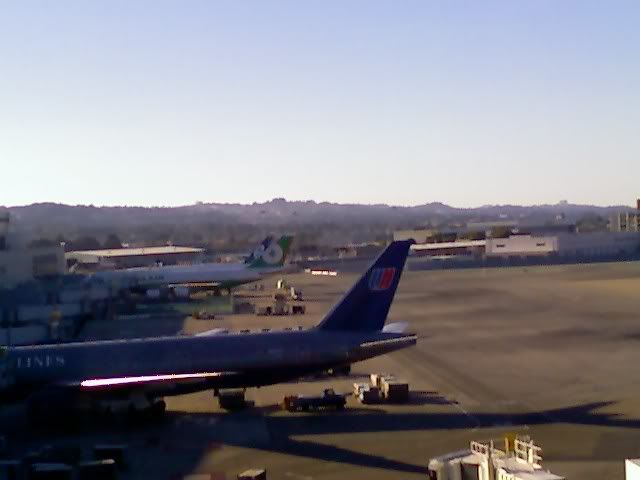 A UA 777 at the International Terminal.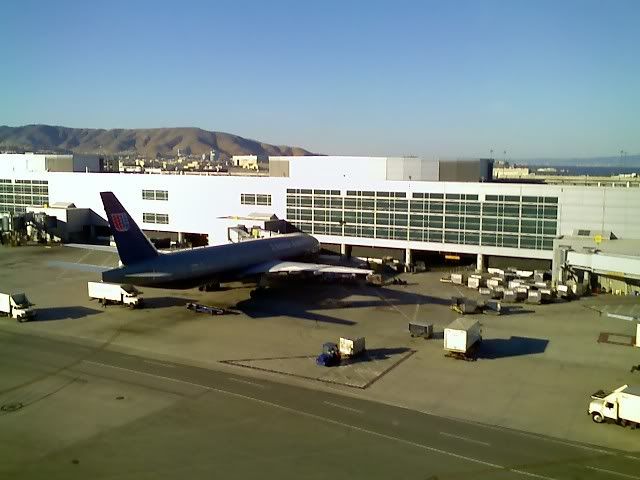 A Kalita cargo 747 waiting at a remote area.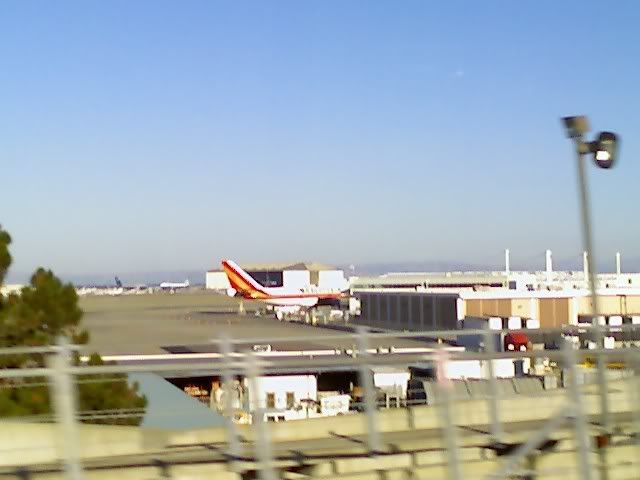 10/13/2006
DL 1648
Lv SFO 1335
Ar ATL 2109
Plane: 757-232
Registration: N6705Y
It appeared today's flight was going to be full so I gathered up my stuff from the Crown Room and made my way through security and to the gate. The flight was late getting in from Atlanta but they turned it around very quickly. Boarding was fast though the Steerage cabin took their sweet time thus delaying us another 10 minutes or so. We were finally under way and not too long after takeoff the PTVs kicked in. I wandered through the menus and watched some various live TV and then settled on the movie Cars. Lunch/Dinner was served and you guessed it...chicken with mushroom ravioli again. This time they left the sauce off so it wasn't as good. I've spared you of another picture of it. I fiddled with the PTV some more and then not seeing anything that held my interest I pulled out my iPod and listened to some podcasts I had saved up. I slept for a while and soon enough we were descending over Alabama and landed just a few minutes later.
The ANA 777 waiting to go to Japan.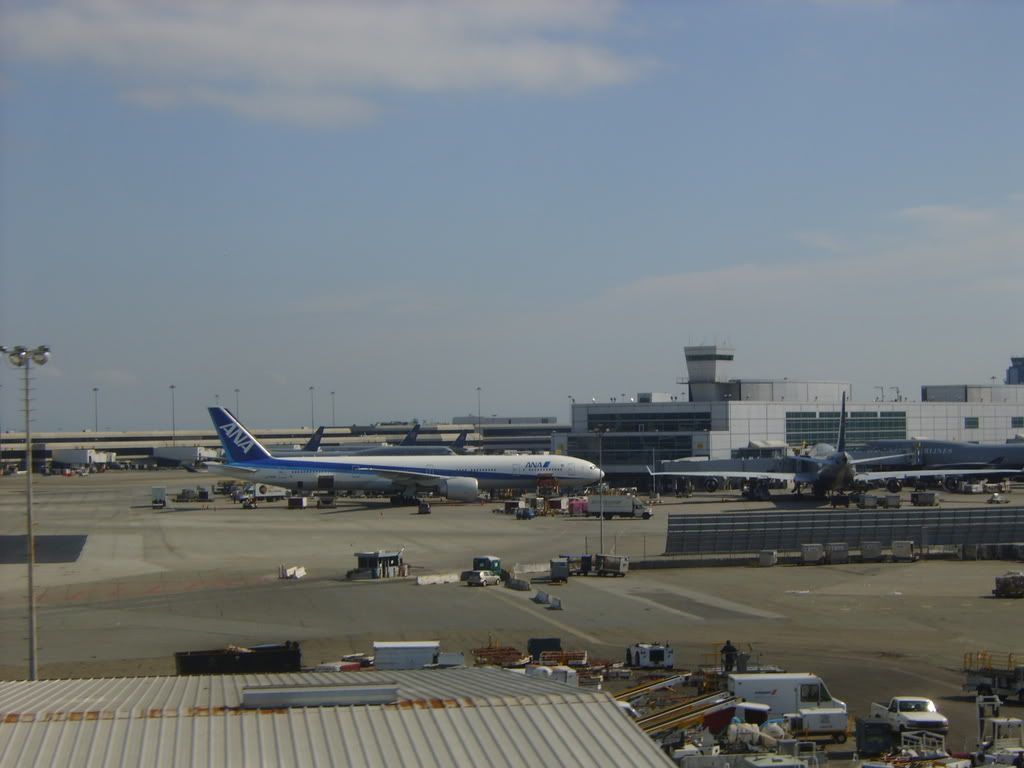 An SQ 777 just arriving.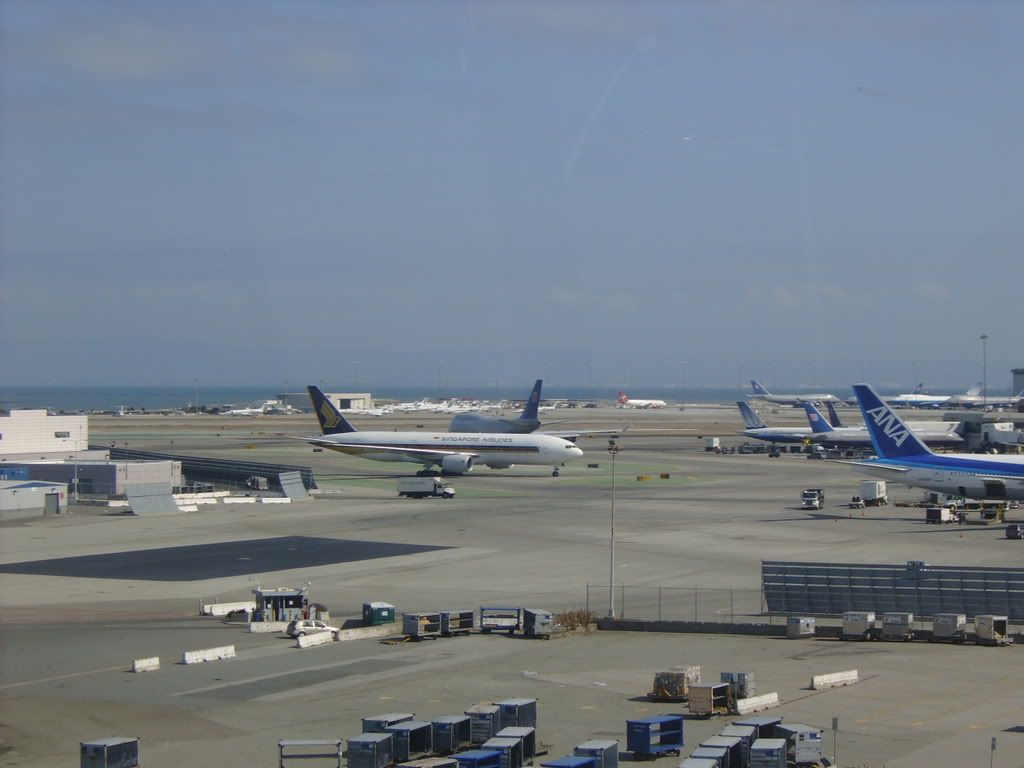 A bunch of UAL birds lined up for their flights this evening.
Asiana (HL3799) and QANTAS (VH-OEF) waiting for departure.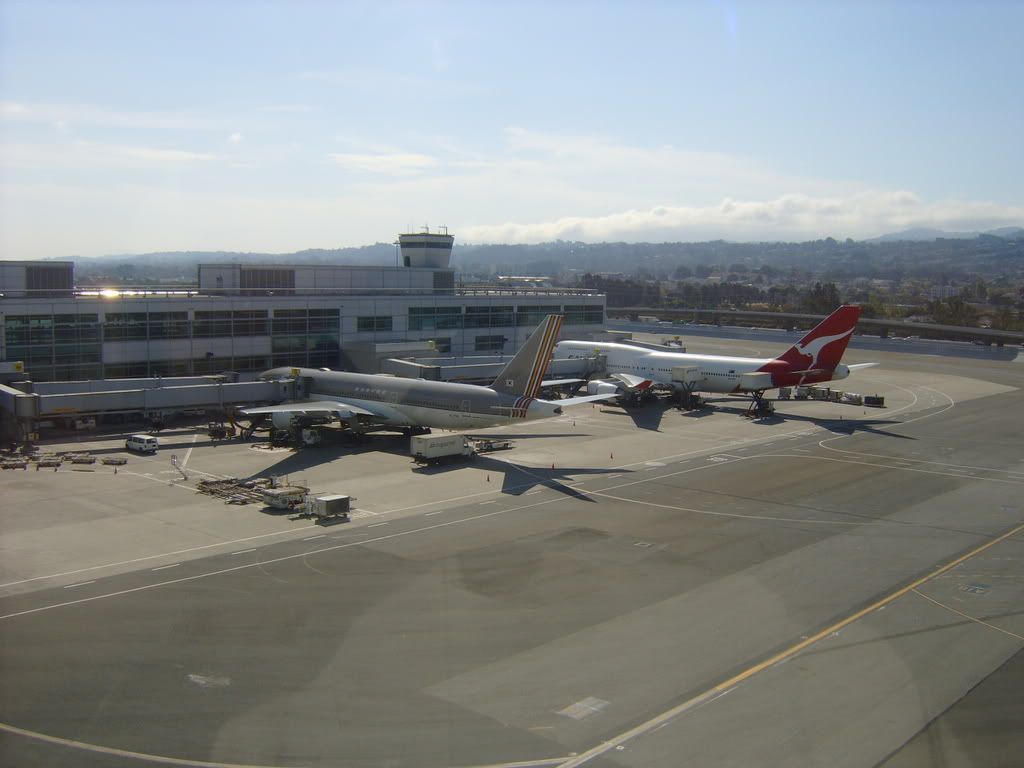 The Delta Crown Room Club which is almost identical in size and layout to the one in O'Hare.
Our flight home today will be on N6705Y which hasn't gotten the new paint yet.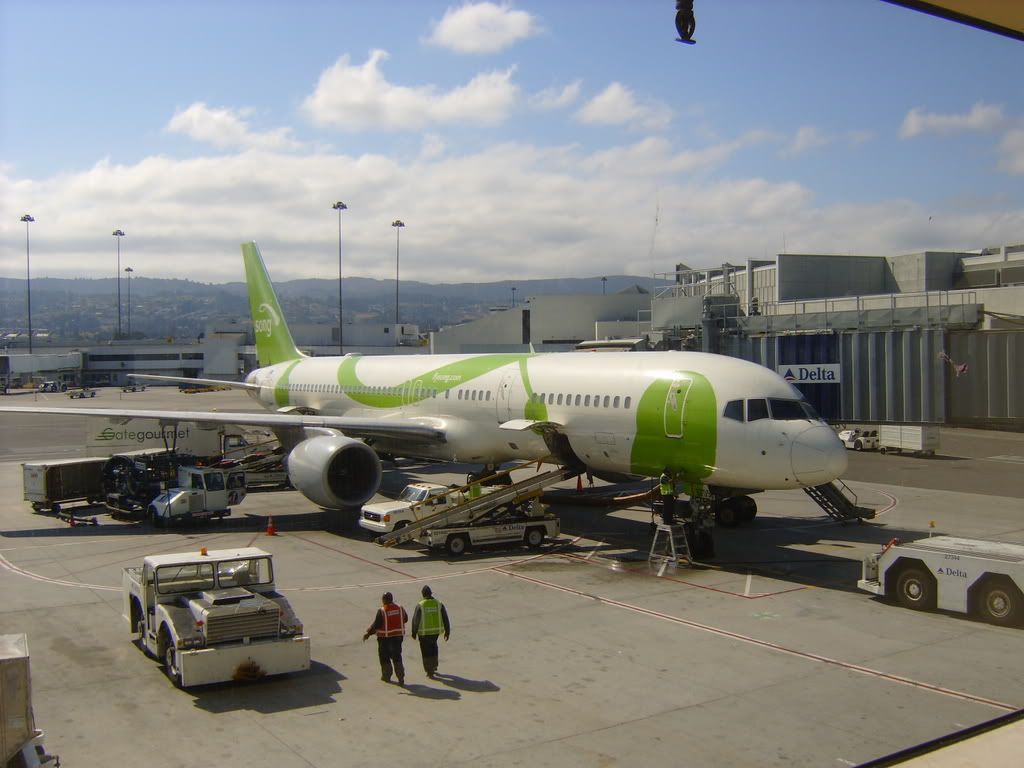 Ah, the new and improved F Cabin on the transcon 757. Pretty much the same but with PTVs.
Same pitch as before. Not too bad.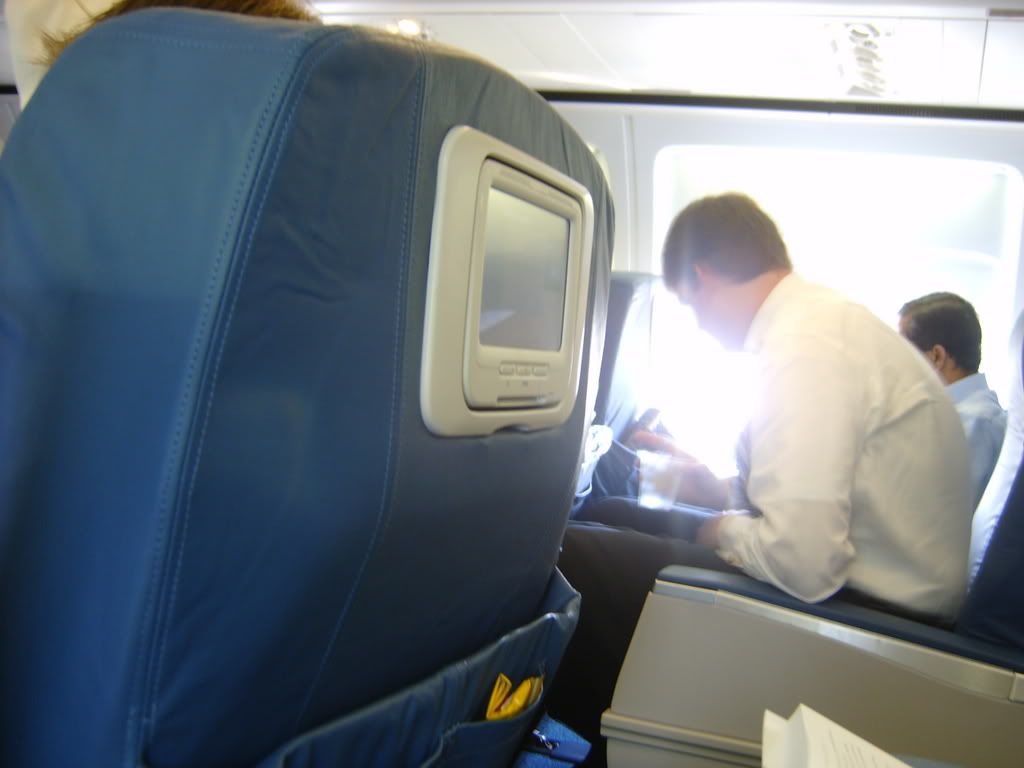 The new PTVs with movies on demand and live TV. Interestingly enough it was set to the local stations in New York.
An America West/US Airways plane going somewhere.
The Air New Zealand 777 on the taxiway.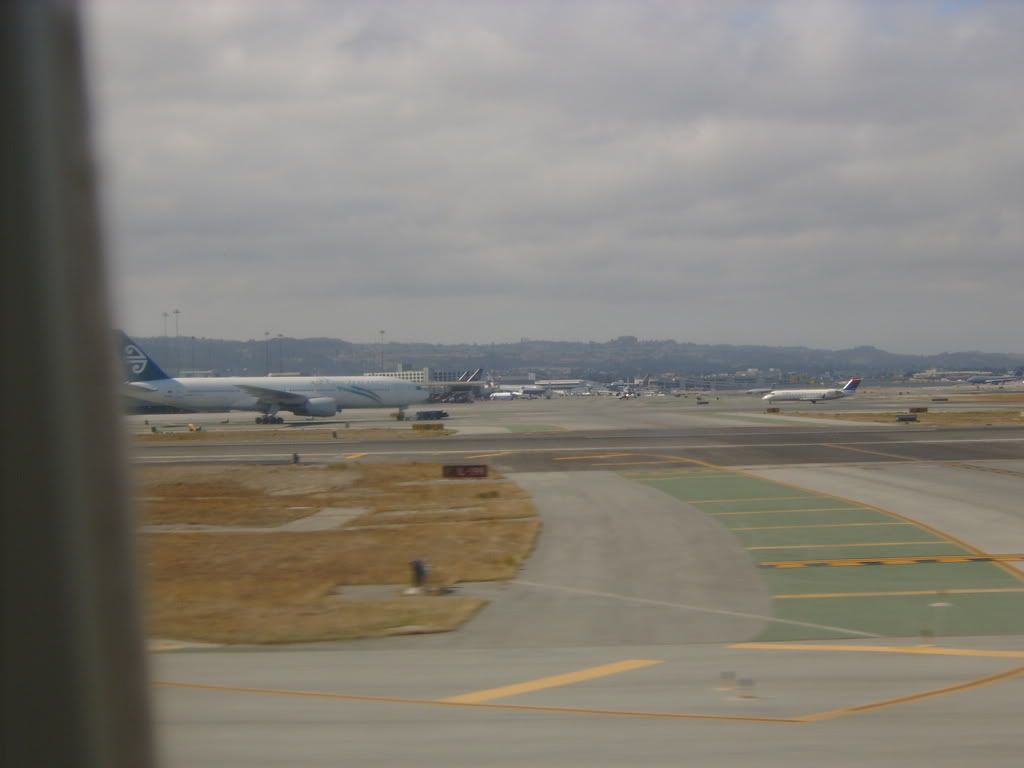 KLM, Cathy Pacific, and Air France all sitting at the International Terminal.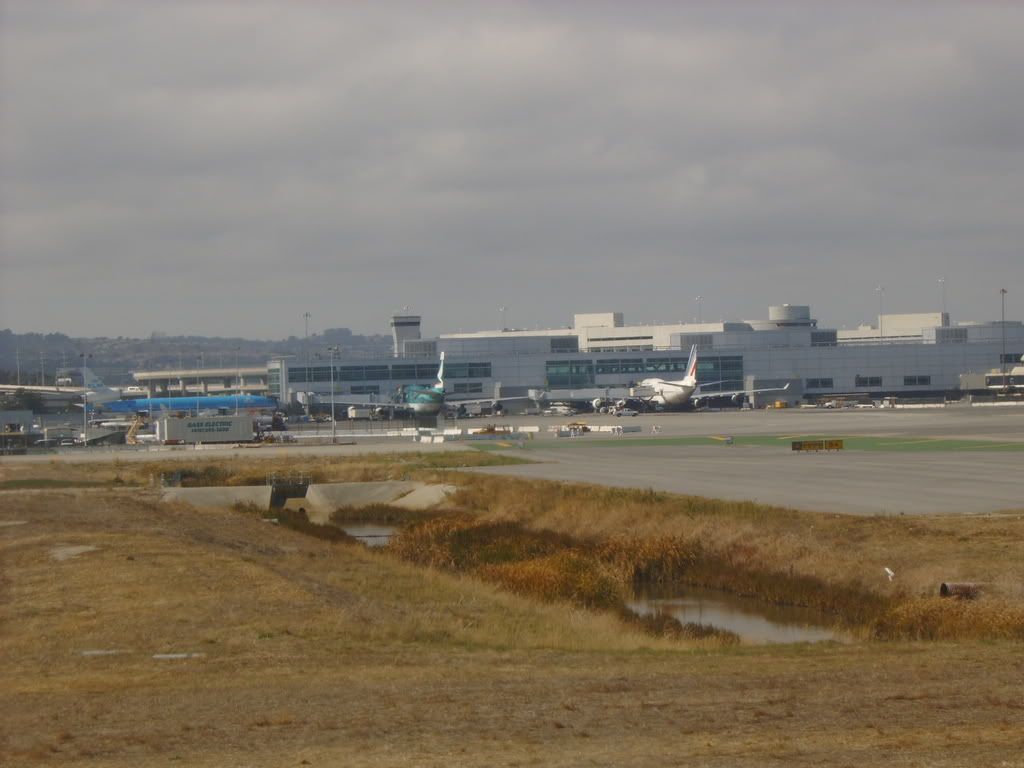 A UAL 757 taking off before us.
The 737 that took off parallel to us and a view of downtown San Francisco behind it.
The Oakland Naval facility and its airfield.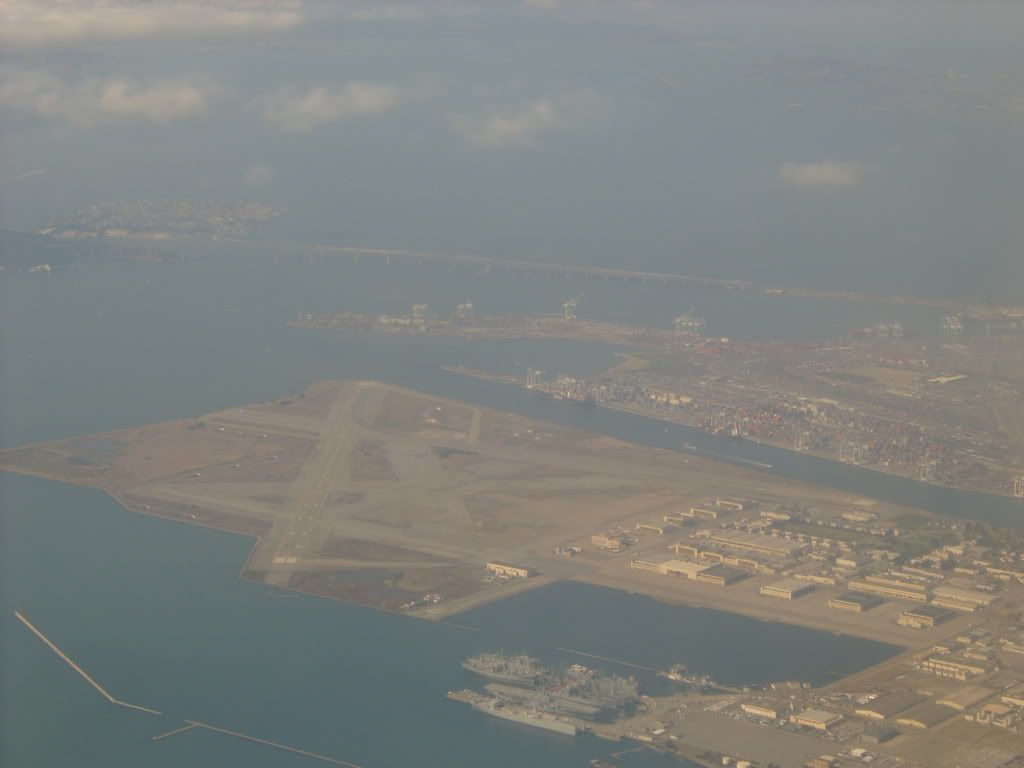 Buchanan Field northeast of Oakland.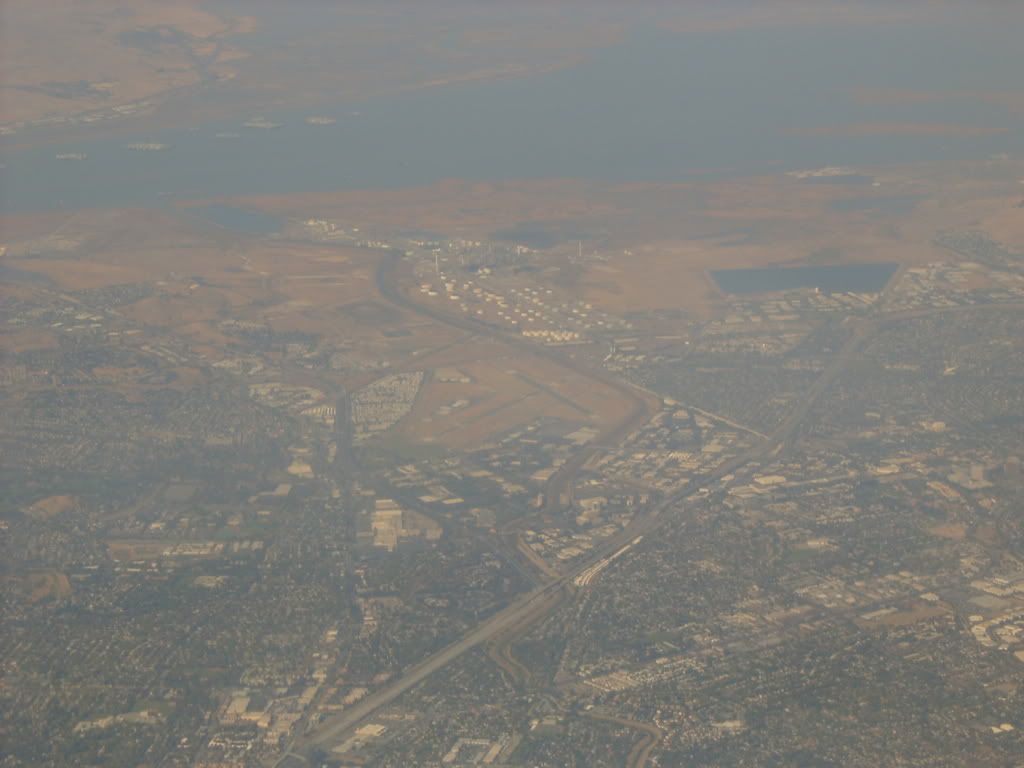 Walker Lake just after crossing into Nevada.
Just north of the Canyonlands National Park in Utah.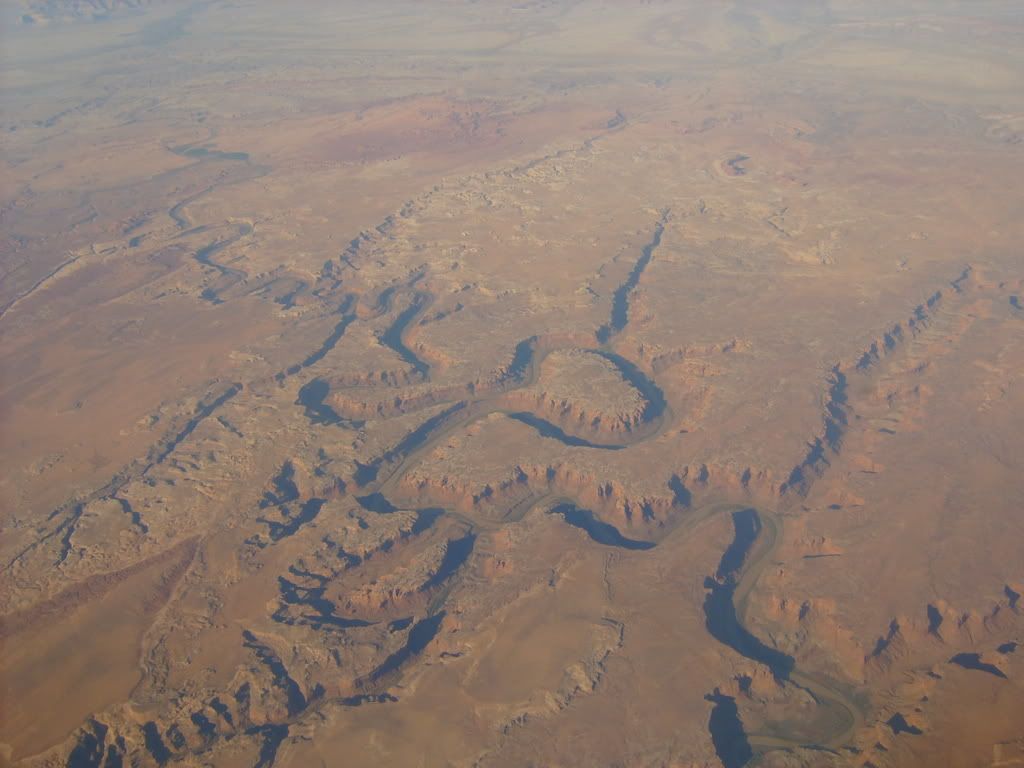 Moab, UT from the air.
Montrose Regional in Colorado.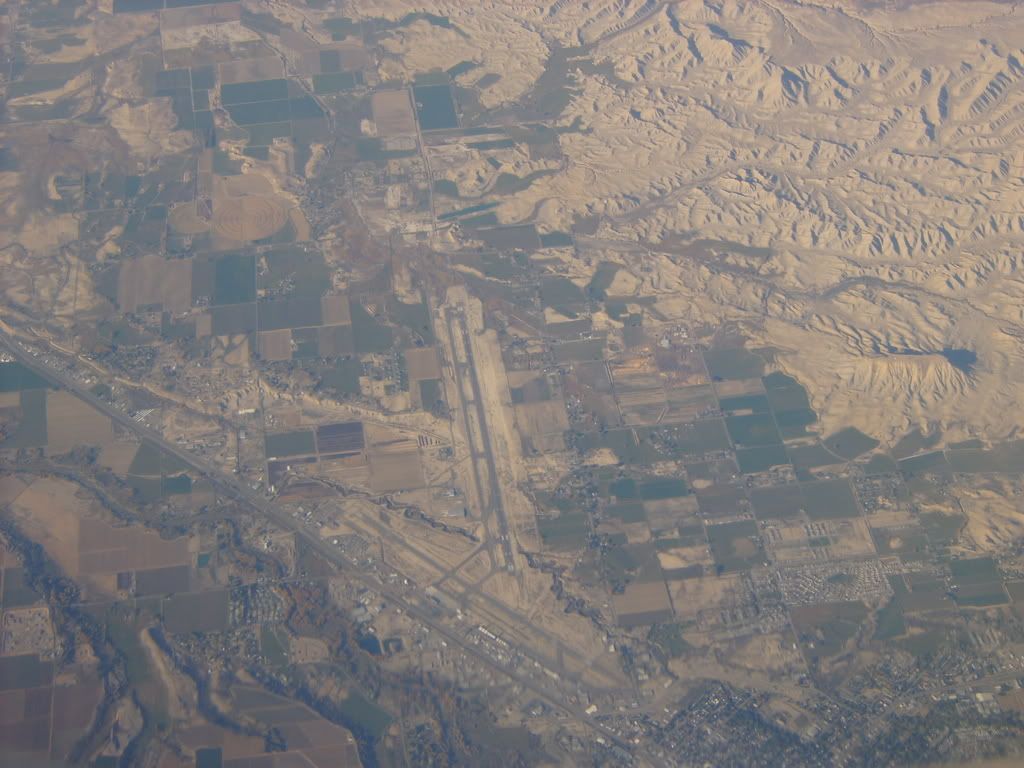 Early snowfall in the Rockies.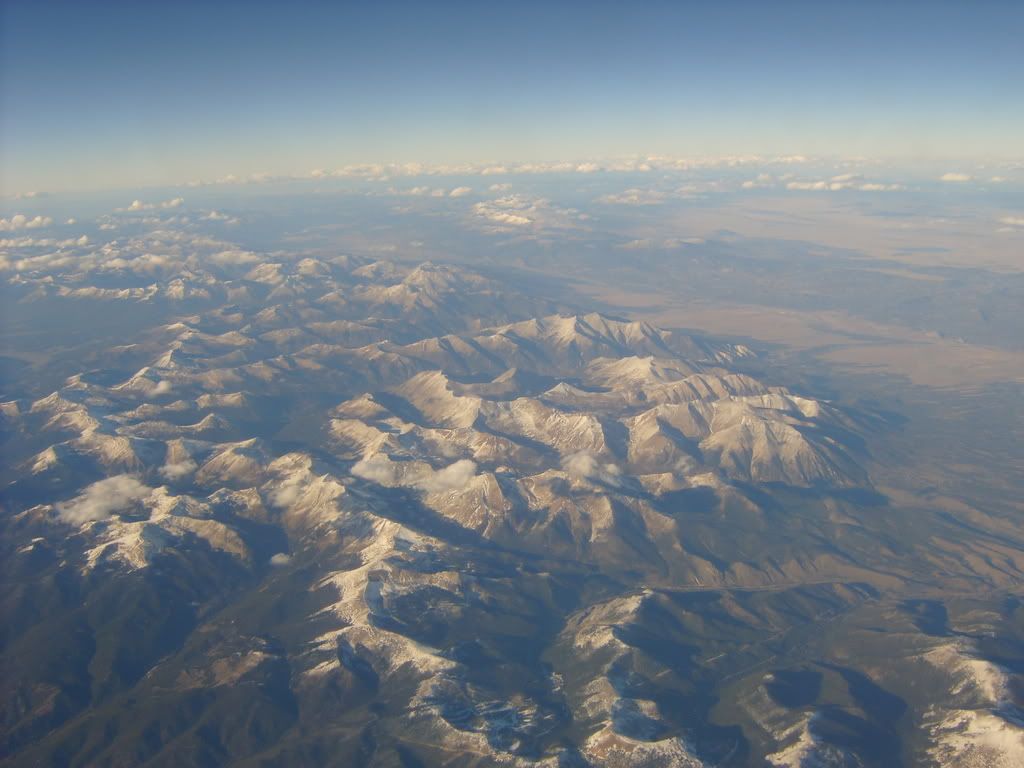 That's all for the pics. It got dark not too long after that and I found myself falling asleep most of the rest of the way. Once again we landed on the southern runway though the taxi this evening wasn't too bad. I was through the terminal and being picked up by my wife within 20 minutes of getting off the plane which is great for an airport the size of ATL.
All in all Delta continues to provide a decent product in the F cabin. They provide service with some Southern charm and a smile. As long as I continue to live in Atlanta I'll fly them as much as possible given that I can catch a nonstop flight to almost anywhere in the US and a good chunk of European destinations. Keep up the good work Delta.