Hi all
Again a trip report from me
I have spent a few very nice days in Istanbul, Turkey, last year and when I saw that easyJet is going to launch flights between Basel and Istanbul, I decided to go there again with a friend! Interesting is that easyJet flies to the new and much smaller airport of Sabiha Gökcen on the Asian part of Istanbul. So one could say easyJet flies intercontinental from Basel!
Our trip started on Sunday evening since the flights to SAW are operated during the night. Was meeting up with my friend in Basel where we took the bus to the airport. Check in was very fast as usual and we received our boarding passes: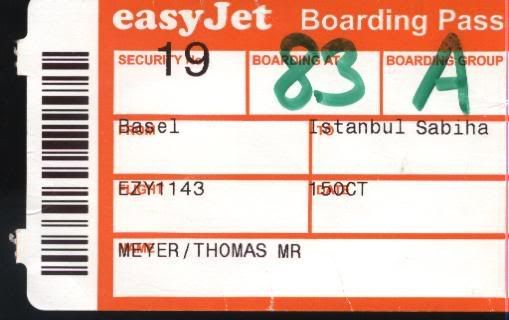 Sunday, 15th October
EZS1143 easyJet Switzerland
A-319 HB-JZJ
Basel/Mulhouse (EuroAirport)- Istanbul (Sabiha Gökcen)
departure time: 22:20
arrival time: 2:20
load factor: approx. 60%
View Large
View Medium


Photo © François Camirand
Good old HB-JZJ. Just flew on that aircraft from Basel to Hamburg 9 days earlier!
Boarding began on time and the easyJet staff was welcoming everyone aboard. As usual the crew was friendly. The captain announced a flight time of 2 hours and 35 minutes as soon as we were pushed back. Most of the passengers seemed to be Turkish people who live in the Basel region or who have relatives/friends there. A lot of families with kids too! Take-off on runway 16 after several aircraft landed. After take-off the flight attendands started selling drinks and snacks. Both of us had a mozzarella-tomato sandwich and a mineral water for the amount of 20 Swiss Francs. Honestly I think the prices are ok. At Basel airport sandwiches and drinks cost even more and since I am flying low cost a lot I don't mind if the airline makes some extra revenue with me. The more they earn the more routes they start for me
.
During our dinner we all of a sudden came into severe turbulences- and I mean really severe turbulences. In my nearly 140 flights so far I have never experienced such a thing. Soon after the turbulences started the aircraft was banking to the right side very hard and for a second I thought we would be out of control. The flight attendands were "kissing" the floor and things were flying around in the cabin. The flight attendands looked quite scared too- it seems such a thing did not happen to them before. After 13 minutes the captain talked to us and told us that there was a 747 flying in front of us and that this aircraft caused the turbulences. My version though is that there was a TCAS alert in the cockpit that caused the abrupt change of direction. But of course I cannot say for sure. The rest of the flight was uneventful and very nice. Routing was Basel-Austria-Zagreb-Belgrade-Sofia-Istanbul. Approach into Istanbul was amazing, unfortunately I do not have pictures of it. But a city with around 20 million inhabitants by night is just awesome! Landing was smooth. As soon as we slowed down a passenger stood up and wanted to open the overhead bin- we haven't even left the runway completely- but got sent back by the attendands. What a fool!
We left the the plane, went through immigration and then looked for the bus to the city. There are buses awaiting all night flights and they bring you into Istanbul city centre in approx. 35 minutes.
So we were in Istanbul in the very early hours of the day!
And of course I have some pics of Istanbul for you:
Istanbul in the early morning hours...you can see Galata tower in the pic too: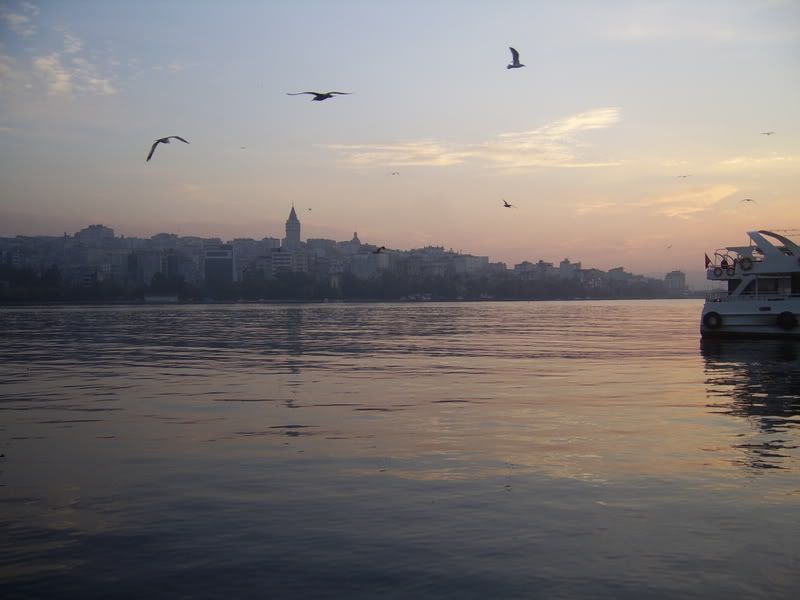 The Blue Mosque: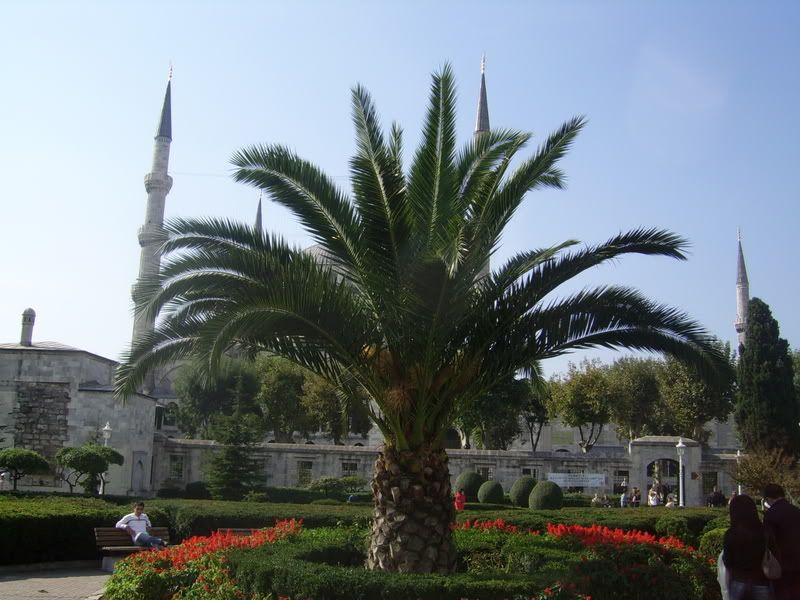 Aya Sofya:
I'm on the right
:
The Grand Bazar:
View from Galata tower
:
After an exciting day it was time to go back to the airport. Our bus left at one o'clock in the morning, we were at the airport at 1:30 and checked-in for the flight back home. There was already a huge queue at check-in and most people had a huge amount of luggage as well. We therefore only recieved boarding group D but I did not mind at all. Went through security which was a mess. Took us nearly an hour and the security agents were ridiculously slow! Boarding already started when we finished security and we took a seat in the back of the airplane. I must say SAW is an interesting airport. They have a lot of flights during the night and at the same time of our flight there are 4 Germanwings aircraft in SAW, all arriving from Germany.
Tuesday, 17th of October
EZS1144 easyJet Switzerland
A-319 HB-JZL
Istanbul (Sabiha Gökcen)- Basel/Mulhouse (EuroAirport)
departure time: 3:30
arrival time: 5:30
load factor: 100%
View Large
View Medium


Photo © Joel Vogt
Good old HB-JZL. Flew on that aircraft 9 days earlier from Hamburg to Basel!
Take-off on time and soon in the clouds. I bought a coffee during the flight and somehow I managed not to sleep while the most of the passengers were taking a nap. This time a very calm flight, no turbulences at all. So there is not much to tell about this flight. But I loved the approach into Basel I must say. There was thick fog that early in the morning! All I saw was fog, fog, fog and a few landing lights 1 or 2 seconds before touch down! Really great although most of the passengers were a bit scared when we touched down. They probably believed we would be much higher!
Well, that's the end of a bit a crazy trip to a great location. 43 hours without sleep but it was worth it!
Hope you enjoyed this trip report and thanks for reading!
Best regards,
RJ100