2 Hours in Paradise: Hamilton Island on Jetstar & Virgin Blue
Intro
Back in spring when I planned my trip to Australia I checked how to include Jetstar and Virgin Blue in addition to the Qantas domestic sectors. Since my schedule in Australia would be tight I searched for a destination which is served by both DJ and JQ in order to book a day trip combination. I was already moving towards booking a round trip to Newcastle when I discovered Hamilton Island (HTI), the largest inhabited island of the famous Whitsunday Islands, located in the Great Barrier Reef.
Here's an impression:
After finding these pictures and reading a report about constantly blowing winds and a tricky approach into HTI with its 1800-meter-long runway my decision was clear. I didn't mind about an extra AUD 40 I had to invest for the return trip.
Wednesday, 27 September 2006
Brisbane (BNE) - Hamilton Island (HTI)
Jetstar JQ726
10:45-12:20 (10:50-12:22)
Flying time: 01:23 (hrs)

Airbus A320-232
VH-VQZ (msn 2292), first delivered 11/2004 to Jetstar Asia as 9V-VQZ
Seat 2A
Check-In
Unlike Virgin Blue, Jetstar doesn't offer the option to check in online, so I showed up at the airport early. I found out that the counters don't open until two hours prior to departure, so waiting was inevitable. However, when the counters opened I managed to check in as
sequence number 1
.
Over many weeks I had tried to figure out which side of the aircraft would be the "right one" - depending on the approach direction, aircraft have to pass the island first before turning in for landing. Based on different sources I wanted to choose the right aircraft side.
Being sequence number 1, I expected to find myself in the first boarding group for sure, but then I was told free seating would not be available any more (the JQ website suggested it wouldn't be discontinued until 29 October).
Only four window seats left
, the agent said. And apparently none on the right side. I wondered how that was possible because I was "seq. 1" and Jetstar doesn't offer an option to reserve seats in advance. There was nothing I could do and had to accept seat 2A - sitting up front, on the left side...
Flight
Jetstar's concourse is located closer to the runway than the rest of the terminal so I could use the remaining time for spotting. Some 30 minutes prior to departure VH-VQZ arrived at the gate.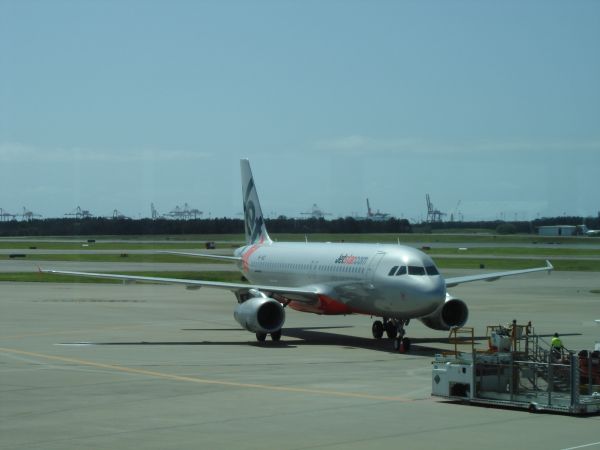 Boarding was started 15 minutes later and since there aren't any jetbrigdes at JQ's concourse all passengers had to board the aircraft via stairs.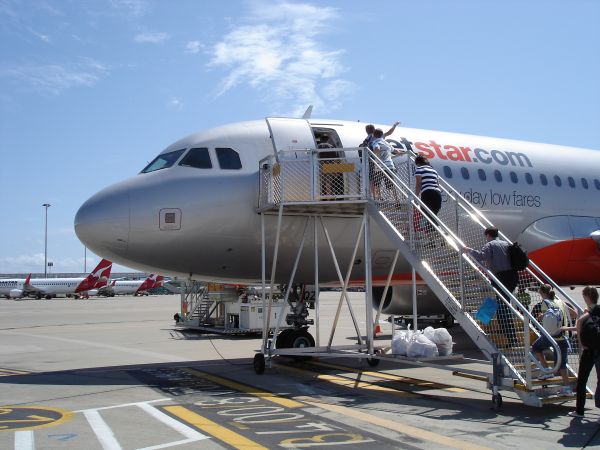 Orange star under a blue sky...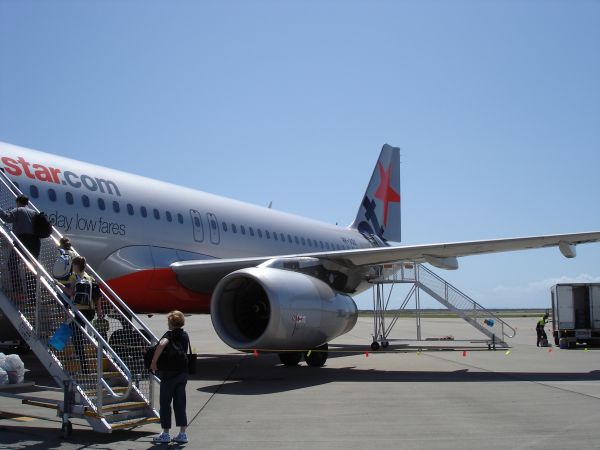 ...and a silver engine.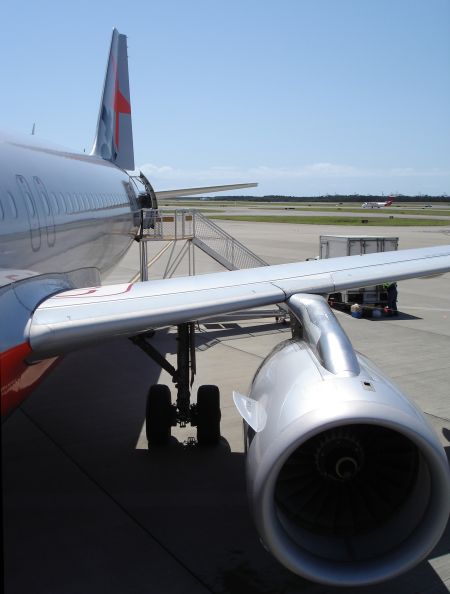 The purser welcomed us on board, though she didn't appear very friendly - in contrast to the two other FAs. The black leather seats are quite comfortable, the seat pitch comes up to today's low cost standard.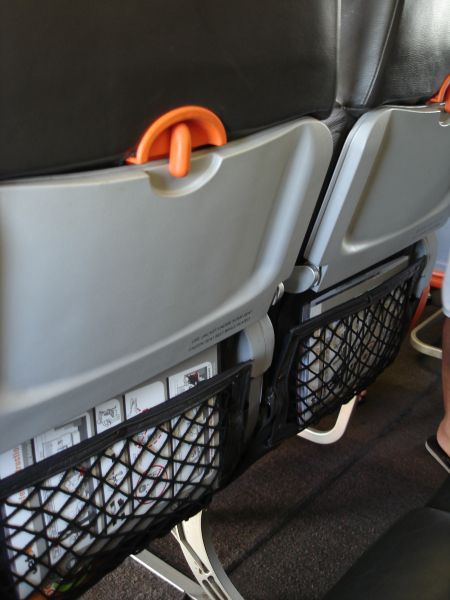 Cabin views:
The flight was packed, load factor was somewhere between 95 and 100 percent. We left the gate exactly on time and turned in for takeoff only five minutes later.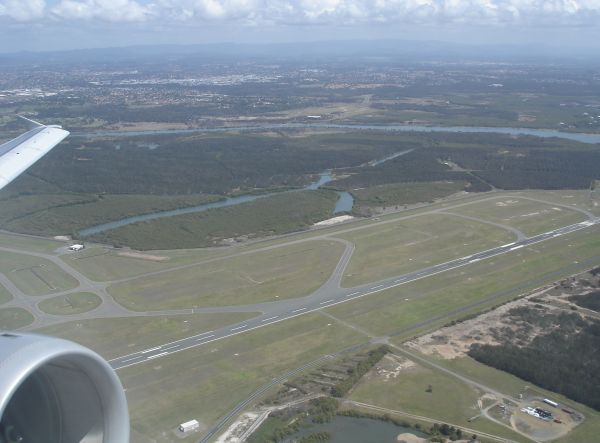 Climbout over the ocean before turning left and heading north.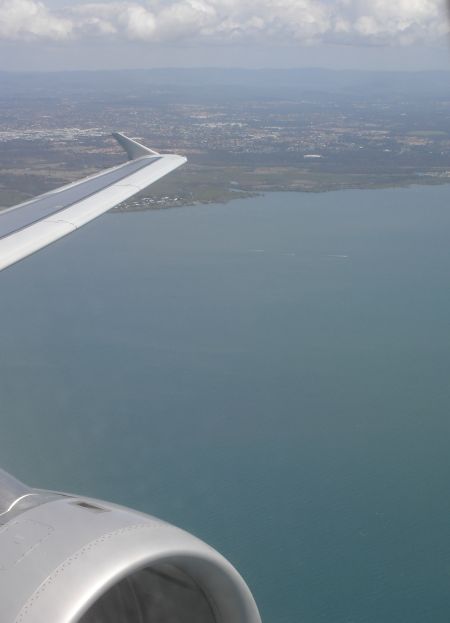 Long before the trip I had planned to do a "sandwich test" on both JQ and DJ. Therefore I ordered a ham & cheese sandwich for AUD 5.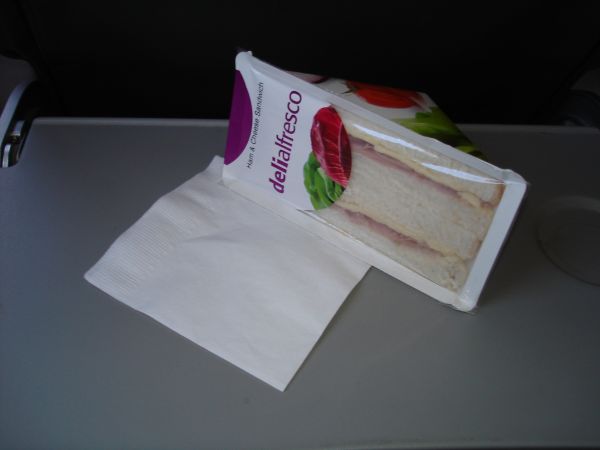 The sandwich tasted good, but it was a bit dry - it lacked mayonnaise, butter or mustard.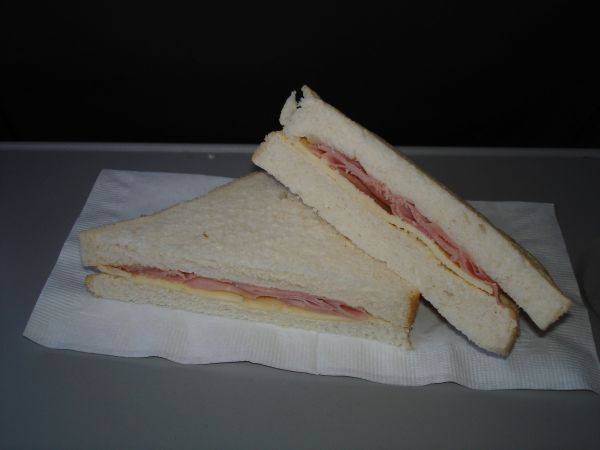 After finishing the snack I leaned back and simply enjoyed watching the beautiful coastline.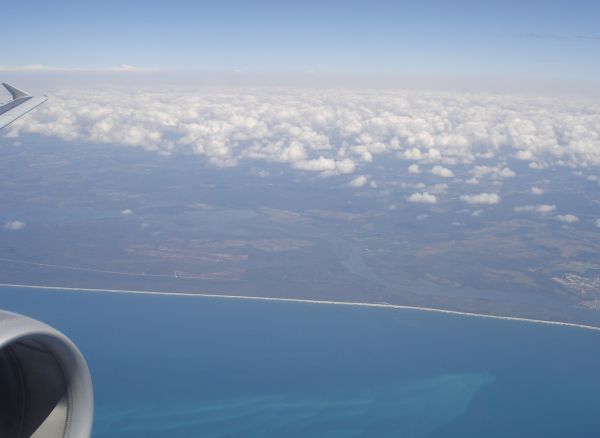 The remaining flight was uneventful - until we started our stunning descent.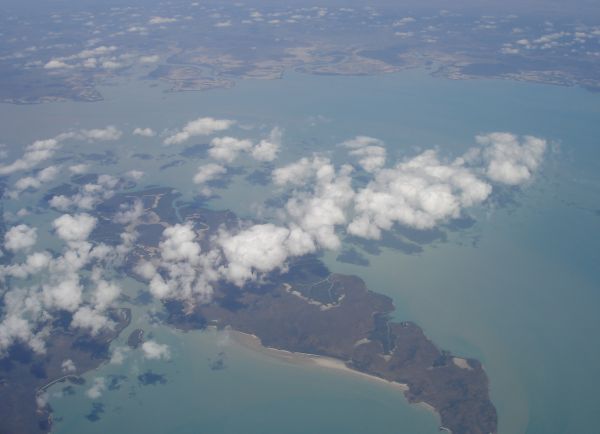 Small white clouds over a turquoise ocean...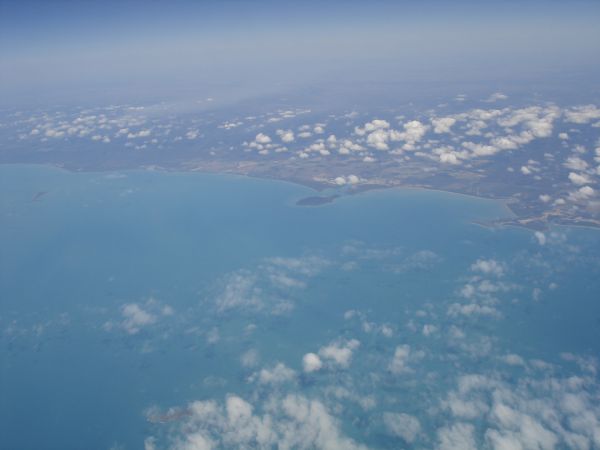 Here's a facility which looks like a ship terminal: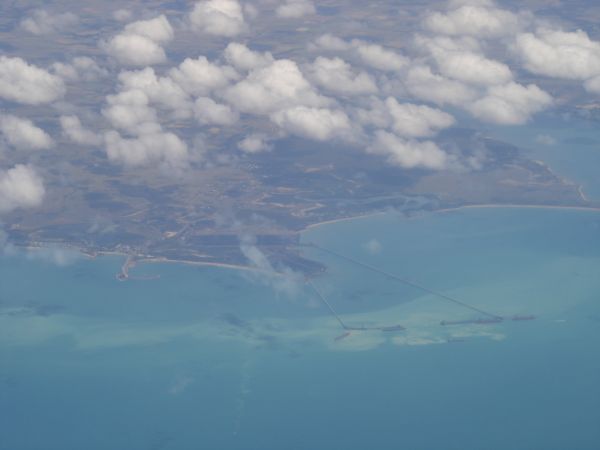 Countless smaller...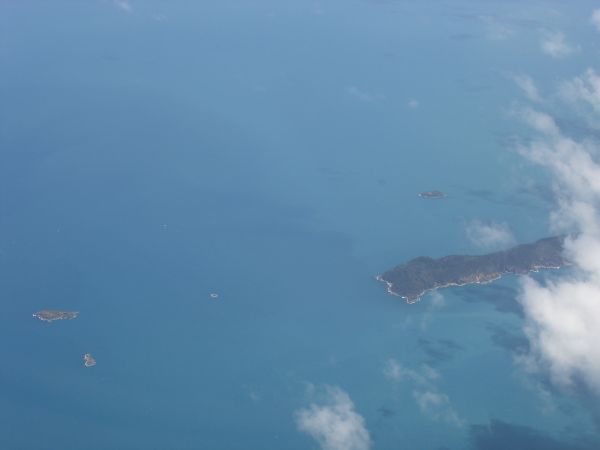 ...and bigger islands appeared on the surface.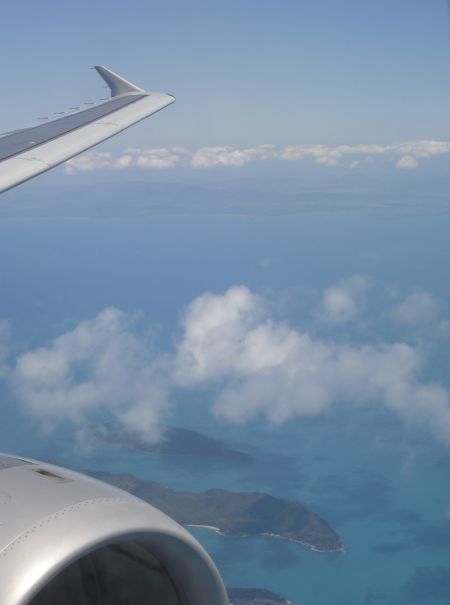 A little piece of paradise under a band of thick clouds...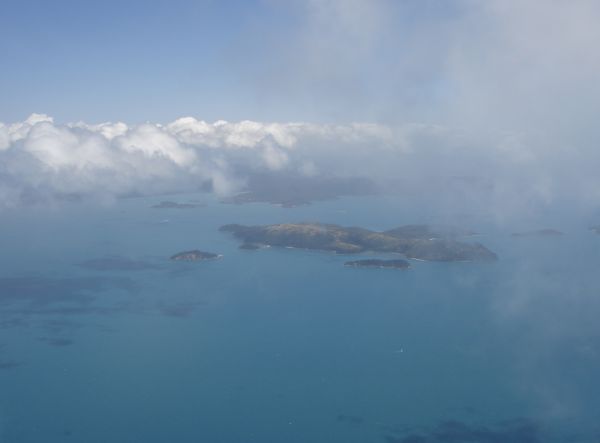 I had expected a right turn to follow any time soon, but then I discovered an island on the left which seemed to be equipped with a runway...and indeed it was Hamilton Island. So the left aircraft side turned out to the the "right" one.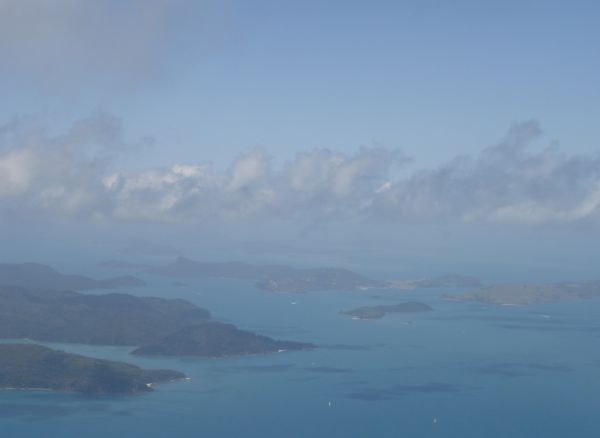 After starting the final descent the plane was increasingly shaken by the local winds...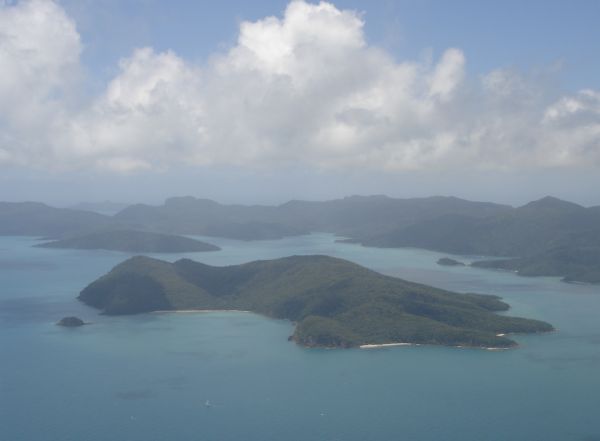 ...and a young lady in the middle seat next to me said something about "turbulence" to her boyfriend. I couldn't resist and told them that the approach to Hamilton Island was always tricky due to local winds...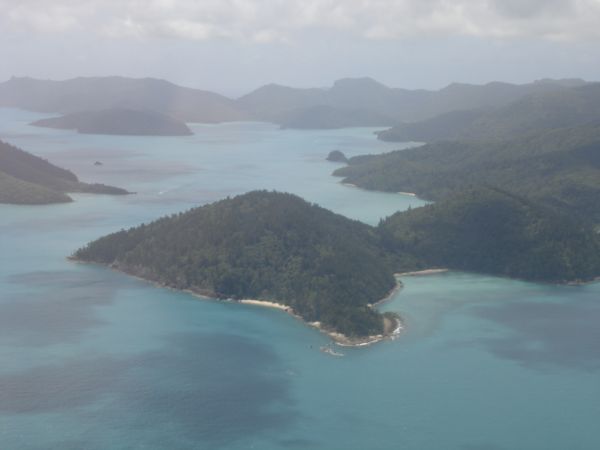 ...and a relatively short runway.
"Both thrust reverse and brakes would be fully deployed"
, I added.
They looked a bit surprised and asked
"Really?"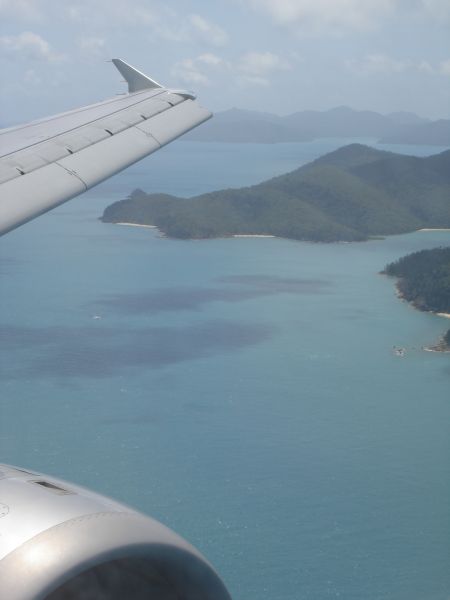 What a scenery...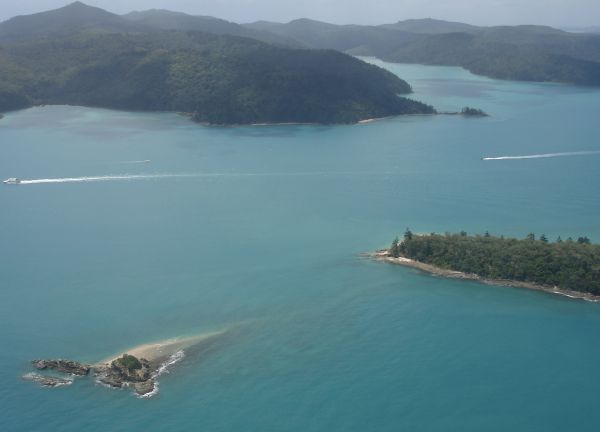 ...simply beautiful.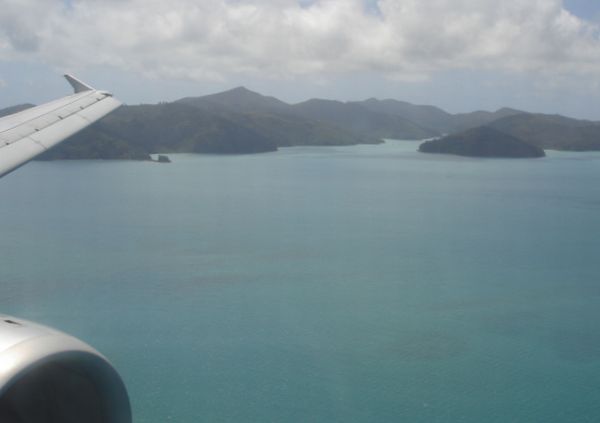 A nice tiny island with a part of Hamilton Island right behind: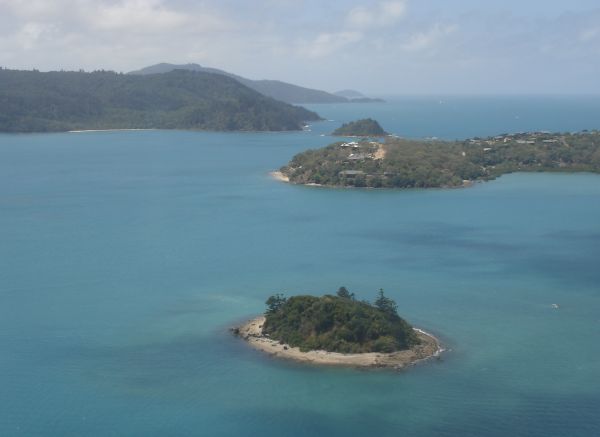 Passing Hamilton Island's marina...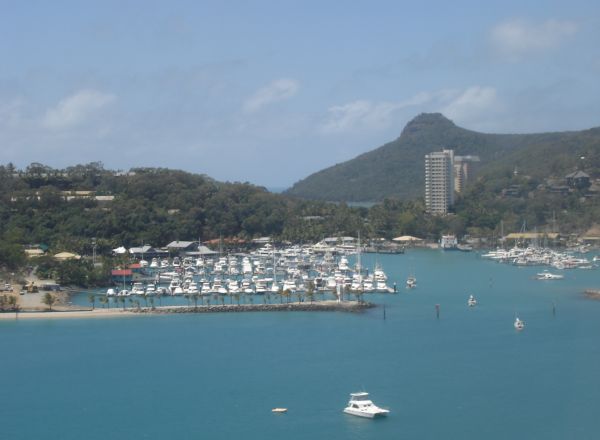 ...and a considerable yacht.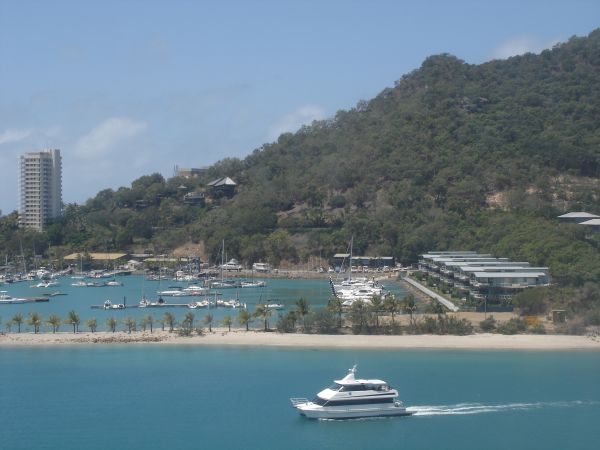 Touchdown followed seconds later and it was as rough as expected. Indeed both thrust reverse and brakes were fully deployed - pressing passengers forward. The couple looked at me, nodded and said
"Yes!"
Just after slowing down the aircraft had to turn already...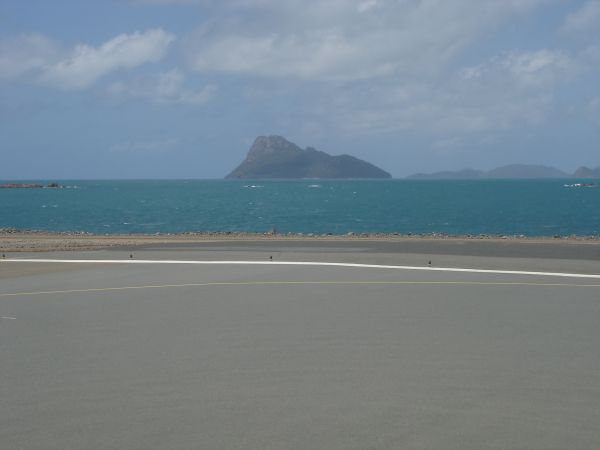 ...and we taxied back on the runway.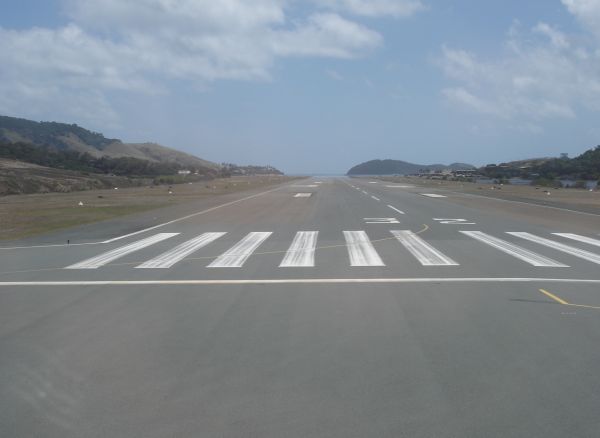 Sister ship VH-VQQ, bound for Sydney, turning in for departure: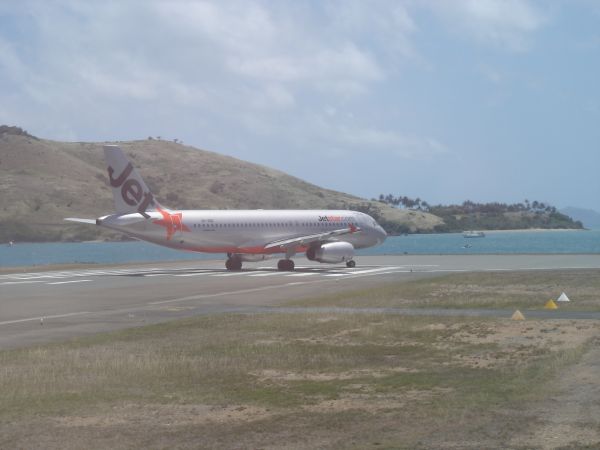 HTI's terminal building is small, but functional and pretty.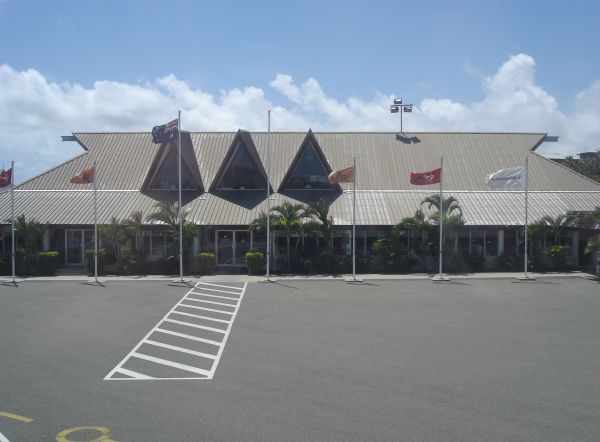 Picture time on the tarmac...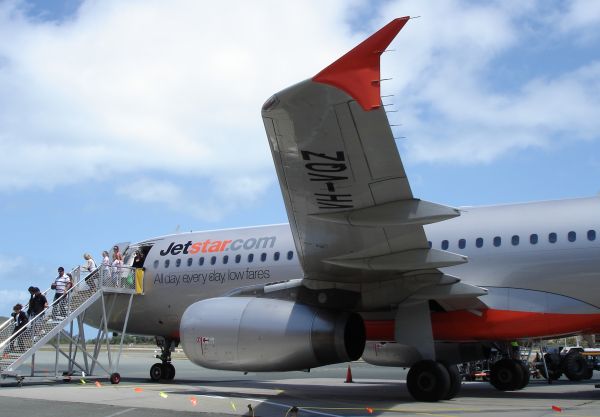 ...and again, a last shot of the tail.
Hamilton Island Airport
The airport consists of one main building and some other small facilities. Arriving passengers get their luggage within minutes in a small hall next to the check-in "chalet" and need to walk only a few meters to the pickup zone. Mainland motor vehicles are prohibited on the island, with a few exceptions (e.g. small busses). Transport needs are mostly served by golf buggies:
"Hamilton Island hub": several smaller islands are served by either boats or seaplanes. VH-VQZ about to return to Brisbane.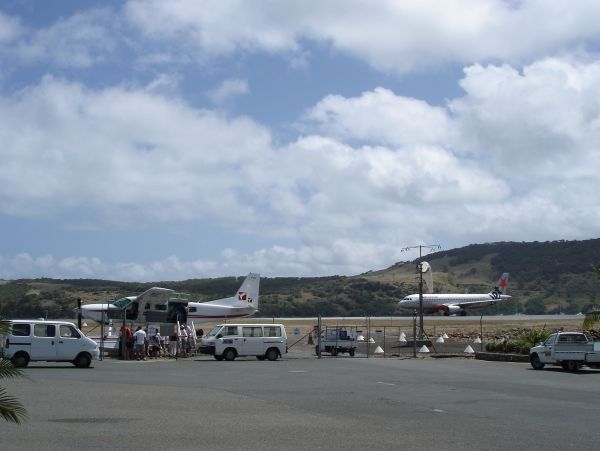 Beautiful beaches in walking distance from the terminal: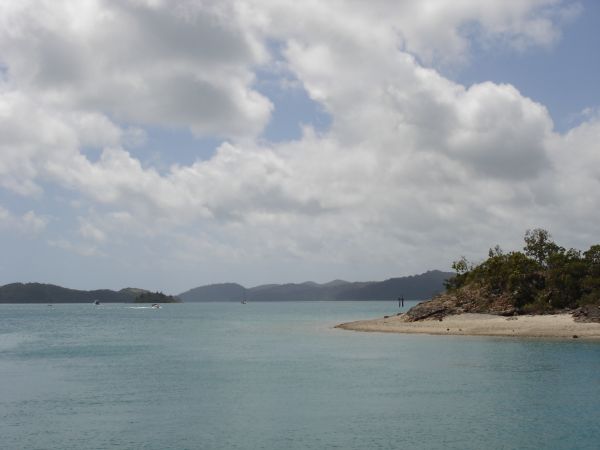 Spotting "Hamilton Island style": Virgin Blue B737-700 VH-VBU on final descent...
...and only seconds from touchdown: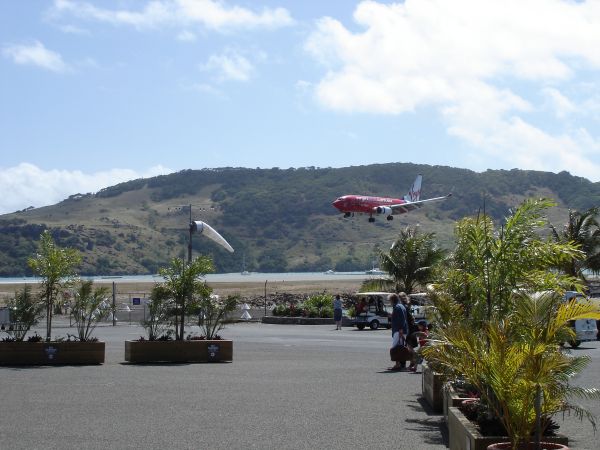 Wednesday, 27 September 2006
Hamilton Island (HTI) - Brisbane (BNE)
Virgin Blue DJ582
14:35-16:00 (14:44-16:05)
Flying time: 01:14 (hrs)

Boeing 737-76Q
VH-VBU (s/n 1322), delivered 05/2003
Seat 11F
Online check-in
Only two hours after arrival I passed one of the two security checkpoints and took a seat in the departure hall. I didn't need to check in because I had already printed the boarding pass in the evening before. Unlike Jetstar and Qantas, Virgin Blue offers an excellent online check-in. Seats in the back had already been blocked, so I had chosen row 11 on the right side.
Flight
Boarding was started on time and again we had the pleasure to walk to the aircraft.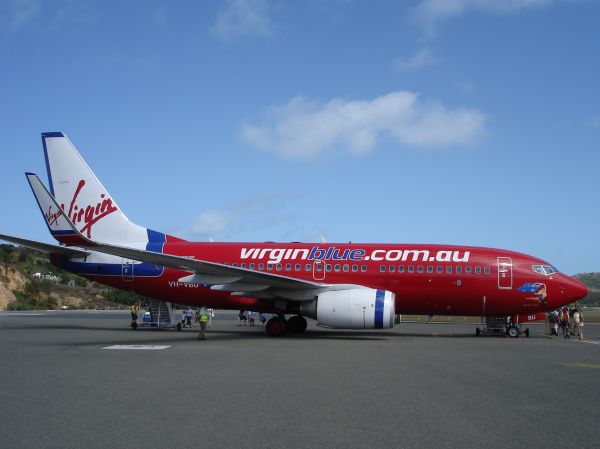 After zooming in "Darwin Diva", a member of Virgin Blue's ground staff approached me and said:
"No pictures on the tarmac!"
For whatever reason...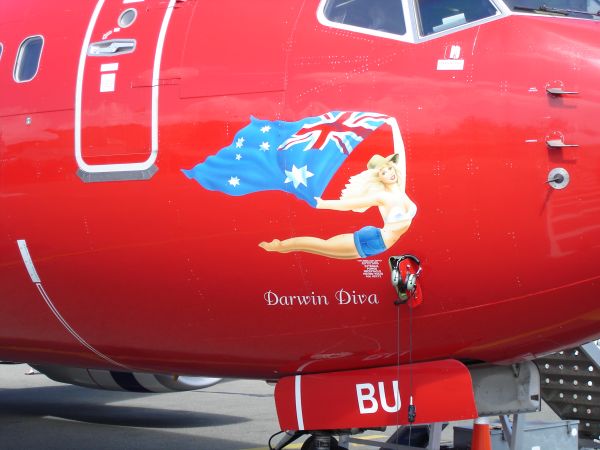 The cabin was equipped with comfortable cloth seats - not the leather seats I have often seen on pictures.
(Please note that this picture was taken after arrival at BNE)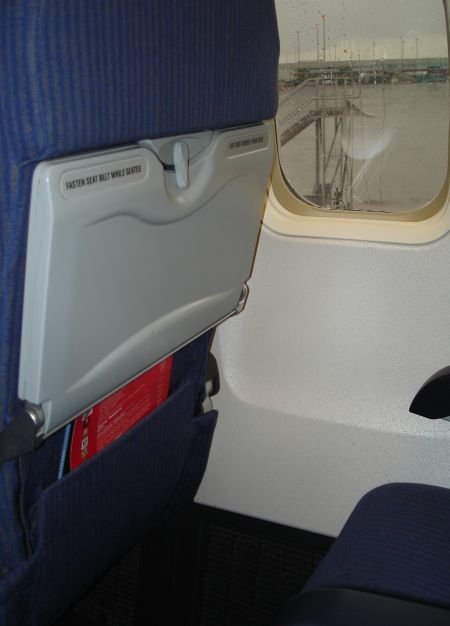 Boarding was completed soon, the load factor was somewhere around 70 percent. Passengers were addressed as
"ladies and gentlemen, boys and girls"
and the FA speaking was indeed funny and very friendly. When she explained the safety procedures she said:
"There are 1000 reasons to leave your lover, but only six to leave this aircraft."
More jokes followed and people laughed.
One of the local yachts/ferries waiting for passengers at the airport pier: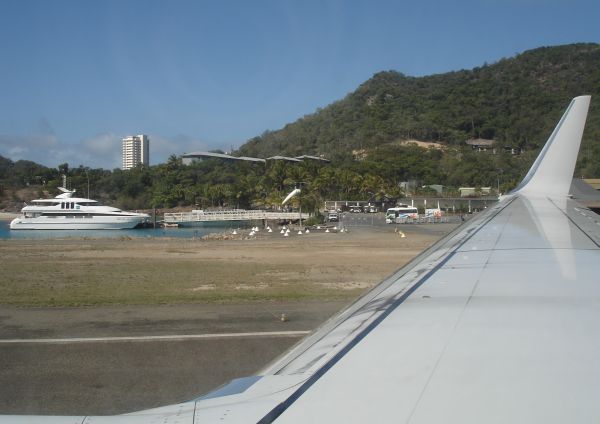 Short stop...and full power for takeoff.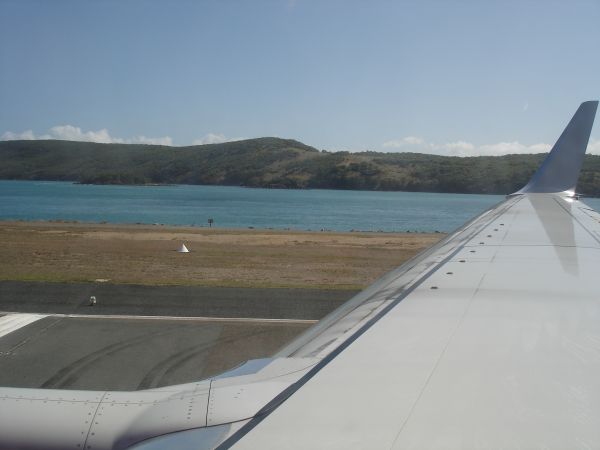 Climbout...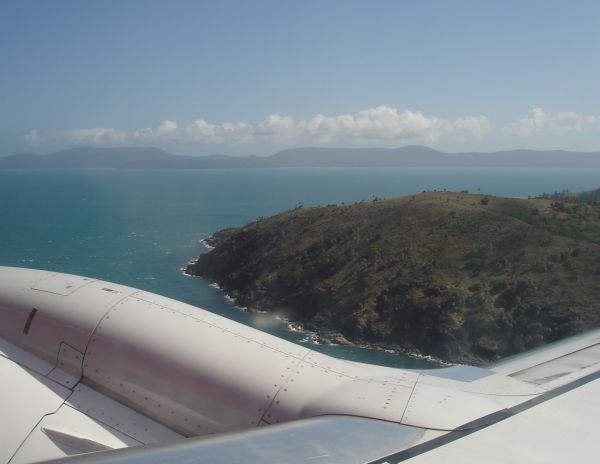 ...and right turn.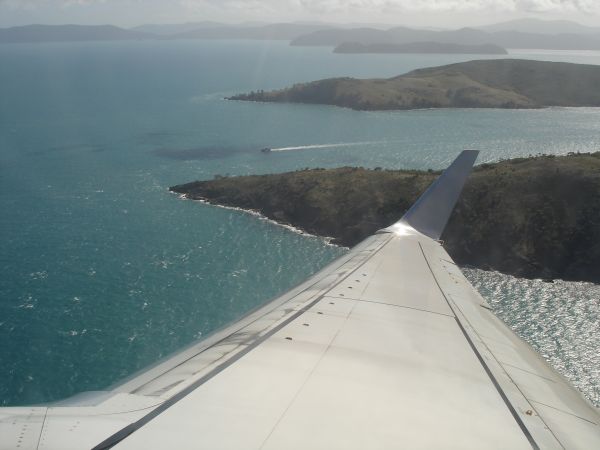 I had a look at DJ's menu card and I ordered a "fresh seasonal sandwich" for AUD 5. Interestingly, DJ sells sandwich packages as "combos". I tried the one with Virginia ham, cheddar cheese and sweet mustard pickle accompanied by slow roast beef with fruit chutney and baby cos. It tasted excellent - one of the best airline sandwiches I have ever tried.
Note the saying on the box:
"Keeping the air fair and your tummy full"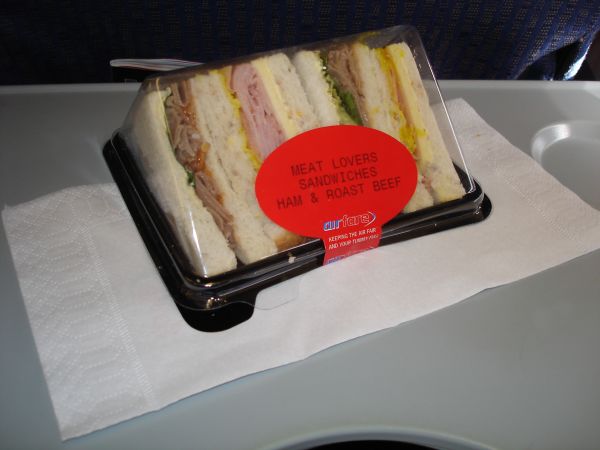 Not even an hour after departure we started our descent into Brisbane...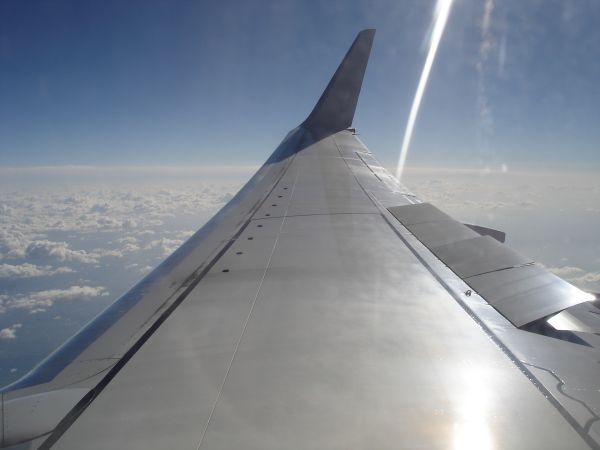 ...which was rather unspectacular compared to the approach to HTI.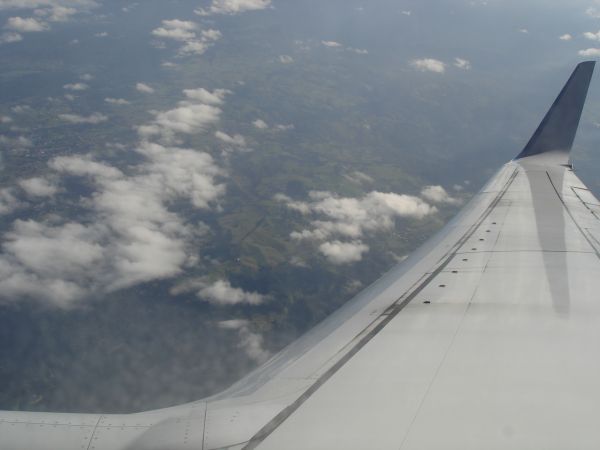 Shortly before we touched down I had spotted very dark clouds and as we stopped at the gate it started raining. It got worse and worse, with thunder and even lightning strikes around the airport. Later in the gate area I heard a Jetstar announcement about a delayed flight to Launceston - an engine had been struck by lightning and engineers would check the damage. Some minutes later all ground operations at the airport were stopped...I was really glad my round trip had started in the morning already.
Conclusion
Both Jetstar and Virgin Blue offer efficient and reliable services, though I would prefer Virgin Blue over Jetstar in the future. They offer an excellent online check-in, employees seem to be very motivated (e.g. announcements enhanced by jokes), the on-board catering appears to be more diversified - and they won the sandwich contest.
Additionally, Virgin Blue currently installs PTVs on its entire fleet, unlike Jetstar where not even overhead screens are available.
For all those interested in my other recent trip reports (Qantas domestic):
Testing Qantas: SYD-MEL-SYD-BNE (B738, B763, A332)
(by
PlaneHunter
Oct 4 2006 in Trip Reports)
BNE-SYD-BNE: Domestic Run On QF's Oldest B747-400
(by
PlaneHunter
Oct 5 2006 in Trip Reports)
As usual, comments, opinions and questions always welcome!
Best Regards,
PlaneHunter
[Edited 2006-10-18 17:30:38]