Feedback always appreciated.
Trip Report: 007
Flight Category: Y-ISR (See Report End)
Date: 22-Sep-06
Dep.Arr.Time: 1045/1120/01:35hrs
Flight:
ADAM AIR, KI 983
, 546 miles
Routing: SIN-CGK
Aircraft: 735
Seat: Economy, 11A
I > Background:
Part of a month long amazing passage to India for a wedding, with some stops in Asia to see friends. Routing was CCS-MIA-EWR-SIN-CGK-SIN-CCU-DEL-CCU-BOM-CCU-IXZ-CCU-IXA-GAU-CCU-SIN-ICN-YYZ-EWR-CCS with a mix of J and Y class of travel. This focuses on the KI segment from SIN to CGK. Other trip reports for this trip will be EWR-SIN (SQ/J-Cabin), CGK-SIN (VF), CCU-DEL (SG), DEL-CCU (IC), CCU-BOM (S2), IXZ-CCU (DN), CCU-IXA (CD), IXA-GAU (IT), GAU-CCU (6E), CCU-SIN (SQ/J-Cabin), and ICN-YYZ (AC/J-Cabin). I think these reports will be "firsts" for revenue flights on SG, CD, IT and 6E and cover IXA, GAU and CCU-IXZ for the first time on Airliners.Net.
II > Pre-Flight:
a) Before Airport:
Booking for the sector was made using Adam Air's website at
www.adamair.co.id.
Although the website was functionally 100% operational, I am a firm believer that a relatively unknown airline needs to have a crisp website to reassure travelers. KIs website felt cheap and I was disappointed at not being able to book my seat online. Moreover, none of their phone numbers in Indonesia or Singapore worked as I tried to make a seat assignment.
b) At Airport:
KI uses terminal 1 at Singapore's Changi Airport. I am a fan of T1 despite the 1970s architecture due to the ability it gives to see airlines from a multitude of countries. At T1, KI uses the first check-in bay and had 3 counters open for the days flight. I had no problem checking in and did not have to wait in queue. The check-in process itself was slow as the agent had to verify the credit card, print a receipt, have me sign the card again … and since her printer did not print correctly, do the process all over again. However, I was happy at getting an exit window seat and smiled at the very old-school dot matrix boarding printout in bright orange, yellow, and green colors of Adam Air (the color scheme looks good.) The ground personnel were slightly confused as I had no hand or hold luggage. After check-in, I went to the fantastic viewing gallery before making my way slowly to the gate. At Singapore, you clear immigrations and head to the terminal duty free area before proceeding to the "sterile" gate area, each with its own security screening.
Soon boarding was called (probably better as otherwise I would have bought random stuff from the many shops @ Changi) … and this was done orderly despite their not being any embarkation by rows. Upon entering the aircraft, there were 2 FAs who ensured everyone got their seats right. Y load was around 65%.
Airport - External:
(Singapore Changi Terminal 1)
Check-In: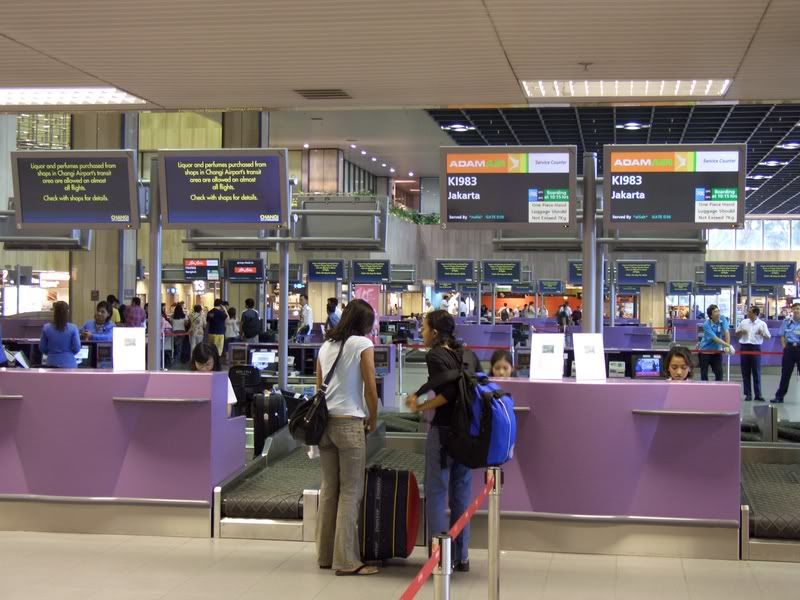 Airport - Internal: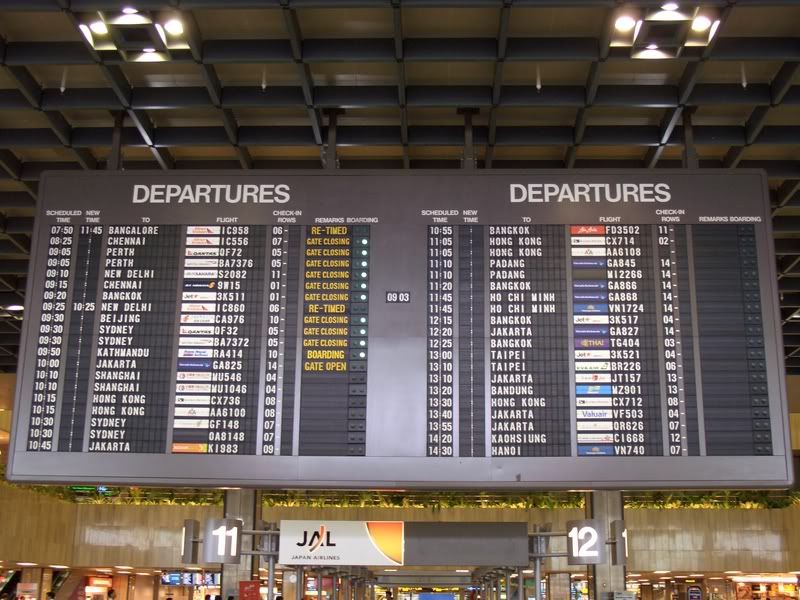 (Duty Free Options, Terminal 1)
Scenes of the tarmac:
(VF's 320 – which I would use later for my return flight)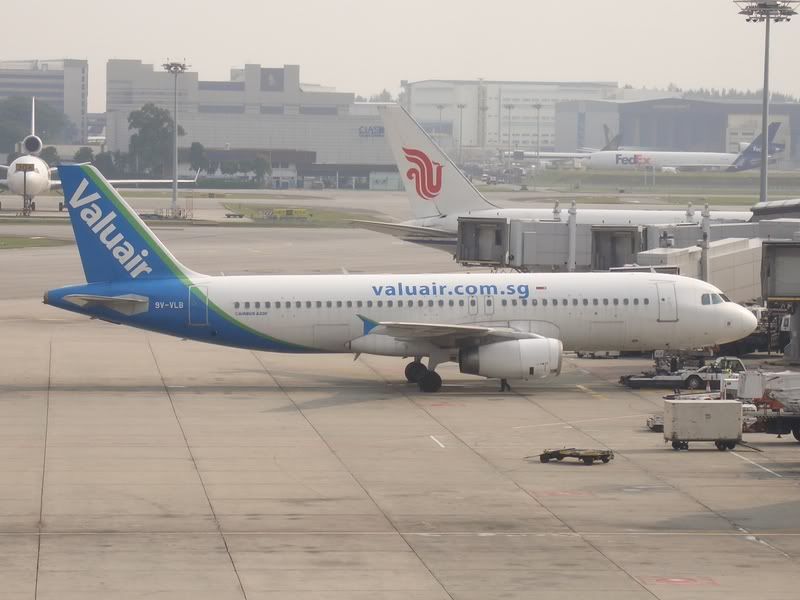 Boarding: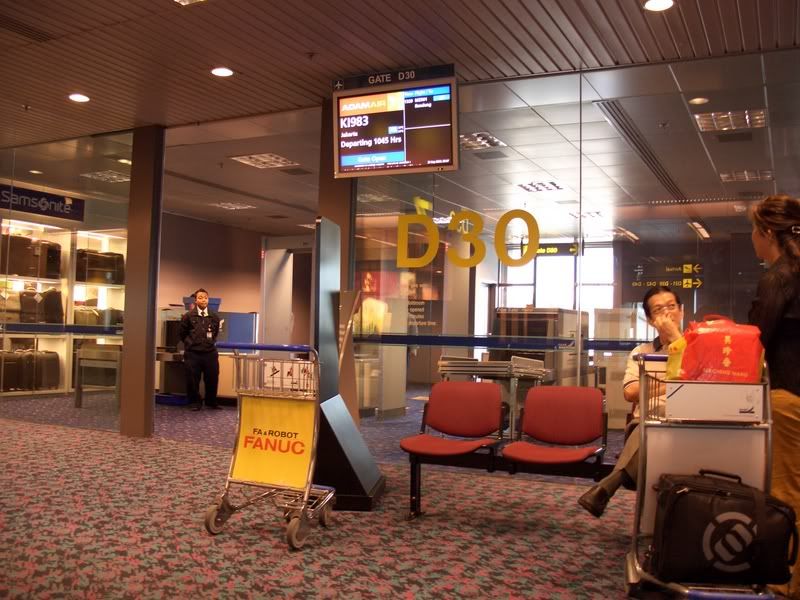 III> In-Flight:
a) Service Schedule + Impressions:
The short 1:20hrs flight meant a quick snack service and nothing more. Forms for entering Indonesia were also distributed prior to landing.
b) Aircraft + Seats:
KIs B737-500 was probably the worst maintained aircraft I have been on since flying J in BG in 2003. The aircraft was plane filthy … you don't want to know what had been on the arm rest, seat pockets, and the folding trays in the arm rest. The signage and the bathroom showed their age, and during take-off and landing several of the luggage bins popped open … not too safe given the amount of stuff they contained! Saving it from complete disaster was the dark maroon leather seats, the generous legroom, and a very well integrated use of their corporate colors. Have I mentioned how much I like their colors by the way?! Recline for the leather seats was above average and trust me, the leather did make a difference.
Aircraft: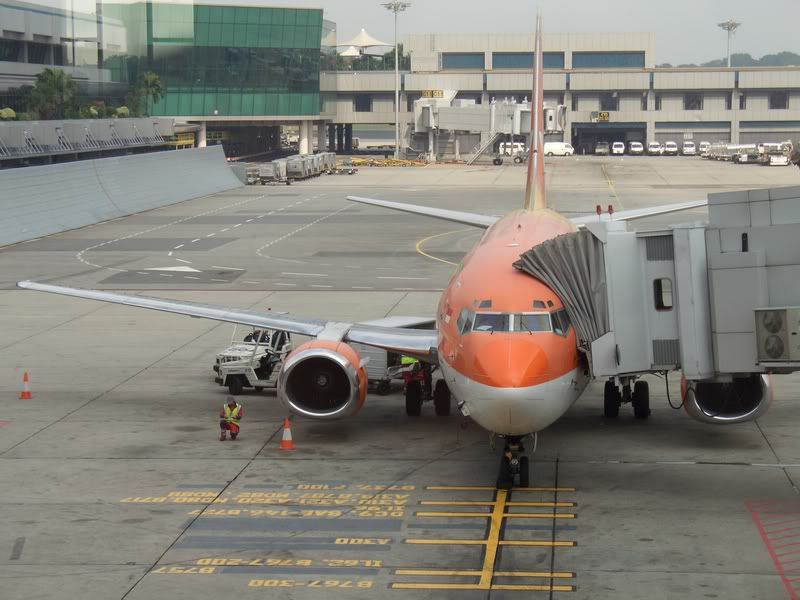 Views from Aircraft:
(Competitor parked right next to us)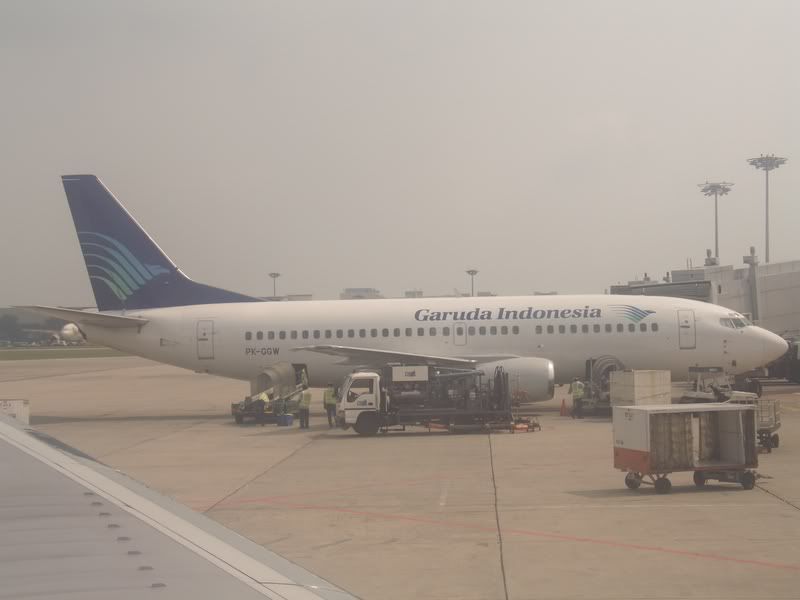 (Royal Khmer Airlines – anyone have ideas about who these people are?)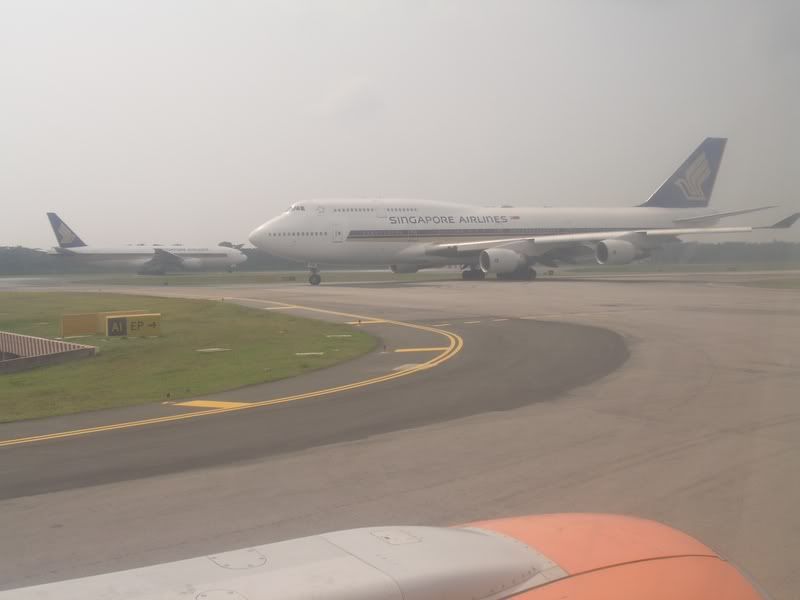 Seat Leg-Room:
(Slightly misleading as this was the exit row. But you can get a better sense from the seats next to me below)
Seat Recline + Angle View:
Cabin:
(Luggage Bin Opening During Take-Off)
c) Meal + Beverage:
For a flight just over an hour, KI serves you a food-box which includes a loaf of bread and a rather dull cake. You get this with water and a serving of coffee. Don't let the bright colored box fool you … the bread and cake were barely edible.
d) Inflight Entertainment:
None – music, video, newspapers, or an in-flight magazine.
(Usually, I put pictures of boarding card and other paraphernalias here – note the sick bag with writings in Hindi!)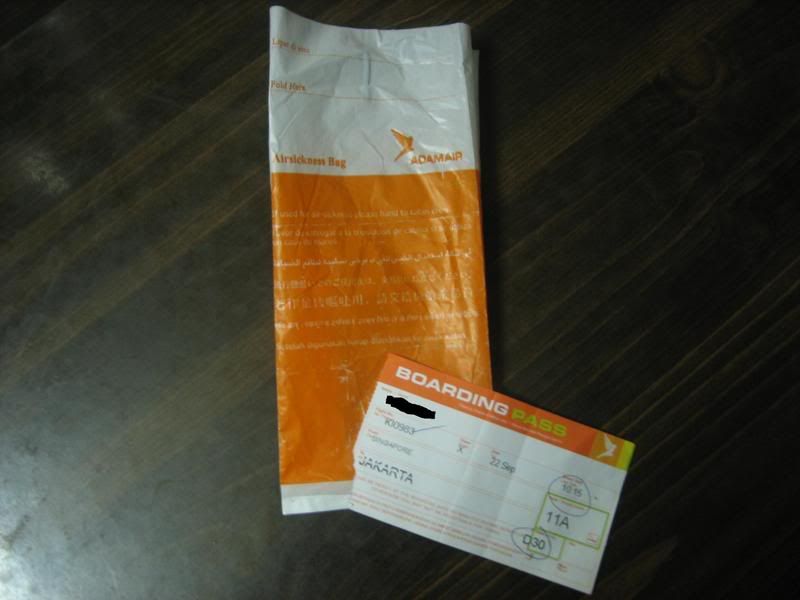 e) Crew:
KIs crew displayed typical south-east Asian charm. They did the best with the average tools and were charming to pose for a group photo for me. They spent around 20 minutes getting pretty for the snapshot below. I also liked the fact that used my first name to address me throughout the flight after I had expressed my interest to take a snap of them.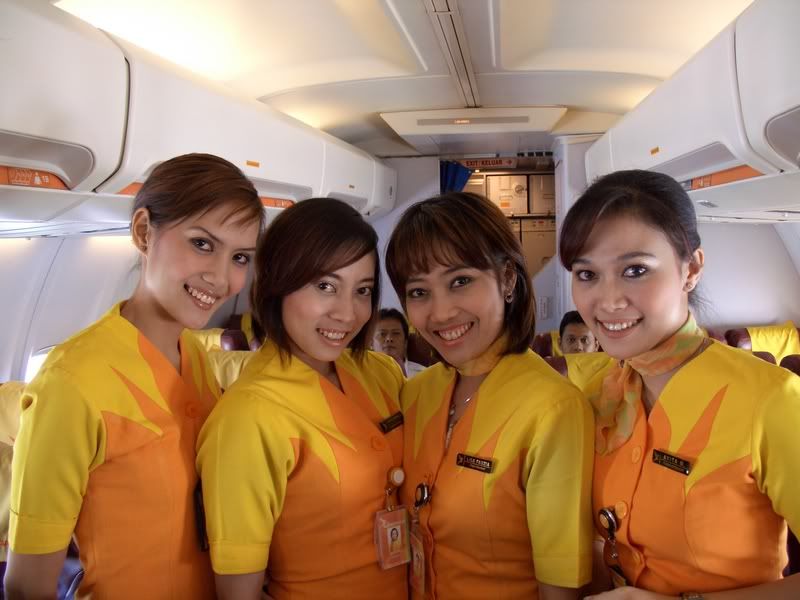 IV> Post-Flight:
Jakarta is no SIN or KUL. However, it is clean and notches above MNL … a city/country I compare JKT/Indonesia with often. Inspired by traditional Balinese architecture, CGK is an open airy terminal. One gripe was the immigration lines though which took forever.
Jakarta Airport:
(Tarmac Area View)
(Internal Arrival Area)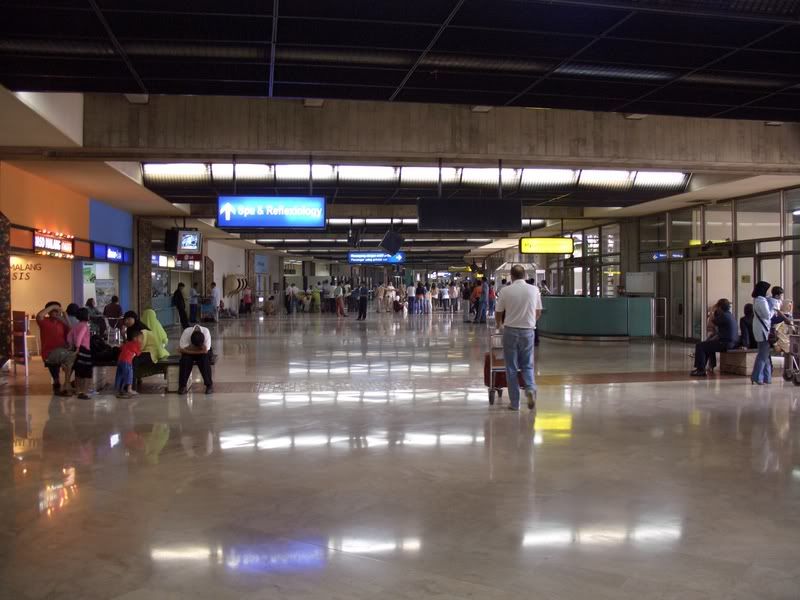 V> Impressions + Scores:
With a plethora of choices on the SIN-CGK market, Adam Air should fill capacity for those most price sensitive (and there are a considerable amount of low-skilled Indonesians working in Singapore.) KI's strong point is a lean operation done with charming cabin crew. However, the rest of their operation … from the website to their aircrafts feels very "fly-by-night." I did not feel 100% safe onboard their B735. Would I fly them again? Probably if the schedule worked in my favor; however, I would rather spend USD 20-35 to fly something more reassuring.
Reservation: 6.0
Check-In: 6.5
Lounge: n/a
Boarding: 7.5
Seat: 6.0
Aircraft Overall Ambience: 2.0
IFE: 5.0
Crew Service: 8.0
Food: 3.5
Beverages: 5.0
Amenity Kits + Others Freebies: 5.0 (standard default score)
Disembarkation: 8.0
On-Time Record: 10.0
OVERALL IMPRESSION: 6.04
(Scores are based on comparison with other airlines in THAT class of service – No comparison of Y vs. F for example)
VI> Other Trip Reports:
1/
Avianca: BOG-LIM: 07/06/06: 7.09pts: Y-IMR
2/
Air Tran: EWR-MDW: 08/02/06: 6.73pts: Y-DMR
3/
West Jet: YYC-YVR: 09/05/06: 7.14pts: Y-DLR
4/
Air Canada: YYZ-YVR: 09/02/06: 5.92pts: Y-DLR
5/
Air Canada: ALB-YYZ: 09/01/06: 5.88pts: Y-ISR
6/
Singapore Airlines: EWR-SIN: 09/20/06: 7.81pts: J-ILR
(Note on Codes: Y – Economy, J – Business, F – First :: I/D – International/Domestic :: SR/MR/LR – Short/Medium/Long Haul :: I have designed these codes so people don't believe my scores are comparing apples and oranges)
VII> Other Pictures:
(Indonesian Immigration Forms)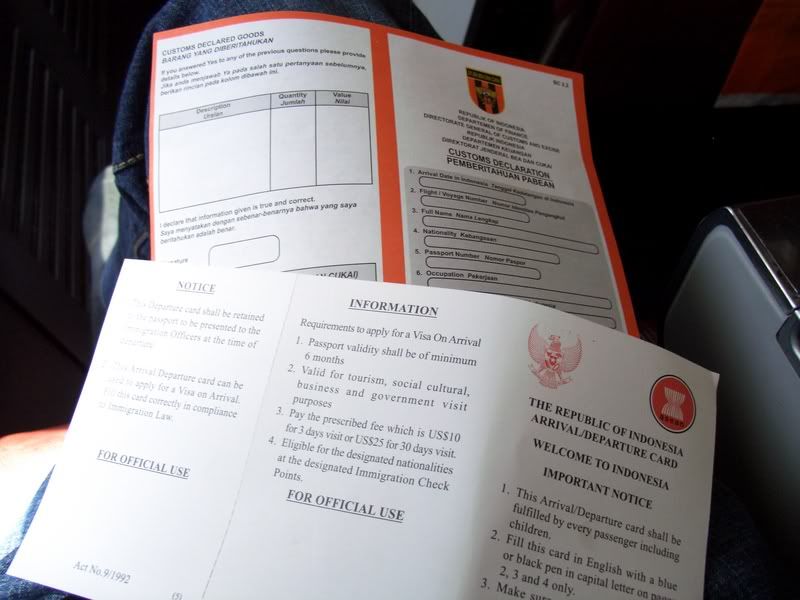 [Edited 2006-10-18 18:56:29]