Hey All,
After reading many trip reports here for a few years, I thought it was time to write down my first own report.
Please don't shoot on me if you find anything wrong in the text as English is not my native language and I try to write it as good as possible...
I've visited Dublin 2 years ago and was pretty much surprised about this city, there are a lot of things to see and do, fine food and nice pub's. The very friendly and welcome Irish people and relaxed atmosphere in the city decided me to go for another short break to "The Island of Memories". Last time I was flying with Transavia.com from Rotterdam to Dublin, but they have cancelled this route last year, so I was searching the options for flights between The Netherlands and Dublin.
Aer Lingus has 5 daily departures from Amsterdam to Dublin but fares where already pretty high. The other remaining option was Ryanair from Eindhoven Airport, with 1 flight each day and fares at time of booking pretty low, I decided to book FR. For me it was the first time to fly out of Eindhoven Airport, because normally I fly out of my "home airport" Amsterdam Schiphol. Departure out of EIN is at 19:10LT from Sunday to Friday and 13:35LT at Saturday afternoon. As I live north of Amsterdam and have to drive 75 to 90 min. southwards via the Amsterdam ring road and motorway A2 to the airport of Eindhoven, I think it's better to fly on Saturday because during weekdays those roads are always overcrowded and the change to get stuck into long traffic delays is very big.
Bookings where made, the total price of 2 return tickets including all taxes and fee's where 176.54 Euros and for 3 night's at the Comfort Inn Parnell Square via Expedia I've payed about 240 Euros.
Saturday, 14th October 2006
My 74th flight, 2nd on the B738 and 1st on the mentioned aircraft
From Eindhoven (EIN) to Dublin (DUB)
Ryanair flight FR1965
STD 13:35LT - ATD 13:33LT
STA 14:10LT - ATA 14:05LT
Time from T/O to T/D 1:14 min.
Economy class, seat 25B
Boeing 737-8AS with n/c and winglets
EI-DAV, c/n 1426 MSN 33555 delivered to Ryanair at 09-Jan-2004
Left home around 9:30 after a short night of sleep, the day before I had finished my night shifts at work and I always have some problems to get my biological clock back to normal.
The way down to Eindhoven was very easy to do as it was Saturday morning and there where no delays at all. Arrived at the long-term parking area P4 at 10:45. From here it is a 5 minutes walk to the terminal building. Entering the terminal we found out that it was pretty busy with passengers and there where huge lines for security and even busy in front of the check in area.
In the southern part of the Netherlands the autumn holidays has started today and that explained the busy terminal with passengers going all over Europe on Onur Air and Sky Airlines to AYT, Ryanair to CIA / BGY / PSA / DUB, Air France to CDG and Wizzair to BUD which will all depart in the coming hours.
We where happy to arrive a bit early and where nr 4 in line for the desks to check in for the DUB flight. We got our boarding cards with security numbers 15 and 17, the first group to board the aircraft.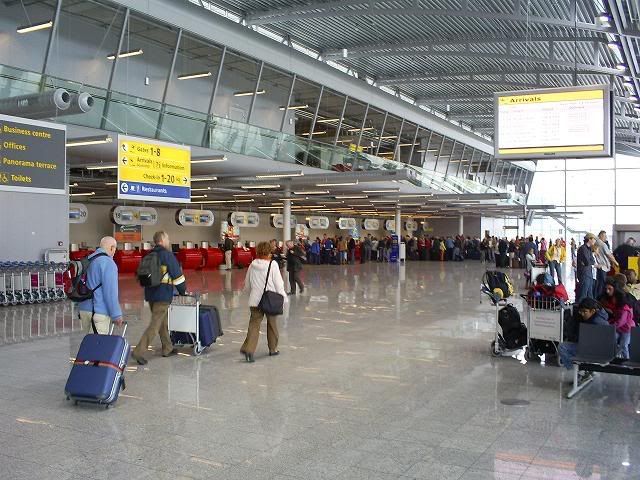 We decided to take a view at the panorama terrace on the 1st floor to die some time. When we got upstairs there where 2 RYR, 1 OHY and 1 SHY aircraft at the apron, with the last one pushing back.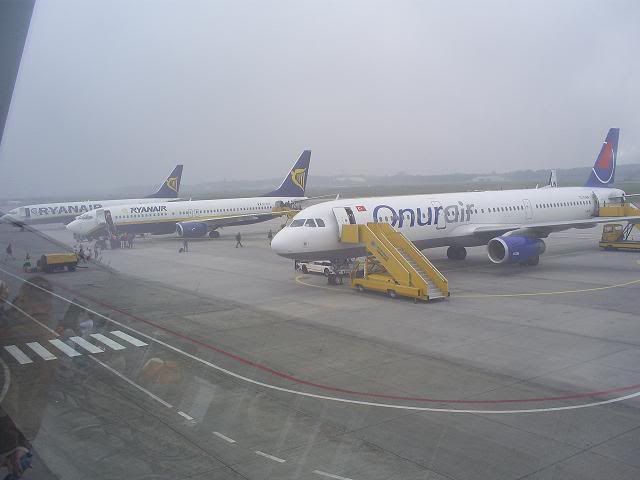 After spending about 45 minutes at the terrace and smoking our last cigarette in front of the terminal it was time to go through security. The lines where all gone and we where checked very quickly.
The departure lounge at EIN airport is tinny with just 1 tax free shop, 1 bar, 1 toilet group and 8 gates. Seating capacity is ok, but should be way to less when there are more then let say 5 x B738 / A320 sized departures at the same time...
We passed immigrations and waited or about 10 minutes at gate 1, the incoming flight has not yet arrived, but hey, today we are the "early birds"  
Once our aircraft taxied into the parking position everything turned out fast, boarding was started and we where split up into 3 groups, the 1st load of pax has all the family's with children and passengers in need of any assistance followed by sequence numbers 1 to 90 and 91 to 189. As we have sequence nbr 15 and 17 we where in the 2nd group and hey what's that... 4 lady's with a age of 50-60 (for the Dutch readers: Blonde Benidorm miepen met te dikke laag plamuur op het gezicht en minimaal 1 bus lak in het haar) in front of us has seq. nbrs in the 120 range. I told them that they have to wait in line with the last group to board, but that was the biggest mistake that I've ever made, One of the lady's came to me and told me with half closed eyes and a head as red as the black box of the aircraft at the apron that I do not have to explain how it works with boarding a FR flight as they already flown FR thrice, I will save you the details of all the diseases she wishes I should get in the rest of my live...
It is a short walk to our ship and we boarded straight through the rear door, with the 4 lady's queuing up in line at the front door. We where greeted by a male flight attendant and choose to sit down at row 25.
Shortly after boarding was completed, and once everybody found a seat I think the total load factor should be around 75%.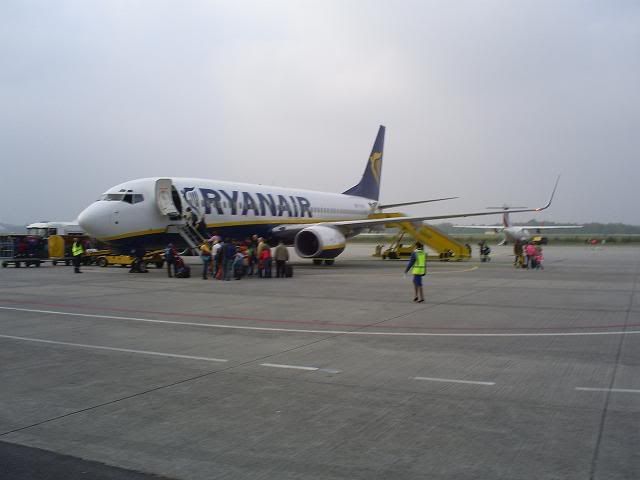 B737-800 EI-DAV with in the background visible Air France / Airlinair ATR42 F-GPYA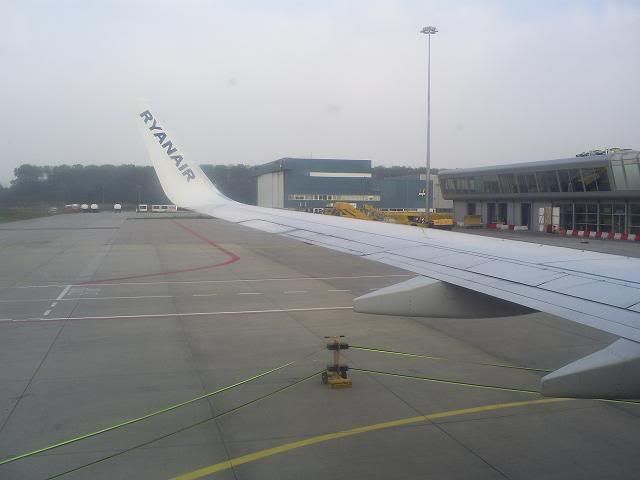 View towards the left with the Philips hangar just right of the winglet.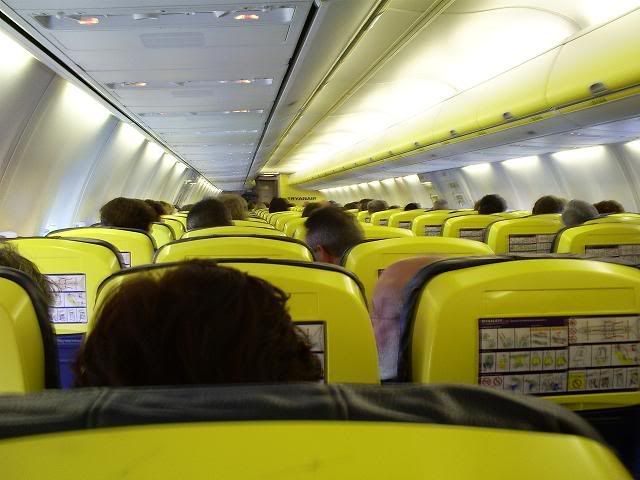 The captain came over the PA and welcomed us on board, he explained that the flying time will be 1h20 at an altitude of 36000 feet and that the weather in Dublin is ok, partly cloudy and a temperature of 17 degrees Celsius.
Push back and start up was completed shortly thereafter and we where taxiing out to runway 04.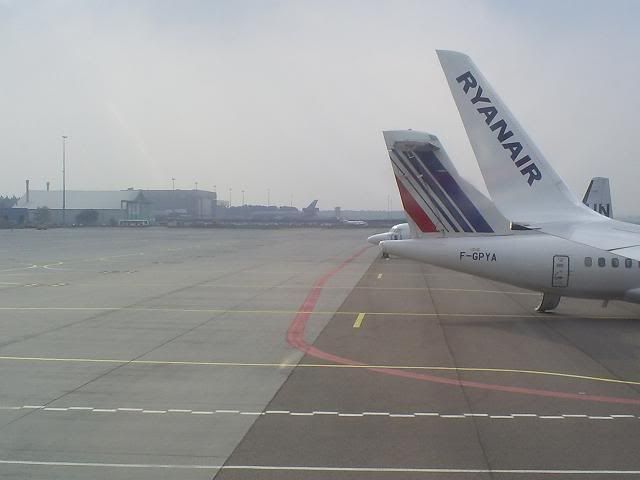 Taxiing out to rwy 04 with a KDC-10-30CF of the Royal Netherlands Air Force visible in the far background on the military apron.
After line up we hold-ed for about 2 minutes and then the party started, take off thrust was set and we where thundering down runway 04 for about 20 seconds. Shortly after take off we disappear into a cloud layer so there was no possibility to take any pics of the countryside around Eindhoven.
A few moments later we are already out of the clouds and climbing straight to our cruise altitude.
The "meal service" started, coffee and tea was sold out, only remaining were a few can's of Pepsi and mineral water.
Some inflight pictures: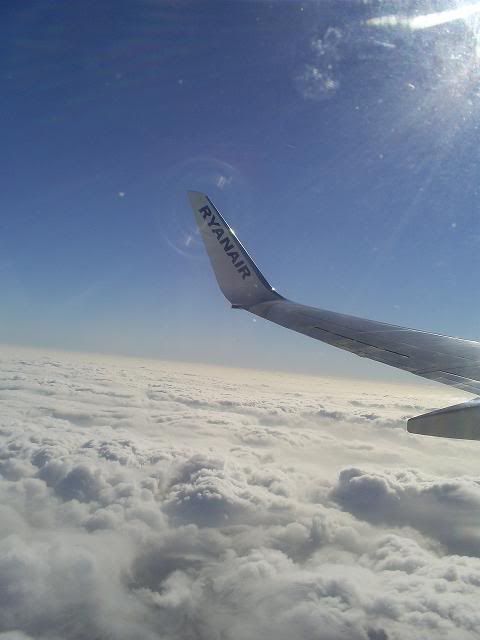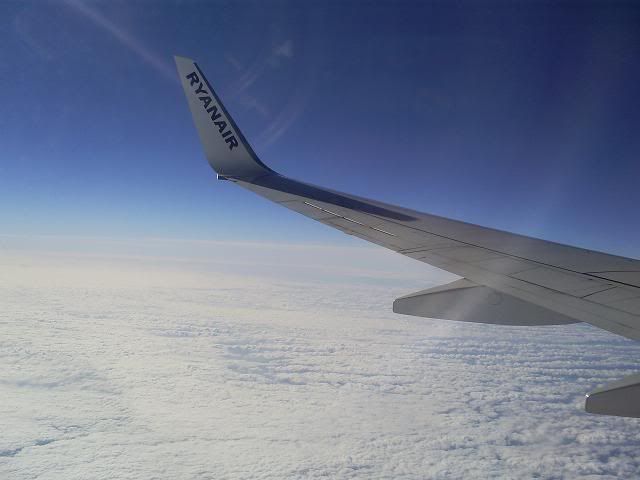 First surface visible when we already reached the West coast of England near Liverpool: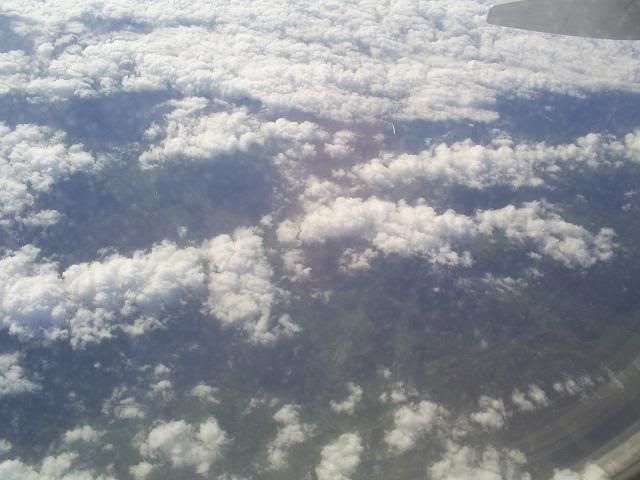 Anglesey Island with the Red Wharf Bay visible in the center of the picture: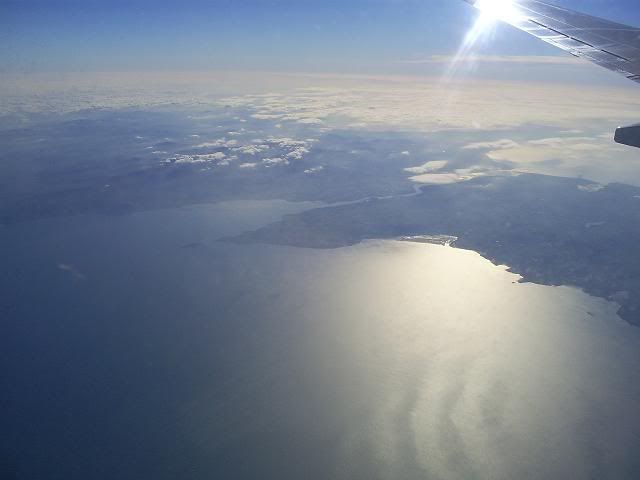 Holy Head, where you can take the ferry to Dublin: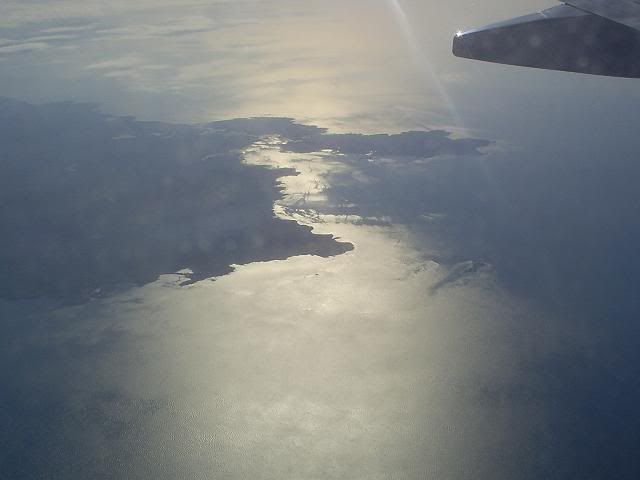 It's time to start the descent, the Captain came once again over the PA and announced landing in 20 to 25 minutes.
Reaching the Irish coast at the Gormanston NDB...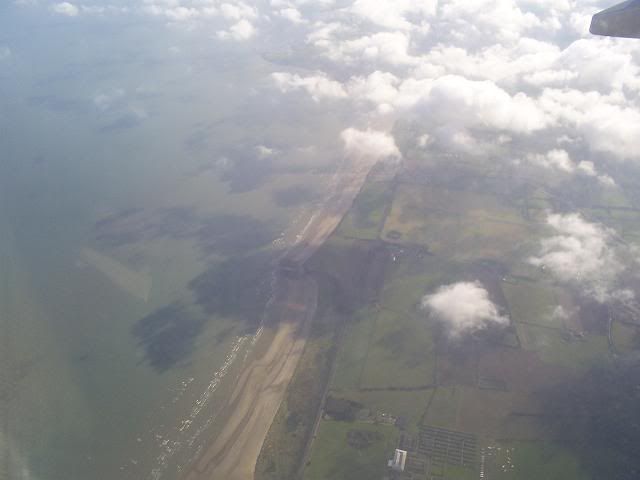 ...where we entered the 9 DME ARC from DUB VOR to enter the localiser for runway 16 at Dublin Airport: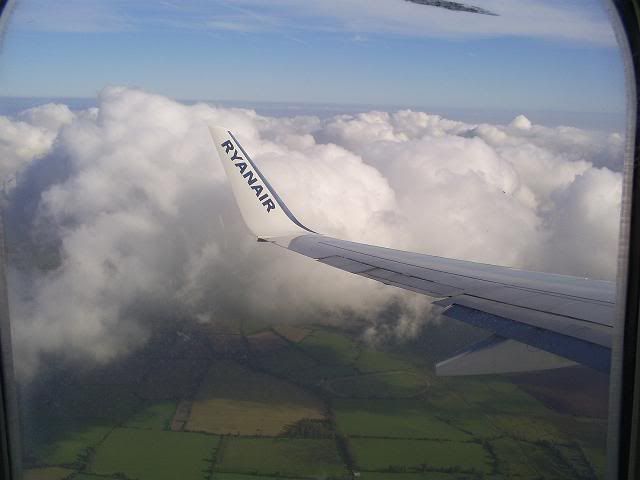 About 1 NM to go with the town of Swords on the left hand side: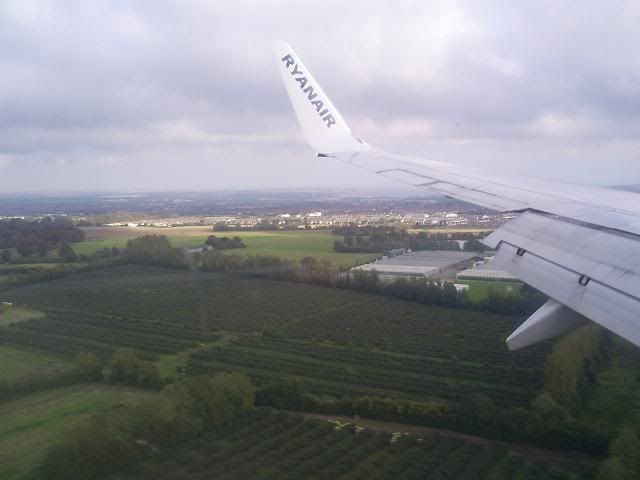 Seconds before touch down on rwy 16 you can see the beginning of the short runway 11: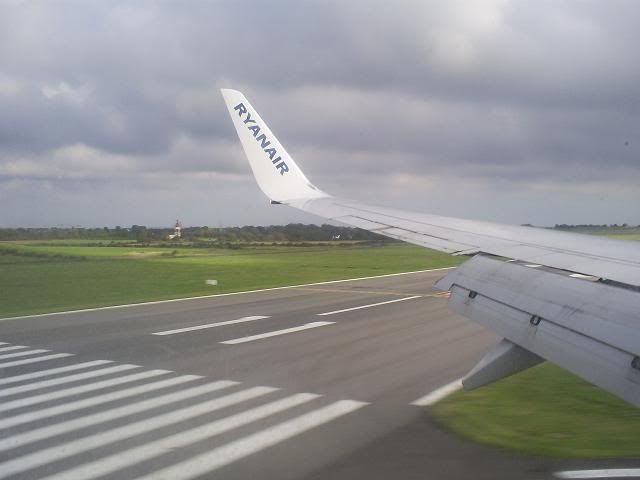 Landing was pretty smooth, a bit bumpy and braking was very hard to take the first available exit as a Aer Lingus A320 was on final short behind us.
We pulled into our stand and deboarded via the rear door again.
Entering the terminal near the A61 to A71 gates means a long walk to immigrations and baggage reclaim. This is a really "Ryanair style" extension of the existing terminal, but it work perfectly I suppose...
Once we got our bags we wandered to the Aircoach which drove us quickly in 30 minutes to O'Connell street / Parnell Square in down town Dublin which is the first stop right after the airport. We already buyed the Aircoach ticket on board during the flight for 12 Euros return.
During the days in Dublin I've walked the foots from my legs 
We've visited so much buildings, churches and places of interest...
For me the most interesting place was the St. Jamesgate Brewery, the place to be on earth for all Guiness fans.
I will show you a very small selection of my pictures taken during our sightseeing tours across Dublin:
General Post Office, O'Connell street: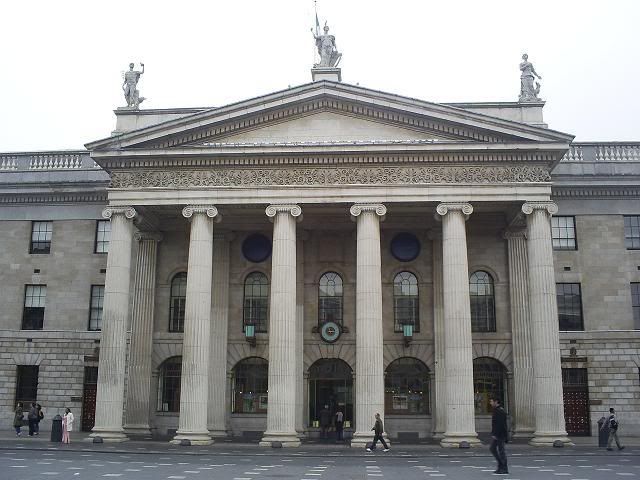 The facade of the Trinity College: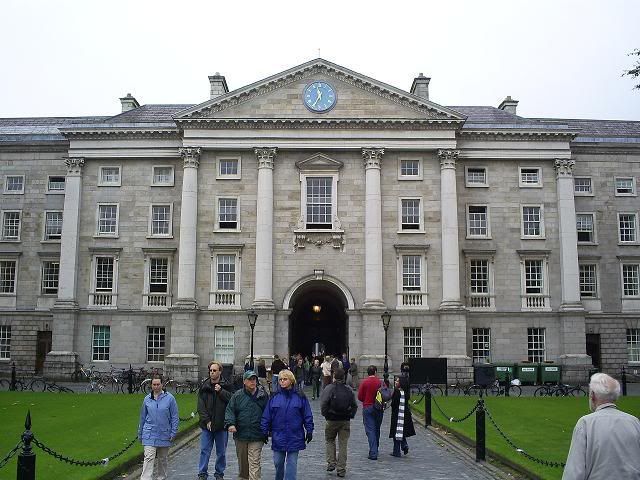 Bank of Ireland, pics taken during day and night: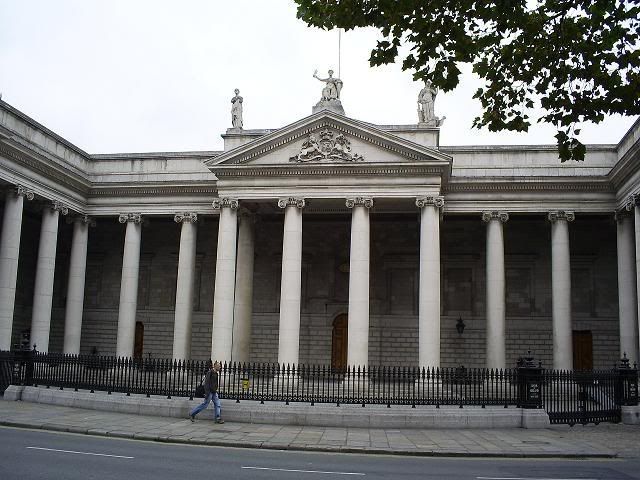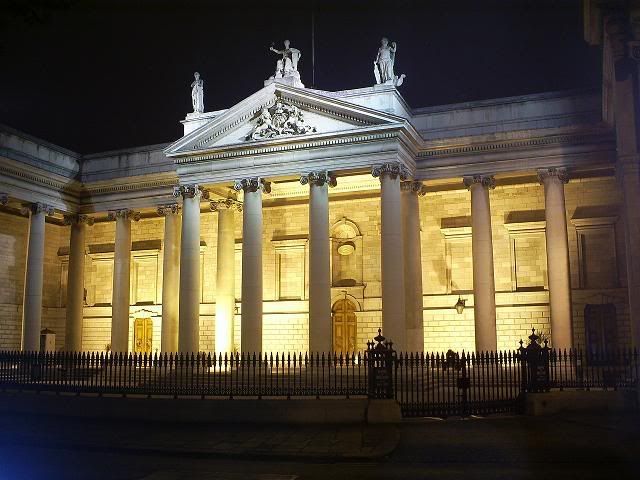 St. Stephens Green Shopping Center: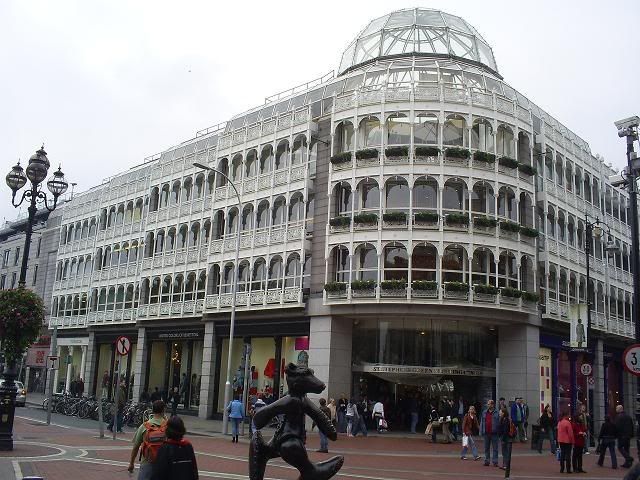 For me the most interesting place during my visit: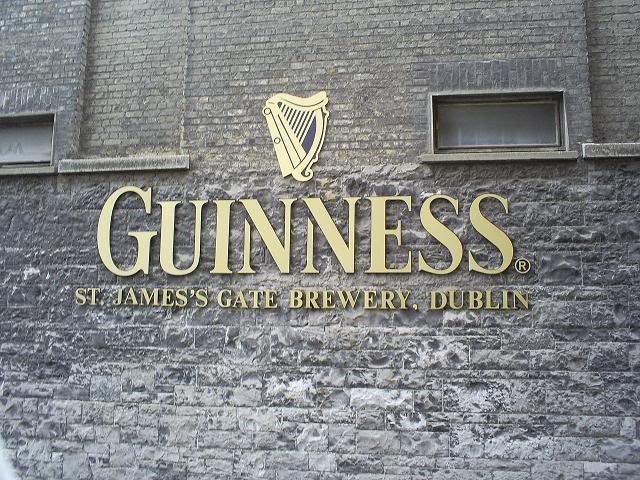 View from the 7th floor at the Guiness Storehouse: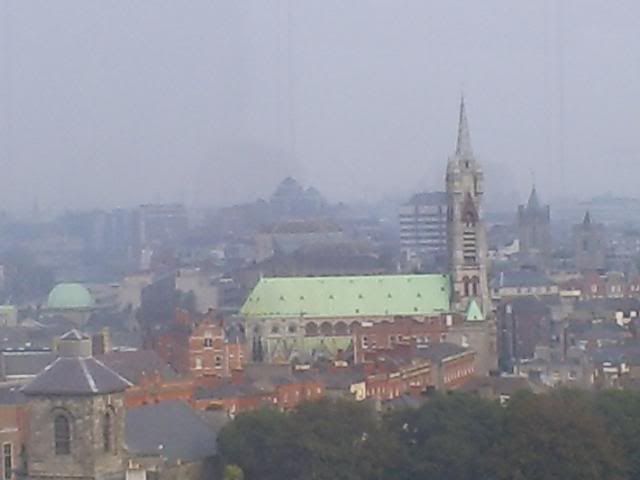 One of the most traditional but very touristic pub's in Temple Bar "Oliver St. John Gogarty's: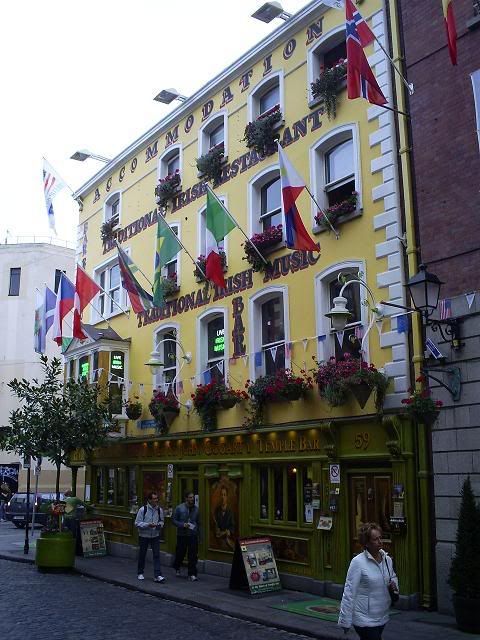 It was pretty difficult to find a restaurant or pub where you can eat traditional Irish food such as Irish Stew, Boxty, Coddle etc. So we where forced to divert to a Indian on the 1st, a Japanese on the 2nd and a Thai restaurant on the last evening. For us this is no problem as we like Asian food very well...
From the Indian restaurant Diwali (South Great George Street), sadly I don't have any pictures of the food.
But below you can see what we eat in
Yamamori
(Also in South Great George Street next to Diwali):
Norimaki (Sushirice rolled in seaweed) with Snow crab and Cucumber: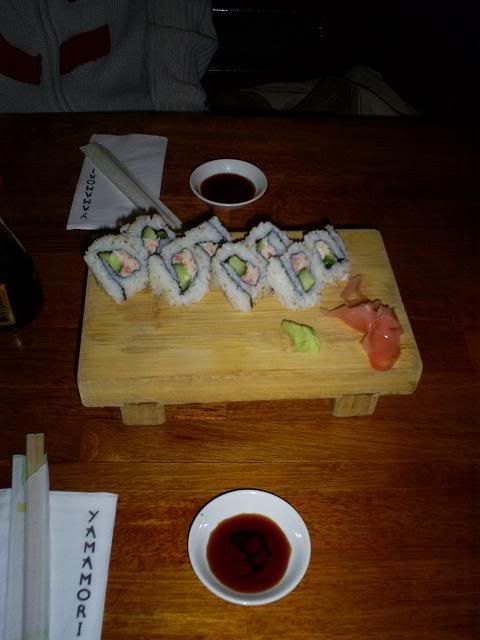 Teppan Beef Teriyaki: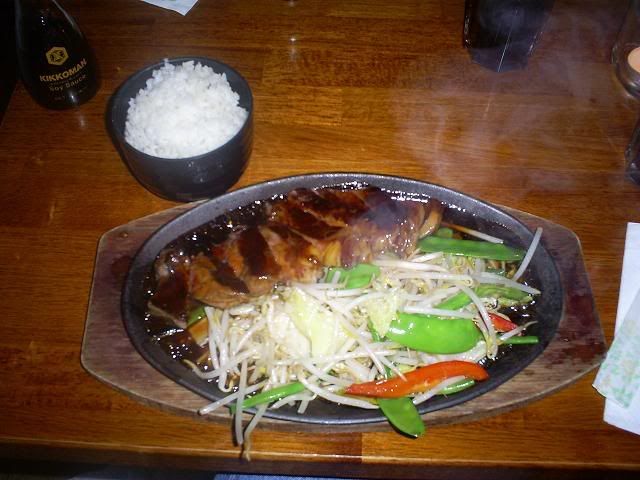 And at the Thai restaurant
SiamThai
(St. Andrews street) we had Prawn Tampura coated with honey bread crumble along with Tamarinde sauce (yummy!!) as starter and Thai Green Curry and Fillet of Beef sizzling in oyster sauce as main course...
Thai Green Chicken curry: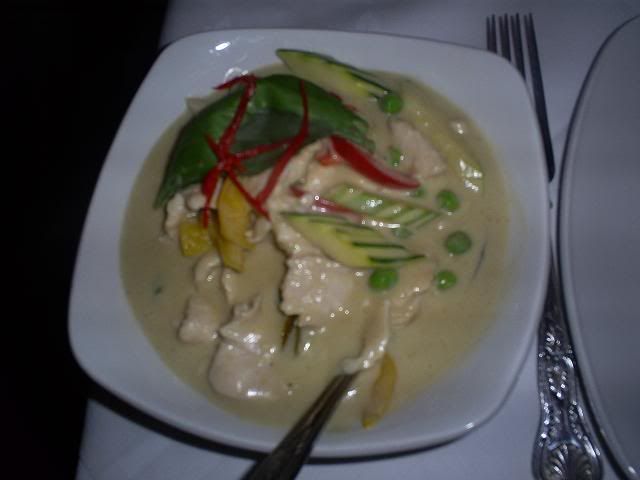 Sizzling beef in oyster sauce: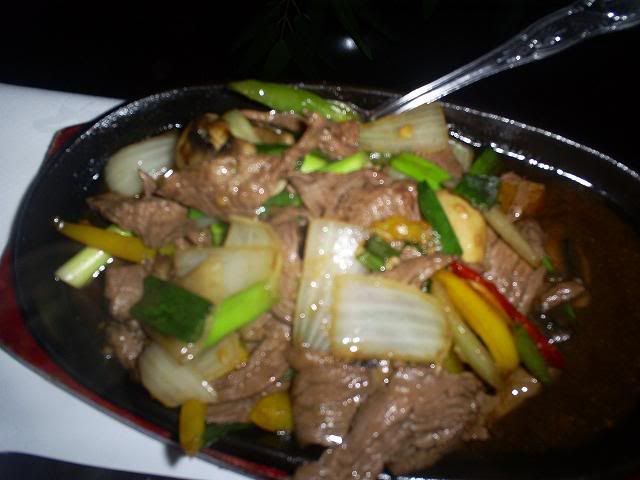 Time flies when you have fun...
After 2,5 days time has come to go home again  
I will make the report about the return flight way shorter as the one on the outbound flight because I'm already typing for about 4 hours now and I don't like to write a long story about a flight back home when I really enjoyed the stay at my holiday destination...
Tuesday, 17th October 2006
My 75th flight, 3rd on the B738 and 1st on the mentioned aircraft
From Dublin (DUB) to Eindhoven (EIN)
Ryanair flight FR1964
STD 16:15LT - ATD 16:13LT
STA 18:45LT - ATA 18:32LT
Time from T/O to T/D 1:09 min.
Economy class, seat 28A
Boeing 737-8AS o/c and without winglets
EI-CSM, c/n 722 MSN 29926 delivered to Ryanair at 07-Dec-2000
View Large
View Medium


Photo © Jenny Coffey
In the morning we made some last minute shopping in Henry Street and the Jervis Shopping Centre and take a last coffee Earl Street north. We got back to the hotel to pick up our bags. With our bags collected we walked to the Aircoach stop at the Royal Hotel in O'Connell street.
Normally the Aircoach busses operate every 15 minutes but we waited for 25 minutes and then there where 2 busses arriving at the same time.
Just a few passenger boarded the bus included a Ryanair crew member and the journey to the airport started. We took another route as usual as there was a big traffic jam on the original route.
We arrived at the airport and checked our self and the bags in, seq. numbers 69 and 70 this time. The wait began and we wandered around the shopping area and then onto the A concourse. While enroute we got a good view on the apron and saw a diverse collection of aircrafts you don't see at Amsterdam airport such as Air Southwest Dash-8, AerAran Atr's Aer Lingus A330 and others...
Nice to cache this bird, a ex Air Jamaica and now flying for Eirjet A320 (EI-DKG):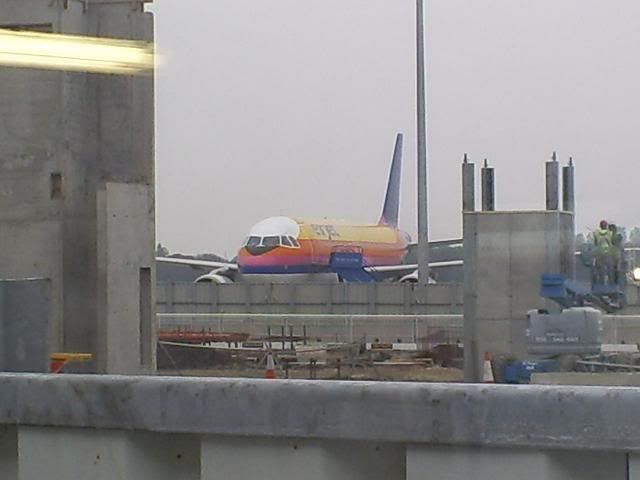 Eventually boarding was announced and we took seats 28A and B, entered the aircraft via the rear door again. Take off on time and for a long time we where cruising in a thick layer of haze at FL370, our cruise altitude.
Overhead the North Sea the sky cleared up and we could see the ships waiting in front off the North Sea Channel between Ijmuiden and Amsterdam.
We reached the dutch coast just south of Katwijk with the closed airport of Valkenburg clearly visible: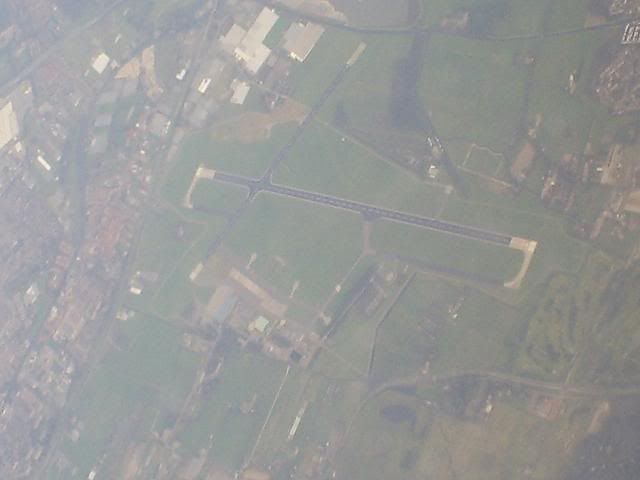 At this point we where already descending for our approach into Eindhoven Airport and the route took us further via Alphen aan de Rijn, Schoonhoven, Zaltbommel and Den Bosch to enter the localiser for runway 22 at Eindhoven.
Touch down was very rude, aswell the slow down of the aircraft. We taxied to the apron and has to wait for a Inter airlines A321 which was blocking our parking position. Disembarking was quick, immigrations and the wait for our bags took about 5 minutes.
Zaltbommel with the "Martinus Nijhoff bridge" over the Waal river which we will cross on the same bridge in about a hour: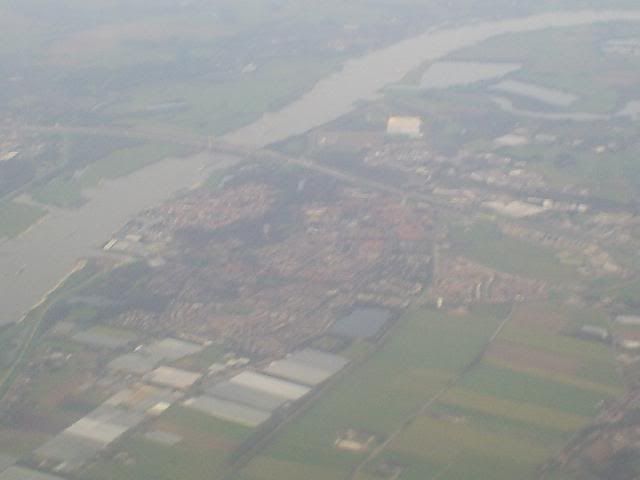 Waiting for the Inter Airlines A321: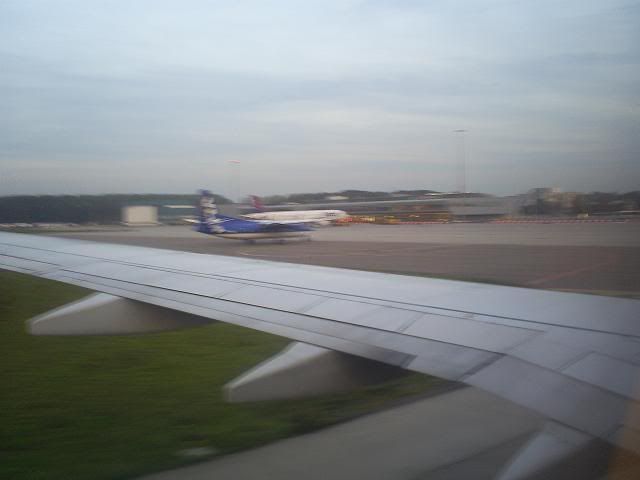 As it was just after 7 o'clock in the evening I expected some traffic delays on the way back home, but all in all it was a breeze to drive the 140 kilometers and after a 1 hour and 15 minutes drive, I parked my car at his good old parking place again...
Conclusion:
Ryanair:
A very good and professional airline for flights within Europe, if available on the route you want to travel. This is actually the 2nd time I fly with FR, the first time in 2003 I had a very long delay in Pisa but the flight I just took makes everything good in terms of punctuality!!!
Dublin:
A great city to visit, I will absolutely come back again!!!
Eindhoven Airport:
A very nice airport to start your flight at. Last time when I was travelling to Dublin I was flying out of Rotterdam and personally I think that the EIN management has a way more professional approach on how to organize a regional airport in terms of attracting airlines etc then Rotterdam which finds itself "The Luxury Airport" wich result in high fares...
Pfewwww this took really a long time to write down this report, I hope that you all like it to read, comments are very welcome!!!
Regards, Flyingfool
[Edited 2006-10-19 00:30:22]
[Edited 2006-10-19 00:42:29]