Feedback always appreciated.
Trip Report: 008
Flight Category: Y-ISR (See Report End)
Date: 22-Sep-06
Dep.Arr.Time: 1520/1820/02:00hrs (Delayed by 03:00hrs)
Flight:
VALUAIR, VF 504
, 546 miles
Routing: CGK-SIN
Aircraft: 320
Seat: Economy, 11F
I > Background:
Part of a month long amazing passage to India for a wedding, with some stops in Asia to see friends. Routing was CCS-MIA-EWR-SIN-CGK-SIN-CCU-DEL-CCU-BOM-CCU-IXZ-CCU-IXA-GAU-CCU-SIN-ICN-YYZ-EWR-CCS with a mix of J and Y class of travel. This focuses on the VF segment from CGK to SIN. Other trip reports for this trip will be EWR-SIN (SQ/J-Cabin), SIN-CGK (KI), CCU-DEL (SG), DEL-CCU (IC), CCU-BOM (S2), IXZ-CCU (DN), CCU-IXA (CD), IXA-GAU (IT), GAU-CCU (6E), CCU-SIN (SQ/J-Cabin), and ICN-YYZ (AC/J-Cabin). I think these reports will be "firsts" for revenue flights on SG, CD, IT and 6E and cover IXA, GAU, and CCU-IXZ for the first time on Airliners.Net.
II > Pre-Flight:
a) Before Airport:
Booking was made using Jet-Star Asia's clear easily navigable website which lists the various fare categories, restrictions, and related fares. My only issue with the site was the inability to make seat selections. This is my recurring gripe with an airline online booking system.
b) At Airport:
After a brief lunch-over in Jakarta to see a friend, I was back at Soekanno-Hatta for my return flight to Singapore. CGK does not have the aura of the neighboring mega-hubs at SIN, KUL, or BKK … but is pleasing to the eye with its Balinese design and affords many spotting opportunities around the airport periphery. Moreover, there is this one spot where you can see a super cool collection of old 727s, 737s, DC9s, etc. in very colorful liveries of Indonesia's myriad private carriers. The check-in area of CGK reminds me of a bus-station with poor tube-lighting and generally damp looking. VF's counter is very old-school and the whole check-in process was very disorganized. Boarding cards were pre-written with seat numbers and distributed to passengers upon check-in. At check-in, I was informed the flight was delayed "2-3 hours," due to "late arrival of incoming aircraft." Since the VF flight was cancelled the day before, I sought and was reassured by the airport manager that the flight was going to take off from SIN. However, she did warn that nothing was confirmed until VF's aircraft had taken off from SIN. Uugh. Anyways, I wondered past immigration and security into the terminal which was infinitely better. Natural lights and open airy-feel of it was a stark contrast to the dingy check-in area.
As I was shopping alcohol, some 45 minutes later, an announcement was made emphasizing final boarding call for VF passengers to SIN. Since I thought I had 2:15hrs left (due to announced delay at check-in and monitors,) I scrambled and ran to the gate. Surely enough, boarding had commenced and I made myself to the aircraft gasping for breath. 20 minutes into being onboard, the pilot announced that since they had mentioned a 2:15hrs delay at check-in, many passengers were missing and we had to wait until everyone was on board! So we sat at the tarmac for an additional 2:15hrs until all passengers were accounted for. The sheer stupidity of VF's ground crew and the obvious lack of co-ordination between VF dispatch, SIN HQ, and their outsourced ground staff at CGK ensured many onboard to miss their connection.
Airport - External:
(CGK Gate 1)
Check-In: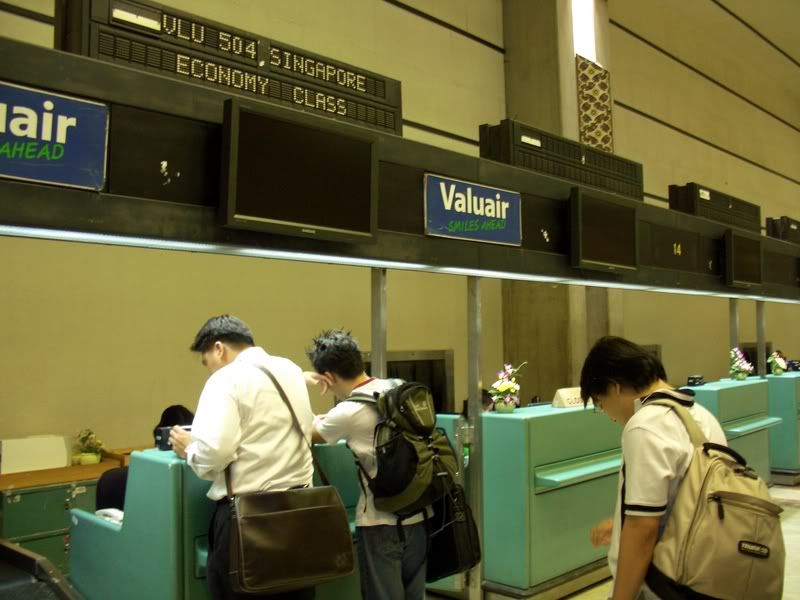 (I was amused to see this old Air India exhibit…)
Airport - Internal:
Scenes of the tarmac:
NONE
Boarding:
III> In-Flight:
a) Service Schedule + Impressions:
During our wait at gate, nothing was served. Post take-off, there was a beverage and meal service.
b) Aircraft + Seats:
VFs 320s are clean and well maintained; however, the rear lavs were dirty and wet. The leather seat was comfortable, though recline and pitch were below industry average.
Aircraft: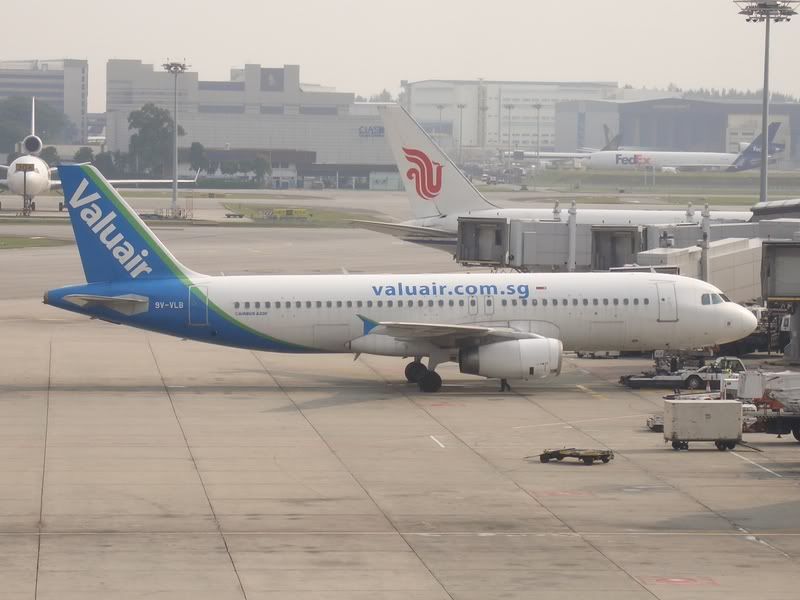 Views from Aircraft:
NONE
Seat Leg-Room:
Seat Recline + Angle View:
Cabin: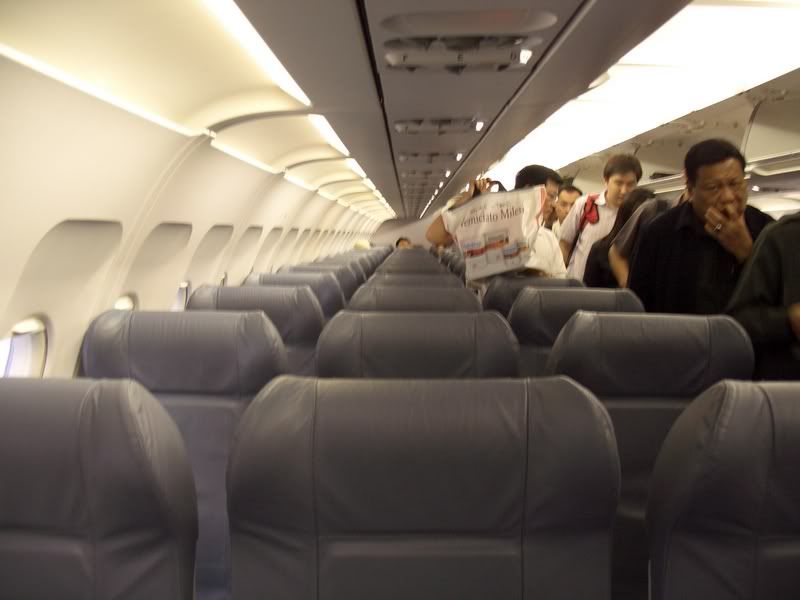 c) Meal + Beverage:
The delayed flight on-board VF consisted of a beverage service and a dry chicken noodle dish. There was also a "food-for-purchase" menu as well; I am still confused as to whether we were given free food due to the delay.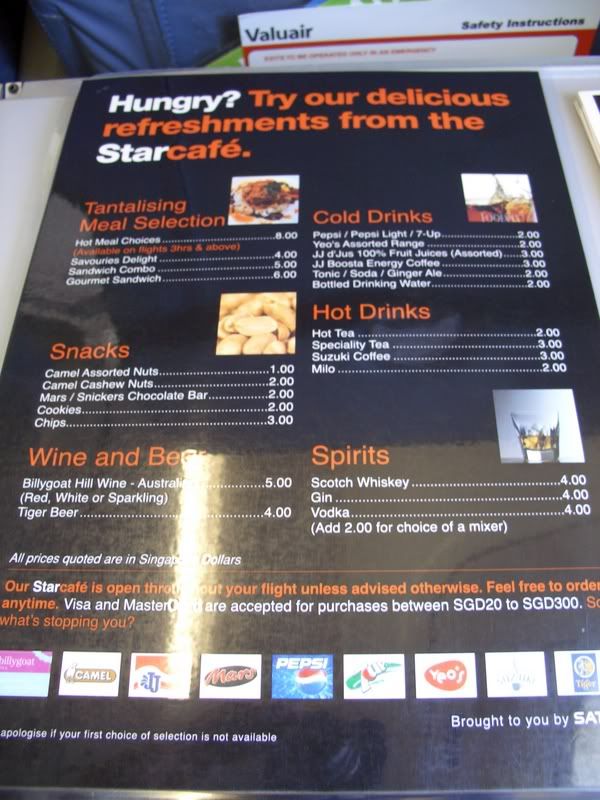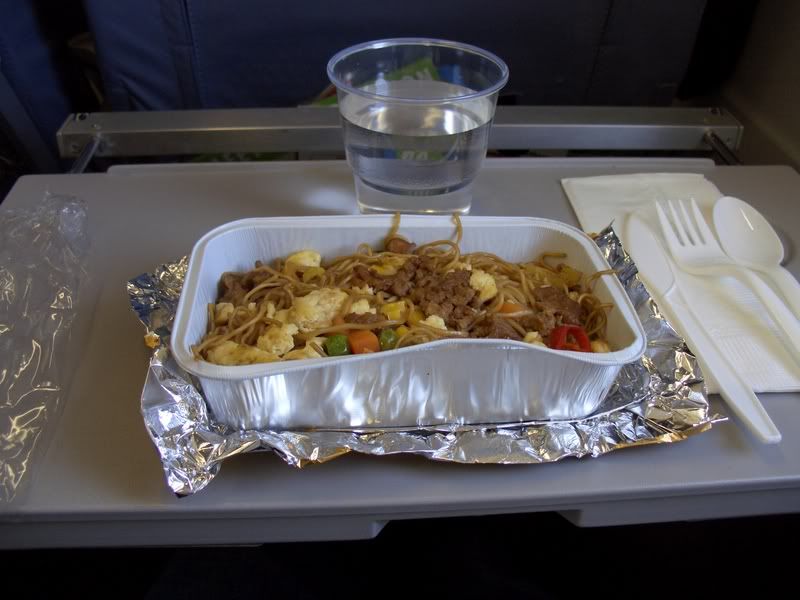 d) Inflight Entertainment:
No IFE whatsoever expect a skimpy in-flight magazine.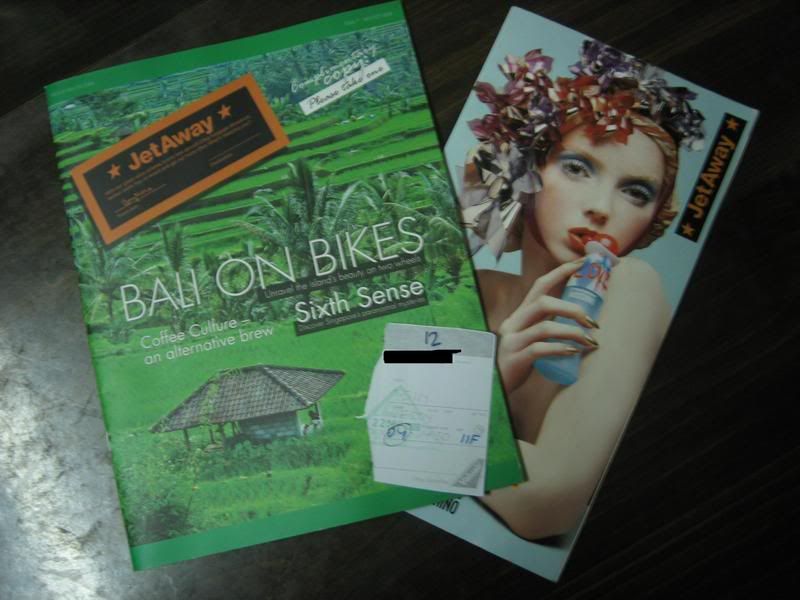 e) Crew:
In-flight crew was extremely incompetent. They had no idea about the delay and clearly were frazzled with passenger's questions re: delay. After take-off, they just robotically did their duty for beverage and food service and soon disappeared into the galleys.
IV> Post-Flight:
Singapore Changi is always a pleasure. I did not check in any luggage.
V> Impressions + Scores:
Unless there is a significant price differential, I would not recommend VF. Poor ground crew, lackadaisical cabin crew, and no IFE makes the airline an unreliable choice. Be warned that VF has very few agreements with other airlines and so a missed flight (when there is an onward connection could be very costly.)
Reservation: 8.0
Check-In: 4.0
Lounge: n/a
Boarding: 2.0
Seat: 7.0
Aircraft Overall Ambience: 7.0
IFE: 5.0
Crew Service: 4.0
Food: 4.5
Beverages: 5.0
Amenity Kits + Others Freebies: 5.0 (standard default score)
Disembarkation: 7.0
On-Time Record: 2.0
OVERALL IMPRESSION: 5.04
(Scores are based on comparison with other airlines in THAT class of service – No comparison of Y vs. F for example)
VI> Other Trip Reports:
1/
Avianca: BOG-LIM: 07/06/06: 7.09pts: Y-IMR
2/
Air Tran: EWR-MDW: 08/02/06: 6.73pts: Y-DMR
3/
West Jet: YYC-YVR: 09/05/06: 7.14pts: Y-DLR
4/
Air Canada: YYZ-YVR: 09/02/06: 5.92pts: Y-DLR
5/
Air Canada: ALB-YYZ: 09/01/06: 5.88pts: Y-ISR
6/
Singapore Airlines: EWR-SIN: 09/20/06: 7.81pts: J-ILR
7/
Adam Air: SIN-CGK: 09/22/06: 6.04: Y-ISR
(Note on Codes: Y – Economy, J – Business, F – First :: I/D – International/Domestic :: SR/MR/LR – Short/Medium/Long Haul :: I have designed these codes so people don't believe my scores are comparing apples and oranges)
VII> Other Pictures:
(Amazing spotting around CGK's perimeter)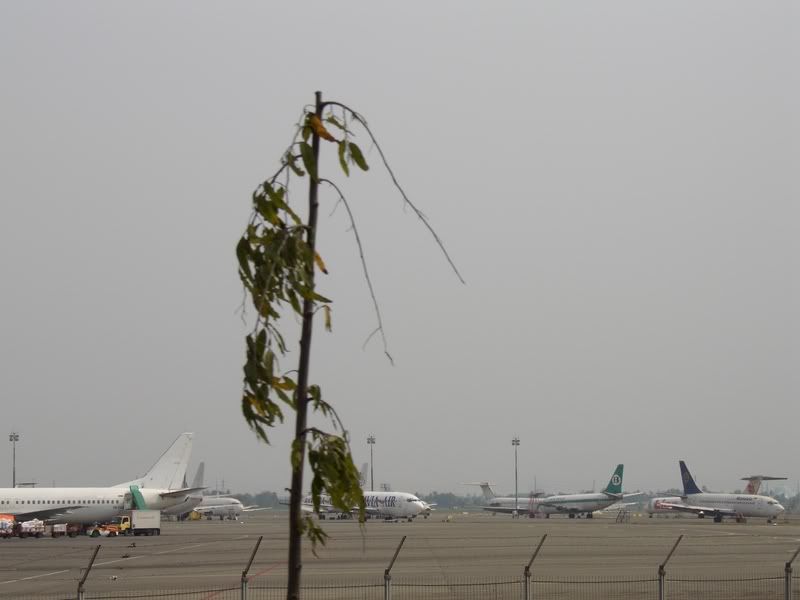 (SQ and EY)
(Impressive EY logo)