Feedback always appreciated.
Trip Report: 009
Flight Category: Y-DMR (See Report End)
Date: 25-Sep-06
Dep.Arr.Time: 1820/2035/02:15hrs
Flight:
SPICE JET, SG 616
, 816 miles
Routing: CCU-DEL
Aircraft: 738
Seat: Economy, 16F
I > Background:
Part of a month long amazing passage to India for a wedding, with some stops in Asia to see friends. Routing was CCS-MIA-EWR-SIN-CGK-SIN-CCU-DEL-CCU-BOM-CCU-IXZ-CCU-IXA-GAU-CCU-SIN-ICN-YYZ-EWR-CCS with a mix of J and Y class of travel. This focuses on the SG segment from CCU to DEL. Other trip reports for this trip will be EWR-SIN (SQ/J-Cabin), SIN-CGK (KI), CGK-SIN (VF), DEL-CCU (IC), CCU-BOM (S2), IXZ-CCU (DN), CCU-IXA (CD), IXA-GAU (IT), GAU-CCU (6E), CCU-SIN (SQ/J-Cabin), and ICN-YYZ (AC/J-Cabin). I think these reports will be "firsts" for revenue flights on SG, CD, IT and 6E and cover IXA, GAU and CCU-IXZ for the first time on Airliners.Net.
II > Pre-Flight:
a) Before Airport:
Booking was made using Spice Jet's clear easily navigable website (www.spicejet.com) which lists the various fare categories, restrictions, and related fares. After booking the flight, you can select a seat (exit-rows blocked.) You can even come back as many times as you want to change your flight, your seat, etc. Clean and nimble, SGs websites functionality is amongst the best in the world.
b) At Airport:
I did what most Calcuttans apparently don't do … take public transport to the airport. From Park Street (downtown area), I took the subway to Dum Dum (final station) before connecting on the suburban train network which took me right to the domestic terminal. It is really convenient and I wonder if Indians will get used to the idea. The outside of Netaji Subhas Chandra Bose Airport (NSCBIA) follows the traditional socialist design … I call it the "Indian Airport Design School" (IADS) and is nothing to write home about. In fact, without signs, its hard to distinguish between some of the airports at major Indian cities. Anyways, after a thorough scrutiny of my eticket, I was inside the rather well-lit terminal which was miles different from outside. Post another eticket inspection, I was checked in by the professional ground staff who promptly responded to my request for an exit window seat. Since the flight was on time, I made it through security and waited to be bused to my aircraft. As with every other flight in India, there was a large line as soon as the flight was announced. We were bused to the 738 parked on the tarmac where entry was both through front and back doors. The 738 looked smart and I was greeted with a smile upon entering the aircraft. Y load was around 80%.
Airport - External:
(Netaji Subhas Chandra Bose Airport Domestic Terminal, Calcutta)
(Outside departing board)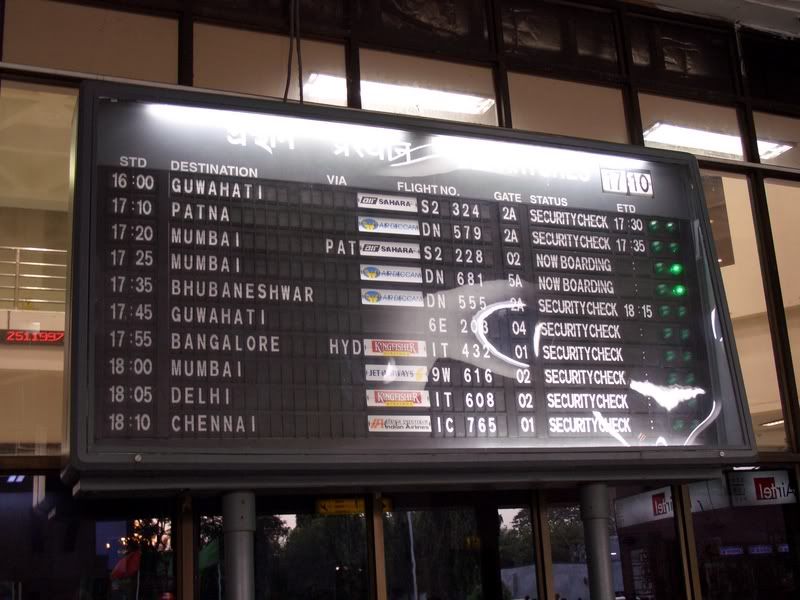 Check-In:
Airport - Internal: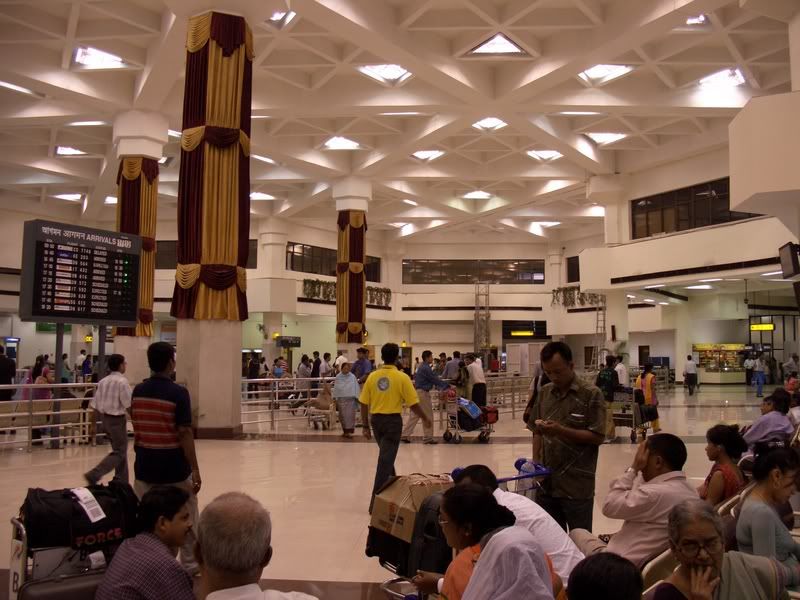 (Other airlines check-in counters)
(Post clearing personal security check, you enter the gate seating area, and this board tells you the gate number. In India, you cant enter here until your flight has been called for security checks)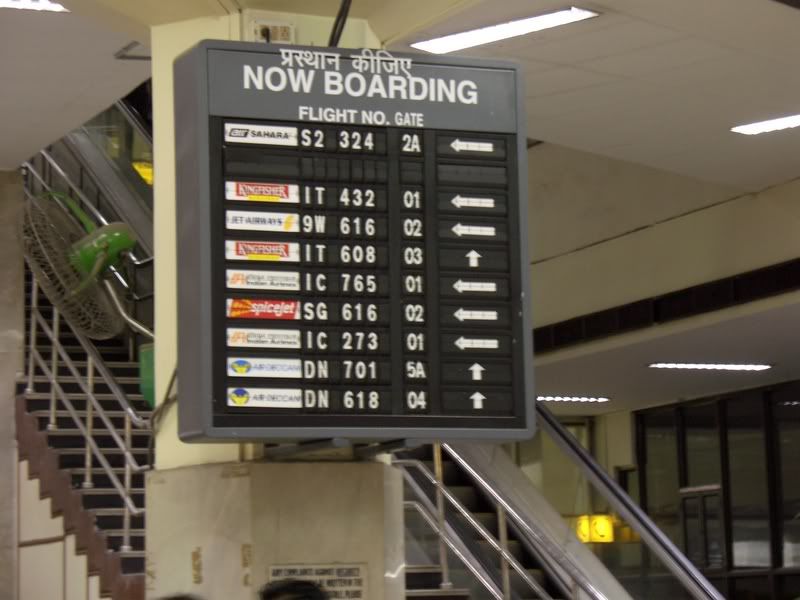 Scenes of the tarmac:
NONE
Boarding:
(I never understand the Indo-Latin mentality of rushing to board a plane when you already have seat assignments)
(SG Bus)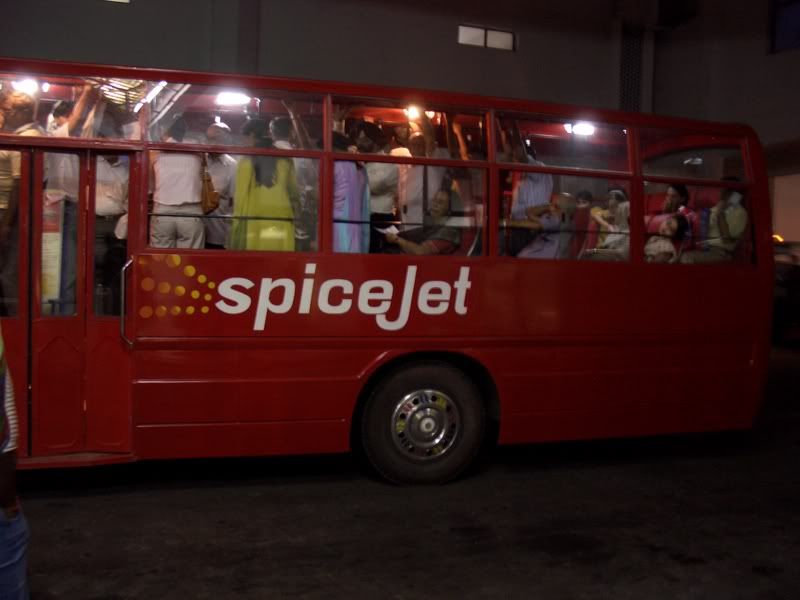 III> In-Flight:
a) Service Schedule + Impressions:
Service on board includes small water before takeoff and a warmly-baked cookie served soon after take-off and that's pretty much it.
b) Aircraft + Seats:
The 738s were clean and the red carpeting added some extra air of sophistication. While the recline was abysmal, the legroom was not too shabby though. However, leather seats would have been a good addition. These aircrafts come from the Americas for sure as signage is in Spanish … it made me happy
.
Aircraft: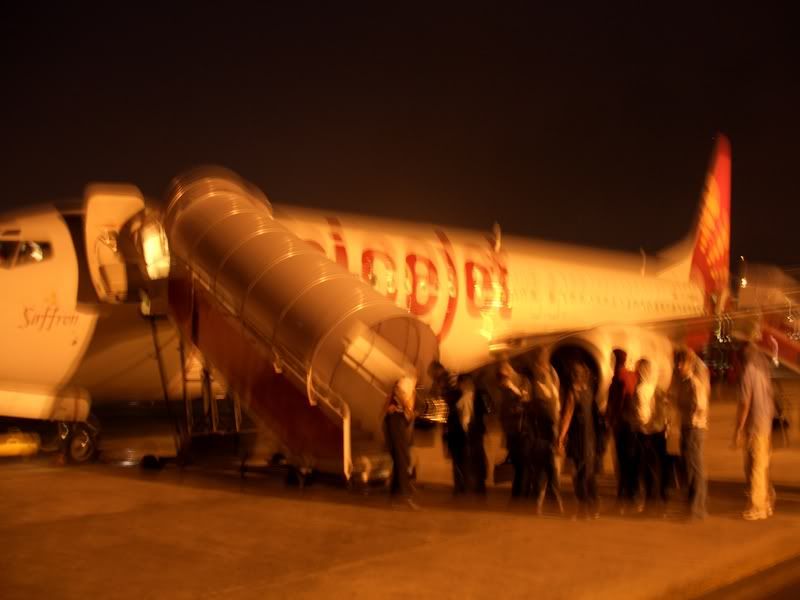 Views from Aircraft:
NONE
Seat Leg-Room:
Seat Recline + Angle View: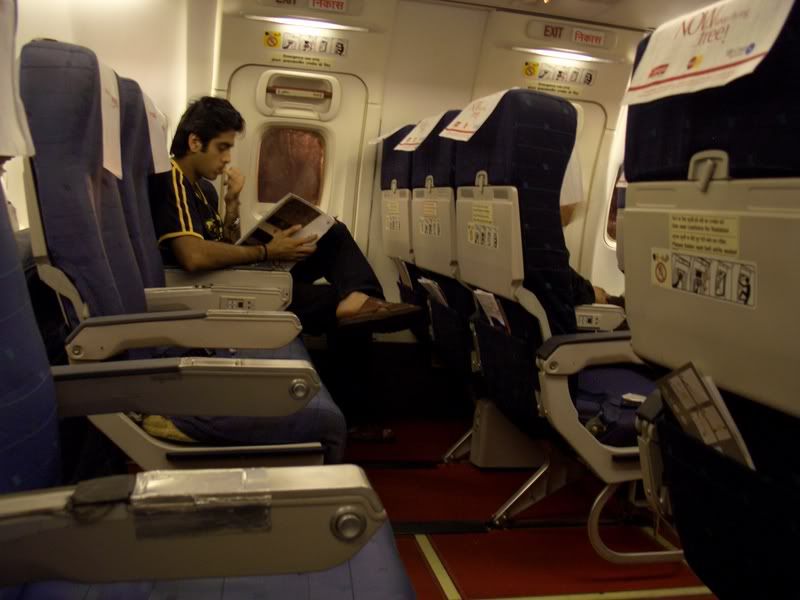 Cabin:
(Se Habla Espanol!)
c) Meal + Beverage:
Service on the 2 hour flight included hot cookies and bottles of water. Nothing more.
d) Inflight Entertainment:
No audio-visual entertainment. Inflight magazine was of average capacity.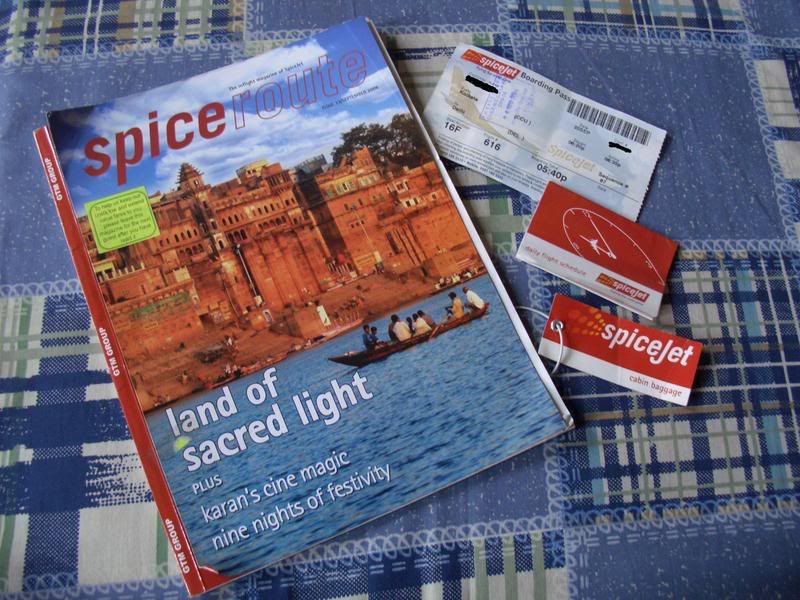 e) Crew:
SGs crew does not have the natural warmth of IC or even 9W. They seemed extremely well-rehearsed … as you can tell from one of the pictures, I did not get the one hand folded on the back response to all queries. However to their credit, they were thoroughly professional and responded to many requests from travelers.
IV> Post-Flight:
Arrival @ DEL was smooth. SG uses Terminal 1B where bags came fast and there was not a long line in front of the pre-paid taxi booth.
Delhi's Indira Gandhi Airport, Terminal 1B: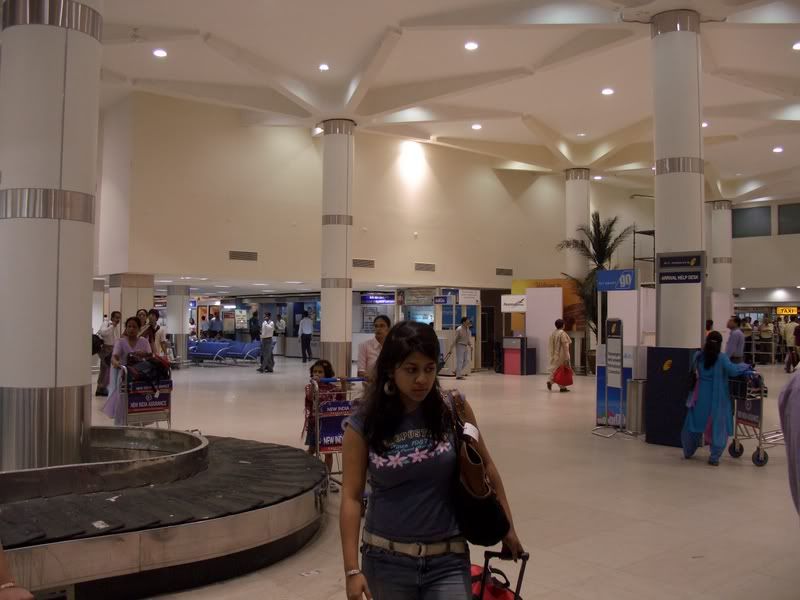 V> Impressions + Scores:
SpiceJet does the job of getting you from point A to B in safe convenient and timely manner. It is nothing more than that and does not pretend to be. A thoroughly efficient airline, I like SGs overall simplicity with a dash of class provided by its name and branding. Think Virgin with a lot less frills. I would definitely fly them again.
Reservation: 9.0
Check-In: 8.0
Lounge: n/a
Boarding: 5.0
Seat: 6.0
Aircraft Overall Ambience: 8.0
IFE: 5.0
Crew Service: 7.0
Food: 5.0
Beverages: 5.0
Amenity Kits + Others Freebies: 5.0 (standard default score)
Disembarkation: 8.0
On-Time Record: 9.0
OVERALL IMPRESSION: 6.67
(Scores are based on comparison with other airlines in THAT class of service – No comparison of Y vs. F for example)
VI> Other Trip Reports:
1/
Avianca: BOG-LIM: 07/06/06: 7.09pts: Y-IMR
2/
Air Tran: EWR-MDW: 08/02/06: 6.73pts: Y-DMR
3/
West Jet: YYC-YVR: 09/05/06: 7.14pts: Y-DLR
4/
Air Canada: YYZ-YVR: 09/02/06: 5.92pts: Y-DLR
5/
Air Canada: ALB-YYZ: 09/01/06: 5.88pts: Y-ISR
6/
Singapore Airlines: EWR-SIN: 09/20/06: 7.81pts: J-ILR
7/
Adam Air: SIN-CGK: 09/22/06: 6.04: Y-ISR
8/
Valuair: CGK-SIN: 09/22/06: 5.04: Y-ISR
(Note on Codes: Y – Economy, J – Business, F – First :: I/D – International/Domestic :: SR/MR/LR – Short/Medium/Long Haul :: I have designed these codes so people don't believe my scores are comparing apples and oranges)
VII> Other Pictures:
(Calcutta Metro which took me to the airport)
(@ arrival @ DEL, scene from my window)