Well once again, it was another traveling weekend. This time, I was off to New York City with a quick stop out on Long Island. I guess I'll start from the beginning.
Woke up Thursday morning at 4:30am. Took a shower, grabbed my bag and was out the door and driving down the 15 from Escondido to Poway. Had to go pick up my mail at my parents house, who I come to find out are moving. Good thing they told me, right? Got back on the 15 at about 5:10 en route to SAN. Arrived at the airport parking place at about 5:35am, parked the truck and was on my way quickly on the airport shuttle bus. Got to the terminal at 5:50 and was through security and at gate 1 at 6:00am. Not bad at all except I had an hour and 25 minutes to kill. Now to the important stuff.
WN1470
SAN-LAS-ISP
N769SW Seat 1A
Sch. Pushback: 7:25 Actual: 7:35
Take off roll at 7:41
Sch. Arrival: 8:35 Actual: 8:34 At gate: 8:36
This was the first departure of the day for 769SW so she was parked at gate 1 when I go to the airport. Flight crew showed up at 6:50 to prepare the plane for the day. Boarding began at 7:00 on the dot with 3 pre-boards, followed by myself being the first general boarding passenger. I chose to sit in seat 1A because I was flying cross country, wanted that extra leg room, but didn't feel like sitting all the way back at the emergency exit row.
With everyone on board by 7:20, I thought they would close up the doors and push early but that was not the case. Push didn't occur until 7:35 for no apparent reason. Oh well. We taxied out to runway 27 and at 7:41, we began the take off roll. Climb out was out over Point Loma and out along the water, finally turning eastbound over the Long Beach Harbor. Great views of LAX and LGB. Typical climb up to FL290 as usual with the SAN-LAS leg. Basically followed Interstate 15 up towards Barstow, then the 15 became out of my view since I was on the left side. Descent began and we made a left downwind for 25L. Landing came, taxied to the gate and about 75 passengers deplaned with various destinations or LAS being their final destination. I heard people going to BOI and LBB. I'm sure there were other places but those were the people sitting around me.
There were 23 thru passengers going onto ISP today. Boarding for the LAS-ISP passengers began at 8:45 and they were all seated and door closed at 8:58. Flight was overbooked because they were looking for volunteers to fly confirmed on the following flight, LAS-MDW-ISP getting in at just after 8 instead of 5pm. $200 plus the value of the one way ticket just wasn't enough for people on the plane so I'm sure someone got left behind.
WN1470 (continuing service to ISP)
N769SW Seat 1A
Sch. Push: 9:00 Actual: 9:02
Take off roll: 9:16
Sch. Arrival: 16:55 Actual: 16:52 At gate: 16:55
This flight was booked 100% as I mentioned above. Not much to say about this flight. Departed 25R at 9:16 and made a sweeping left turn to begin the journey east. Initial altitude was FL 370 which was later bumped up to FL 390. Routing took us over Colorado Springs, I saw MDW and ORD as well as CLE from the air. As for the actual routing, the captain announced it but I couldn't hear it. Look at my flight aware pic and tell me where we went. Flight attendants were fine. They came by intially with soda and a snack pack. I watched A Night at the Roxbury on my laptop which ended with about 2 hours left in the flight. That's when I went back to get a refill on my drink and another snack pack. I was hungry. FA's came thru about an hour out of ISP with peanuts. Descent began around 16:20. I was kinda bummed. All of the east coast was covered in clouds at about 8,000 feet so I couldn't see much. Landed at 16:52 and the male flight attendant busted out into a opera song which I think the whole plane could have done without after this 5 hour flight.
That's it for the flying part until my return trip which will be at the end of this report. What I'm going to do is detail my actual trip not having to do with flying. I guess if you don't want to read it, you don't have to but it should be interesting anyways.
My buddy Mike met me at the airport about 2 minutes after I stepped off the plane and we began our journey east on Long Island. Our first stop was to his sisters place in The Hamptons. Met her and then we went to dinner at her boyfriends restuarant in Sag Harbor called JLX. For those that are familiar with the FOX show Hell's Kitchen, my buddy's sisters boyfriend is Keith, the guy who came in 3rd place on that show. We had an awesome 5-course meal. It was some good stuff. After that, Mike and I continued east to his house in Montauk. Yeah, I bet none of you have heard of that before. .
Basically, it's the end of New York (or the beginning depending on how you look at it.) It was 9pm when we got out there so small town America was pretty much shut down for the night. We arrived at his house and just relaxed, watched some TV and called it a night at about 11:30pm. It had been a long day for me.
Woke up Friday morning at about 9 or so. We left Mike's house and went and did some exploring around his part of town. He took me to get an egg sandwich. It's got to be a northeast thing. I hadn't heard of an egg sandwich out west, except for Mickey D's which doesn't really count seeing how that isn't food. We went to the beach and took pics there, we hiking on some trails and got to see where the old Airforce Base was back during the 40's. It was very interesting.
We went out to the Montauk Lighthouse and took more pics there, then made our way to the north end of his town checking out the harbor and stuff of that nature.
He took me by the airport. Looks like it was just repaved and it looked very nice. We went back into town to get some east coast pizza. I wanted to eat all the local stuff I could since this was my first time on the east coast. After a late lunch, we made out way west to see Easthampton, Southhampton, Wainscott, and Bridgehampton. Very nice houses. Got to see Seinfield's summer house, Martha Stewart's summer house and we looked for P Diddy's house but couldn't find it. We went back to Mike's house where his mom made dinner for us and just kicked back watching some TV and having a beer or two.
So I apologize if you're bored. But things should be looking up because when we woke up on Saturday morning, we were to make our way west on the bus for the reason I came on the trip, to see NYC.
The bus came and picked us up at 11:30 and we made the 3 hour journey. At 2:30 we were turning north on 3rd Ave from 37th St and we had finally made it to Manhattan. The bus dropped us off at 3rd and 42nd and we walked the 7 blocks north to Mike's friend from college who we were going to stay with. Met him, dropped our stuff off and hit the town, focusing mainly on Mid-town on Saturday. We went and say Grand Central Station, Penn Station, Times Square, Rockefeller Center, the Fox News studio, NBC, the Empire State Building, getting a hotdog and pretzel and some other crap that can't be that important since I forgot.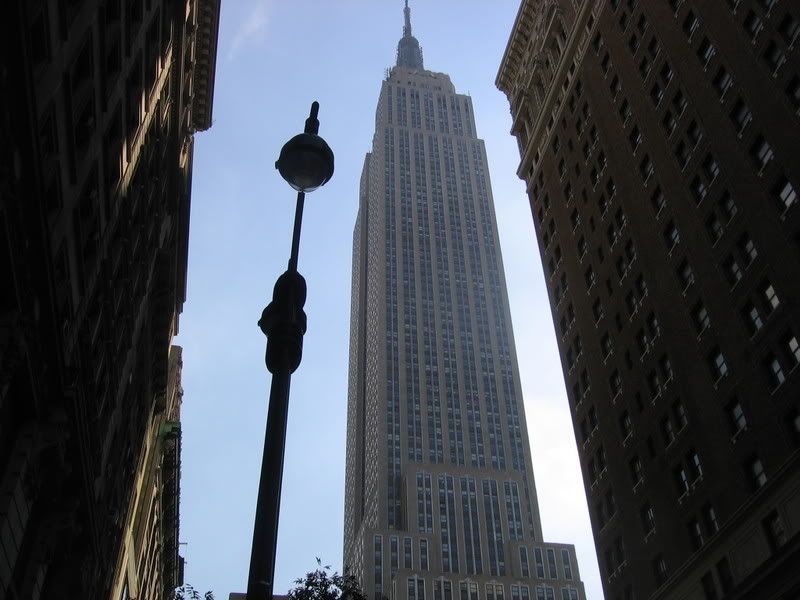 We were in the high 40's at about 6pm, and we had to hit up Madison Square Garden by 7:30, we began the journey south stopping for some pizza on the way. This pizza does not even compare to the west coast. NYC pizza is the absolute best, maybe behind Italy but I doubt that.
The reason we went to MSG is because I had concert tickets to see Eric Church, Gary Allan and the headliner Rascal Flatts. See the links below. Eric Church is the newcomer and will be someone big in the next year. Gary Allan rocked the stage too but Rascal Flatts were off the chain as well. It was my first country concert and certainly will not be my last. After the concert, headed back to my friend's buddy's house and called it a night at about midnight.
Eric Church:
http://profile.myspace.com/index.cfm...user.viewprofile&friendID=28276001
Gary Allan:
http://profile.myspace.com/index.cfm...user.viewprofile&friendID=12411567
Rascal Flatts:
http://profile.myspace.com/index.cfm...user.viewprofile&friendID=14151080
We woke up early Sunday morning to go see some more sights. We first got another egg sandwich which was better than the one on Friday morning. Ate that, then walked west from 50th and 2nd to the subway station on 53rd and Lex. We made our way south to hit up China Town, followed by Little Italy and NYU. Afterwards, headed down to Soho to see World Trade Center Site (bless those who perished), the little church across the street ( I think it was St. Joseph's but I think I'm wrong on that), which we followed up with a trip to see City Hall. Made our way west to see the State of New Jersey. I'm glad that the Hudson River seperated us from them. I hear Jersey isn't the best place to be. Took some pics and headed south to see Battery Park, Ellis Island and the Statue of Liberty. The lines were too long to go out there. After seeing those sites, we headed up to see Wall St. Saw the NYSE and Federal Reserve Bank. We then made our way east to see Fulton Sea Market and take pics of Brooklyn, as well as the Brooklyn, Manhattan and 59th Street bridges.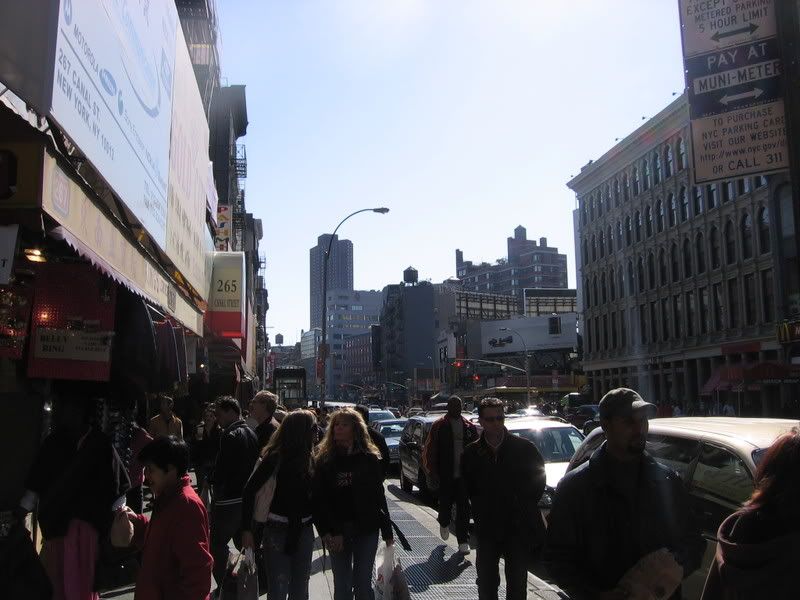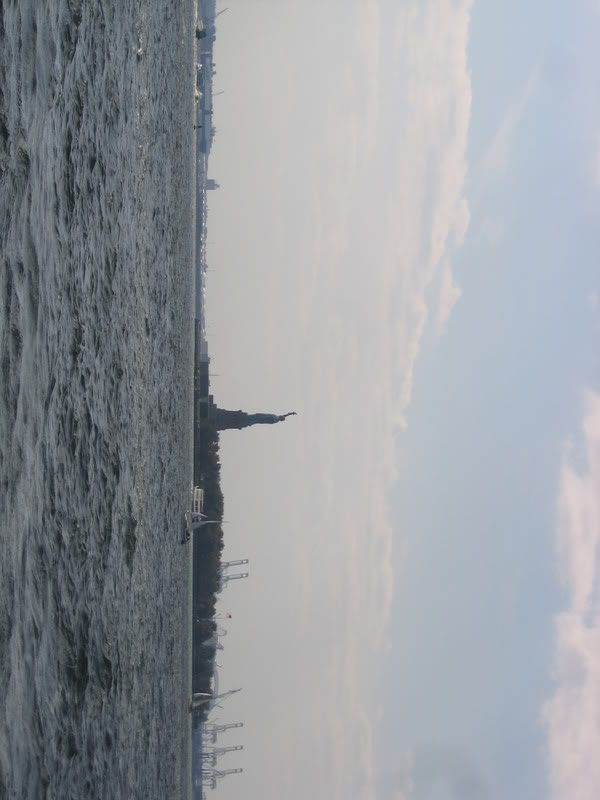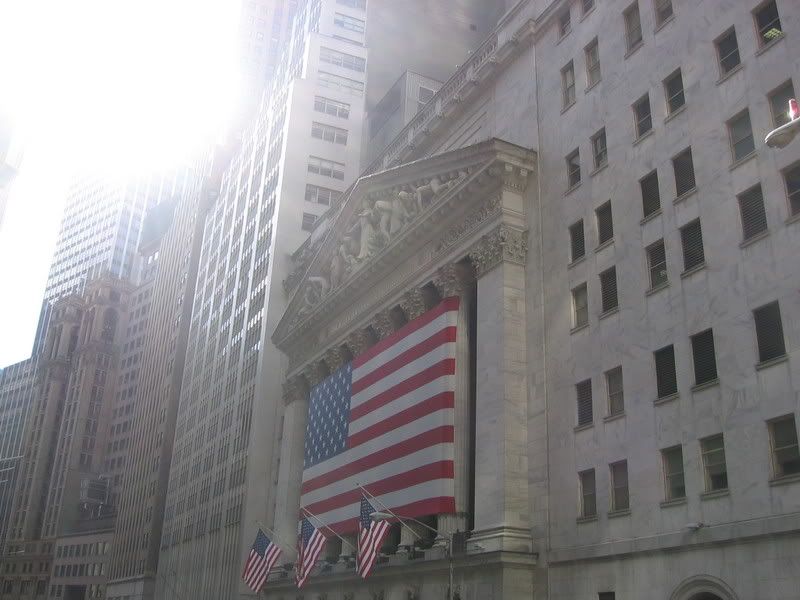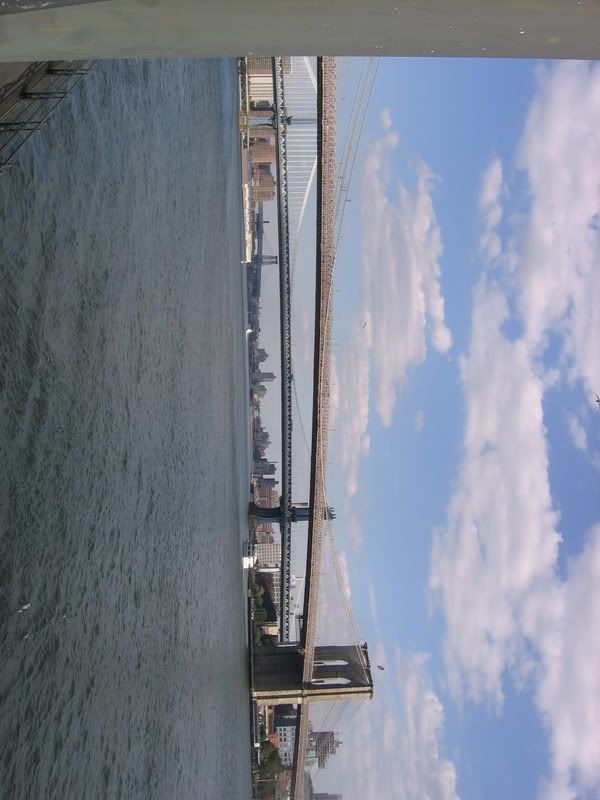 From there, we went to this really cool hole in the wall bar called Mudville 9. They have some awesome wings there, plus we watched some football on the 16 different TV's they had. Every game that was playing was on in this place. Mike and I had two pitchers of beer and the cool thing is we were only charged for one of them. After a kick ass lunch, we made our way up to Times Square again to take some more pics and see whatever we could. We walked back and met up with Mike's friend and then we went out to dinner up on 74th and 3rd to this place called JG Melons. They have some pretty good burgers there. After dinner, we went back to the apartment. It had been a long day of walking and seeing the sites. We watched the Mets play and just open up the flood gates in the 6th, then went to bed around midnight. We had to wake up early for Monday.
Got up at about 7:30, hittin the streets at about 8:30. Today, we decided to go up north since we hadn't been up there. We walked up 5th to see FAO Schwartz, Central Park, and Columbus Circle. From there, we went up to 86th and Columbus for breakfast at this place called Jackson Hole. It was pretty good, although I didn't eat all my mushroom omelette. They just put way too many mushrooms in there. After breakfast, headed farther north to see Columbia University and also Morningside Park ( I think that's the name). It's up in the 110's. At this point, we only had 2 more hours in the city so we headed south to the Empire State Building. Luckily, the wait was only 1 hour so we waited to go up. I'm glad we did. It is so awesome being up 86 floors and checking out the whole island. We went back down, got a taxi and went to pick up our belongings back at the apartment, then headed back to Penn Station so I could get on the LIRR and head out to Islip to catch my flight. It was kind of a sad time for me. I was sad leaving NYC. I had such a good time out there. I'm planning my next trip out there already.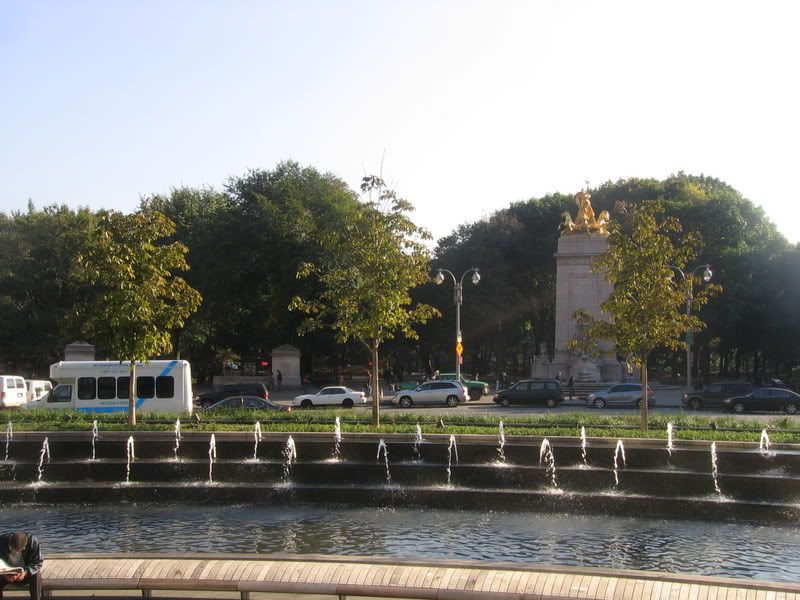 WN2171
ISP-BWI
N4??SW ( I think) Seat 1F
Sch. Push: 1725 Actual: 1725
Take off roll: 17:32
Sch. Arrival: 18:30 Actual: 18:26 At gate 18:29
Well, I left Penn Station at 1414 arriving at Ronkonkoma at 15:34. Got to ISP by taxi at 15:50 and was thru security and sitting first in line at gate A7 by 16:00 (thanks to Texan for checking me in the day prior. We all know how important it is to get in the A group.) The plane arrived into A7 at 1620 and was emptied by 1630. I thought they might start boarding early but there was no crew yet. They didn't show til 16:55. Boarding started at 1700 and everyone was on board by 1720. Push began 5 minutes later and airborne 7 minutes after that. The take off and departure was unusal though. After take-off from 24, we made a left turn back to about 060 and flew 20 miles east of the airport at below 10,000 feet. Is that something normal for ISP departures to BWI? Flying time was announced at 45 minutes and we flew at FL240. Captain said altitudes above and below were choppy. Landing came from the east on runway 15 and we pulled into gate A7. I walked to gate B7 for my connecting flight to....
WN1346
BWI-SAN
N202SW ( I think also) Seat 11E (Emergency Exit Row)
Sch. Push: 1930 Acutal: 1930
Take off roll: 1940
Sch. Arrival: 2220 Actual: 22:16 At gate: 22:19
The plane arrived from somewhere a few minutes early, which allowed us to board a few minutes early and have an ontime push. Take off was from 10R with a right turn to the west. First two hours of the flight were very bumpy. Seat belt sign stayed on the entire time, drink and snack service being suspended about 4 different times. Lots of kids in the forward half of the plane which weren't that bad. I had my Ipod on the entire time though so who knows what kind of noise they made. Had an awesome lightning show off the right side of the plane half way through the flight. Descent started at about 21:50 with touchdown occuring at 22:16.
We arrived into gate 4 and supposedly Silver1SWA was gonna meet me but had to work a flight that came in right after mine into gate 9. I walked outside to the shuttle van area, got tired of waiting for the green bus to take me to the Pacific Coast Hwy lot so I paid $8 and took a taxi. Drove back home to Escondido and got home at 23:05, watched the Simpsons and Jay Leno's monolouge and Headlines, then called it a night.
Hope you enjoyed it. Leave some comments. I'd appreciate it.
Next trips are to the Bay Area, Dallas, TX, Los Angeles, and Las Vegas.
I gotta say this, this was my first cross country trip on Southwest and I was impressed. For $232 roundtrip, I can't really beat that. All of my flights were on time, no problems whatsever.
[Edited 2006-10-20 02:23:42]
Edit: I'm being corrected on my mistakes.
[Edited 2006-10-20 02:38:22]