Briefing....
For my latest trip, I decided to try something different, and chose to fly an airline I had heard alot of great things about - Qatar Airways.
Here we go......
Leg 1:-
Date: Wednesday - 4 October 2006
Departure Apt: MAN
Arrival Apt: DOH
Aircraft: Airbus A330-300 (A7-AED)
Flight No: QR42
Seat: 33A
Sched Departure Time (Local): 10:20
Actual: 10:20
Arrival Time (Local): 19:20
Actual: 19:05
My first flight since June, was taken in the 1st week of October. I was invited by a few workmates to accompany them on their "annual jaunt" to the resort of Pattaya, on the "Eastern Seaboard" of Thailand for 2 weeks (I was promised fine food, beer, plenty of sun, sea and sand, and a few rounds of Golf...!), so I jumped at the chance, seeing as I had about 3 weeks vacation time to kill during October.
After a couple of hours searching fares, my friends managed to get us all tickets to fly from Manchester to Bangkok - via Doha, Qatar - on October 4th, returning on the 19th. A fare of £400 rtn (ish) including all taxes was quoted, so naturally I jumped at the chance
I arrived at MAN by train, at around 7am on the Wednesday morning, with my friends. After making our way from "The Station" to Terminal 2, we checked in for the flight, and I managed to get myself a window seat. I have never departed from Terminal 2 before, so this was quite an experience for me.
Here are some pics....
Manchester airport (MAN)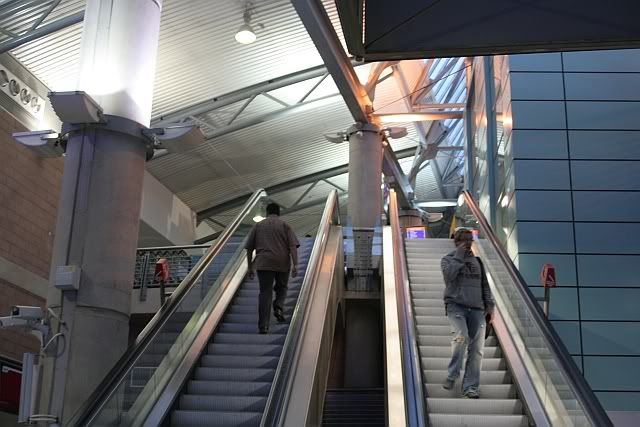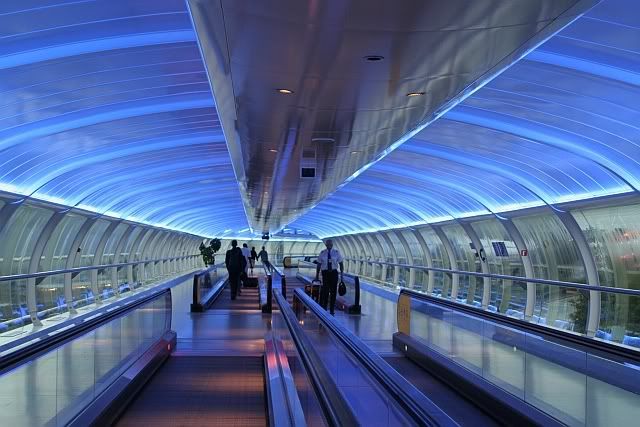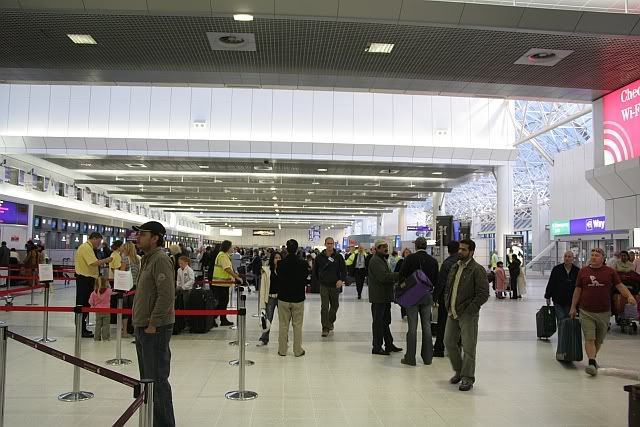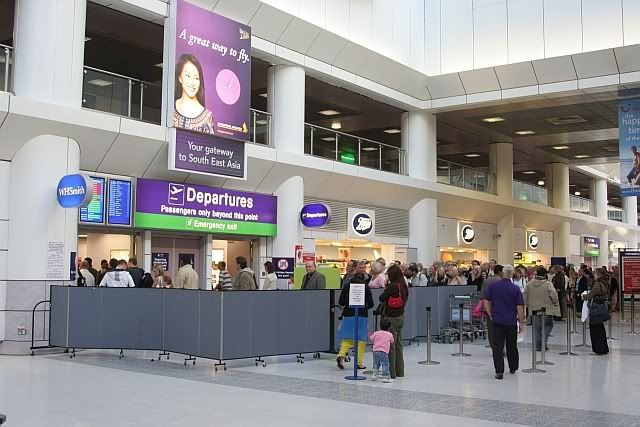 Breakfast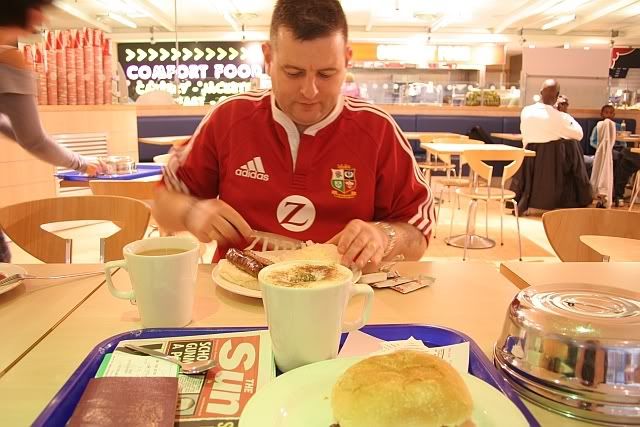 After breakfast, we went thru security to the gate - 214. Boarding commenced at 0920 and was completed by 10:00, ready for an on-time departure at 10:20.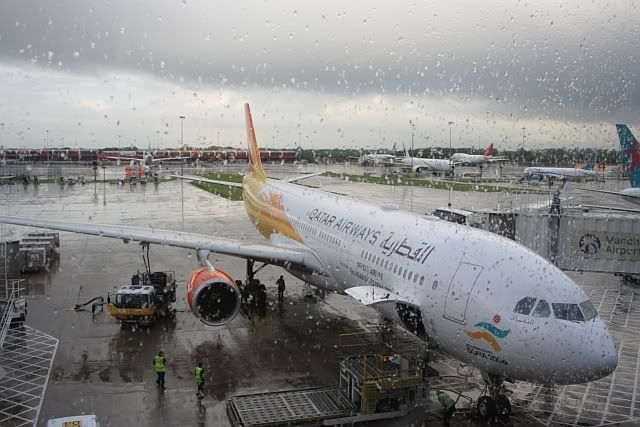 View Large
View Medium


Photo © Ian Schofield
My Seat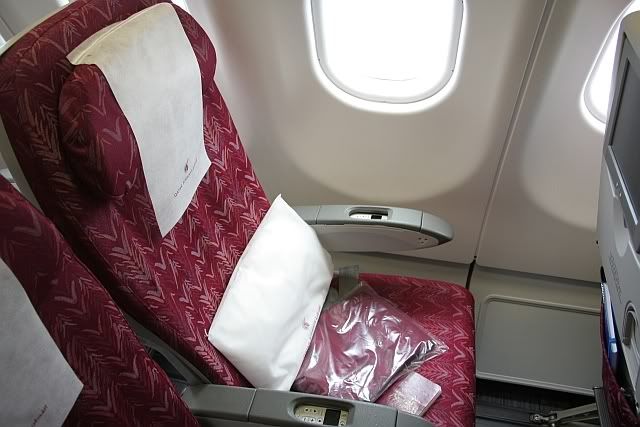 Views from my seat....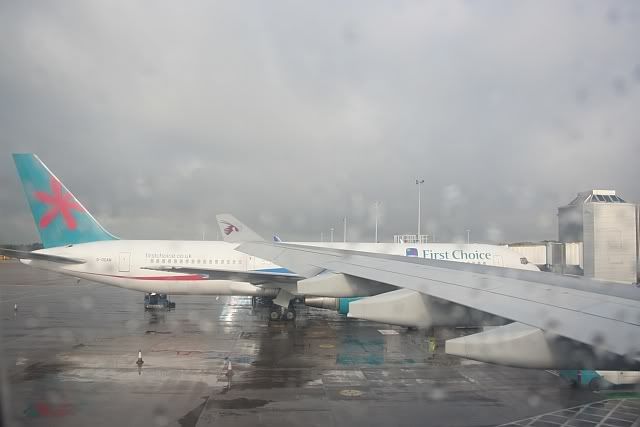 Taxi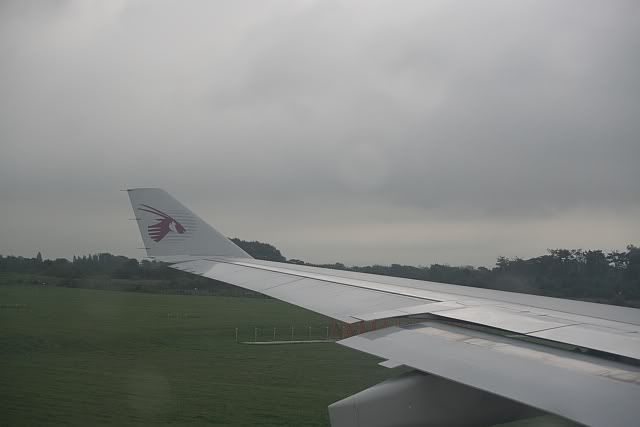 Climbing from 24L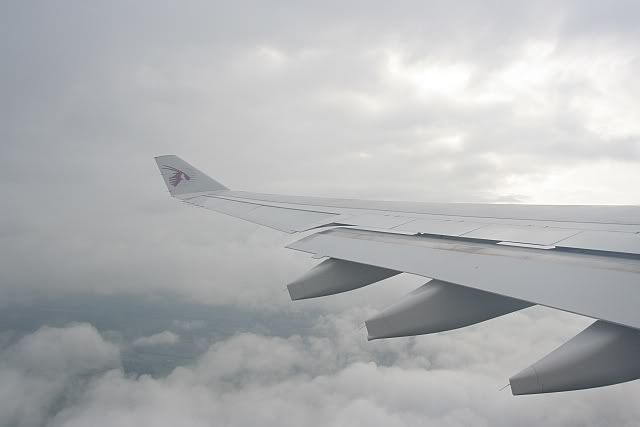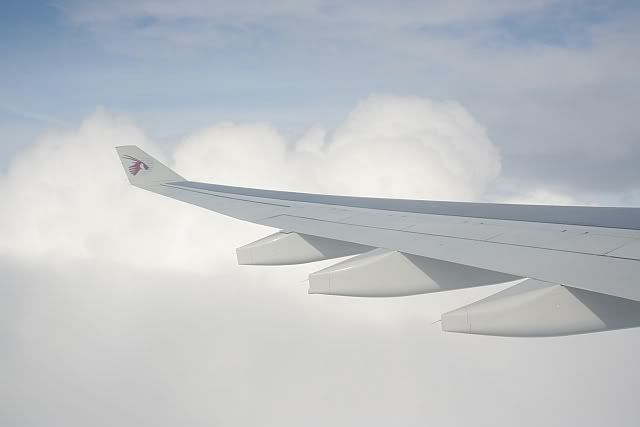 The AVOD System
After take-off, hot towels and the meal menu were handed out. At about 11:10, we levelled off at FL370 and were cruising at about 570mph, flying across the North Sea towards Holland.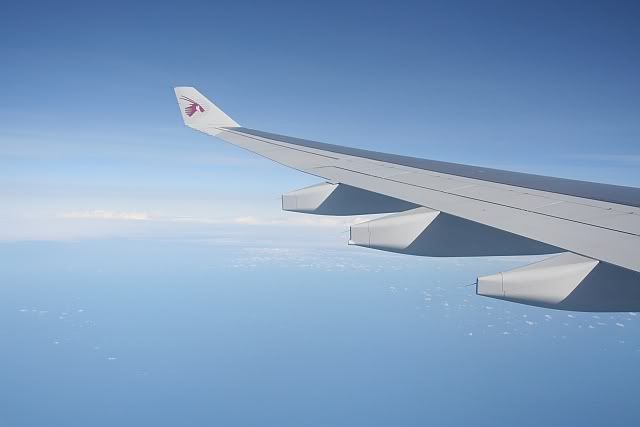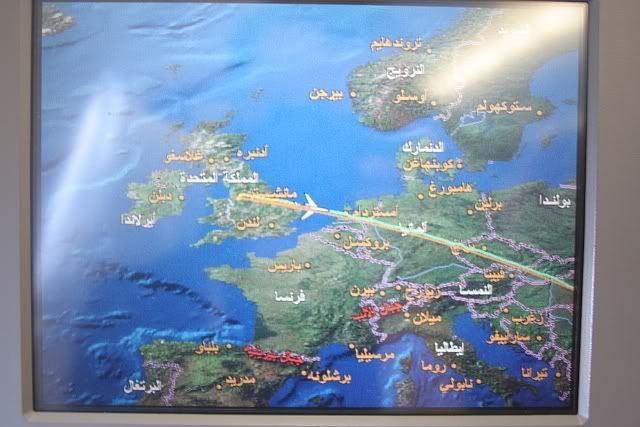 Roughly 1 hour after take-off, lunch was served - Chicken Fricassee, peas, carrots, croquette potatoes. Cheese and crackers, chicken and potato salad. Chocolate roularde, brad rolls and coke for a drink. All finished off in no time at all, a truly nice meal.
The Meal.
Germany Below
After lunch, I watched the movie "Poseidon", followed by an episode of "CSI: NY", then I listened to a few music albums. Our flight then passed over Turkey, and into Iraq.
Progress.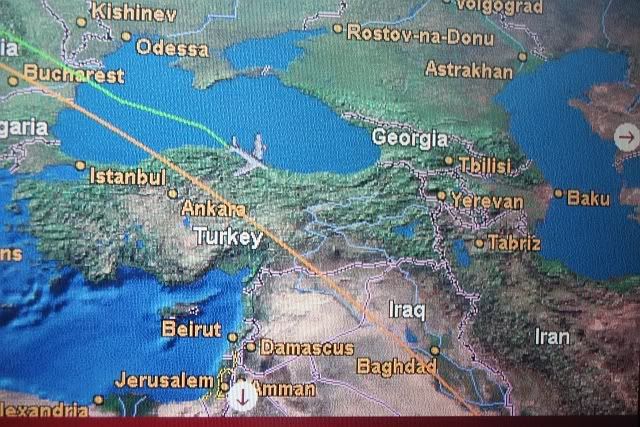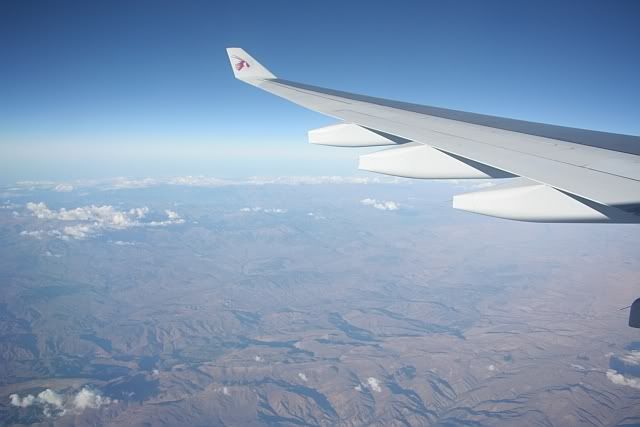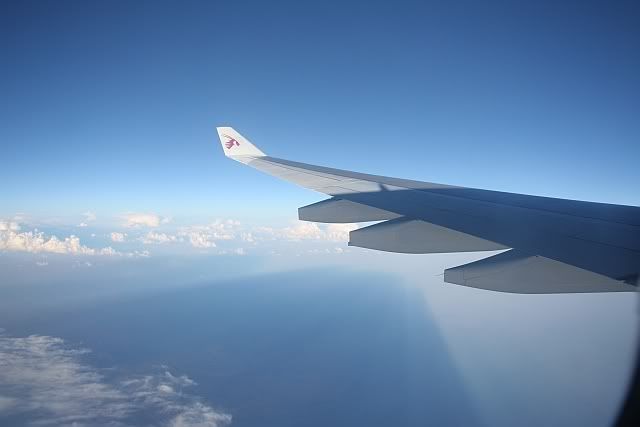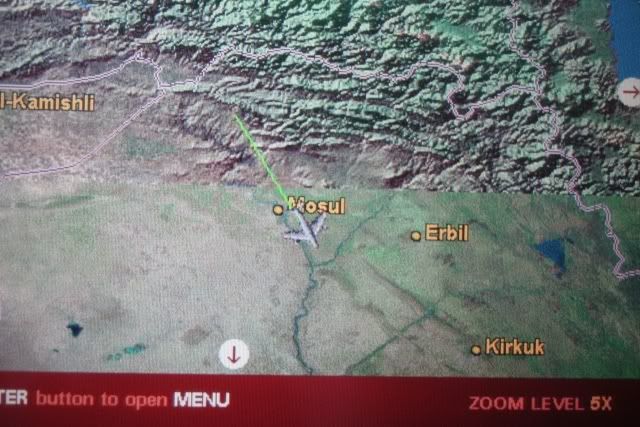 After passing over Mosul, I saw a World Airways MD-11 which was climbing out of Mosul Airport, it rose up alongside us, then headed south towards Kuwait - what a sight
Pillow.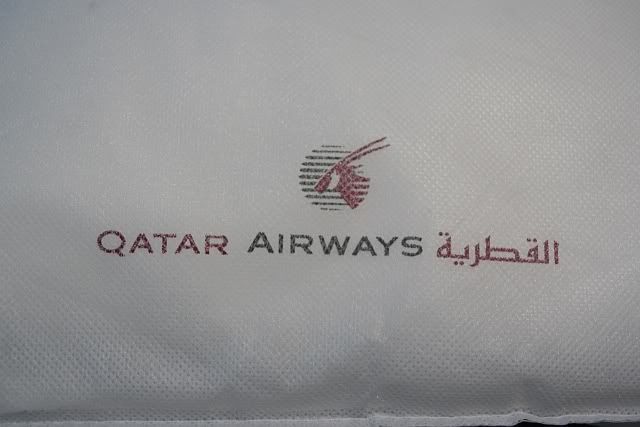 We were served a snack over the Persian Gulf, a small Coronation Chicken wrap, blueberry muffin and a drink.
Afternoon snack.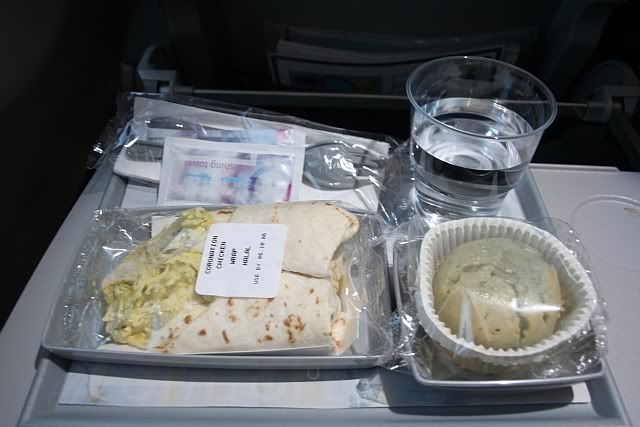 Progress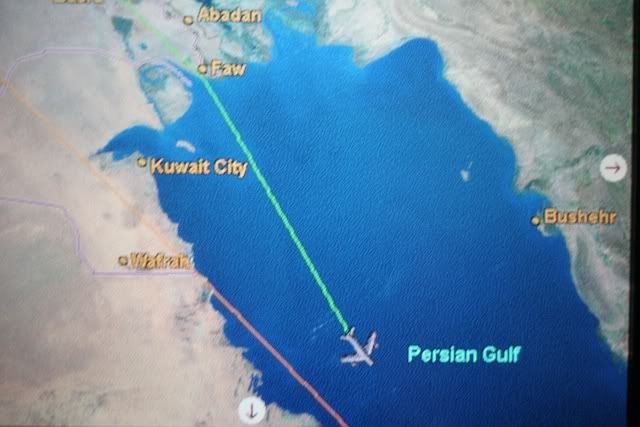 Landing in Doha, Qatar was good, and even though it was dark, I had a nice view on approach to the airport. After landing, I spotted a few aircraft while we taxied to our stand. The temperature when we landed was 30C, at 7pm
Doha Airport.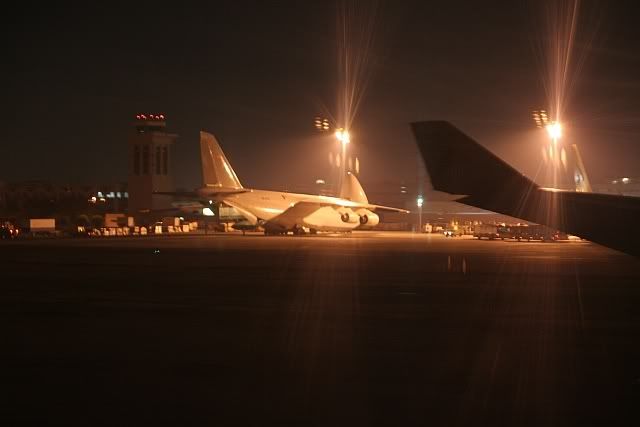 Disembarkation was by air stairs, using 2 doorways - L2 and L4. We boarded buses to the terminal, and had to pass thru security screening to get to the transfer area.
Off We Go.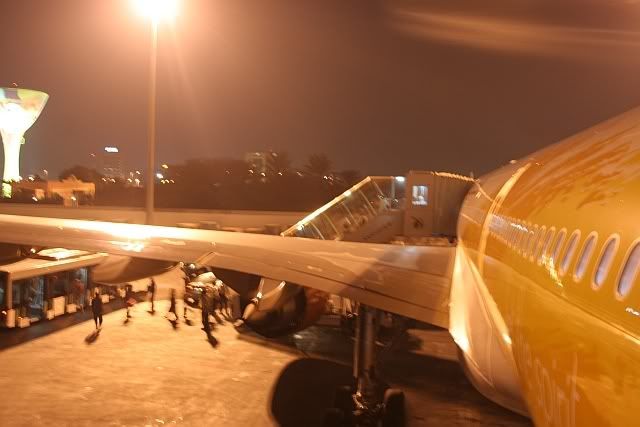 Continued......