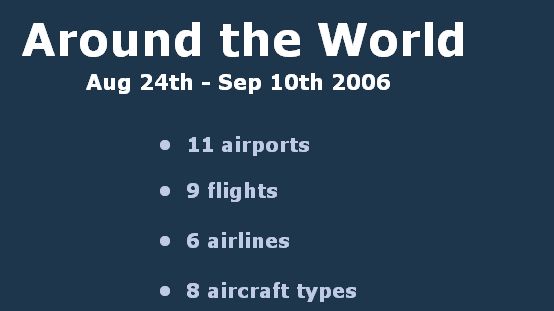 After a brief one night stay at the Centrair Hotel at NGO, it was time to take the second and third of nine flights on my round the world trip. Today I would be travelling from Nagoya to Tokyo Narita with All Nippon Airways, and onwards to Los Angeles with Northwest Airlines.
I awoke early – around 0500, as I would be taking an 0815 flight to NRT, and was planning on checking-in early and heading to NGO's amazing observation deck. I had discovered this the previous evening whilst checking out the terminal, and although it was dark and I did not have my camera with me, I was amazed at what an excellent facility NGO had for those who wanted to view and photograph aircraft. Before I took a shower I opened the curtains and was presented with an amazing sight. I guess they don't call Japan the land of the rising sun for nothing.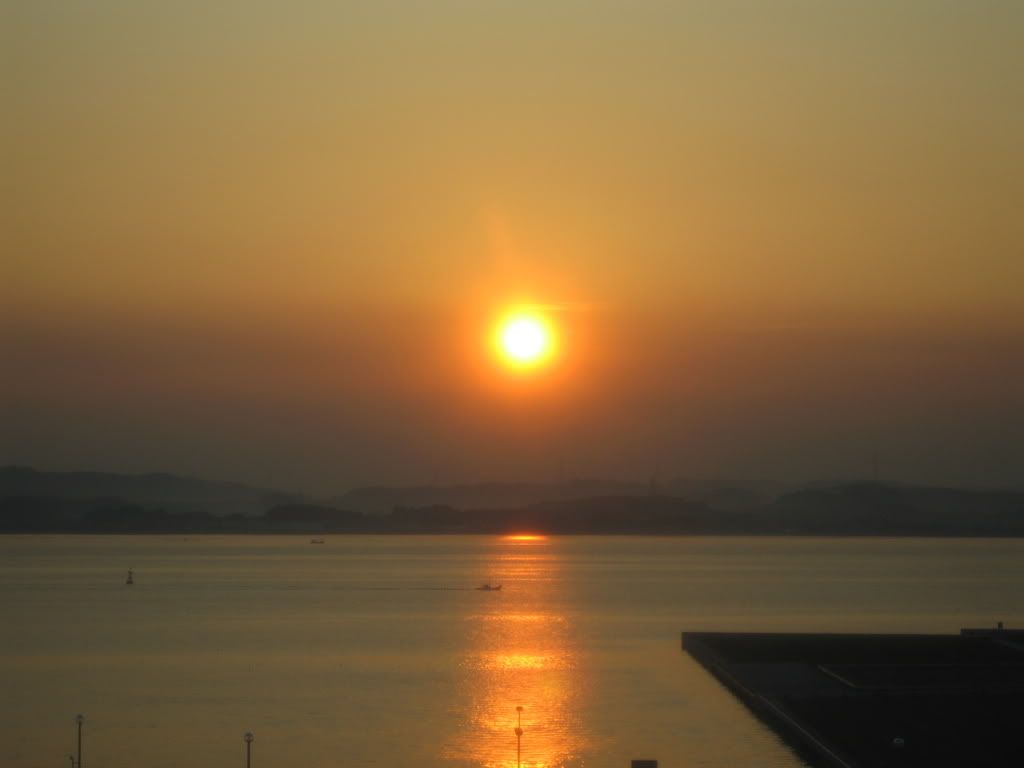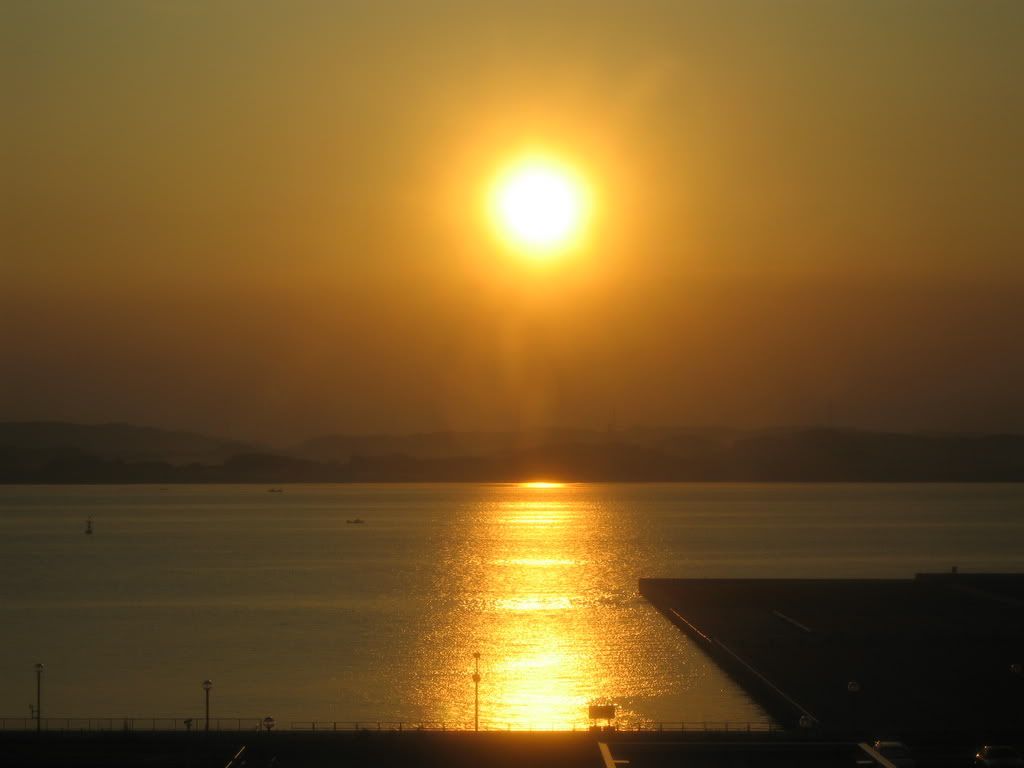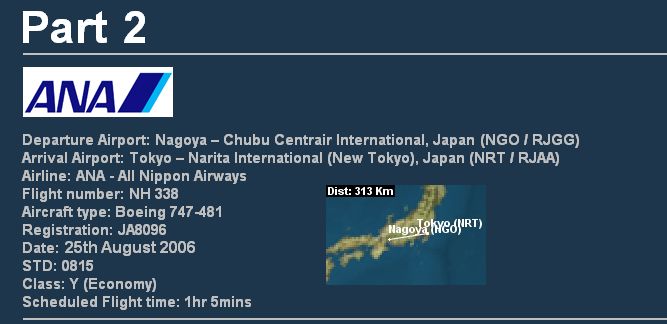 I got ready, repacked my belongings, checked out of the hotel and at around 0545 I took the short walk to the departures level of the terminal. I headed to the domestic check-in area and to the ANA desks, where an agent took my baggage and checked me in.
Check-in area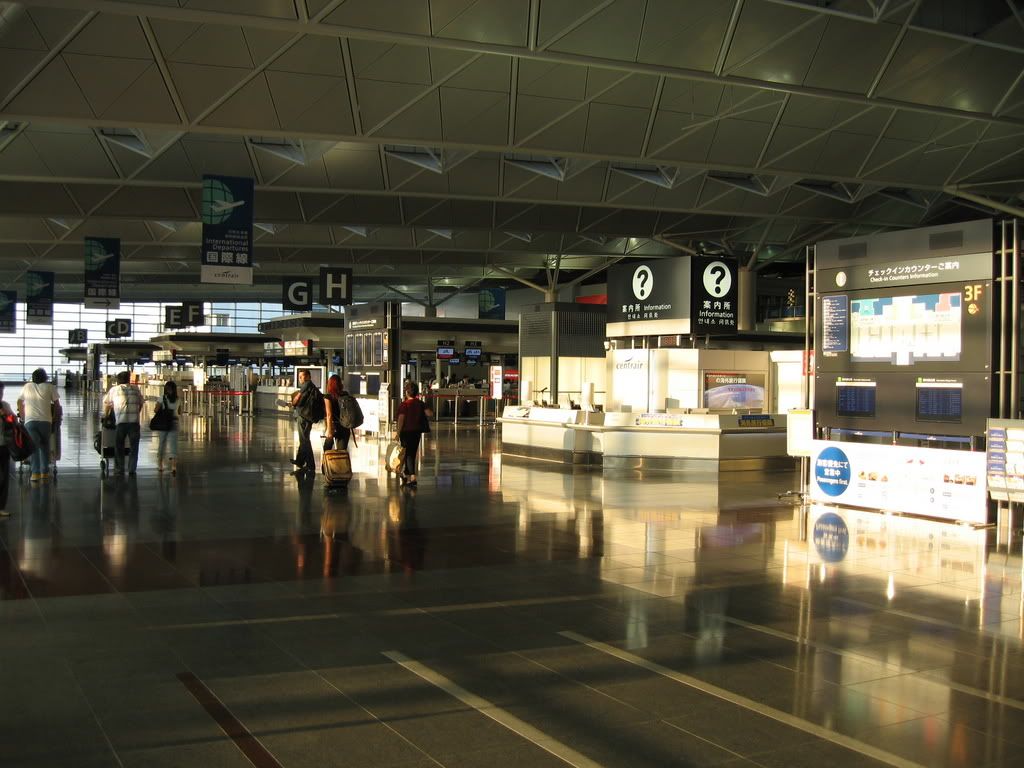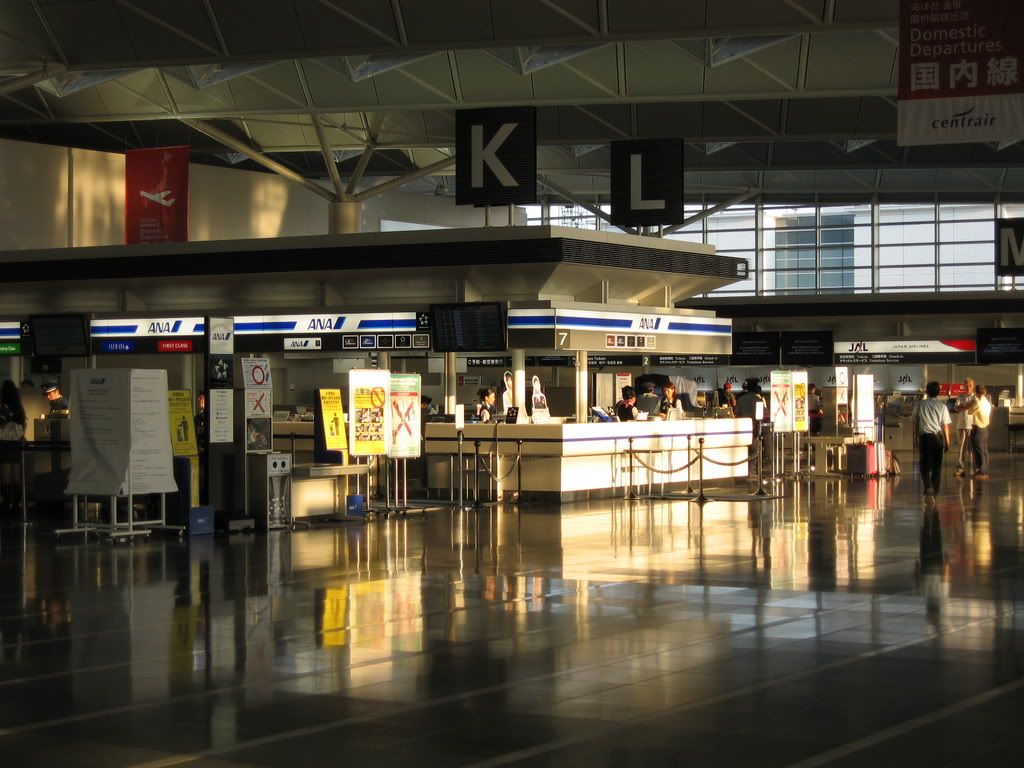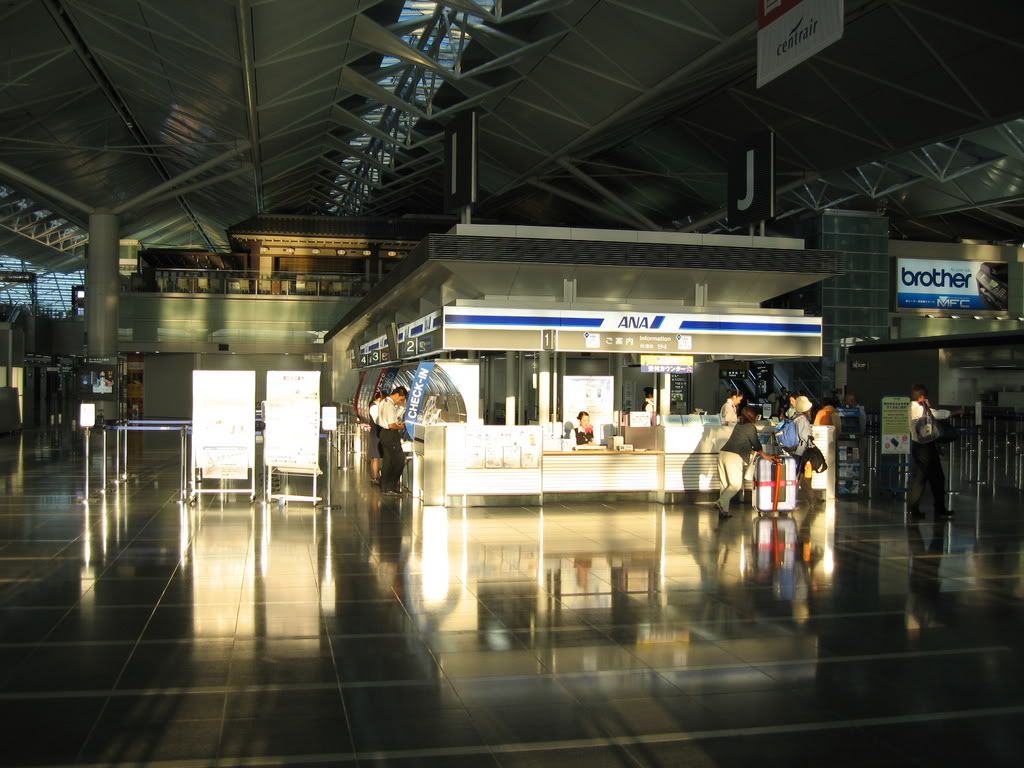 This was the one flight on my journey where I had made a confirmed reservation, so getting a seat was not an issue. I asked for a window seat, and was allocated seat number 48A. After checking-in, I headed upstairs and towards the entrances to the observation deck, only to discover that it did not open until 0700. This was not a problem, as I would still have time to visit before going airside. It was only 0615, so rather than sit in the retail / refreshments area for 45 minutes I decided to have a wander. I headed downstairs and into the central garden, which is an indoor public area that runs the length of the inner part of the central pier.
Central Garden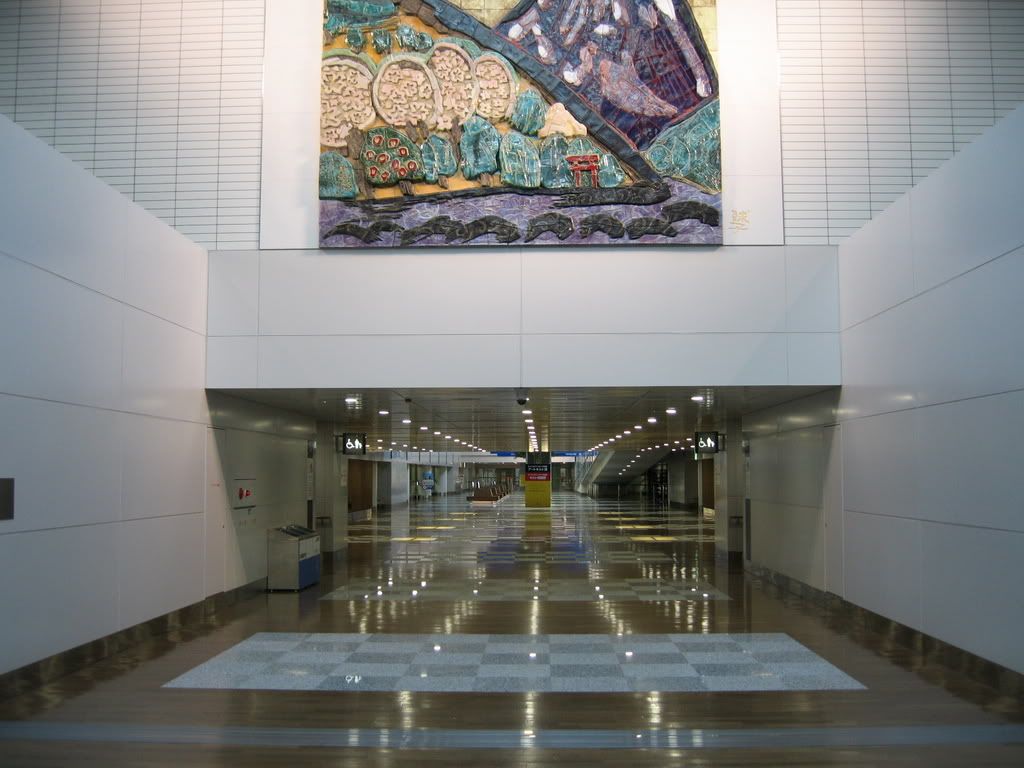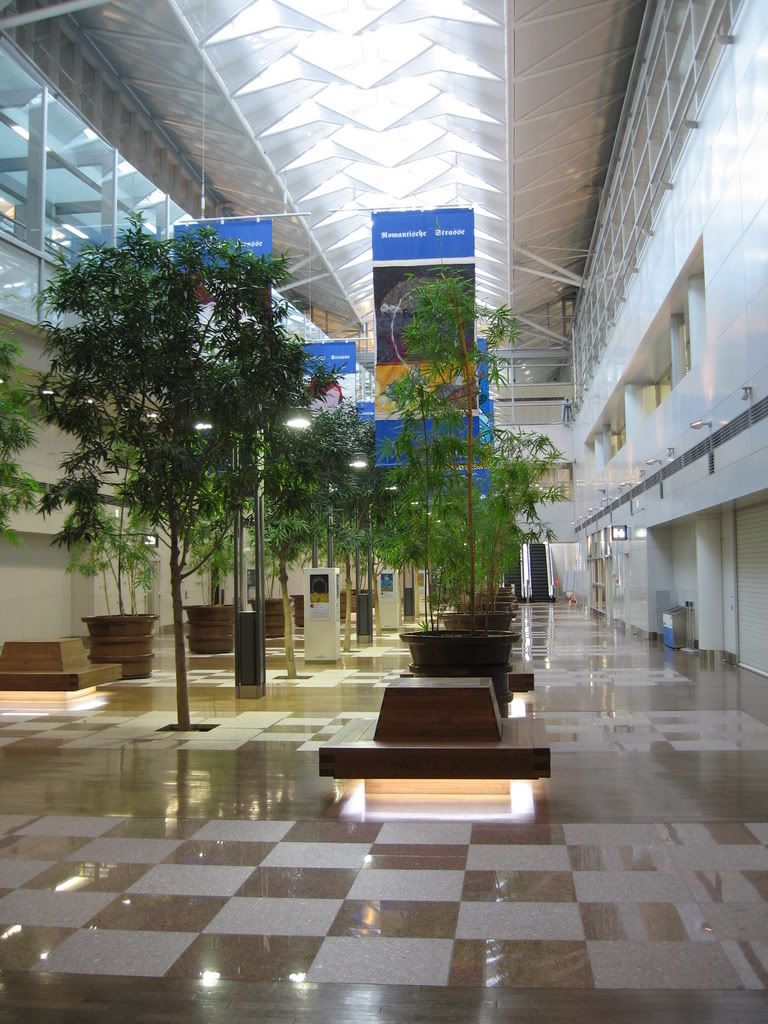 Whilst wandering alone in this peaceful area, I happened upon a rather random yet impressive display of model aircraft. Take a look for yourself at the varied collection: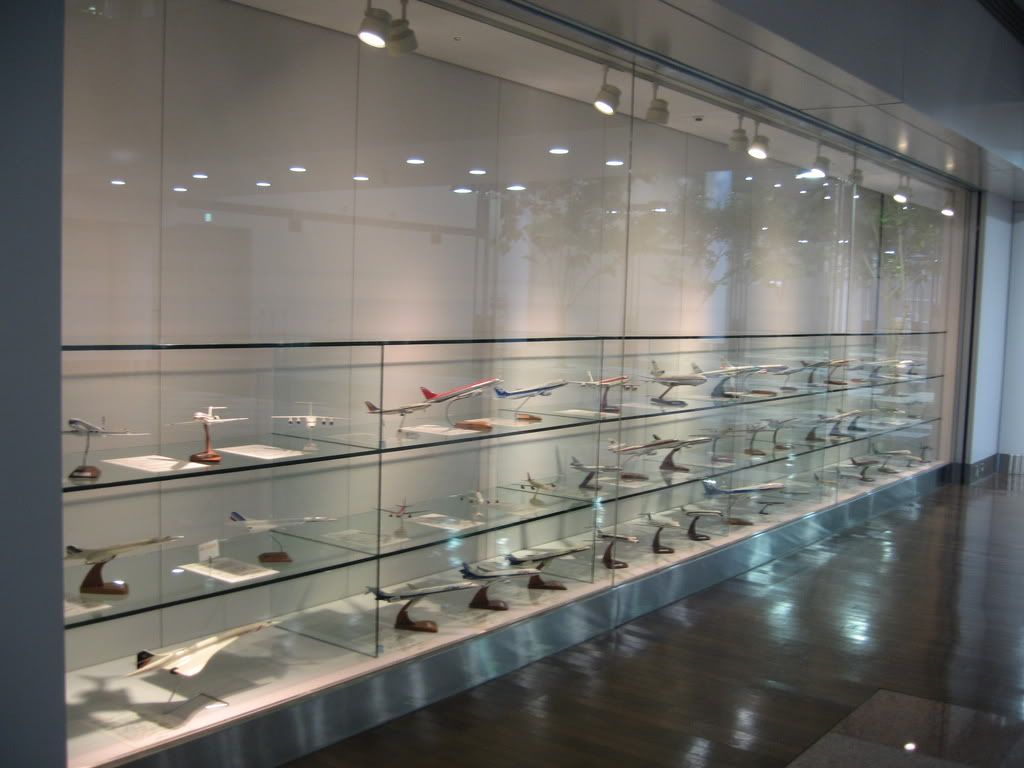 There were various displays and visitor centres in this area – none of which were open at this time, but I felt so impressed that an airport can offer such facilities to the enthusiast or casual visitor.
I then headed back up towards the observation deck, as it was approaching 0700. After a few minutes, two security officials opened the doors, and were followed by myself and a number of other visitors.
Observation deck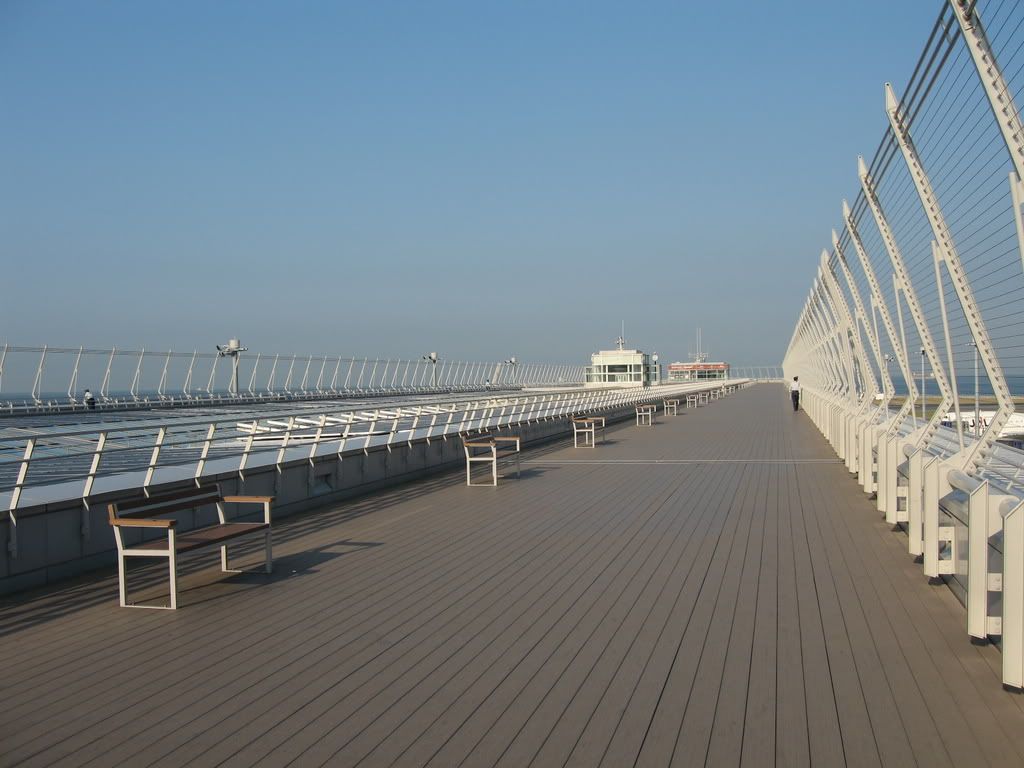 As I was on a tight schedule, I took a walk along the right side of the pier which affords views across the domestic side of the apron, and back along the other side where I was able to view the international activity. I took numerous photographs, some of which I shall share with you.
Domestic pier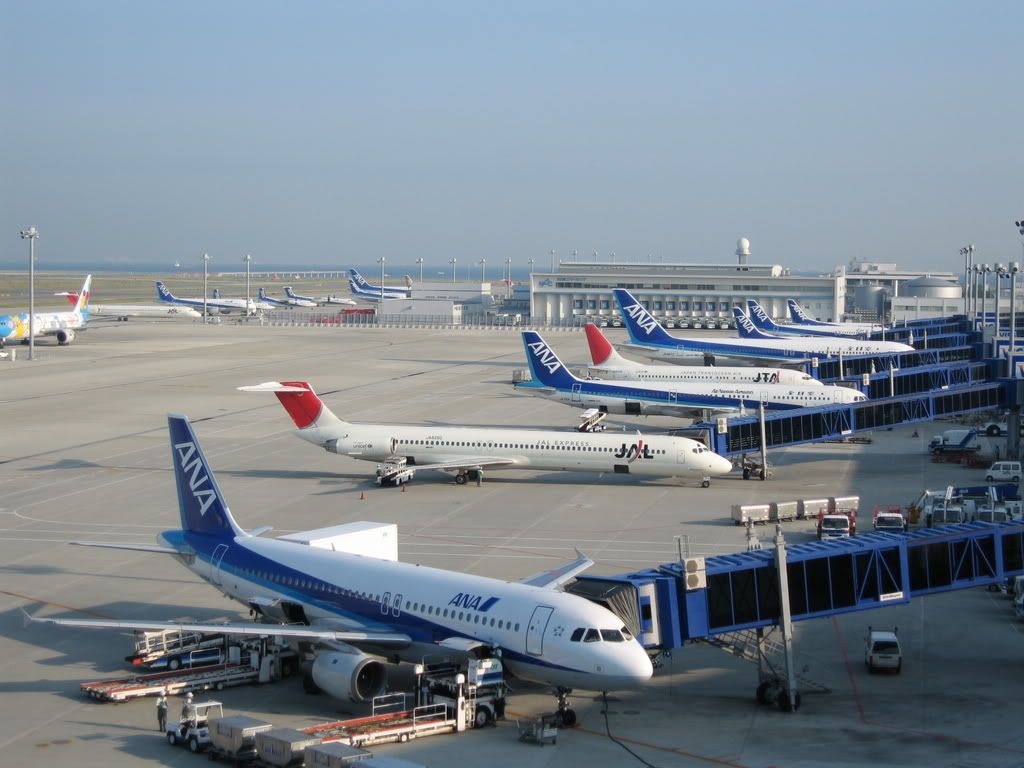 JA8096 – operating my flight to NRT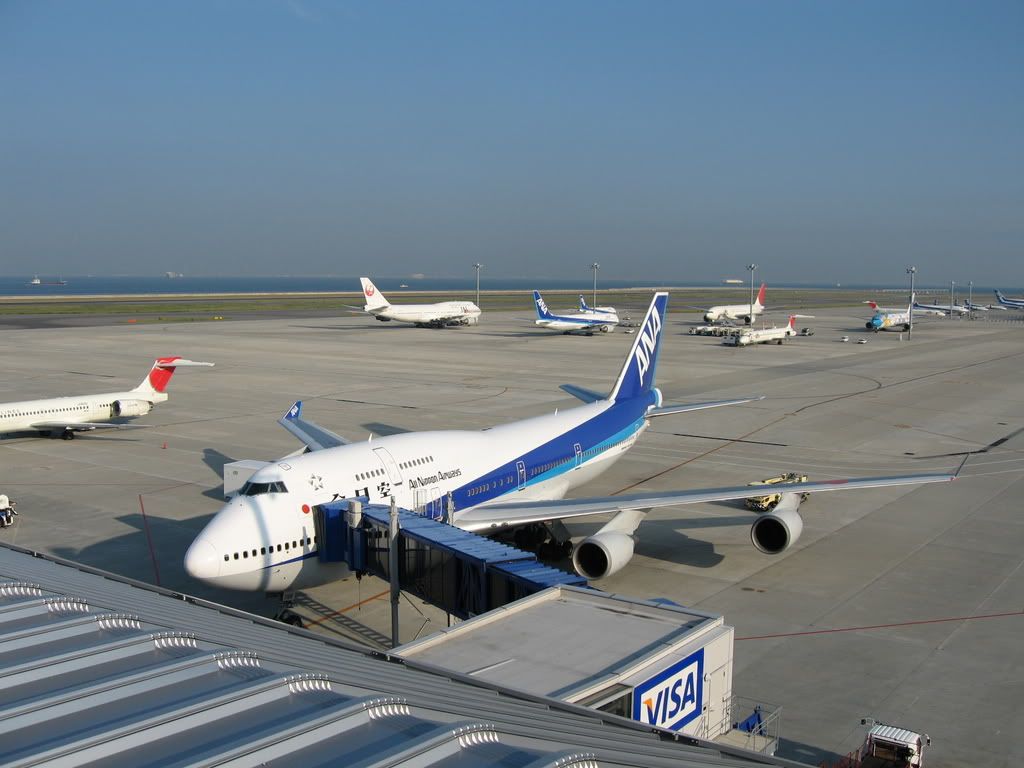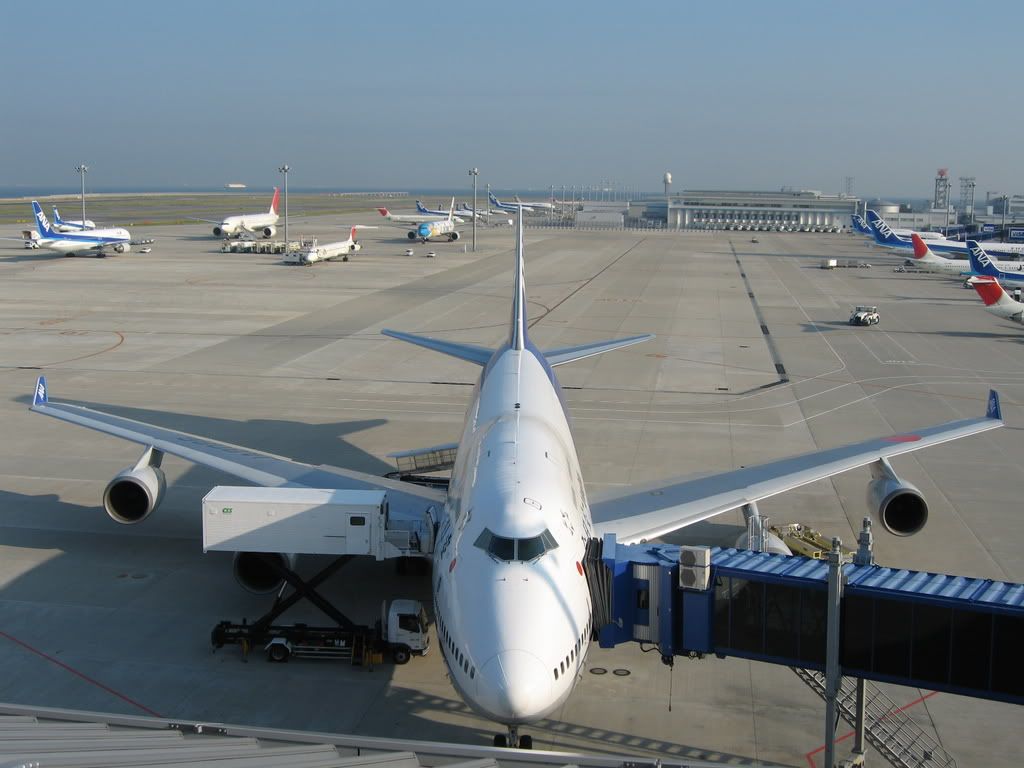 JAL MD90 – JA8020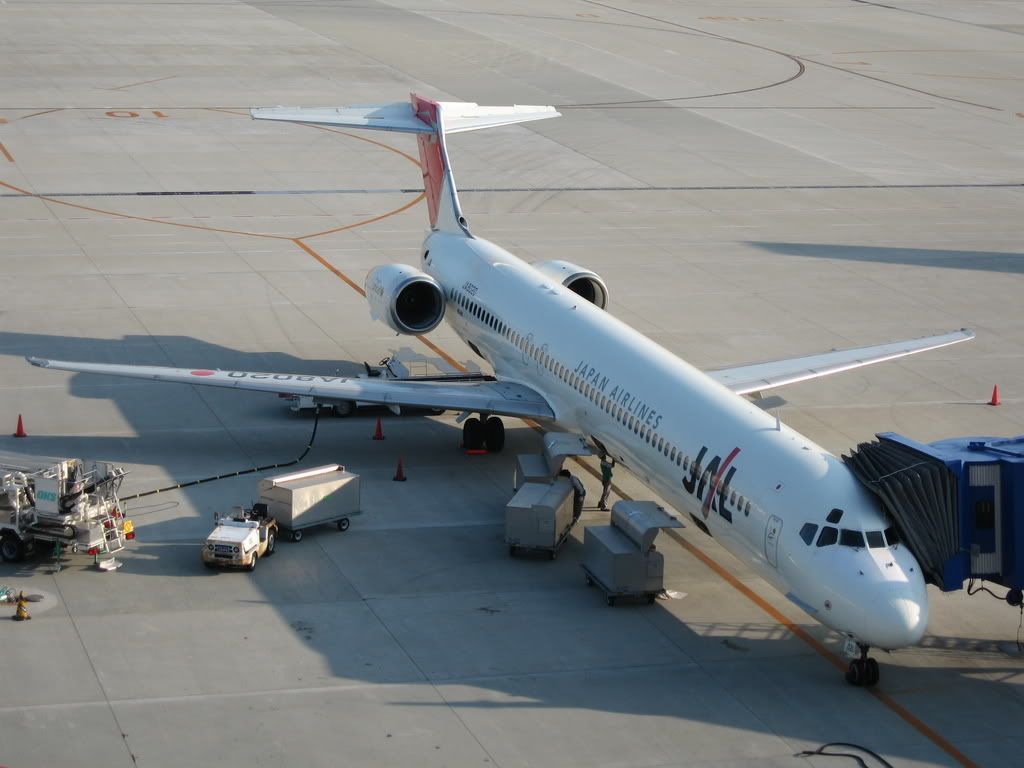 JAL MD81 – JA8296
JAL B747-446 – JA8918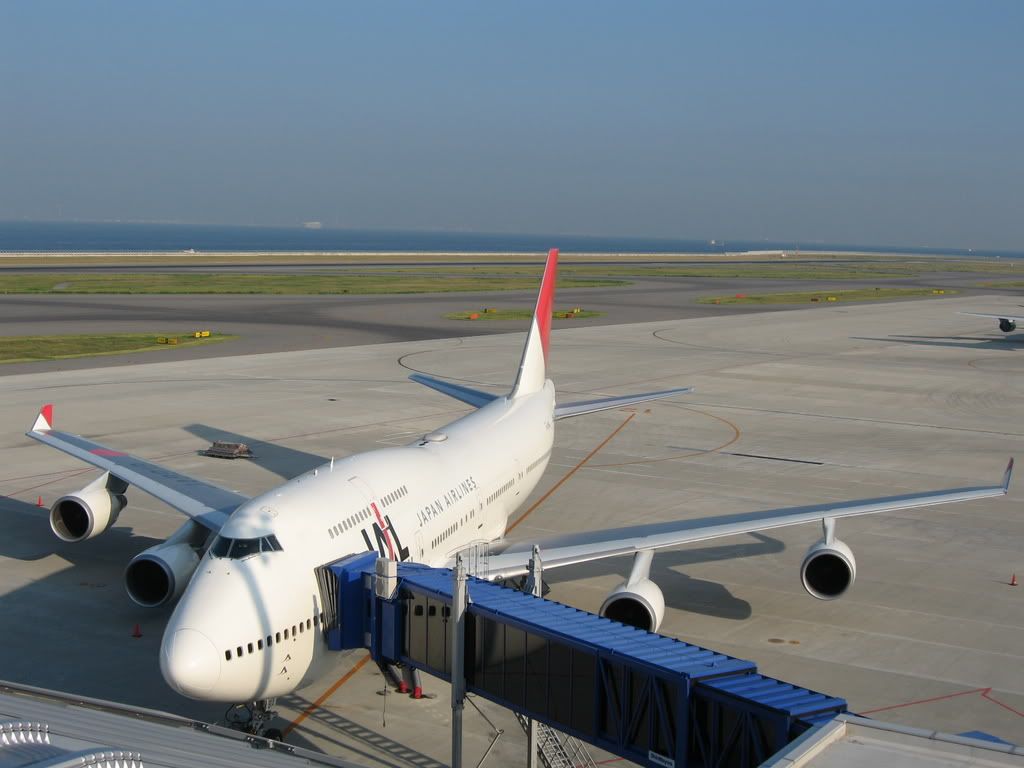 Remote stands – international side
JAL B767-246 – JA8232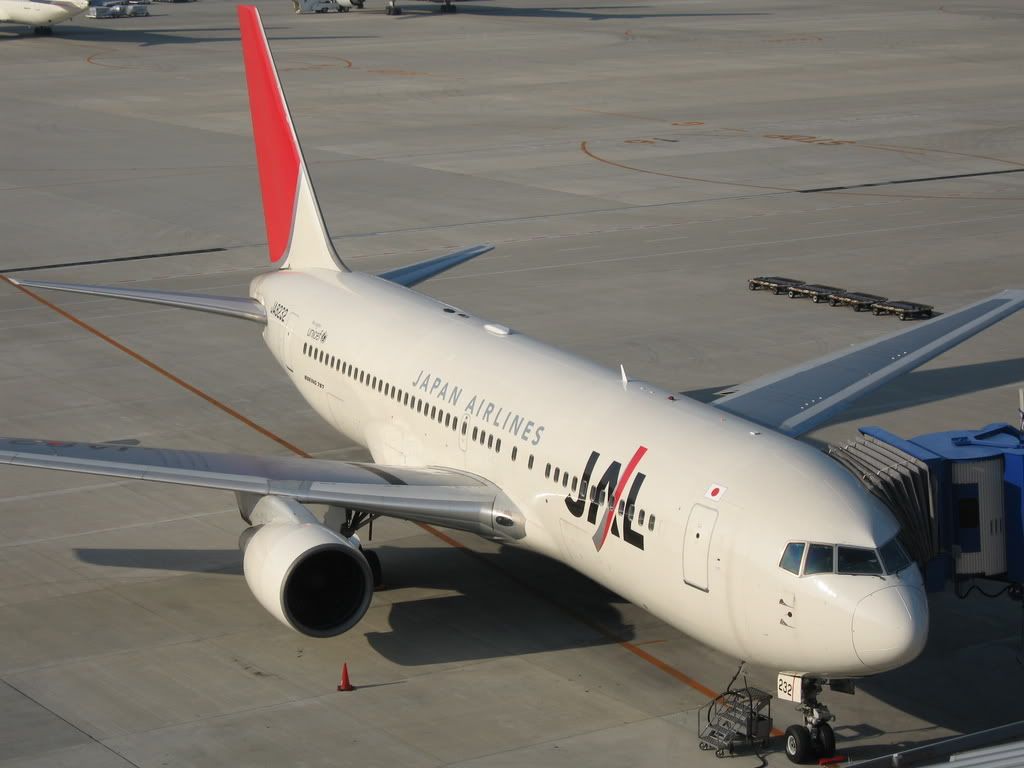 International pier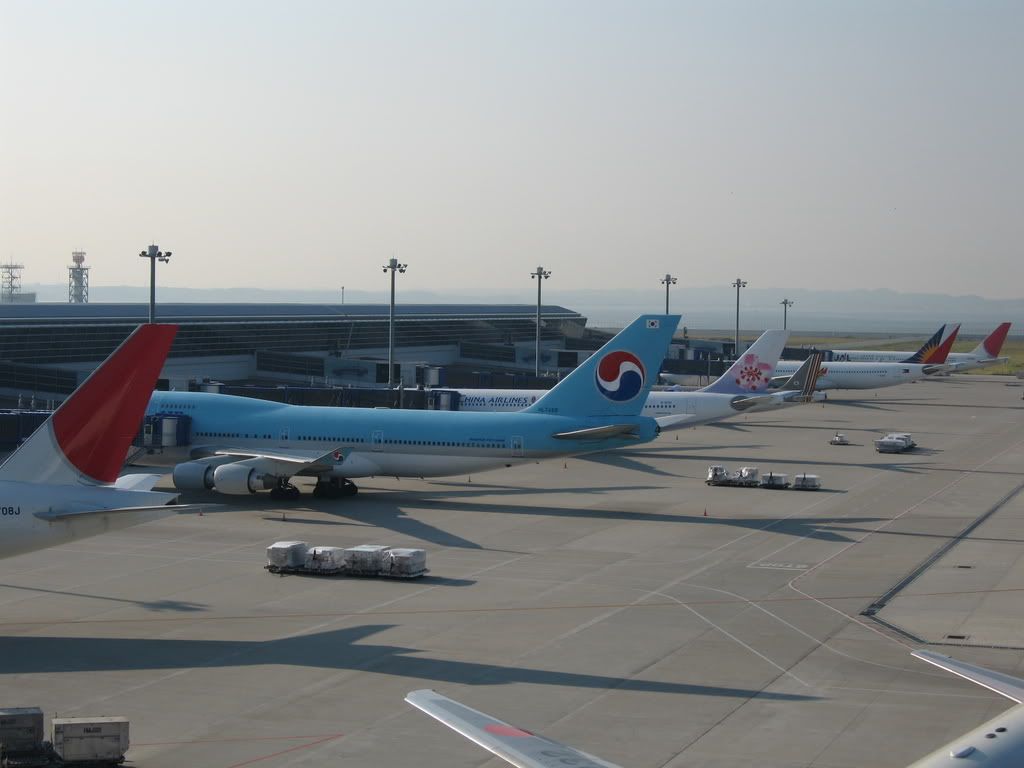 JAL B777-246ER – JA708J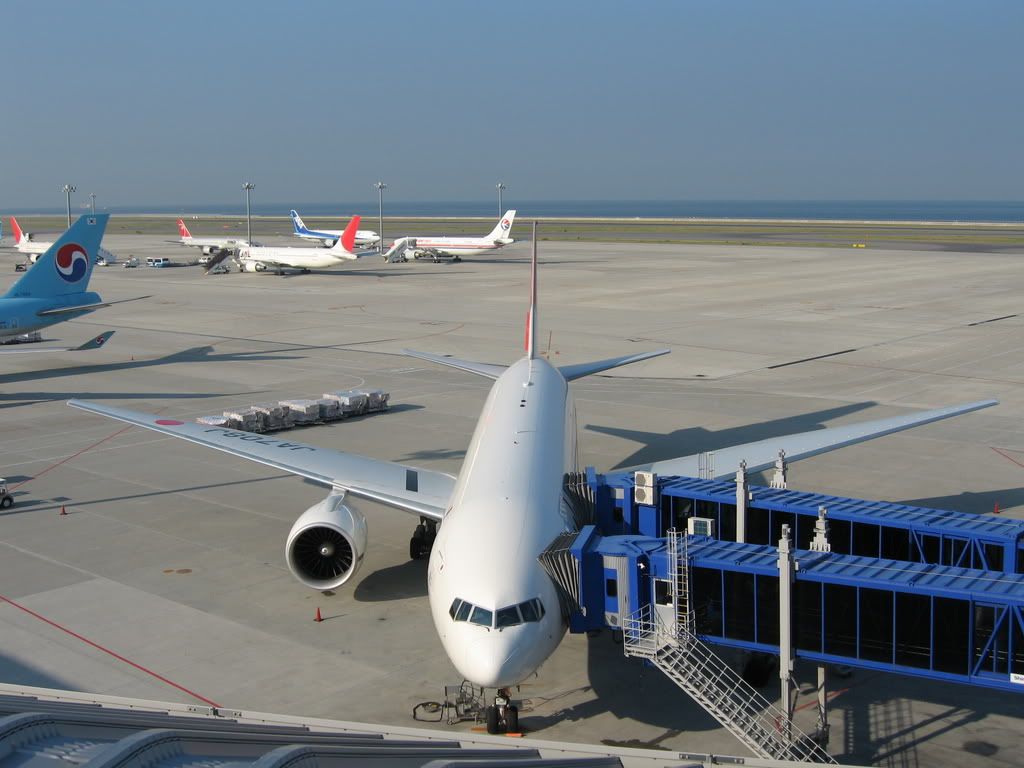 JL MD81 JA8260 taxies out as NH B73G JA02AN is towed from remote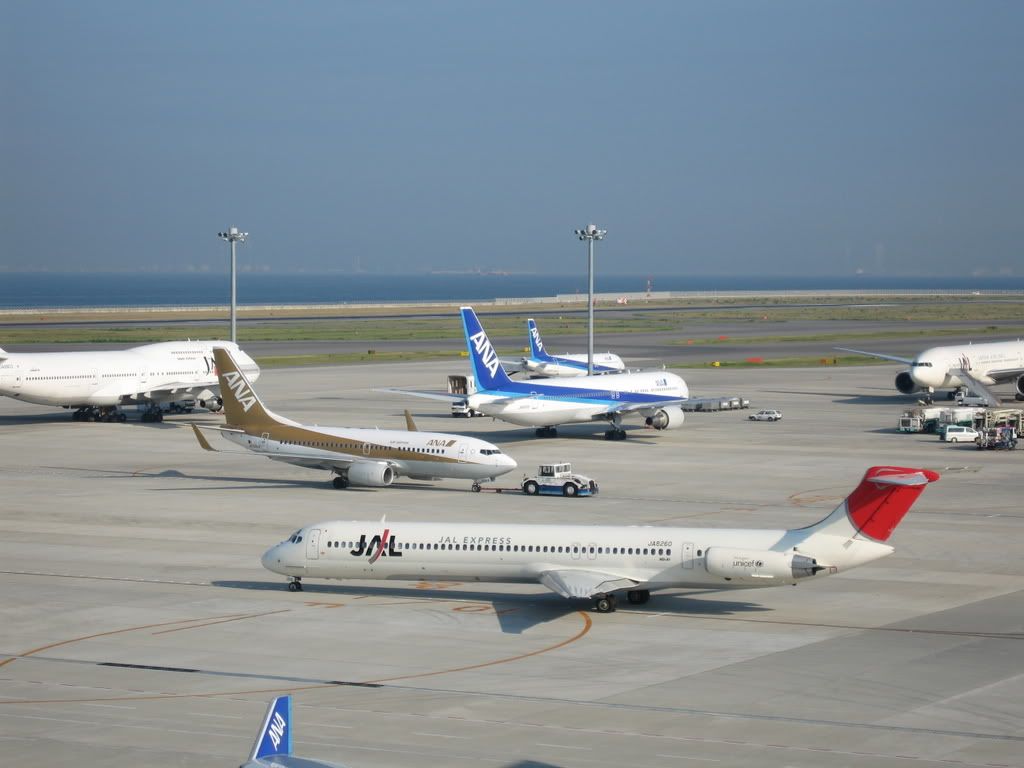 A final look along the domestic pier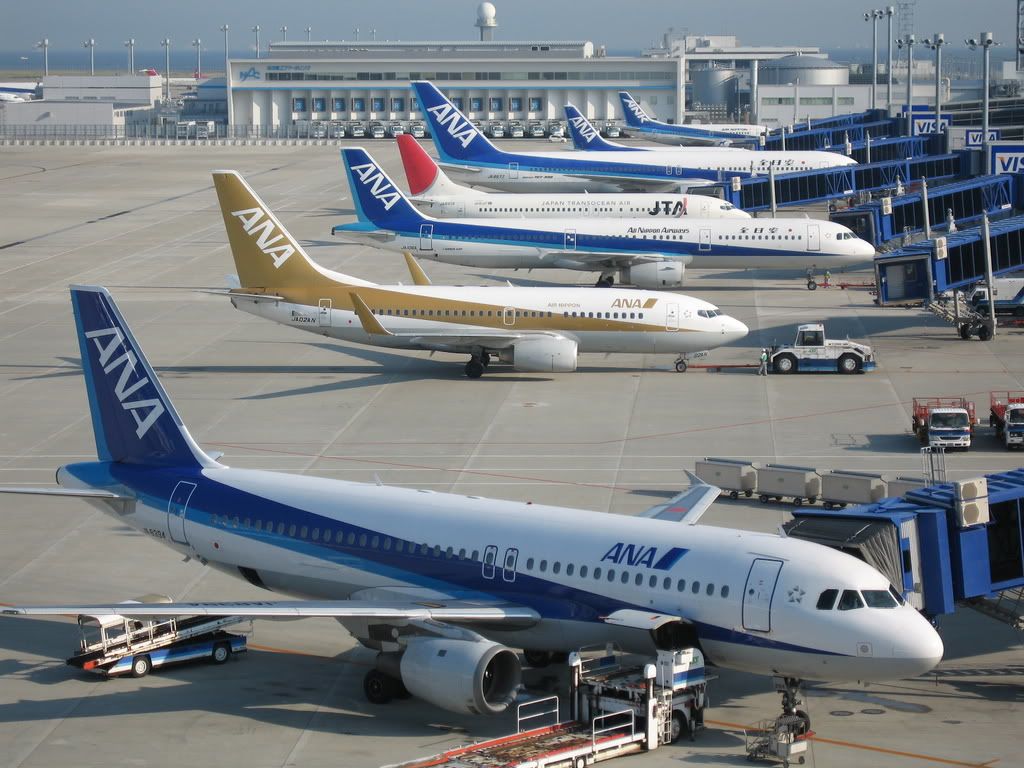 I'm sure these views are already tempting those who have not been to NGO to go there – I know I would be happy to spend a day photographing there but this morning I could not hang around. Happy with the shots I had managed to get, I headed back into the terminal and down to domestic departures. As I waited in line a member of the security staff felt the need to advise me that this was DOMESTIC departures. "Yes, I am well aware of that – you presumptuous f*ckwit", I thought, but opted to just say "Yes – I am going to Tokyo". He smiled and retreated.
Once I had passed through security I had only a short walk to the left to gate 9, but decided to take a closer look at ANA's B737-781 JA02AN which wears a special gold version of their colourscheme. I knew this aircraft was somewhere along the pier to the right, as I had seen it being towed there earlier.
ANA B737-781 – JA02AN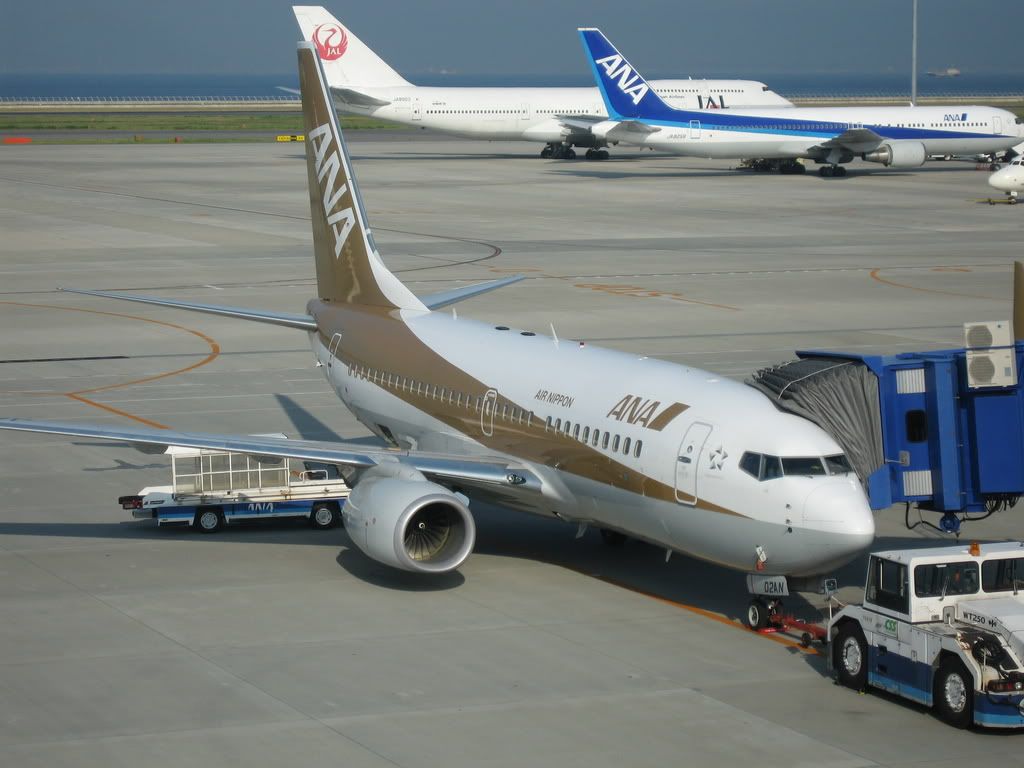 Remote stands – domestic side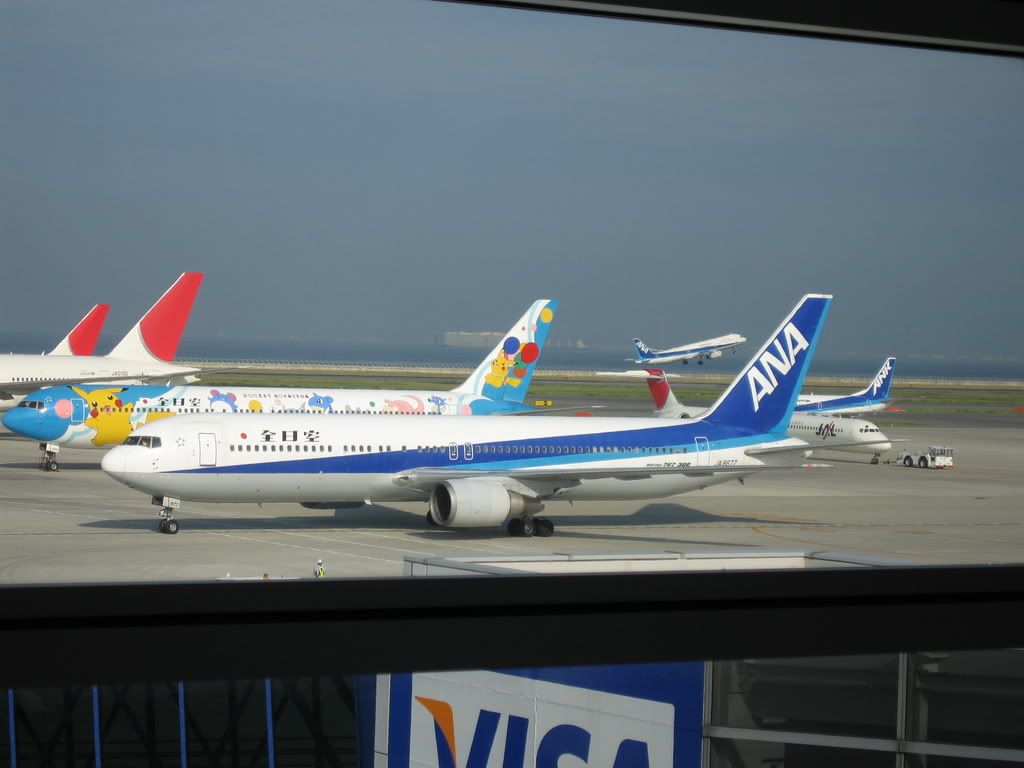 It was time now to head to the departure gate, which was just over a five minute walk away. I expected boarding to have commenced already – particularly as the flight was operated by a B747. However, the gate area seemed quiet and boarding had not yet started. This gave me the chance to try and get a picture of the aircraft from the gate, but the result was disappointing: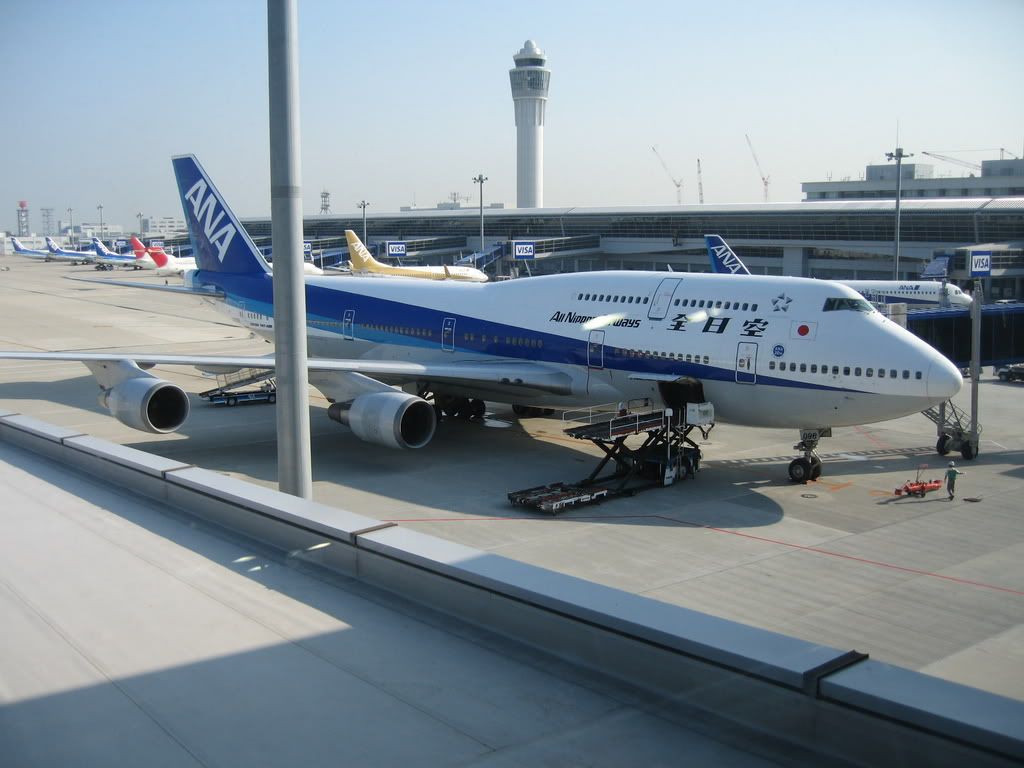 Boarding started a few minutes later and it soon became apparent that despite the rather large aircraft operating the flight, there was a very light passenger load. I am sure a B73G may have even been enough to operate the flight. I had my boarding card pulled at the gate, and made my way along the airbridge. I managed to take a shot of the aircraft through the glass. "Good shot", said an elderly Japanese gentleman behind me, to which I smiled and said thankyou. Not a good shot, I think.