Feedback always appreciated.
Trip Report: 010
Flight Category: Y-DMR (See Report End)
Date: 26-Sep-06
Dep.Arr.Time: 2000/2205/02:05hrs (Delayed by 01:15hrs)
Flight:
INDIAN, IC 202
, 816 miles
Routing: DEL-CCU
Aircraft: 320
Seat: Economy, 12A
I > Background:
Part of a month long amazing passage to India for a wedding, with some stops in Asia to see friends. Routing was CCS-MIA-EWR-SIN-CGK-SIN-CCU-DEL-CCU-BOM-CCU-IXZ-CCU-IXA-GAU-CCU-SIN-ICN-YYZ-EWR-CCS with a mix of J and Y class of travel. This focuses on the IC segment from DEL to CCU. Other trip reports for this trip will be EWR-SIN (SQ/J-Cabin), SIN-CGK (KI), CGK-SIN (VF), CCU-DEL (SG), CCU-BOM (S2), IXZ-CCU (DN), CCU-IXA (CD), IXA-GAU (IT), GAU-CCU (6E), CCU-SIN (SQ/J-Cabin), and ICN-YYZ (AC/J-Cabin). I think these reports will be "firsts" for revenue flights on SG, CD, IT and 6E and cover IXA, GAU and CCU-IXZ for the first time on Airliners.Net.
II > Pre-Flight:
a) Before Airport:
Booking for the sector was made using Indian's clearly managed website (www.indian-airlines.com) which listed all the various fare buckets and what was available. I got a "time-out" error twice before being able to proceed. One cannot make seat selections online and this cannot also be made by calling IC's call centers. However, you can pre-select seats by going to the airport.
b) At Airport:
After a fantastic short stay of Delhi (which is rising fast to be one of my favorite cities in the world), I was dropped at Indira Gandhi International Airports (IGIA) terminal 1A. This is used solely by IC and IT. Security in Indian airports is tight and my e-ticket printout was carefully scrutinized by the police before letting me in. As a note, you are NOT allowed outside after printing your boarding pass. The taxiway is right next to the entrance and I was deafened and awed as a mighty Air-India 744 passed by as I was waiting to get in. Really great spot to watch planes. Once inside, there are a few kiosks including a bookstore, a café, some ticketing offices, a lounge, etc. Next step is all hold-baggage screened and tagged with a seal-proof marker showing the date and flight before heading to check-in.
IGIA-1A follows what I call the Indian Airport Design School (IADS) – also see (http://www.airliners.net/discussions/trip_reports/read.main/87827/, where I used the acronym for the first time.) IADS is the socialist-era airport construction frame of Indian airports. However, at Delhi, there had been major improvements in lighting inside the terminal, and it felt fresher than before. Also, the washrooms are brand new and a pleasant break from past washroom experiences at Indian airports. Signage left much to be desired however.
Check-in was brisk and the very stern IC official duly checked me in and fulfilled my request for an exit-row window seat. He also informed me of the hour long delay due to "late arrival of incoming aircraft." Since "security check" had not been called (you cannot clear security and go into gate area without your flight being called in most Indian airports), I walked around the terminal area and explored the limited options. The airport is more like an Indian railway station with 1 bookstore, 1 restaurant, and some kiosks for mobile phone companies.
Within 30 minutes of check-in, an announcement was made that Indian regrets the delay and that all passengers would be given free dinner upon presentation of their boarding card at the airport restaurant run by Sheraton. IMPRESSIVE! Not to ever miss out on free food, I proceeded to a rather nice Indian style buffet dinner. I was very impressed by the continuous flight updates and the proactive nature of Indian to compensate passengers for an hour delay with a good dinner. After gaining a few more pounds, I cleared security and soon was in the spartan waiting area … nothing really than a hold area with a café counter. Again, clean new bathrooms and airport issued mobile phone charging stations. There was also an e-kiosk soliciting feedback on the airport.
During boarding, people rushed to form lines … I never figured why we in Latin America or the Indians do this … especially when everyone is pre-assigned a seat. We were bused to our packed Indian A-320 where the security questioned me on why I was taking pictures at the tarmac. Thankfully, I had my Indian Government papers in order.
Upon entering the plane, I was greeted by a very blah looking head stewardess and an upcoming newcomer full of energy and smiles. She walked me to the seat and even asked me if I wanted anything prior to departure! By the way, Y class load was 100%.
Airport - External:
(Indira Gandhi International: Terminal 1A, New Delhi)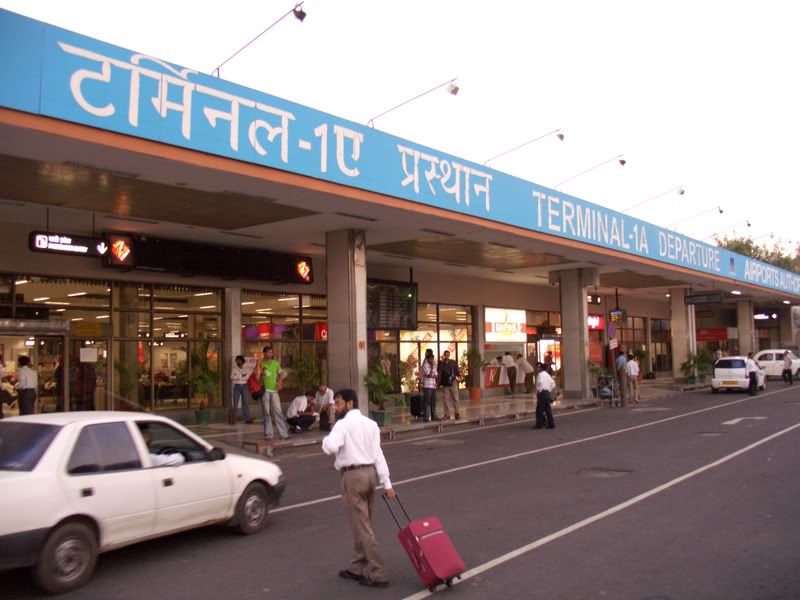 (Outside departing board)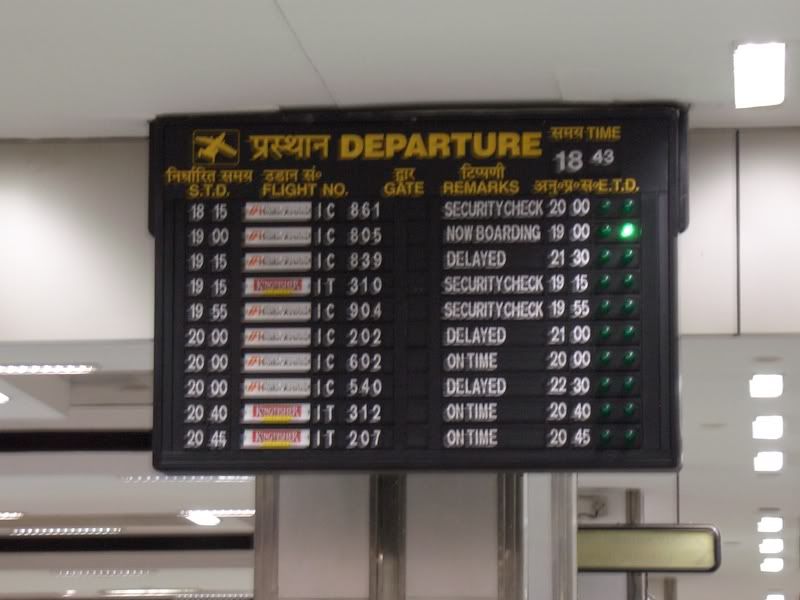 Check-In:
Airport - Internal: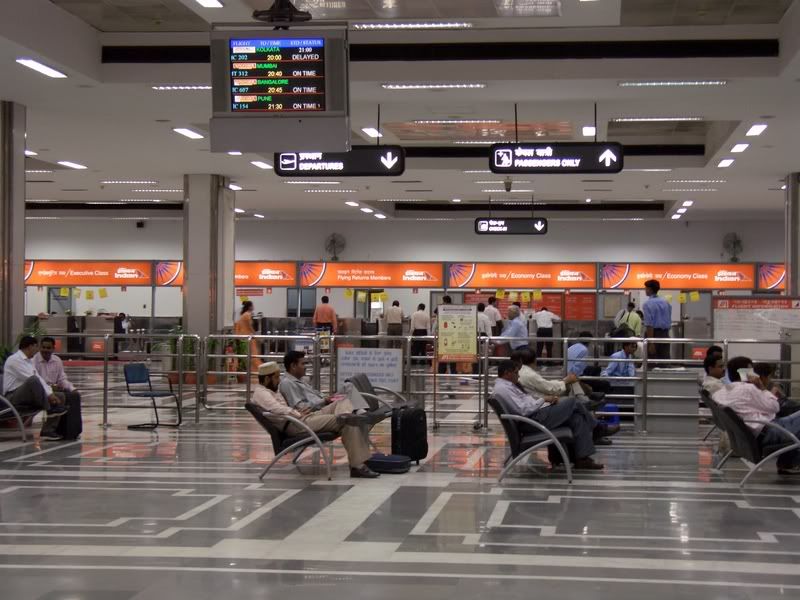 (Random things from my ONLY-IN-INDIA collection)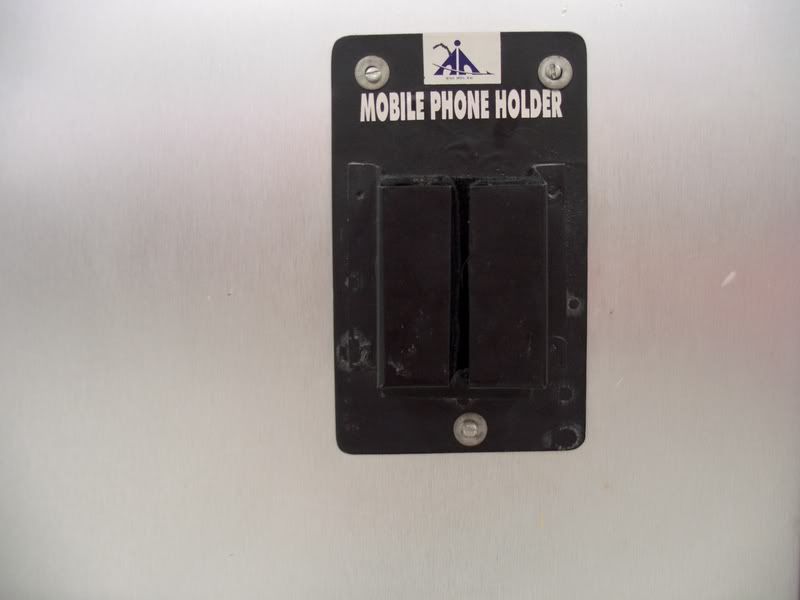 (Here is the amazing full course meal provided immediately after a short delay was announced. Served upstairs @ Sheraton Lounge – MAJOR points to Indian)
Scenes of the tarmac:
NONE
Boarding:
III> In-Flight:
a) Service Schedule + Impressions:
Service on board IC was absolutely fantastic. Passengers were greeted with a choice of refreshing cold towels, sweet and candies, earbuds, and a range of juice options. The FA assigned to my section of the Y cabin was very eager to have dirty towels collected before takeoff and even had to have the lead FA come and tell her to go to her seat as we were entering the active runway. Post take-off, we were served a very yummy dinner (vegetarian or non-vegetarian option). Being a fan of Indian food, I found the food to be stellar and especially noteworthy given that we had already been served dinner at the lounge. Post food, coffee or tea was served and soon it was time to descend at Netaji Subhas Chandra Bose Airport (NSCBIA) in Calcutta.
b) Aircraft + Seats:
Clean and well lit, IC's 320 does not show its age. However, I did miss the traditional Indian décor from earlier IC's aircrafts. Legroom is adequate for a short flight and recline is above average. Bathrooms are well maintained – this was a surprise as IC bathrooms have traditionally been very dirty.
Aircraft:
(I like this view of the IC 320 with the lights)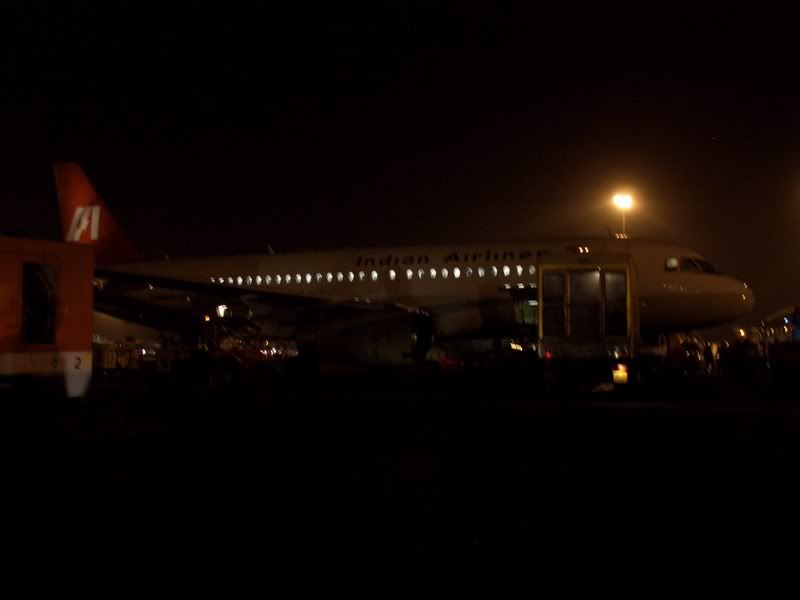 Views from Aircraft:
NONE
Seat Leg-Room: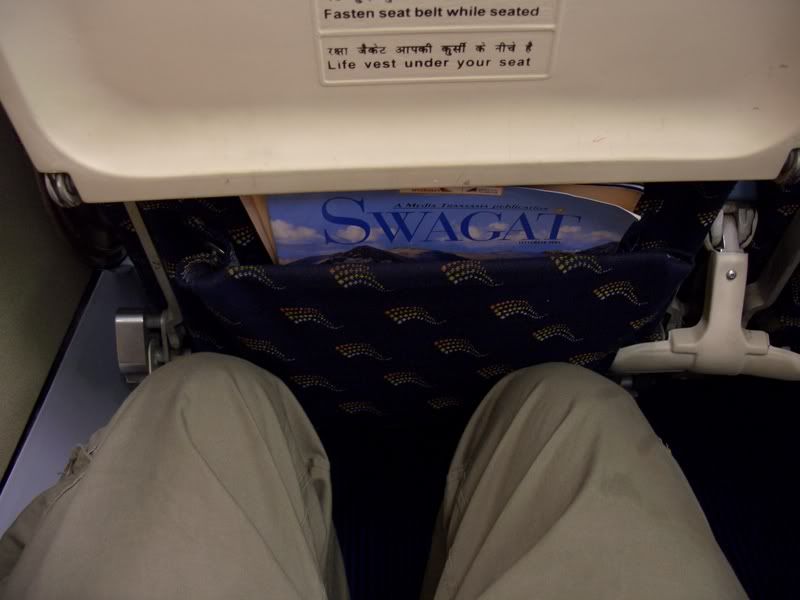 Seat Recline + Angle View: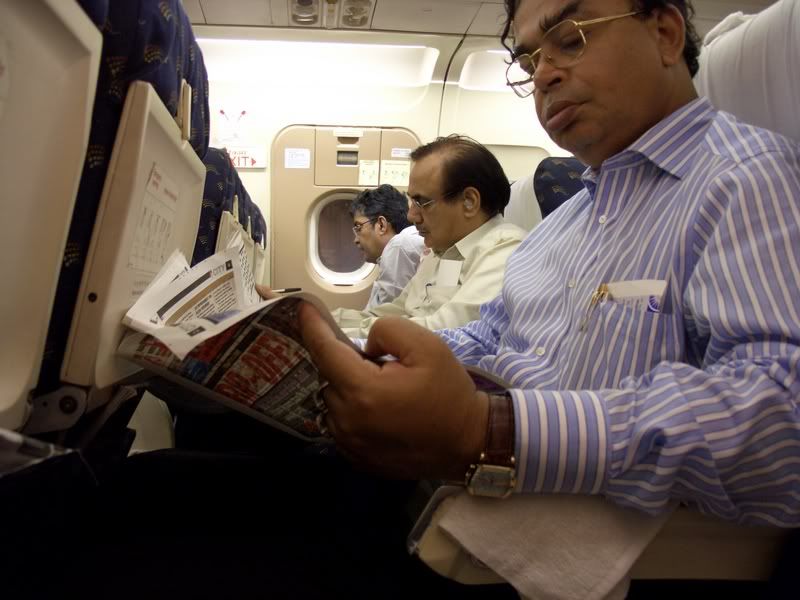 Cabin: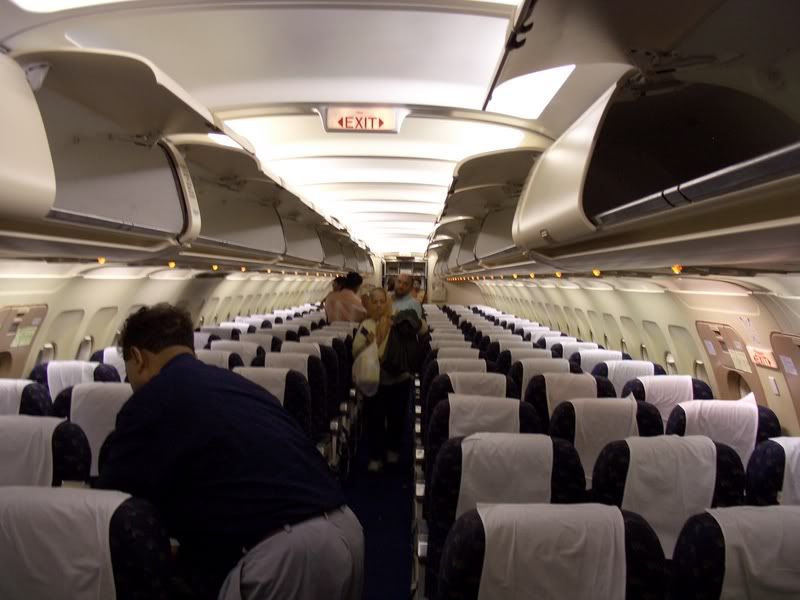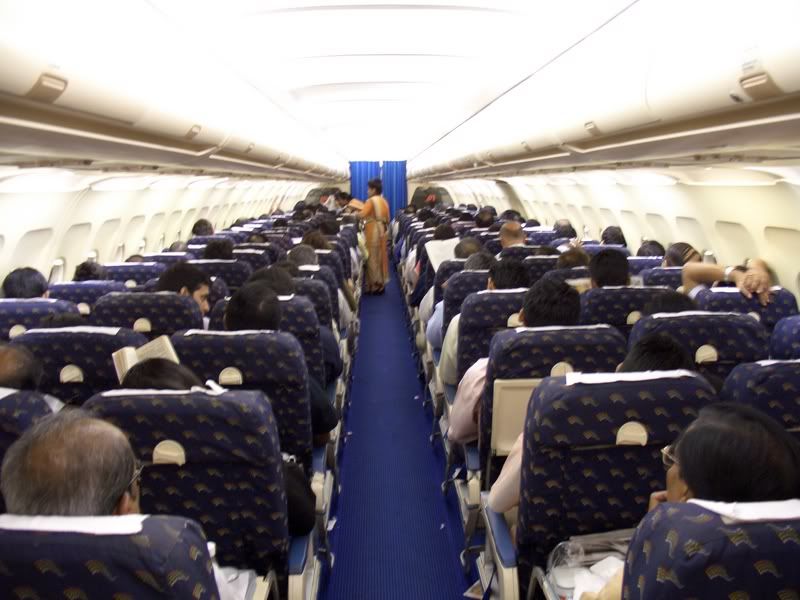 c) Meal + Beverage:
For a 2 hour domestic flight, the food was absolutely excellent! The 2 entries (chicken curry and vegetable curry) were served with rice and was hot and fresh. Portion was also generous for Y travel. Silverware in Y was an added feature. Indians don't use forks when they eat … perhaps this is why the fork was in plastic? Oh, the yoghurt/milk based desert was VERY yummy. Perhaps my Indian friends can tell me what it is called? Oh, no alcohol on-board … but that is an Indian government rule.
(Pre-take off stuff)
(Dinner … again … and, I ate again! I must have gained 20 pounds in India)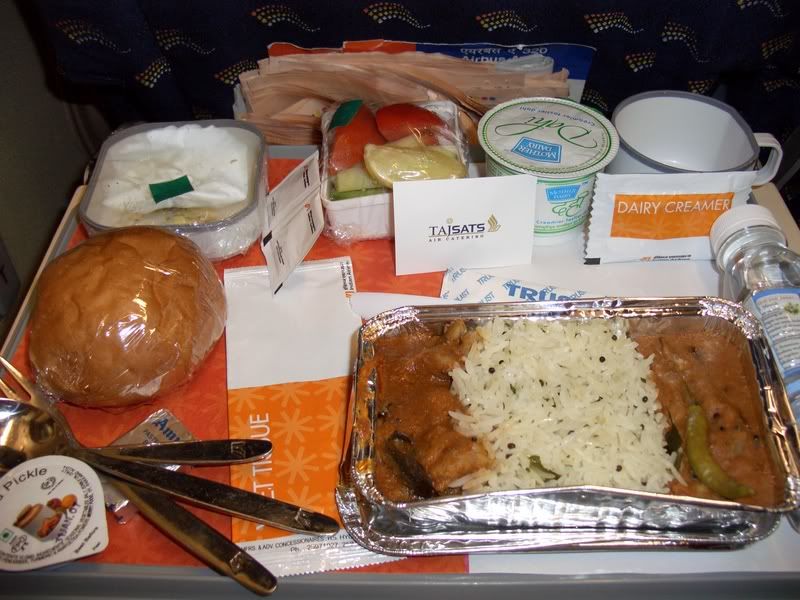 d) Inflight Entertainment:
One of my big gripes about IC was its lack of IFE. No video screens, no music. Though, the in-flight magazine "SWAGAT" was impressive and was complemented by a wide range of English and Indian language dailies.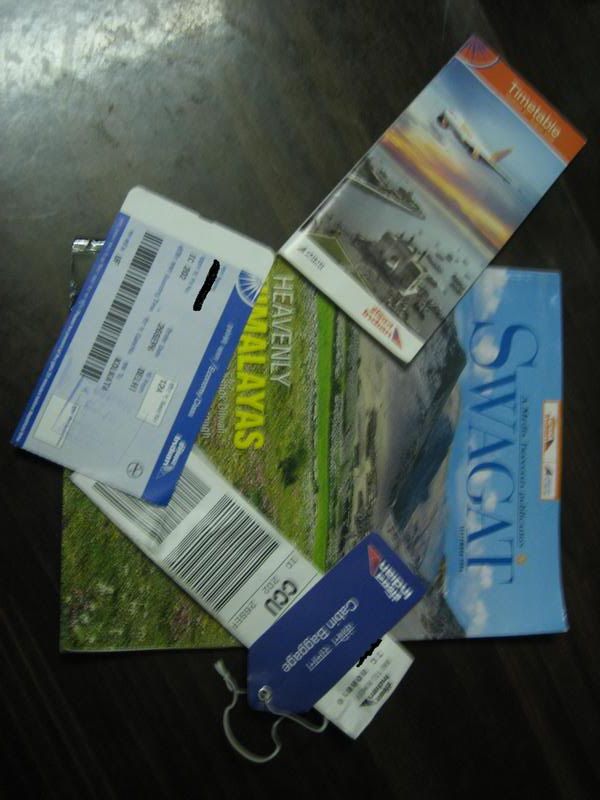 e) Crew:
Indian's crew was fantastic. The new recruit was probably one of the best FAs I have encountered in a while. She had genuine charm and warmth and it was apparent she enjoyed her job. Her older superiors were also very amiable … though perhaps a tad more jaded. I can go on about the crew … it was just perfect … sort of the stuff that comes from the heart … and not the robotic obligatory service I find in say SQ or EK.
IV> Post-Flight:
Kolkata domestic airport is convenient. Bags came by the time I had reached the carousel. I also like the hi-speed internet café within the terminal. Big props up for CCU management. Pre-paid taxi lines were huge … though, this I am told is attributable to the presence of the big festive season here.
Kolkata Airport:
(My favorite thing @ CCU is the presence of an internet café – something other airports in India should include)
V> Impressions + Scores:
This is definitely not your parents INDIAN. I found Indian to be an absolutely gem of a carrier. Impressive was the complimentary meal service at DEL for a flight whose 45mins-1hr delay had just been announced. Flight crew was absolutely near perfection and the meal service was a culinary delight. The big drawback was the tired aircrafts and lack of IFE. Thankfully, the order of 43 brand new IFE in every seat will take care of it. I strongly recommend IC and would pay a price differential to take it over other low-cost private airlines.
Reservation: 7.5
Check-In: 6.5
Lounge: n/a
Boarding: 6.0
Seat: 7.0
Aircraft Overall Ambience: 7.5
IFE: 5.5
Crew Service: 9.0
Food: 9.5
Beverages: 7.0
Amenity Kits + Others Freebies: 5.0 (standard default score)
Disembarkation: 8.0
On-Time Record: 8.5
OVERALL IMPRESSION: 7.25
(Scores are based on comparison with other airlines in THAT class of service – No comparison of Y vs. F for example)
VI> Other Trip Reports:
1/
Avianca: BOG-LIM: 07/06/06: 7.09pts: Y-IMR
2/
Air Tran: EWR-MDW: 08/02/06: 6.73pts: Y-DMR
3/
West Jet: YYC-YVR: 09/05/06: 7.14pts: Y-DLR
4/
Air Canada: YYZ-YVR: 09/02/06: 5.92pts: Y-DLR
5/
Air Canada: ALB-YYZ: 09/01/06: 5.88pts: Y-ISR
6/
Singapore Airlines: EWR-SIN: 09/20/06: 7.81pts: J-ILR
7/
Adam Air: SIN-CGK: 09/22/06: 6.04: Y-ISR
8/
Valuair: CGK-SIN: 09/22/06: 5.04: Y-ISR
9/
Spice Jet: CCU-DEL: 09/25/06: 6.67: Y-DMR
(Note on Codes: Y – Economy, J – Business, F – First :: I/D – International/Domestic :: SR/MR/LR – Short/Medium/Long Haul :: I have designed these codes so people don't believe my scores are comparing apples and oranges)
VII> Other Pictures:
(Pictures of New Delhi – mostly taken by good friend and fellow A.Netter kiramakora; New Delhi is truly outstanding! I thought I'd include some for your viewing pleasure)
(Jantar Mantar)
(India Gate)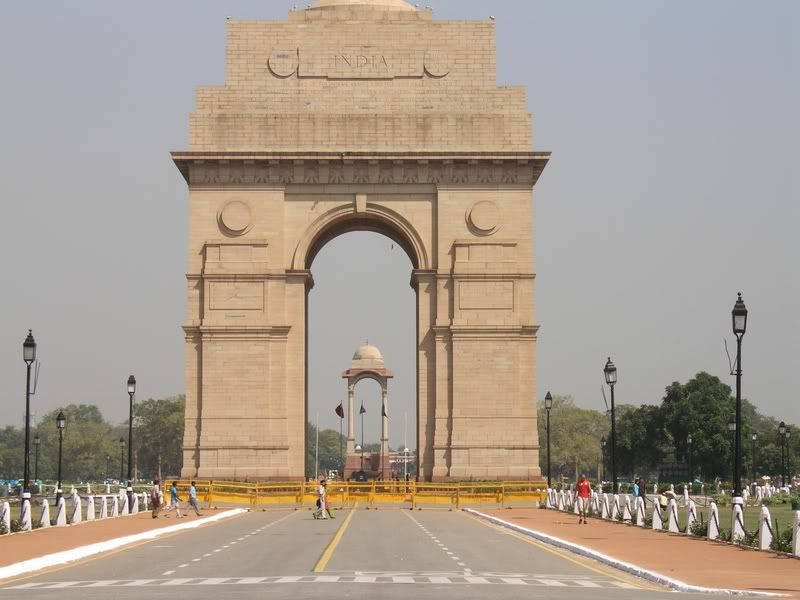 (Government Buildings – Raisana Hill)
(Broad RAJPATH)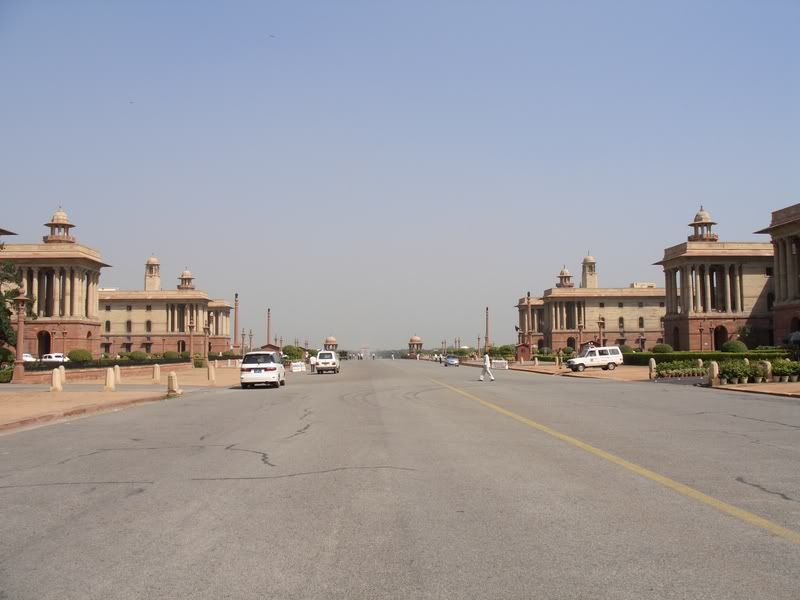 (Red Fort)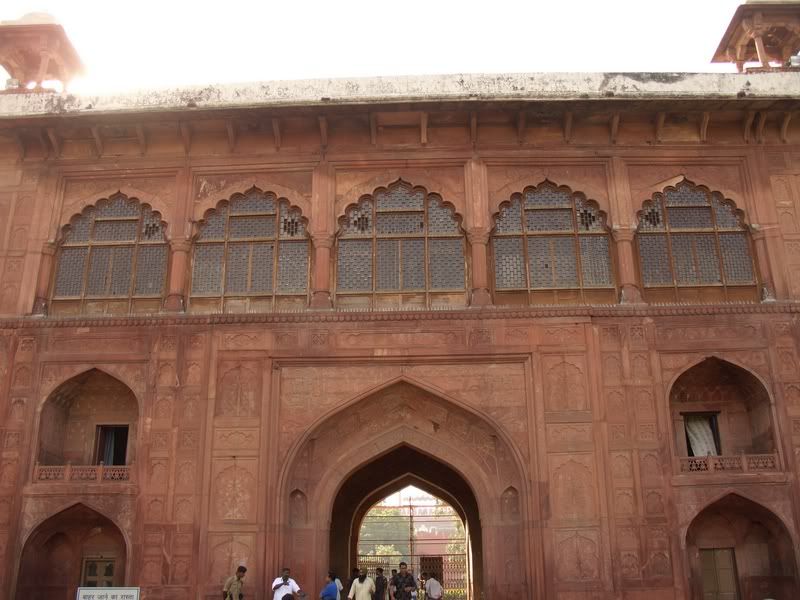 (Diwan-i-Am, inside Red Fort)
(Diwan-i-Khas, inside Red Fort)
(Qutab Minar)
(Inside Qutab Minar)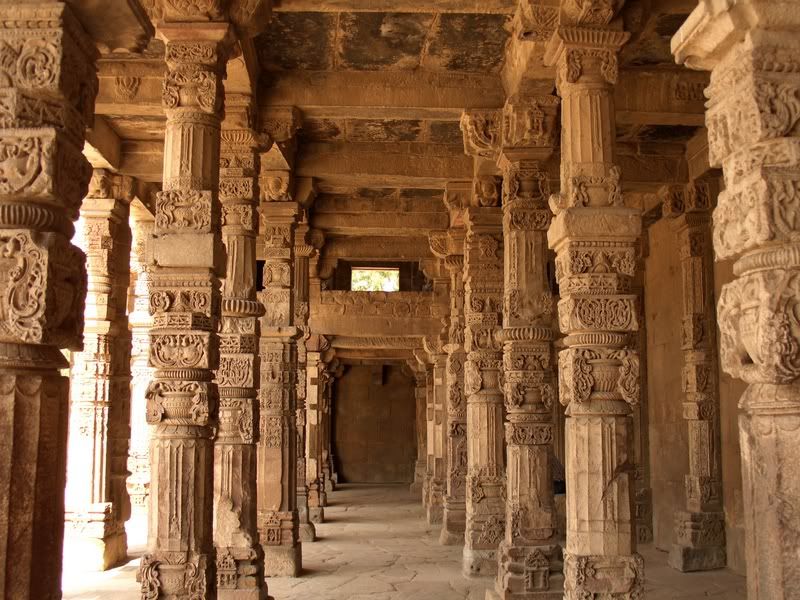 (New Delhi Subway)