Trip Report DXB-BKK-HKG-BKK-DXB on EK B777-300 (2 class config)
This is my 2nd trip report and once again it will be about a trip with 4 sectors. It is a bit different to the one I wrote before because of the destinations but again it's not anything spectacular, rather a more routine trip albeit a relatively nice one. For the ones that hoped for a trip report to Europe I apologize. I promise to do that next. Once again we go to South East Asia. It's pretty nice down there anyway
!
There will not be too many pictures I'm afraid, sorry for that but there simply was not too much to photograph this time that would have made a nice view at the times I could afford to get out the camera. After all somebody told me to focus on my other job... So please don't be too disappointed.
This report once again is possible because of my weird and screwed up sleeping patterns. Instead of sitting in bed in a hotel room in the middle of the night watching TV I sometimes consider it more rewarding to actually do something with a purpose. So you could say this report is a result of jet lag and in some ways insomnia. Some paint when they can't sleep, some read, I usually listen to music. Or I write. I could think of worse things to do. And yes, if you might wonder whether I have a life and on top of that a private one, I do. I guess my employer would like to do something about that if he hears it
. Just kidding...
In case I use some funny terms and phrases please forgive me. My brain still has to handle that barrier of a foreign language and I admit sometimes not being too good at it. Let alone punctuation. I'm useless at that (with that?). And Chermans haf some tifficulties viz prepositions, too. So no grading there, either...
1st sector DXB-BKK
This whole trip is a lot about flying in darkness, getting up in the middle of the night and trying to live through it somehow. Sometimes I think of making jokes about it by saying that I need vitamin D supplements to make up for the lack of light and what it will do to your body if you never get to see any natural light source. That's usually the time when I realize that it does have an impact on life, although certainly not on my vitamin D levels. I do suppose (and hope!) that's nonsense. But it affects my moods, my sleep patterns and last but certainly not least my performance.
So, not surprisingly this trip actually started even before pick-up time, the evening before. We put our kids to bed and I stayed with my daughter after singing and reading, lying down next to her and cuddling up to her the closest I could. Just to be able to smell her, feel the touch of her and to basically inhale every little molecule of her fragrance to take it along as a memory for the trip. Why are these things so elusive and don't get imprinted in our memory so much better for the times when we'd like to recall them?
Anyway, what happened, of course, was that I fell asleep next to her. Oh great -- not! Because it screwed up all the plans that I had to get some sleep at the right time and still be able to be together with my wife before going to bed. In the end I woke up about 1hr after my little drift towards happiness next to my little darling and then felt somewhat dizzy. Somehow it made it almost impossible to go back to sleep and have a decent rest before being picked up at 2:15 LT. Well done. Hardly. So at check-in time I was dead tired.
The briefing area was pretty deserted at the time I got there, once again not in the same car with my F/O because we live in too different locations to be picked up together. But even though it was quite empty I saw a familiar face and we chatted a bit before my colleague for my flight arrived and then we started to go through the motions, paperwork, weather and NOTAMS, cabin crew briefing, etc. The cabin crew briefing wasn't too good, I blame it on the fact that I was tired and probably didn't leave too much of an impression on them. At least not a very positive one I guess. It was quite a small crew for a 2 class aircraft, after all there are more than 400 seats on the plane and usually these flights are very full most of the time (this time 419 guests on board to BKK). But then I thought that it was a time of day when most people will be sleeping anyway, even on the return flight. That should make it a little easier for my colleagues.
Then we had to wait for a bus that could take us to the aircraft after clearing customs and security. I would have expected it to be easy to get one at this time after most of the crews had already disappeared to their planes or before the next rush set in. So here we were, watching the airport at a time of day when no one really wants to watch anything and that for a period of some 5 min. As if we could afford that nowadays.
Arriving at the aircraft made me a bit uneasy, I saw ground air and electrics connected to the plane and that usually means that our APU in the back doesn't work. That's the little turbine engine (quite large actually compared to a few aircrafts' engines, that is) in the tail of the plane which produces the electricity and the pressurized air to drive the air conditioning and the engine starters. After getting into the flight deck that defect was confirmed, the APU didn't want to behave quite the way that was expected from it and apparently it was due to some fault in the oil filtering system. After checking the MEL (Minimum Equipment List) we determined that it was ok to complete the flight without it and continued our preflight set up.
Turned out it wasn't the only thing that didn't work. Is that a jinxed flight? Anything else? Our laptop computer with which we do our performance calculations and what speeds we have to use for takeoff was not starting up. It just wouldn't charge and apparently the batteries had gone completely dead and not even when attached to the power outlet it worked. Oh great... So we had to use our tables that are stacked away in 2 binders and manually had to do these calculations. Not really much of a deal but humans do tend to get lazy and definitely spoilt easily. I admit that I'm more annoyed about the fact that I can't use the laptop than about the process of how to get these figures out of the book. And it does make a difference when it comes to safety and related performance since there's more space for errors when using the books. Not that it would be anything dangerous, but I always think in terms of what can give me extra margin for safety can't be bad, right? Well, I'm here writing this report so it can't have been too bad what we did when determining the speeds and power settings for this takeoff. And after all, that's the way it was done all the time before the aircraft manufacturers came up with these programs a few years ago. A lot of airlines still use this manual paper system nowadays every single day and flight. So "be quiet about it and do your job, whiner..."
Once everyone was onboard after the usual delay due to some passengers not finding the gate (at the right time, shall I say?) and even one guy that was escorted out of the airplane by security because the Police were looking for him (apparently he had stolen a lot of money. I wonder whose it was. Don't banks do that all the time?) we had to follow a slightly non-standard start up procedure due to our inoperative APU. First you have to get permission from the ATC Ground frequency to start one engine at the gate. Then coordinate it with the engineers on the ground who are hooked up to the plane with their headset so they turn on the power and output pressure from a device that's very noisy and big, called a jet air starter (or something like it -- some airports call it different names). That's a turbine driven air pump on 4 wheels which usually every airport has at least one of and it's placed next to the air receptacle in the forward area of the aircraft. This powers the pressure manifolds of the airplane and thus gives the necessary power to start (literally crank) the engine. Then we start one engine, usually the right one. Once started we have enough power from that engine, electrical from the generator and enough bleed air from the compressor stages. Then we tell the guys on the ground to disconnect all external equipment. Once that is done we ask for our push back clearance from ATC and tell him that we start the other engine during that push. The engineer on the ground needs to be informed just in case their tug is a bit on the weak side or if they use an old fashioned tug with a bar that's not especially approved for that kind of aircraft. Hardly ever the case but safe is safe.
During the push we do a so called cross bleed start meaning that we take the bleed air from the running engine to start the other. Sometimes you actually have to increase the thrust to achieve the minimum pressure required for that engine start but I never saw that happening on the 777 so far. Not uncommon on a 737 and slightly older planes, by the way. Apart from that it's pretty much a normal engine start and nothing unusual.
So now we are finally back into normal mode, after having completed the normal checklists and the so called supplementary checks for that engine start. Believe it or not, that requires four extra procedures: Ground air-conditioning hooked up to the airplane, engine start using external electrical power, engine start with external ground air and finally cross bleed start.
All that combined with retrieving the performance data manually out of a book and we get something annoying that no one likes: delay. Well, not much, but it doesn't contribute to an on time departure. But, hey, we can always blame it on the ones who didn't show up at the gate and whose bags we had to offload, right
? Unfortunately the engine start only happens once the doors are closed so no one else to blame for it. Hmmm.
From the moment that we received the taxi clearance we didn't stop the aircraft anymore, it was a rolling taxi to takeoff way and we used pretty high takeoff speeds once again. The weight was at some 30t below max weight (≈263t compared to ≈300t) and thus we used the assumed temperature setting. It basically simulates a very high temperature for the engine so that it thinks it can't go over a certain maximum level of thrust because it's so hot outside. Since it's a lot less hot in reality it actually saves the engine a lot of extra unnecessary work / stress and thus high turbine inlet temperatures which in effect are the factors that let the engine deteriorate and age over time the most. It basically is what we always do when driving a car. Hardly anyone ever steps fully down on the gas at a traffic light unless you need to rush to the hospital with your highly pregnant wife in the back... Funnily enough the perceived temperature might be even higher than the actual one in that very special case I've heard.
Our departure route was new to me, I never flew this way before and it led us straight into Iranian airspace towards the east. So I was almost surprised when taking a look at the map, and we had to call Iranian air defense to let them know we are coming. It's not really of life saving importance if you miss that part and I do not know what they do with our calls anyway. But it's written down somewhere and so what the heck, they're always friendly, wish us a nice flight and saying a friendly "Good Morning!" to someone has never hurt anyone. And in the end it might save us unnecessary trouble.
That reminds me of a strange encounter I once heard over the Gulf. On the emergency frequency which we usually have tuned on the 2nd radio I heard "aircraft approaching US naval vessel whatever at flightlevel such and such, please identify yourself and state your intentions". Apparently a lot of guys thought they were addressed. After some squeaking on the frequency due to several answering at the same time (what a surprise) somebody finally got through and asked, "what exactly is your position so we know if we're approaching?". The reply was "That's classified information". The squeaking on the frequency after that was funnier than the situation actually was but I must admit that I was highly amused by that reply and the logic behind it. So I prefer approaching an airspace that I know and where I can clearly state my intention to just fly through it and definitely know when I will be exiting again... Pretty hard to say when approaching an invisible ship some 10km further down.
The only trouble with Iranian airspace is their radios. It's a pretty darn big country full of mountainous area and they probably have to use several repeaters for their radio signals to be able to get the range. But unfortunately they don't do it the way other big countries do it and they seem to transmit on several transmitters or antennas at the same time and on the same frequency, which is the crucial little detail about it. Due to the tiny delay with which the different signals then arrive at the aircraft it sounds very distorted and only clear if near to the stronger or in that case geographically closer transmitter. There's a lot of background whistling and very often it sounds like the controllers are sitting in a tiny bathroom in their bathtub. Very often it's like them speaking into a metal bucket on top of the bathroom effect.
So often I sit there visualizing them in their ATC building while having a bath and taking their mobile radar station along with their microphone. And if they are completely sick of talking to us they throw up into a bucket but out of a feeling of duty and discipline they continue their task and issue clearances to those who make them sick.
I guess I have a weird perception of life. Simple things for simple minds. Never mind.
Once we came into Pakistani airspace we had a fantastic direct which probably saved us about 5 min. Good news! The Pakistani and Indian controllers have the coolest way of replying to a radio call: "Rodj", which is supposed to be a "roger" but they skip the last little letters. I still don't know if they do it on purpose or whether it's just their accent. I smile every time I hear it.
Sunrise happened at exactly 01:13z at a longitude of E 066 41.3'. We were on a direct way from a little Iranian city called Jiwani (N 25 03.8 E 061 47.7) to a waypoint called Telem (N 24 07.0 E 068 46.0) in Pakistan. But I have to admit that I didn't time that. There's this absolutely fantastic little program that I use on my little Palm PDA called SunFly. It needs two waypoints on your route and the estimated time over them plus your flight level and then calculates the time and the longitude at which sunrise or sunset will occur. And it's precise! Fantastic piece of software. Not really necessary but very informative. Congrats to the developer!
The picture that I took out of the side window shows the atmosphere shortly before sunrise. It may seem to appear out of focus but it isn't. I wanted to show the light and it's colors but more so the so called delamination of a cockpit window. Look at the top of the window and you will see these bubbles of air within the glass. That's what's called delamination meaning that the layers of the windows have separated at these spots. It's nothing to worry about and there are certain limits to that kind of delamination. This one's easily within limits and a nice example of it. I guess not too many people see that kind of stuff too often so I thought I might put it here.
So it was time to put on the sun glasses again and look straight into the sun for a while. There's one of the photos I took. It's with the sun visor attached to the window to give you a little impression of what it can look like.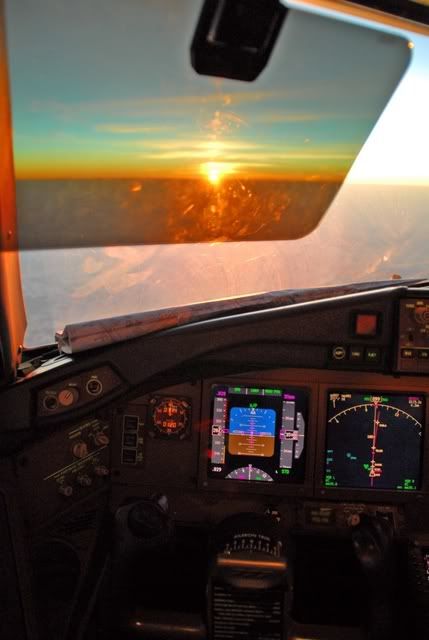 The problem is that even with the sunglasses and the sun visor up it's still too bright outside and on the inside all you see is, well, nothing. Darkness. Not bright enough in there for sunglasses actually. That's why a lot of guys set up a wall of newspaper before them for that time of transition until the sun is high enough. So one's not forced to look right into it once you aim out side. In my last report I already wrote about the funny effect this sunrise can have especially when cabin crew come in and they are absolutely taken by surprise by the sunshine and the brightness after coming from a pitch black cabin due to the closed sun shades on the windows there.
My sunglasses are the cheapest you can find anywhere. They were 2 Euros. You think that's bad? Because of the lack of quality? And sunglasses should be of good quality for all the known reasons? Think again. All the fancy ones that I had I either lost on the flight deck (in terms of forgetting them there and never anyone found them) or they broke apart. I don't need UV protection in the flightdeck since all of that gets filtered by the windows. And the real magic about it is that I never seem to lose or break the cheap stuff. That applies to pens, too. If you ever find out what magician is responsible for that phenomenon let me know. I will find enough other guys who go through the same and we'll file a class action law suit against him for traumatizing our wives' pocket money. Honestly. It's weird but a 100% true. And, oh my God, do I look cool with them cheap ones
Once again I did the paper and office work (Tech log, personal logbook) and once that was done I stood up, did some stretching, went back into the galley and wanted to start a little bit of a chat there. But I wasn't really successful with that. I blame it on the time of day and on the fact that a lot of times I just don't seem to be tuned to the right frequency with my fellow colleagues of the cabin crew. Probably caused by the phenomenon that cabin crew don't get older in EK but I do, and because of the different nationalities and cultural backgrounds. I really try and it would be unfair to say it never works but it gets harder. This time it just didn't kick off at all. So I went back to the flight deck a little earlier than anticipated. Don't worry, by the way, this is a smooth and quiet part of the flight and can easily be handled by just one pilot. And if anything goes wrong I'm back in there within a second.
Our route was a bit down south via Nagpur so we couldn't see anything of the Himalayas. Too bad, they are a spectacular sight!
Today we didn't need to talk to Mumbai radio on HF, fortunately. We were always in VHF range and only had to use HF over the Bay of Bengal. Not really, though, because we could use our datalink facility with Calcutta. That makes communication very easy and is far more reliable than HF in these parts of the world. Still there are enormous gaps with no direct communication over India simply because their range of radios isn't enough. I wonder when that is ever going to change. I already said it in my last report, but India must achieve a miracle to update their infrastructure to be able to handle their predicted air traffic growth within the next years. For us pilots it seems that nothing much is done except getting their datalink to work (more often). I honestly do hope that that is not the case and they're working frantically at it. I seriously doubt it however, sorry to say that especially for those guys from India reading this. But I'm pretty sure you know that kind of situation a lot better than the outsiders and you'll probably be completely tired of it and virtually powerless to do something about it. Not just when it comes to air traffic.
As a little comfort I can tell you where ATC is worse: Rangoon (Yangon?) ATC, Burma or Myanmar or whatever it is called lately. After crossing the Bay of Bengal in silence due to datalink with Calcutta ATC (what a pleasure!) and without any weather (next to perfect!) we slammed into aviation stone age after crossing the imaginary line of airspace boundary with that country of no outside contacts. I guess their radios are made in 1947 or so, probably older than the controllers that use them at least. But behold, miracles do happen, we heard them and they heard us. Not that it made much of a difference anyway. Besides talking to them we're encouraged (not required) to listen and transmit on a separate frequency for air to air communication to let other traffic know where we are, where we're going and when we get there. Apart from that I always fly offset by at least a mile if not two once out of radar coverage. In Yangon airspace it's actually recommended by ICAO. Now that's a situation that sounds just like the 21st century, right? Forget high-tech. The only high tech they might be using is to eavesdrop on their own people I guess. It's so frustrating.
Soon after we were handed over to Bangkok control we were cleared for descent. It is a new airport that we fly into so the approach briefing was a little bit longer and thorough than usual but in terms of procedures and arrivals it's pretty straight forward and nothing out of the ordinary. They have published fixed taxi routes which are a bit hard to digest but later we found out that they are never used by the ATC ground controllers anyway. I can literally see how these routes were designed by people who don't actually do any ATC or at least not any more. So out of practicality the real controllers don't give too much about those fixed routes and do what's good and required to make it work. Does that principle sound familiar to anyone of you in your particular field of job? SIP's (Semi Important People) out of touch with reality but eager to control it and then screwing it up for the ones actually doing the job? I bet it does. Worldwide phenomenon, as common as the use of money.
On arrival we had some nice looking thunderstorms aligned everywhere around the field. Unfortunately a big cell was pretty much in the way of our initial approach from the west and we had to fly a bit of a crooked path before we could establish ourselves on final. Even that part was a bit unusual since we needed to dodge some big storm clouds on final, too. The good thing was that we could easily see the airport once below the ceiling (which is the lower level of the clouds) and stay out of their center and navigate visually. Even if you can see underneath a storm cloud it's a bad idea to fly directly under their core since they can release such massive bursts of downward air that no airplane can actually outperform their downward speed. They're called microbursts and almost always are a factor for accidents. So we used the radar to identify where the cores of the clouds were and our visual sight to establish ourselves nicely on final. Sometimes that's not possible and then it needs a lot of fuel to basically wait until the storm has either disappeared or is not violent anymore. Very often that means diversion to the alternate airport.
For us on this approach the airport itself was dry and I made a super smooth landing, woohoo! Now don't get me wrong, not every smooth landing is a good landing and it's not the ultimate aim to land smoothly at all. But if it's a good landing at the right spot with a smooth touchdown it's always something to be happy about -- if the runway is dry and long enough and the winds are right. And it's not all to completely predictable. Mostly it requires a good portion of luck and being on good terms with the gods responsible for that kind of stuff to get that smoothness into them. Once again, don't get me wrong, there's not much luck required for a good landing. The smooth part very often is the lucky part. And once again everything seems to be the other way we want or assume it: If the approach is smooth and easy the landing probably let's you pull up the underwear after it. And a bumpy, windy, fighting style approach let's one kiss the asphalt on touchdown. Another case for class action suits against some weirdo magicians that screw up our lives.
We then taxied to the gate and looked at the new airport with a little more time for it. What an impressive sight! Some architects probably made their childhood science fiction dreams come true. I took a few pictures but please forgive me if they're not the usual ones you would expect. One's showing a reflection of a KLM 747-400 next to us, hidden behind the jetway. I'm pretty sure there will be a lot of other good pictures of that airport available on a.net very soon.
We then got off the plane after handing over to the next crew who took the plane and the remaining guests to HKG. I was really curious to see what the airport's like on the inside. But, alas, I was so disappointed. Cold steel and concrete everywhere. No personal or human touch to it, designed purely for the tech aspects of it and nothing to make it welcoming to people. Modern, yes, impressive, yes, but so cold in atmosphere. Like a gigantic clean factory. On the way out I saw no seating possibilities whatsoever except at the counter for visa applications. No chairs (yet?) and only tiled floor. Once through immigration and customs (the baggage belts are state of the art and there's enough space to handle luggage) I couldn't believe my eyes. Literally the same chaos as at the old airport. You get out into a small area with heaps of people waiting for the arrivals, more or less blocking the way out. Outside the traffic was piling up again and at least 3 lanes of cars and buses waited for the passengers to be picked up. Hopefully you never get stuck in the first lane, it might take you quite a while to get out again. What a shame, such a new airport and such an unfriendly design and pretty bad concepts for handling arrivals and arriving transit passengers. Honestly, I hope they will do something about that atmosphere. Fortunately the architecture is not the only contributing factor in that so what's done inside matters a lot, too. Perhaps I was only looking at teething problems.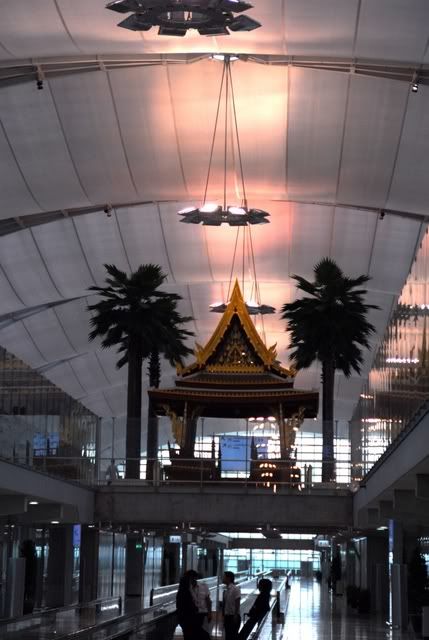 The way to the hotel is pretty smooth as it is via what seemed new highways and it took only longer due to the traffic. We arrived and I was ready for bed. Not even dinner excited me and it didn't take long and I was asleep. Which wasn't good. I just don't learn, I should wait and try to stay up a little longer. But I just can't. So I woke up again in the middle of the night wondering where I am and eventually cursing my sleeping habits and inabilities. Welcome to long range flying and jet lag!
2nd and 3rd sector BKK-HKG-BKK
Some 24hrs was the official BKK layover time before the next flight, which are in reality less than 20hrs because the whole after flight duties, transport to the hotel, check-in & check-out, again transport to the airport and preflight stuff before the next flight take away at least 4hrs of the whole period. Additionally, subtract some undefined and unpredictable time for sleeping. And of course not to forget that you might spend your best hours at times when everyone and everything else is sound asleep in that part of the world you just happen to be in. Then you get the picture of what we can do in cities when staying there. Believe it or not there are cities which I haven't actually seen at all although having been there several times already. At least our hotel in BKK is quite nicely located so we can actually do something there if we want to.
Perhaps want to, but not necessarily can, however... In some of our destinations there is just nothing you can do because of the locations of the hotels. Airlines have that tendency to put crews as far away as possible from anything nice. I don't even think that's the real reason behind it but nowadays money is the driving force behind everything and if they can save a few bucks every night they just do the math and we get to see what I call container cities made up of hotels that were designed by shoe box architects. Paris would be the perfect example for that. But I'm drifting away, in BKK it's still quite nice.
So after the usual things that one does when having a limited amount of time and being tired it's time to get ready to rumble again. The nice thing is that we can leave our bags in the hotel and don't have to check out for our trip to HKG since we will get back the same day a lot later without any other hotel layover. What a relief. Don't laugh! Not being forced to pack a suitcase is heaven! You wouldn't believe how tired I am of packing and unpacking these pieces of plastic that seem to be the home of voodoo science. Whenever I really need anything I'm sure to find something in there from some trip weeks ago but not the stuff that I wanted. Let alone those things I wanted to take along when I had this bright moment about something really useful for the trip half a day before I actually packed the suitcase. Those suitcases are cursed, honestly. These things come with a curse no matter where you get them, what brand or size they are or what material they are made of. I'm pretty sure they were originally designed by a direct employee from some department deep down and hot...
The bus trip was quick for the distance, no traffic to hold us back. So we had some time to stroll around the airport and look at a few things. From a departing passenger's point of view I would say it's probably a lot better than the old airport. But I leave that to the actual passengers to judge, for us there is not too much difference in terms of procedures or what we have to do. Once again the architecture really does strike the eye, it's impressive and big.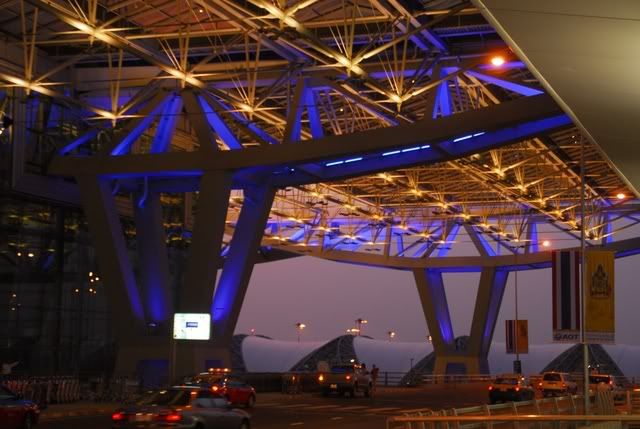 Arrival on the departure level in front of the airport.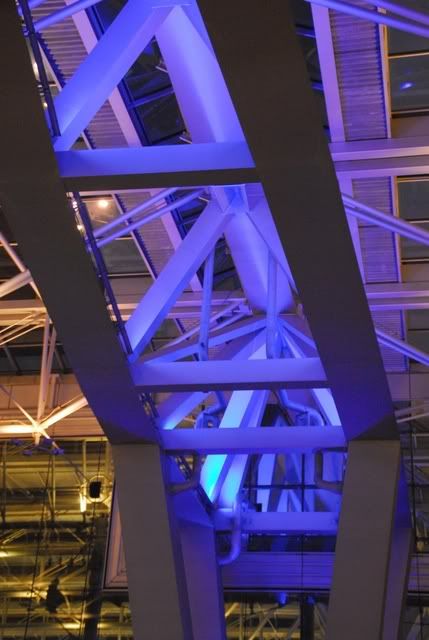 Blue steel...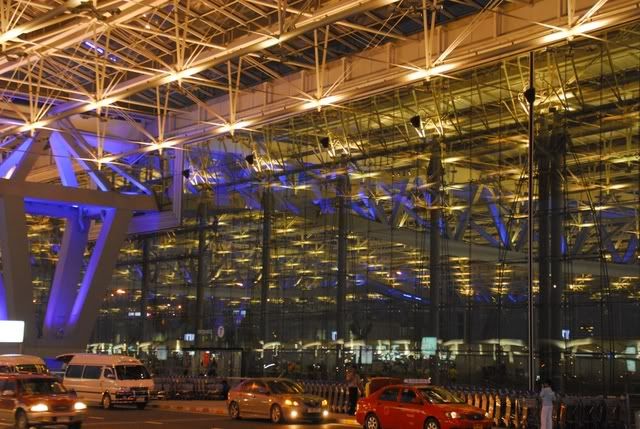 A look inside the departure check-in area from the outside.
Check-in counters
The bad part came when having passed immigration. Duty free shops look nice, yup, but I was looking for seats, places where passengers can rest, where families can kill time before the flight or in between. Meanwhile I can only hope that it just cannot be the case that there is no such thing and that resting areas and seating possibilities must be hidden from view somewhere and away from the noise and hectic of the shopping areas. I just wasn't able to spot them (neither on my 2nd time around that I had been there meanwhile). Please you travelers, tell me that's not the case and that there are places for rest and quietness! Otherwise the people designing it should be electrocuted on the spot.
Once you clear security there's, well, nothing. No shops, no coffee bars. The first seats you can find are at the gate. They're made of metal, probably against the naughty kids that otherwise play trampoline on them? No cushioning, no fabric on them whatsoever. Perhaps they have heard my wishes and have prepared them to be hooked up to electricity to give waiting passengers little shocks when it's boarding time to accelerate the whole process? No, honestly, I can see why they did it, to save money in the long term because they will not turn dirty so quickly, won't need a cushion replacement or whatever. But I think it is the most unwelcoming atmosphere I have seen in any rather new airport that I know. I guess the word "charme" or ambience is not part of the vocabulary of those designers responsible for it. I feel sorry for the people working there, I consider it not to be a nice working environment.
All right, all right, that shall be the last remark I made about the airport. You BKK guys please don't curse me for it, it's just a view from an individual. Doesn't reserve the right to be the truth about it and there certainly is nothing personally insulting about it either.
Back to business, shall I say?
We waited a the gate and looked at our paperwork there. Flight time would be some 2 ½ hrs and promised to be smooth. Knowing about HKG and their early descents we decided to take on some extra fuel and waited for the final weight of the aircraft to determine how much. It's not such a big factor on a short flight like that but the actual weight of the aircraft makes a huge difference on how much fuel it will burn for the flight. That's why all pilots will need a so-called Zero Fuel Weight which includes the Dry Operating Weight (that's the aircraft's weight with the crew and catering and ready to take on passengers but obviously dry, meaning no fuel in tanks). Those are theoretical weights of course, since there's never a completely "dry" airplane unless in maintenance. But they are important to find out how much fuel we will need.
If you change the weight (or thus total fuel) of the airplane by one ton there will be a change in trip fuel of sometimes up to half a ton or even greater, depending on the length of the flight and on the aircraft type and load. That's because the airplane will need more lift which will be achieved by increasing the angle relative to the airflow (so-called angle of attack, even for the peaceful of us) which increases the drag. On a modern day ULR flight of 14 hrs or more with a good load that can easily get into the area where you burn more than 50% of the amount of extra fuel that you take on. So if you want to have let's say a ton extra when arriving at the destination you will need round about 1600kg at departure. How to get that number? To have an extra ton of fuel you will burn, let's say 400kg for a given flight, because of the higher weight. So now you take that into account and you will add 1400kg of fuel to the total. But then it's 1400kg heavier and not just 1000kg. So there needs to be another calculation about it, because that requires more trip fuel. In theory you need to re-iterate that over and over again until you get to the precise figure but we usually stop after latest the 2nd time and just round it up. So there you go, that's why we might need 1600kg to get 1000kg. I guess you can see why airlines like pilots who think they don't need extra fuel... By the way, don't worry, extra fuel is what we take for eventualities like holding, weather delays etc. that are beyond that what is legally to be considered for it already. It has nothing to do with the reserves we have on all the flights. That's why we refer to it as extra and not reserves.
On this short trip it didn't make too much of a difference however, so excuse my little discourse into more general aviation phenomena. For us it was about 100kg additional burn for any extra ton of weight (or fuel, that is).
Our pushback tug had some problems so they had to get a new one, which fortunately didn't take long. It's one of those that don't require a bar that's connected to the nose gear anymore. They simply squeeze the wheels with huge clamps and lift it up before they either push or pull the airplane somewhere. Quite fancy and more and more popular all over the world.
Takeoff happened on runway 19L, with an assumed temperature of 63°C and was eventless. The climb was a lot of work however since there were seemingly endless thunderstorm clouds around. I'm pretty sure the ATC controllers must have pulled their hairs with all the planes constantly requiring "deviations due weather". This weather basically continued until passing the middle of Vietnam. Interestingly the south of Laos airspace is still controlled by Bangkok ATC before the handover to Ho Chi Minh. The Chinese Sea was free of any weather. Sometimes you're not so lucky... We could see that the eastern coastline around Danang looked different than usual. We assumed it was due to the cyclone that went through this area a few days before, which caused so much devastation and many deaths. The sediments and its' corresponding colors in the coastal waters looked different than normal. Luckily there was no cyclone around this time.
Once under HKG control we received directs. What a surprise! We were even asked to maintain high speed which we gladly did and all of a sudden the whole flight was some 8min shorter than had we flown the usual arrival there with the normal speed control. That gives you a picture of how complex the arrival routine can be there owing to the amount of traffic they sometimes have to handle. The weather was nice until reaching about 6000ft, then we dipped into a solid layer of clouds with the usual foggy, smoggy air underneath them. I have never seen any clear air there and thus was never really able to see anything of the city. What a shame, especially since I didn't know the old airport either. Our guests on board must have thought I was crazy since I actually told them it would be nice weather in HKG. That cloud layer was not reported on the HKG airport weather broadcast! That's unfair!
The speed control in HKG requires pretty high speeds throughout the intermediate and final approach. Otherwise they can't get the required traffic rates in and out of the airport. Fortunately it isn't as bad as it can be at other airports and we on the 777 never have any problem with that since our approach speeds are amongst the highest anyway. The good thing that comes along with the high speeds on final is that it enables us to fly with the engines in idle power for quite a long time, saving fuel and avoiding noise (because these high speeds are flown with relatively small flap settings that do not induce very much drag). But of course there's no way around being completely established with a certain minimum power setting at a certain speed at the latest 1000ft above aerodrome level. That power setting is necessary to be more agile when it comes to speed control to counteract gusts or changing winds and to have the engines in the so called quick response range. When they are at idle it takes forever until they respond to inputs from the pilots.
Landing occurred towards the west on 25R and was smooth once again. Hmm, I should be taking bets by now with my colleague...
Once all the passengers were off we basically shut down the airplane and connected it to external power for the long period that we would be waiting before our departure back to BKK. Since there is a break of more than 4hrs in HKG we would actually exceed our maximum duty time. For that reason we have access to a lounge at the airport where they have a separate room for crews so they can have some rest. It's quite a nice lounge and fortunately not our own airline lounge. We'd never get any rest there, our passengers would simply think we're on duty. Other crews take their rest or whatever it is they have in the same lounge with us. I have seen Kenya Airways crews there at times, El Al, and some other guys with unfamiliar uniforms. It's a bit of a dilemma when seeing them, it would be quite nice to have a chat but usually we're knackered and want to have some peace and quiet. And perhaps they want to have their peace, too, so they might be annoyed by us if we tried to engage them in a chat. That's why we rather leave each other alone even though it could be quite nice and probably interesting,
With that rest time (if it's above a certain length of time) we can then extend our maximum duty time by half of the rest time taken. That's okay but in the end it will still be a very long day. And once again there is the factor fatigue and it will make a difference and have effects today, but we'll see, I'm rushing ahead.
I took a picture on the inside of the airport, nothing much. It's dark when we get there so certainly no spotters delight, sorry folks.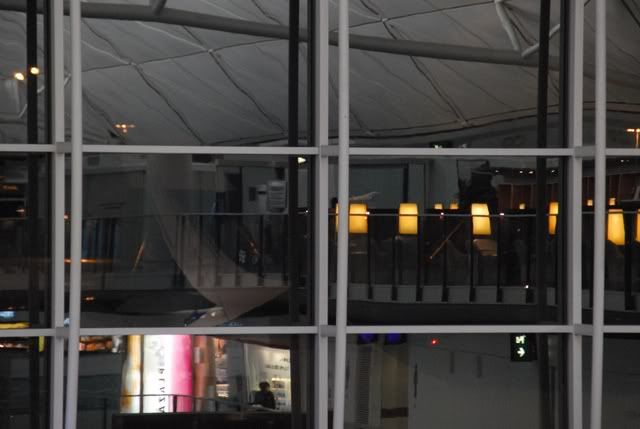 Close to gate 36 in HKG. There's a CX hidden somewhere...
When we returned to the gate we arrived at a completely dark aircraft. Nice and quiet for sure but that's not the way it should have been. Turned out to be the external ground power provided by the airport was not reliable and it tripped. Unfortunately no one of any tech crew or engineer was around when it happened and thus the battery was completely depleted and had to be exchanged since it wasn't switched off. It's the same as the APU battery so they just needed to swap them but it did require some time. In the meantime they organized some electrical ground power cart and hooked it up to the aircraft. The problem now was that we couldn't start the APU with that depleted battery now being hooked up to its' system. It needs battery power for the starter. The logic behind it being that the APU is the first thing you usually want to start when getting to the aircraft and assuming no external power is connected. Additionally the starter is so powerful that it really sucks enormous amounts of amps out of the electrical system and apparently they cannot guarantee that the normal electrical system will be able to produce that. A strong battery can do that, however (not too often or for a long time but that's not required).
Oh great! No APU. The whole shebang once again. Get the air starter, start the engine at the gate etc., etc. But it became more interesting. When we did our setup for the engine start we needed to turn on the hydraulic pumps of which a few run on electrics. All of a sudden we saw flickering lights and once again it was dark apart from the instruments that are powered by the battery. What was that, please? The warnings and cautions on the display filled up three pages on the alerting system and it was nicely quiet again. The external power seemed to have disconnected. Shortly thereafter we had it back and we could re-connect it. Did that power cart quit on us, too? We found out that they only used one cart but still plugged it in into both our power receptacles by ways of two cords from one cart. That's not usually done and we assumed they used two carts. What do they teach us? Don't assume, find out. Oh well, it's a whole different matter if they do that and we had to ask them to disconnect the second plug.
Now the problem was that the Flight Management Computer and the left control device for it refused to work, which at that stage was a so called no go item (later in flight it would have been a nuisance but nothing spectacular because of the redundancies we have, but on ground different rules apply). It probably didn't like the sudden power disruption and the related surges. So we had to get the engineers back on, re-connect the external air condition supply, re-connect the jetway, cancel the ATC clearances, reprogram the FMC, etc., etc. Looked like a promising evening. I had to tell our guests that we will spend some more time at the gate. And there's always an interesting effect when anything goes wrong: As soon as the aerobridge is re-connected to the plane there are heaps of people appearing out of nowhere. Not just an engineer came in, the station manager, some other guys in uniform and no one I really knew. All wearing some badges of some kind and asking hundreds of questions simultaneously. I once had an aborted takeoff and returned to the gate and you wouldn't believe what kind of rush of people into the flightdeck all of a sudden started. It is really a pain in the neck because there's more than enough to do for us and to consider and think about. We need time and concentration for that and here are people just not stopping to ask questions. In the end we almost had to kick them out and tell them to bugger off to let us do our job.
The computers eventually received their demanded attention and worked again and now we just had to make sure we did the right procedure for the right power supply. The lights then still somewhat flickered but the engine start was successful and the subsequent cross bleed start as well. Perhaps HKG airport should have a look at their power supply, especially their carts. They seem to be a bit on the weak side even though they have the right specs written on the outside. Or didn't they pay their electricity bills on time?
After the engines were started we released our ground engineer. Our camera showed him literally running away like a sprinter in the Olympics. I wonder whether he was glad to get away from us...
We took off towards the east, the way we came from. There's plenty of terrain there and what needs to be considered is what could happen if we lose an engine during takeoff. So there is a special procedure for that case which needs to briefed before and it can be a limiting factor for the maximum takeoff weight. Because of our short trip time we were quite light so it didn't affect us in that respect.
We flew through Chinese airspace which is not all too common apparently. Quite a few of airlines can't because they seem not to be paying enough to the Chinese authorities or their respective governments weren't friendly enough during their last visit. Or whatever other reason might be responsible. Most probably it's politics that screws up things like that. As usual? E.g. Vietnam Airlines has to fly all the way down south around Hainan and a little further because of the extension of Chinese airspace to its' south when they fly from Hanoi to HKG or back. Have a look at the atlas and see for yourself. Makes sense, doesn't it? Not.
Another thing in Chinese airspace is that they use metric values. So all of a sudden we have to fly at different altitudes, e.g. 35000ft become 10800m which more precisely are 35400ft on our altimeters. Now, you might argue about units and why they are good or useless. And in real life I agree a 100% that the system that's used in the US or again different in the UK is completely bonkers. 3.746 of that make this, of which 243.29 are needed to get the next and most logically 73.677 of that unit are required to give you the next step. Or something like it. Out of feet they make yards, then miles then whatever. Pounds will become stones, inches itch feet and water freezes at the most pleasant temperature of 32° assuming the right scale. Yup. Give me a break. No wonder NASA loses satellites on the way to Mars because someone mixed up yards with meters. But there is definitely good common sense behind using feet for altitudes in aviation. 1000ft is a very good separation value between levels. 300m or sometimes 400m is alright, too, but it's so much easier to remember those 1000ft steps. And think of the old fashioned altimeters in aircraft with round faces and hands showing the altitudes. It's always a whole swing of 360° for a needle to show your altitude if you go up or down in steps of 1000ft (or 10 x 100ft). The needle will always be at the 12 o'clock position and anything else will be wrong. So it's easy to see. Deviations will be spotted way better than if the needle has to be at some other position of the altimeter. With modern altitude bands on digital screens it would be different and not so important but still the values are so much easier to digest. "Flight level three five zero" for 35.000ft instead of "Flight level one zero thousand eight hundred meters". Give me another break... In all other aspects it would be great to have the metric values. But it's more than complicated. The entire world uses km and meters for visibility. The US uses feet. The entire world fuels aircraft in liters and kilos. The US uses gallons and pounds. Oh, well... Guys, you do have some issues, sorry, as much as I respect you and love to be there for holiday (once I get beyond these immigration animals). Does censorship kick in now?
We flew a bit south of Hanoi and on the way to Laos there were some huge thunderstorms exactly in our way. We had to deviate left of the track by more than 60NM (another one of those units that no one else uses, derived from the early days of maritime aviation). They were very active and we saw several large lightnings even pretty far outside the clouds which you don't see too often. Beautiful, as long as looked at from a distance.
The approach into Bangkok was straight in, there was hardly any other traffic and we received directs all over the place, very nice. But there's no free lunch or dinner in our case. Fatigue set in and apparently the approach controller was affected, too. Once we were established on final approach we didn't get sent over to the tower frequency. That's normally the case as soon as we're on final track within some 10NM. But this time neither of us noticed that we weren't transferred and continued the approach in silence. Before us was traffic and we saw it touching down and leaving the runway roughly when we were at some 600 to 700ft above ground. We were just about to call in to remind the controller that we are on short final (assuming we were talking to the tower already as it is usually the case) when we received a call on the emergency frequency which is set on our 2nd radio all the time. The tower controller was issuing the landing clearance on that emergency frequency. We read it back on both the frequencies and it was a landing without problems and no further complications, no danger was ever there. But it could have been different. Had we not received the landing clearance we would have had to fly a missed approach procedure just for the fact that fatigue caused a communication error. That's really not a problem since a missed approach is nothing too uncommon. But it's a nuisance, passengers get worried, paperwork is involved and it does cost a whole lot of money. And ultimately the pilots get the blame for it in case anything does go wrong. What gets forgotten is the fact that it wasn't necessarily the pilot's idea to have such a long day or fly across time zones and suffer from jetlag. Neither was it the controllers idea to have a long day and be up and vigilant and alert at some time after midnight. That's actually what infuriates me. Some so called experts come up with the most unbelievable rules for determining the maximum times that people with a responsible job can be on duty. And in the end it's those specialists' fault who work according to the office people's ideas of work hours if they make mistakes because of being fatigued. Sickening thought.
Anyway, we handled it quite well and it was thanks to the tower controllers' alertness and reaction to use the emergency frequency that nothing unusual happened. Thank you, well done, "Mr. Tower"!
This time we got a different aircraft stand, not even close to the one we had the same day before our departure. Turns out that in BKK we seem to get different gates all the time. All right, this way we get to see more of the airport and it doesn't get boring. That's usually not the case at too many airports. Nice.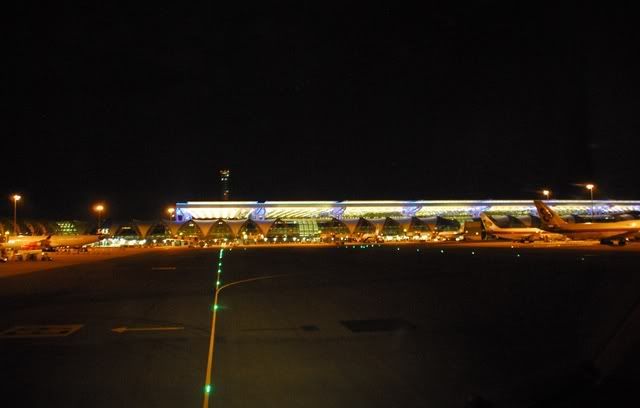 On the way to the gate.
Told you it's impressive!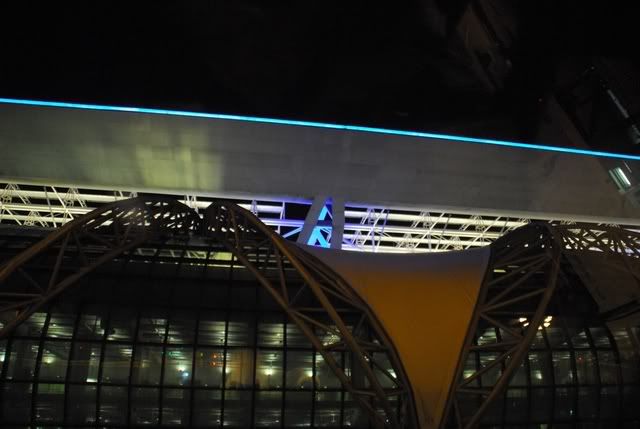 All the rest of the evening was absolutely standard, the drive to the hotel was quick (no wonder at that time of night). I started my MP3 player and put on my noise canceling headset that I bought for it and drifted off into space. That's the most important equipment pilots nowadays must have I think. There's just nothing better than to listen to your choice of music when in hotels and you can't go to sleep, or in buses on the way to the airport or to the hotel. I even have my different playlists that I made for different kinds of moods that I might be in. Now that's some piece of absolute fantastic gadget which really makes a difference in my daily life for the better. A big thanks to the Fraunhofer Institute in Germany for developing the first MP3 codec and it's idea and all the others who took it further from there. It did make a change in my life, honestly.
After arriving at the hotel I noticed that I didn't take along enough uniform shirts for the trip. So I had to hand in a shirt for laundry there praying that I would get it back on time. I sure did and it was spotless. Stiff as a board, too. Do they put any detergent into their starch? When I put it on the next day I walked upright like a cane for the first hour and my neck was cut open by the sharp edge of the collar. Probably like some old fashioned British Army Officer
3rd trip BKK-DXB
After another period of about a day our pick-up was delayed by our station management so that we could spend some more time in the room. The inbound aircraft from HKG was running late. Due to the new airport and its' farther distance to the city or the hotel we already have a very early pick-up anyway to make sure we get there on time. So any more time that one can spend in the quietness of the hotel room is appreciated. This time it was 15 min, not much but better than hanging around at the airport for that time.
When getting downstairs for the check-out in the hotel I spotted the others and we chatted a bit. We tried to calculate how many EK crews there must be in the hotel at any given time and we came up with a number of at least 7, sometimes up to 9 or perhaps even more. So that's about 120 -- 150 crewmembers in the hotel. Wow! It definitely means a good cash flow and steady use of the hotel for their management. But of course since airlines never pay any high rates they don't make the same money that they'd like to. The times we get to notice that is when there's a special event in the city and they could fill it up with full paying customers without any problems. That's when their faces aren't so happy to see us. Hey, you can't have both, right?
On the bus I started the night (it was about 10pm) again with some music and that's not really a bad way of starting your work day / night.
The check-in area was packed with people. This time of the day is probably one of the busiest in BKK, There are heaps of aircraft and travelers and they're heading to all over the planet. Especially the flights to Europe and generally to the west are plentiful and easily fill up these wide body aircraft. On the way to our plane I unfortunately took the wrong way and ended up walking forever before I got to the gate. So if you go to BKK in the future make sure you look at the signs and don't go the wrong way. It may take you to the other side of the world, it appears so big. On the way there I saw a Thai 747 going to Paris and next to it some other trip of which I can't remember where it went. What I do remember is the heaps of people sleeping and lying down on the tiled floor because there were no seats available for them except directly at the gate and they were all taken. It wasn't a pleasant sight, more of a train station in some dodgy city where people end up without wanting to be there.
Luckily I could hold on to a cup of coffee which unfortunately was the worst I probably ever had. The nice part about it was that I could hold something warm in my hands, it made me feel a bit more comfortable. The way the staff at this coffee shop made it and handled the whole process of making it and how long it took them makes me assume that they just started in that shop and had no clue about what the different coffee types are. That really surprised me since I assumed that they would take trained people for an airport like that. Well anyway, I didn't drink it in the end but the cookies were good!
Even though they had us picked up at the hotel later than usual the plane still wasn't there when we arrived at the gate. So we could go through the paperwork in no rush while sitting down. After the inbound crew arrived and left we went on board and prepared everything and, hi ho, finally a normal plane where everything worked and we had normal engine starts, normal performance calculation with a laptop and nothing tripped or flickered. What a joy...
Before you start thinking (due to my writing style) that maybe EK is one of the operators where the airplanes are in bad shape and they fly with all kinds of defects: Let me please assure you that this is absolutely not the case! They are very good with this and even under the pressure of their enormous expansion they do a fantastic job in keeping the planes in excellent condition. But since those planes and their respective sizes are a very complex system requiring a lot of work and attention there sometimes are these days when not everything is working. But let me assure you once again that it is absolutely not the norm and trips like mine with these glitches are the very exception to the rule. After all some of the irregularities were caused by the airport in HKG and not us.
I just had the "luck" of having such a trip with these totally minor issues in a row and it was the first time for me to see it happening on consecutive flights. And if you look at it from a professional point of view there is absolutely nothing difficult about it, safety was not in question and basically it was a sequence of somewhat annoying little details. The reason I include these things in a report like that is not to give you an impression as if my airline isn't up to the job but to show that a lot of times there are irregularities which we have to deal with. And speaking for myself I can and could handle them so far with humor, smiles and professionalism. I have heard of no pilot who will not have gone through these kinds of trips, where small items go haywire and we have to deal with them in old fashioned ways of aviation: airmanship. So please, sit back, relax, and enjoy the ride. That's what we're there for and what we're trained to do and what we love to do best. It doesn't make us super humans who do not enjoy the technological advancements and perks that make our lives easier and on top give us extra margin for safety or errors. I hope you somewhat know what I'm trying to get at.
On the flight back home even Yangon ATC could hear us and we could hear them. We still applied the offset flying 1NM right of track, it just makes me feel more relaxed.
And it got better: Datalink with Calcutta worked and we didn't have to scream into HF or give them position reports all the time. That was taken care of by the system. How I just love it!
It was a pretty bright night due to the moon being up and illuminating the sky in a ghostly white. In places like the Bay of Bengal that is very much appreciated because of the constant possibility for some serious weather there. Very often you can then just fly around these clouds visually as if it were daytime. A lot better than just relying on a radar although these radars are fantastic nowadays. This time we didn't need to do anything, though. It was clear and we probably didn't see one single cloud that could have raised our attention.
On this sector even the datalink with Mumbai worked. So we could enjoy a silent night, and due to the nice weather even a relaxed one. We