Feedback always appreciated.
Trip Report: 011
Flight Category: Y-DMR (See Report End)
Date: 28-Sep-06
Dep.Arr.Time: 1440/1720/02:40hrs (Delayed by 06:30hrs)
Flight:
AIR SAHARA, S2 316
, 816 miles
Routing: CCU-BOM
Aircraft: 735
Seat: Economy, 15F
I > Background:
Part of a month long amazing passage to India for a wedding, with some stops in Asia to see friends. Routing was CCS-MIA-EWR-SIN-CGK-SIN-CCU-DEL-CCU-BOM-CCU-IXZ-CCU-IXA-GAU-CCU-SIN-ICN-YYZ-EWR-CCS with a mix of J and Y class of travel. This focuses on the S2 segment from CCU to BOM. Other trip reports for this trip will be EWR-SIN (SQ/J-Cabin), SIN-CGK (KI), CGK-SIN (VF), CCU-DEL (SG), DEL-CCU (IC), IXZ-CCU (DN), CCU-IXA (CD), IXA-GAU (IT), GAU-CCU (6E), CCU-SIN (SQ/J-Cabin), and ICN-YYZ (AC/J-Cabin). I think these reports will be "firsts" for revenue flights on CD, IT (mainline) and 6E and cover IXA, GAU, IXZ-CCU, and CCU-DEL for the first time on Airliners.Net.
I could not take any pictures post take-off as my camera battery died. So apologies for not having the normal cabin shots I do for my trip reports
II > Pre-Flight:
a) Before Airport:
While one could technically use Air Saharas website (www.airsahara.net) for online e-ticketing, the realities are far from it. During my booking, my site timed out several times … in fact, it took me 6 attempts and a final call to the S2 reservation number before I could finally purchase the ticket. Moreover in the end, they had to issue a paper ticket which needed to be delivered to my friends house in India.
b) At Airport:
Before entering the airport, I had a bad sense about the flight … the departure board did not have S2's flight. There was only one check-in counter and the queues crawled around the counters of several airline. I found this disappointing given that S2 has several late afternoon/early evening flights out of CCU. Anyways, when I finally reached the counter, I was first told that the flight had a delay … while he was issuing my boarding card, I was informed the delay was now an hour. Worse, he issued me the wrong boarding card … in my nearly 1000 flights, I have never been issued an incorrect boarding pass! Anyways, since the flight was delayed and it had not been called for security checks (in Indian airports, you clear security by flight and when called), I decided to hang out and check my email from the internet café which is one of my favorite parts of CCU airport. Since it was now 1400 and the board still did not show an updated status, I went to the S2 counter only to be told that the flight had not reached GAU … apparently, the aircraft does a GAU-CCU-BOM rotation. Anyways, during the whole delay … which was now reaching the 6 hour mark, no announcements were made and passengers had to find out either via the departure board or via inquiries. Moreover, no food or drink was offered – which after my flight on
Indian
2 days back seemed unacceptable. Ironically, the late evening multi-stop flight to BOM left and our flight eventually left around the time of the late evening flight … which was delayed as well by over 3 hours!
Boarding was done via aero-bridge and a grumpy looking flight attendant welcomed us onboard. The Australian captain made no apologies for the delay … nor did the cabin crew. However, the captain did read some kind of chant before the flight. A passenger next to me told me that it was some kind of Air Sahara ritual.
Airport - External:
(NSCBIA, Kolkata)
(Outside departing board)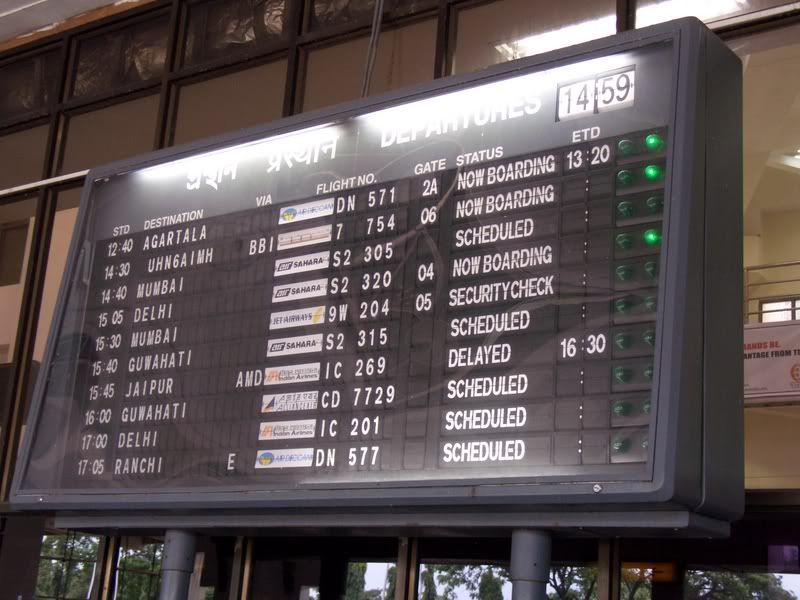 Check-In:
(Huge lines at our counter …)
(… while other counters remain idle)
Airport - Internal:
(Maze to get to a gate @ CCU)
Scenes of the tarmac:
NONE
Boarding:
NONE
III> In-Flight:
a) Service Schedule + Impressions:
Skimpy looking paper towels were distributed before take-off. There was a meal and beverage service soon after take-off and then the crew pretty much disappeared.
b) Aircraft + Seats:
Air Sahara's 735 was showing its age. The interiors were plain dirty and the lavs left much to be desired. My seat was pretty cramped and recline was below industry average.
Aircraft:
NONE
Views from Aircraft:
Seat Leg-Room:
Seat Recline + Angle View: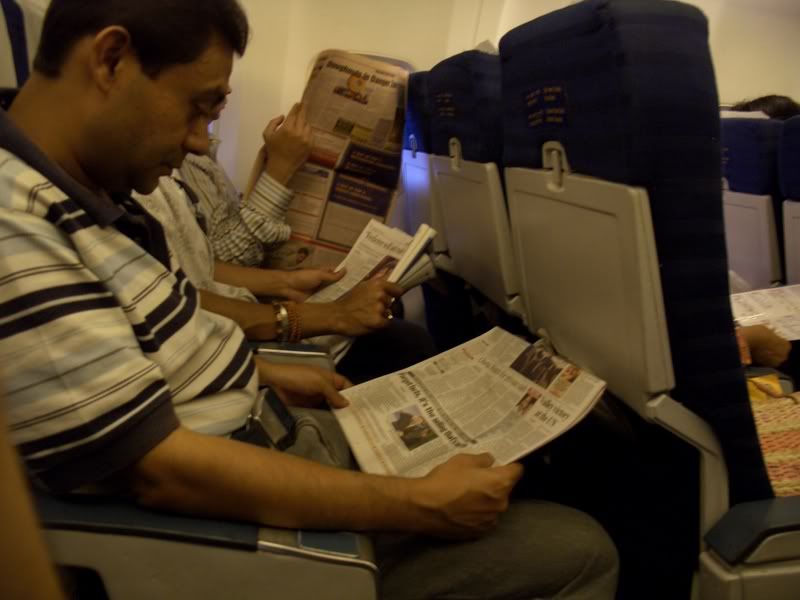 Cabin:
NONE
c) Meal + Beverage:
For a 2:30hrs domestic flight, meal service consisted of a vegetable or non-vegetable snack. It didn't look good and thus I skipped on it. Beverage service consisted only of water.
NONE
d) Inflight Entertainment:
No video, no music, no in-flight magazine (apparently there were none on the aircraft), and no newspapers.
(Incorrect boarding pass!)
e) Crew:
S2's crew was absolutely grumpy and it took them forever to respond to a crew-call. It took me 3 attempts to finally get water.
IV> Post-Flight:
Baggage arrived at BOM's domestic termina was fast. It was probably the only saving grace from an otherwise disastrous flight.
Bombay Airport:
NONE
V> Impressions + Scores:
After having experienced truly exemplary service on Indian, and above average service on SpiceJet, I was extremely disappointed at Air Saharas performance. My Indian friends reinforced my experience by saying that S2 an DN were noted for delays. Worse, the attitude of S2 ground and flight crew ensured that S2 would be my (thus far) least recommended airline in India to date.
Reservation: 3.0
Check-In: 3.0
Lounge: n/a
Boarding: 7.0
Seat: 6.0
Aircraft Overall Ambience: 5.0
IFE: 3.0
Crew Service: 3.0
Food: 5.0
Beverages: 5.0
Amenity Kits + Others Freebies: 5.0 (standard default score)
Disembarkation: 7.0
On-Time Record: 1.0
OVERALL IMPRESSION: 4.42
(Scores are based on comparison with other airlines in THAT class of service – No comparison of Y vs. F for example)
VI> Other Trip Reports:
1/
Avianca: BOG-LIM: 07/06/06: 7.09pts: Y-IMR
2/
Air Tran: EWR-MDW: 08/02/06: 6.73pts: Y-DMR
3/
West Jet: YYC-YVR: 09/05/06: 7.14pts: Y-DLR
4/
Air Canada: YYZ-YVR: 09/02/06: 5.92pts: Y-DLR
5/
Air Canada: ALB-YYZ: 09/01/06: 5.88pts: Y-ISR
6/
Singapore Airlines: EWR-SIN: 09/20/06: 7.81pts: J-ILR
7/
Adam Air: SIN-CGK: 09/22/06: 6.04: Y-ISR
8/
Valuair: CGK-SIN: 09/22/06: 5.04: Y-ISR
9/
Spice Jet: CCU-DEL: 09/25/06: 6.67: Y-DMR
10/
Indian: DEL-CCU: 09/26/06: 7.25: Y-DMR
(Note on Codes: Y – Economy, J – Business, F – First :: I/D – International/Domestic :: SR/MR/LR – Short/Medium/Long Haul :: I have designed these codes so people don't believe my scores are comparing apples and oranges)
VII> Other Pictures:
NONE