Feedback always appreciated.
Trip Report: 012
Flight Category: Y-DMR (See Report End)
Date: 07-Oct-06
Dep.Arr.Time: 0915/1115/02:00hrs (Delayed by 01:10hrs)
Flight:
AIR DECCAN, DN 698
, 808 miles
Routing: IXZ-CCU
Aircraft: 320
Seat: Economy, 13A (Free Seating)
I > Background:
Part of a month long amazing passage to India for a wedding, with some stops in Asia to see friends. Routing was CCS-MIA-EWR-SIN-CGK-SIN-CCU-DEL-CCU-BOM-CCU-IXZ-CCU-IXA-GAU-CCU-SIN-ICN-YYZ-EWR-CCS with a mix of J and Y class of travel. This focuses on the S2 segment from CCU to BOM. Other trip reports for this trip will be EWR-SIN (SQ/J-Cabin), SIN-CGK (KI), CGK-SIN (VF), CCU-DEL (SG), DEL-CCU (IC), IXZ-CCU (DN), CCU-IXA (CD), IXA-GAU (IT), GAU-CCU (6E), CCU-SIN (SQ/J-Cabin), and ICN-YYZ (AC/J-Cabin). I think these reports will be "firsts" for revenue flights on CD, IT (mainline) and 6E and cover IXA, GAU, IXZ-CCU, and CCU-DEL for the first time on Airliners.Net.
The Andaman Islands were absolutely amazing. I am a beach snob and these islands definitely rank as one of the best in the world. Making it special is the fact that some of these islands are COMPLETELY empty. For those in Venezuela, think Los Roques without the people. Along with Cayo Santa Maria (Cuba), Los Roques (Venezuela), the Andamans have the best beaches I have ever been on … and making it better is the virginity of the beaches. I have put some pictures at the end of the report.
II > Pre-Flight:
a) Before Airport:
Booking for the sector was done using Air Deccans website (www.airdeccan.net). Since we tried to get the cheapest tickets, we had been monitoring the site daily to see when they would open the CCU-IXZ-CCU sector. DN announces this date on the website and surely enough as soon as the sector opened, we were trying via phone and online to buy tickets. I don't think DNs site is ready for the challenge and it took us over 20 attempts including several timeouts before being able to buy the ticket. Probably for the best since we locked on to an extremely good deal. DNs site is above average and lets users view, modify and cancel reservations online. Of course in line with DN's free-seating policy, such is not provided on the site.
b) At Airport:
Port Blair airport is a shack and obviously they are not prepared for the sudden multitude of flights into the island. From 2 CD connections per day, the airport has explored to have 3 IC/CD flights, 2 DN, 2 9W, and one on S2. Our flight (along with all other airlines except 9W) from the previous date was cancelled due to airport closure, and the toll of the cancellation was obvious. Those passengers offloaded on the day prior had to be accommodated on DNs flights for the next 4 days and be provided no accommodation. Of course, security had to be called to calm irate passengers. I have a sneaking feeling that low-cost airlines in India will continue to suffer from their lack of airline partnerships (and ability to cross-endorse) – given high yield traffic will continue to avoid them (unlike Europe/Americas), it will be interesting to see how these LCCs turn profit.
Anyways, check-in was a disaster and the queues were LONG. Moreover, the DN counter had this one guy who would come up and make arbitrary decisions on how the line should look like. My friends on the trip were absolutely amused when I blew it and gave the guy a very big piece of my mind. Needless to say, he did not bother the line anymore again. There was no announcement of delays and when I finally reached the counter, I was assigned a pre-printed dot-matrix boarding pass on which the ground staff wrote just my first name. Since the security room was small, we were not called for security check until 45 minutes prior to scheduled departure. In the meantime, I walked around the inadequate airport – some airline offices, 1 café with no food items ("they had run out"), and an internet/long distance phone booth. We rushed to have security check done and was soon in the tiny holding room awaiting boarding.
Boarding was chaotic – but this time it was justified as DN offers free-seating. Having now been accustomed to the Indian way, I stood in line and finally made it to the very crowded DN bus. Boarding was done on the airport apron as passengers rushed from the bus to the ladders for embarkation. I was number 4 and was able to rush to the emergency exits. The cabin crew just stood and watched in amusement. What was very noticeable was the diversity of the passengers – many of whom were flying for the first time. While we all have different opinions about DN, no one can deny its tremendous impact on the Indian traveling population. In all the excitement, I had forgotten the time and when push-back finally happened, we were an hour and ten minutes behind schedule. No announcements/apologies were made on the reason for the same.
Y class load was 100%.
Airport - External:
(Crowded Port Blair airport)
Check-In:
(Huge lines at our counter …)
Airport - Internal:
NONE
Scenes of the tarmac:
NONE
Boarding:
(The mad-rush to get onboard)
(Picture of the bus taking us to the aircraft – courtesy A.Net member Planeboy)
III> In-Flight:
a) Service Schedule + Impressions:
Post reaching cruising altitude, FAs came in with food sales and then the in-flight auction where you get to bid for an eclectic selection of goodies including USB drives, pearl necklaces (!), and sportswear. Very random indeed.
b) Aircraft + Seats:
Air Deccan's 320 were presentable and clean. Every part of the plane (including the luggage compartments) was adorned with advertisements. Bathroom was clean. Seat recline and pitch was both above industry average – and actually on the generous side for an LCC.
Aircraft:
(Taken during outbound flight ex-CCU. Same aircraft was used inbound on this flight)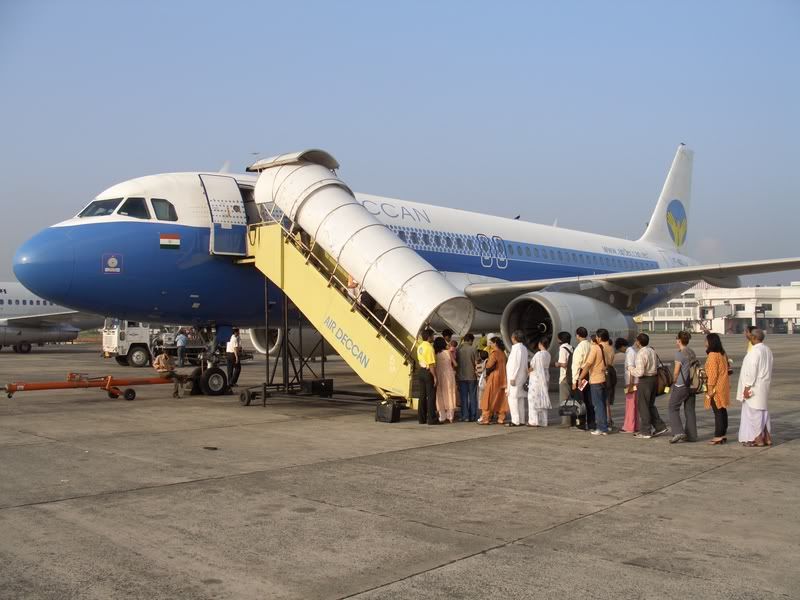 Views from Aircraft:
(DN to MAA)
Seat Leg-Room: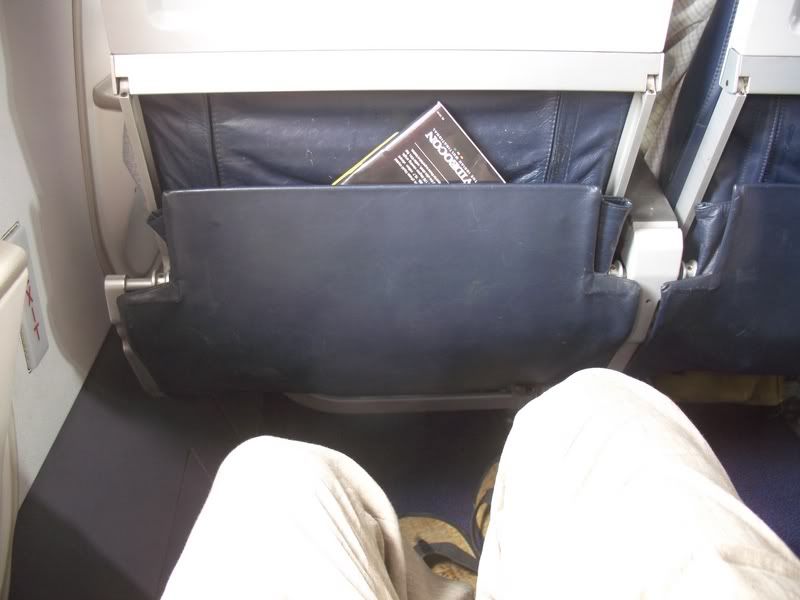 Seat Recline + Angle View:
Cabin:
(Note the advertisements)
c) Meal + Beverage:
DN charges you for everything – including water! However, their in-flight menu is abysmal and everything seems to be missing. I had tried their very soggy and stale vegetable sandwich on the inbound sector, so avoided buying anything this time around. From my friends, I made a wise choice. Furthermore, both inbound and outbound flights did not have hot water, and thus coffee and tea could not be sold. Found this super strange given the early morning nature of the flights, and also because Indians LOVE tea. Mr. Gopinath could definitely have made more inflight sales if tea was available and this in turn could cushion the huge lose this quarter!
(Food Purchase Menu)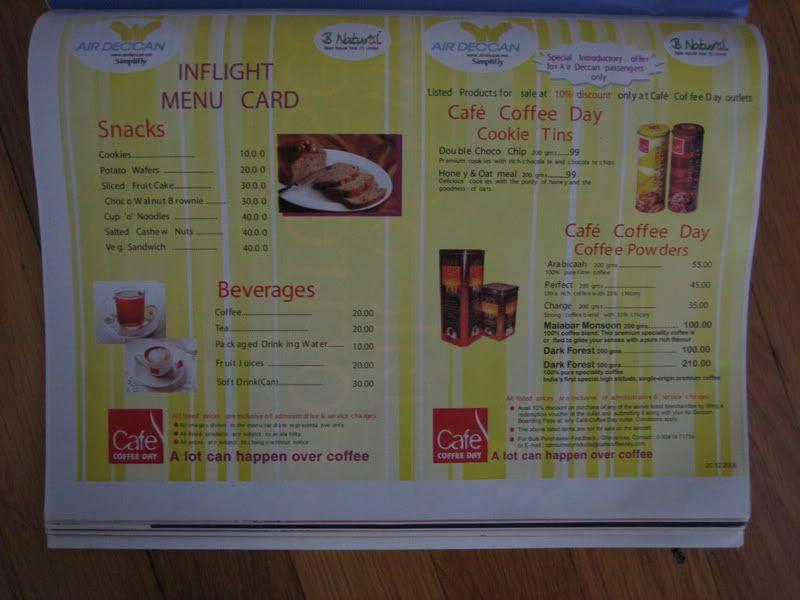 d) Inflight Entertainment:
No video or music, and an inflight magazine that was more propaganda than anything. Basically compilation of all these newspaper articles covering all the milestones DN had reached in 3 years. I liked their 98.3% on-time performance boasting ads – this was done in ONE month out of 36 in operation and they felt it was important to advertise the same. What made me laugh was that the magazine cover and the chairman' introductory letter differed on the actual percentage of on-time flights … though, to be fair, they were off by .3% - but still – hehe!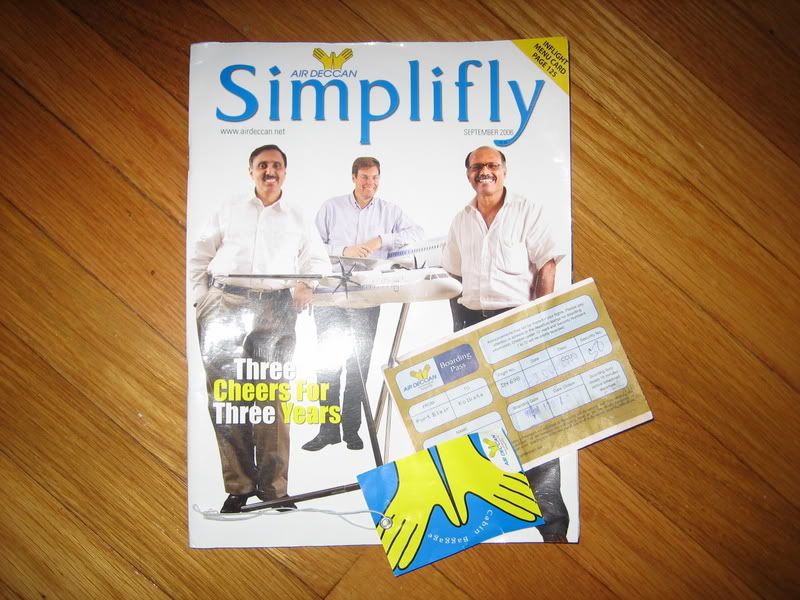 e) Crew:
Good crew who now understand the passengers they are dealing with. Not the charming sort, but more like the efficient machines found on board LH/OS/SK. They know their clientele and can handle them well. Nothing more than flight service dictates.
IV> Post-Flight:
Baggage arrived at CCU terminal fast. Disembarkation was done using buses.
Calcutta Airport – Shot from tarmac – think this would be rare here:
V> Impressions + Scores:
You get what you pay for on Air Deccan. Our flight was cancelled the day before and we were on our own. Thankfully, we got the flight the day after and were able to find accommodation. DN feels like a cheap airline – this is reflected on the ground and on the options in air. They will not win any service awards; however, as a method of transporting a billion people, they come up pretty well. I would definitely fly DN if the cost differential was huge. HOWEVER, if costs differential was not huge, I would probably look at any other airline (bar S2) in India. Of course, this price sensitivity is probably greater for first time flyers in India.
Reservation: 6.5
Check-In: 5.0
Lounge: n/a
Boarding: 6.0
Seat: 6.5
Aircraft Overall Ambience: 6.0
IFE: 5.0
Crew Service: 6.5
Food: 4.0
Beverages: 3.5
Amenity Kits + Others Freebies: 5.0 (standard default score)
Disembarkation: 8.0
On-Time Record: 7.0
OVERALL IMPRESSION: 5.75
(Scores are based on comparison with other airlines in THAT class of service – No comparison of Y vs. F for example)
VI> Other Trip Reports:
1/
Avianca: BOG-LIM: 07/06/06: 7.09pts: Y-IMR
2/
Air Tran: EWR-MDW: 08/02/06: 6.73pts: Y-DMR
3/
West Jet: YYC-YVR: 09/05/06: 7.14pts: Y-DLR
4/
Air Canada: YYZ-YVR: 09/02/06: 5.92pts: Y-DLR
5/
Air Canada: ALB-YYZ: 09/01/06: 5.88pts: Y-ISR
6/
Singapore Airlines: EWR-SIN: 09/20/06: 7.81pts: J-ILR
7/
Adam Air: SIN-CGK: 09/22/06: 6.04: Y-ISR
8/
Valuair: CGK-SIN: 09/22/06: 5.04: Y-ISR
9/
Spice Jet: CCU-DEL: 09/25/06: 6.67: Y-DMR
10/
Indian: DEL-CCU: 09/26/06: 7.25: Y-DMR
10/
Air Sahara: CCU-BOM: 09/28/06: 4.42: Y-DMR
(Note on Codes: Y – Economy, J – Business, F – First :: I/D – International/Domestic :: SR/MR/LR – Short/Medium/Long Haul :: I have designed these codes so people don't believe my scores are comparing apples and oranges)
VII> Other Pictures:
(Scenes from the tarmac @ CCU)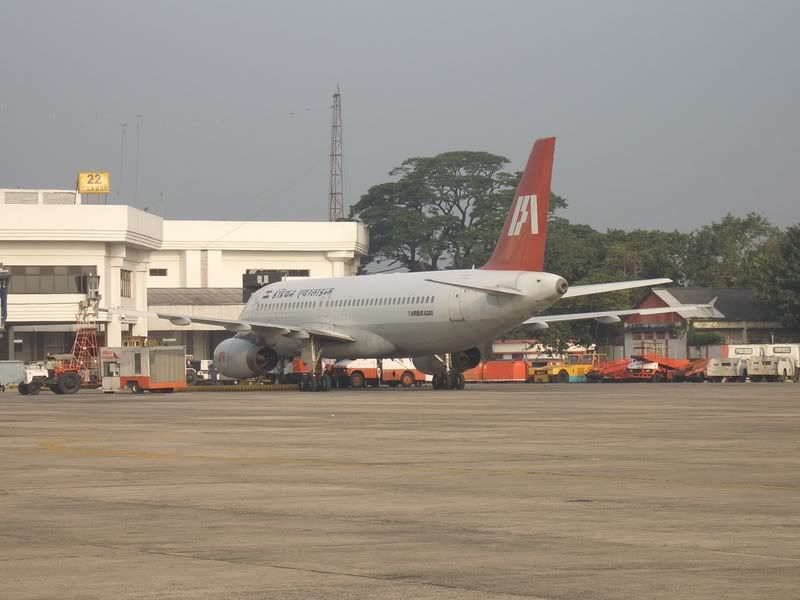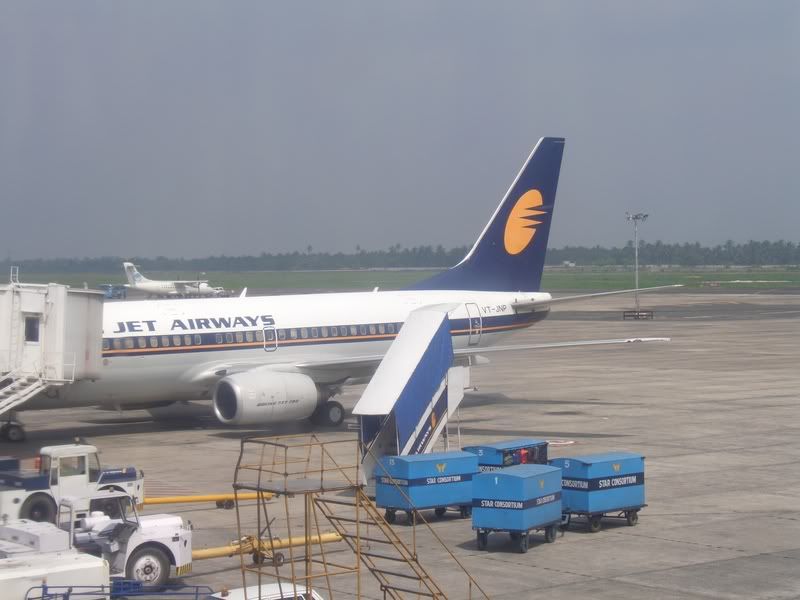 (The beautiful Andaman Islands – some courtesy A.Net member on trip, kiramakora)