Feedback always appreciated.
Trip Report: 013
Flight Category: Y-DSR (See Report End)
Date: 08-Oct-06
Dep.Arr.Time: 0800/0850/00:50hrs
Flight:
ALLIANCE AIR (INDIAN), CD 7243
, 197 miles
Routing: CCU-IXA
Aircraft: 732
Seat: Economy, 2A
I > Background:
This was the most remarkable and enjoyable flight of my India/Asian odyssey. It also had the most fantastic crew I have encountered in a while. Find out more in the crew section. Finally, I really like the way these pictures came out – for A.Net, a first glimpse into Agartala (IXA) and tarmac action at CCU.
Part of a month long amazing passage to India for a wedding, with some stops in Asia to see friends. Routing was CCS-MIA-EWR-SIN-CGK-SIN-CCU-DEL-CCU-BOM-CCU-IXZ-CCU-IXA-GAU-CCU-SIN-ICN-YYZ-EWR-CCS with a mix of J and Y class of travel. This focuses on the CD segment from CCU to IXA. IXA is Agartala, the capital of the eastern Indian state of Tripura, and where I was to check the absolutely gorgeous surroundings. Other trip reports for this trip will be EWR-SIN (SQ/J-Cabin), SIN-CGK (KI), CGK-SIN (VF), CCU-DEL (SG), DEL-CCU (IC), IXZ-CCU (DN), CCU-IXA (CD), IXA-GAU (IT), GAU-CCU (6E), CCU-SIN (SQ/J-Cabin), and ICN-YYZ (AC/J-Cabin). I think these reports will be "firsts" for revenue flights on CD, IT (mainline) and 6E and cover IXA, GAU, IXZ-CCU, and CCU-DEL for the first time on Airliners.Net.
II > Pre-Flight:
a) Before Airport:
Alliance Air is a wholly owned subsidiary of Indian and flies ageing Boeing 737-200s to connect second tier cities in India. It provides a vital link to many remote parts that are mandated by the Government as national public utility routes. Perhaps my Indian A.Net colleagues can shed some light to the need for creating and maintaining a separate identity. CD and IC share almost everything – except airline liveries, crew uniforms, and surprisingly the in-flight magazine.
While booking could have been made using the online system at
www.indianairlines.in,
I have never been impressed with it. The inability to make modifications online and the need to travel to an APO or CTO ensured that I had a paper ticket issued at IXZ. They still had the old ticket stock saying "INDIAN AIRLINES" which will now be added to my collection of ticket stubs from around the world. The other added advantage of being at the APO was being able to confirm the first row (bulkhead) seats on CD.
b) At Airport:
By this time, I had gotten used to Calcutta where I had been for my friends wedding and left for the airport only 1:30hrs prior to flight (note: I was staying some 23kms away which is a LOT by Indian standards.) CCU was busy in the morning with several flights scheduled to depart. After having my ticket verified, I proceeded to the special counter which handles all pre-checked telephone check-in passengers. This is a fantastic option by CD/IC which allows all hang-baggage only passengers to check-in 24 prior to departure time and arrive at the airport 30mins prior to pushback. Since I had little time, I proceeded immediately for security check and then to the waiting bus. For the most in-detail review of CCU, check my
CCU-DEL flight on SG.
Boarding was remarkably civil by what I consider "Indo-Latin Boarding School of Thought" (ILBST), and it was amazing to see aircraft movement in the early morning. Besides my CD aircraft on the apron, I saw a 9W 738, a BA 777 (an hour delayed LHR bound), a KB 320, and a S2 735 (the last 2 pictured.) Upon boarding, I was greeted by a great CD cabin-crew whose customary "NAMASTE" (Indian greeting) was heartfelt. As soon as I saw the cabin, I was thrown back in a time capsule to my younger days when I lived in Kenya (mid 1980s; I was born in 1978) and frequently traveled back and forth to Europe with my parents on an eclectic mix of 707s, 720s, and DC8s. The interiors have definitely not been updated and this aircraft contained all the original paraphernalia of a Boeing delivered 732 back in the day. There was the window-shades and the bulkhead area with the 737 markings, the original Indian Airlines blue Indian-motif seats and walls. While the aircraft was showing its age, it had a nostalgic charm that is simply missing from today's white-walled interiors which all look the same. Moreover, the aircraft is extremely spacious and walking up and down gave an impression of how traveling used to be. Even the bathrooms had the old pull attendant call buttons (see picture below.) What made the whole thing so unique was that I was flying this machine in a country that is witnessing explosive aviation growth and 95% of all aircrafts are brand new or moderately old. By the way, Y class load was an estimated 80%.
Airport - External:
(NSCBIA – Domestic, Kolkata)
(Outside Departure Board)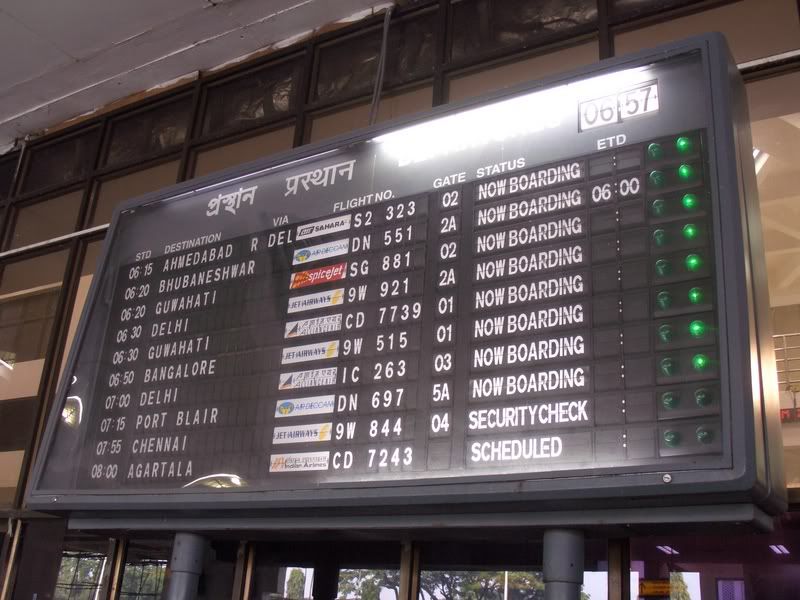 Check-In:
Airport - Internal:
Scenes of the tarmac:
(Mixture of traffic @ CCU)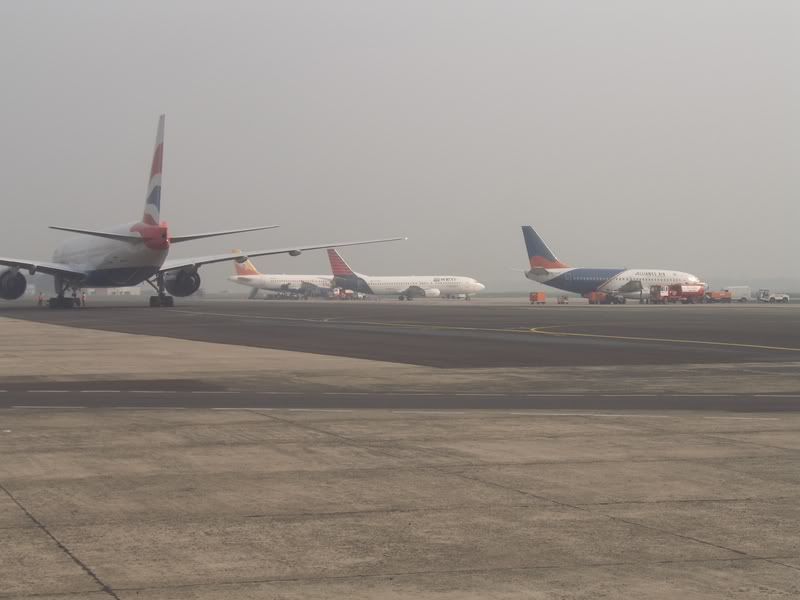 (Love this shot: CD, S2, and KB)
(BA bound for LHR)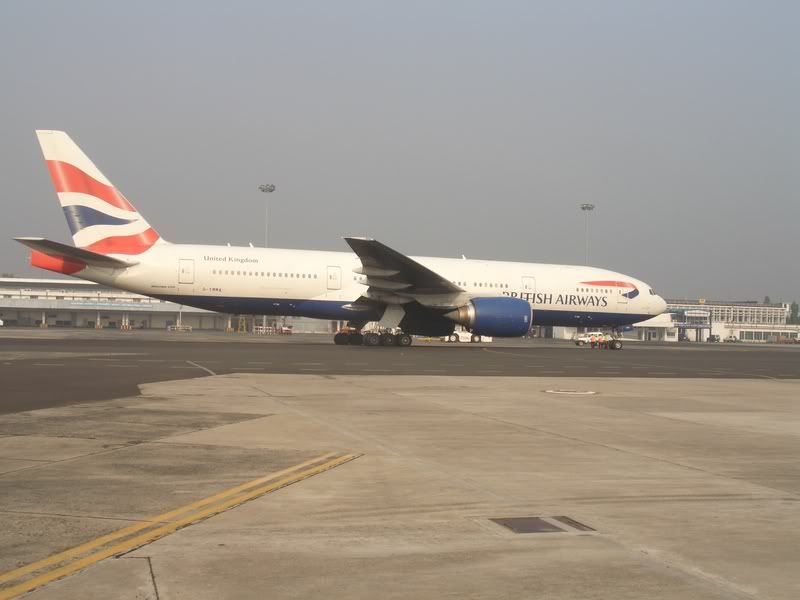 (S2 and KB)
Boarding:
III> In-Flight:
a) Service Schedule + Impressions:
Service on board CDs short 50 minute flight consisted of a light breakfast. Cabin crew was available to also provide tea and/or coffee if needed.
b) Aircraft + Seats:
As I have already mentioned, CD's 732s had character that I have missed from many of the modern airliners. I will definitely cherish the pictures I took and the overall experience. Indian themed cabin was beautiful and I urge Indian to continue with them as newer aircrafts arrive. The aircraft does show its age – but besides the overhead bins and my tray table (where you could not possibly put a meal without it falling off), everything was well maintained. Even the bathroom was very clean. One question for the aircraft experts – does the 732 have a tremendously slow take-off speed and resultant slow climb or something? My CD 732 seemed to take forever to climb and takeoff seemed very loose (-just cannot think of a better word.) The seat was old, but comfortable with generous legroom. This was throughout the cabin and especially true with the exit row – which was the most spacious I had seen since flying on 2K's 727s on the UIO-GYE sector last year. The aircraft also had 2 abreast seating for the last 3 rows – as typical with many older generation aircraft in the 737 range. The only drawback I found was that recline was probably just about industry average.
Aircraft:
(Pictured @ IXA)
Views from Aircraft:
(CCU Airport)
Seat Leg-Room:
Seat Recline + Angle View:
Cabin:
(Does this not feel like the 1970s/1980s? – look how spacious the cabin feels!)
(737 factory style)
(Interior Indian motif)
(Restroom – notice pull buttons)
c) Meal + Beverage:
Amazingly for a 50 minute flight (40 minutes of flying time), we were served a quick breakfast (nothing special – but amazing effort nevertheless) and an option for tea or coffee. Water was provided in ample quantities throughout the flight – though, I really wish airlines in India utilize bigger bottles and pour it on glasses than give small bottles – really does not help India's environmental dilemmas.
(On a 197 mile journey!)
d) Inflight Entertainment:
While there was no audio-visual entertainment on CD, I was impressed by the collection of English, Bengali, and Hindi language dailies on board and the in-flight magazine "DARSHAN" was surprisingly good.
(Really good collection of newspapers – in.flight magazine different than INDIAN)
e) Crew:
WOW! Alliance Air becomes the first carrier to get a 10 for cabin crew performance.
The crew was in one word – FANTASTIC. If I had to construct a dream crew, this would be it! They greeted you at the door – took you to your seat (in Y), and were absolutely amazing and genuine with the elderly. I had this old woman who sat behind me – I was in almost tears on how the extra flight attendant handled her. The old frail woman was very nervous and there was no one in her row. After finishing the safety announcement, one of the flight attendants went to her and said, "Aunty – I am going to sit next to you. You can hold my hand and you will see how there is nothing to fear about." She then made the frail woman sit in the middle seat, sat herself on the aisle seat, and held her hand. During the meal service, the old woman did not want to eat anything. Again, this stewardess came and said, "Aunty – you must eat something. You have to maintain your awesome figure and keep on inspiring us." The woman smiled and ate! Upon disembarkation, I let her know how much its people like her who ensure that I enjoy flying. Needless to say, a very positive review of her is enroute to CD offices. WOW! WOW! WOW! Hands down, best crew work I have encountered in a long long time.
PS: Oh, when I was taking the cabin pictures after everyone had disembarked, another crew member came and said, "Mr. AM: Should I play with the lighting so you can get the best shot?"!
IV> Post-Flight:
Here comes the best part. Post arrival, I requested and was granted access to the cockpit for a quick chat. I wanted to see the pure raw power of the old 732 cockpit – before they too are retired. To my surprise, the commander introduced himself as Gustavo (ok, name withheld but think of an equally generic Latin name.) Of course, I had to ask where he was from … he responded by saying Argentina on a year contract; he was then shocked as I started speaking to him in Spanish. Globalization really was making the world a smaller place – what are the chances of a guy from Liechtenstein who lives in Venezuela, visiting India, and flying an extremely random sector (CCU-IXA) to meet an Argentine pilot flying a tier-II Indian domestic airline. Of course, we exchanged mobile numbers and promised to get drunk together in CCU prior to my return home. He ended with saying that I had made his day – he loves working and living in India, but moments like these are special! I too smiled all the way as I deplaned and am doing so as I write this report in my Agartala hotel room. While exterior Agartala airport is plain ugly and follows what I call "Indian Airport Design School" (IADS), the interior was surprisingly cheerful and clean … and empty.
Agartala Airport: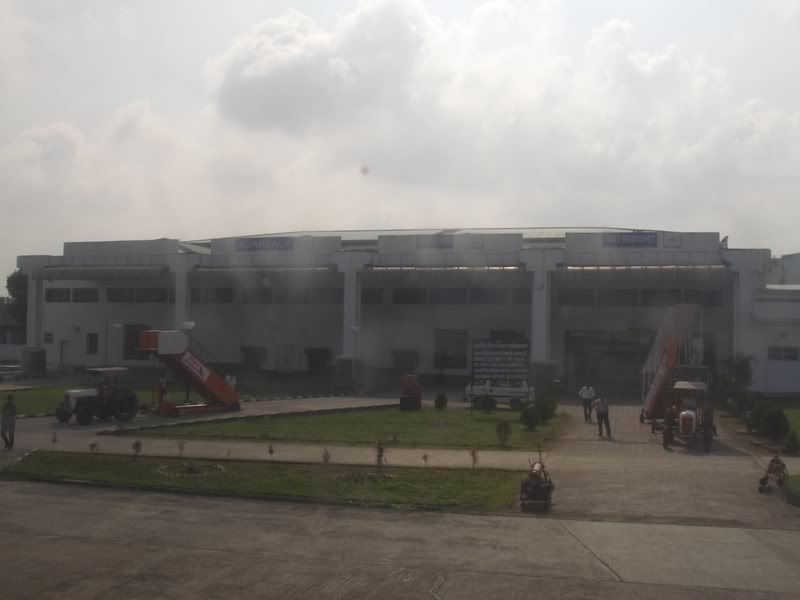 (Surprisingly cheery and colorful interior…)
(… and soon empty)
V> Impressions + Scores:
Alliance Air brings forward the nostalgia of flying in the 1980s. The amazing onboard crew displayed what genuine warmth meant. I was impressed by the amount of service that was generated in such a short flight (food + newspapers + magazines.) Moreover, an easy and affordable ticket coupled with good ground crew and on-time service makes CD a little gem of a carrier; an airline I would strongly recommend. Of this trip, this was probably the flight I would like back most fondly on.
Reservation: 7.5
Check-In: 8.0
Lounge: n/a
Boarding: 8.0
Seat: 7.5
Aircraft Overall Ambience: 8.5
IFE: 6.0
Crew Service: 10.0 (perfection!)
Food: 6.0
Beverages: 6.0
Amenity Kits + Others Freebies: 5.0 (standard default score)
Disembarkation: 8.0
On-Time Record: 10.0
OVERALL IMPRESSION: 7.54
(Scores are based on comparison with other airlines in THAT class of service – No comparison of Y vs. F for example)
VI> Other Trip Reports:
1/
Avianca: BOG-LIM: 07/06/06: 7.09pts: Y-IMR
2/
Air Tran: EWR-MDW: 08/02/06: 6.73pts: Y-DMR
3/
West Jet: YYC-YVR: 09/05/06: 7.14pts: Y-DLR
4/
Air Canada: YYZ-YVR: 09/02/06: 5.92pts: Y-DLR
5/
Air Canada: ALB-YYZ: 09/01/06: 5.88pts: Y-ISR
6/
Singapore Airlines: EWR-SIN: 09/20/06: 7.81pts: J-ILR
7/
Adam Air: SIN-CGK: 09/22/06: 6.04: Y-ISR
8/
Valuair: CGK-SIN: 09/22/06: 5.04: Y-ISR
9/
Spice Jet: CCU-DEL: 09/25/06: 6.67: Y-DMR
10/
Indian: DEL-CCU: 09/26/06: 7.25: Y-DMR
11/
Air Sahara: CCU-BOM: 09/28/06: 4.42: Y-DMR
12/
Air Deccan: IXZ-CCU: 10/07/06: 5.75: Y-DMR
(Note on Codes: Y – Economy, J – Business, F – First :: I/D – International/Domestic :: SR/MR/LR – Short/Medium/Long Haul :: I have designed these codes so people don't believe my scores are comparing apples and oranges)
VII> Other Pictures:
NONE