A brief report of one of the last DC-9 flights by Cebu Pacific Air, the type was retired from 5J service in July.
I was actually planning to redeem PAL Mabuhay Miles for a pair of free tickets, but they don't even allow same day redemptions. Steep fees are charged a few days in advance, and it was totally not worth it. So, after breakfast at the Renaissance Makati Club Lounge, I decided to check the other options – namely Cebu Pacific. Happy to discover their new website with proper online booking – a few minutes later we were booked on 5J 569 to CEB a few hours later and e-tickets arrived in my email. I thought P300 extra was worth it for a DC-9 – the A319 an hour earlier would have been cheaper. Roughly $100 with tax for the two last minute tickets.
23 June 2006
Manila Domestic Airport (MNL/RPLL) – Mactan Cebu International (CEB/RPVM)
Cebu Pacific Air 5J/CEB 569
McDonnell Douglas DC-9-32
RP-C1545
1610-1730 – On Time
Economy Class, Seat 4A
We arrived at the Manila Domestic Airport about two hours before departure – it has to be the worst airport terminal I've ever been to. Even NAIA 1 feels like a palace in comparison. Air Philippines has recently moved out, yet the check-in area was a complete mess – half of the 5J counters closed, and the rest being flight-specific with lines about 100 people deep. No signs where to line up, and the queues started way back at the entrance.
After 30 minutes in line, the friendly agent took our Northwest WorldPerks cards and gave seats in the exit row. Alas, these were taken back a minute later as she realized my wife was pregnant. With boarding passes for 4A/B in hand, we headed to pay the airport fee. P200 for a building that would be better off being used as a garbage sorting facility or something similar – a little steep I thought.
The departure area is simply a hall with plenty of seats and four gates – no jetbridges are used and you simply walk to the planes or take a bus if they are parked remotely. Absolutely everything on Cebu Pacific was delayed by hours, apart from our 5J 569 to Cebu and another DC-9 flights that were on time. As boarding time approached, outsourced Topserve ground staff put a "CEBU" sign above one of the doors – there are no gate displays whatsoever. Boarding started shortly thereafter, and RP-C1545 was waiting outside. Ex-KLM, TWA and Midwest Express, this bird definitely has an interesting history.
Boarding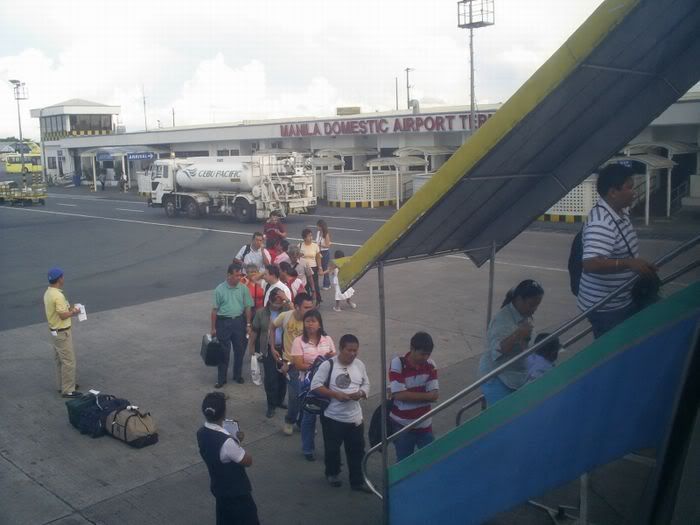 Plenty of locals were forced to gate check their larger bags, but our roller bag raised no eyebrows thankfully. Entering the cabin, I was surprised how nice it looked – extended overhead bins and nice and tidy looking seats with 5J seatcovers. Definitely quite a contrast to Lion Air MD-80s for example. We took our seats 4A/B, and I found the legroom to be excellent, probably 32-33". I also noticed a window in the cockpit door – never seen one before! Next to us was an Asian Spirit Dash-7 and further away a pair of Cebu Pacific A319s. I also noticed a couple of retired DC-9s.
Asian Spirit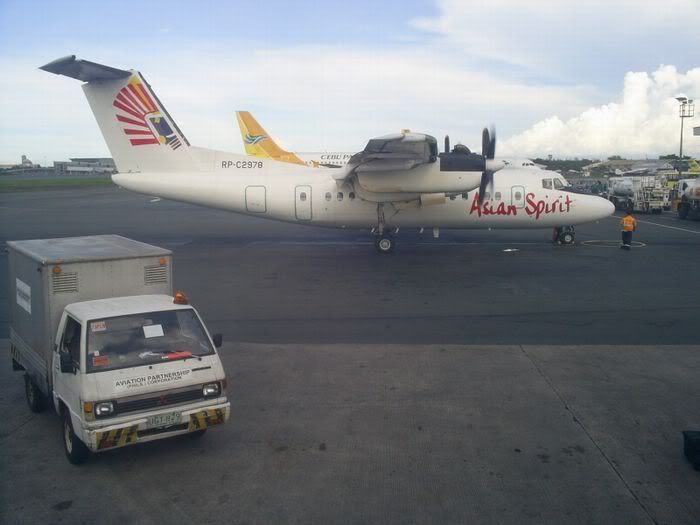 Pushback was a few minutes late, and a long taxi to the active runway by the LHT Phils hangar followed. Takeoff felt rather powerful, and a steep left turn followed. Unlike some of the low cost carriers in the region, Cebu Pacific still has some complimentary service – lemon ice tea and biscuits on this flight. There was also a game where one could win some Cebu Pacific items. Overall, the F/As were nice and friendly, and the captain gave plenty of information about our flight.
After Takeoff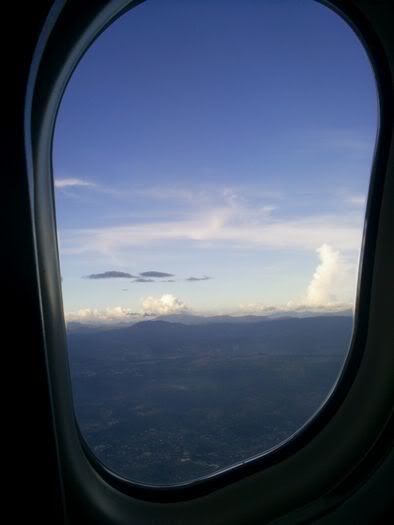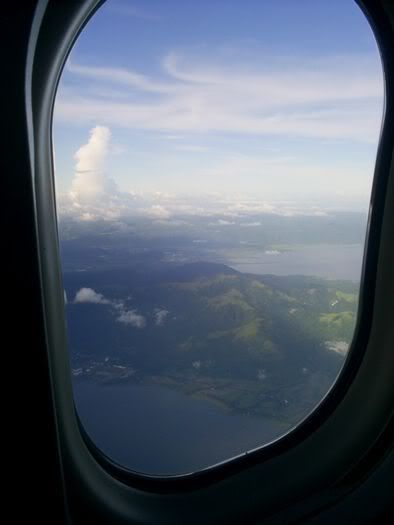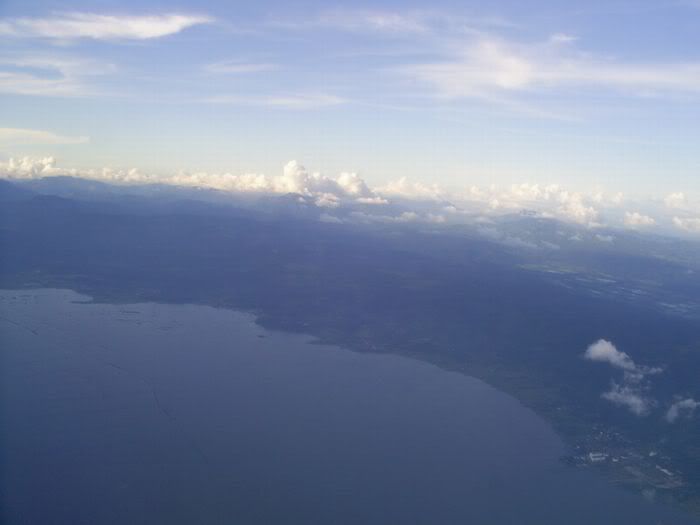 Cabin Views and Service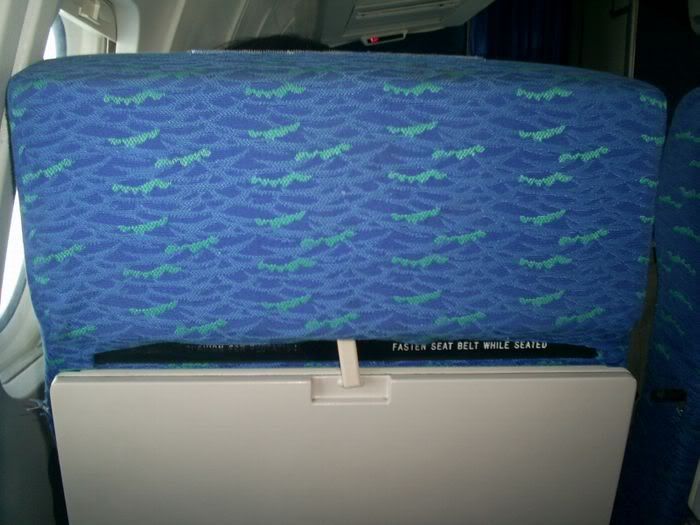 The weather was nice, and the views rather stunning – these looked like the chocolate hills but the location doesn't match…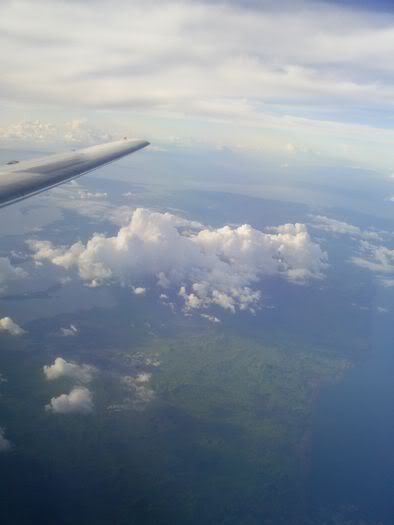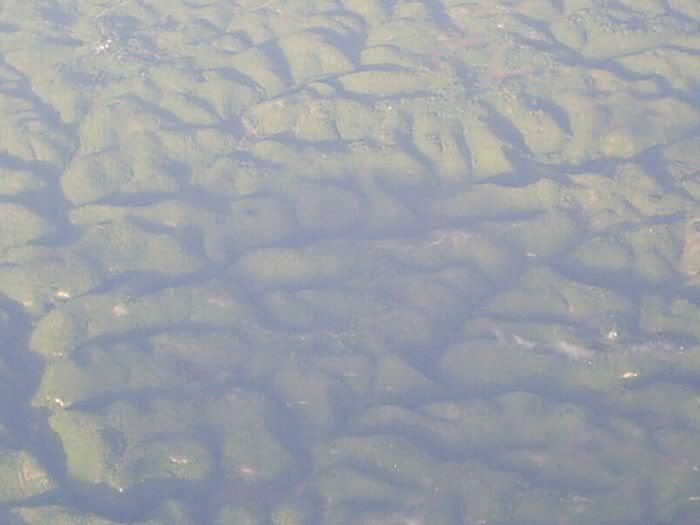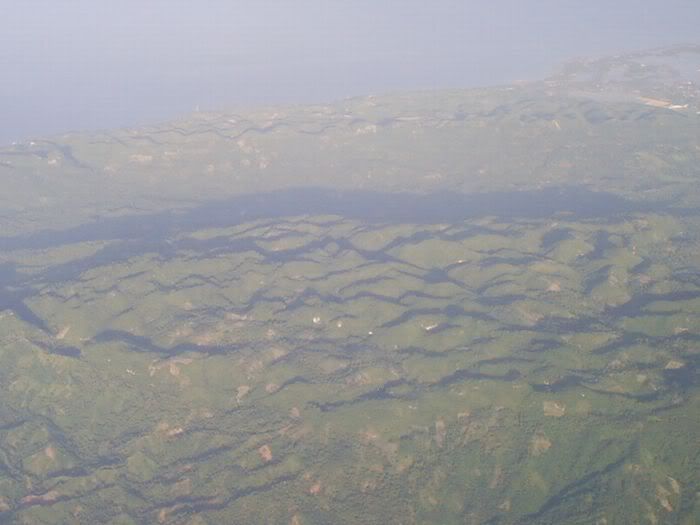 Soon, we were on descent to Cebu Mactan, and flew over the city before turning onto final approach.
Cebu City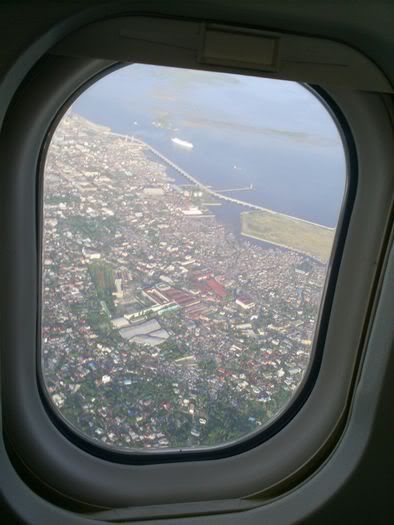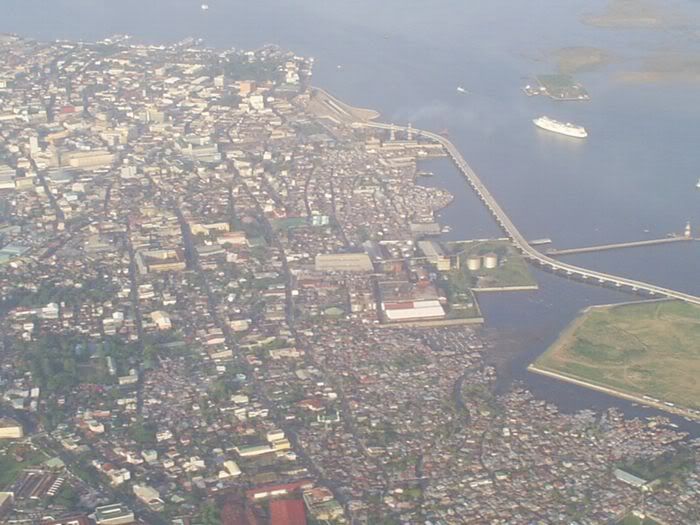 Turning onto final approach to Mactan Airport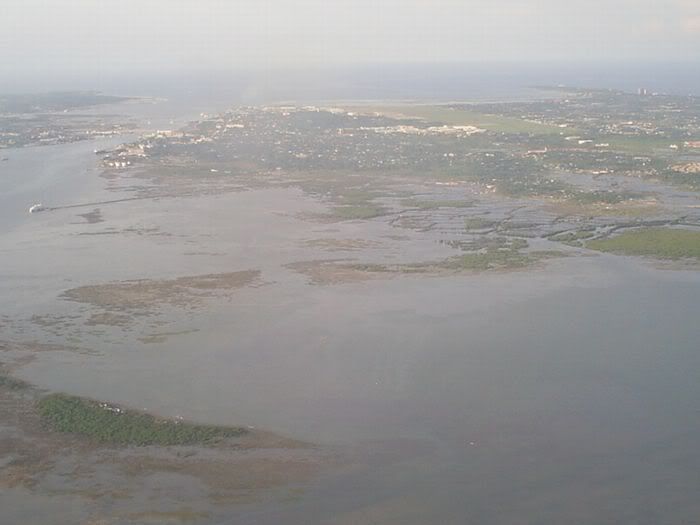 A smooth on-time landing completed what was quite possibly my last flight on the Douglas classic. Bags arrived quickly, and a couple of minutes later we were on our way to the Marriott Cebu City. Apart from the Domestic Terminal in Manila, the flight was excellent – unfortunately the A319/320 flights on 5J two months later were a disaster.
Hope you enjoyed.