Hi,
after some time away from writing trip reports on here, I decided to start again fresh with my latest trip, last week to Birmingham. I travelled together with my best friend, and just for fun-flying
We both like everything which has to do with flying on an aircraft, the atmosphere at the airport etc etc.
A few months back we decided to book the return trip on bmibaby. We travelled on Wednesday October 25, 2006.
____
Lucky enough the outbound flight was not that early so we left for the airport at a decent time of 0745am. When we arrived, the weather was good, blue skies and sunshine. We noticed our checkin area was terminal 4, desk 24.
A couple of checkin-machines of the ground handling agent were available and in use for not only bmibaby but also for other customer airlines. We both used these machines and choosed our seats behind eachother (both window seat). We passed passport control and noticed our departure gate was going to be one of the new H-gates, especially designed for the use of lowcost carriers.
When we had a coffee at McDonalds (they do ask EUR 5.20 for 1 coffee and 1 cappucino!) we looked outside the windows when we also noticed a dense lot of fog coming in from the seaside. Hopefully no delay....
AMS-BHX
Flight No.:
WW1012
Seat No.:
24F
STD:
0950
ATD:
1027
STA:
1010
ATA:
1031
A/C:
Boeing 737-500
Reg No.:
G-BVKB
Fare: EUR 54.13 (for return flight incl. all taxes)
View Large
View Medium


Photo © Mick Bajcar
We headed for the H-gates around 35 min. for departure, but noticed a very long queue for the security checkpoint. We had to wait there for approximately 20 minutes before we were able to pass. As we were UK-bound passengers on a UK-airline, we thought we were not allowed to take any liquids in the handluggage, but nobody checked. When I knew that in advance, I brought some drinks from home.
We noticed then our departure gate was going to be H6, and flight was already boarding according the screens. H-gates offer a total of 7 stands, so H6 is almost at the end, so we had to hurry down the gates
When we arrived it was all quiet, groundstaff waiting for us (and another 8 missing passengers). We got our seats assigned on checkin, so no hassles to get on board quickly.
The aircraft was loaded around 80%, not bad I think. Inside little bit outdated design. I got 3 seats for myself, row 24 being the last row on this aircraft.
2 passegers missed the flight, their baggage got offloaded resulting in a small delay, later going into a departure slot due to ATC backlog caused by the earlier dense foggy weather conditions. Finally we got pushback with some 20 minutes delay (weather related).
The Cabin Manager on board was John-Paul, having assistance from his ladies Kitty and Sarah. Especially these female attendants were very loud in the back of the galley, and had lots of fun at the safety demonstration. I think it's the British style of behaviour, but I think it's not always that professional looking for being airline staff.
We took off from runway 24, and the flight headed over the North Sea straight to Birmingham.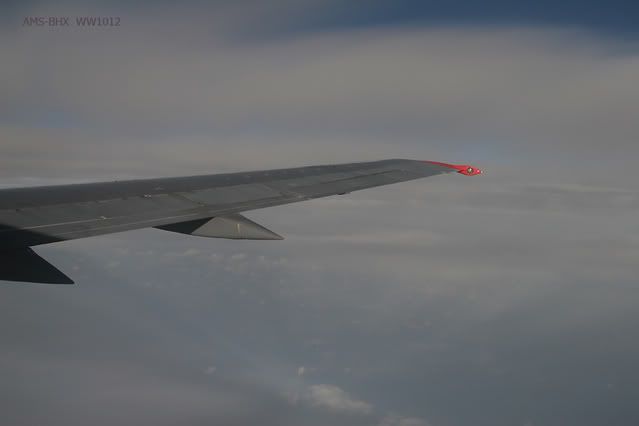 The crew came along the aisle selling drinks and some light food. Prices were shown in bmibaby's Inflight Magazine which is called ''YeahBaby''. The enroute information from the flightdeck was not clearly hearable, but only got the weather forecast: rainshowers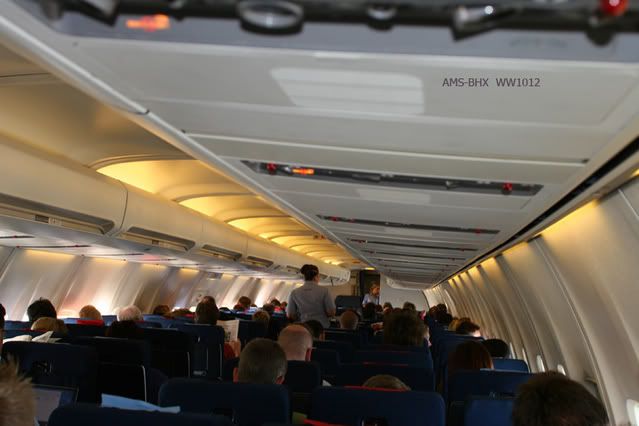 Decend from FL270 back to earth started soon after takeoff again, common on such a short flight. We entered a thick cloudlevel full of rain, causing some light turbulence. Landing was with the same 20 minutes delay at runway 15.
_____
Back home in the afternoon, same day. Checkin was only manual, so we had to proceed to a desk. Only 2 other passengers in front of us, not too long waiting. The lady was very kind and we got 1 window seat (7F) were we asked for.
Going through security means: shoes: off, jacket: off, sweater: off, belt: off. No big deal really, but it's more strict then in AMS. During baggage x-ray, they also checked for liquids in the handluggage.
BHX offers a nice terminal for passengers, providing some shops, some bars and enough seating. It was quite busy when also EK (to DXB) and AI (to YYZ) were departing later that afternoon. We didn't know our gate until 15 minutes before scheduled departure time, the screens only showed: 'wait in lounge'. No problems of taking some pictures from the aircraft from inside the terminal by the way. 15 minutes for departure out flight was called on the intercom twice, and the screens also showed the gate now, being no. 54.
BHX-AMS
Flight No.:
WW1013
Seat No.:
12A
STD:
1520
ATD:
1521
STA:
1735
ATA:
1731
A/C:
Boeing 737-500
Reg No.:
G-BVZE
View Large
View Medium


Photo © Jp lemaire
When entering the aircraft as almost the last passengers, we noticed our window seat was not having a window, but being a row without window
I'm sure the checkin agent did know this! So afterwards, she was not that kind at all
I asked one of the female flight attendants if it was possible to change to a window seat, and she replied a little later with no problems. We moved to row 12A(B) and C for both of us. This is 1 row behind the overwing exit.
Pushback was ontime, and we taxied fast to runway 15, holding point. In front of us we saw the delivery flight of CRJ-900 EC-JYA departing for Spain (for Air Nostrum / IB). A shame we didn't catch it on photo
Takeoff was fast and powerful with this small baby-Boeing, which was loaded very well (I guess around 90% full flight).
The flight was noisy with some young children crying around all the time, and a couple of English students going to Amsterdam to party. One of them being Steven Smith, he was celebrating his birthday on board. The cabin crew pointed this out to all of the passengers of which a group began to sing 'Happy Birthday to You'...:D Okay Okay,... I'm travelling on a UK airline, I won't forget
I bought a bottle of Fruit Shoot (EUR 1.50; 330ml) and my friend a mineral water (EUR 2.50; 500ml). Soon after we got our drinks, we started decending again, and fasten seatbelt signs were switched on again.
Landing was performed way ahead of schedule on runway 18R, which meant a long way of taxiing to the gates. Just a couple of minutes early we arrived at stand H3, again the lowcost terminal. This is now common for all bmibaby flights at AMS.
Conclusion: bmibaby offered a very good fare, but cabin crew is acting a little bit unprofessional. General the flights are ontime, but our outbound flight was a little delayed due to earlier fog. My full understanding for that. Prices for inflight drinks are reasonable, not too high. I will fly the again when neccesary. Aircraft frame G-BVKB was a new one for me to fly on, G-BVZE was the second time for me. For fun-flying, I know enough about them now
Thanks for reading. Any comments more then welcome
Eric