There are quite a few trip reports on Singapore Airlines… and yes, it is as amazing as everyone has reported. Here's my experience and observations from my trip at the first of October… enjoy…
Planning the Itinerary
I find that part of the enjoyment of the trip is doing the research and finding the best value for the money paid. My company will pay for business class on overseas trips so I did a search on the internet to find the best prices on travel to Hong Kong. I was departing from Pittsburgh, so I had to connect someplace (LAX, SFO, ORD, ATL, EWR, DTW) to get to Hong Kong. All the fares seemed high. To my surprise, I found that when I broke up the segments, I could fly from Pittsburgh to San Francisco on US Airways and catch Singapore Airlines for significantly less than booking it under one itinerary—over $2,000 less than United Airlines was asking. Knowing the reputation of Singapore Airlines, it was a "no-brainer". I booked the trip. Plus they are part of the Star Alliance so that was an extra bonus as I could accrue US Airways Dividend Miles. I was ready to experience Singapore Airlines! I am only going to describe the SQ portion of the flight.
SQ #1 HKG-SFO
Depart 1:25 AM
Arrive 6:25 AM
Raffles Class seat 17K
Check-In & Silver Kris Lounge
The flight was to leave from San Francisco at 1:25 AM. I arrived at the ticket counter close to 11:00 to check in. The check-in process was pleasant and fast. I was traveling with a coworker and we had some oversized baggage, but it was accepted with no issues. We went through security and headed for the Silver Kris Lounge. We were greeted by the lounge host and shown the Raffles Class waiting area. There was a good selection of food and drinks. I found a seat and got out my computer to do some last minute emails. I did sneak over to the First Class side of the lounge and found the same food, but less crowded. I also took a few pictures of the lounge for the trip report…
Food and Drinks at SFO Raffles Class Lounge
Shower in SFO Raffles Class Lounge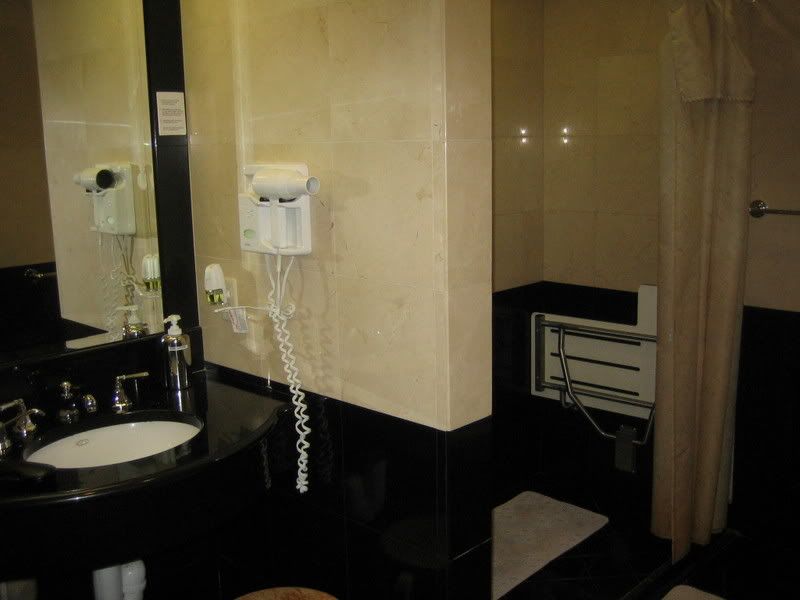 Boarding & Take-Off
An announcement came about 25 minutes before departure that they were ready to board. We walked down to the gate and found a long line of people boarding in Economy, but no line for First or Raffles class. We were boarded through the front door at the rear of First Class cabin. The purser was there to greet us and direct us to the proper cabin. We turned right and walked through the Raffles Class cabin and at the rear climbed up the stairs to the upper deck. As I walked, I noted that the interior appeared to be new although it probably wasn't. The plane was detailed to near perfection.
Stairs to the upper deck
As I started to climb the stairs to the upper deck, one of the flight attendants, seeing that I had two carry on bags, walked down half a flight of stairs to meet me and carry one of my bags up the stairs. (I think the bag was as heavy as she was!) We were greeted at the top of the stairs by some very helpful flight attendants and were shown our seats. It seemed they were there at every turn to assist the passengers in settling in. I opened an overhead bin to put my bag in, and a flight attendant was immediately there to assist me in lifting and stowing it. Every flight attendant was smiling and helpful. I genuinely felt like I was welcome on board. The 2-2 configuration on the upper deck seemed uncrowded, personal, and exclusive.
I settled into my seat… 17K, exit window. (While there is a lot of leg room in business class anyway, there is even more room on row 17. The aisle passenger can be full reclined and you can still easily walk around them. I would highly recommend this seat, although there is only one window to look out.) We were offered hot towels and a preflight drink of orange juice, champagne, or water. At the same time, menus and wine lists were distributed. The flight attendant also confirmed my "Book the Cook" order.
At exactly 1:25 AM, the 747 pushed back from the gate. Since the flight left at 1:25 AM, there wasn't much traffic and we had a leisurely taxi to the runway and took off without any delays.
In-flight
Soon after we took off, the Kris World AVOD system started and a quick drink service was offered. We were also handed a small bag with eye shades and socks. No other amenity kit was given. The cabin was then prepared for dinner with fresh table linens and more hot towels, and the dinner service began. It was strange to be eating dinner at 1:25 in the morning. I had requested the jumbo shrimps in Thai red curry sauce with assorted vegetables and fried rice noodles from the Book the Cook service
Appetizer: Shrimps and field greens with dressing
Entree: Jumbo shrimp in Thai red curry sauce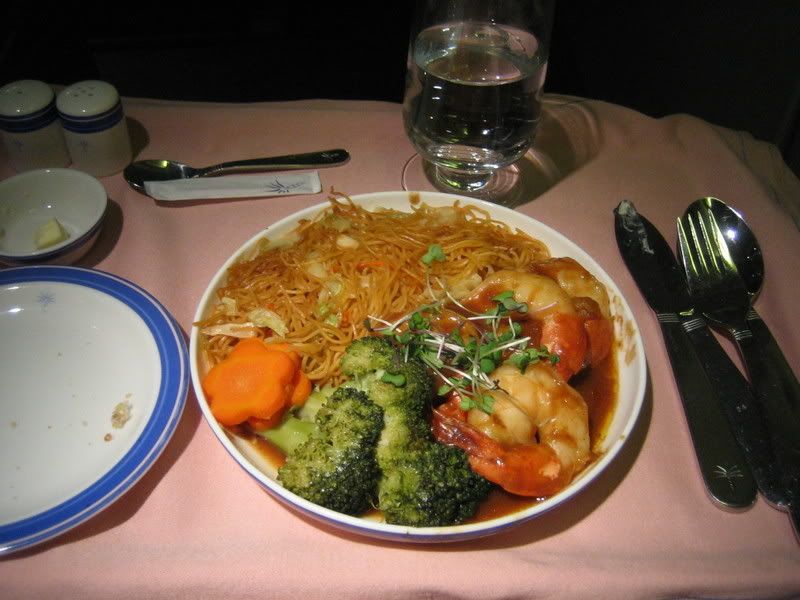 Dessert: Cheesecake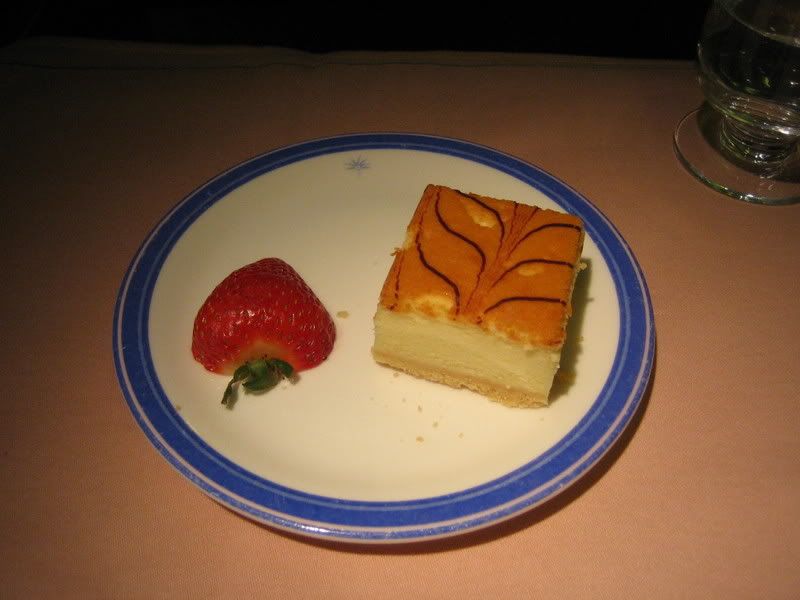 The dinner was excellent, but I probably would have preferred the regular menu options as they looked fresher and were re-plated on clean dishes, providing a better presentation.
After dinner, I reclined my seat watched the Kris World system and fell asleep…
I awoke about six hours later and was surprised at how long I had slept. The Space Beds were very comfortable (although I tended to slide down to the bottom). I got up and took a walk. Immediately, there was a flight attendant asking me (by name) if she could get me a drink or something to eat. I went downstairs and looked in on the different cabins. When I walked into the First Class cabin, the lead flight attendant asked if he could help me. I told him that I was a flight airline enthusiast and was interested in looking at the First Class cabin. He escorted me over to an empty seat, sat me down and with pride, showed me all the features. I thanked him and continued my walk through the economy cabin and then back to the upper deck. I wandered into the galley noticed a printed list of some of their frequent flyer passengers on board posted for all the flight attendants to see. The list had passenger names, companies, and job titles. There weren't any movie or rock stars listed, but there were a couple of CEOs of some prominent companies. I am sure they use this to further provide their excellent service. Here are some more pics...
Stairs leading down to the main level
Restrooms with fresh flowers. Instead of an amenity kit, items are provided in a drawer in the restroom.
The flight attendants were always busy. Here they are preparing for breakfast
Between flight snack basket
Raffles Class Upper Deck Cabin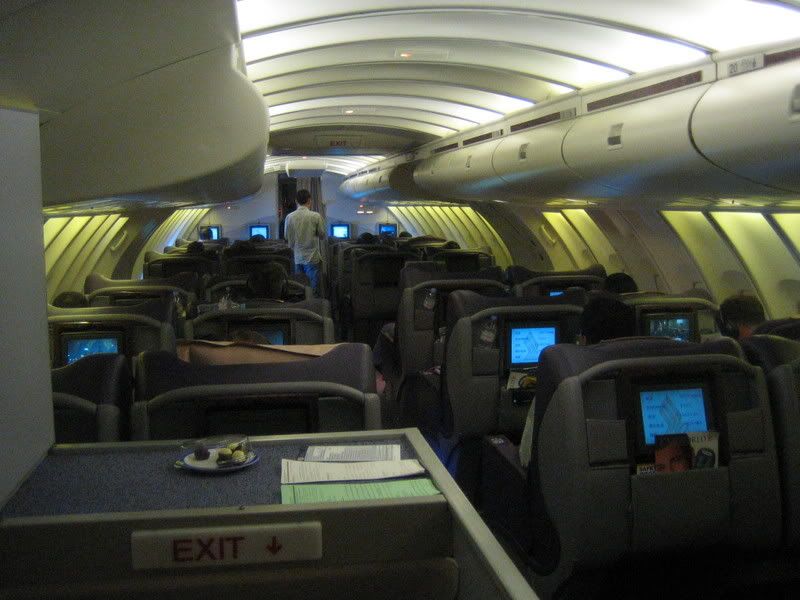 Someone had asked in one of the discussion areas if there was much more noise in the upper deck versus the lower deck. In my experience there was slightly more wind noise, but not enough to make me want to sit on the lower level. Besides, each seat has a set of noise canceling headphones so if you are watching the AVOD, the noise is eliminated.
I returned to my seat and watched Kris World a while longer and slept some more. Two hours before we were to land the cabin lights were brightened, more hot towels were offered, and breakfast was served.
Breakfast Starter
Breakfast Main Course: Pancakes with peach compote and chicken sausage
Since the flight had left in the early morning, and wasn't scheduled to arrive until 6:30 AM, almost the entire 14 ½ hour flight was in the dark. As a result, it felt a little depressing, although I felt like I got enough rest to start the day when I arrived in Hong Kong.
First view of the sun after over 20 hours of darkness - descending into Hong Kong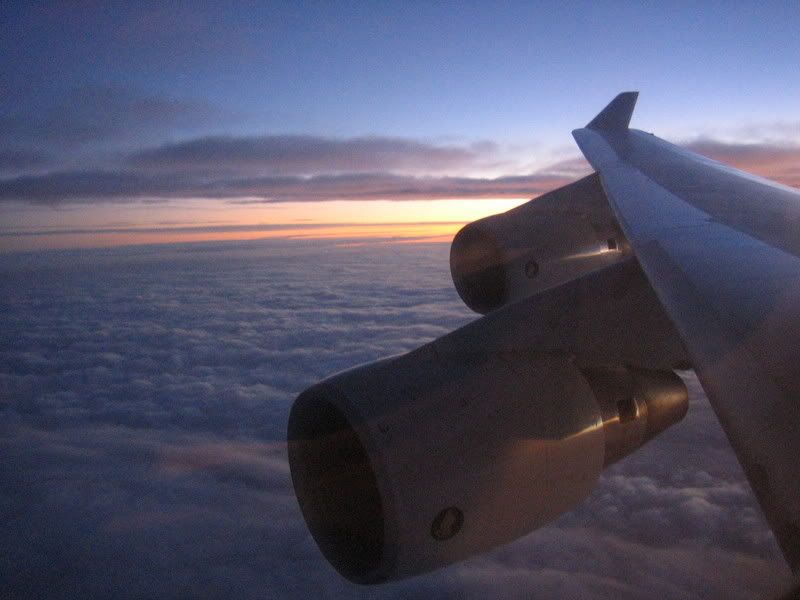 Arrival
More hot towels were offered as the flight attendants prepared the cabin for landing. The landing was as smooth as the take off and soon we were at the gate. The Hong Kong airport is one of the nicest and most efficient airports I have ever seen. The arrival hall and customs was very intuitive and easy to manage. The bags were delivered in record time, and we were through the airport without much delay.
Impressions of Hong Kong and Accommodations in China
Hong Kong was truly a great place to visit. I had no problem getting around the city and felt completely safe where ever I went. The people were very friendly and helpful.
Part of my trip included a night in mainland China. I thought that I would include some photos of my hotel stay in Dongguan City. It is one of the nicest hotels I've stayed in and was less than USD$100.00 per night.
Lobby: Gold leafed wall sculpture with imported Egyptian chandelier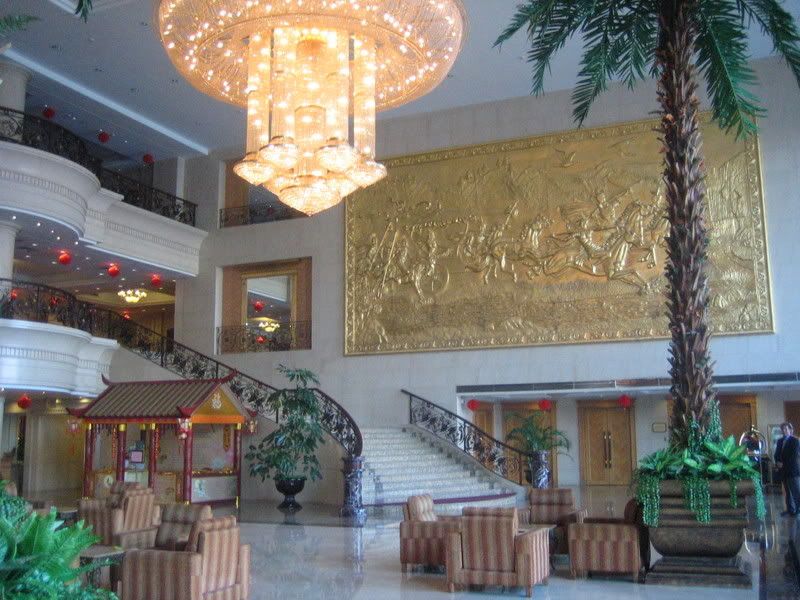 Room had marble tile entry and built-in wood closets and drawers
Marble-tiled bath had a separate shower and tub with flat screen TV
Lights, temperature, TV, and even the curtains were controlled by a remote control
Men's room off the lobby has a tank with two eels swimming (notice the goldfish "snacks" also swimming in the tank)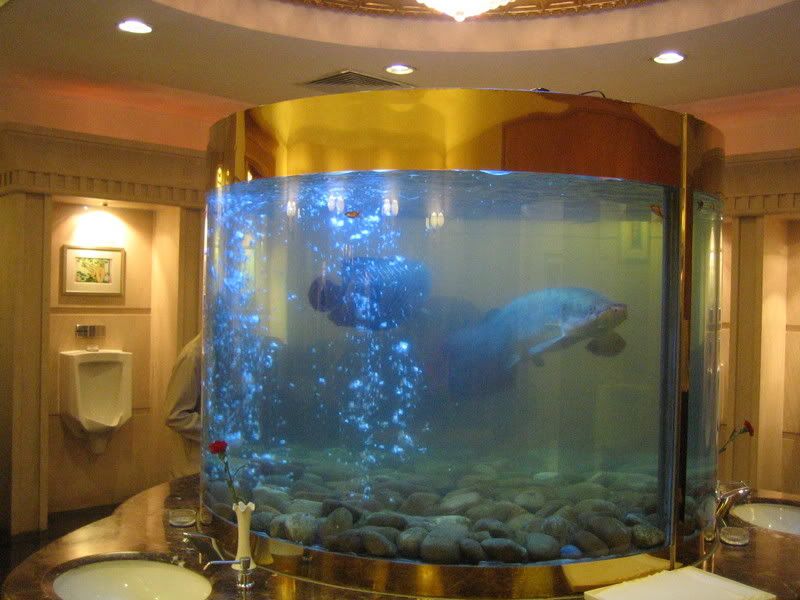 Return
SQ #2 HKG-SFO
Depart 9:55 PM
Arrive 7:30 PM
Raffles Class seat 19A
Much of my return flight experience is similar to the outbound. Here are some pictures to document the return trip.
The Raffles Class lounge in Hong Kong was spacious. Our flight was leaving late and most of the passengers were originated their flight in Singapore, so we were the only ones in the lounge.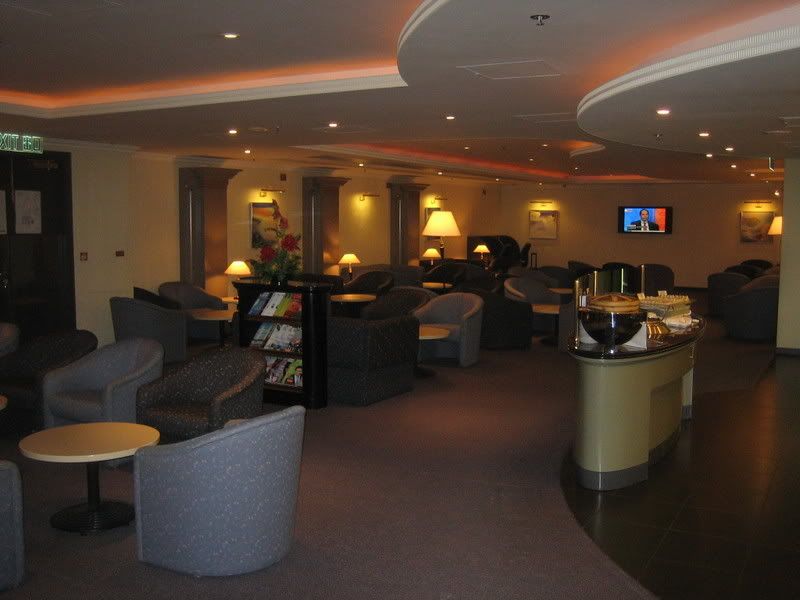 I had checked out of the hotel that morning, so I took a shower before the evening flight.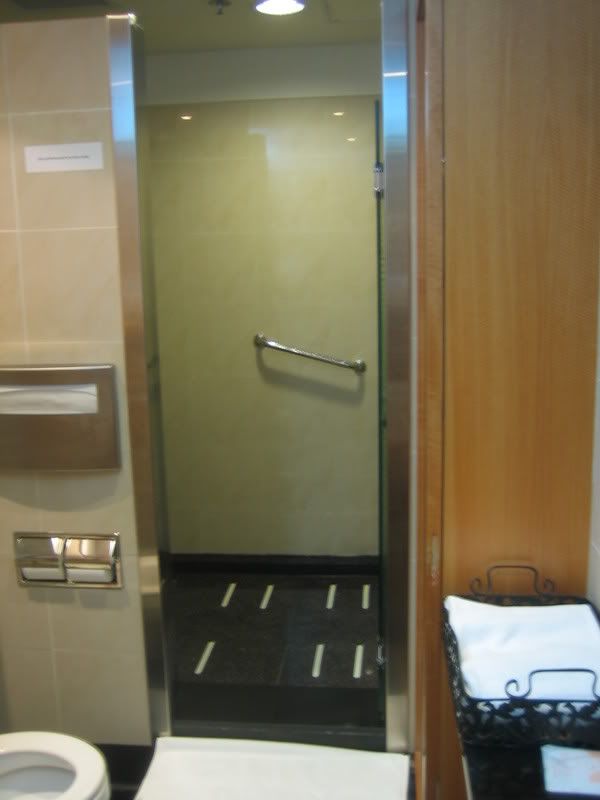 For the return flight, the appetizer consisted of a tomato and Buffalo mozzarella salad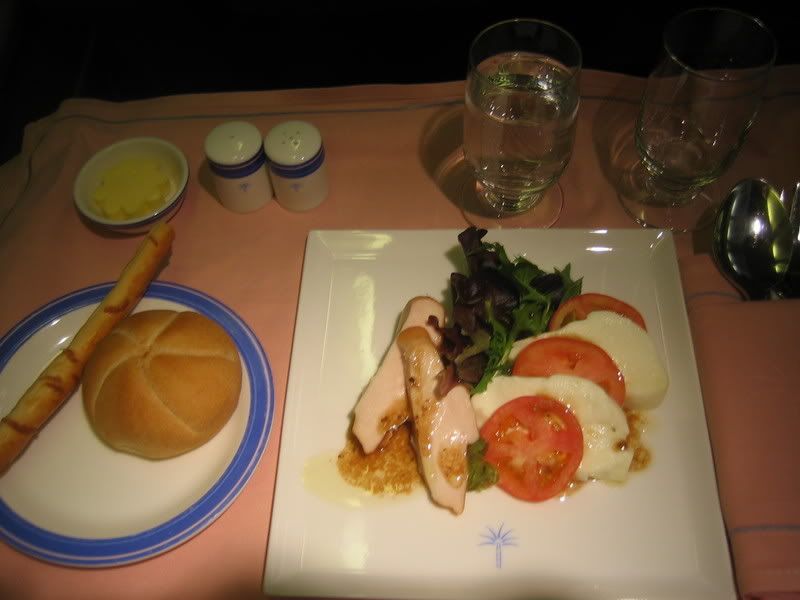 Book-The-Cook dinner of grilled fillet of beef with shallot tarragon sauce, French beans, roasted pumpkin and black pepper mashed potatoes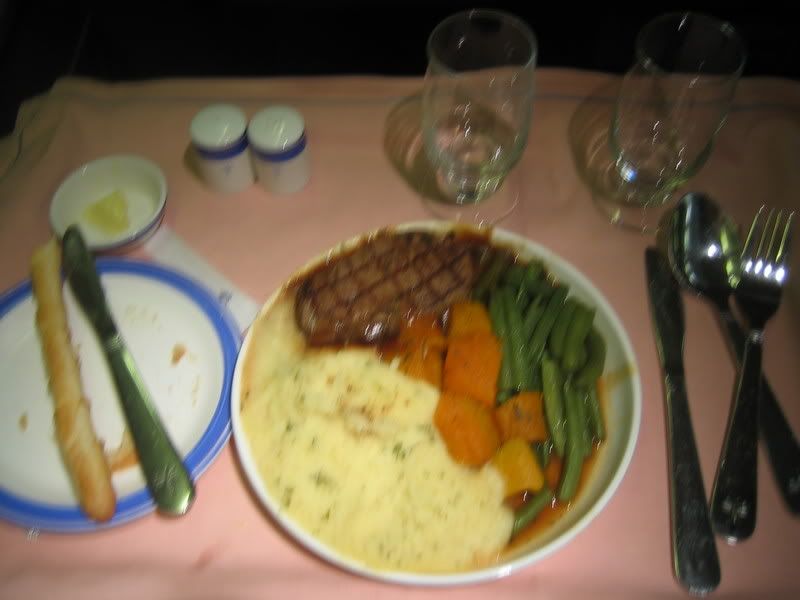 Cheese and crackers and cheesecake for dessert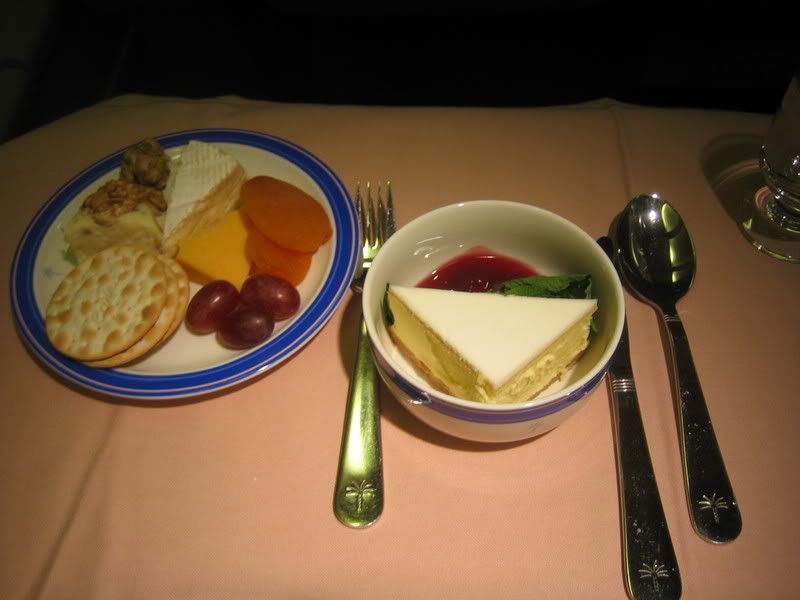 Arriving in San Francisco. Flying over the Golden Gate Bridge
Flying over downtown San Francisco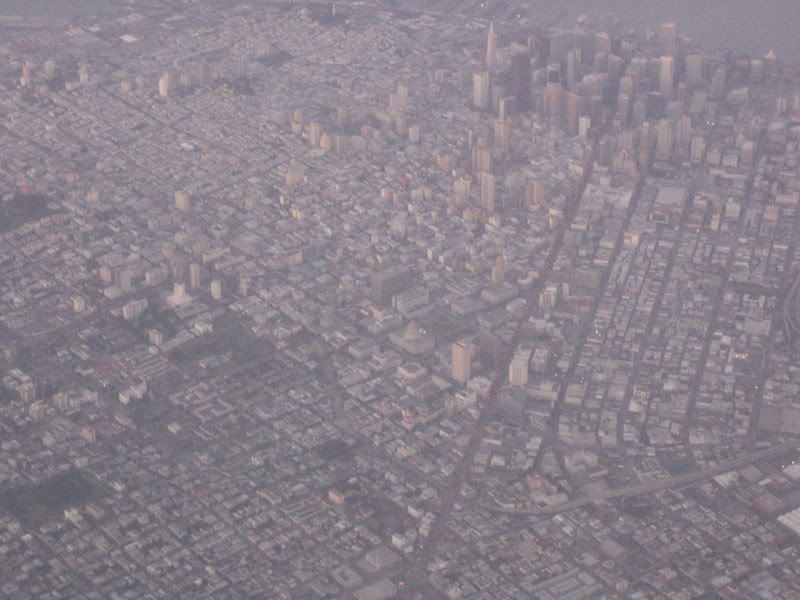 All-in-all it was a fantastic trip and Singapore Airlines did not disappoint. The trip was extremely restful and set the stage for a successful business trip. Below is a summary of my observations and some recommendations.
Summary
Pros
- The service is without compare. That alone is worth flying Singapore Airlines. The flight attendants were always smiling and called me by name.
- Kris World AVOD is amazing. I was never bored.
- The planes were immaculate. The carpet wasn't worn, the restrooms were fresh. - The Space Beds were very comfortable. (Although because of the slight angle I would recommend you don't wear slick clothing as you will slide to the bottom!)
Cons
- Between meal snacks seemed to be sparse, particularly on the return flight. I also wished (and expected) there would have been more selections in snacks available in the back
- Lack of amenity kits. There were amenities in the restrooms (shaving kits, toothbrushes, combs) but I would have liked some lip balm and lotion. None were to be seen.
- While the food was delicious, I was not impressed with the "Book the Cook" meals I had ordered. They weren't plated as were the other selections, and they didn't seem to be as fresh.
Tips and Recommendations
- Don't bother with the "Book the Cook" service unless there is something specific you want. For me, the regular meal features looked like a better option.
- Try to reserve seats in the upper deck. You don't know that there are a few hundred other passengers on the plane. It is much more intimate and personal.
- If you can get the upper deck, try to get the exit row window, particularly if you are planning to sleep. There is room to walk around the person in the aisle without bothering them. Because of the amount of leg room, the video screen isn't mounted on the seat in front of you. Rather it is personal video screen that is much easier to view.
P.S. I was on the Singapore Airlines site today and noticed they are advertising their new First, Business, and Economy classes starting on B777-ERs between Singapore and Paris that starts in December.
http://www.singaporeair.com/saa/en_UK/content/exp/new/index.jsp