This trip was unexpected, as I decided to take the flight three days before it´s actual date.
I went to a city called Jaboticabal, in the rural area of the state of São Paulo, Brazil, for a party of one of my best friends on Friday Oct. 27, than in the following day I´d go to a barbecue in Ribeirão Preto (RAO), near Jabocticabal.
As there are flights from RAO to São Paulo everyday in multiple times, I decided to go there by car and come back by plane – which I realized that was the best thing I´ve done, as I avoided a 5 hour car trip.
Everything begun on the 25th, when I entered in TAM´s and Gol´s websites to check timetable and prices. I found out that TAM offered a better deal, as I would pay RS104,00 (~US$49,00) and the schedule was better for me.
In a matter of 5 minutes I was with my e-ticket printed with seat 18A reserved for the flight JJ3253, that would depart at 1:43PM, operated with an A320.
Great! The on line reservation system of TAM is very easy to use.
So, after the party and the barbecue, I went to the airport to get my flight – I arrived there 15 minutes before our departure, very late, but that didn´t cause me any problem.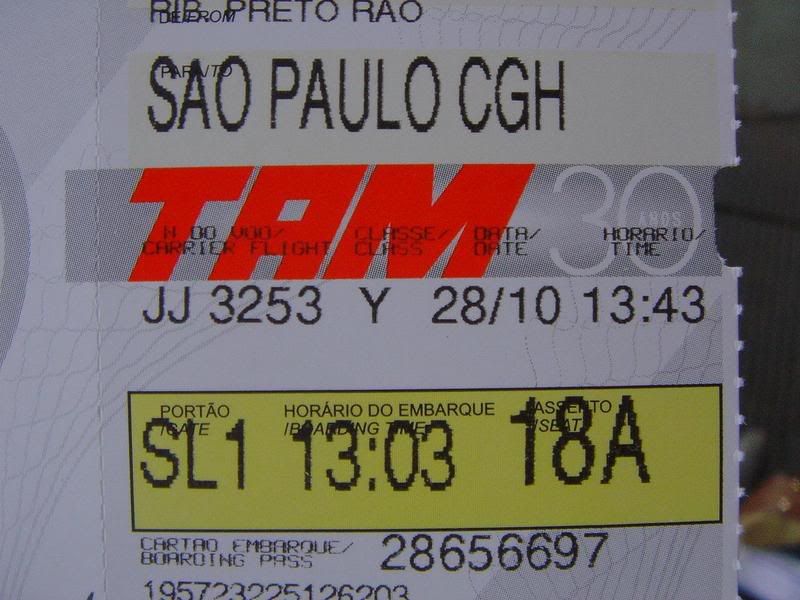 The seat I reserved, ready to be occupied by me!
That was my first time in RAO. The airport is awful. Old fashioned, with only one place where you can eat (fast food – it wasn´t Mc Donalds!!) and no air conditioning! For a place where 35°C (95F) is a common temperature in October, an a/c would be very welcome. But no problem, as the waiting room was cooler.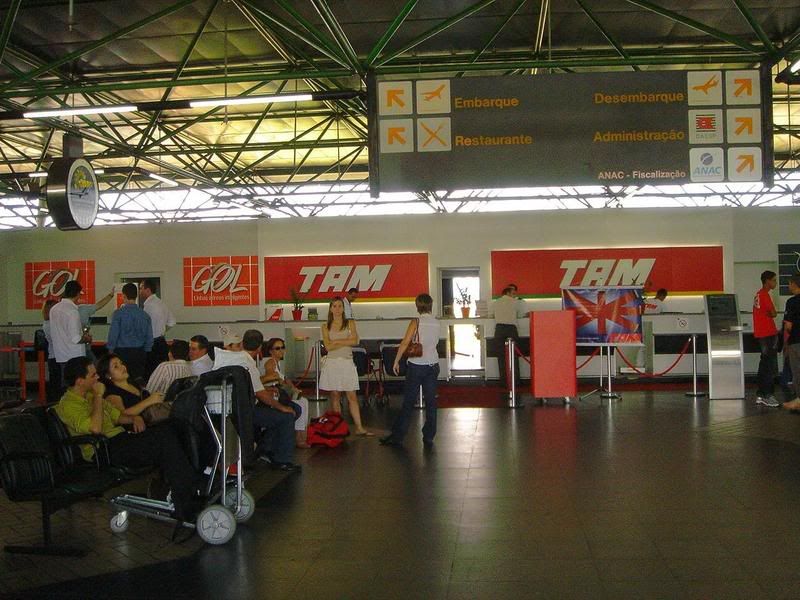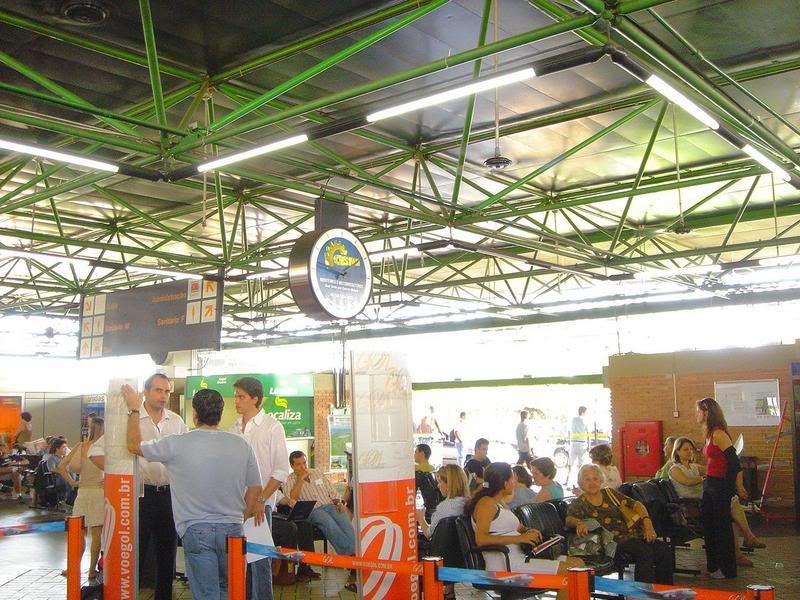 Views of the small RAO
So I passed thru security and sat there, took some pics of this airport which serves more general aviation than commercial and waited a long time.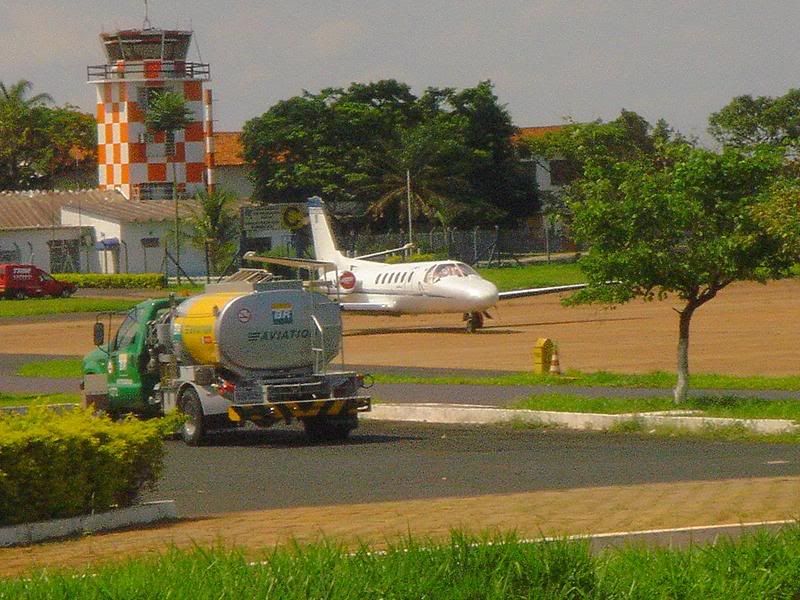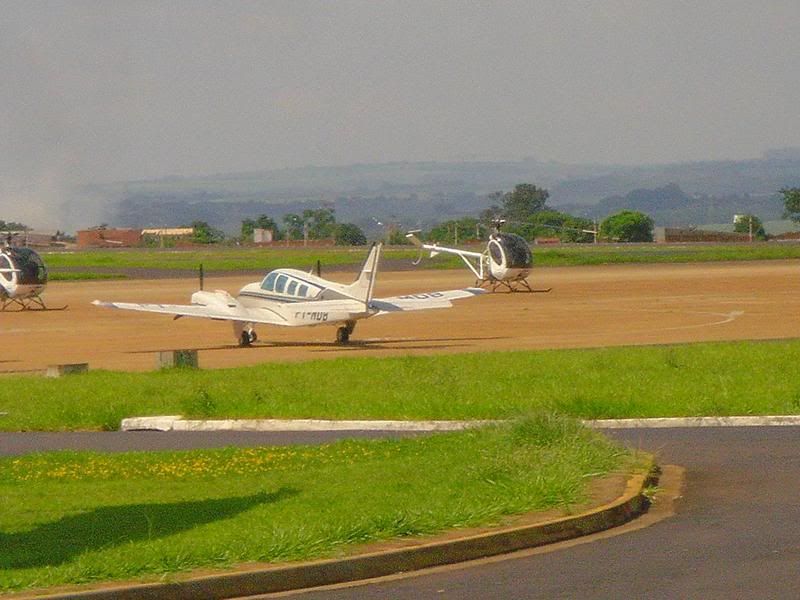 Yes, a long time. It was already 2:30 and our plane still hadn´t arrived. No worries for me as I could see some planes going and coming, including an EMB-120 Brasilia from Passaredo (PP-PSA).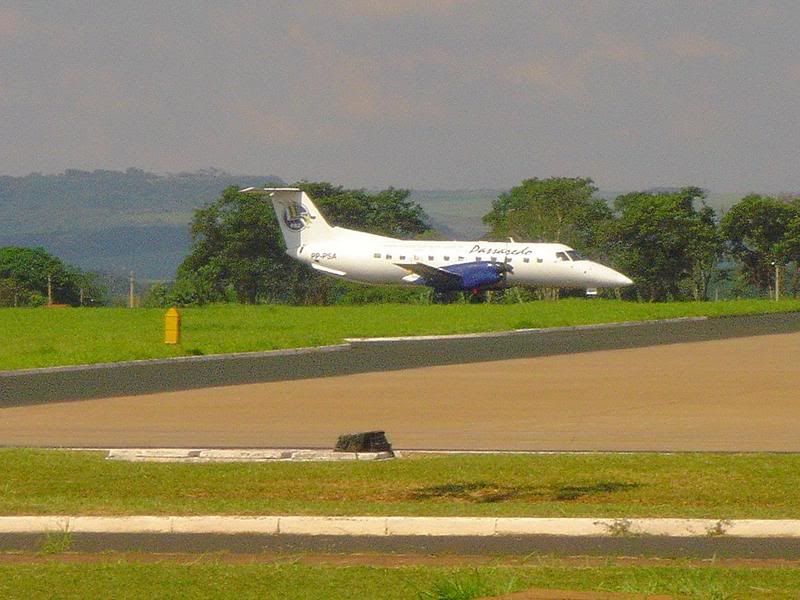 PP-PSA arrives in RAO…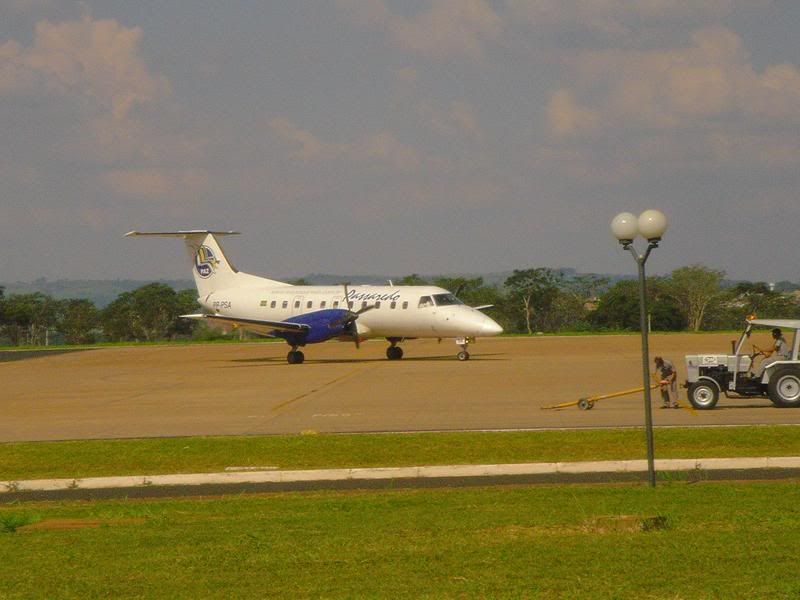 …and leaves without a sign of our A320.
After many complains of the passengers, the lady who worked for TAM came thru the speakers to inform us that there was a radar antenna in Brasilia that was inoperative, so flights in the entire country were delayed.
After I discovered that the real cause for the delay was that after the GOL 737-800 crash in September, the controllers should work in a "pattern operation", which says that each controller should take care of in the maximum14 flights. Pretty feasible in my opinion as it seems that in Brazil the controllers were working more than they should.
This can be speculation, but is what I´ve heard from numerous sources.
Back to the trip, I bought a Mentos (the freshmaker
) and rested until I saw, at 3:35 the red tailed, proud to be Brazilian, A320 landing. It was PR-MAZ, one of the newest A320 in TAM´s fleet.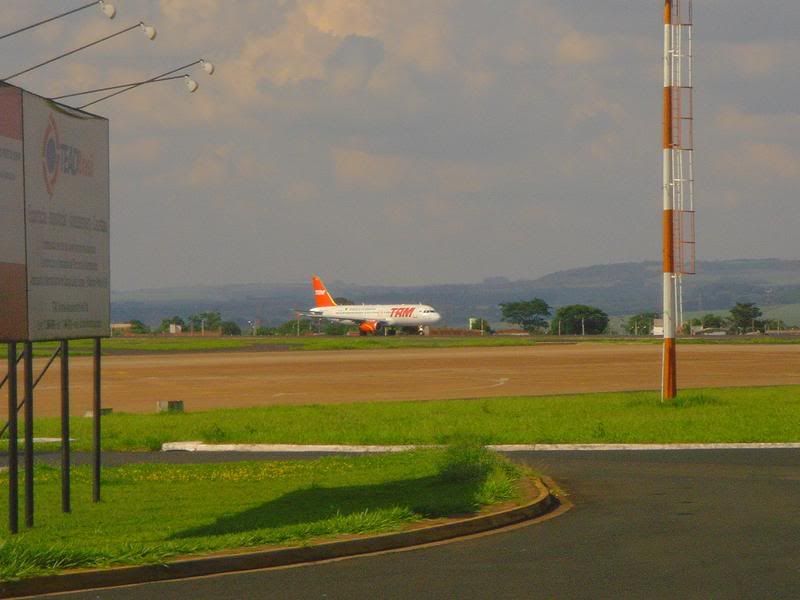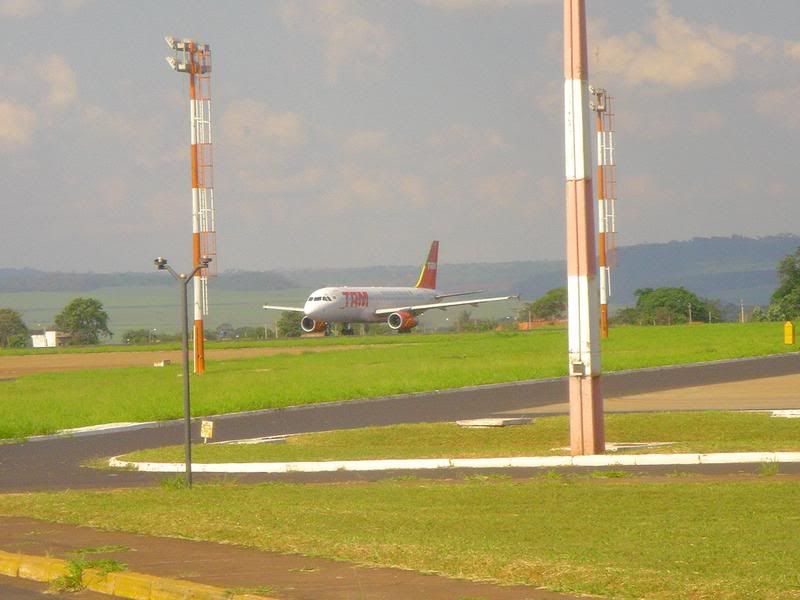 FLIGHT: JJ3253
ROUTE: RAO-CGH
AIRCRAFT: AIRBUS A320 PR-MAZ
SCHEDULED DEPARTURE TIME: 1:43PM
PUSHBACK: 3:51PM
ACTUAL DEPARTURE TIME: 4PM
ARRIVAL: 4:34PM
As I said before, the airport is not one of the best, so, as you can imagine, the boarding was thru stairs. I love it, as we can walk and be very close to the plane.
We started to be called and in a matter of seconds, people rushed towards the door and a line was formed. Me and my friend waited and were one of the last to board.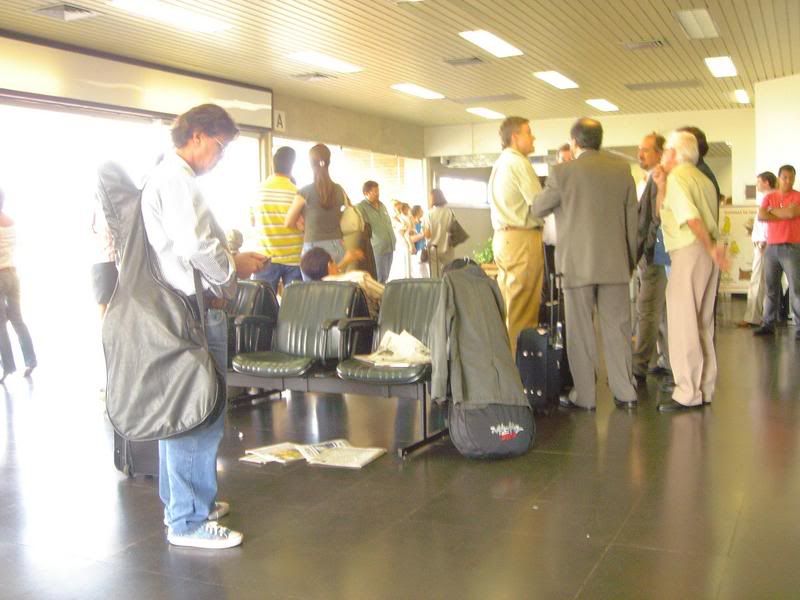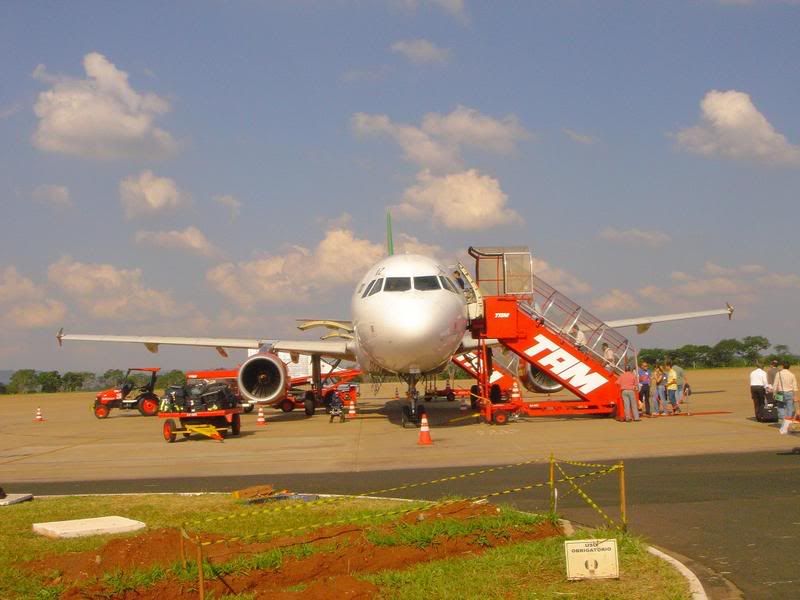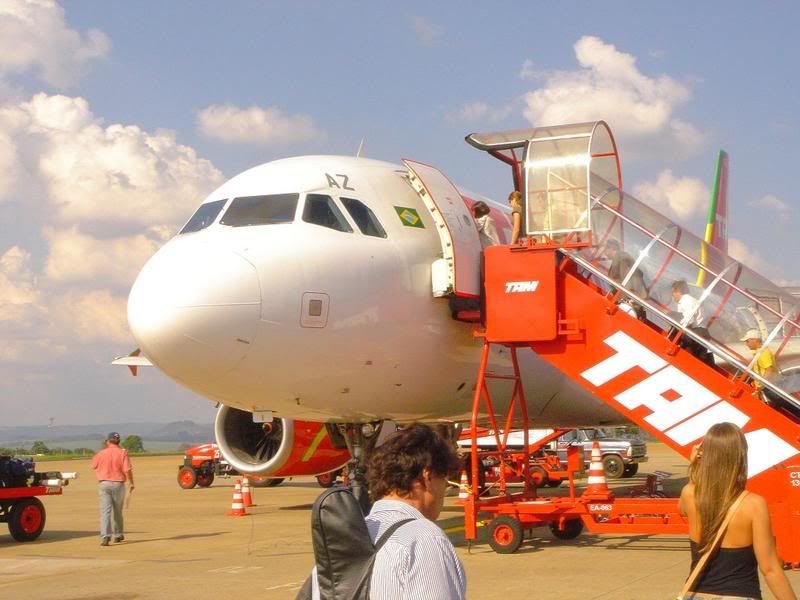 Walking towards the machine that would take me to São Paulo
We entered the A320 thru the back door which gave me the opportunity to be very close to the engine and feel the power of it – feelings that only us, enthusiasts, have.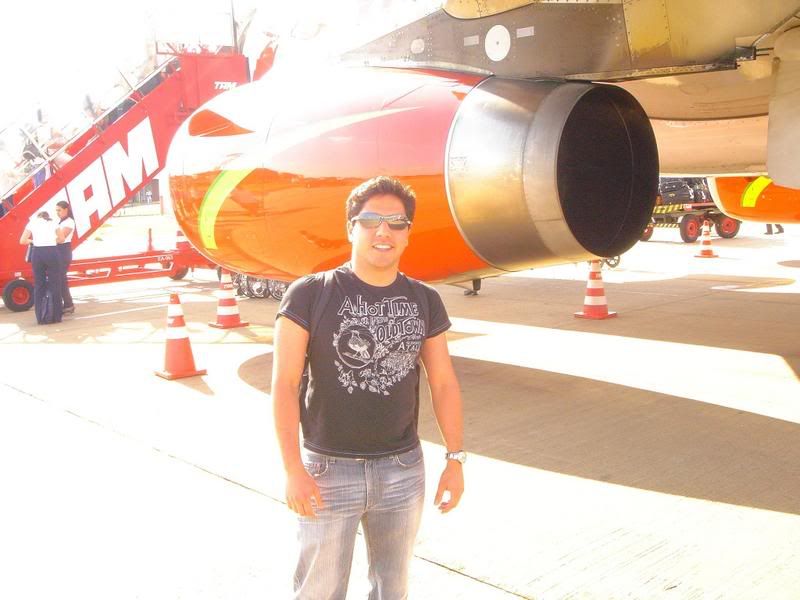 Me and the n°1 IAE engine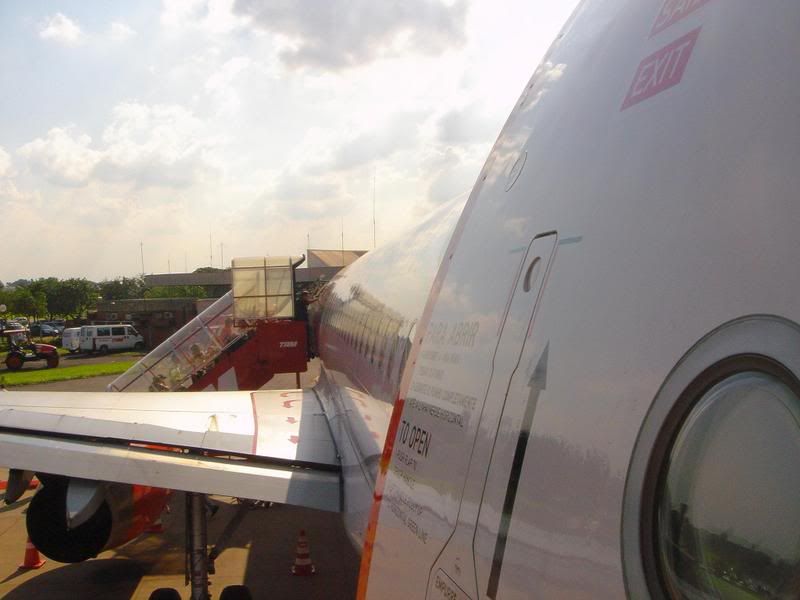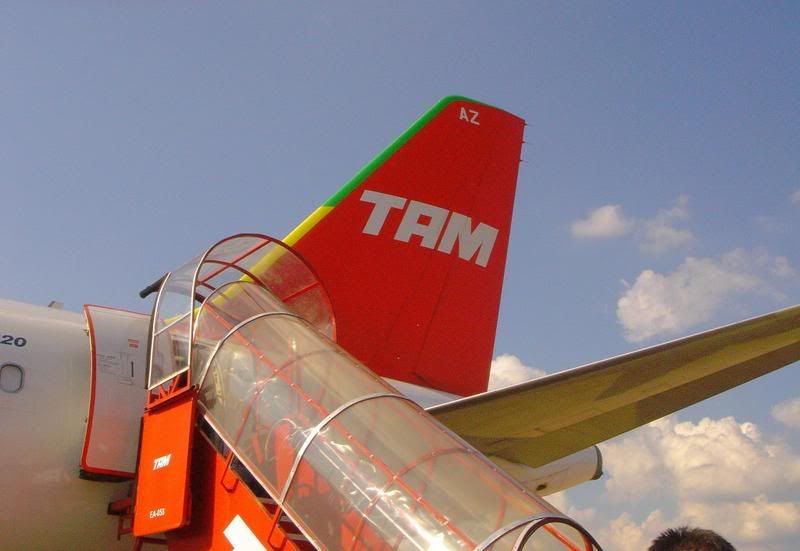 The weather was awesome, ideal for good pictures.
Once inside the plane, I was warmly greeted by two female F/A and a male. They seemed to be very happy on that Saturday pre presidential elections in Brazil.
In my seat, as usual, I started to explore it.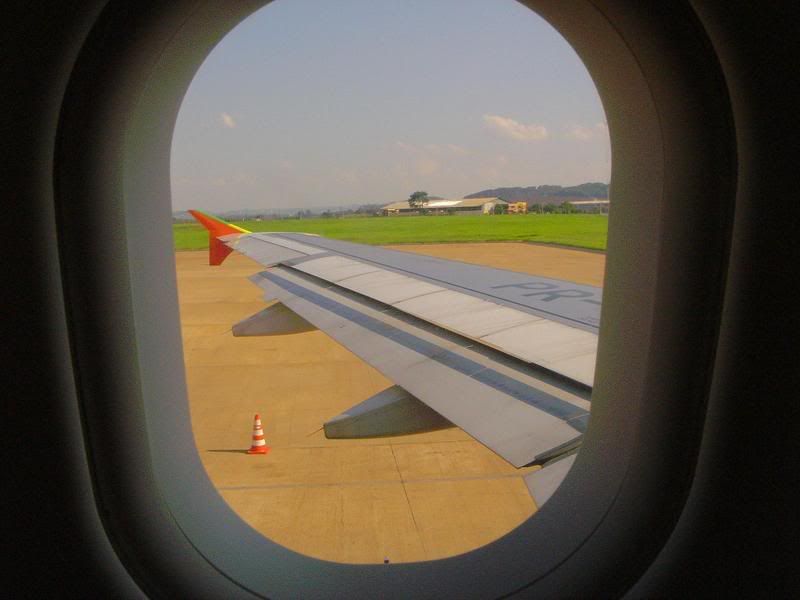 View from seat 18A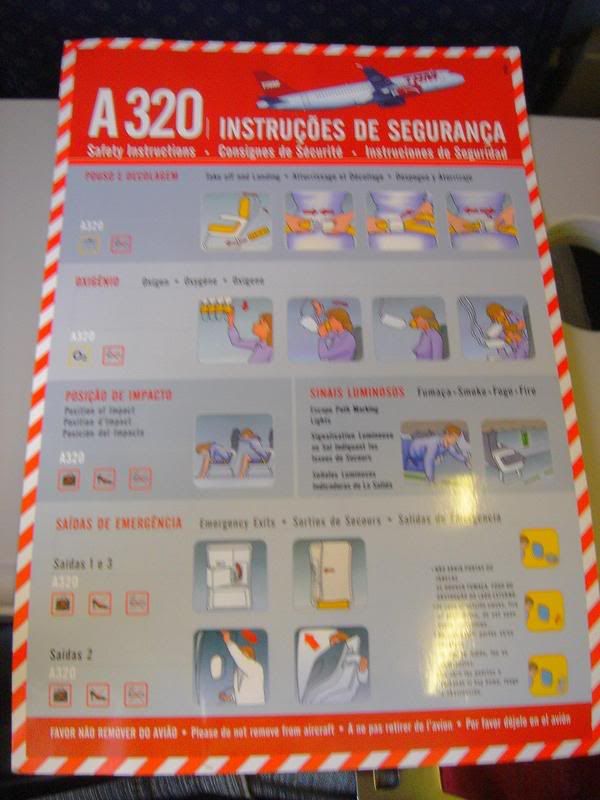 Safety instructions card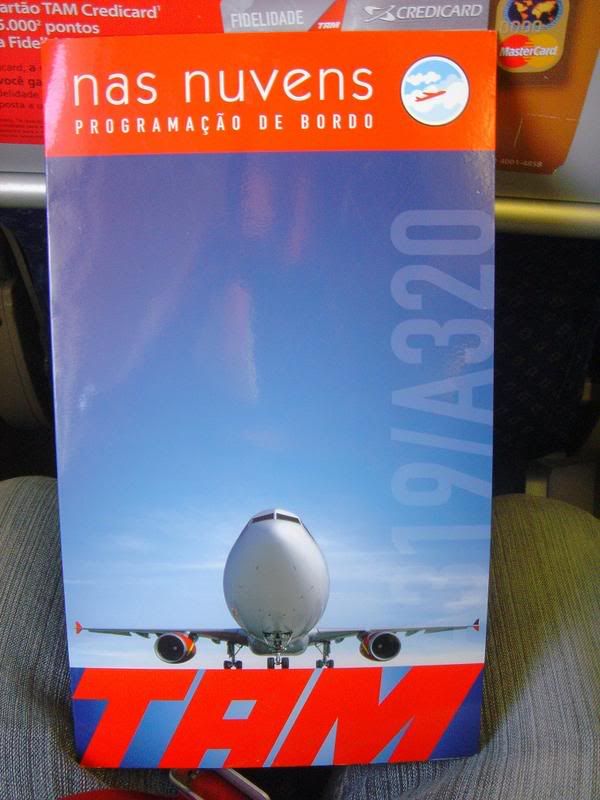 Entertainment guide
The 11 audio channels had a nice selection of music that went from bossa nova to electronica, passing thru opera, jazz and other popular Brazilian music. The pitch was very tight, but luckily I am only 1,65m, making me feel comfortable and not cramped.
We pushed back with an F/A serving candies to everyone. I asked her if I could take a picture of that. Not understanding very much, but agreeing, she posed the basket, but asked to have her face out of the picture. A pity, because she was as beautiful girl.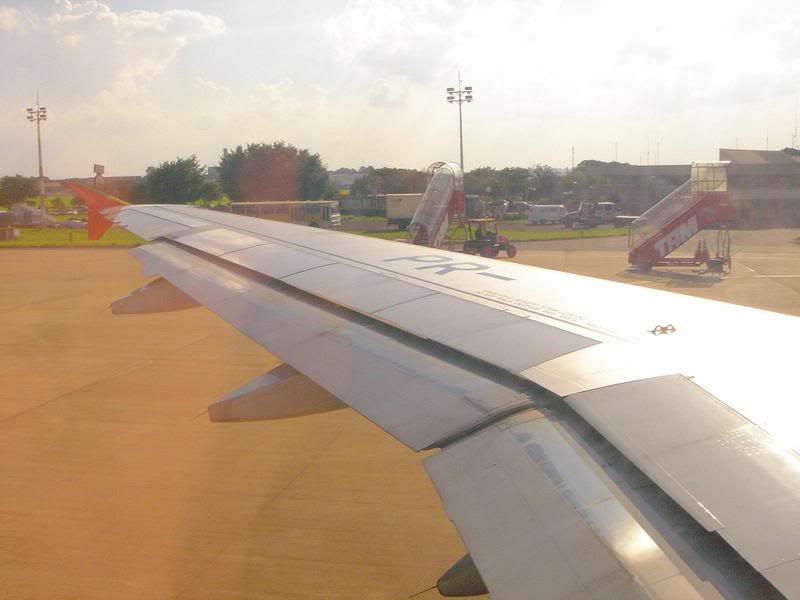 Push-back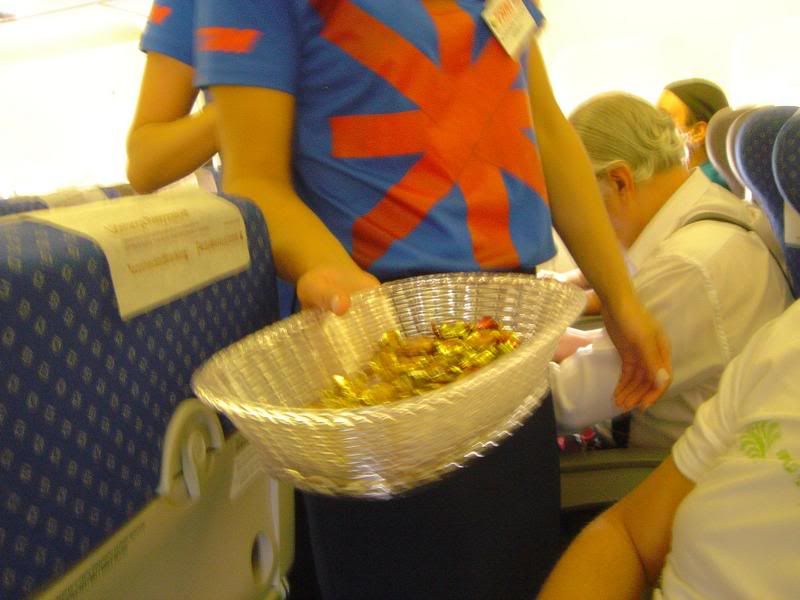 Courtesy candies before take off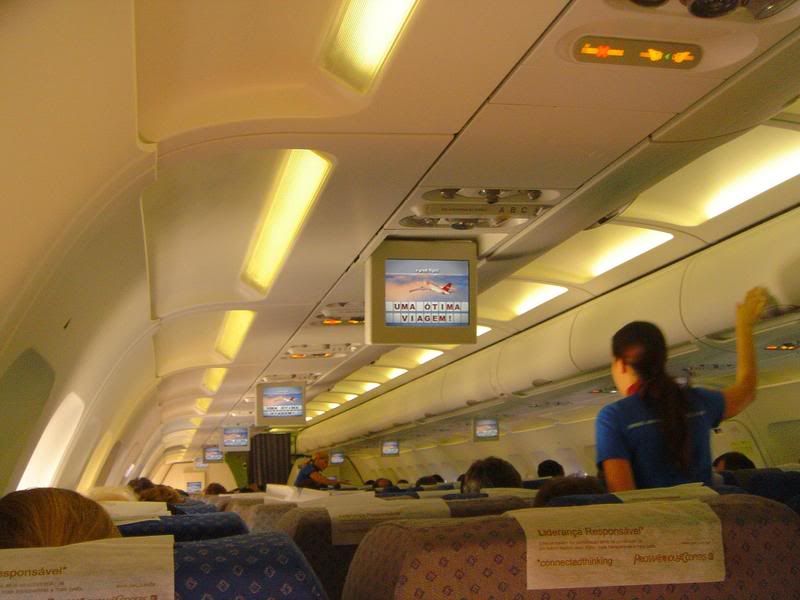 Safety instructions video with the phrase "a great flight"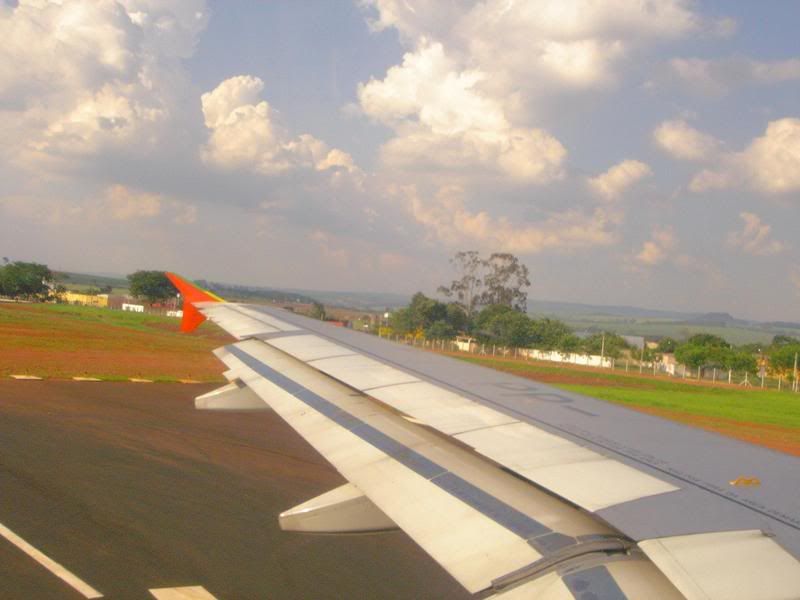 Lining up with the runway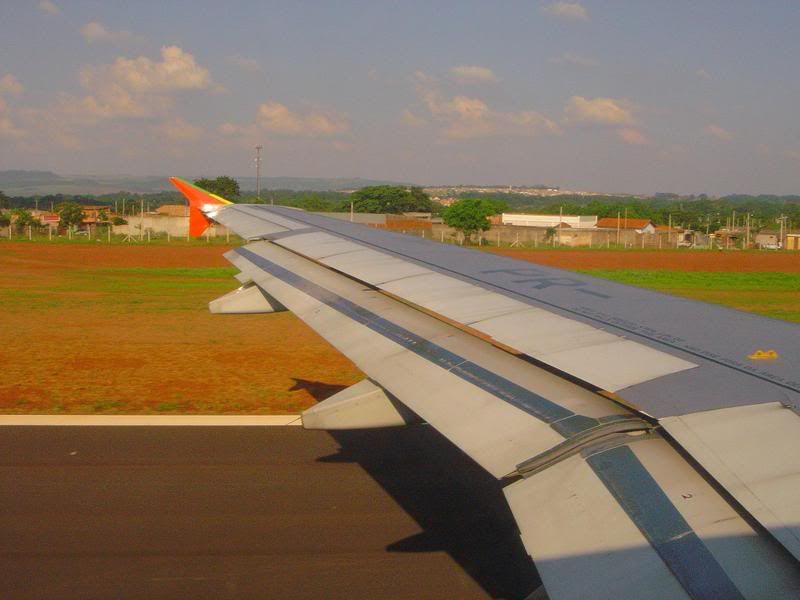 Take off roll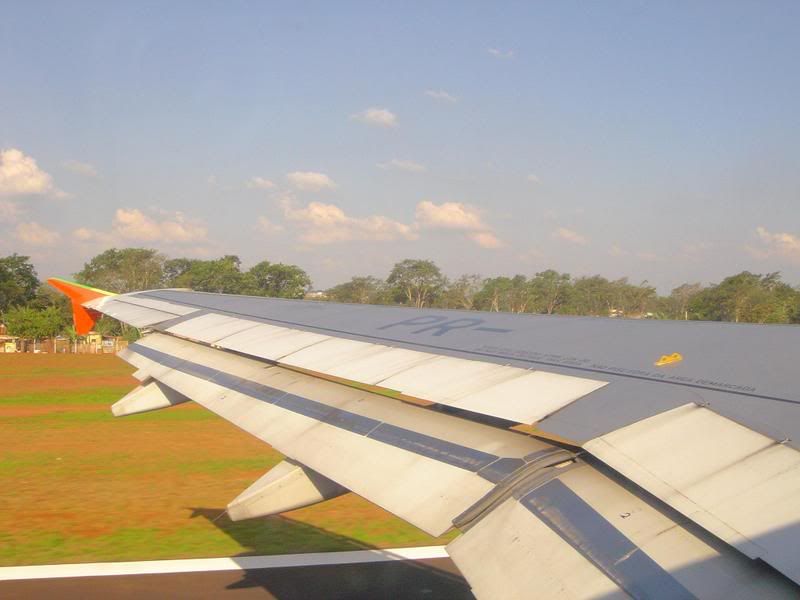 Lifting up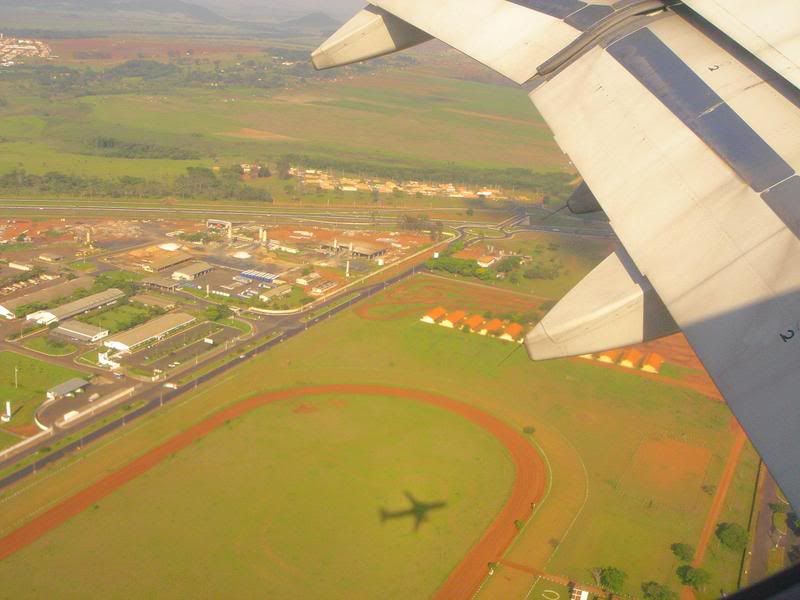 Our shadow in the field!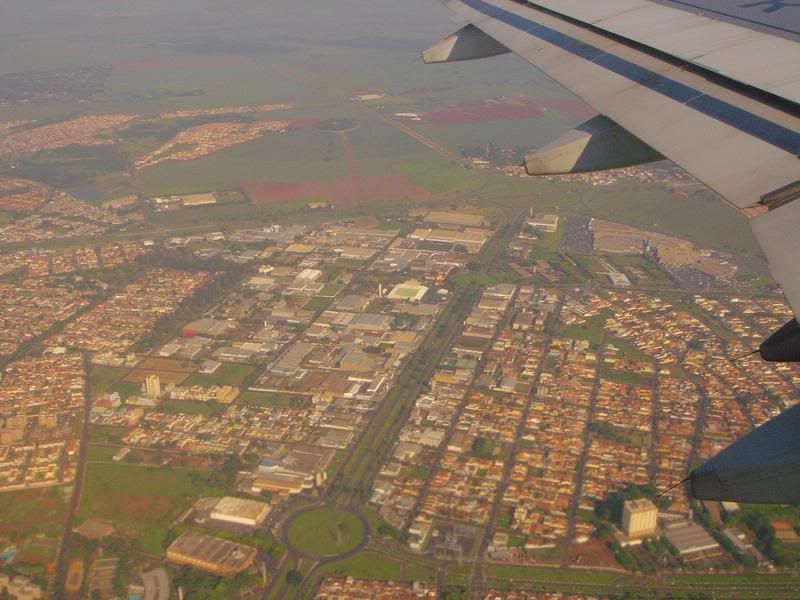 View of Ribeirão Preto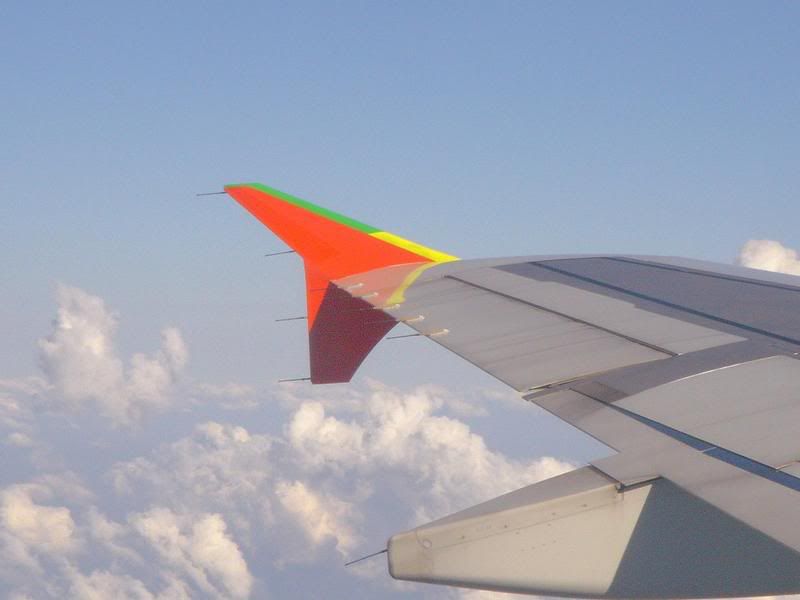 Winglet insight
We took off and 10 minutes later a meal was served. It was very small, but reasonable for that flight. It consisted in a hot potato bread with cheese and turkey breast. There were good options of drinks – water, juices, sodas and beer. I drank a regular Coke.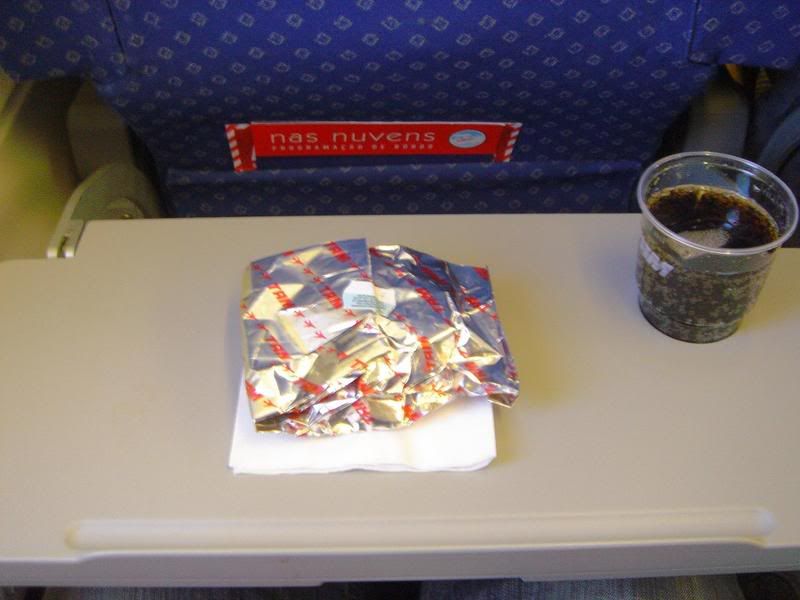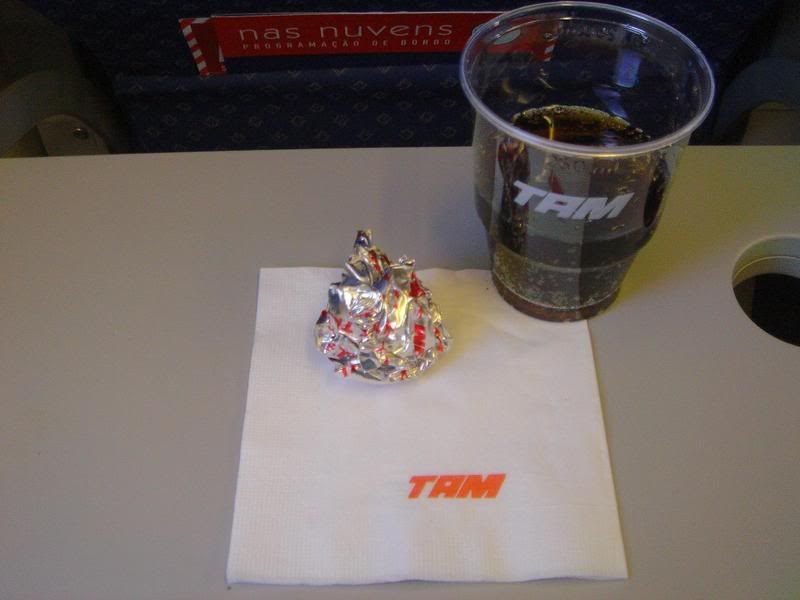 We passed over some beautiful scenery of the farms, rivers and lakes, until we started the landing procedure.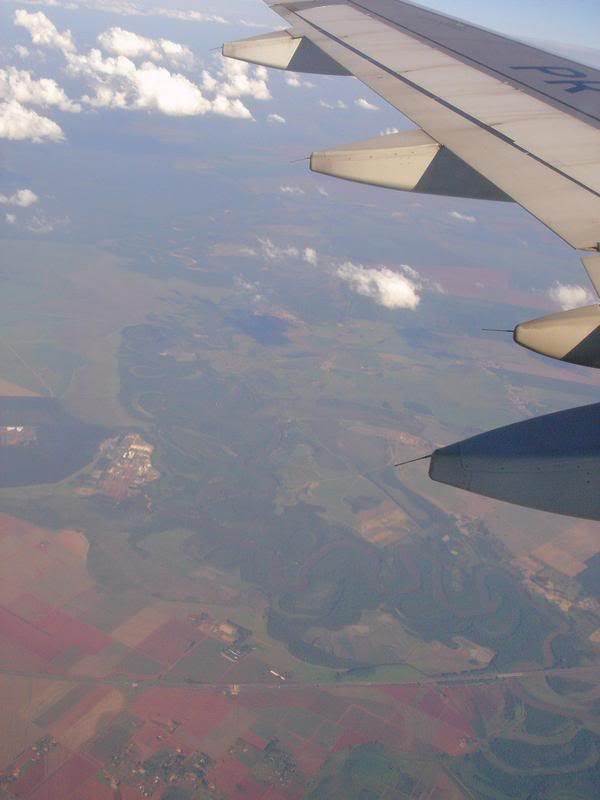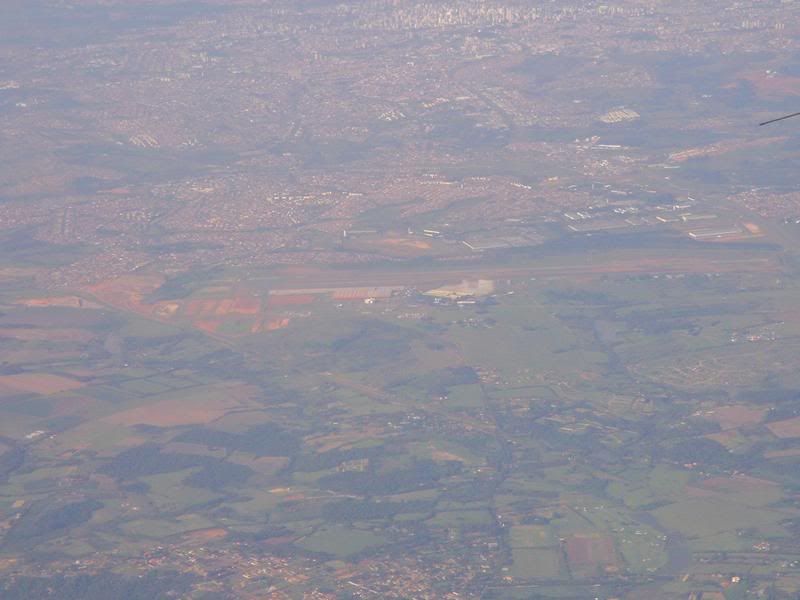 Viracopos Airport – VCP could be seen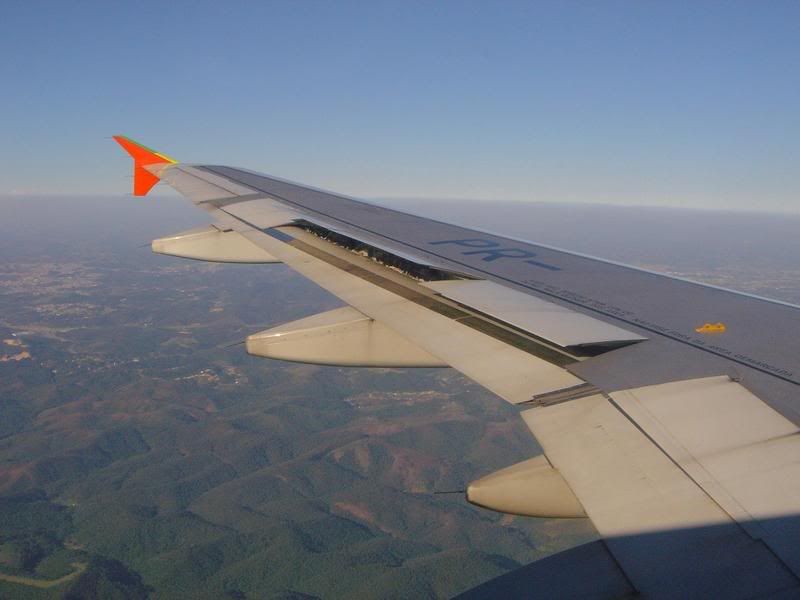 Speed brakes helping our descend
It´s unbelievable, when you reach the São Paulo area, to see the grey layer indicating pollution.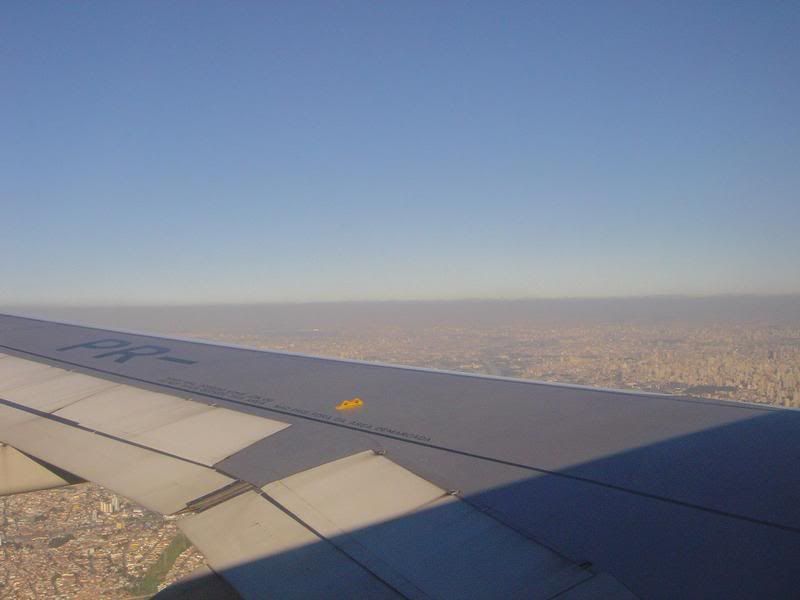 Pollution layer = you are already in São Paulo!
We descended passing over the west part of the city, above Alphaville, Osasco, than the Marginais, the neighborhood of Pinheiros, the Ibirapuera park, Moema and when you think the aircraft will hit a building, CGH appears and after a soft touchdown, I was in my hometown again after a short pleasant flight.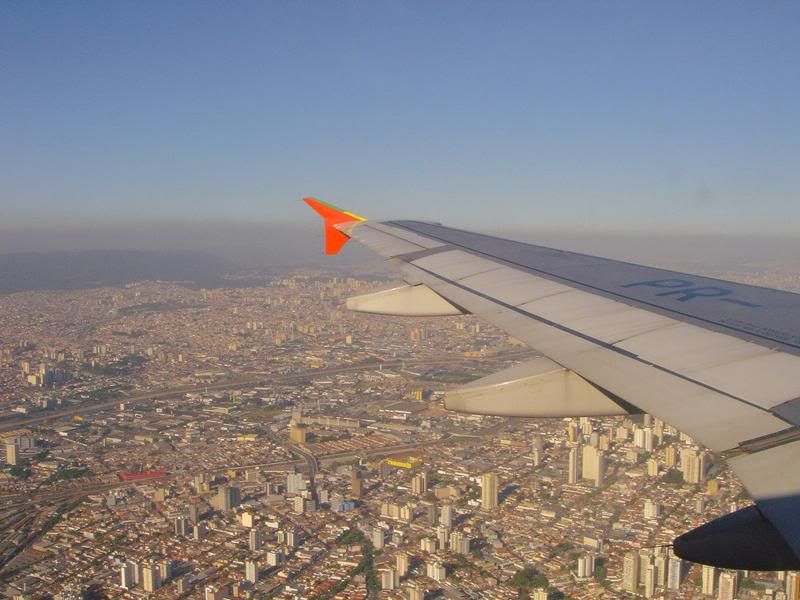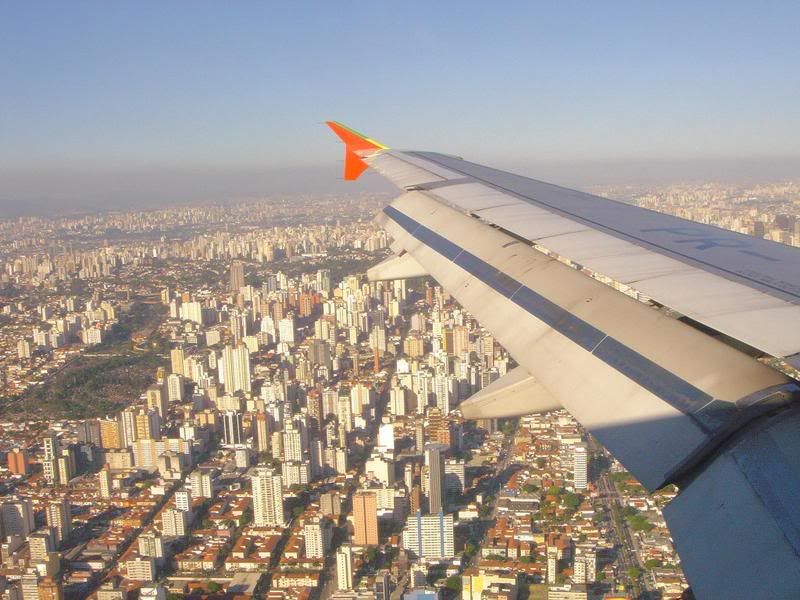 Ibirapuera Park – a green view among the sea of buildings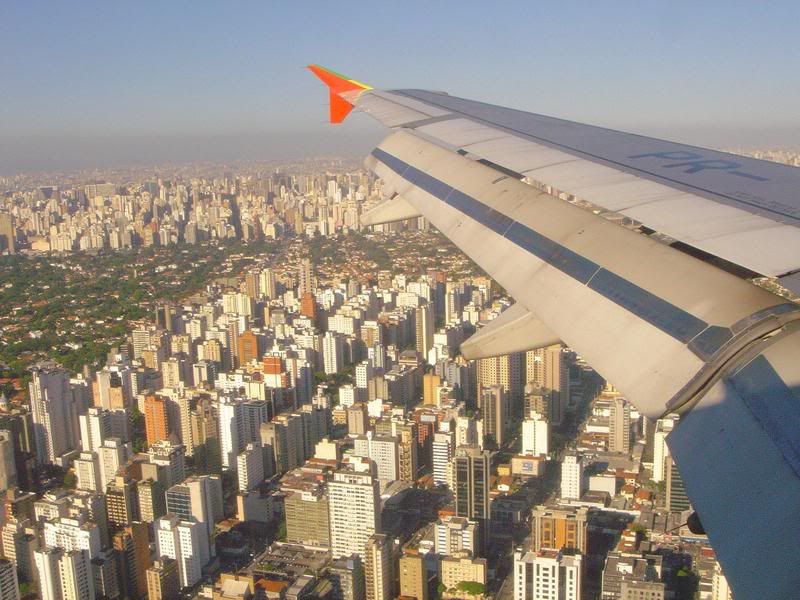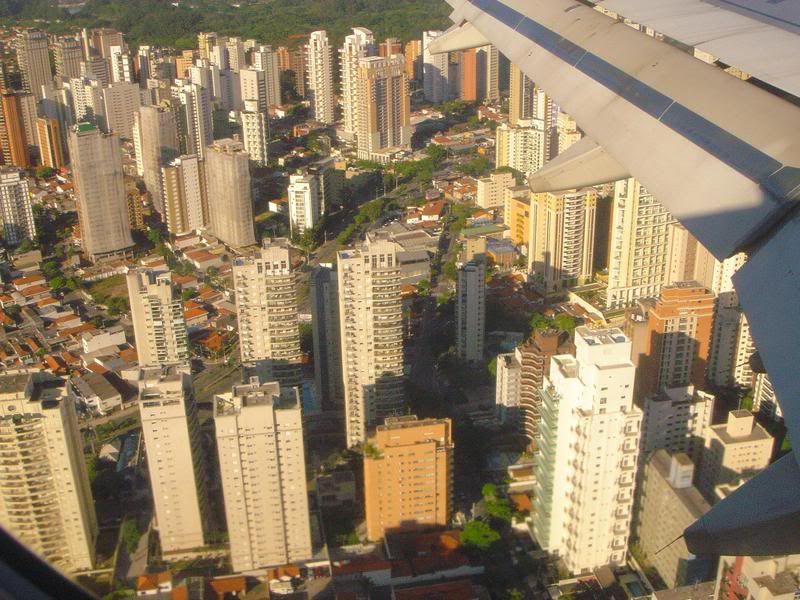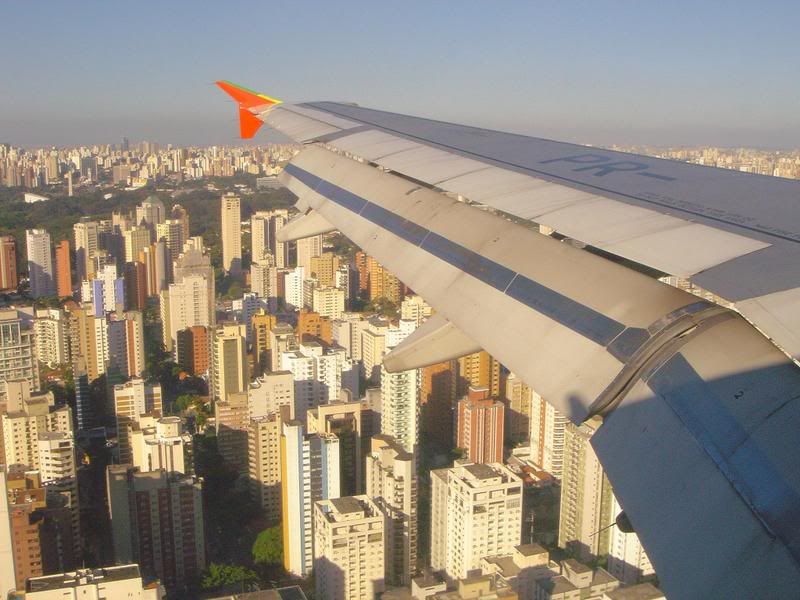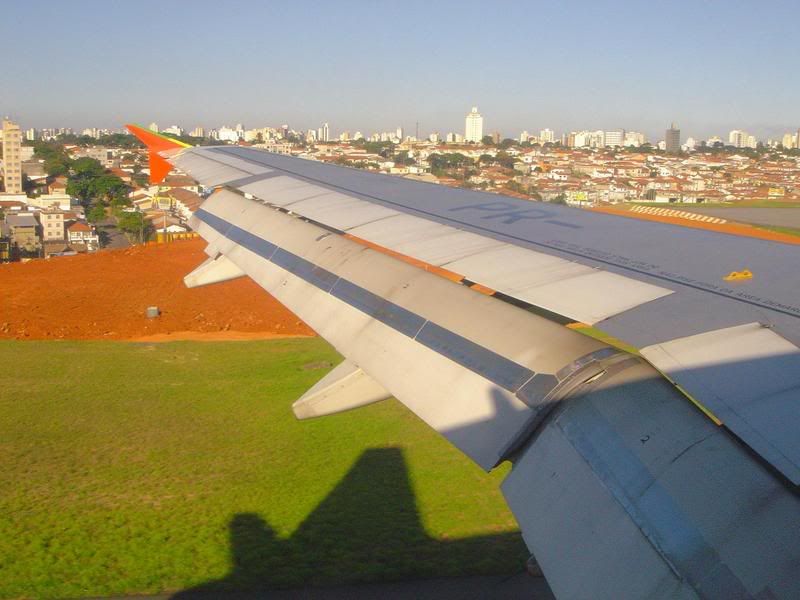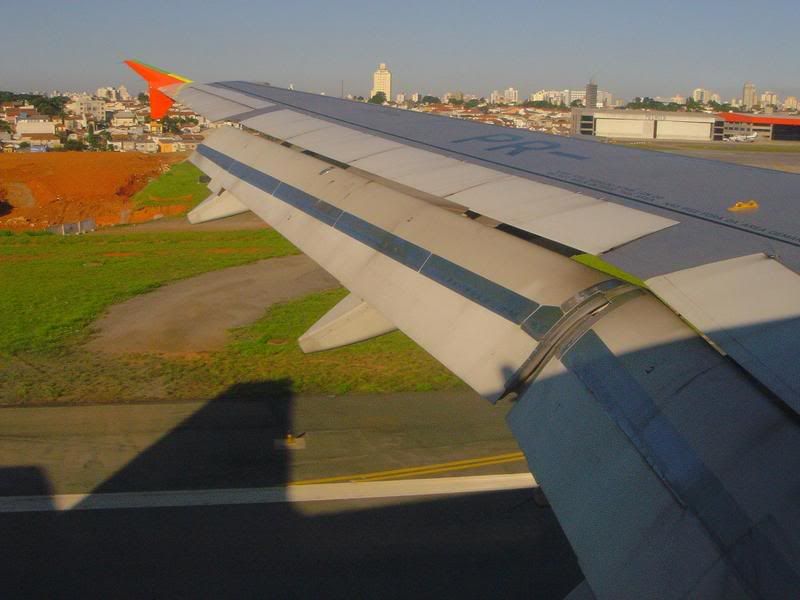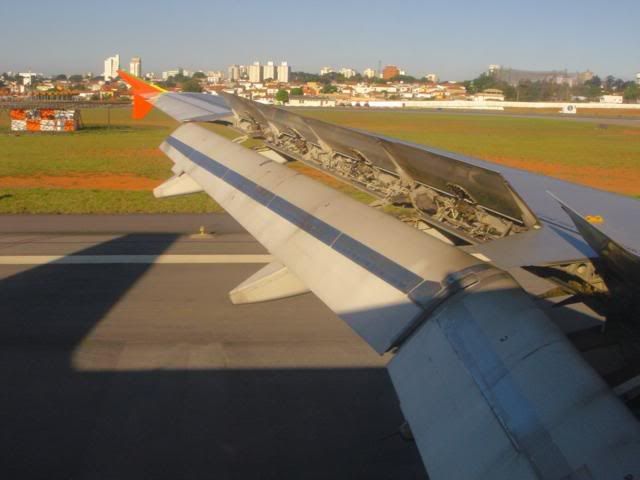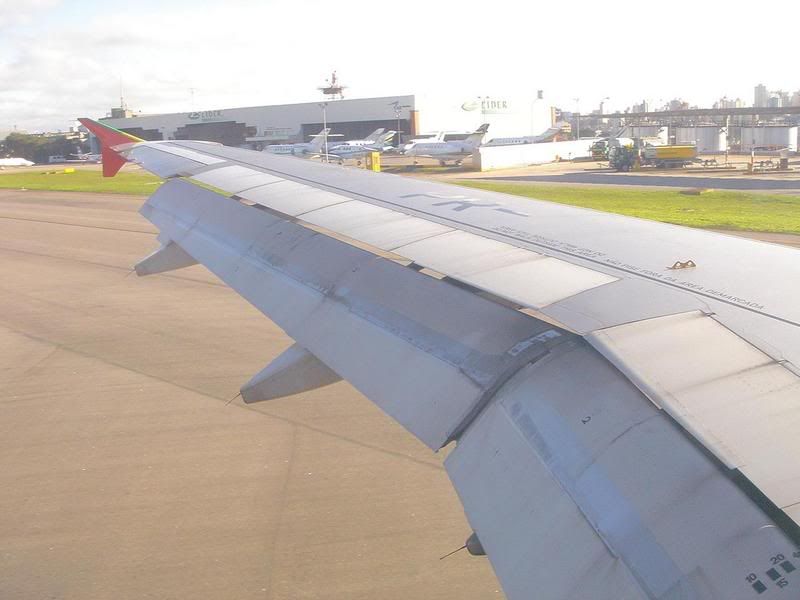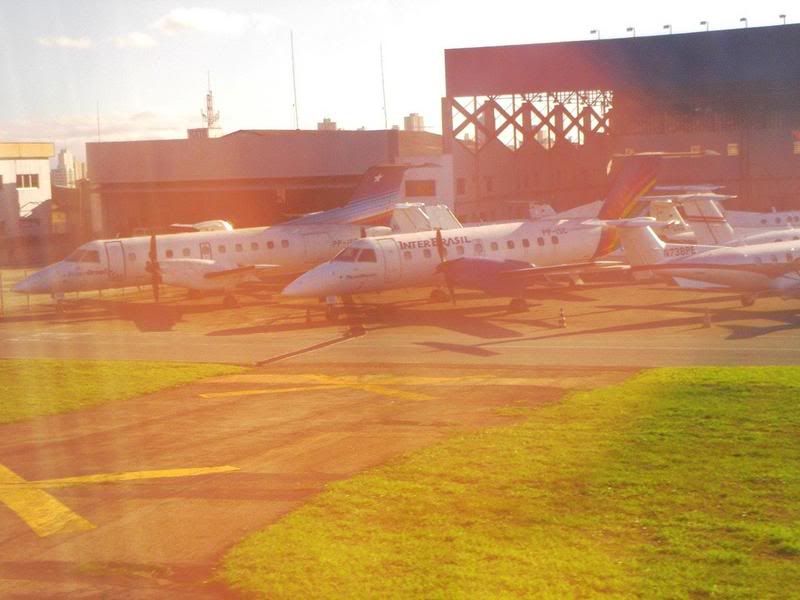 Sad view. As in BSB you see those abandoned Transbrasil´s 767s, here in CGH we see the deteriorated EMB-120 from Inter Brasil Star, TR´s subsidiary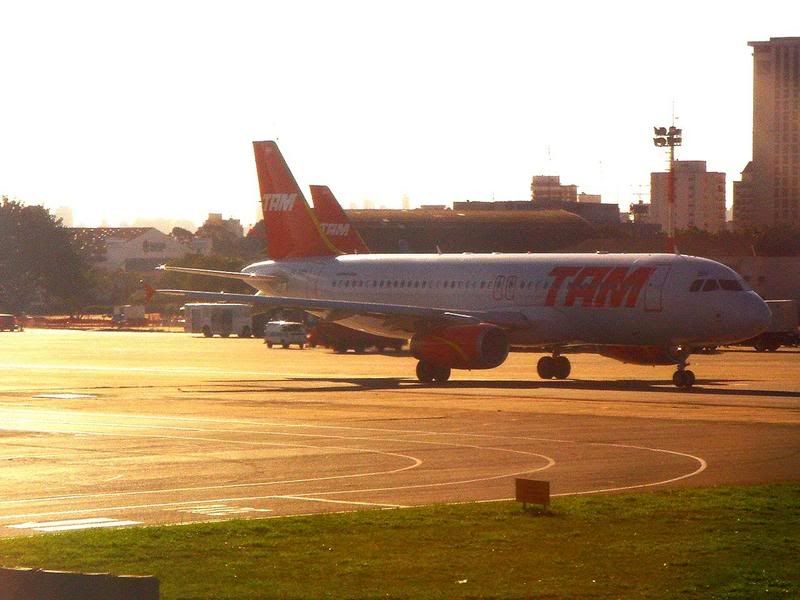 PR-MBH, one of the newest A320 in JJ´s fleet crosses the taxiway in front of us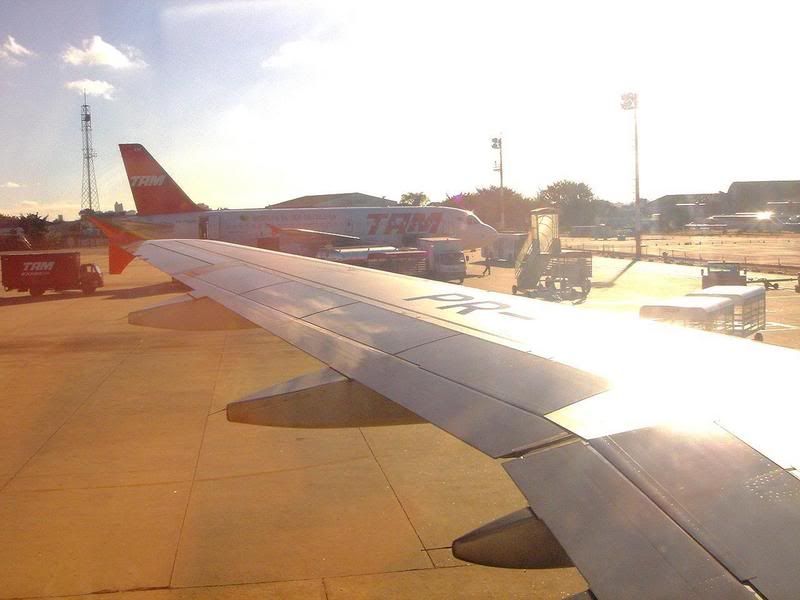 Engines turned off
We disembarked thru stairs again, which gave me the opportunity to take some pictures, including a GOL 737-800 PR-GIA, which I took in February, coming back from Buenos Aires. It was nice to see you again PR-GIA!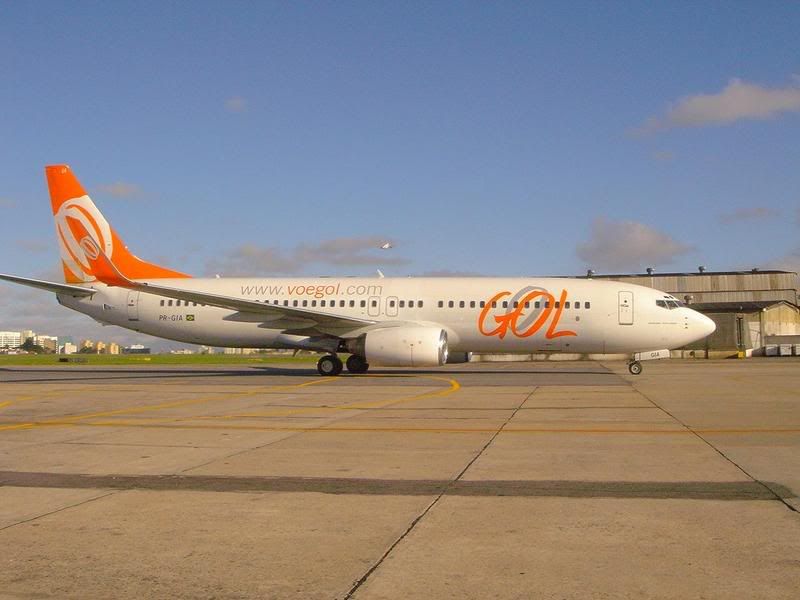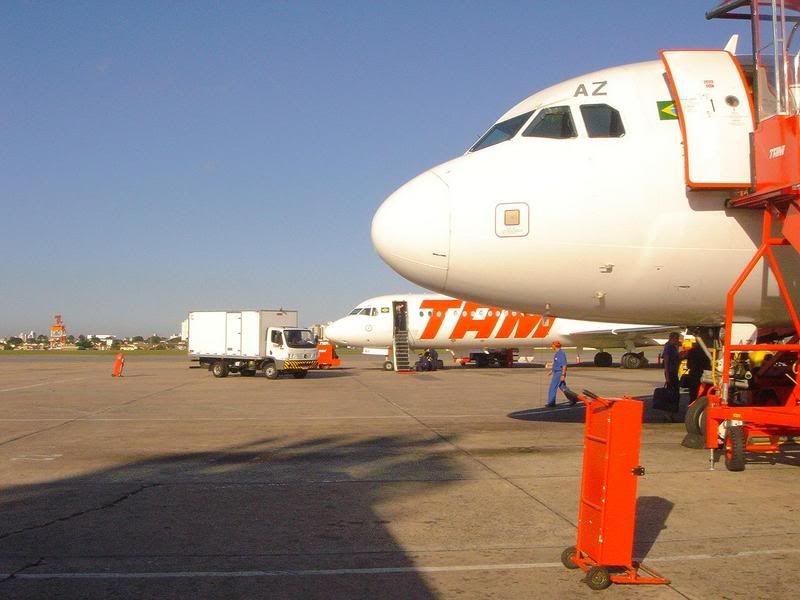 View of the F-100 thru the window of the bus
A bus was already waiting for us and after passing under the new gates of CGH and seeing many orange, red and blue tails – yes, blue tails indicating that Varig is present again – I was in the new part of CGH, which is very clean, finally back at my city.
Conclusion:
TAM is famous for it´s unique service. And my impression of this flight wasn´t different. The check in was fast, the plane was clean and new, the F/A were very nice and the food was what we could expect. The only problem was the delay of a little more than 2 hours. Ok, it´s said that it was not the airline fault, but it still a pain in the a*s for us costumers.
So, if you come to Brazil, fly TAM – the airline that is proud to be Brazilian ("Orgulho de ser brasileira")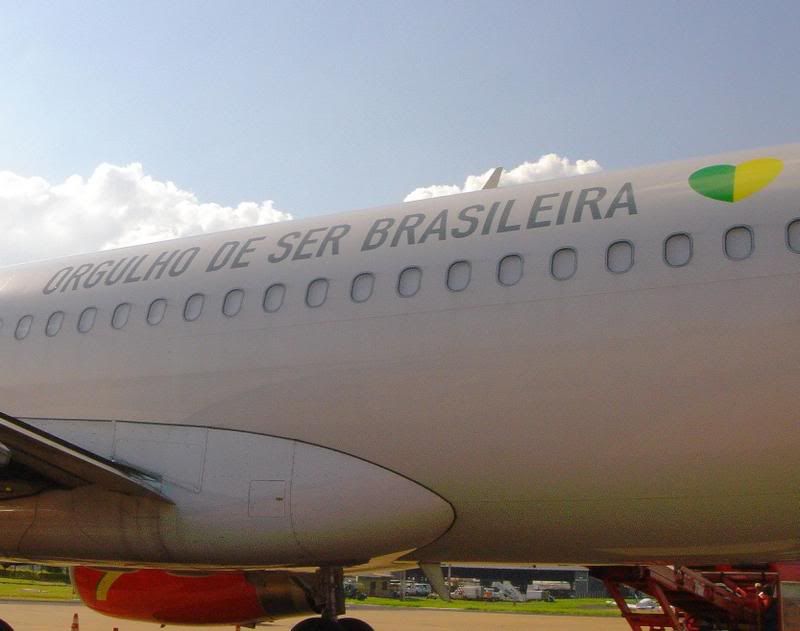 Hope you enjoyed this report, which was my 4th!
Comments are very welcome!
Best Regards to all!!
TR763