Feedback always appreciated.
Trip Report: 014
Flight Category: Y-DSR (See Report End)
Date: 08-Oct-06
Dep.Arr.Time: 1420/1505/00:45hrs
Flight:
KINGFISHER, IT 432
, 154 miles
Routing: IXA (Agartala/India) – GAU (Guwahati/India)
Aircraft: 319
Seat: Economy, 1A
I > Background:
Part of a month long amazing passage to India for a wedding, with some stops in Asia to see friends. Routing was CCS-MIA-EWR-SIN-CGK-SIN-CCU-DEL-CCU-BOM-CCU-IXZ-CCU-IXA-GAU-CCU-SIN-ICN-YYZ-EWR-CCS with a mix of J and Y class of travel. This focuses on the IT segment from IXA to GAU. IXA is Agartala, the capital of the eastern Indian state of Tripura; GAU is another city in eastern India and the capital of the state of Assam. Other trip reports for this trip will be EWR-SIN (SQ/J-Cabin), SIN-CGK (KI), CGK-SIN (VF), CCU-DEL (SG), DEL-CCU (IC), CCU-BOM (S2), IXZ-CCU (DN), CCU-IXA (CD), GAU-CCU (6E), CCU-SIN (SQ/J-Cabin), and ICN-YYZ (AC/J-Cabin). I think these reports will be "firsts" for revenue flights on CD, IT (mainline) and 6E and cover IXA, GAU, IXZ-CCU, and CCU-DEL for the first time on Airliners.Net.
II > Pre-Flight:
a) Before Airport:
Kingfisher is the much-lauded airline that was formed by alcohol baron Vijay Mallya and seeks to end Jet Airways' dominance as the best airline in India.
Booking was made through IT's website at
www.flykingfisher.com.
While the layout of the site might not be completely intuitive, the booking process is extremely easy and it gives you the option to book/change/modify reservations, and even make seat selections. Ticket prices on the sector were on the higher end (in keeping with IT's philosophy of better service) and were available in e-ticket format. You could also take the PNR to the airport and have it printed by the APO prior to entering the airport.
b) At Airport:
Agartala airport is small and made for a few daily flights. While the outside conforms to IADS, the inside is surprisingly cheerful and the staff (from security to check-in) extremely courteous and friendly. I had arrived an hour before check-in commenced and the airport security guard seeing I had work to do said, "come to a spot where the AC works better and you wont be disturbed" and walked me to the arrivals section of the airport away from the commotion! Prior to check-in, one of the IT porters came to me, insisted on taking my small backpack (!), and walked me to check-in. Note, this was not some special treatment as I just happened to be the first ever passport holder of Liechtenstein in IXA – IT does this at all airports. Porters greet each passenger at entry point and carry their bags to check-in! More surprises were in store at check-in (a breeze by the way with my pre-reserved seating honored) when each passenger was given a Kingfisher umbrella in a Kingfisher bag as a token of gratitude. While passengers waited behind me, they were offered tea by IT agents! I had to pinch and remind myself that I was flying a 154 miles domestic segment in economy, and not flying SQ's flagship route in First class!
Post security, we waited in the boarding area before walking to the aircraft post another rigorous security check. Here, my fellow partner-in-crime (and A.Netter KIRAMAKORA) got to take one of the most beautiful pictures of ITs 319 … and that too at IXA! Please convince him to add to the A.Net photo-database. You can see it below. Boarding was very civil by ILBST and once onboard "Namrata" took my boarding pass and said, "Sir – you have a very short walk to your seat" – she smiled and I melted. This woman was beautiful. Wait, all the crew members were stunners. Seriously, the most beautiful collection of FAs I had ever seen … and I have traveled!
As soon as you enter IT, you are made aware of the high-end product IT is. Comfortable seats with leather head-rests, and individual seat-back IFEs within a spaniking new and well-maintained airplane. Y class load was low at an estimated 50%. Later, the airport manager at GAU admitted that loads had taken a beating after CCU-GAU was introduced by 6E and SG.
Airport - External:
(Agartala Airport – first on A.Net)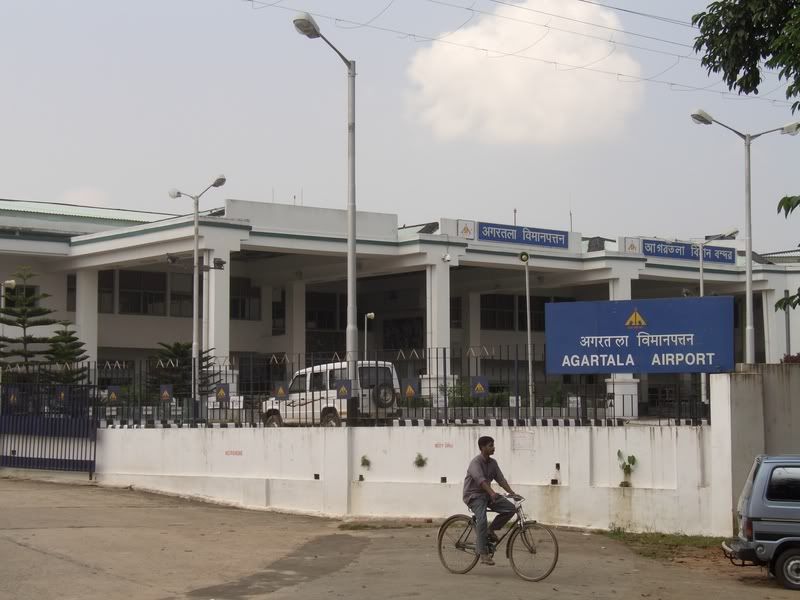 (Outside Departure Board – pretty quite)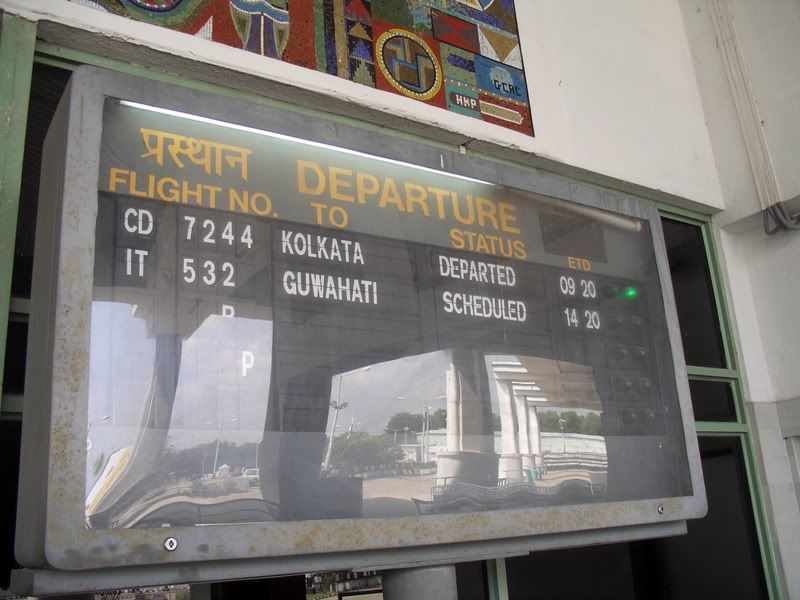 Check-In:
(Porters – this one taken @ DEL – are at all IT airports greeting passengers @ airport door)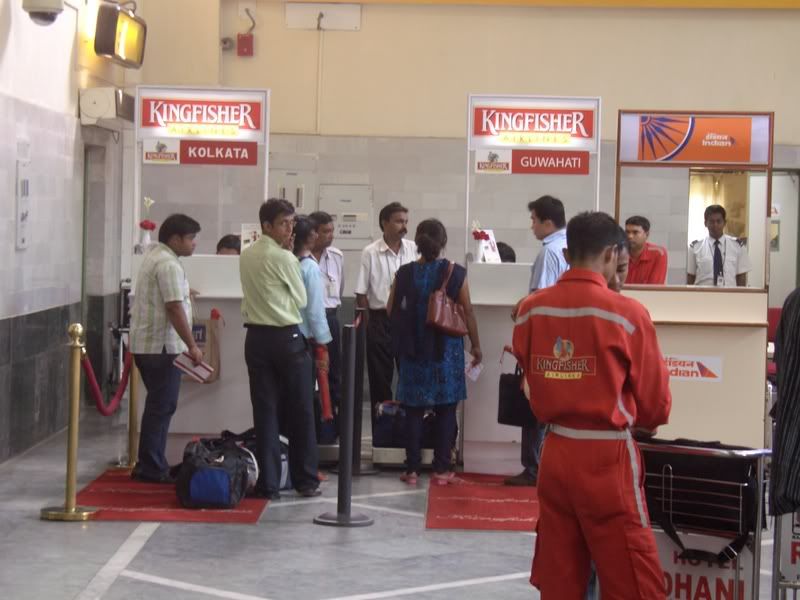 Airport - Internal: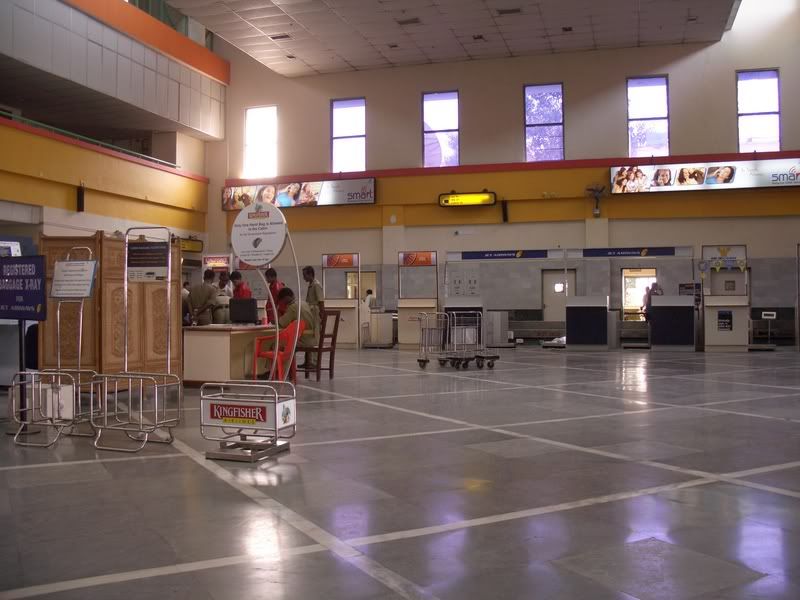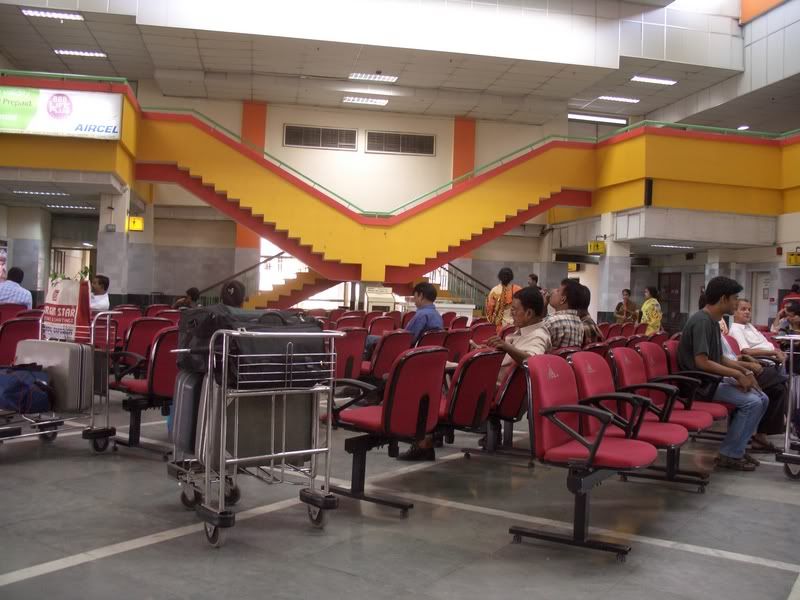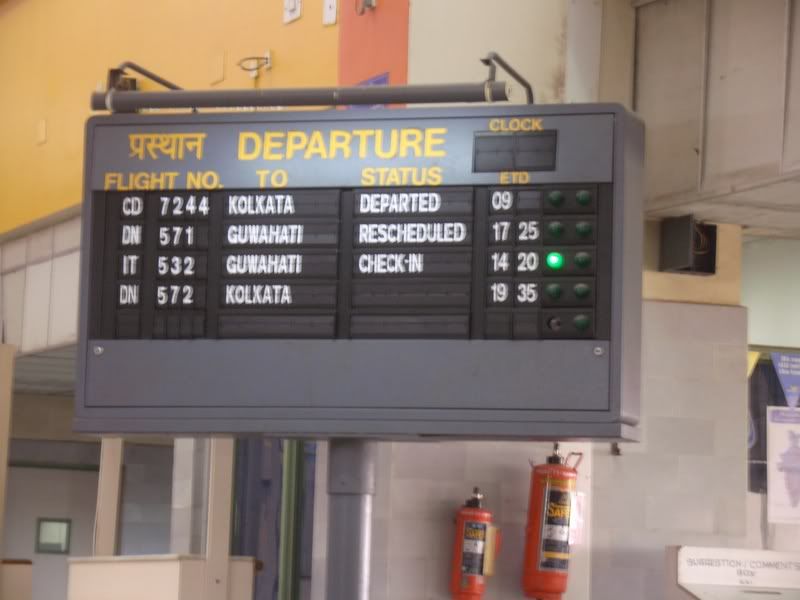 (Departure waiting lounge)
Scenes of the tarmac:
NONE
Boarding:
III> In-Flight:
a) Service Schedule + Impressions:
Considering that on-air time was less than 20 minutes, I do not understand how IT could deliver so much – prior to take off, warm towels … mints … ear-bud … and get this … an AMENITY PACK! I am seriously, I don't think there is ANY AIRLINE ANYWHERE IN THE WORLD that gives amenity packs on domestic 20 minute flights … let alone in coach. This was followed by a quick snack and beverage service immediately post departure.
b) Aircraft + Seats:
Kingfishers A-319 looked great. Red seats and airport gave an air of class. Leather headrests helped the seat look good and the coat-rack hook were a good touch. The seat was very comfortable with generous legroom and recline. The cabin felt very fresh and airy.
Aircraft:
(A great picture by KIRAMAKORA. Thank you!)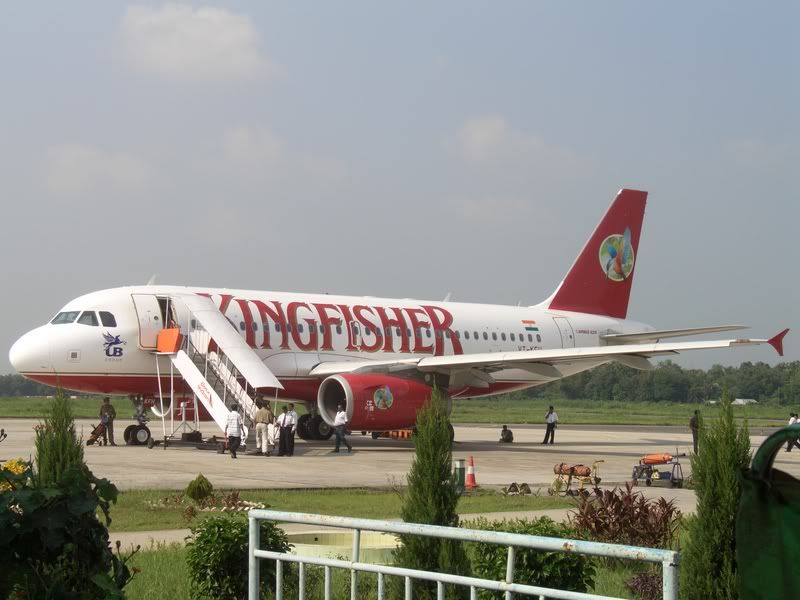 Views from Aircraft:
NONE
Seat Leg-Room:
Seat Recline + Angle View: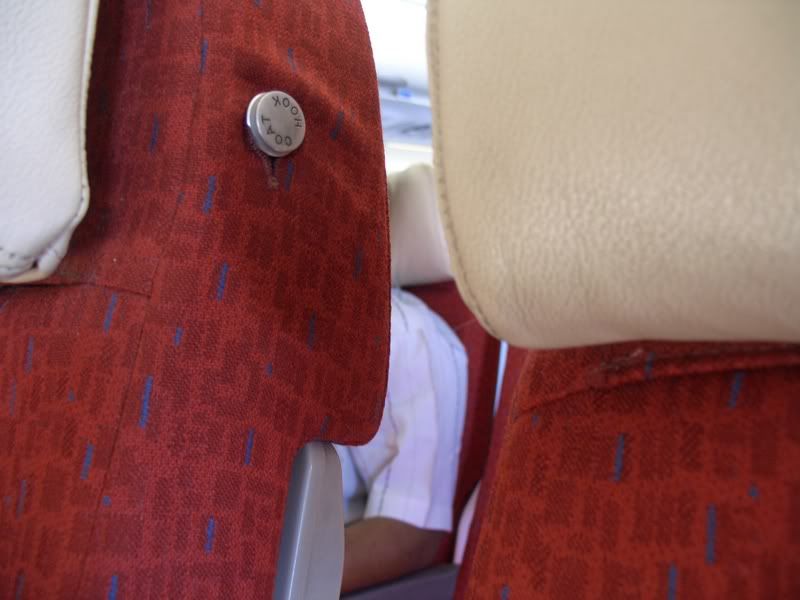 (I have been warned by Mr. KIRAMAKORA to let everyone know that this is not him 
Cabin: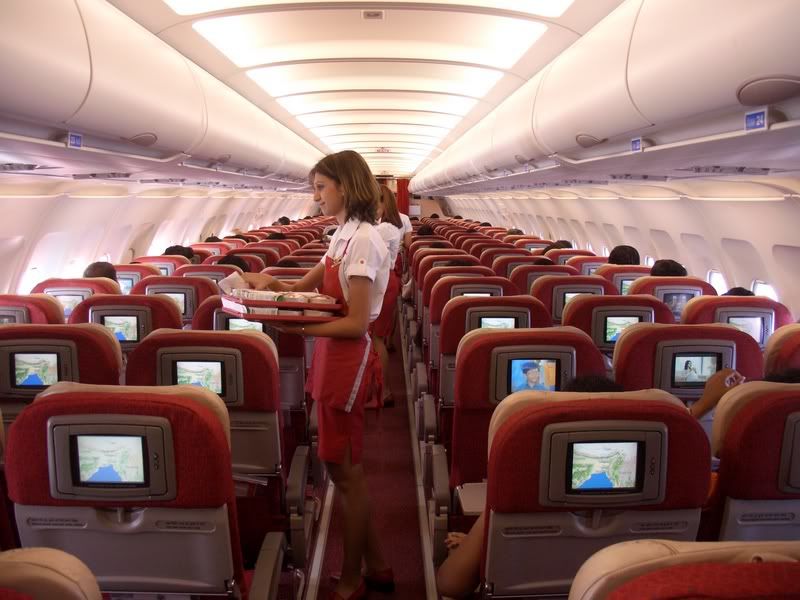 c) Meal + Beverage:
Mind you, there was a full sandwich, a cupcake, and an orange juice served in a flight whose airtime was 20 minutes! On longer flights, there are menus for both food and beverage.
(On a 154 mile journey!)
d) Inflight Entertainment:
Simply fantastic for a domestic flight of this length. 5 channels of TV and 10 channels of music along with the usual moving map and information channel. On a side note, Kingfisher First passengers enjoy AVOD on 8.4" LCD screens with noise-canceling stereo headphones and over 60 channels, games, etc. The in-flight magazine HI-BLITZ was glossy Vogue-like. I actually missed the more "earthy" domestic content driven magazine on AI/IC. IT felt a little too "westernized" for my western tastes! Oh, and more newspapers and magazine would be great.
(A collection of goodies include a welcome pack with ear-buds, pen, fragrant face wipe, timetable, headphones + umbrella at check-in, amongst others)
(IFE telling you which part of India I was in …)
(… and some flight info)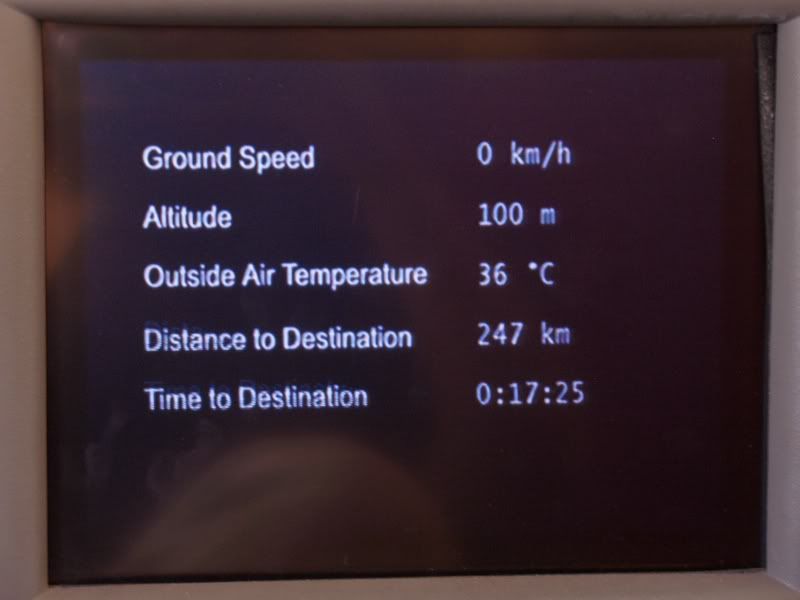 e) Crew:
I felt like I was in the middle of a Miss Universe pageant and not inside an airplane. The best looking crew in over 3,000,000 miles of flying. Hands-down. They were welcoming, efficient, and met request with a smile. HOWEVER, they definitely missed the IT factor – that amazing sincerity and warmth that cannot be described – something that I found plenty on CD and IC. To their credit, perhaps given a chance, they would shine too? After all, my flight had 20 minutes of "air-time."
IV> Post-Flight:
Gauhati airport has to be my favorite airport in India!
A fantastic little airport which is clean, modern, airy, and efficient. It has a huge flight viewing area, several duty-free stores, 2 cafés, tourism counters, and an internet café. Moreover, it has some awesome local murals which give a cool impression of the airport and distinguishes it from other members of IADS.
Gauhati Airport:
(from tarmac)
(cool interiors)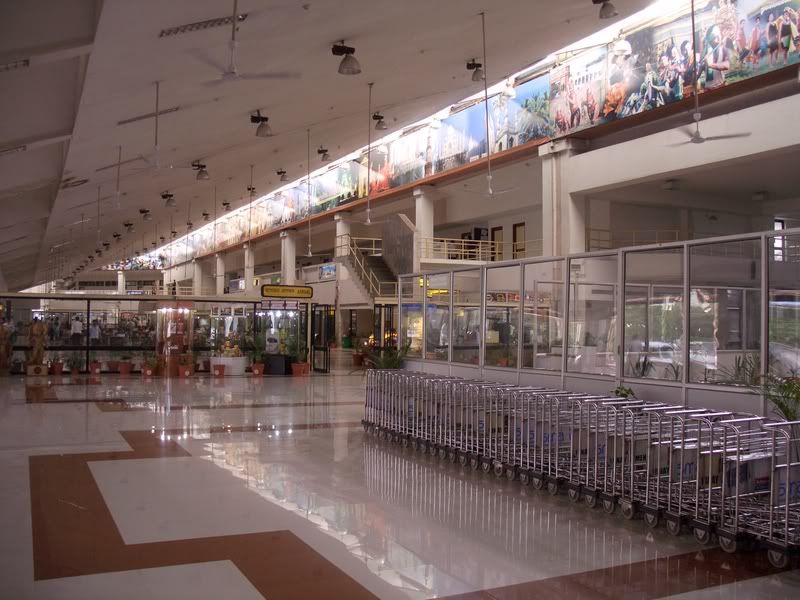 V> Impressions + Scores:
Kingfisher is just fantastic! From gifts at check-in to porters to meals on 20min flights to great IFE, they are going to give 9W a good run for their money. Definitely one of the best new airlines in the world, and miles ahead of some overrated new carriers from the MidEast. I cannot wait to see what their product will look onboard international flights. Great cabin crew, ground crew, ease of reservation, all make IT an airline I truly enjoyed and one I recommend strongly. What will be interesting to see is how the lavish product keeps up with the desire to make profit. Their business model has to be tweaked … though, not changed.
Reservation: 9.0
Check-In: 9.5
Lounge: n/a
Boarding: 8.0
Seat: 8.0
Aircraft Overall Ambience: 9.0
IFE: 7.5
Crew Service: 9.0
Food: 6.0
Beverages: 6.0
Amenity Kits + Others Freebies: 8.0
Disembarkation: 8.5
On-Time Record: 10.0
OVERALL IMPRESSION: 8.21 – FIRST 8.00+ IN ANY CLASS! – more impressive as Y/DSR!
(Scores are based on comparison with other airlines in THAT class of service – No comparison of Y vs. F for example)
VI> Other Trip Reports:
1/
Avianca: BOG-LIM: 07/06/06: 7.09pts: Y-IMR
2/
Air Tran: EWR-MDW: 08/02/06: 6.73pts: Y-DMR
3/
West Jet: YYC-YVR: 09/05/06: 7.14pts: Y-DLR
4/
Air Canada: YYZ-YVR: 09/02/06: 5.92pts: Y-DLR
5/
Air Canada: ALB-YYZ: 09/01/06: 5.88pts: Y-ISR
6/
Singapore Airlines: EWR-SIN: 09/20/06: 7.81pts: J-ILR
7/
Adam Air: SIN-CGK: 09/22/06: 6.04: Y-ISR
8/
Valuair: CGK-SIN: 09/22/06: 5.04: Y-ISR
9/
Spice Jet: CCU-DEL: 09/25/06: 6.67: Y-DMR
10/
Indian: DEL-CCU: 09/26/06: 7.25: Y-DMR
11/
Air Sahara: CCU-BOM: 09/28/06: 4.42: Y-DMR
12/
Air Deccan: IXZ-CCU: 10/07/06: 5.75: Y-DMR
13/
Alliance: CCU-IXA: 10/08/06: 7.54: Y-DMR
(Note on Codes: Y – Economy, J – Business, F – First :: I/D – International/Domestic :: SR/MR/LR – Short/Medium/Long Haul :: I have designed these codes so people don't believe my scores are comparing apples and oranges)
VII> Other Pictures:
(View from plane upon arrival @ GAU of a 9W 738)