So on the 23rd of October, I started my epic journey with my parents around the world on star alliance. Our final destination was in Salvador Brazil where the 50th Congress of the Union Internationale Des Avocats was being held. Since we get a good fare around the world on star alliance, we choose to first fly SQ to Singapore and San Francisco (just an excuse to meet my brother who lives in SFO).
I am dividing this trip report into 3 parts, the first (this one) is from IXC-DEL-SIN-ICN-SFO. This will be followed by the second part from SFO-ORD-GRU-SSU. And the third part, SSU-LIS-FRA-DEL.
Anyways, here I go:
LEG 1:
Date : 23.10.2006
IXC (Chandigarh, India) to DEL (Delhi, India)
Airline: Air Deccan
Aircraft : ATR ¡V 42
Registration : VT- ADO
STD : 16:45 ATD : 16:40
STA : 17:50 ATA : 15:34
Distance : 142 AND Mount Cook Airlines (New Zealand)">NM
Flight level : 160
Flight number DN 538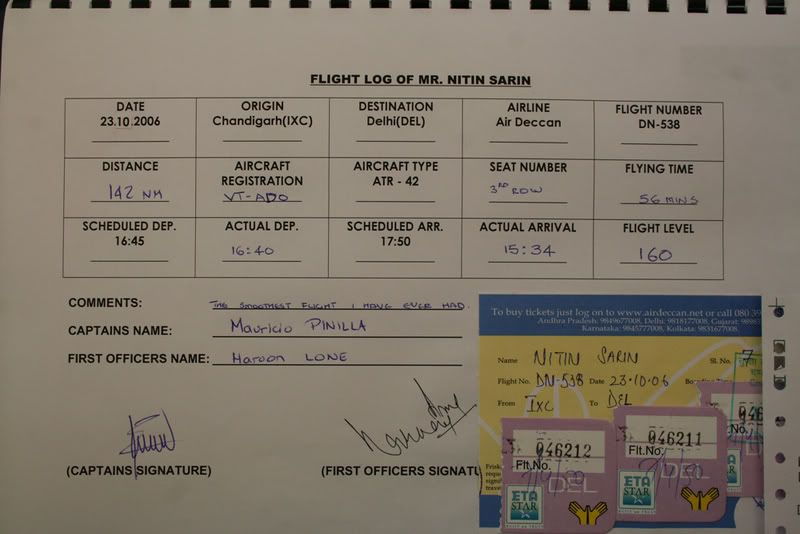 We reached the airport in Chandigarh (My home town) and cleared security and actually paid some excess baggage (mind ya it¡¦s the beginning of our journey). Moving on, it was a special moment for me as I haven¡¦t flown out of IXC for the last 14 years or so. When I was a kid we used to frequently fly to DEL from IXC but then in the middle, the train became the better option because of more convenient timings. Anyways, we sat in the waiting area past security and chit chatted with the security people, who happen to be very strict because IXC is basically a tiny airport in an airforce base. Infact, our flight had¡¦nt even arrived yet so we sat and sat, there was some Bollywood star who cleared security and was sitting next to us in the terminal. Lol. I know not very exciting for you guys, but it was for me because she was kind of HOT! Any hoo, the flight landed, and when it was pulling up into the bay, I noticed it was VT ¡V ADO, a nice little bird which I have spotted many many times on my spotting trips in DEL. The flight comes in from Jammu and was dot on time.
THE SOME WHAT DELAPITATED SEATS ļ
BEAUTIFUL VIEW FROM MY SEAT
REALLY TIGHT SEATING
AN ALTERNATIVE SOURCE OF INCOME FOR DN
AN ANCIENT AIRPLANE JUST ROTTING AT THE AIRPORT IN DEL
SHARP FANS!
WAITING FOR THE CAPTAIN TO LET ME SEE THE FLIGHT DECK, I LEFT SHORTLY AFTER.
After about 10 minutes of waiting for the staff to clean the airplane etc, we were asked to board which we did, I think I should I should mention, that even though I LOVE planes, I get a little nervous before flying! So anyways, we walked up to the aircraft and boarded from the back (which is standard on the ATR 42), the moment I walked in, I suddenly got a pang of nervousness! I think the ATR 42 is so narrow that I didn¡¦t expect to be so cramped! I however, sat down with my mom (no no I am NOT a mommies boy!) and in less than 15 minutes we were ready to take to the skies bound to DEL. Since Air Deccan has free seating, there are no seat numbers on its ATR¡¦s (Not sure about its Aibus¡¦s).
The Condition of the plane was kind of pathetic, you could tell that it was rather old becaue the leather seats were tearing and were getting black with time. There was duct tape on the window of my seat, etc ,etc. Anyways, that was all pretty much besides the point because I had a long long journey ahead of me. We soon taxied to the runway and were off in a jiffy! I have a video of that below.
Once we were air borne, the air hostess came around giving us water, which we found out later that we had to pay for ! nonetheless, that¡¦s what LCC¡¦s are for so it was cool. She also offered food to us (which you have to pay for ofcourse). Once we were 25 mins into the flight (half way) I pulled out my flight log and asked the F/A if she could get it signed from the Captain and the First Officer. When I asked her, she first looked a little confused and wondered what in the world I was trying to do, but after a few seconds she realized what it was and took it from me with a big smile. Anyways, about 10 mins later, she returned handing me my filled flight log (Picture attached) and asked me how long I had left to become a pilot! This really amused me and I told her that I am far from a pilot and am a law student. She had a good laugh over that. To my surprise, she asked me if I would like to go into the cockpit to meet he pilots and I was shocked ofcourse I pounced at the opportunity and accepted her offer. She however said she will ask for permission from the Captain and let me know, to which I thankfully agreed! Unfortunately, I think she was talking a little over her head because she came back and told me that the Captain said I can visit the flight deck AFTER we had landed due to security reasons. I was happy because I knew that would be the normal case.
The flight was the smoothest I had EVER had in my life, despite people telling me that Air Deccan¡¦s ATR¡¦s are very shaky and bouncy ( I know it was all rubbish anyways). About 30 minutes into the flight, we started our descend from FL 160 into DEL. This was followed by a series of sharp turns and soon enough we were ready to hit the ground. Our landing was a bit rough, but what I found the most amusing was the fact that we didn¡¦t really slow down all that much, but the captain let the plane go on and on and on and infact we took a sharp turn off Runway 9 which seemed like we were drifting!! Our total flight time was exactly 56 minutes.
Our first leg of our journey was over! We disembarked in DEL and the airhostess asked me again if I would like to visit the flight deck, to which I happily agreed. The screw up was that I was the last person to leave and there was no sign o the captain from the flight deck. All the other passengers had got off the plane and had already boarded the bus to go to the terminal. That was kind if disappointing because I let go of my offer to visit the flight deck and I graciously thanked the F/A and told her that I was alright and I didn¡¦t want to cause any delay for the other passengers. I got off boarded the bus, and we reached the terminal, waited for our bags which came relatively fast and we hopped into our cabby (who was waiting for us) and headed to a relatives house.
LEG 2:
DATE : 23.10.2006
AIRLINE : SINGAPORE AIRLINES
AIRCRAFT : BOEING 777-312
REGISTRATION : 9V-SYF
SEAT NUMBER : 12 K
DISTANCE : 2330 AND Mount Cook Airlines (New Zealand)">NM
STD : 2310 ATD : 2332
STA : 0715 ATA : 0701
FLIGHT LEVEL : 370
FLIGHT NUMBER : SQ 407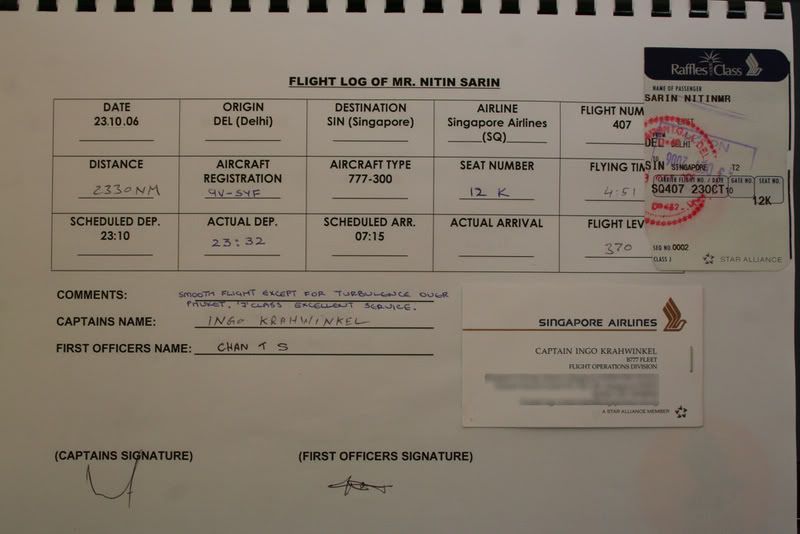 Ok so this leg of mine was in J class. There is an interesting story behind this, earlier (about 2 months ago) we were booked to fly RTW in J class on Star Alliance, and I was hella excited because I love flying in J and I never ever get to do it except when I am flying with the parents. When we had to purchase our tickets, all of my sectors were NOT confirmed in Business class, infact ALL but one (ORD to GRU) had been confirmed and on this sector I was confirmed in economy. My father (who was paying for us ¡V thank u again dad) didn¡¦t like the idea of having to pay a Business class fare for one sector of economy. So what he did was ( I don¡¦t know whether this was a wise move or not) he cancelled my booking in J and confirmed me in Economy!!! And reassured me that he would use some of his Kris Flyer miles to get me an upgrade. I was a little unhappy (I know I sound thoroughly spoilt) but come on! If you were booked all the way in J and suddenly got downgraded to Y, you would feel bummed too! Lol ƒº
Anyways, I got the upgrade from DEL to SIN but not beyond that, hence I was flying J to SIN. So we reached he airport and checked in and got a little delayed there because the agent behind the counter insisted that I had a paper ticket while I actually had an E ticket, anyways that was soon resolved and we crossed immigration and sat down in the lounge. The lounge we filled till the brim with people so I took the opportunity to go downstairs and check my mail and check one last time if y waitlisted upgrade from SIN to SFO had been confirmed¡K but alas¡K I had no luck. Soon we were told that the aircraft had arrived a little late and hence boarding would commence about 30 minutes late. Those 30 minutes really flew by and soon we were at the gate and ready to pass security again.
MY BOARDING PASS
WAITING IN THE LOUNGE IN DEL, QUITE A BORING LOUNGE ACTUALLY BUT NOT BAD.
Back to the flight now, we boarded, and took out seats, which were pretty comfortable, but I still don¡¦t understand why SQ doesn¡¦t have its space beds on its 773¡¦s. We had the usual la-de-da, aka, welcome drinks, hot towel, etc ,etc. Service as usual was just devine on SQ, the F/A¡¦s were extremely friendly and warm and just perfect! Nothing much different about SQ can ever been said! Well that is my experience of them!
LEG SPACE BABY! HEHE
SHAKEY LONG EXPOSURE WHILE TAKING OFF SORRY FOR THE QUALITY.
OLD SCHOOL SEAT CONTROLS
ASCENDING FOR OUR ASSIGNED FLIGHT LEVEL
POINTING DOWN TOWARDS SIN
PRAWNS.. WHICH UNFORTUNATELY I CANT STAND SO I LEFT THEM ƒ¼
WATER AND WINE HEHE
DINNER
FRUIT AND CHEESE
ALMOST THERE!
EARLY MORING DESCENT INTO SINGAPORE CHANGI
Soon dinner was served, which was pretty good , I don¡¦t remember what it was exactly but all I remember was drinking lots of the great red wine onboard SQ!
The flight was excellent, it was smooth all the way except for some light turbulence over Phuket, which made my heart race for a few minutes but then I settled down relatively fast. We took off from Delhi, headed south west towards the Bay of Bengal , over the Andaman and Nicobar islands and on to Phuket and into Singapore.
I really couldn¡¦t get over the impeccable service Singapore Airlines offers its passengers, whether you are in J or in Y. Anyways, once the air hostesses had become free and the passengers were dosing off to sleep, I went up to one steward and asked him if he could get my flight log signed, and he graciously took it for me and said he will give it back in a few minutes. Now the thing is, I have a little place on the flight log which says ¡§CAPTAINS VISITING CARD (IF AVIALABLE)) and till date, no pilot has given me his visiting card. But when I got my flight log back, I was shocked to see a perfectly stuck Singapore Airlines visiting card! I must say, I was highly highly impressed with the generosity of the Captain, its people like that who make us aviation enthusiasts happy. Undoubtedly these guys have the coolest visiting cards around they say the Captains name , followed by ¡§B777 FLEET, FLIGHT OPERATIONS DIVISION¡¨! I found that highly cool!
Soon the 4:51 mins of flying time had come to an end and out descent into SIN had begun, we slowly descended from 37,000 feet and were finally lined up for our approach into SIN. I didn¡¦t get any decent videos of the landing because it was fairly dark at 6 AM in Singapore. We touched down and deboarded, went through immigration and customs and were out on our way to the Intercontinental Hotel. This is a great hotel, and since we were using the Singapore Stopover deal, we managed to get it at a very very low rate.
OUR BEAUTIFUL 9V-SYF
We were spending one night in SIN before getting onto SQ 16 the next day headed for SFO via ICN.
A VERY VERY INTERESTING NAME ¡V CHAN CHAI TIT. HEHE
LEG 3:
AIRLINE : SINGAPORE AIRLINES
AIRCRAFT : BOEING 777-212ER
REGISTRATION : 9V-SVB
FROM : SIN TO ICN
SEAT : 47 A
DISTANCE : 4662 MILES
FLYING TIME : 5:45
STD: 09:15 ATD : 09:17
STA : 16:40 ATA : 16:18
FLIGHT LEVEL : 350
FLIGHT NUMBER : SQ 16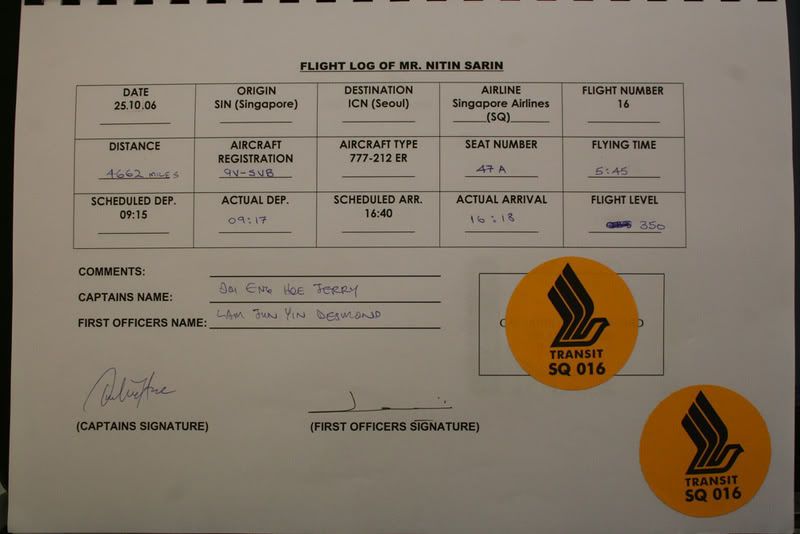 Our flight was at 9:15AM and since we were taking the hotel shuttle to the airport, we were told to be downstairs in the lobby of the hotel at 5:00 AM for a 5:10 pick up. All three of us woke up all drowsy eyed and got ready and were in the lobby dot on time, soon enough the shuttle came and picked us up and we were on our way to the airport. Ofcourse, we had the usual stops at other hotels but taking a taxi was just a waste of money when you have the option of a free ride.
We reached the airport at 6:50 AM and proceeded to check in, I walking along with my parents to the Raffles Class check in counter hoping that my upgrade would get confirmed and I would be flying in J, but unfortunately, the SQ agent told me that the flight was absolutely full and there was no chance of an upgrade, in fact it was so full that my parents couldn¡¦t even get two seats together in Raffles Class. The agent was sweet enough to check me in despite me being in Economy and we crossed the immigration and walked around the beautiful Changi Airport. Since we had 2 hours to kill, we walked to the Silver Kris Lounge and asked if I could also go into the lounge, since both my parents were flying Raffles class (basically trying our luck). Luck was against me and our request was humbly denied by the person at the reception. Anyways, my parents went into the lounge while I decided to walk around Changi to take some photographs of the million of SQ planes there. That is exactly what I did, I walked all over the terminal and realized that Changi isn¡¦t the greatest place to take photographs, its designed is such a was that you don¡¦t get a good view and plus the humidity always has the glass fogged up. I however managed to see 9V- SCC, the A345 which was just magnificent. I haven¡¦t seen a A345 before so I was rather excited. I then walked to the Sunflower Garden, which is basically an open air garden with lofs of sun flowers and a decent view of the runway. I managed to see quite a few aircrafts taking off including a Cathay A330, Tiger Airways A320, Philippines A330, Indian A320 and the SQ Star Alliance 773.
SOME VIEWS FROM THE AIRPORT AND THE SUNFLOWER GARDEN
I spent the rest of the time outside at the Sunflower Garden taking photos and talking to this Australian guy I met who was most interested in my telephoto lens, he was also an avid photographer and turned out to be a Nikon guy and since I am a Canon guy, we talked for a good hour about how good each of our brands were! Lol, its amazing how childish two adults can get over their toys! Fifteen minutes before boarding, I walked to my gate and stood in the Q to pass security, boy o boy is it a pain flying to the States these days, they do such a through search its painful, but I guess its good that the necessary steps are being taken. I passed security and went and sat down at our gate and saw my sparkling B 777 (9V-SVB) standing there looking all pretty waiting to ferry us across half the world to the United States.
Soon my parents also crossed security and they sat with me despite the boarding for Raffles Class passengers had begun, a nice gesture  
Lol. Soon enough they called me for boarding too and we boarded together walking out separate ways in the air bridge, they to the golden doors and me to the cattle section  
(Cant help that im sorry !!). No seriously, SQ¡¦s Y class product is not bad at all, in fact its very comfortable. I had checked in online to choose my seats and I choose the Window seat on the only row which has 2 seats, this gives me more space to walk around during the flight without waking up my fellow passengers and have the window seat at the same time.
VIEW FROM MY SEAT, AND AIR SAHARA TAKING OFF
WE WAITIED FOR THE QANTAS TO TAKE OFF AND THEN LINED UP FOR DEPARTURE TRAILED BY A 9W 737
I was seated next to this Korean gentleman who was rather quiet all the way there. Soon we took off and the normal SQ service began which was impeccable. Surprisingly we weren¡¦t served beakfast, but we got lunch a couple of hours into the flight. I was actually dreading this long flight because my back and legs begin to hurt and stuff like that. But the 5 hours 45 mins went by very fast and before I knew it the sun was setting and we were commencing out descent into ICN. The approach to ICN was quite bumpy because it was very cloudy, but soon enough we were heading into the airport, we touched down at 16:18, twenty two minutes before schedule.
Take off from SIN
This stopover in ICN is quite interesting, because you have exactly an hour and ten minutes at the airport, everything is extremely extremely rushed! So basically you get off the plane, run into the terminal, go to a make shift desk which asks you if you are in transit or getting off at seoul. Its not surpising that most of the passengers are going all the way to SFO. So they quickly hand you these yellow ¡§TRANSIT SQ 16¡¨ stickers and rush you off to another security check which takes a decent amount of time because they do a very stringent search. Then after that you are allowed to go into the terminal building, once there, my parents went to the lounge and I walked around the terminal again with my heavy hand baggage taking lots of photos on the aircraft standing at the bays. It was a great experience for me as I got to see lots of Korean Air planes and also a long a beautiful Thai 773 in their beautiful new colours.
Before I knew it, it was time to board again and I lined up again and had to show my passport and boarding pass and return this plastic flyer they handed over to each SQ 16 transit passenger.
Landing at ICN
LEG 4:
AIRLINE: SINGAPORE AIRLINES
AIRCRAFT: BOEING 777-212ER
REGISTRATION: 9V-SVB
DATE 25.10.2006
STD: 1750 ATD: 1800
STA: 1240 ATA: 11:39
FLYING TIME: 9:50
SEAT NUMBER: 47 A
FLIGHT LEVEL: 11887 METERS
FROM: ICN TO SFO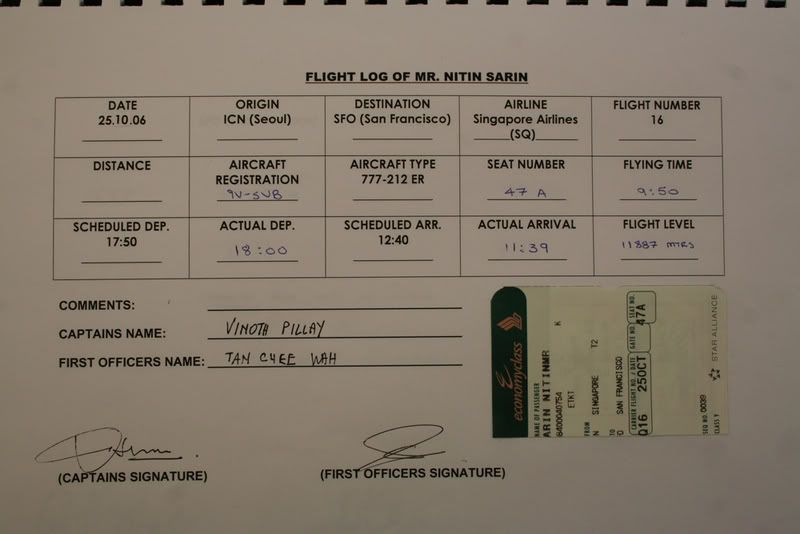 As we boarded, I walked to the same seat (47A) which had been assigned to me all the way to SFO from SIN and to my surprise, the nice Korean Gentleman who was sitting next to me wasn¡¦t there!! So I had my fingers crossed that he would not come back and would have disembarked in Seoul. And I was right! He didn¡¦t show up and I had two seats to myself! So much for not flying business class¡K ye ye! Anyhow, as I sat down on my seat, I reached to take my ipod out of my bag and realized that It wasn¡¦t in my bag, that¡¦s when I started getting worried because it is my girlfriends ipod since mine packed up a few weeks ago! Its one of those sweet ass Ipod photos and I was like DAMN! I ran forward to check in my moms handbag, just incase I had left it there but sure enough it was no where to be found. I had carefully put it into the Raffles Class amenity kit bag which I had got on my earlier DEL to SIN sector and now it wasn¡¦t there!! I knew I had left it on the plane before I had deboarded and that¡¦s what frightened me because they had specifically mentioned that ANY items left behind in the plane will be confiscated by the security personnel because it is considered a high security threat. That that moment I was like **** **** **** ****!!!!!
I hurriedly got up and ran to the air hostess and told her about my plight. Luckily for me, the doors had not yet been closed and she ran to the security officer who was finalizing some papers before we pushed off and he came running back with her and :
¡§Sir did you loose something?¡¨
¡§Yes my ipod!!¡¨
¡§Sir what type of I pod was it?¡¨
¡§It is an I pod photo 30 GB¡¨
¡§Sir what colour is it?¡¨
¡§It is a white I pod with a silver back and its in a black case inside a Raffles Class bag¡¨
At that moment, he pulled out my ipod from his pocket and said ¡§here you go sir¡¨ . I was so darn relieved, I felt like hugging the Korean bugger! ƒº Its just something about these Asian countries and SQ that make you feel so good and special, I really appreciate every moment I fly with SQ.
MY TWO SEATS!
KRIS WORLD REALLY ROCKS
CROSSING THE INTERNATIONAL DATE LINE
THE CREW REST AREA ON THE LEFT
THE SUN RISING AS WE HEAD TOWARDS NORTH AMERICA
Take off from ICN headed to SFO.
Again the service on this Singapore Airlines flight was great, we were served dinner, and then later on we got breakfast, and throughout the night they kept coming around with little nibbles and drinks. The thing I like the most about SQ is that on their long haul flights, the make sure they keep coming around giving you water, making sure that you don¡¦t get dehydrated and feel tired.
Once we took off, I lay down on both the seats I had. The normal announcement were made and to my surprise the captain of our flight was an Indian, which I had never heard of before. That was pretty cool, and so I handed over my flight log to the F/A and she came back a few minutes later with it signed by the Captain and the First Officer.
What was most interesting was that since my parents were in Raffles Class, I walked over to cross into the Business section and of course, I was stopped by the purser who politely asked if he could help me. And I was like no im fine thanks I am just going to meet my parents who are up front. On hearing that he gave me a big smile and let me go. What was most interesting about the
F/A¡¦s onboard this flight was that once they knew that my parents were in Raffles Class, they all became much much more friendly towards me back in e